Woof. Meow. Two one-score games didn't go our way last week, with the Falcons giving us that "never again" feeling in a frustrating loss to Dallas. The Vikings almost got a backdoor push in Chicago, but the team ultimately did not play well enough to earn anything close to a win in what was Kirk Cousins' most important game as a Viking. We're onto Thanksgiving, or as George has always said – the real start to the season. The holiday offers one pick of value, and we're going to write that up here, with more to come later in the week.
Our models rely heavily on our PFFELO rating system for the NFL, along with game information like where the game is played, how far a team has to travel, etc. We also fold in opponent-adjusted PFF grades into our machine learning algorithm to factor in roster changes and possible asymmetric mismatches that can occur through the course of a game.
The Minnesota Vikings (+3) lost in Chicago, and so we are now 19-13-1 on our "Lock of the Week" picks since the start of 2017 (59.4%), with four win totals pending. While the pick below does not constitute the lock, the one later in the week will – so stay tuned. The analyses here will involve a point-counterpoint between the two of us, using perspectives that only the PFF grades and data can provide. Follow us on Twitter at @PFF_Eric and @PFF_George, and for some podcast commentary on some of these picks, and the process that goes into them, give the PFF Forecast a listen.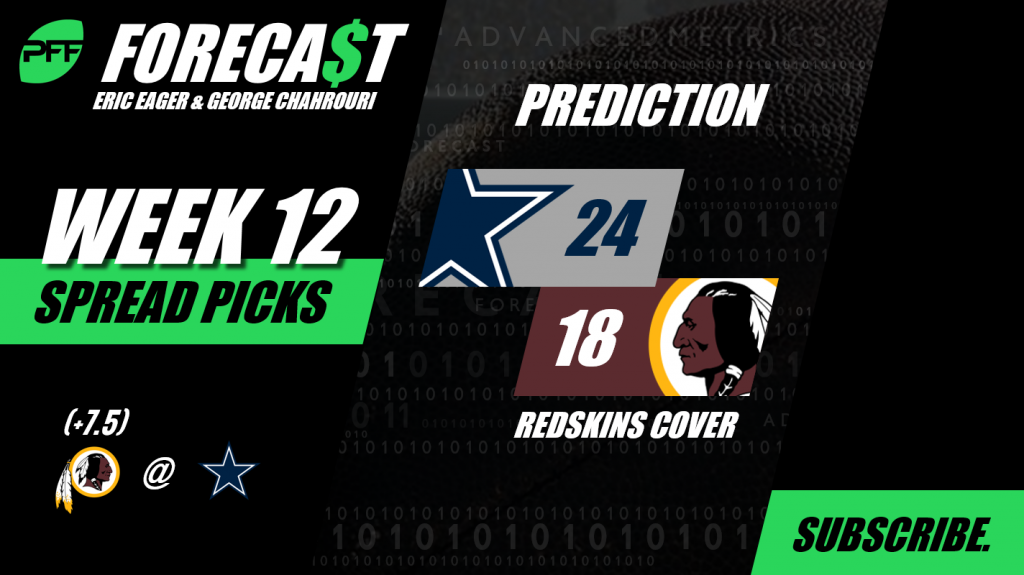 Pick: Dallas 24-18 (Washington covers)
Point (Eric Eager): Washington has been a team that we've liked at numerous times this year. In addition to winning six games outright, they've been able to cover games like last week, where despite allowing a 14-point swing, they got under the three against a hot Houston team despite losing their quarterback mid-game. Colt McCoy is now the starter for the breadsticks, and while there's a reason he was a backup to players like Alex Smith and Kirk Cousins in the past, the bar that Alex Smith left for him (-0.02 EPA per pass play, only 20.7% positively-graded throw rate) is not a terribly high one for him to clear. If Washington can otherwise get healthy with Trent Williams, Jamison Crowder and Quinton Dunbar possibly returning this week, they should be able to keep an enigmatic Cowboys team within arm's length in Jerryworld. 
Counterpoint (George Chahrouri): As punishment for the sins of our forefathers, we are forced to spend hours preparing a Turkey, which is ultimately the worst part of the entire meal, while watching an epic dual between Dak Prescott and Colt McCoy, where there are sure to be as many dead birds thrown by the quarterbacks as there are eaten in the luxury boxes of Jerry World. If there is a reason to be worried about taking the points and rolling with the Spreadskins (aside from Karma) there is this, Colt has a career turnover-worthy throw rate of 10.7% when throwing 10-plus yards downfield (that would be the worst among 45 qualifying quarterbacks this year, as the average is 6.4%). The Cowboys pass defense has been nothing short of solid and has the requisite playmakers in Demarcus Lawrence, Leighton Vander Esch and Byron Jones to provide a little Holiday remix to the Afroman original, "A Colt #12, and three pick-sixes, baby that's all Jerry needs."
Special Thanksgiving Prop Bets
Number of QB Wins for Backup Quarterbacks: 0.5
Over (GC): It's a rare moment when a 'sure thing' presents itself. Yet, here we are in 2018, things like global warming and evolution are being debated in salons all over the world by the great minds of our generation, but no one can dispute this simple fact: regardless of who wins in Dallas, a backup quarterback will reign supreme. *yes that includes a tie because, technically, that's a win for Jason Garrett*
Under (EE): Interesting perspective from George, and while I cannot argue with his take on the composition of signal callers during the mid-afternoon game in the Big D, has he taken into consideration the possibility of a tie? Did he watch Dallas-Houston on Sunday Night Football? The first half of Dallas-Atlanta just last week? We haven't seen a stalemate in the NFL since week 2, so as any good handicapper will tell you; we're due.
Number of Touches for Taysom Hill versus Number of Field Goal Attempts by the Atlanta Falcons
Taysom (GC): I can hear Al already, "Brees, going deep, and it's caught! how did he do that? Touchdown number five for number nine! 35 – 0 Saints, nine minutes to go in half number one." Certainly, Payton won't risk the future of his franchise with the game out of hand, which means Teddy and Drew watch young Taysom Hill score another 35 to complete the de-feathering.
Falcons (EE): Oh, I got this. The Falcons have returned to their 2017 embrace of Moreyball, opting for four three-pointers last week as they failed to cover or win at home against the aforementioned Dak and the Dallas Cowboys. This is no doubt due to some fourth-down failure against the Browns in Cleveland the week before. In 12 decisions in field goal range where the correct (from an EPA perspective) decision was to go for it, the Falcons have opted to give their star quarterback/receiver combination the ball just three times, which is in the lower half of the league so far this year. The Falcons (third in early-down passing efficiency) will be able to move the ball Thursday night, so it's #MattBryantSzn.