The 2018 free agency period in the NFL is closing in on its opening stages, including the opening of the window for NFL teams to apply their franchise tag to players. While only one franchise tag was placed on the afternoon, the day did not go without some other serious roster moves for a few franchises.
In this update, we highlight those big moves that should impact the 2018 free agency period in one way or another.
[Editor's note: Read more about the free agency class of 2018 with the first ever PFF Free Agency Guide, which dropped for all PFF Edge & Elite subscribers. Not a subscriber? Sign up today and receive your copy with detailed profiles, exclusive PFF stats and much more.]
Franchise tag
Miami Dolphins WR Jarvis Landry, 82.0 overall grade
The Dolphins tagged soon-to-be unrestricted free agent Jarvis Landry, who led the team in every major receiving category a season ago. His 156 targets, 112 receptions and nine touchdowns were all career highs in 2017 as he dominated in the slot to the tune of five touchdowns and 68 receptions from an inside alignment. His 68 receptions from the slot led the league in 2017.
What his franchise tag means for his future going forward is still unknown as some speculation has stated Miami may be using it as a means to trade the former LSU star, while others maintain it's a means toward working to a long-term deal. One thing is for certain: it came at a hefty price. The expected price for Landry's tag is around $16.2 million.
Landry's subsequent removal from the open market now leaves the wide receiver crop without one of its top names. Allen Robinson, Sammy Watkins, Marqise Lee, and Danny Amendola are some of the headliners available now at the position.
Notable cuts
Tampa Bay Buccaneers RB Doug Martin, 48.5 overall grade
Martin's release from Tampa saves the team $6.75 million in cap space and doesn't leave any dead cap money. His time in Tampa will be remembered as a tumultuous few years of extreme highs and extreme lows. Just this past year, he battled back from a suspension to start the season, was benched in favor of second-year player Peyton Barber and registered an elusive rating of just 13.5, the lowest among any qualified running back this past season.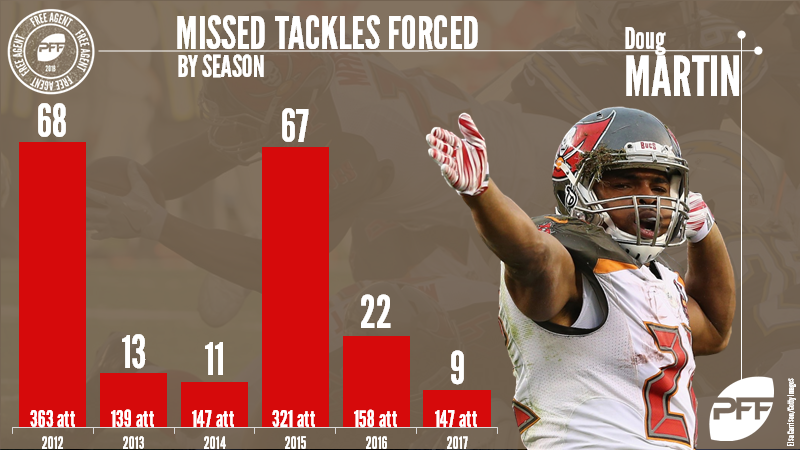 His seasons in 2012 and 2015 showed just how good Martin could be, finishing those seasons with 53 and 57 missed tackles forced on carries, fourth and first among backs, respectively. Running back-needy teams will almost certainly be calling, hoping Martin can rekindle the form he showcased in those aforementioned seasons, and not his recent decline.
Tampa Bay Buccaneers DT Chris Baker, 68.4 overall grade
Baker lasted just one year of a three-year, $15.75 million contract that he signed last season, leaving the Washington Redskins. Calamity followed Baker all season in Tampa as he was reportedly unhappy with playing time and subsequently had his effort questioned by teammates, coaches and fans. He'll likely see suitors for his services but more likely at a much lower contract value than he signed with the Bucs last year.  Baker registered just a 4.9 run-stop percentage this past season, 68th among 83 qualified defensive tackles.
The interior defender class may be one of the deepest of the entire free agent period and is headlined by Sheldon Richardson and David Irving among others.
Houston Texans LB Brian Cushing, 52.0 overall grade
Cushing's end of his tenure in Houston puts him into a vast free agent pool of veteran linebackers where he may find his name closer to the bottom of the list with his overall grade of 52.0 in 2017. Cushing logged only 163 snaps this past season after injury took him out of the Texans Week 1 matchup against Jacksonville.
He came back for the final four contests but was underwhelming and registered just nine total tackles over 131 snaps in those four games. 2017 marked the fourth consecutive season of negative grading for Cushing, a far cry from plus grades in four of his first five years in Houston. He joins a linebacking free agent pool that consists of names like Demario Davis, Avery Williamson, Nigel Bradham, Tahir Whitehead and more.
Chicago Bears LB Jerrell Freeman, 44.8 overall grade
The Bears parted ways with their embattled linebacker Freeman, who was set to make $3.5 million in 2018. He played just 56 snaps this past season due to a concussion, torn pectoral and a 10-game suspension for a second violation of the league's policy on performance-enhancing substances. When healthy and in the lineup, Freeman is a force and was on a two-year tear of grading out as one of the better linebackers in a differing facet each of the past two seasons.
In 2016, Freeman was the highest-graded linebacker in coverage while in 2015, he was the second-highest-graded linebacker against the run. Despite missing four games due to his first suspension due to PEDs in 2016, Freeman still registered 59 total defensive stops, fourth-most among linebackers. If he can prove to team doctors that he's got a clean bill of health and
Re-signings
Tennessee Titans K Ryan Succop
Succop signed a five-year deal with the Titans, making him one of the highest-paid kickers in the league. He finished 2017 as our sixth-highest-graded kicker, connecting on 83.3 percent of his field goals and averaged a starting field position of 24.1 on his 80 kickoffs, the 15th-best starting field position among kickers with at least 20 kickoffs.
Other transactions
Chicago Bears decline G Josh Sitton's contract option
The Bears declined the option of former Packers guard Josh Sitton, signaling his entrance into the free agent pool. Sitton graded out with the league's fifth-highest grade among all guards in 2017 and finished the year with only 12 pressures allowed on his 361 snaps in pass protection. In all likelihood, he'll be the next-most sought-after free agent at guard after Andrew Norwell of the Carolina Panthers decides on his future.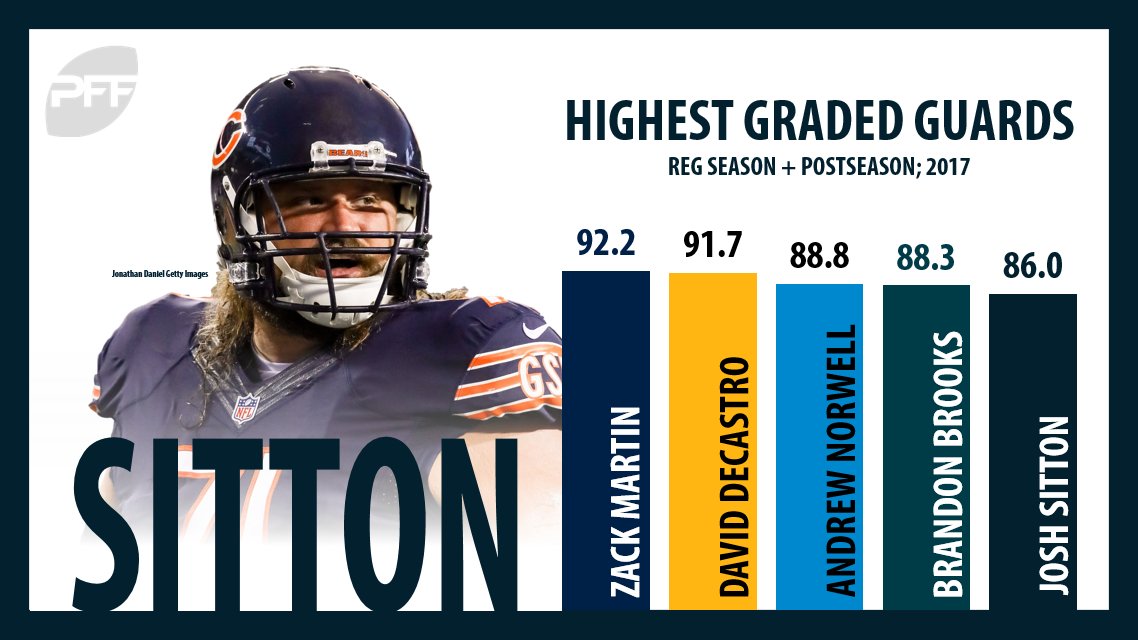 Jacksonville Jaguars pick up TE Marcedes Lewis' contract option
In a no-brainer, the Jaguars picked up the option on Lewis' contract, keeping the league's best run-blocking tight end in Jacksonville at least one more season while they may look to lock him up with an extension perhaps through the end of his career. Lewis finished 2017 with an 87.1 run-block grade, more than 3.5 grade points higher than the next-closest tight end (Rob Gronkowski). While he may lack in receiving skills, keeping one of the league's best blockers at any position in town to pave the way for Leonard Fournette and Co. is a smart idea.
Kansas City Chiefs sign CB David Amerson
Amerson racked up 287 snaps in 2017, but limped his way to a 39.7 overall grade. He enters the mix in Kansas City after the team parted ways with Darrelle Revis and traded for ex-Redskins corner Kendall Fuller. Amerson is likely on a prove-it deal in KC, signing a one-year contract with a base pay of $2.25 million as he allowed a league-high 156.3 passer rating into his coverage last season. He has shown that he can be a viable cover option at times and does have a career total of 48 plays on the ball (eight interceptions, 40 PBU).
2018 Free Agency
---
Free Agent Tracker / Top Offensive UFAs / 2017 free agent hits
2018 Free Agency Rankings
---
2018 Free Agent Previews
---
Arizona Cardinals / Atlanta Falcons / Baltimore Ravens / Buffalo Bills /
Carolina Panthers / Chicago Bears / Cincinnati Bengals / Cleveland Browns /
Dallas Cowboys / Denver Broncos / Detroit Lions / Green Bay Packers /
Houston Texans / Indianapolis Colts / Jacksonville Jaguars / Kansas City
Chiefs / Los Angeles Chargers / Los Angeles Rams / Miami Dolphins /