With an unlikely push for Seattle (+2) (and a win if you got the best of the number), we went 1-0-1 Wild Card Weekend, getting a win with the Chargers (+3) in their rematch with the Ravens. This week we have another four matchups to examine, and we have found some value again.
Our models rely heavily on our PFFELO rating system for the NFL, along with game information like where the game is played, how far a team has to travel, etc. We also fold in opponent-adjusted PFF grades into our machine learning algorithm to factor in roster changes and possible asymmetric mismatches that can occur through the course of a game.
With the Seattle (+2) push, we're 23-18-2 on our "Lock of the Week" picks since the start of 2017 (56.1%). We're 81-73-8 (52.6%) on all of our picks since the beginning of 2017 and 63-50-6 against the spread (55.8%). Our Las Vegas SuperContest picks went 48-36-1 (57.1%) this year (team name #Bet Against___).
The analyses below will involve a point-counterpoint between the two of us for all five picks, using perspectives that only the PFF grades and data can provide. Follow us on Twitter at @PFF_Eric and @PFF_George, and for some podcast commentary on some of these picks, and the process that goes into them, give the PFF Forecast a listen. We will have a special Monday morning podcast each week with look ahead lines for the upcoming week.

Prediction (halftime score): Chiefs 17-14 (Chiefs team total over hits)
Point (George Chahrouri): Andy Reid won't be winning an Oscar anytime soon, but he is as good a scriptwriter as you'll see on your TV screen this year. The Chiefs are the only team in the NFL to score a touchdown on half of their opening two drives, and they're the only team to average over 17.5 first-half points this season. Combining Reid's brilliance (first in our offensive play-calling metric) with the NFL's most valuable player (per PFF WAR) and a now-healthy supporting cast that is as good as any in the league should cause problems for a Colts team that has overachieved on defense while playing the second-easiest schedule. The Colts play zone more than any other team in the league, cover-2 and cover-3 specifically, and Patrick Mahomes is the highest-graded quarterback against those coverages and the highest-graded against zone overall. The only time that Mahomes faced those two defenses on over 20% of his dropbacks he ended up with a 151.4 passer rating and nearly 400 yards through the air.
Perhaps the most important reason to like this number is a combination of the Chiefs' offense and that Colts offense. Reich, the deserving Coach of the Year, has orchestrated a consistent and explosive offense. He ranks fifth in our offensive coaching metric, and the Colts have just 23 quarters without an offensive touchdown and 11 quarters with two or more (fourth and fifth in the NFL, respectively). The Chiefs lead the NFL with only 17 quarters void of an offensive touchdown (best since the 2013 Broncos had 17) and 17 quarters with two or more (best since Broncos in 2014 had 17). With relatively mild weather, points should flow like ketchup for Kansas City.
Counterpoint (Eric Eager): The Chiefs have covered this number in all but four games this season, and in all but one home game (the only exception was week 15 against the Chargers), which makes this bet a very enticing one against a Colts defense that has been getting by on the league's second-easiest schedule through the regular season. However, asking the Chiefs to score three times in a first half when variance like losing the opening coin toss, missing a field goal or extra point (Harrison Butker has missed seven such kicks this year) or even settling for field goals in opponent's territory could be the result of solid offensive play, yet it would still leave us on the outside looking in on this one, especially if the Colts and Andrew Luck try to slow the pace of the game down by running the football or throwing short passes against the Chiefs' poor linebacking corps.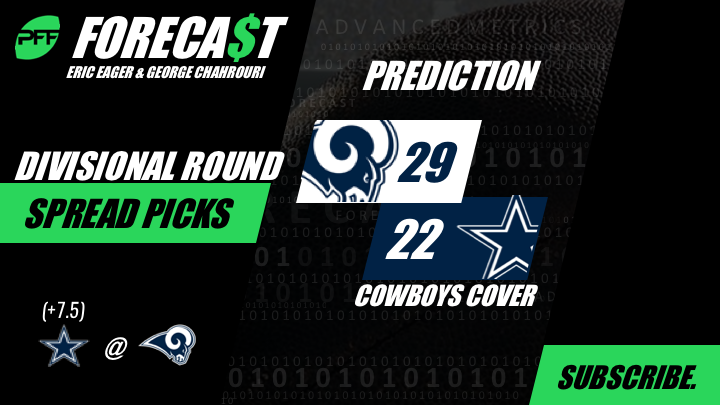 Prediction: Rams 29-22 (Cowboys cover)
Point (EE): This strikes me as very similar to the Thursday Night Football game between the Cowboys and the Saints, where our numbers pointed towards a Dallas (+7/+7.5) cover despite what we thought were our best intuitions. For example, Dak Prescott has the worst negatively-graded throw rate among quarterbacks remaining in the playoffs (15.2%), and while Jared Goff isn't that much better at 13.3%, the Rams have an edge at the most important position in all of team sports. This would not have been a game I would have liked on first blush.
For the Cowboys to make up the offensive discrepancy, their defense will have to perform as they did against Drew Brees and company on that Thursday night, where they held the Saints to 111 yards through the air and 65 on the ground. Their efficiency on early-down runs defensively (allowing only a 37% success rate) and the speed of their linebackers Leighton Vander Esch and Jaylon Smith matches up really well with what the Rams want to do, which is run play-action passes and give the ball to Todd Gurley out of 11 personnel. Such a situation stymied the Rams offense on a Sunday night in Chicago, and while lessons were likely learned from that outing, it's difficult for even the brightest football mind to make wholesale mid-season adjustments to an offense missing one of it's best playmakers in Cooper Kupp and nursing an injury to its top ball carrier in Todd Gurley. 
Lastly, something needs to be said about home-field advantage in this spot. The Rams are coming off of a bye, which is worth something with respect to the spread, but they are playing in a temporary stadium – which we know does not afford the kind of home-field advantage a permanent stadium does. Secondly, crowd noise (and its effect on referees) could very well be on the side of the Dallas Cowboys as opposed to the Los Angeles Rams, given how well their fan base travels and the relatively slow pace on which the latter has taken over the city as their own. While I like the Rams to win this game, I think more than a touchdown is simply too much to lay in this spot.
Counterpoint (GC): The Cowboys are pretty lucky to be here. They escaped the Seahawks, who decided to play with two downs tied behind their backs and only made the playoffs because the NFC East forgot when the season started. Perhaps we've convinced ourselves that Sean McVay spent the last week on the road helping all his friends get head coaching gigs. The difference between the Rams passing attack and the Dak Prescott-led cohort is sizeable, Goff and Co. rank third in expected points added per clean pocket dropback, while the Boys rank 17th.
The Rams also have one of the best running backs in the NFL. That being said, as good as C.J. Anderson has been, Aaron Donald is the non-quarterback that has a chance to ruin this game for the Cowboys. Cowboys guard Connor Williams has allowed pressure on 9% of his pass-blocks since week 13 (fourth-worst among guards), expect Ndamukong Suh to eat up Zack Martin and force Williams into 1-on-1's with A-A-Ron. From coach, to quarterback, to defensive stalwart, the Cowboys have some very real hurdles if they want to keep Jerry happy.