Whether it comes from an off-the-field storyline or an on-the-field showdown between two of the top talents in the game, there are certain individual matchups that football fans circle on their calendars. Here at PFF, we're no different. With training camp and preseason on the horizon, these 17 matchups – one for each week of the regular season – pique our interest.
The first matchup requires no wait, appearing in the Thursday night season opener. Mack's move to the NFC North prior to last season gave football fans everywhere the opportunity to see one of the premier pass-rushers in the game match up with the premier pass-blocking tackle in the league twice per season. Since 2014, Mack has the third-highest pass-rushing grade at the edge defender position behind just Von Miller and Cameron Wake. Meanwhile, Bakhtiari has the second-highest pass-blocking grade over that same time period behind only the great Joe Thomas. It doesn't get much better than that.
Unlike many edge rushers, Mack does not have a designated side that he rushes from. Last season, Mack played 370 snaps on the right tackle side of the line and 429 on the left tackle side. That versatility allows the Bears to play matchups – something that they utilized against Green Bay in 2018. Mack combined for 55 pass-rushing snaps against Bryan Bulaga and Jason Spriggs compared to just 13 against Bakhtiari. How did Bakhtiari hold up on those 13 snaps, though? Zero pressures allowed. It won't happen every snap, but when Mack does line up over Bakhtiari, it will be must-see television.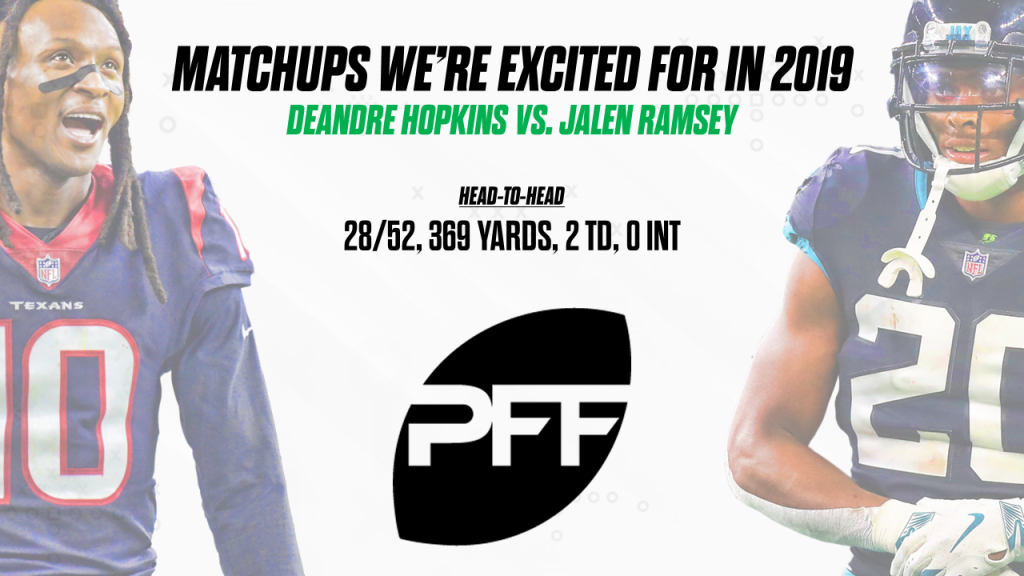 Similar to the matchup in Week 1, Week 2 boasts an inter-division matchup between two of the top talents at their position. Hopkins ended the 2018 season as PFF's top-graded wide receiver for good reason. His absurd hands were on full display, managing to not drop any of his 169 targets. He is projected to put up big numbers once again in 2019. Hopkins' 1,375 projected receiving yards next season rank fourth-highest among all pass-catchers.
Across the field from Hopkins will be the never-lacking-for-confidence Ramsey. Ramsey recently came in as our 15th-best player in the league heading into 2019, coming off two straight seasons with more interceptions than touchdowns against and a passer rating allowed of below 75.0. He'll be looking to put up a performance reminiscent of his 2017 season where his 91.3 overall grade led all cornerbacks. Despite that success, Hopkins has been excellent against Ramsey, posting a 95.3 receiving grade with Ramsey as the primary coverage defender. This should be a good one in the AFC South for a long time.
The trenches should field quite the battle between the Eagles and the Lions in Week 3. It's the classic clash of strength versus strength with Philadelphia boasting the top offensive line in the league in our preseason power rankings and the Lions trotting out a projected starting defensive front in which the lowest-graded player from a season ago is Da'Shawn Hand with a grade of 87.4. The Lions quickly rebuilt their defensive line into a force by hitting on draft picks such as Hand and A'Shawn Robinson (89.8 overall grade in 2018) while also making outside investments such as trading for run-stuffing extraordinaire Damon Harrison (92.0 grade in 2018) and signing the disruptive Trey Flowers in free agency to man the edge (89.7 grade in 2018).
Meanwhile, the Eagles' offensive line is chock full of talent in its own right. They have a left tackle that should be Canton bound (Jason Peters), a right tackle that has graded better than anyone else at his position since 2013 (Lane Johnson), the top-graded center in the NFL last season (Jason Kelce), a top-five graded right guard in 2018 (Brandon Brooks) and the "weak link" of the group (Isaac Seumalo) ranked among the top half of all left guards last season. The draft addition of Andre Dillard only strengthens the depth on what should be one of the premier offensive lines in the NFL. If anyone is equipped to deal with the menacing defensive front of the Lions, it is them.
Week 4 will give us our first look of the season into what appears to be a budding annual rivalry between two of the top young players at their position. In just his first two seasons, Garrett has established himself in the upper tier of edge defenders in the NFL, recording a two-year grade of 88.4 since 2017 which ranks 9th in the league, sandwiched between names such as Joey Bosa and J.J. Watt. On the other side, Stanley has been steady as they come to start his career, grading between 74.8 and 75.8 all three seasons while playing 800 or more snaps each year. He has performed at a high level in pass protection specifically. Last season, Stanley's pressure rate allowed of 3.5% trailed only Tyron Smith at left tackle.
With two years of matchups under their belt, there is already a decent sample size of head-to-heads between these two. In fact, Garrett has more matchups against Stanley than any other player along the offensive line. In 76 pass-rush snaps against the young Ravens' left tackle, Garrett has just three hurries, one hit and one sack. That pressure rate of 6.6% ranks sixth-highest among the 13 individual matchups in which Garrett has had at least 25 pass-rushing snaps.
One of the top storylines stemming from this offseason was the messy divorce between Brown and the Steelers. On Brown's end, things worked out well – he successfully forced the trade he wanted and got the reworked contract that secured him more money over the next three seasons. That being said, it remains to be seen how things fare from a football standpoint now that he's in Oakland. PFF projections have him putting up a stat line of 98 receptions for 1,336 receiving yards and nine touchdowns. Simply adding a player of Brown's caliber to the Raiders' offense should drastically improve the passing game and open things up for the other new additions at wide receiver (Tyrell Williams and J.J. Nelson).
What better way is there to test Brown and the new-look Raiders receiving corps than the secondary that put up the top collective coverage grade in the NFL last season? The Bears lost a couple key pieces from their starting secondary a season ago in Bryce Callahan and Adrian Amos, replacing them with Buster Skrine and Ha Ha Clinton-Dix, both of whom are downgrades (Skrine much more so than Clinton-Dix). However, Eddie Jackson and Clinton-Dix still form the top safety duo in the NFL, and Kyle Fuller and Prince Amukamara form one of the top pairings of outside cornerbacks in the NFL. Collectively, the Bears' outside cornerbacks allowed a passer rating of 71.9 last season, which ranked second in the league behind the Baltimore Ravens. A matchup with a secondary loaded with talent like that will be a good early test for Brown on his new team.
The quarterback matchup when the Seahawks and Browns square up carries intrigue with it considering that Wilson and Mayfield have drawn some comparisons based on both height and a number of things that they both do well. One area where the comparisons were warranted last season was their ability to push the ball downfield – an area in which both Wilson and Mayfield excelled.
Wilson finished first among all quarterbacks in passing grade when targeting receivers 20 or more yards downfield. On those passes, he had an absurd 29 big-time throws compared to only one turnover-worthy throw. Considering those numbers, it comes as no surprise that his passer rating on those deep passes led the league at 129.8. Coming up just behind Wilson, Mayfield ranked third among all quarterbacks in passing grade on 20-plus yard throws. In all, he went 32-for-72 for 1,008 yards, 11 touchdowns and four interceptions on such passes. Expect to see the Browns and Seahawks air it out often and effectively in the matchup.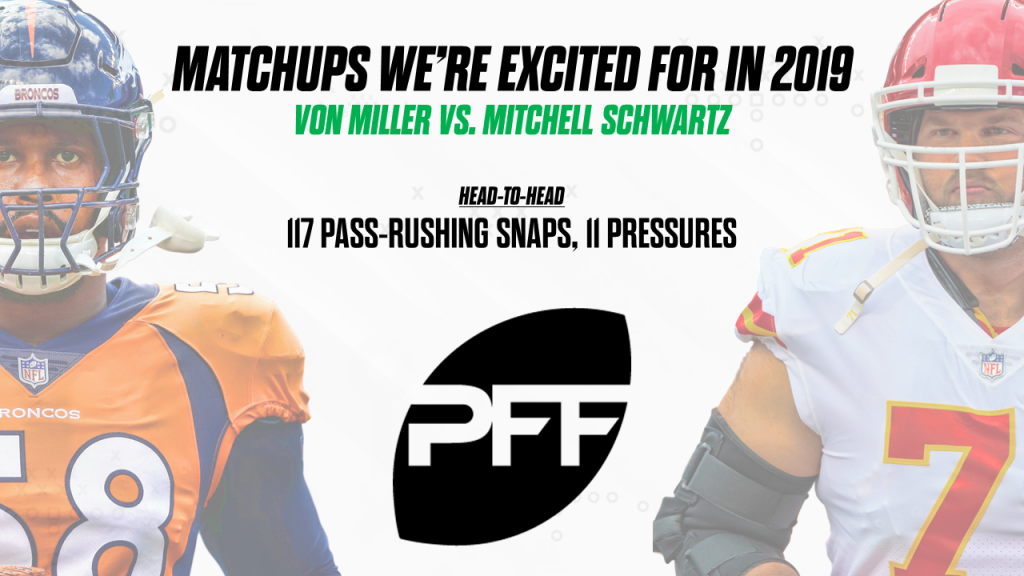 Miller's success has been well documented, but just to put in perspective how dominant he has been, these are his overall grades since entering the league: 90.0, 93.4, 91.5, 90.3, 91.9, 90.5, 91.5 and 90.3. That is eight seasons in the NFL and eight consecutive seasons of overall grades at 90.0 or higher. He's been unrivaled as a pass rusher, recording a 17.1% pressure rate since 2011, which ranks first among all edge defenders with 1,000 or more pass-rushing snaps over that span.
On the other side, Schwartz hasn't gotten the recognition of other tackles – still yet to make a Pro Bowl appearance – but there have been few better right tackles since he entered the league in 2012. Over that span, Schwartz ranks third among qualifying right tackles in overall grade, and his 85.6 pass-blocking grade last season ranks second-highest among all players at the position with 300-plus pass-blocking snaps in a single season since 2006.
Schwartz has been one of the few tackles capable of slowing Miller over his career. In 117 pass-blocking snaps in which Schwartz was matched up with Miller, he allowed just 11 total pressures (nine hurries and two sacks). That pressure rate of 9.4% sits well below Miller's career average. Next year provides another opportunity to see two of the best in the business line up across from each other.
Similar to Brown, Beckham is one of the elite wide receivers in the NFL and he will be calling a new city home in 2019 – Cleveland. Taking out a 2017 season in which he played just 214 snaps, OBJ's lowest season grade came in 2016 at 84.6. He has forced 82 missed tackles after the catch (third among all wide receivers since 2014 behind Golden Tate and new teammate Jarvis Landry). Quite simply, Beckham is a difference-maker at wide receiver, and now he will be playing with a clear upgrade at quarterback with Baker Mayfield compared to the last five seasons of Eli Manning.
Expectations are high for the Browns' passing attack for good reason, but one of their stiffer tests of the season will come against the Patriots, and one of Beckham's stiffer tests personally will come against Gilmore. Over the last two seasons with the Patriots, Gilmore has a 91.5 overall grade which tops all cornerbacks in the league. His forced incompletion rate of 26.7 percent ranks second among all cornerbacks with 100 or more targets over those two seasons. It doesn't get much better than one of the most exciting wide receivers in the league against an emerging top-tier cornerback.
Unlike most of the matchups on this list, this isn't a matchup that we're looking forward to because two of the top players at their position will be facing off one-on-one, but rather we're looking forward to it given the history of the matchup. Roethlisberger has faced the Colts on four occasions since 2014 and in those games, he has a 96.0 passing grade behind 9.7 yards per attempt (1st among quarterbacks with 50-plus attempts against the Colts over that span), a 133.5 passer rating (1st) and a 15-to-1 touchdown-to-interception ratio. He's put up a string of outstanding performances in the matchup, peaking interest in what he'll do next.
Things may not be as easy for Big Ben next season, though. As PFF senior analyst Mike Renner outlined late last season, the Colts' defense was much improved last year compared to years past. That was largely due to a heavy focus on a relatively simple zone coverage scheme that allowed defenders to play fast and react to plays in front of them, limiting the big plays against their defense. Will Roethlisberger have similar success against this new iteration of the Colts' defense? It will be worth watching for in Week 9.
Kamara has only been in the NFL for two seasons, but in that short period of time, he has already established himself as one of the top running backs in the league. There is a reason that he holds two of the top four single-season WAR values at the position since 2006 – Kamara is an elite receiver at the running back position. He has two consecutive seasons with a receiving grade of 89.0 or higher and his 2.37 yards per route run since entering the league easily top the position.
Luckily for the Falcons, who see Kamara twice per season, they have one of the best coverage linebackers in the NFL. The best way to show just how big an effect Jones has on the Falcons' defense is to look at their linebackers in coverage when he is on the field compared to when he isn't. Over the last two years, Atlanta's linebackers have allowed a passer rating of 89.6 on plays where Jones has been on the field (would rank first in the NFL among all NFL linebacker groups) compared to 115.3 with Jones on the sideline (would rank last). Since 2016, only Luke Kuechly has a higher coverage grade than Jones (91.3). Jones is one of the few linebackers in the league equipped to deal with Kamara out of the backfield.
The Cardinals will be hoping that Murray is the driving force in getting the Cardinals moving in the right direction after determining that their first-round pick a season ago, Josh Rosen, was not. The 49ers will be hoping that Nick Bosa follows in the footsteps of his brother Joey and becomes one of the most disruptive pass-rushers in the NFL over the next decade. After all, those are the expectations that are set when you're taken with one of the first two selections in the NFL draft.
There is every reason to believe that both of these players will quickly show that they were worthy of those selections – Murray came in at first on the PFF Big Board and Bosa followed right behind at second overall. Murray is one of the best dual-threat quarterbacks to come out of college in some time and is one of only three quarterbacks since 2014 to record a passing and rushing grade over 80.0. His 93.7 passing grade last season ranks behind only his predecessor, Baker Mayfield, in the PFF College era. Similarly, Bosa dominated at the college level, posting an absurd 25.5 percent pass-rush win rate and a 93.6 career pass-rushing grade which trailed only Myles Garrett at the collegiate level since 2014. At this point in the season, both could be building their case in the Rookie of the Year race.
Sticking with the 49ers, their Week 12 matchup should be an interesting one for their breakout star at the tight end position, George Kittle. The former Iowa standout exploded onto the scene in his second season. His 89.7 grade in 2018 led the tight end position, and he put up historic numbers after the catch, averaging 9.9 yards after the catch per reception and putting up 873 total yards after the catch which was 299 more than the next closest tight end (Travis Kelce).
Last season, no tight end was targeted more when covered by a safety than Kittle (57 targets). He had a tame stat line of four receptions on five targets for just 30 receiving yards against the Packers. Considering their offseason acquisitions of Adrian Amos via free agency and Darnell Savage via the draft, the Packers should be in even better shape to cover Kittle in 2019. Over his NFL career, Amos has a top-10 coverage grade among safeties since entering the NFL in 2015. Savage is coming off two consecutive seasons with PFF coverage grades of 87.0 or higher. Together, they significantly upgrade the safety position in Green Bay and create an interesting matchup with Kittle.
PFF's prototypical route runner at the wide receiver position gets to match up twice per season with one of the top cornerbacks of the PFF era, Chris Harris Jr., who ranked second in the league in slot coverage grade last season. Week 13 provides us as viewers with one of those matchups. It remains to be seen how the Broncos handle the slot cornerback position next season after Callahan followed new Broncos' head coach Vic Fangio over from Chicago, but regardless, Harris should see plenty of Allen since the Chargers' wide receiver splits time between the slot and out wide. Allen ran 57.2 percent of his routes from the slot in 2018.
As far as pre-existing history between the two goes, Allen has been targeted 24 times with Harris in primary coverage. On those targets, Allen has brought in 13 catches for 124 yards and two touchdowns for a passer rating when targeted of 79.2. It's been a fairly even matchup to this point, and it will be interesting to see if it tilts in either player's direction next season.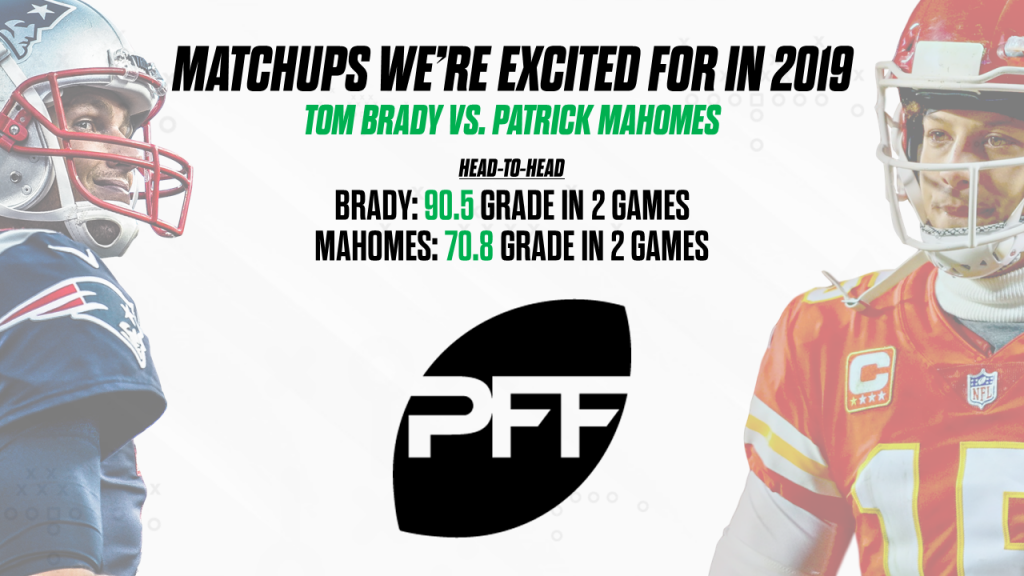 Unlike most of the matchups on this list, Brady and Mahomes aren't lining up head to head. In fact, they won't even be on the field at the same time. That being said, the Chiefs and the Patriots figure to be jockeying for positioning in the AFC at this point of the season, and the fates of the two teams rest squarely on the shoulders of their quarterbacks. Brady put together another stellar season, finishing the 2018 campaign with his fourth consecutive season grading at 90.0 or above. Meanwhile, Mahomes burst onto the scene in his first season as a starter with the second-highest grade among all quarterbacks at 92.9 overall.
Last season, Kansas City and New England produced two instant classics – the Patriots narrowly escaped with a 43-40 win in Week 6 and a 37-31 overtime win in the AFC Championship. Mahomes put together a decent stat line in the two games against the Patriots, including 9.7 yards per attempt and a passer rating of 113.2, but two of his five lowest game grades of the season came in those two matchups (65.7 in Week 6 and 72.1 in the AFC Championship). Brady posted game grades of 91.3 and 79.7 in those same games. The higher graded quarterback took home the win on both occasions. It leads to the question – which quarterback will perform better in the matchup next season?
I couldn't justify putting together this list without including the hands-down best player in the NFL regardless of position. Donald gets perhaps the most demanding matchup for an interior defensive lineman in the league by going against what projects to be a full-strength interior offensive line for the Dallas Cowboys. Zack Martin and Travis Frederick both rank first at their position in PFF WAR since 2014, and you can easily make the argument that they are the best guard and center in the league respectively when healthy. That doesn't include Connor Williams, either, who graded at just 57.3 last season but held Donald without a pressure in 21 pass-blocking matchups.
The Cowboys shouldn't expect that to happen twice, though. Donald is a force of nature. He has five straight seasons with grades of 90.0 or higher to open his career. He wins over a fifth of his pass-rush snaps – the only interior defender who can say that since 2014. His 419 pressures are more than any other player regardless of position in the last five seasons. Seeing him go up against Martin, Frederick and Williams make for an intriguing battle, to say the least.
There isn't anything particularly interesting about this matchup from a schematic standpoint, aside from the usual gamesmanship that comes when worrying about how to deal with a running back that can make as much of an impact in the receiving game as Bell can. This matchup makes the list for the revenge factor. Clearly, Bell wanted more money from the Steelers than they were willing to give him to the point that he sat out the entirety of last season rather than play on the franchise tag. The debate over the value of the running back rages on, with Melvin Gordon being the most recent name thrown onto the flame, but the situation creates for an interesting matchup with Bell's former team.
You can argue about how much value Bell brings to an offense, but there aren't too many people arguing that he isn't one of the top players at the position when on the field. Despite all the injuries and voluntary time off he has taken, Bell still ranks first among all running backs in wins above replacement – a metric which takes into account availability – since entering the league. In the passing game, the Steelers should be better equipped this year to deal with a receiving threat out of the backfield after trading up for Devin Bush in the first round of this year's draft. Bush recorded a coverage grade of 87.7 last season at Michigan and 65 percent of his targets over the last two seasons came against running backs. The battle between those two should lead to some interesting moments in Week 16.
Kelce is a mismatch weapon. Someone his size shouldn't be able to run routes the way that he does. It's the reason that he has three straight seasons with a receiving grade of 87.0 or higher. Kelce trails only Gronk in receiving grade since entering the league in 2014 at the tight end position. His 2,904 receiving yards after the catch dwarf all other tight ends. The next closest yards-after-the-catch totals are 2,043 (Gronkowski) and 1,556 (Zach Ertz). Put all that together and Kelce is a problem that every defense which faces him must deal with in some fashion.
The Chargers are perhaps better equipped to deal with a player like Kelce than anyone else after having Derwin James fall in their lap in the 2018 NFL Draft. Last season, Kelce's production did see a dip against the Chargers. In two games, he had just eight receptions for 67 yards against Los Angeles. Specifically against James, Kelce had just two receptions for two yards. This game figures to have playoff implications, and the matchup between the only-improving Kelce and James will likely play a part in determining the winner.