PFF Senior Analyst Sam Monson released his 101 best players heading into the 2016 season last week, and with it we saw plenty of discussion about who the best players in the league are on both sides of the ball. Here we are going to look at the defensive talent in the NFC, and highlight the top 10 players on defense in that conference, starting off with a certain disruptive defensive tackle who has moved with his team to Los Angeles this offseason.
1. Aaron Donald, DT, Rams
There wasn't a more disruptive defensive player in the NFL than Donald last year, and the only thing separating him from the three players ranked ahead of him in Monson's 101 is that those players have had very highly-graded seasons multiple years in a row. Donald is in position to redefine what a defensive tackle is capable of, and if he can maintain his incredibly-high level of play, we're going to be debating whether or not he or J.J. Watt is the best defensive player in football for several years.
Donald's production last year was off the charts, finishing the season with the highest overall grade among players on the defensive interior, the highest grade against the run, and the highest as a pass-rusher. He racked up 11 sacks, 26 hits, and 42 hurries, giving him a pass-rushing productivity rating (our signature stat that quantifies pressure on a per-snap basis with a weighting towards sacks and hits) of 12.4, the best of any defensive tackle since Bengals DT Geno Atkins achieved a mark of 12.7 in 2012.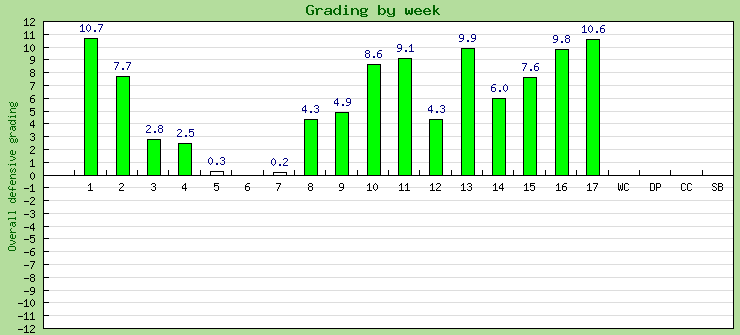 2. Luke Kuechly, LB, Panthers
If Aaron Donald is capable of forcing us to debate who the best defensive player in the NFL is between he and J.J. Watt for the next few years, Panthers linebacker Luke Kuechly is capable of turning that into a three-player discussion, after producing the best season we have ever seen from a linebacker (PFF began grading games in 2007). Fantastic both against the run and in coverage, Kuechly is making a very strong case to one day become known as the best middle linebacker in NFL history, provided he can prove that 2015 was not merely an outlier in his career.
As Monson has pointed out before, the passer rating for quarterbacks throwing into Kuechly's coverage in 2015 was just 48.7, while the average for every other linebacker in the league was 102.1. It's rare, but even as a linebacker, he is one of the very best coverage defenders in the NFL. He's only been in the league for four seasons, and will be just 25 when the 2016 season kicks off. Given what he has achieved over the past two years, we should be prepared for another special season from Kuechly in 2016.
3. Richard Sherman, CB, Seahawks
While you can point to the occasional big play he gives up, Richard Sherman has established himself as the best cornerback in football over the past few seasons. Using his length to his advantage, Sherman is able to get to passes that many other cornerbacks can only dream of, resulting in more pass breakups and interceptions.
He talks the talk, but backs it up, giving up a receptions just once every 19.2 snaps in coverage in 2015. That was the second-best rate of all cornerbacks in the NFL, with only Arizona Cardinals cornerback Patrick Peterson allowing a reception at a lower rate. Sherman is also good against the run, grading positively in that regard in four of the past five seasons. That's impressive, but it's obviously his ability in coverage that gets him on this list, and the fact that he hasn't allowed a 100-yard receiver in his coverage since Week 4 of the 2012 season (and has surrendered that total just twice in his career), that backs up his claim to being the best cornerback in football.
4. Tyrann Mathieu, DB, Cardinals
There continues to be debate as to what Mathieu should be classed as—safety or cornerback—but what can't be denied any longer is the fact that he is one the best defenders in football. An outstanding slot CB—that's where Mathieu could be found on 560 of his 906 snaps last year—he picked off five passes from the slot, three more than the next-best cornerback.
What truly makes Mathieu special is just how good of an all-around player he is, and his success has spawned a search by other teams for a player like him in the draft every year. His run-stop percentage, our signature stat that tracks the percentage of plays where a defender makes a tackle resulting in a defensive stop, was the best among cornerbacks last season. He also had the third-best pass-rushing productivity rating among cornerbacks at 21.8, racking up a sack, two hits, and eight hurries on 39 pass-rushing snaps. In two of his three seasons in the league, he has graded positively in coverage, against the run, and as a pass-rusher.
5. Michael Bennett, DE, Seahawks
The second Seattle Seahawks defensive player to make this list, Bennett still appears to be relatively underrated in the grand scheme of things in the NFL. He's rarely mentioned among the best pass-rushers in the league, but that's exactly what he has become in the past four seasons. Perhaps it's because he was undrafted out of Texas A&M, or perhaps because he's used in a variety of ways as opposed to just off the edge from the Seahawks, but whatever it is, he was the fifth-highest defender in the NFC in Monson's 101.
He can completely take over games when he's at his best, and he made life for Minnesota Vikings LT Matt Kalil completely miserable in the first few plays of the wildcard round of the playoffs, beating him for a hit, and also getting past him into the backfield on a running play within the first two and a half minutes of the game. He finished the 2015 season with 91 total pressures, and heads into the 2016 season as one of the best defensive linemen in the NFL.
6. Fletcher Cox, DT, Eagles
Cox has taken huge leaps forward in the past two years, and with the Eagles moving to a 4-3 defense, he is set up to attack more as a defensive tackle in new Defensive Coordinator Jim Schwartz's system. With that in mind, Philadelphia signed him to a huge contract extension, making it clear that he will be the key player on that defensive line going forward.
Considering what he was asked to do so frequently for the Eagles—two-gapping in their 3-4 defense—it's impressive that he was able to grade as well as he did as a pass-rusher last season. In fact, he's graded better as a pass-rusher every year since entering the league, racking up 10 sacks, 13 hits, and 54 hurries in 2015 alone. With that production in a role that didn't allow him to attack as much as his new role should, the prospect of how disruptive he could be in 2016 is a very scary one for opposing offenses.
7. Harrison Smith, S, Vikings
Another defensive player who earned himself a huge contract this offseason, Smith has developed into the best safety in all of football in the past two seasons. No safety in that span has graded higher than Smith, as the Viking earned positive marks in coverage, as a pass-rusher, and against the run in both seasons. His pass-rushing productivity of 26.5 was the best of any safety in the NFL last year.
Smith is an impressive player all-around, which gives the Vikings some versatility defensively. The former Notre Dame player is good enough to play close to the line of scrimmage and impact offenses against the run, act as an occasional pass-rusher, and drop deep in coverage when asked to do so. There's also something to be said for the fact that he can lay a big—but legal—hit in today's NFL, setting the tone for a Vikings' defense that continues to get better.
8. Patrick Peterson, CB, Cardinals
After a down year in 2014, Peterson bounced back to have his best season as a pro so far. Often covering an offense's top receiver, Peterson allowed a reception just once every 19.5 snaps in coverage, the best mark of any cornerback in the NFL last season. In the regular season he allowed just 351 yards, the second-fewest of any cornerback to play at least 350 snaps in coverage, with Patrick Robinson—the only player ahead of him—playing 197 fewer coverage snaps last year.
The highest single-game yardage total allowed by Peterson last year was 56 against the Bears in Week 2; after that, he didn't allow more than 50 yards in a game until he gave up 52 yards in the divisional round of the playoffs against the Packers. Considering that he spent a lot of time covering the best receivers in the NFL, that's a fantastic stat to back up his claim as one of the best CBs in all of football. That included allowing just two receptions for 26 yards against Steelers WR Antonio Brown.
9. Earl Thomas, S, Seahawks
The third Seattle Seahawks defensive player to make the NFC's top 10, and also the second safety to make the list, Thomas has long been regarded as one of—if not the—best safety in the NFL. He doesn't quite grade at that level, but he does play one of the toughest roles in football as one of the few true single-high safeties in the league. Teams around the NFL have been searching for the next Earl Thomas for the last few years, but as of yet, nobody has quite managed to find a suitable clone.
Thomas is a solid run defender who has graded positively against the rush in four of his six seasons in the league, but it's his coverage skills that truly put him among the best defensive players in the NFL. Few defenders have the range that Thomas owns, which allows the Seahawks to be more aggressive defensively, safe in the knowledge that Thomas has the ability to cover ground that very few other defensive backs can. That's helped him to 23 interceptions and 17 pass breakups in coverage since entering the NFL out of Texas six years ago.
10. Anthony Barr, LB, Vikings
One of the best defenders to come into the NFL over the past two seasons, Vikings linebacker Anthony Barr is quickly developing into one of the best LBs in the NFL. At 93.4, Barr was second only to Kuechly in terms of overall grade last season, with his ability as a pass-rusher particularly impressive. Barr has rushed the passer 226 times over the past two seasons, racking up eight sacks, 10 hits, and 29 hurries. While that represents a small percentage of his defensive snaps, it's a handy trait to have, and allows the Vikings some versatility defensively.
Barr graded positively in all three aspects of his game this season—not just as a pass-rusher—but the big improvement in his game from his rookie year in 2014 to 2015 was in coverage, where his grade jumped significantly. Targeted 59 times in 2014, Barr allowed 91.5 percent of those targets to be caught. In 2015, 49 passes were thrown into his coverage, with just 77.6 percent of those passes hauled in for catches. A defender who is only getting better, Barr has developed into one of the best 4-3 outside linebackers in the NFL very quickly, and after two seasons, appears to be only getting better.