The 2020 receiver class was touted as one of the best in recent memory — and for good reason. A record 13 receivers were selected in the first two rounds of the 2020 NFL Draft, with six hearing their names called on Day 1. Although draft pundits and general managers predicted an early run on WRs, the outcome is no less impressive. 
With the end of the season drawing close and roster positions nearly locked in, let's examine just how great the 2020 receiver draft has been compared to prior years. 
Leading the 2020 class, Justin Jefferson owns a 90.2 PFF grade, making him the highest-graded rookie receiver through the first 10 games of a season since we began collecting data in 2006. In terms of receiving grade, Jefferson, Brandon Aiyuk and Tee Higgins find themselves among the 15 highest-graded rookie receivers during that time, most among any class. In fact, the only other year with more than one player was 2016, which saw both Tyreek Hill (83.0) and Michael Thomas (81.3) earn 80-plus grades. 
Led by Jefferson, Aiyuk, Higgins, Jerry Jeudy, CeeDee Lamb, Chase Claypool and Laviska Shenault Jr., the 2020 class has recorded 7,020 receiving yards with 2,598 coming after contact. Combined, 2020 has forced 74 missed tackles (first), caught 176 receptions of 15 or more yards (first) and dropped just 6.5% of their targets (second) — all top-three marks by any rookie class. They have hauled in 36 touchdowns, which are fourth-most, but they have also rattled off 296 first downs — 22 more than any other class.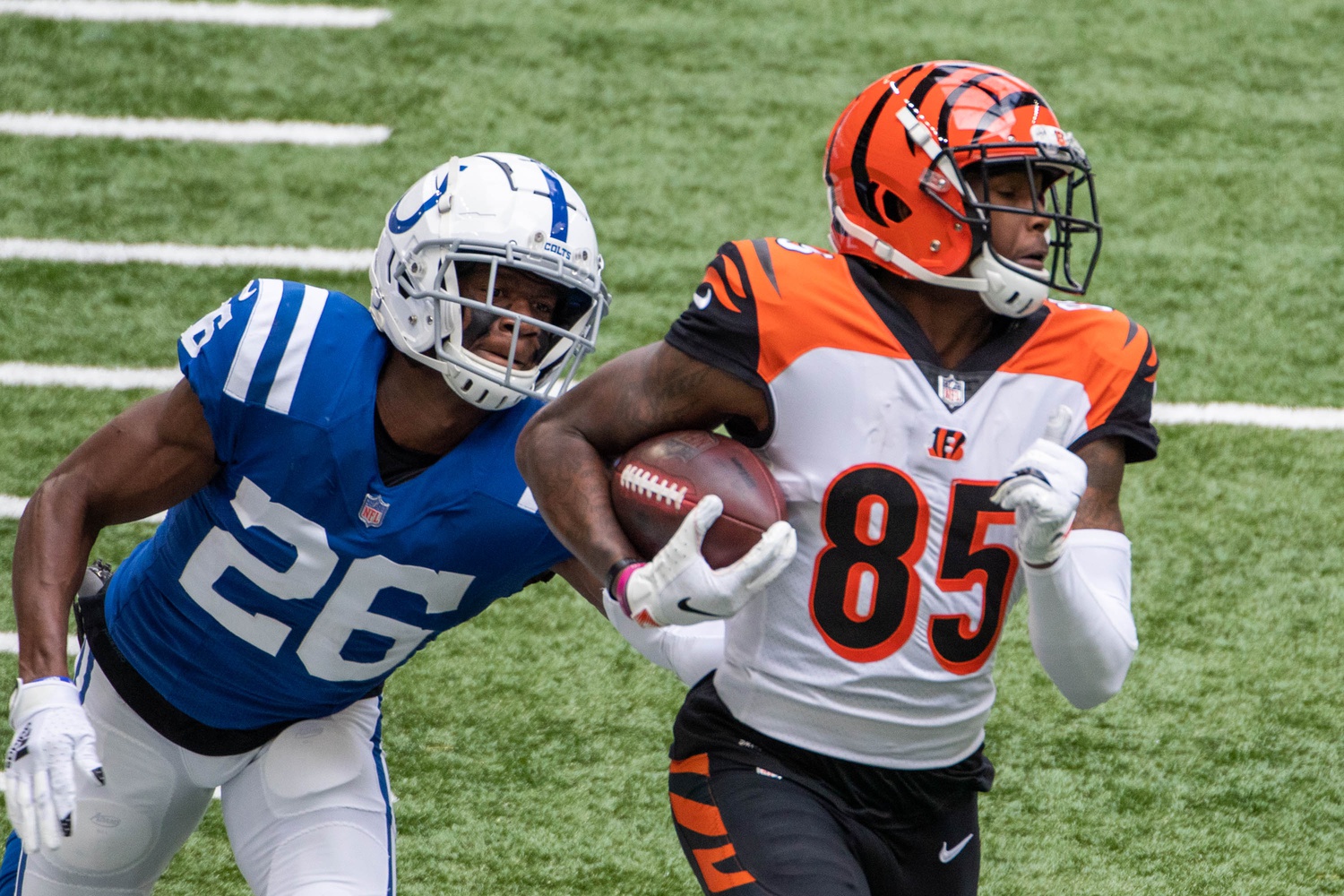 Some may point to the fact that these rookies are benefitting from the new-age, pass-happy NFL, and to an extent they are right. This year's group has seen a total of 4,726 receiving snaps, almost 1,000 more than the next-closest season. However, they are still second in targets with 865. The only class ahead of them is the legendary 2014 class, which included Odell Beckham Jr., Sammy Watkins, Mike Evans, Davante Adams, Brandin Cooks, Allen Robinson and Jarvis Landry. As a matter of fact, the 2014 receiver class is the only one with a cumulative grade (79.6) higher than 2020 (76.1).
When looking at the individual performances from the top rookies this season, it is easy to see why the class as a whole has been stellar. Jefferson has stunned analysts and fans alike, netting an NFL best 3.12 yards per route run this season. Stepping into the shoes of Stefon Diggs is a tall task for any receiver, but Jefferson has filled in admirably during his rookie campaign. Though he was primarily used in the slot in his last year at LSU, Jefferson boasts 85-plus grades from both inside and outside, showcasing his flexible skillset. 
Jeudy possesses excellent deep threat ability that, when paired with his elite route-running prowess, makes him one of the deadliest receivers of the group. He has overcome poor quarterback play in Denver, torching defenses for 19 receptions of 15-plus yards, tied for the fourth-most this year. 
Much like his collegiate career, Shenault has been one of the most versatile receivers in the NFL, lining up in the backfield, slot, out wide, inline and even at QB. His 11 missed tackles forced after the catch and seven contested catches are the most by a rookie this season.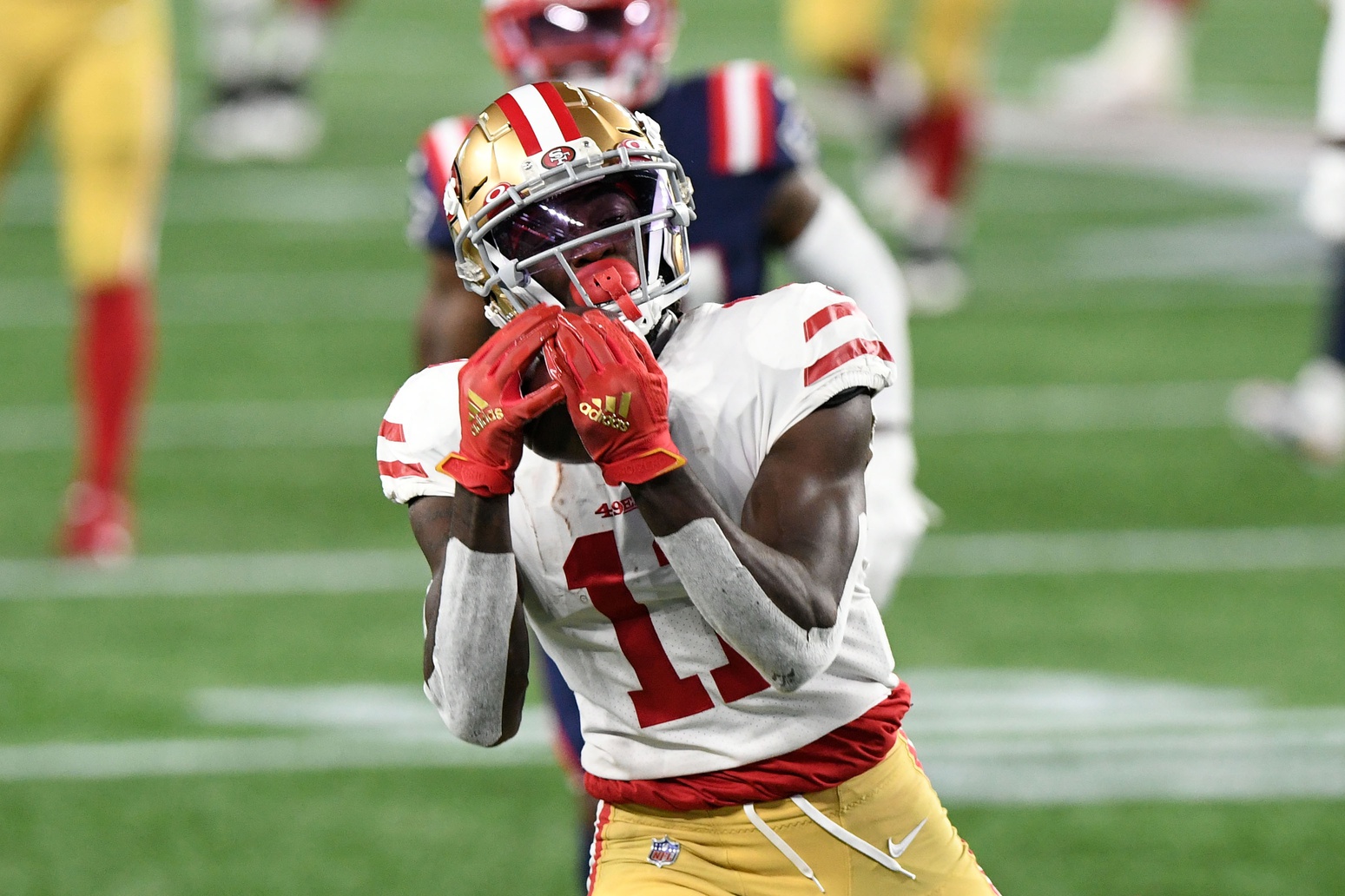 Similarly as athletic, Aiyuk has spent some time on the bench due to injury, but when healthy he has been electric. The former Arizona State Sun Devil holds the third-highest receiving grade over the past four weeks as he continues to improve as a pass-catcher. 
Claypool was utilized as a small tight end/big receiver in his time at Notre Dame, and the Steelers have taken advantage of his unique size and speed combination. He has a 134.3 passer rating when targeted, which is the highest of any receiver with 40 or more targets. He also enjoys two rushing touchdowns on jet sweeps this year, tied for the most by a receiver in 2020.
Despite predominantly lining up outside at Oklahoma, Lamb has been exceptional from the slot this season, even with quarterback Dak Prescott going down with an injury early in the year. He has hauled in 42 of his 62 targets for 557 yards (second-most) and three touchdowns (fifth). 
Higgins has built a rapport with 2020 No. 1 overall pick Joe Burrow, reeling in 32 first downs plus touchdowns this season, tied for the second-most by a rookie receiver through 10 games. After posting a 69.8 PFF grade over the first five weeks of the season, Higgins has earned an 80.5 grade since Week 6 as he and his rookie counterpart continue to progress in their young careers. 
This year's receiver crop is second only to 2014's, highlighting just how dominant this collection of rookies has been in their first seasons. Although we have seen dominant performances from quite a few, there have been a plethora of other rookies who have flashed potential, such as Darnell Mooney, Gabriel Davis and K.J. Hamler. That is not to mention Jalen Reagor, Denzel Mims and Henry Ruggs III who have only recently returned from injury — based on their collegiate tape, we should expect all three to showcase their ability as the season wanes.
Time will tell if the 2020 class can build on its success in future seasons, but as a unit, it has already proven to be one of the best rookie receiver groups the NFL has ever seen.