PFF previews the 14 NFL games in Week 6, highlighting storylines to watch while also taking a fantasy football and betting approach to offer insight for every NFL fan.
Headline of the game: Both teams could be getting their starting quarterback back
Had this game been played this past Sunday — as it was scheduled to be — we would have likely been treated to a riveting matchup between quarterbacks Jarrett Stidham and Brett Rypien. But after the game got pushed back to this upcoming Sunday, it now looks like there is a decent chance that both Cam Newton and Drew Lock are able to return to the field. That's huge for both teams.
Newton has been New England's entire offense through the early stages of this season. We've seen the Pats win with Newton as a designed runner (against the Dolphins), with Newton airing it out (against the Seahawks) and with the running backs as the focal point of the offense (against the Raiders). Even in the final scenario, Newton merely being on the field played a role. It's easier for your running backs to have success when defenses have to respect the threat Newton poses as a runner. On the other hand, Brian Hoyer and Stidham combined for four turnover-worthy plays in the game Newton missed against the Chiefs. If New England is to have any success this season, they need him healthy and playing well.
Denver getting Lock back is also big, albeit for different reasons. It's a long shot for the Broncos to be competitive in the AFC with all the injuries they've suffered, but it is important that they get the chance to see what they have in their second-year quarterback. Lock has a 54.8 passing grade in the six-plus games we've seen from him to this point, and Denver could be in a position to take a quarterback early in the 2021 draft. The postponed game isn't ideal for the Broncos in the sense that it wasted their bye week, but it does give them one more game to see what Lock has to offer before potentially making a decision on him this offseason.
Fantasy
If Cam Newton is ready to start, he should be able to have a huge game. The Broncos haven't faced many mobile quarterbacks this season. The Broncos allowed Sam Darnold to run for 84 yards on six rushing attempts in their last game. Every quarterback they've faced has thrown for at least 230 yards. Julian Edelman could also be in store for a big game considering how many fantasy points the Broncos have given up to wide receivers. Over the last two games, three different receivers had at least 60 receiving yards against Denver in the slot. Edelman has been lining up in the slot on a higher percentage of his plays compared to recent years.
The Patriots backfield should be avoided most weeks because it's a three-person committee that could eventually add a fourth. What makes matters worse this week is the Broncos defense. They've allowed an average of 84 yards per game to halfbacks, and their run defense grade as a team is the highest for all teams.
It will be hard to trust starting any of the Broncos, but there are at least a few worth taking a gamble on.
Travis Kelce is the only tight end to have more than 30 yards receiving against the Patriots. Noah Fant was ruled out for this game when it was scheduled for Monday night, so it wouldn't be surprising if Fant can't play. Even if he can, it would probably be better to start someone else. Melvin Gordon III could also have plenty of problems facing this defense. Three running backs who are typical must-starts have faced the Patriots and were given over 15 carries, but none of them could top 75 rushing yards. The only one to run for a touchdown has been Jordan Howard. That doesn't add up to a big day for Gordon.
The interesting play is at wide receiver. Only four wide receivers have caught at least 50 yards against the Patriots, and none of them have topped 100. That alone isn't very promising, but seven different wide receivers have caught a touchdown against them. If Stephon Gilmore isn't able to play, that will make things interesting as at least one of the Broncos wide receivers should be catching a touchdown.
Betting
Check PFF Greenline for updates and advice as soon as this line is posted.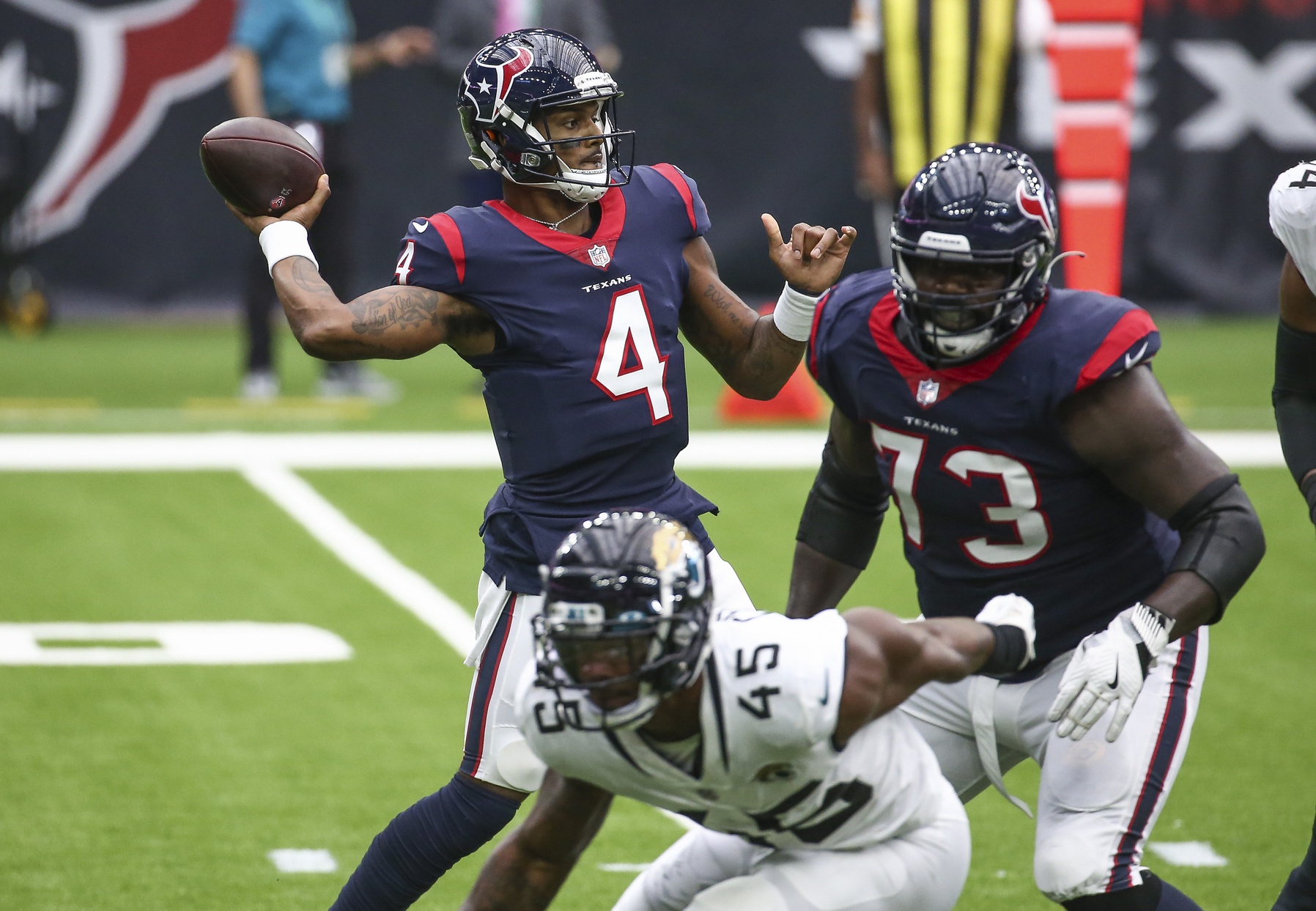 Headline of the game: Texans get an opportunity to show that their season isn't over with a second consecutive AFC South win
The first game in the post-Bill O'Brien era was a success, as Houston picked up its first win of the season with a 30-14 victory over a Jaguars team that is starting to look closer to the group people expected coming into the season. Now, they get a chance to extend that streak to two games, only this time they face a genuine AFC contender in the form of the Titans.
Granted, it came against the second-worst pass defense in the NFL by EPA per play, but Deshaun Watson's 86.5 PFF grade in Week 5 was his best single-game grade of the season by over 10 points. The transition to life without DeAndre Hopkins has not been seamless, and that's especially noticeable on extended plays or plays under pressure, which is where that duo shined brightest. While this offense still tries to figure things out in those situations, he has done a good job in the last several weeks of capitalizing on the opportunities he gets from a clean pocket. Watson has recorded a league-high 10.8 yards per attempt from a clean pocket over the last two weeks.
Had this been last season, Tennessee wouldn't have offered much in the way of pass-rushing threat, but the addition of Jadeveon Clowney and the progression of Jeffery Simmons has made them more formidable up front. One of the biggest storylines to watch here is how Watson deals with that pressure when it comes.
Fantasy
Running backs should be the highlight for both teams in this game. Four of the five teams the Texans have faced this season have had their running backs run for at least 140 yards and a touchdown. Derrick Henry faced Houston in Week 17 of last year, and that was his only 200-yard rushing performance of the season as well as his only three-touchdown game. Henry is already a must-start every week, but he could easily be the best running back of the week.
A.J. Brown is probably someone to avoid. The Texans have used Bradley Roby to track opposing top wide receivers each week, so Roby should be across from Brown on most plays. He's allowed a total of 139 yards over five games and has yet to allow more than 45 in a game. Roby's PFF grade has improved as the season has gone on. If the Titans can keep it close or gain a lead, they'll be running the ball and Brown's targets could be limited.
Henry won't be the only back to put up big numbers. The Titans allowed over 400 total yards to running backs over their first three games and a touchdown in each. This is great news for David Johnson. While Duke Johnson Jr. has taken some of David's snaps since returning, he hasn't been taking many carries. David has double-digit rushing attempts in every game this season. He's averaged a respectable 4.3 yards per carry despite four of the five defenses he's faced having an above average team run-defense grade. He should have more success than usual against the Titans defense.
The rest of Tennessee's defense has been relatively average this season. If you would typically start other players from the Texans, go ahead and start them.
Betting
Check PFF Greenline for updates and advice as soon as this line is posted.
Headline of the game: Can the Browns' offensive line slow down the Steelers' pass rush?
To say that the Steelers have put up gaudy pass-rushing numbers through their first four games would be an understatement. Their team pressure rate of 50% is over 10 percentage points higher than any other team in the NFL right now. It's worth noting that their pass rush probably isn't that dominant, though. Yes, it's one of the league's best units — one that can throw a number of talented pass-rushers and blitzers at you — but they've also played some of the worst pass-blocking offensive lines in the NFL. Even Philadelphia's offensive line — one that looked relatively strong coming into the year — didn't pose much of a challenge in its current state.
It's safe to say that this Browns offensive line will be the best that Pittsburgh has faced to this point. As a group, they have earned an 87.6 PFF grade so far, second to only the Patriots through the first five weeks. Wyatt Teller is the highest-graded guard in football, and the additions of Jack Conklin and Jedrick Wills Jr. have solidified the tackle position. It's not an offensive line that is going to get overpowered or miss many assignments, and that makes the sledding tougher for T.J. Watt and company. This OL/DL matchup is one of the better strength-on-strength matchups of the weekend.
That means that, for the first time this season, the Steelers may not get home with pressure on around 50% of their pass-rushing snaps. Hypothetically, that puts more stress on their coverage, particularly if they continue to bring the blitz at one of the highest rates in the NFL. Pittsburgh had the fifth-ranked team coverage grade in 2019, but that sits at just 25th so far this season. How do they hold up against an offense that has been clicking in recent weeks under Kevin Stefanski? We should learn some things about both teams in this matchup.
Fantasy
There's sure to be many fantasy managers adding Chase Claypool to their rosters this week after the rookie exploded in Week 5. That being said, if you were lucky enough to add him, you should feel comfortable starting him as well.
The Browns have allowed the second-most fantasy points to wide receivers this season, and starting safety Ronnie Harrison is currently in the concussion protocol.
The only tough matchup the Browns' secondary brings to the table is cornerback Denzel Ward, who primarily operates at LCB. But the Steelers move their receivers around the formation so often that I doubt we see Ward shadow any of them.
If Diontae Johnson plays, he would probably see the most of Ward, which would put Claypool in better one-on-one matchups. Conversely, if Johnson is out Claypool would see an uptick in overall usage and only see Ward on occasion.
Though my initial analysis on Claypool was more dependent on Johnson's availability, it looks much more like a win-win scenario.  You also need to consider that Claypool might just be more involved going forward.
It's a tell-tale sign that once the Steelers came out of their bye week, Claypool led the team in first-read targets (seven).
It might come as a surprise, but the Pittsburgh Steelers have allowed the fourth-most fantasy points to wide receivers this season. They have allowed the second-highest percentage of explosive passing plays to wide receivers, so Odell Beckham Jr. and Jarvis Landry should remain in fantasy starting lineups.
The Browns might have to turn to the air more, because it will be a tough challenge for their running game in Week 6. The Steelers have allowed just 3.1 yards per attempt to running backs this season.
To put that into perspective, Miles Sanders had a 74-yard touchdown run in Week 5 and his remaining 10 carries went for six yards.
Betting
This is an intriguing matchup between two teams in the toughest division in the NFL. Few have fully bought into Baker Mayfield, who has an equivalent big-time throw to turnover-worthy play percentage so far. And while Big Ben looks fully back from injury, he has just the 19th-best passing grade from a clean pocket, which puts him in the same tier as Baker Mayfield, Drew Brees and Mitchell Trubisky. The main knock is Ben Roethlisberger's lack of positively graded throws, as he has the third-lowest percentage among active starters in the NFL.
This is the rare situation where the spread has actually moved back to the preseason number. Both teams have exceeded expectations, but it is unclear which team has exceeded them furthest. The betting market seems to initially be siding with the Browns, which looks like the correct play, according to our predictive models. This is a situation to act on immediately, with most of the value disappearing with any further line movement.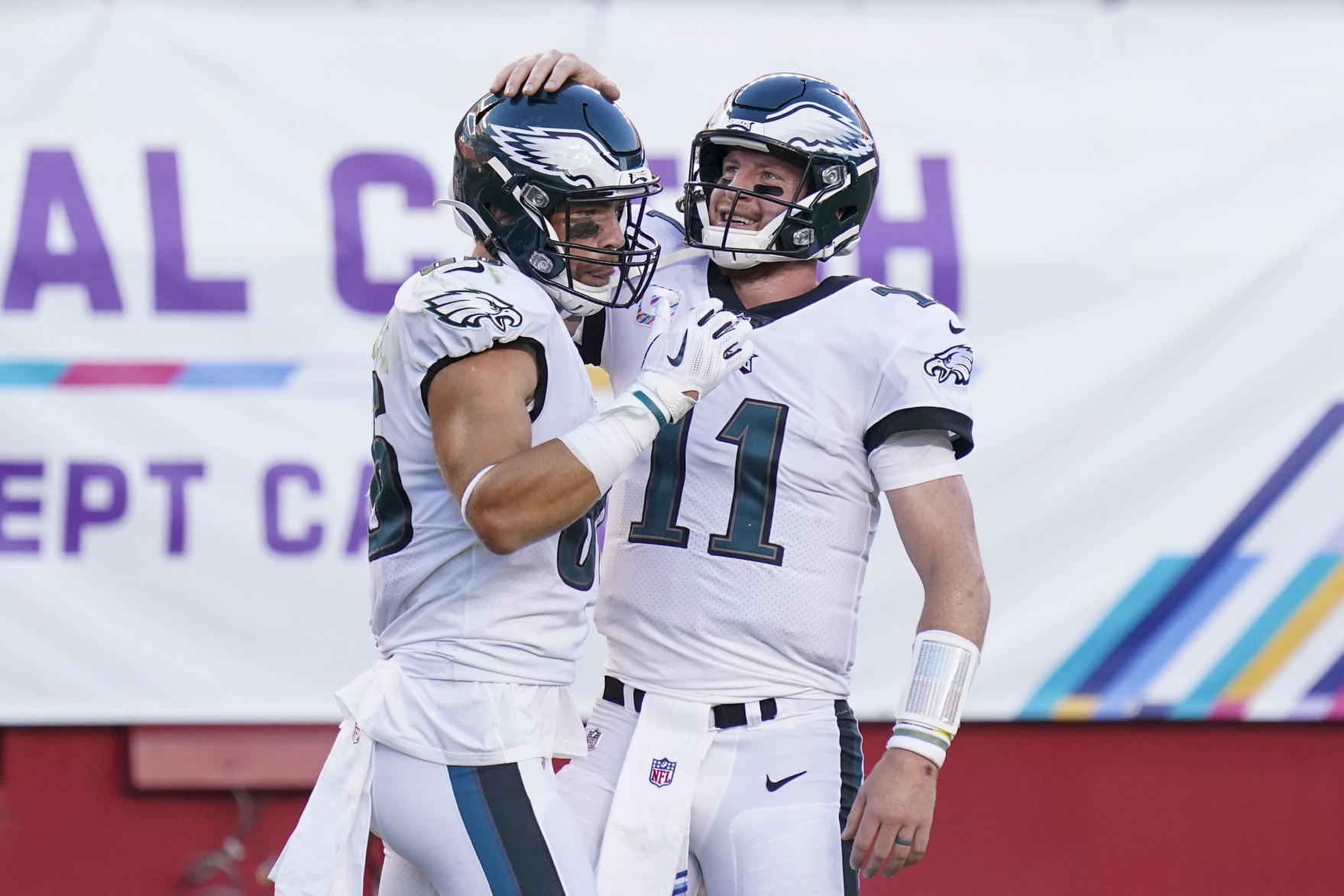 Headline of the game: Carson Wentz will get a heavy dose of blitzes for the second straight week
The Eagles didn't come away with the victory in Week 5 against Pittsburgh, but they did come away with some good news. After playing like the worst quarterback in the NFL through the first three weeks of the season, Wentz has started to turn things around, and this past Sunday was pretty comfortably his best game of the season, as evidenced by the 81.9 PFF grade.
It's not as if that came in a cupcake matchup, either. The Steelers brought the heat against Wentz, but he did a good job of beating their blitz. Wentz went 11-for-16 with 104 yards, two touchdowns and an interception against Pittsburgh's blitz — part of a game where he notched a season-high three big-time throws.
The Steelers' 50% blitz rate leads the NFL, but Baltimore is right on their heels at 48% through five weeks. Few defensive coordinators bring the extra rusher as often (or as well) as Wink Martindale does — just ask Joe Burrow. The rookie was blitzed a league-high 25 times by the Ravens in Week 5 and earned just a 29.0 passing grade on those dropbacks.
It looks like Lane Johnson's ankle could keep him sidelined, which would leave Jason Kelce as the only projected starter coming into the season remaining along the offensive line. A lot of focus goes to the wide receivers, but this is a bad injury situation all around for the Eagles.
This game will come down to how well Wentz is able to navigate that pressure and make plays without giving a turnover-hungry defense opportunity to flip possession. If he plays as well as he did this past week, Philadelphia will have a chance to pull off the upset.
Fantasy
Lamar Jackson hasn't played up to the high standard he set last season. He only has two games this season with more than 20 fantasy points and hasn't for more than 200 yards in his last three games.
He also only rushed for just three yards on two attempts in Week 5 versus the Bengals, and that has to make you wonder how much Jackson was impacted by his missed practices/knee injury designation entering the game.
He and head coach John Harbaugh claimed that it didn't affect him at all, but based on the fact that the Ravens posted their second-worst offensive performance of the season, you would have to expect that another week removed from the knee injury, Jackson will use his legs more in Week 6.
The Philadelphia Eagles rank second in the NFL in pressure percentage (38.2%), so we can predict that Jackson might have to run more out of necessity. Dating back to the start of the 2019 season, Jackson owns the highest PFF rushing grade (92.3) and yards per carry (11.0) among quarterbacks when under pressure.
Wide receiver Marquise Brown leads the NFL in targets of 20 or more yards this season (15) but he and Jackson have only been able to connect on four of those passes, resulting in the seventh-worst completion percentage (26.7%) on deep throws.
This might continue to be a problem in Week 6 because the Eagles' defense has allowed just two completions (league-low) of 20 or more yards to opposing wide receivers. We'll still roll out Brown based on his team-leading 27% target share, but with Darius Slay's coverage impending and potential lack of ceiling, he will be a fade for me in DFS formats outside of Jackson stacks.
All Ravens running backs need to be avoided; there's just too much of a three-way usage split between the players — and the matchup is tough. The Eagles have allowed just 3.4 yards per attempt to opposing running backs this season and rank fourth in the league in the use of eight or more players in the box.
The problem with Zach Ertz isn't necessarily the lack of volume, it's his lack of efficiency with the targets he's seeing. His yards per target (7.3) ranks dead last among tight ends with at least 20 targets this season.
The Eagles are obviously banged up (per usual), so Ertz does still project to see anywhere from five to seven targets, which is the average amount the Ravens have allowed this season.
But things could change for Ertz in Week 6 versus Baltimore because they haven't been efficient against tight ends. On throws to tight ends this year, they rank 27th in yards per attempt (8.9) and 26th in passer rating (123.6).
Travis Fulgham's emergence along with the potential returns of Alshon Jeffery and DeSean Jackson could free up coverage for Ertz to easily bounce back in Week 6. The Ravens rank top-10 in fantasy points allowed against every position except for the tight end, so it's hard to imagine the targets not flowing toward Ertz.
Betting
This matchup sets up well for the Ravens, who continue to obliterate inferior teams. Nineteen places separate these teams in our Elo rankings, with a wide discrepancy found between these teams' offensive ratings. This is not a spot that many are looking to back the home dog, with 88% of the cash and 73% of the tickets on the Ravens — 7.5 feels untouchable on either side, despite our predictive models finding this movement to be an overcorrection.
The narrative surrounding the Ravens is that they blow out teams they are better than and struggle to keep pace with teams they are roughly equal to. This line of thinking is leading the market to an untouchable level. The Eagles defense was incapable of slowing the Steelers, which makes their chances against the Ravens concerning.
The total has dropped two points since the open, despite the cash and ticket percentages heavily on the over. Carson Wentz has the highest percentage of turnover-worthy plays among active starting quarterbacks, which could provide shortened field opportunities for this over to hit.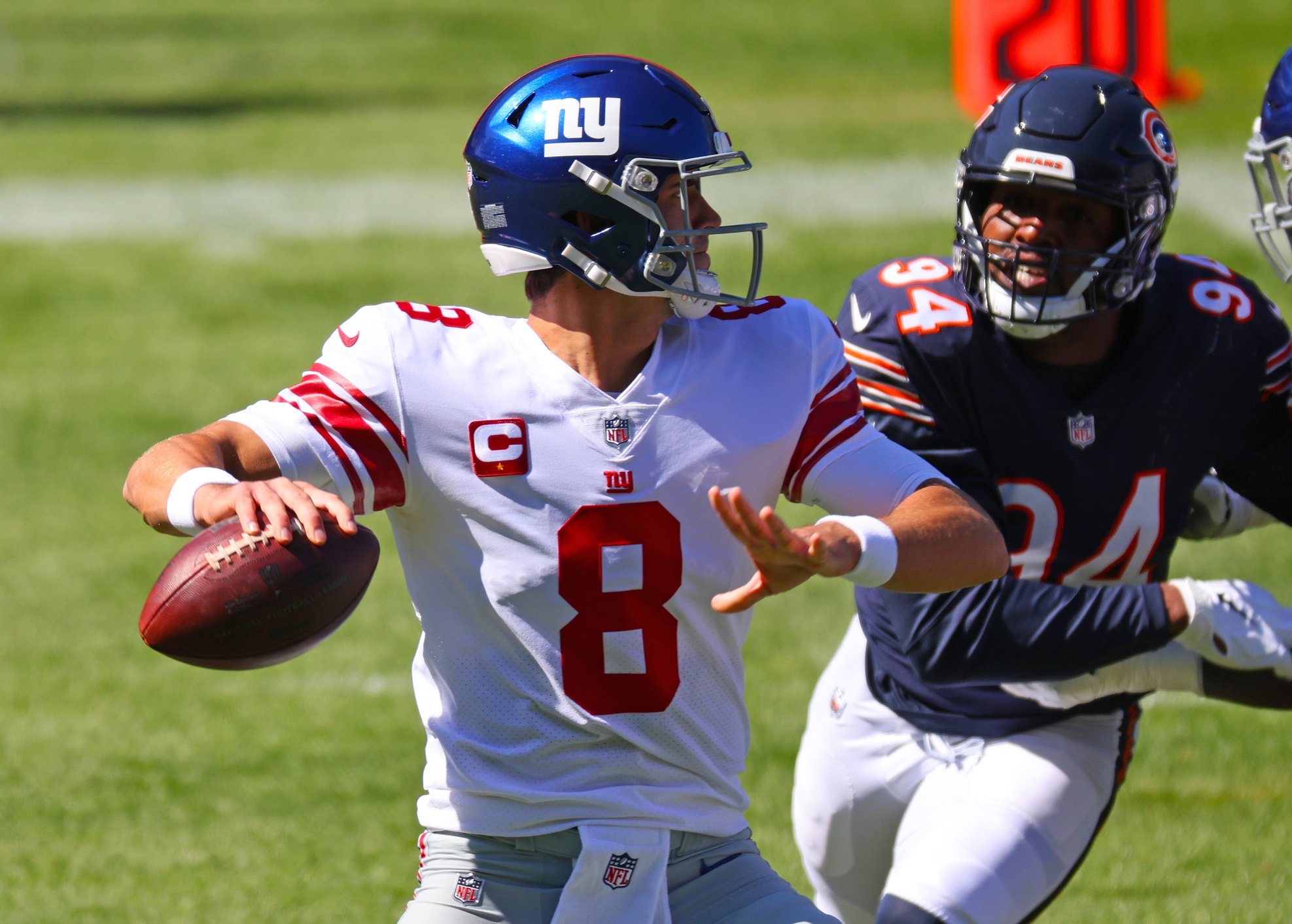 Headline of the game: Even you can win the NFC East this year
The only team to win in the NFC East this past week was the Dallas Cowboys — who beat the Giants. It's hard to even categorize it as a win for the Cowboys. Dak Prescott's gruesome ankle injury thrusts Andy Dalton into the starting quarterback job, and while Dalton is one of the league's best backup quarterbacks, the injuries are really starting to mount for the Cowboys. It doesn't mean that Dallas isn't still the favorite to win the division, but the other teams in the division now have a better shot at sneaking into the playoffs.
The best moment from this past weekend was seeing Alex Smith complete his comeback and return to the football field for Washington. For as awesome as it was to see him get back in action, the on-field results for the Football Team in their first game in the post-Dwayne Haskins era were disastrous. Between Kyle Allen and Smith, Washington averaged just 1.9 yards per pass play (lowest in the NFL). It looks like Allen will reclaim the starting job if healthy, but it's hard to see Washington doing much offensively with their quarterback, offensive line and receiving corps situation beyond Terry McLaurin.
The Giants, meanwhile, haven't exactly been lighting the world on fire offensively, either. They were able to move the ball some this past week against Dallas, but how impressive is that exactly? The only offenses with a lower EPA per play than the Giants this season are the Football Team and the Jets. New York has also allowed pressure on 46.2% of their dropbacks — the highest rate in the NFL, so that's one area Washington should be able to exploit. It's hard to see either offense lighting up the scoreboard in this game, but whoever pulls out the win could find themselves right back in the NFC East race.
Fantasy
If you need a DST this week, look no further than this game. Both the New York Giants (32nd, 27th) and Washington Football Team (22nd, 30th) rank in the bottom half of the league in pressure percentage and sacks allowed this season, respectively.
As for the fantasy options on the offenses, it's slim pickings. I don't want to start Darius Slayton against the third-best defense against fantasy wide receivers this season, and I am concerned about the matchup for Terry McLaurin.
Cornerback James Bradberry has been the lone bright spot on the Giants' defense, earning PFF's second-highest coverage grade among CBs this season. This season the Giants have faced "No. 1" outside wide receivers Diontae Johnson, Allen Robinson, Robert Woods and Amari Cooper. None have scored double-digit fantasy points.
There's also the issue of Kyle Allen under center, who at least did target McLaurin three times (27% target share) but had an aDOT of just 2 yards. McLaurin's upside clearly looks capped in this spot.
You probably also have to bench Devonta Freeman in this spot as well. The Giants rank 28th in rushing yards before contact this season, so it's hard to envision their offensive line creating any type of space against the stout Washington defensive line.
But if you don't have any better options you can at least assume Freeman will get volume. In Week 5, he had close to 20 touches and could easily stumble into the end zone as the primary goal-line back. Washington has allowed three rushing touchdowns to running backs over the past two weeks.
Antonio Gibson had his worst fantasy output since Week 1 in Week 5, which might shy some owners away from using him in Week 6. But for the second straight week, Gibson saw all the running back carries and split work with J.D. McKissic as a receiver in the passing game.
There's a chance we see Washington play with a lead in this game, so I love Gibson to bounce back against a defense that has allowed the 12th-most fantasy points to running backs this season.
Betting
There are marquee matchups in Week 6, and there are contests between teams in the bottom fourth of our Elo rankings. This is the second matchup that fits into the latter category. The problem is the offensive units are even worse in this matchup, which gives us the lowest total on the Week 6 slate.
The spread market has sided with the Football Team, who have received 69% of the cash percentage. The movement down to 3 has opened up potential value on both the spread and moneyline.
The 43 is one of the lowest totals we will see in 2020, but the over doesn't look like a viable play. The market continues to provide downside pressure, with public bettors pounding the under. This looks like a situation to avoid on Sunday.
Headline of the game: Can Minnesota take the bait the Atlanta D gives them?
The Minnesota Vikings have rediscovered their offense from a season ago with the introduction of first-round rookie Justin Jefferson. He gives the team a viable second option to Adam Thielen, and something else for defenses to worry about so even when the Vikings don't target him, he is changing how teams defend them.
Though Minnesota will pass, they are fundamentally happier when they run the ball all day and keep it on the ground. Atlanta's pass defense through five weeks hasn't been able to stop anybody, however, and is currently giving up a passer rating of 125.1 when passed on, the highest mark in the league.
The Vikings are effectively going to be dared to abandon their ideal gameplan and instead air the ball out because that's where Atlanta is weakest. It's not like they have an elite run defense, so the challenge could be more extreme, but they don't rank below 22nd in any of the key run-defense metrics, whereas they are allowing the worst passer rating in the league when the ball comes their way through the air. As much as Kirk Cousins is on big money, the Vikings have always seemed reluctant to put the ball in his hands as Plan A, and they instead turn to that only when the circumstances deem it necessary.
The Vikings will have to make a fascinating strategic decision between sticking with what they want to do on offense even though it plays to whatever strengths still remain on Atlanta's defense, or electing to do something they are less comfortable with because that is the obvious way to attack this team.
Fantasy
If Julio Jones is back in the lineup, you can have a much higher level of confidence starting Matt Ryan. During the first two weeks of the season with a healthy Jones, Ryan was averaging 35.5 fantasy points per game, but that has plummeted to 9.9 fantasy points per game when Jones has been limited or inactive.
The Minnesota Vikings' defense is hardly one to avoid (fifth-most passing yards allowed this season), so I'd expect a bounce-back performance from the Atlanta offense.
Hayden Hurst hasn't stepped up in the absence of Jones, and that has fantasy owners concerned. He needs a big play or a touchdown to salvage fantasy production, but the Vikings could provide exactly that.
This season, Minnesota has allowed the highest explosive pass percentage (34.6%) and deep pass percentage (27%) to opposing tight ends. Among tight ends entering Tuesday night that have played at least 50% of their team's snaps, Hurst ranks fifth in aDOT (10.5), fifth in total air yards (273) and first in deep ball targets (five).
Alexander Mattison is in an obvious smash spot against the Falcons, with Dalvin Cook looking likely to miss Week 6. Atlanta has allowed the eighth-most fantasy points and the most receptions to running backs this season.
Justin Jefferson should not be benched even after a disappointing Week 5 effort versus Seattle. He has way too much upside as a big-play threat facing a defense that has allowed the third-most passing plays of 15 or more yards to wide receivers this season.
Irv Smith Jr. might be an option to go to as a streamable TE or a punt option in DFS. The Falcons have allowed the second-most fantasy points to tight ends this season and Smith is coming off his best game of the year. He hauled in four catches for 64 yards on four targets operating from inline for most of the game. This could be an opportunity where the Vikings use Smith as a receiver off play-action.
The Falcons have faced the highest rate of play-action plays (73.3%) to inline tight ends, and Minnesota has been using more play action recently. They rank seventh in play-action percentage over the past two weeks — one of Smith's biggest plays in Week 5 (23-yard gain) came off play-action.
It's also worth noting that Smith saw three targets on the Vikings' first drive alone, so it seemed like getting him involved early was part of the game plan.
Betting
This spread continues to oscillate between -3 and -3.5, with juice applied to various sides of each number. Both offenses sit in the top half of the league in our opponent-adjusted offensive rankings.
The total opened as the highest number on the Week 6 slate before a sharp correction dropped it over 2 points. The current total offers value for two teams that have a positive EPA in all aspects of offensive play. Kirk Cousins has now put together consecutive quality performances, boosting his passing grade to fifth in the NFL. The Falcons have offered little defensive resistance, but the change in coaching creates question marks around how they will respond.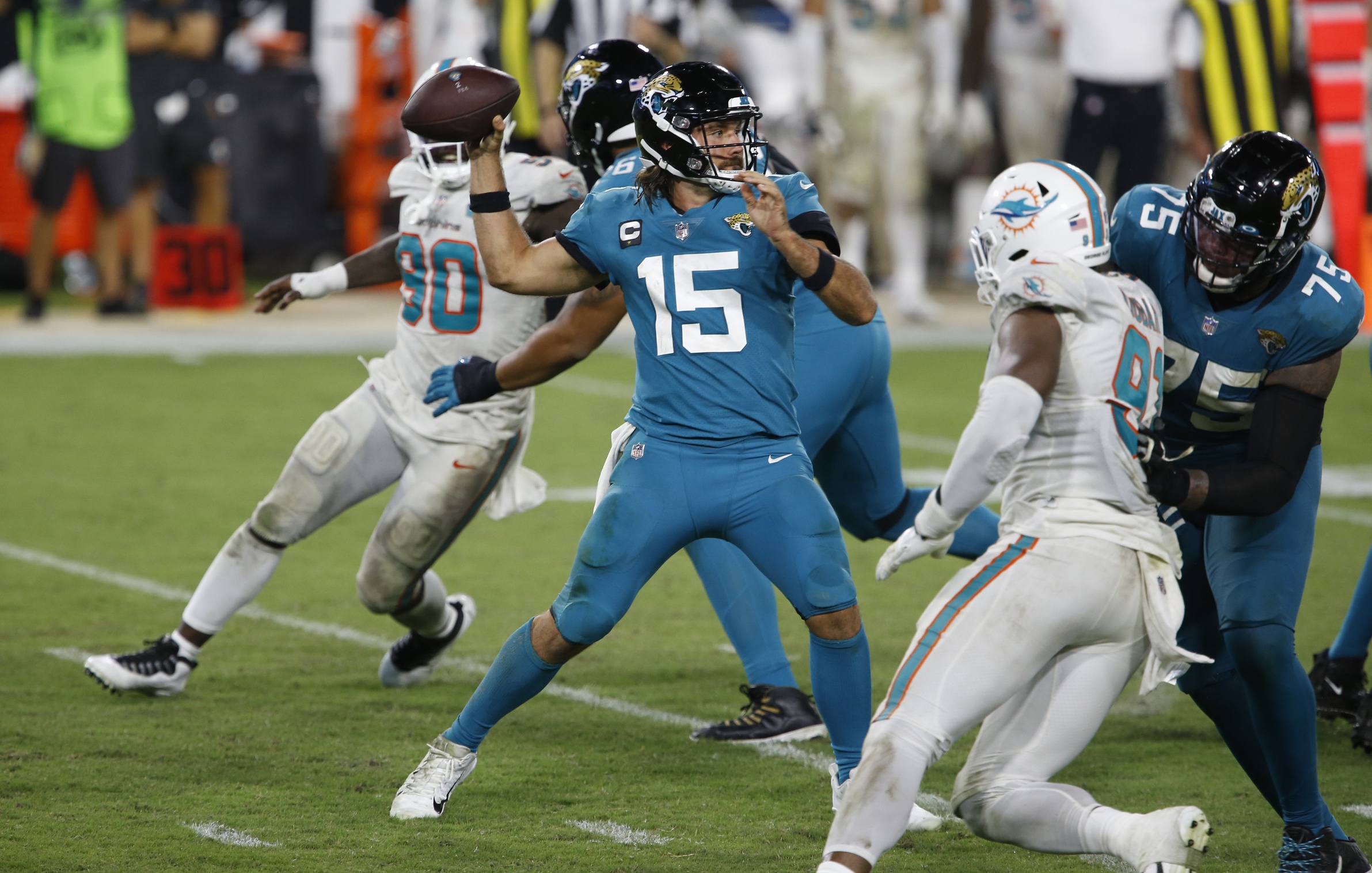 Headline of the game: Gardner Minshew knows what the Lions will give him, can he beat it?
Few teams set out their stall on defense with as little disguise or variation as the Detroit Lions. They run some variant of pure man coverage on 58% of their snaps, the highest figure in the league, and they effectively dare you to out-execute them. Their issue is that, so far, teams have. The Lions rank dead last in EPA per play and positive EPA percentage allowed as a defense, and will now face a Gardner Minshew looking to right his season after running aground over the past few weeks.
Minshew surprised people early in the season, and while most already thought him too good to steer a Titanic tank-job towards the No. 1 overall pick, they didn't think he had a lot more to him than that. This season is an opportunity for him to prove those people wrong, but it's going to take more than an overall PFF grade of 62.5 to get that done. Each of his last three performances has been graded below that mark, but he now gets the benefit of facing a Lions team and not having to worry too much about diagnosing what he is seeing — he can just play.
Minshew has been solid this season when passing from a clean pocket. When he has been able to deal without any pass rush being a factor, his PFF grade is 74.5, his passer rating north of 100 and his adjusted completion rate is above 80%. However, all of those numbers nosedive when the heat is applied. Under pressure, his PFF grade is just 42.5, his passer rating drops almost 10 points and his just adjusted completion rate falls more than 10 percentage points. Minshew will know what he is looking at against Detroit, and he will know where to go with the football, so Detroit's best chance of preventing him from doing that is applying pressure up front, which is something they've struggled to do so far.
Fantasy
The Detroit Lions are fresh off the bye week and taking on a Jags squad that has allowed the seventh-most fantasy points to quarterbacks, 10th-most fantasy points to running backs, 14th-most fantasy points to wide receivers and ninth-most fantasy points to tight ends.
Ergo, it's been tough sledding for #DUVAL county on the defensive of the ball. They were missing three key defenders (C.J. Henderson, Myles Jack, Josh Allen) in Week 5 versus Houston, and Deshaun Watson shredded them.
We don't know when those defensive players will return, but Matthew Stafford should be able to find success against their defense regardless. Even before Watson erupted for 35 fantasy points against them, every quarterback the Jags have faced this season has scored at least 20 fantasy points.
T.J. Hockenson should also be started across lineups because he ranks second on the team in targets over the past two weeks and the Jaguars have allowed the second-most receiving yards to tight ends this season (70 yards per game).
The majority of that yardage is coming in the form of YAC, as the Jags have allowed the highest yards after the catch per reception average (7.6) to tight ends. Among tight ends with at least 15 targets this season, Hockenson's YAC per reception (6.5) is third-highest in the NFL.
D.J. Chark's availability is up in the air after he suffered an ankle injury in Week 5, so naturally we need to view the other pass catchers as possible WR3 options in a great spot versus the Lions. They have allowed the seventh-most fantasy points per game to opposing WRs, so there's bound to be some value between Laviska Shenault Jr., Keelan Cole and Chris Conley.
Shenault saw season-highs in targets (eight), receptions (seven) and routes run (38) in Week 5 and leads the team in targets over the past two weeks (14). Conley made his one big play (51-yard catch) when Chark was sidelined, and back in Week 3 — when Chark was inactive — Conley led the team in routes.
This might warrant Conley as DFS punt play, especially considering the team moves him into the slot on occasion (26% snaps played). From the slot, Conley's yards per route run (3.78) is second-best in the NFL and his overall 21.2% target rate is the highest on the team.
The Lions have allowed the third-highest touchdown rate (10.7%) to wide receivers from the slot this season.
Although the high touchdown rate has come on low volume — they have only allowed four catches per game to slot wide receivers. That's why I'm less enthusiastic about Cole because he won't see much of a volume increase without Chark.
The Lions' secondary is also much more suspect against outside wide receivers, and that has translated to a ton of big plays. The Lions rank 31st in explosive pass percentage allowed (30.6%) to opposing perimeter receivers.
Betting
This is another one-sided affair in the betting markets, with the road favorite continuing to push through key numbers. The move to 3.5 should slow the explosion of Lions backers, who have wagered 91% of the cash so far. The tickets are skewed toward the Jaguars, with an even percentage coming in on the moneyline.
The total has seen some initial line movement up, which is counter to our current cash and ticket percentages. Both defenses are in the bottom third of the NFL in our opponent-adjusted defensive rankings. Without further movement, our predictive models find little value on the current numbers.
Headline of the game: How does Joe Burrow bounce back from his first ugly game?
Given how Joe Burrow was being pressured before facing Baltimore, it felt like the writing was on the wall for a truly disastrous game, and that's exactly what happened. The Ravens pressured him on more than 50% of his dropbacks and caused enough confusion behind the pressure that he passed for just 1.6 yards per attempt on those plays.
Burrow came out of that game with just a 39.7 overall PFF grade, the lowest mark on the team and the worst of his young NFL career. That gives us the opportunity to see how he bounces back from adversity. Burrow has obviously lost games in the NFL before, but this was the first defeat in which he was a major part of the problem, and that presents a completely different week of reflection and preparation for the rookie.
Indianapolis has a legitimate defense as well, but it is stylistically very different from the Ravens' unit. Baltimore has been the most blitz-happy defense in the NFL since the start of the 2019 season, and it blitzed on 59% of its snaps against Burrow last week. The Colts, by contrast, are one of the least likely teams in the league to blitz. They have done so on just 12.4% of their snaps, compared to the 50% of the league leaders. Only the Chargers have sent extra rushers less often than the Colts.
That's not to say Burrow won't still have problems to sort through. With the likes of DeForest Buckner inside and Justin Houston on the edge, the team can generate pressure, but it does at least mean \he should have a better time of seeing it coming. Burrow has shown he can deal with poor blocking up front, but no blocking at all because of a protection bust proved a bridge too far.
Fantasy
Colts tight end Trey Burton was highlighted in the fantasy football waiver wire column this week because he should be viewed as the TE1 on the team. Since returning to the lineup in Week 4, Burton has commanded a 19% target share (11 targets) and led all Colts TEs in routes run (35).
Mo Alie-Cox is also dealing with an apparent knee injury, so that could open up more opportunities for Burton around the goal line.
In addition to the Bengals allowing the third-most targets to tight ends entering Tuesday night (9.6 per game), they have also allowed the second-most targets to tight ends inside the 10-yard line. So far this season, only one of those 11 attempts has resulted in a touchdown, so there's bound to be some touchdown regression coming.
Joe Burrow and the Bengals' passing game couldn't do much versus the Ravens in Week 5 and they have another tall task ahead of them against a stout Colts defense. The Colts have allowed the fewest fantasy points per game to quarterbacks this season, so Burrow needs to stay on the bench this week.
As for the Bengals' wide receivers, the only considerations are Tyler Boyd and Tee Higgins. Since Week 3, these two have seen a condensed target share of 26% and 22%, respectively, so volume alone should be enough to warrant them as WR3 options.
I would much prefer Boyd because of his viability out of the slot — entering Tuesday night, the Colts had allowed the third-fewest receiving yards to outside wide receivers.
Betting
The Colts' coverage unit continues to perform at a high level, posting the second-best EPA allowed per pass attempt figure. The Colts' problem has not been their defense. Philip Rivers ranks 17th in our accuracy rating, which is detrimental when his average depth of target (7.55 yards) is below the league average. It's tough to buy into their skill position players, who seem incapable of creating downfield separation. T.Y. Hilton ran the highest percentage of routes on dropbacks last week but generated a target on his lowest percentage of routes this year.
The problems that plague the Bengals are obvious — they've allowed the fourth-highest pressure rate in the NFL. Sacks are a quarterback stat, so Burrow needs to adjust to get the ball out quicker.
The cash and ticket percentages lean slightly with the Colts, who are also getting all the backing on the moneyline. This spread has moved to a number that no longer offers value. The total looks like the more intriguing betting option as the third-lowest number for Week 6.
Headline of the game: Will the real Nick Foles please stand up
There is little doubt that Mitchell Trubisky played his way to the bench, but there is a very real concern that Nick Foles doesn't actually represent an upgrade at the position. Foles is a rollercoaster ride, and he may have the widest range of outcomes of any quarterback in football. He still owns two of the best postseason quarterback grades we have ever given for his performances in the NFC Championship Game and the Super Bowl (both of those games were above 92.0 in PFF grade), but he has five games with grades in the 30.0s and one with a grade in the 20s on his resume.
Despite rescuing the win from the Atlanta game and getting a victory against Tampa Bay this past week, Foles still has a lower overall PFF grade (67.1) than Trubisky (70.6) this season. Still, he changes what the team can do on offense and has a far greater ability than Trubisky when it comes to pre-snap command of the offense.
That was on display against the Bucs when he orchestrated arguably the biggest play of the game that resulted in a completion to David Montgomery — effectively the difference between winning and losing. That's a play we haven't seen Trubisky be able to create pre-snap, but the inherent volatility that Foles brings to the position means Bears games from this point on are going to be a wild ride.
If Bears get a stretch of high-end Foles, they are going to be near impossible to beat. But they equally may have to suffer through some games where they have to try and win in spite of their quarterback, in the same way they did during the worst runs of Trubisky. Then, of course, there is the middle ground, where even within games they have to roll with the punches and ride the waves of high-end play, exploiting them when they surface. Either way, Chicago with Foles at quarterback becomes must-watch TV.
Fantasy
No team has been more pass-heavy than the Chicago Bears since Nick Foles became the starter in Week 4. They're calling pass plays at the highest clip in the NFL (75.4%) and have averaged 42 passing attempts per game. Part of this has to do with the Bears trailing in the past two weeks, but even in a neutral game script, they are still throwing at a 60/40 split.
Still, I expect the Bears to be able to run the ball on the Panthers, who have allowed the sixth-most rushing yards to running backs this season. David Montgomery will easily surpass his 10-carry average over the past two weeks — he is a high-end RB2 in Week 6.
Montgomery should also be heavily relied on in the passing game. Over the past two weeks, Montgomery has 10 catches; the Panthers have allowed the most catches to running backs through the first five weeks.
The Panthers are also dealing with numerous injuries to key defenders, including Eli Apple, Yetur Gross-Matos, Kawann Short, Donte Jackson and Brian Burns.
Darnell Mooney is a sneaky WR option in this game after overtaking Anthony Miller as the team's No. 2 wide receiver and commanding an 18% target share with Foles under center. The team has been trying to hit home runs with him (15.0 aDOT), and this could be a spot where he finally connects on one.
The Panthers rank seventh in allowed deep ball pass percentage allowed this season (21.1%). Since taking over at QB, Foles ranks top-five in deep ball pass attempts.
Teddy Bridgewater has enjoyed back-to-back great matchups over the past two weeks but has a much tougher challenge ahead against a Bears defense that has allowed the second-fewest fantasy points per game to the quarterback position.
No QB they have faced this season has thrown for multiple touchdowns, and only one (Matthew Stafford) has exceeded more than 14 fantasy points.
Regardless of the tough matchup for the quarterback, you will still trudge out auto-starts Robby Anderson and Mike Davis (revenge game), but D.J. Moore needs to be on the bench.
It's great that Moore scored a touchdown and had 90-plus receiving yards in Week 5, but that was in a layup spot versus the Falcons. This game against the Bears is hardly that. They've allowed the second-fewest points to wide receivers this season.
Their one weakness has been against slot receivers because of cornerback Buster Skrine, so Panthers slot receiver Curtis Samuel could be an interesting DFS option. Seventy-three percent of his targets (16) have come from the slot this season.
Not to mention Samuel also adds upside as a rusher; he had four rushing attempts for 28 yards in Week 5.
Betting
The Panthers are officially trendy in the betting market after three straight covered victories as underdogs. This has caused the preseason line of 3.5 to flip, with markets disagreeing on -2.5 or -3 as the correct number. The cash on both the spread and moneyline heavily favors the Bear,s making this a classic public versus big bettors situation for Week 6.  The fluctuation on the spread and price also makes this a fluid situation as we head to Sunday.
Both quarterbacks have similar PFF passing grades, but the Panthers have the far superior offense from an EPA perspective. The new coaching regime has the Panthers overachieving, which leads to the betting market having difficulty in accurately projecting this game. As markets continue to move, monitor PFF Greenline for the latest advice on this matchup.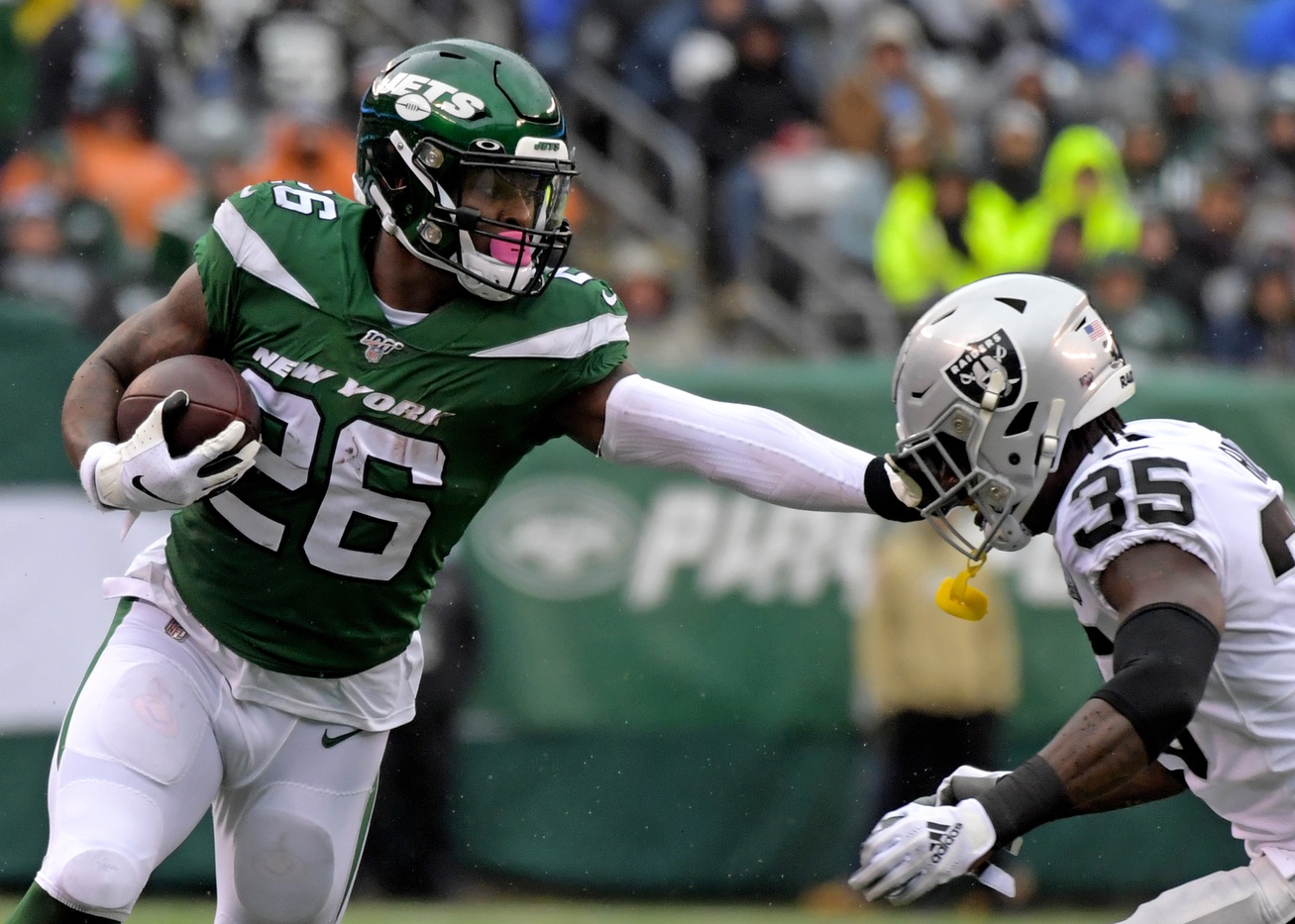 Headline of the game: Are the Jets even still playing?
The Jets aren't the only winless team in football through the first five weeks of the season, but they look the one most resigned to it as a foregone conclusion. While the Giants are still battling hard to snap the streak and get their first win, the team they share a stadium with looks thoroughly defeated. There is already disquiet in the media, with Le'Veon Bell liking tweets critical of the offense and head coach Adam Gase responding to that publicly. And as much as that can be seen as melodrama, it's the kind of thing that festers in a losing run.
The Miami Dolphins are riding high right now thanks to some inspired play against the 49ers, but they present a very winnable game for their divisional foe. If the Jets can't raise their game and at least look competitive, it's hard to see them lasting much longer without some major changes being made.
In the Jets' defense, they have dealt with a brutal raft of injuries. Their receiving corps wasn't great on paper but was further decimated by injury. Any bright spots along the offensive line, such as first-round rookie Mekhi Becton, have also gone down. Sam Darnold was knocked to the ground against Denver and then missed the next game, leading to Joe Flacco starting in Week 5.
The Jets are in a tough spot right now and seem most destined for the No. 1 overall pick and potential salvation in the form of Trevor Lawrence. All that's left for them this season is to show they are still at least fighting to win games, and that's looking harder and harder to see.
Fantasy
Similar to the Titans and Texans game, this is one where both running backs should be able to have their best games of the season.
Four of the five teams that have faced the Dolphins have had at least 113 yards rushing and receiving combined, and they've averaged one rushing touchdown allowed to running backs per game. Le'Veon Bell is healthy again, and in his first game back he played two-thirds of the Jets' offensive snaps. While Bell isn't grading as well as he did at his peak production, he is grading as well as he did in his last season with Pittsburgh. This should be his best game of the season.
Myles Gaskin should also be in store for the best game of his career. He's been the lead back for Miami every week. This past week, Jordan Howard was inactive, so Gaskin could add goal-line back to his resume. Over the last four weeks, the Jets have allowed five different running backs to have at least 50-yard rushing performances, and each scored at least one touchdown. The Dolphins should have a fourth-quarter lead, which should lead to fourth-quarter carries.
Betting
The reshuffled schedule moved this game up to Week 6. Predictions are already pouring in that Adam Gase's old team will provide the final blow to his head coaching career in New York. The 8-point spread is significant, given that these teams are separated by a mere three places in our ELO rankings. The Jets could be historically bad, with our predictive models not fully understanding their current ability.
Public bettors have sided with the Dolphins off their impressive upset victory in Week 5. The cash is more evenly distributed, with big bettors once again feeling the need to step in at some point and support the Jets. It hasn't worked yet, but our models once again point to the Jets offering value. Expected value is tough to pass on, but betting on the Jets is proving to be even more difficult.
Headline of the game: Neither veteran quarterback has looked anything close to washed this season
Through the first five weeks of the 2020 season, Aaron Rodgers leads all quarterbacks in PFF grade (96.3). He is firmly in the MVP conversation following an explosive start to the year despite missing each of his top two receivers — Davante Adams and Allen Lazard — for stretches of time.
One of the more notable developments for Rodgers is that he's getting the ball out more in rhythm. His average time to throw has dropped to 2.57 seconds, but that hasn't led to a more conservative approach. Rodgers' average depth of target of 9.7 yards downfield ranks sixth-highest in the league, and his 12 completions on passes 20 or more yards downfield rank fifth despite a bye week mixed in.
Tom Brady hasn't been quite as impressive as Rodgers — particularly in the traditional stats department — but his 88.4 PFF grade ranks third among all quarterbacks, behind only Rodgers and Russell Wilson. A league-high 13 dropped passes and a few impressive throws that drew coverage penalties make his stat line look worse than his play.
Brady has given Tampa Bay a clear boost in the quarterback department, though. Like Rodgers, he has been one of the most prolific deep-ball passers in the league through five weeks. Brady's 458 passing yards on passes 20 or more yards downfield ranks third in the NFL.
This should be a fascinating matchup between two teams that figure to contend in the NFC and two quarterbacks who are out to show they can still play at an elite level.
Fantasy
This game between two of the best in the NFC will be a very interesting test for the Buccaneers' defense. They have the top-four at preventing fantasy points to quarterbacks. They also haven't faced a quarterback who is top-15 in fantasy points this season. That changes this week when Aaron Rodgers comes to town. Rodgers has been QB8 on the season and the fourth-best quarterback in terms of fantasy points per dropback. Everyone will be starting Rodgers regardless of the defense, but we should find out how much we can trust other good quarterbacks against the Tampa Bay defense.
Outside of Rodgers, the usual Packers' star players should continue to have big games. The biggest question is what to do with Robert Tonyan. Only one tight end has topped 50 receiving yards against the Buccaneers. Only two have scored touchdowns. He should be OK, but there will also be other tight ends projected to have bigger games.
Tampa Bay's interesting story of the week will be what happens at running back. Ronald Jones is coming off two big games as other Buccaneers running backs have been hurt. Leonard Fournette was at least active last week and will probably be used at least in a limited role. The Packers have faced several running back committees this season. In two of their four games, they've allowed two different running backs to both run for 50 yards. They've also averaged more than one rushing touchdown per game. Even if Fournette is active, it should be safe to start Jones for one more week.
Everyone has waited for Rob Gronkowski to have his first big game of the season, and we probably will have to wait another week. Gronkowski is sitting at 0.09 fantasy points per snap, which is the lowest among every-down tight ends. The Packers have yet to allow a receiving touchdown to a tight end and have yet to allow more than four catches to any team's tight ends. The Packers have been average against quarterbacks and wide receivers, so it's safe to start Tom Brady and either of the Buccaneers' star receivers if they are healthy.
Betting
This line has reversed off the preseason number as the Packers continue to find betting backers. They are the only team to not disappoint spread backers in 2020. The percentage of cash and tickets pouring in on the road favorite indicate the potential for this line to move all the way to +3.
Both offenses rank in the top 10 of our opponent-adjusted offensive grades. The market has an appetite for points, pushing the opening 52 up two points. This is another line that doesn't seem to have found consensus yet, which indicates further movement is likely. No one seems to hold weight to the Buccaneers' third-ranked defensive unit, which has allowed the fourth-fewest expected points added per pass attempt. Our predictive models lean counter to the market in one category while siding with the market elsewhere.
Headline of the game: The Rams have put Jared Goff back in position for success
Goff has been excellent to begin this season, rebounding nicely from a down year in 2019 where the Rams' offense as a whole struggled. That's sort of what you're going to get from Goff. When things are going well, and he's in a position where he can make simple reads from a clean pocket, it's not hard to see why he was the first overall pick in the 2016 NFL Draft. When things are off-kilter offensively — as they were last season — his play is going to take a hit.
The Rams have always run a lot of play action, but they've taken it to a whole new level this season. Since PFF began tracking play action in 2012, no one has used play action in a single season more than Washington did in 2012 (40%). The Rams are set up to blow that out of the water this season with a play action rate of 49%, and Goff has recorded a passer rating of 127.7 on those plays.
Los Angeles has also cut down on the longer-developing crossing routes they used heavily the last several seasons and put a focus on shorter throws that allow receivers like Robert Woods and Cooper Kupp to win after the catch. No quarterback has a lower average depth of target than Goff this season (6.3 yards), and the Rams lead the NFL in yards after the catch per reception (7.3 yards). In conjunction with an improved offensive line that is allowing pressure at one of the lowest rates in the NFL, that has Goff playing like a top-five quarterback this year. That's bad news for a 49ers' secondary that just got torched by Ryan Fitzpatrick and the Dolphins.
Fantasy
These two teams have been among the top eight defenses by PFF grade, which has led to both being great at preventing big fantasy performances. It will likely be the 49ers that come up with the biggest fantasy performances even if the Rams have been the better team this season.
The 49ers have allowed just four players regardless of position to catch more than 60 yards against them. They've also allowed six receiving touchdowns on the season. One of the Rams receivers could have a big game, but there's no way to know which one it will be. If there is anyone from the group I'd bet on, it's Cooper Kupp. The 49ers great slot cornerback K'Waun Williams has landed on injured reserve. Jamar Taylor took his place and allowed 93 yards against the Dolphins. That is one matchup the Rams should be table to take advantage of.
The Rams backfield is tough to project now that all three backs are finally healthy. This is a week that all three should be avoided. The five backs to face the 49ers and have more than seven carries all averaged under 4.0 yards per carry. No back has ended up with more than 63 rushing yards against them.
The 49ers should have a little more luck. The Rams prevented two teams on their schedule from having a wide receiver with over 50 yards. No wide receiver has had more than 100 yards, and only one wide receiver has a touchdown. Luckily for the 49ers, their receiving strength is at tight end. The only top-15 fantasy tight end the 49ers have faced is Dalton Schultz, and that was before he became the starter in Dallas. The Rams have allowed more receiving touchdowns to tight ends than wide receivers, so George Kittle should be fine. Their Rams' run defense shouldn't scare Raheem Mostert fantasy owners from including him in your lineups.
Betting
This NFC West showdown has seen more line movement then any other Week 6 game based on the preseason number. It has swung 10 points with the 49ers coming off of their worst performance in 2020.
Jared Goff has been better than expected for the Rams, posting the fourth best PFF grade through five games. His 83.9 accuracy percentage is second in the NFL, but buoyed by the second lowest aDot. The pass catchers for the Rams have been one of the best units in the NFL, thriving on big yards after the catch plays. What this 49ers secondary looks like by Sunday, will determine if they can keep pace with the Rams.
The total has caught some upside movement behind 72% of the tickets. The cash percentage leans slightly towards the under with our predictive models having a slight lean that way. Things would need to continue to move to find value, but this looks like an under radar opportunity for fantasy upside.
Headline of the game: How do the Chiefs respond from their loss to the Raiders?
Is the answer to that question anything other than "very well?" It's hard to see a team as good as the Chiefs falling flat two weeks in a row. Patrick Mahomes had about as up-and-down a game as you're going to see in Week 5 against Las Vegas. His six big-time throws were more than any other quarterback this past week, but his four turnover-worthy plays were fewer than only Philip Rivers in his disastrous performance against Cleveland. I would bank on Mahomes and Andy Reid coming out and trying to make that loss a distant memory with a dominant offensive showing.
The Raiders followed the recipe for beating the Chiefs perfectly. On defense, you're going to need to get Mahomes out of rhythm (3.7-second average time to throw) and live with some of the other-worldly plays that he hits while trying to capitalize on his mistakes. On offense, you need to hunt for explosive plays like Las Vegas did. Derek Carr completed four passes 20 or more yards downfield for 219 yards and two touchdowns. That's an area where Josh Allen and receivers such as Stefon Diggs and John Brown could have similar success with the way they are playing through the early stages of the 2020 season.
When all is said and done, this could be an important game in regard to playoff seeding in the AFC. It should be one of the more entertaining matchups of the week.
Fantasy
The Bills will be facing a Chiefs defense that has been good at shutting down the pass game but not so good against the run. In five weeks, Kansas City has allowed six different running backs to run for at least 60 yards. Devin Singletary should be able to have one of his better games of the season.
The Chiefs' outside cornerbacks have been doing a great job of shutting down wide receivers. They've allowed 289 yards, which is second-fewest in the league. On the other hand, the rest of their defense has been top-10 in passing yards allowed. This is bad news for Stefon Diggs and John Brown and good news for Gabriel Davis and Cole Beasley. Any one of the four could end up leading the Bills in receiving yards for the week.
The Bills in coverage have been fairly similar to the Chiefs in that the outside cornerbacks haven't allowed a lot of yards, but the middle of the defense has been vulnerable. This is primarily great news for Travis Kelce, as the Bills have already allowed two tight ends to have over 85 yards receiving.
The biggest games from wide receivers against the Bills have all come from slot receivers. Jamison Crowder, Cooper Kupp and Isaiah Ford have all had at least 75 yards against Buffalo, and all have done so primarily from the slot. Both Tyreek Hill and Mecole Hardman played more snaps in the slot than out wide once Sammy Watkins went down with injury last week. Both should be in store for big games.
Betting
This game moved from Thursday to Monday, providing another doubleheader to finish the week right. The Chiefs will be looking to rebound from their humbling home loss to an AFC West rival, while the Bills have a relatively quick turnaround off their game Tuesday night. This is the stretch where we find out if the Bills are not only for real in the AFC East but also real contenders with the top two teams in the AFC. Playing well against both the Titans and Chiefs would put everyone in the NFL on high alert for Bills Mafia.
The spread price should hold to 3.5, barring any unforeseen events on Tuesday night. This spread could easily open up value, depending on where it lands.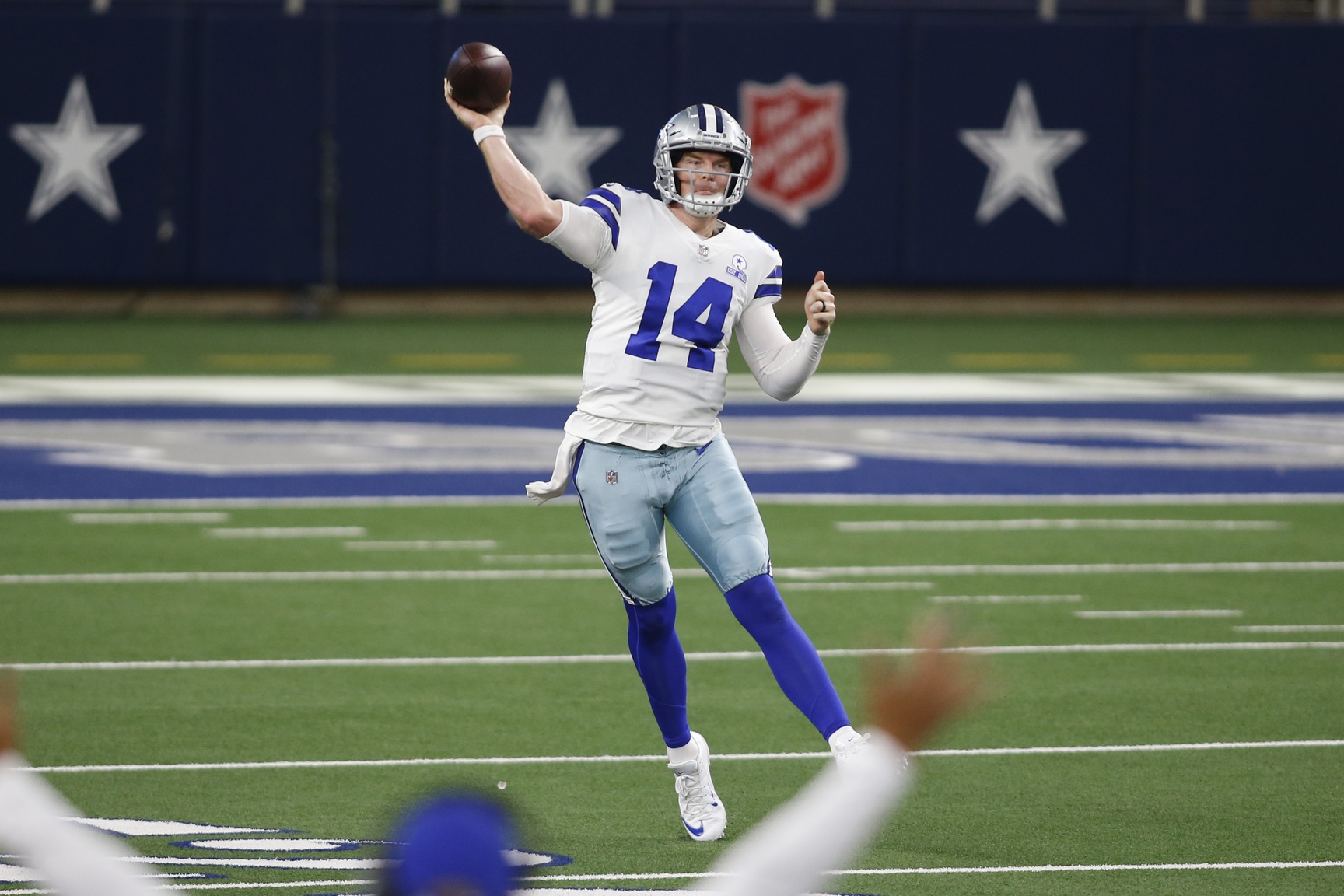 Headline of the game: At what point do the injuries on offense become too much for Dallas to overcome?
The Cowboys' offense is in a position where it has to carry this team because a defense that sits at 27th in expected points allowed per play to this point isn't offering much resistance. This offense had the talent to do just that, but key injuries to important positions are starting to mount. Tyron Smith and La'el Collins are both expected to miss the remainder of the season, and the same can be said for tight end Blake Jarwin. Matters only got worse this past weekend when quarterback Dak Prescott went down with a season-ending ankle injury. The talent pool is thinning.
Dallas still has a truly impressive wide receiver trio of Amari Cooper, Michael Gallup and CeeDee Lamb that will make backup quarterback Andy Dalton's job easier, and Dalton isn't your run-of-the-mill backup quarterback. He's a guy who has shown he can win as a starter with talent around him. That's evident in his 82.3 passing grade back in 2015 with the Bengals. The ceiling just isn't nearly as high for this group now as it was coming into the season. That isn't to say they aren't still favorites for the NFC East — because they probably are — but the major injuries they've suffered have erased any chance they had of contending in the NFC. To answer the question in the headline, that point might already be here.
Fantasy
Kyler Murray is coming off the best three-game stretch of his NFL career. In 2019, he had a PFF grade above 73.0 in four total games. He's currently coming off of three straight games of grades above 73.0. Two weeks ago, he had a three-touchdown game, and last week he had 380 passing yards.
That is definitely expected to continue against the Cowboys. Dallas as a team has a 38.7 PFF coverage grade, which is the lowest among all teams. Every team that has faced the Cowboys so far has had at least one 80-yard receiver. Three of the five teams have had a receiver also catch two or more touchdowns. DeAndre Hopkins has three games with 130 yards or more, and two games with 70 yards or less. He could have the best game for a receiver against the Cowboys yet.
Dallas has had two WR1s so far this season in Amari Cooper and CeeDee Lamb, while Michael Gallup has also scored more fantasy points than some teams' top wide receivers. They've had a series of favorable matchups, but against the Cardinals there are a few things working against them.
First, having Andy Dalton instead of Dak Prescott will hurt the receivers' fantasy production, the question is just how much. The Cardinals have only allowed three wide receivers all season to have more than 60 receiving yards against them, and only three have caught a touchdown. If there is a bright spot, the Cardinals have one of the lowest team grades in coverage. One wide receiver should have a good game, but it's unlikely that two will.
Betting
A lot has changed since the preseason number of -7.5. This spread swung all the way out to +3 before readjusting down to 2.5. The Cardinals have 67% of the cash percentage after losing some of their early-season luster before responding with a covered victory in Week 5.
The total market seems unfettered by the quarterback change for Dallas. This number has picked up 2.5 points since the open. Over 70% of the cash and ticket percentages are on the over, with the cash having a slightly higher skew. It might be a little late to market, but our predictive models still find some value on the current total.