With the unfortunate exception of the Tennessee Titans and Pittsburgh Steelers, each NFL team is now a quarter of the way through the 2020 NFL regular season.
We have seen upsets, surprises, falls from grace and strong rookie performances — Josh Allen is leading a charge in Buffalo, Tom Brady is still … well … Tom Brady, Sam Darnold's time in New York appears to be running out and Carson Wentz has teetered perilously close to the thin line between the starting lineup and the bench. It's the kind of excitement that makes us realize why we love this game. 
Week 4 gave us a clearer picture of who is for real and who is not, and PFF is here to break it all down for you using advanced data and our unique play-by-play grading. Below, you'll find key takeaways from the Sunday slate of NFL action as well as the Week 4 PFF Team of the Week and numerous player awards.
ELITE subscribers can view player grades, advanced statistics, positional snap counts and more in Premium Stats 2.0.
PFF TEAM OF THE WEEK
Offense
QB: Josh Allen, Buffalo Bills
RB: Dalvin Cook, Minnesota Vikings
WR: Justin Jefferson, Minnesota Vikings
WR: Tim Patrick, Denver Broncos
TE: George Kittle, San Francisco 49ers
FLEX: Tyler Boyd, Cincinnati Bengals
LT: Dion Dawkins, Buffalo Bills
LG: Ali Marpet, Tampa Bay Buccaneers
C: Garrett Bradbury, Minnesota Vikings
RG: Wyatt Teller, Cleveland Browns
RT: Jack Conklin, Cleveland Browns
Defense
DI: Ndamukong Suh, Tampa Bay Buccaneers
DI: DeForest Buckner, Indianapolis Colts
EDGE: Bradley Chubb, Denver Broncos
EDGE: Za'Darius Smith, Green Bay Packers
LB: Lavonte David, Tampa Bay Buccaneers
LB: Josey Jewell, Denver Broncos
CB: Kendall Fuller, Washington Football Team
CB: Jaire Alexander, Green Bay Packers
S: Bobby McCain, Miami Dolphins
S: Jessie Bates III, Cincinnati Bengals
FLEX: Charles Washington, Arizona Cardinals
KEY TAKEAWAYS
1. Justin Herbert has a long way to go, but he showed flashes of potential
Los Angeles Chargers quarterback Justin Herbert got off to a flying start against the Tampa Bay Buccaneers in Week 4. Following a Bucs touchdown drive to start the game, Herbert showed off his cannon of an arm and shot out a 50-plus-yard big-time throw on just his third throw of the game.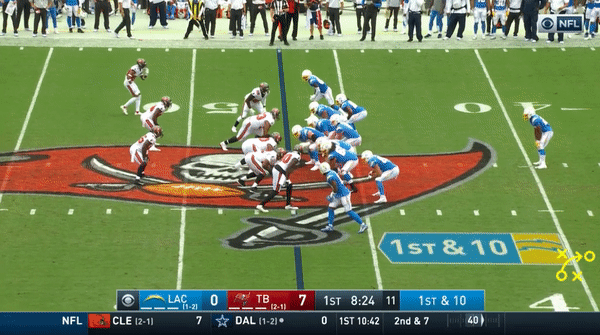 That, right there, is what everyone fell in love with during the pre-draft process; it's precisely what made him a highly regarded prospect. We saw another one of these deep big-time throws from Herbert in the third quarter, too, as he hit Jalen Guyton on a perfectly placed 30-plus-yard throw that resulted in a 72-yard touchdown.
Herbert notched three big-time throws on the day, all of which came under pressure, a surprising development considering that his work under pressure was an area of weakness in college.
Then, just when it mattered most, with the Chargers trailing by seven with a couple of minutes left to play, Herbert made a bad decision and let go of this errant throw, which subsequently ended the game.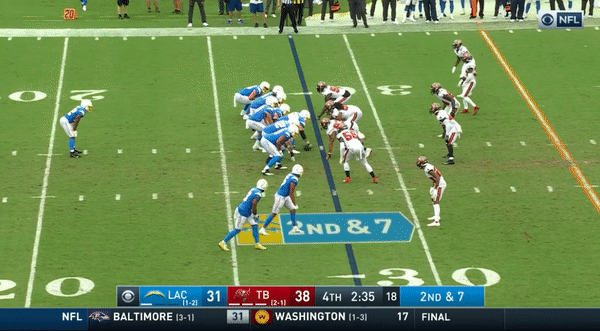 His highs were no doubt high, but his overall play on a throw-for-throw basis shows that he still has a long way to go in his development. He managed to finish with identical negatively and positively graded throw rates, which isn't ideal, and Los Angeles finished fourth-to-last among teams in successful pass play percentage (the percentage of pass plays that generated positive expected points added). The sparse highlight-reel plays are great, but the Chargers need Herbert to eliminate the bad and remain efficient from play to play. 
In the weeks leading up to the 2020 NFL Draft, there were murmurs and whispers floating around that Alabama quarterback Tua Tagovailoa might not escape the Detroit Lions at No. 3 overall.
Few took this seriously. After all, the lead-up to the draft is notorious for the smoke screens and media-driven misdirection, and it was understandable why they'd want to stick with Matthew Stafford after he strung together MVP-level play before going down injured in 2019. Stafford played the first eight games before missing the rest of the year, but he ranked eighth in PFF grade and second in big-time throws up until that point. The Lions offense as a whole ranked fifth in EPA per pass attempt through those first eight games.
We haven't seen that Stafford in 2020. Instead, it's looking more and more like that was just a one-year outlier.
The veteran signal-caller recorded an underwhelming 51.2 passing grade against the New Orleans Saints in Week 4, the fourth-worst grade of the week. That takes his grade up to just 60.8 on the 2020 season so far, 29th among 34 qualifying quarterbacks.
Stafford's downfield passing was the backbone to his success in 2019, and while he has maintained that high average depth of target, he hasn't come close to replicating the same results. Stafford posted a 39.1 passing grade on throws of 10 or more yards downfield against New Orleans on Sunday, bringing his grade rank on those throws down to the fourth-worst among quarterbacks for the season.
Now that we can look back over the first month of the season, maybe Detroit should have turned an ear to the rumor mill and considered taking the promising young Alabama signal-caller.
3. The Dallas Cowboys are getting nowhere with the defense they currently have
I'll admit it — I was one of those people who thought this Dallas Cowboys team had a shot at contending in 2020. But as we close out Week 4, the Cowboys now sit at a 1-3 record — with that one win being a gift-wrapped Atlanta Falcons choke — and all hopes of them blossoming into a Super Bowl contender seem like a pipe dream.
The silver lining is that quarterback Dak Prescott isn't the issue. Even after a so-so day against Cleveland in Week 4, a game that earned a 63.7 PFF grade, Prescott is still the eighth-highest-graded quarterback in the NFL. And while the offense may not be perfect, they haven't been nearly as responsible for the poor start to the year as the defense has.
Through Week 4, Dallas has allowed the third-most expected points added (EPA) per play. The Cowboys are also the only team to rank in the bottom five in both run-defense and coverage grade.
Typically speaking, fielding a mediocre outfit against the run isn't the be-all and end-all — after all, the 2019-20 Super Bowl champion Chiefs ranked dead-last in team run-defense grade. But when you allow positive EPA on 60% of rushes, as Dallas did against Cleveland on Sunday, it does become an issue. Compound that with the fact that the Cowboys have allowed a 141.4 passer rating on throws of 10 or more yards this year — the worst in the NFL by 15 points — and you have all the makings of a team that has the talent offensively to stay close but the weak links defensively to never make that last stand.
The division title is still in the picture despite this bad start, and the fact they get to face the underwhelming offenses of the NFC East will only help matters, but come playoff time, this Dallas defense just doesn't look strong enough to put the clamps on any formidable offense.
4. Tom Brady is playing like he is in the middle of his prime
I'm not going to sugarcoat it, Brady has been responsible for two of the worst throws of the season through four weeks — the first came in his Bucs debut in Week 1, and the second came this past week against the Los Angeles Chargers. Both of those throws handed six points to the other team, and both earned the worst play-level grade possible.
That being said, those are just about the only really bad mistakes the veteran quarterback has made in his 21st season, and Brady has made far more great throws than bad ones.
Against the Chargers this past week, Brady tossed four big-time throws to extend his season total to an NFL-high 16. He has recorded at least three big-time throws in each of his first four games as a Buccaneer, which was the first time in his career in the PFF era that he recorded three or more such throws in each of the first four games of a season.
As ugly as that pick-six was, he still has the sixth-best turnover-worthy play rate through Week 4. On a throw-for-throw basis, Brady is playing as he was in his prime.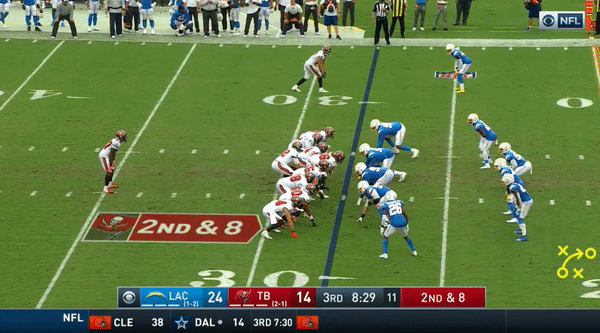 Brady now has 14 big-time throws and no turnover-worthy plays on passes thrown 20 or more yards downfield. For perspective, only five quarterbacks in the NFL this year have more than five. Brady has also connected on 13 deep passes, which is already over half of what he had in all of 2019. He is producing at a top-three level through four weeks of action.
5. Jonah Williams is turning out to be a bright spot on the Cincinnati Bengals' porous offensive line while Joe Burrow continues to play like a top-10 quarterback
As bad as Cincinnati's offensive line has been, one lineman is starting to hold his own: 2019 first-round pick Jonah Williams. The Alabama product didn't play a single down last year as a rookie due to an injury. He was plugged in as the starting left tackle right away in 2020 for the Bengals and performed good, not great, in his first time seeing the field since 2018 in college; he allowed seven pressures over his first two games. 
However, Williams has performed exceptionally well in pass protection in his past two games against Philadelphia and Jacksonville, surrendering only three pressures while earning pass-blocking grades above 80.0 in each outing. In Week 4, Williams was the fifth-highest graded tackle in pass protection.
This is good news for 2020 first-round pick Joe Burrow, who has been baptized by fire playing behind an offensive line that is routinely allowing pressure. Burrow is still facing substantial pressure behind this line despite the turnaround by Williams, but he is looking like Joe Cool out there when under duress. Against the Jaguars, Burrow didn't take a single sack on 13 dropbacks under pressure and posted a 74.7 passing grade on such plays.
While the deep ball still isn't there for Burrow, which can partly be attributed to the offensive line and limited amount of time he has to throw, his intermediate passing has been as good as any quarterback in the NFL. In fact, it actually has been the best among all quarterbacks this year in regard to passing grade. Burrow's 95.4 passing grade on throws of 10-19 yards downfield is the best in the league — well ahead of second-place Russell Wilson' 92.8 mark. In Week 4, Burrow completed 11 of 13 passes to the intermediate level for 206 yards. His pristine timing and accuracy have been on full display on these throws.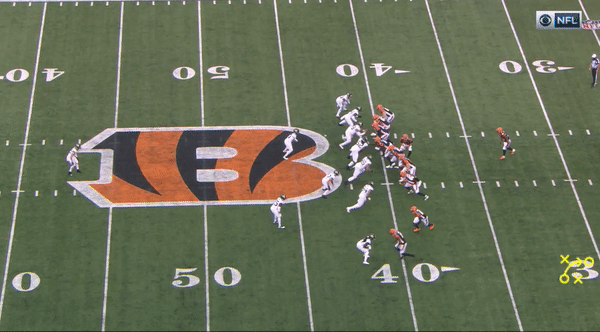 Despite not being effective with his deep ball quite yet, Burrow has still managed to produce the eighth-best passing grade in the NFL through Week 4. Just imagine what he could do if he had a line that was at least somewhat reliable.
6. Buffalo has fielded the NFL's best receiving corps through the first four weeks
While there are arguments to be made about this, with Julio Jones and Calvin Ridley in Atlanta, Adam Thielen and Justin Jefferson in Minnesota and Mike Evans and Chris Godwin in Tampa Bay, the Buffalo Bills' trio of Stefon Diggs, Cole Beasley and John Brown has been living up to the hype for Josh Allen and the Bills. 
After their outing against Las Vegas in Week 4, the wide receiver unit as a whole has generated 22 targets of 10 or more yards downfield in which they had open separation (more than a couple of steps), tying for the most in the NFL. Thanks to that separation prowess, Allen has had to throw into a tight window on just 15.2% of his passes (removing anything behind the line of scrimmage). That's the fourth-lowest rate in the NFL and more than 7 percentage points better than the league average.
Diggs can also go toe-to-toe with just about any defensive back on a contested target if he fails to create an open target. He did this routinely in Minnesota, and it was on display for Buffalo on Sunday: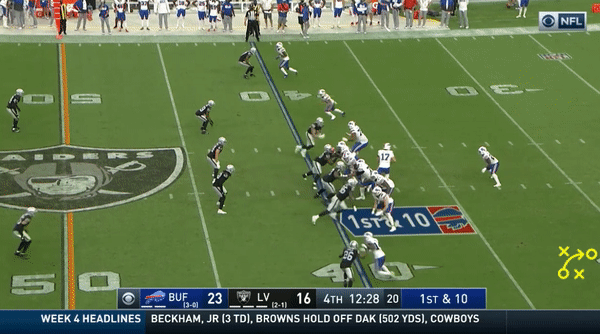 Diggs has hauled in seven of his nine contested targets this season, propelling him to the second-best receiving grade on such targets. This was a big weakness area last year for the Bills, as their 2019 wide receiver unit had the second-worst receiving grade on such targets. Josh Allen's incredible improvement in accuracy is easily the biggest driver in Buffalo's offensive success this year, but the receiving unit has played a significant role in that, as well.
7. Soon-to-be 39-year-old Andrew Whitworth is still one of the league's best pass-protectors
Following the conclusion of the 2016 season, it was expected at the time that 35-year-old tackle Andrew Whitworth would resign with the team he had been with for his entire career — the Cincinnati Bengals. But they were hesitant to commit to Whitworth long-term due to his age, so he instead signed with the Los Angeles Rams. And now on his fourth season in Los Angeles, the soon-to-be 39-year-old Whitworth is producing at the same top-tier level he was at when he left Cincinnati.
In Week 4 against the New York Giants, Whitworth surrendered just one quarterback pressure on 34 pass-block snaps. Overall in the game, Whitworth produced a 73.5 PFF grade that ranked third among left tackles. His season pressure total through four games is now three, none of which were a quarterback sack or hit. That has helped him produce an 88.9 PFF grade thus far, ranking third among all qualifying tackles. Whitworth isn't just outperforming his age — he is outperforming all but a few offensive tackles in the league.
8. Houston is in as bad of shape a team with a star quarterback can be in
While it was expected Houston might have a down year following the trade of DeAndre Hopkins, starting 0-4 seemed improbable, considering the Texans had one of the bright young stars at quarterback in Deshaun Watson and a respectable set of wide receivers. They did have a gauntlet to start by having to face the Kansas City Chiefs, Baltimore Ravens and Pittsburgh Steelers, but losing to the Minnesota Vikings is on a whole different level — especially because of how bad the Vikings' cornerback situation is.
Watson was great throwing downfield in Week 4. In fact, he had the fifth-best grade on throws of 10 or more yards downfield on the week. Watson completed all four of his deep passes (first of which came with a couple of minutes to go in the first half when down two scores) against Minnesota's lowly cornerback unit. That said, the Texans' passing attack failed to consistently generate success. Houston produced positive expected points added on 45% of its plays, the sixth-lowest rate of Week 4.
Really, it was the inefficiency out of the gate that killed the Texans against the Vikings. On the first 15 offensive plays of the game, which are widely considered "scripted" plays, Houston was second-to-last of all teams in Week 4 in percentage of total plays generating positive expected points added.
The defense did them no favors, either. The coverage unit was responsible for six plays that resulted in a gain of at least 20 yards. Those plays made up 28.6% of the pass attempts they faced against Minnesota, which was over 8 percentage points more than any other team. And then against Dalvin Cook and the Vikings' rushing attack, Houston allowed the second-most EPA per rush of any defense in Week 4 at 0.28.
Houston has a star in Deshaun Watson, but this team is doing him no favors.
OFFENSIVE PLAYER OF THE WEEK
Teller earned the honor of PFF Offensive Player of the Week for the role he played in Cleveland's rushing dominance against the Dallas Cowboys in Week 4 . He posted a run-blocking grade of 94.9, which was the best single-game run-block grade by a guard since Week 6 of 2014 when Marshal Yanda posted a 96.1 mark. Teller led all guards in Week 4 in positively graded run block rate by a large margin and actually had twice the amount of such blocks than all but two guards.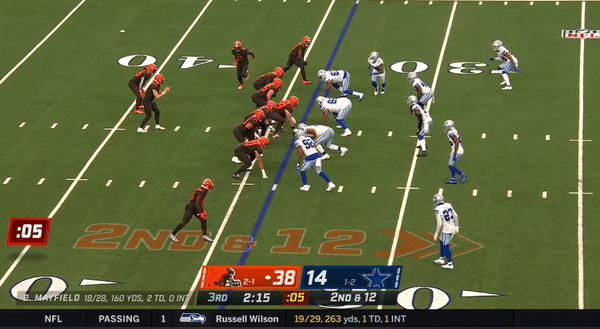 He put his man on the ground to open holes like the play above on numerous occasions and was essential to the Browns producing 0.44 EPA per rush in Dallas (second-best was 0.26).
DEFENSIVE PLAYER OF THE WEEK
One of the best off-ball linebackers in the NFL, Lavonte David added another elite game to his resume with his Week 4 showing against the Chargers. David put up a 91.9 PFF grade on the day, shining in every single facet. Against the run, David led his position in grade at 89.4. The nine-year vet put up five run stops, two of which were tackles for loss or no gain. In coverage, David added another four stops while forcing an incompletion and not allowing a single first down. Tampa defensive coordinator Todd Bowles dialed up a few blitzes with David, and he came home with a pressure and this batted pass that was looking like an easy first down for Herbert: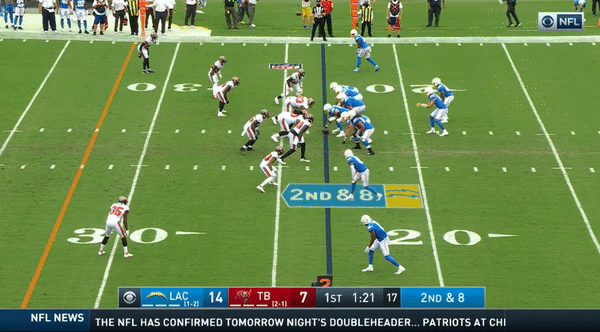 This was actually the eighth time since 2017 Davis put up a PFF single game grade above 90.0. That's tied with Seattle's Bobby Wagner for the most of the position and one ahead of the now-retired Luke Kuechly. At this point, there's an argument to be made that David is now the best player at the position in the league.
ROOKIE OF THE WEEK
Jefferson followed up his Week 3 performance that was one of the best we have ever recorded by a rookie wideout with another phenomenal day. The rookie posted a 91.7 receiving grade against the Houston Texans, which led everyone at the position for the second-straight week. Just as he did last week, Jefferson showed there shouldn't have been any worries with his ability to win against single coverage on the outside. Jefferson put up two 25-plus yard gains on such instances. For perspective, he was the only wide receiver of the week with multiple 25-plus yard gains on those plays.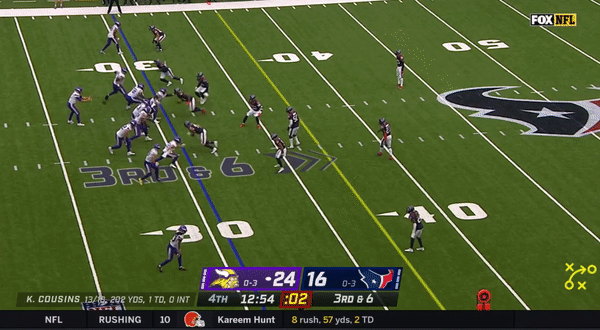 Jefferson is now the highest-graded wide receiver when facing single coverage on the outside, with former Viking Stefon Diggs right behind him and current Viking Adam Thielen in third. It's way too early to definitively say which receiver in the loaded 2020 class will end up being the best, but right now Jefferson — the fifth WR off the board — is easily the frontrunner.
OFFENSIVE LINE OF THE WEEK
As noted above, Cleveland's rushing attack was cooking against the Cowboys. Not only were they the most efficient rushing team of Week 4, but they were also more efficient running the ball than all but four teams were at passing this past week. The Cleveland backfield busted off 11 runs of 10 or more yards on the day. Of those 11, the ball carrier had at least three yards before being contacted by the defense (three more than any other team) on eight. 
Nick Chubb (who suffered a knee injury in the first quarter), Kareem Hunt and even D'Ernest Johnson are all backs that can rack up yards after contact, but the offensive line deserves as much, if not more, credit for the rushing success. They paved open lanes all game long, and it was more than just Teller's stellar outing (described above) that got them there. Right tackle Jack Conklin led players at his position in run-block grade at 92.3 and center J.C. Tretter ranked fifth at his at 69.1. 
They don't show up in the basic box score, but the big men up front pop out in PFF Premium Stats 2.0 — they were miles ahead of any other offensive line in Week 4.
SECRET SUPERSTAR OF THE WEEK
King was no secret superstar prior to 2020 — it was quite apparent that he was one of the league's best slot cornerbacks. In his first three years in the NFL from 2017 to 2019, King ranked first in slot coverage grade. But King's role changed when the Chargers signed Chris Harris Jr., who routinely was one of the highest-graded slot corners with the Denver Broncos since entering the league in 2011. 
King spent time at safety in the Chargers' first two games and publicly voiced his frustrations with his role, then subsequently played even less in Week 3 with just 17 snaps. After Harris was placed on IR, King reclaimed his slot role in Week 4 and looked like his same top-tier self.
King produced an 80.7 slot coverage grade, ranking third among qualifying defensive backs in Week 4. He allowed just one first down while recording three passing stops (second-most). The play of Justin Herbert and the comeback by Tom Brady was the talk of the Chargers-Buccaneers game, and rightfully so, but King should get some attention despite his team being on the losing end for stepping right back into the role and producing at a high level.
PLAY OF THE WEEK
Darious Williams with the slick game-sealing interception
With just over two minutes to play, the Los Angeles Rams led the winless New York Giants 17-9 and had just punted to New York's own 20-yard line. That gave second-year quarterback Daniel Jones a chance to lead the Giants to a comeback as double-digit underdogs. Jones started out the drive with a big-time throw that resulted in a 33-yard gain, and a few plays later he and the Giants found themselves with a second-and-five at the Rams' 18-yard line with under a minute to go. It was looking like Jones would do the improbable, then this happened: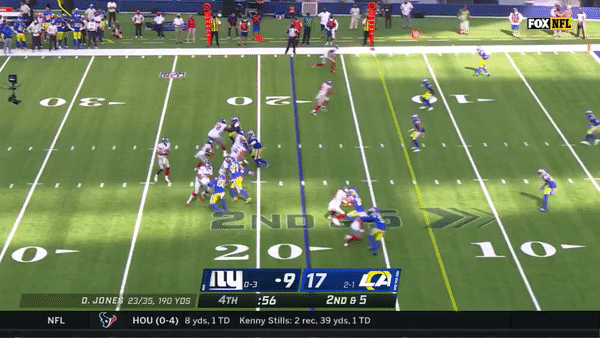 Rams corner Darious Williams sealed the game with this diving interception in single coverage. Jones locked in on Damion Ratley, Williams recognized that and reacted swiftly. Pretty good redemption after committing a costly pass interference on a fourth down in the red zone late in the game against Buffalo in Week 3 that ultimately led to the Bills scoring a touchdown to win the game.
AN EARLY LOOK AHEAD TO WEEK 5
To kick off Week 6 of the 2020 NFL season, we get a great Thursday Night Football matchup between the 3-1 Tampa Bay Buccaneers and 3-1 Chicago Bears. As said, Brady is playing at a level that is reminiscent of the prime of his career and has the Bucs' offense rolling. Chicago's offense, however, is quite the opposite. Quarterback Nick Foles will get another shot at proving he is capable of leading a far more threatening passing attack than Mitchell Trubisky after Chicago scored only three points against the Colts until their final drive while down 16.
Perhaps the best game of the Sunday slate is the Indianapolis Colts taking on the Cleveland Browns, which would have been largely viewed as a bad one if this were Week 2. Indianapolis was upset by Jacksonville in Week 1, while Cleveland got routed by Baltimore. Both the Colts and the Browns have busted off three straight wins since then. On the season, Indy has allowed the lowest EPA per play among all 32 defenses. As for Cleveland, Kevin Stefanski has had the offense cooking ever since their blowout loss, as they have produced the third-highest EPA per play on offense.