Week 2 is always a pivotal week on the NFL calendar. Sixteen teams lose in Week 1, and the last thing all those teams want is to start the season 0-2. We also get a hint of which teams are for real and which ones are not.
We learned a lot from this past week of NFL action, and PFF is here to break it all down for you using advanced data and our unique play-by-play grading. Below, you'll find 10 key takeaways from the Sunday slate of NFL action as well as the Week 2 PFF Team of the Week and numerous player awards, from Offensive MVP of the Week to Rookie of the Week. Enjoy!
[Editor's Note: PFF's advanced statistics and player grades are powered by AWS machine learning capabilities.]
PFF TEAM OF THE WEEK
Offense
QB: Aaron Rodgers, Green Bay Packers
RB: Austin Ekeler, Los Angeles Chargers
WR: Stefon Diggs, Buffalo Bills
WR: Cooper Kupp, Los Angeles Rams
TE: Mo Alie-Cox, Indianapolis Colts
FLEX: Mike Gesicki, Miami Dolphins
LT: Ronnie Stanley, Baltimore Ravens
LG: Ali Marpet, Tampa Bay Buccaneers
C: Corey Linsley, Green Bay Packers
RG: Mark Glowinski, Indianapolis Colts
RT: Lane Johnson, Philadelphia Eagles
Defense
DI: Shelby Harris, Denver Broncos
DI: Tyson Alualu, Pittsburgh Steelers
EDGE: T.J. Watt, Pittsburgh Steelers
EDGE: Robert Quinn, Chicago Bears
LB: Kevin Pierre-Louis, Washington Football Team
LB: Myles Jack, Jacksonville Jaguars
CB: James Bradberry, New York Giants
CB: Jaire Alexander, Green Bay Packers
S: Justin Simmons, Denver Broncos
S: Desmond King II, Los Angeles Chargers
FLEX: Marcus Peters, Baltimore Ravens
Note: The team of the week will be updated upon the conclusion of Monday Night Football.
10 BIG TAKEAWAYS
1. IT'S BEGINNING TO LOOK AS THOUGH WE WILL SEE A FUN RACE FOR THE NFC NORTH CROWN
After slicing and dicing the Minnesota Vikings en route to a 96.0 PFF grade in Week 1, Aaron Rodgers came back and did it again in Week 2 against the Detroit Lions.
Rodgers produced an 89.7 passing grade for the game while posting three big-time throws and zero turnover-worthy plays. Over the last two weeks of action, Rodgers has thrown a perfectly placed pass on 27.7% of his throws — that's six percentage points higher than any other quarterback.
Having said that, Rodgers' receiving unit is in brutal shape outside of Davante Adams. As a whole, the Green Bay Packers' wide receivers have caught 81.6% of their catchable targets, the fifth-worst rate among the NFL's 32 teams. Marquez Valdes-Scantling has been the main culprit so far, as he leads the league in drops, with three on 10 catchable targets. However, Rodgers has overcome the lack of depth within the unit and has helped lead the Packers to the most efficient offense in the NFL through Week 2 in terms of EPA per play. 
The Packers are 2-0 to start 2020 solely because of the play of Rodgers. The defense hasn't been anything great, as they currently rank 26th league-wide in EPA per play allowed, but as long as Rodgers maintains this kind of play, the Packers will be a very dangerous team.
They aren't the only team from the NFC North that is off to a hot start, though. Green Bay's longtime rival, the Chicago Bears, are also 2-0 to start the year.
Luck has definitely been on Chicago's side in these two games, as Lions running back D'Andre Swift dropped the go-ahead touchdown in Week 1 and tackle Bobby Massie helped extend their final drive in Week 2 by catching a tipped ball that Mitchell Trubisky forced into double coverage on fourth-and-1 and turning it into a first down. The Chicago defense, however, is looking like it may be the most difficult one Rodgers has to face this season, and he'll get them twice in the final six weeks.
The Bears' defense is currently fourth in EPA per pass play allowed this year and has benefitted from the remarkable play of second-round rookie cornerback Jaylon Johnson. Through his first two career games, Johnson has recorded the fourth-best coverage grade in the NFL when lined up at outside corner, and he is tied for second in forced incompletions, with four. Together with veteran cornerback Kyle Fuller, the two have combined to allow a passer rating of just 41.7 on targets to the outside, the best in the NFL.
The real question is if the Week 2 Trubisky is here to stay. The Chicago signal-caller produced a 78.4 passing grade against the Giants, with three big-time throws and not a single turnover-worthy play. If he starts to maintain that kind of play, this Chicago Bears squad has the potential to be dangerous, and the defense is going to give Rodgers and the Packers a run for their money for the division crown.
2. I REPEAT, TOM BRADY IS NOWHERE CLOSE TO BEING WASHED UP
It's easy to look at Brady's box score stats and just assume he's gone down the drain. After all, he's averaging just 6.4 yards per attempt with a 65% completion percentage, and he now has three interceptions in two games. However, the fact of the matter is that it goes a lot deeper than that.
Brady topped his solid debut as a Buccaneer in Week 1 (77.8 PFF grade) by posting an 89.2 PFF grade in Week 2 against Carolina, the second-best of the week. He also tied for the most big-time throws (four) of the week and ranked fifth in the percentage of accurate passes thrown. On throws of 10 yards or more, Brady threw six of 10 such passes perfectly, according to PFF's ball-location data. And of those 10 passes, four of them were dropped by his receiving unit. In total, Brady finished the day with seven dropped passes, two more than any other quarterback.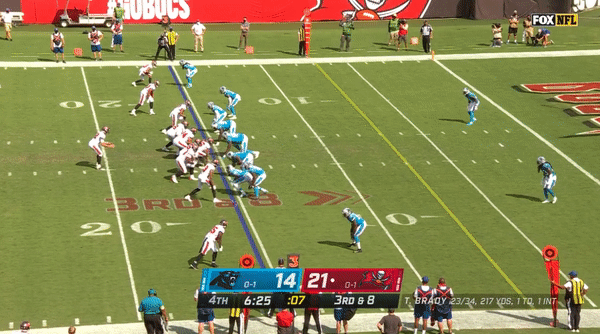 So far this season, Brady is tied for the most big-time throws in the NFL, with nine, and his receiving unit has dropped 36.4% of the accurate passes thrown 10 or more yards downfield (worst in NFL by eight percentage points). Brady has had a lot of yards and a few scores left off the box score this season because of drops or defensive pass intereference. While his traditional stats don't suggest it, Brady is outplaying most quarterbacks in the NFL right now.
3. THE LOS ANGELES RAMS LOOK LIKE THEY ARE BACK IN CONTENTION STATUS
After Sean McVay took the NFL by storm and led the Rams to a Super Bowl appearance in 2018, everything and everyone took a big step backward in 2019. But after yesterday's win against Philadelphia, it looks as though Los Angeles Rams are back in contention status. The Rams had the most efficient offense of Week 2 from an EPA per play standpoint, and Jared Goff was out there delivering from a clean pocket. Goff generated a 95.8 passing grade from a clean pocket, the best grade of the week, and he completed 16 of 17 passes for 230 yards and two scores. Through two weeks of play, Goff is now third in the NFL in passing grade (86.1) and second in the rate of uncatchable passes thrown (10%).
What a beautifully designed play-action pass.
Against Philly, Goff had numerous open downfield throws thanks to great play design, like the one above. That helped him record the third-best positively graded throw rate of the week, which is a metric influenced partly by supporting cast and playcalling. If we see the Rams execute like this the rest of the year, the NFC better watch out.
4. T.J. WATT MIGHT BE THE BEST EDGE DEFENDER IN THE NFL
Last week, T.J. Watt had a dominant showing against the Giants, producing a 93.7 PFF grade for the game and winning the PFF Week 1 Defensive MVP. This week, he had yet another incredible game by producing a 91.2 PFF grade and 38% pass-rush win rate, nearly 10 percentage points higher than any other edge rusher during Week 2. This was Watt's 11th regular-season game since 2018 in which he posted a PFF grade north of 80.0. That's the most at the position in that span by four (the Bosa brothers are tied for second with seven each). His speed rip gave Denver's tackles fits all game. We've become accustomed to naming players like his brother, J.J. Watt, or Khalil Mack or Von Miller as the best edge rusher in the NFL, but I think T.J. is separating himself from the pack and becoming the best.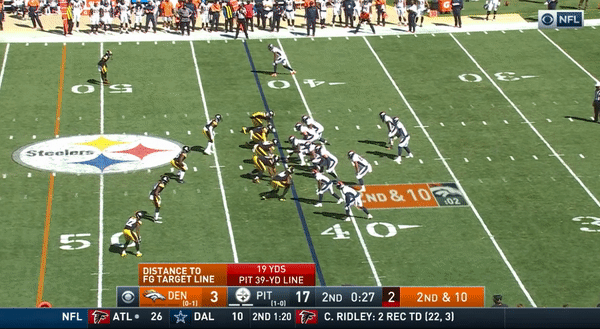 5. GIVING CREDIT WHERE IT IS DUE,  BILLS QB JOSH ALLEN WAS EXCEPTIONAL DOWN THE STRETCH FOR BUFFALO
The PFF play-by-play grading system hasn't looked all that favorably on Allen over the last few seasons, but yesterday the Buffalo quarterback came in clutch when his team needed him to dig them out of a fourth-quarter hole.
Allen was played like his usual self through the first three quarters of action, earning a passing grade of 66.4 behind a 2-to-1 turnover-worthy play to big-time throw ratio, but he clicked it into gear once his team went down 20-17 with just over 10 minutes to play. From that point on, Allen produced a 92.6 passing grade and delivered three big-time throws on eight pass attempts. That helped Buffalo produce 1.2 EPA per pass in the fourth quarter, and it led them to an eventual 31-28 victory over the Miami Dolphins.
We've seen a few of those erratic decisions from Allen this year, but he has cut down on negatively graded throws and has been a heck of a lot more accurate, as he currently ranks ninth in percentage of accurate passes thrown so far. Accuracy isn't something easily improved upon from one year to the next, but who knows, maybe Allen is an outlier. Maybe he's finally turning the corner.
The start to the Philadelphia Eagles 2020 season could not have gone much worse. They've endured double-digit losses to the Washington and the Rams, and quarterback Carson Wentz has been one of many reasons for Philly's struggles. He's produced a 42.7 passing grade in those two games, the worst among all NFL quarterbacks. Wentz has struggled to take care of the ball with eight turnover-worthy plays (three more than anyone else). He's been brutally inaccurate as just 41.5% of his passes have been deemed accurate (worst by over 3 percentage points). It's early, but at some point Philadelphia will want to throw Jalen Hurts into action to see what they have. It can't get much worse than what Wentz has produced so far.
Hurts brings running back-esque ability to the position. His scrambling was second to none in college football last year, as over a quarter of his scrambles resulted in a 10-plus yard gain. That's something I'm sure Doug Pederson would love to use on read-options. The big concern with Hurts was how willing he was to hang onto the ball and how slow he was at making decisions. He'd mostly make the right ones, but it just took him forever to get there. Hurts had the slowest average time-to-throw in the FBS last year at 3.08 seconds, well above the next-slowest at 2.91. Pederson is known for his higher-than-average usage of run-pass options (RPOs), and Hurts would thrive in that type of system. 
If Wentz doesn't dig himself out of this hole soon, I would say it's time to throw the rookie in there.
7. DALLAS SHOWED WHY ITS PASSING OFFENSE IS ONE OF THE BEST IN THE NFC, AND PRESCOTT PROVED CAPABLE OF SPEARHEADING A POSTSEASON RUN
This was one of the wildest finishes I have seen in quite some time. The Cowboys scored two touchdowns and one field goal in the final five minutes of game action to pull off a 40-39 comeback win over the Falcons. Dallas was aided by an onside kick recovery that, for some reason, the Falcons special teams unit neglected. But the real reason the Cowboys were able to pull off the comeback was the Dak Prescott-led passing attack.
Dallas had the fifth-highest rate of pass plays resulting in positive expected points added in Week 2 and Prescott's downfield passing was nearly perfect. He ranked third in passing grade on throws of 10 or more yards on the week, had three big-time throws to no turnover-worthy throws and averaged an NFL-high 17.4 yards per attempt on those passes. All of those three big-time throws came in the fourth quarter in moments when Prescott needed to step up to avoid defeat.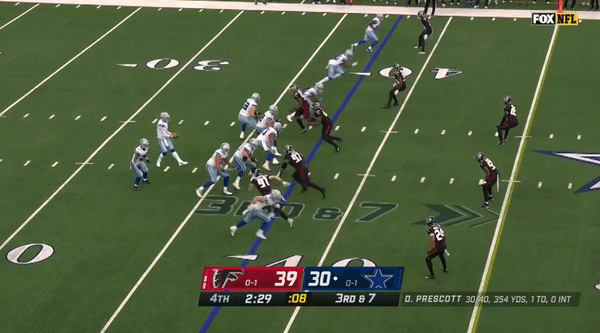 Regardless of how ugly this game was at moments for the Cowboys — particularly for the defense — Prescott showed once again why he's capable of producing at an MVP level and leading Dallas to a postseason run.
8. IT'S TIME TO START TREATING GARDNER MINSHEW LIKE A FRANCHISE QB
With the several questionable moves made by Jacksonville this offseason, it looked like the franchise was tanking for Trevor Lawrence. Gardner Minshew, however, has other plans.
Minshew was a sixth-round pick in the 2019 NFL Draft, and he made his NFL debut just a few snaps into the season due to an injury to Nick Foles. He would go on to piece together one of the biggest surprise years in recent memory. Minshew was the highest-graded rookie quarterback last year and flashed one of the best deep balls in the NFL. He doesn't have a rocket for an arm, but what matters most with deep passing performance is accuracy, touch and anticipation — all of which Minshew routinely put on display en route to the third-best deep passing grade of 2019. And that success as a rookie has carried into 2020.
Against the Titans in Week 2, Minshew delivered three big-time throws in the first half. He's helped the Jaguars produce the ninth-most expected points added per pass play thus far and was the primary reason for the team even being close to taking down Tennessee.
I can't quit gardner minshewpic.twitter.com/43lW9piEUS

— Austin Gayle (@PFF_AustinGayle) September 20, 2020
So far in 2020, Minshew is tied for sixth in uncatchable pass rate on throws of 10 or more yards downfield and ranks third among all quarterbacks in negatively graded throw rate. It's all about ball security for Minshew — if he can avoid turnovers and erase those one or two really bad decisions he has every other game or so, there's no reason why he can't be the Jags' franchise quarterback.
9. WHY ON EARTH DID NO TEAM TAKE A CHANCE ON CAM NEWTON EARLIER?
One of the biggest stories of the offseason was seeing where Cam Newton might land after he and the Carolina Panthers parted ways. After months of speculation, Newton found a home in New England to serve as Tom Brady's replacement, but there were questions surrounding his health. We are now two weeks into the 2020 NFL season, and it's clear that 1) his health shouldn't have been a concern, and 2) several other teams should have tried to sign Newton for perhaps a lot more money.
Newton has recorded an 82.8 PFF grade in his two games with the Patriots, the fifth-best mark in the NFL at the position. Josh McDaniels has dialed up a load of designed carries for his new signal-caller, and the results have been as expected: Pretty good. He's had 10 designed carries result in at least a five-yard gain, which is five more than anyone else. However, that's not what has made Newton a top-performing quarterback thus far into 2020.
The last time we saw Newton attempt a pass in a Panthers uniform, it was a primetime showdown in Week 2 of the 2019 season against the Tampa Bay Buccaneers. And he made it clear he was hurting by throwing ducks downfield. On Sunday night against Seattle, it was the complete opposite. Newton completed 15 of 19 passes that traveled 10 or more yards downfield for 295 yards — only three of those attempts were deemed uncatchable. In all, he's the second-highest graded quarterback on throws of 10-plus yards this season. It looks like this investment has and will continue to pay off for Bill Belichick and company.
10. WHAT A HORRIBLE WEEK OF INJURIES
While we saw a lot of great football this past weekend, there were also numerous injuries to premier talents in the league.
New York Giants running back Saquon Barkley was among them, as he tore his ACL in Chicago. He was looking for a bounce-back game after rushing for just six yards in Week 1 and coming off a down year in 2019. His 85.2 PFF grade as a rookie dipped to 72.2 in 2019. Everyone knows PFF's stance on the value of running backs, but that doesn't mean we won't miss seeing Barkley on the field this season.
Nick Bosa, the reigning Defensive Rookie of the Year, also suffered a torn ACL on Sunday. Including postseason play, Bosa produced an 89.8 PFF grade and recorded over 100 pressures in 2019. He kicked off his sophomore campaign with a strong Week 1 performance, recording an 84.7 PFF grade and five pressures. Bosa was looking like he could take that next step to elite status in 2020, but sadly, we won't get to see that this year.
Broncos WR1 Courtland Sutton was coming off a Year 2 breakout in 2019, as he produced an 83.1 PFF grade that ranked 11th at the position. With the addition of rookie Jerry Jeudy, the second-best wide receiver prospect in the PFF College era, there was hope the Broncos offense would take that next step in 2020. Unfortunately, Sutton tore his ACL in his season debut Sunday and will miss the rest of the year. 
There were several other major injuries suffered this weekend, all of which are terrible to see.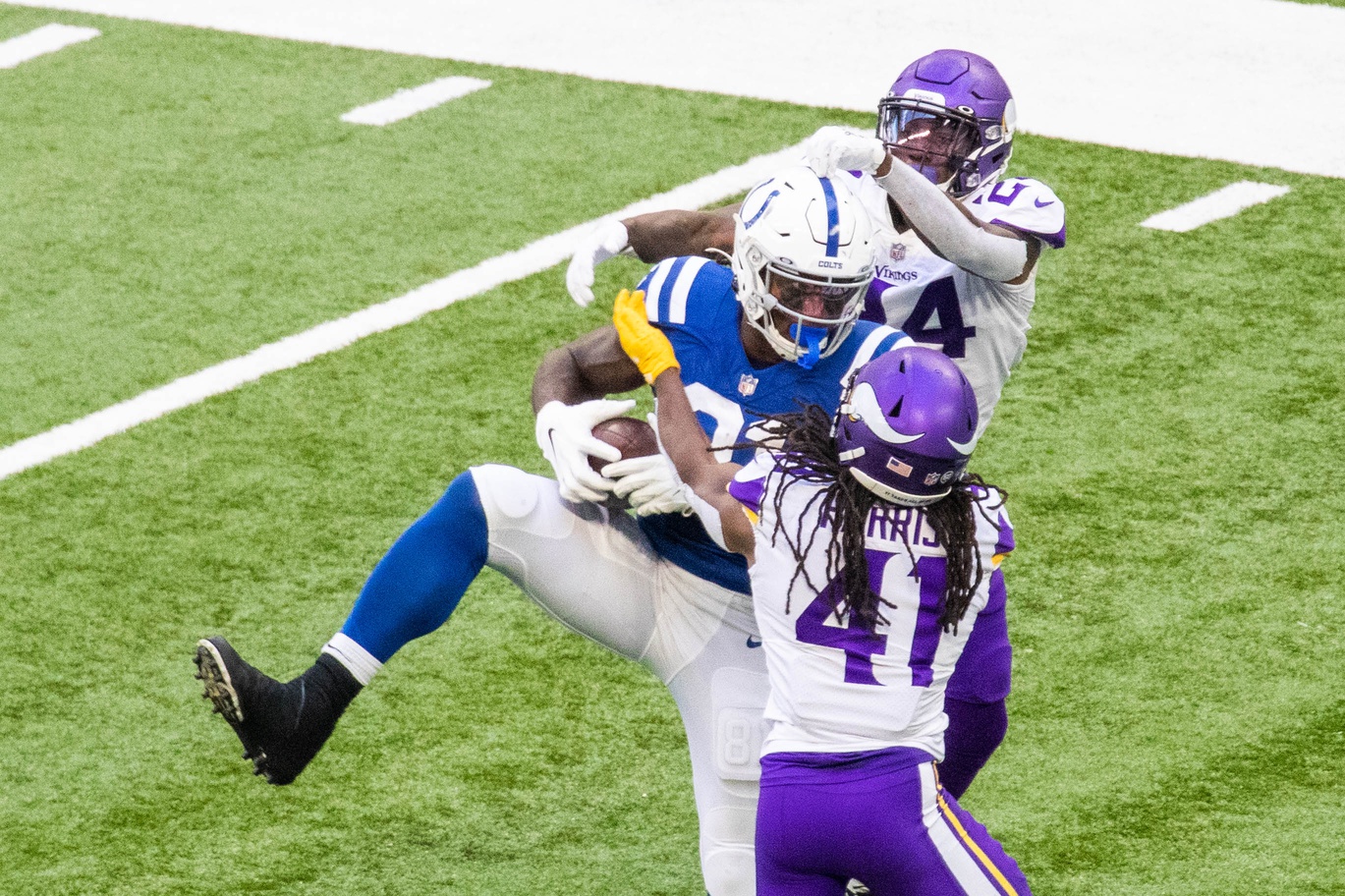 OFFENSIVE PLAYER OF THE WEEK
Former VCU basketball star Mo Alie-Cox had seen just 27 targets in his two-plus years in the NFL prior to Week 2. With Trey Burton on IR and Jack Doyle out for Week 2 with an injury, Alie-Cox needed to step up and he most certainly did. Alie-Cox caught five of six passes for 111 yards and produced a 94.8 PFF grade for the game. Four of those five catches ended up a gain of 15-plus yards, and he made this impressive contested snag: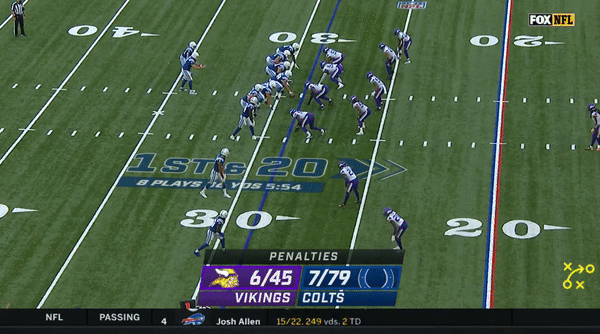 A relatively unknown player like Alie-Cox would typically just find himself as the Secret Superstar of the Week, but he was too good to limit there — no player on the offensive side of the ball had a better game at their respective position than him.
DEFENSIVE PLAYER OF THE WEEK
Bradberry had the best game of his five-year NFL career on Sunday against the Bears en route to a 93.1 coverage grade. On his 33 coverage snaps, Bradberry saw six targets come his way and allowed just one catch for 14 yards while intercepting one and breaking up another three. He shadowed Chicago's WR1 Allen Robinson II and effectively shut him down (all of the production above came against Robinson). I wouldn't really bank on Bradberry sustaining this lockdown play, as he has had one game similar to this one in each season of his career, but it's still an impressive performance and the easy winner of the Week 2 PFF Defensive MVP.
ROOKIE OF THE WEEK
Wirfs didn't have a great NFL debut against New Orleans in Week 1, earning a 61.5 PFF grade for the game, which ranked 49th of 63 tackles for the week. In Week 2, Wirfs turned everything around — he produced an 86.0 PFF grade against the Panthers, which will likely finish as a top-three mark among all tackles of Week 2. Wirfs' pass protection was fine, as he produced a 75.2 grade in that facet with a couple hurries allowed, but his run blocking is what made his week. His grade there sat at 90.6 — he never had a clear loss and opened up numerous holes.
OFFENSIVE LINE OF THE WEEK
The Browns offensive line has come a long way over the last couple of years. They fielded some of the worst tackle play in the NFL and had a unit that was in the bottom half of the league overall in 2019. It's been among the best in 2020. Against Cincinnati on Thursday Night Football, all five of Cleveland's starters had strong showings, combining to allow just two pressures and opening up several holes for the run game (keep in mind, they were without starting right tackle Jack Conklin).
Kevin Stefanski dialed up a hefty rate of play-action passes (42% of dropbacks), which didn't give the unit many true pass-set situations, but they held their own regardless of the play. In the run game, Cleveland saw Nick Chubb and Kareem Hunt combine for nine gains of 10 or more yards. Of those nine, seven had at least three yards before contact. The running backs get all the attention and credit, but this Cleveland offensive line set them up for success from the get-go.
SECRET SUPERSTAR OF THE WEEK
Pierre-Louis is the perfect example of an NFL Journeyman — he's on his fifth team in five years and never really saw ample time on the field until late in 2019 with the Bears. He entered in Week 4 for the Bears when injuries hit the unit and performed well, producing an 89.8 PFF grade. He then logged only three snaps until seeing the field for 187 snaps over the final four games. In that span, Pierre-Louis was the league's highest-graded off-ball linebacker (89.3), and he was productive in coverage and as a blitz weapon. As a result, Pierre-Louis was the player on Washington's roster we felt had the best chance of breaking out in 2020. Based on his Week 2, the late-career breakout might actually happen.
Pierre-Louis was lights-out in coverage, making numerous stops in a blink of an eye. He had five passing stops on the day en route to a 93.0 coverage grade. Both of those marks led all off-ball linebackers in Week 2. Pierre-Louis might have followed a journeyman's path to this point, but he looks like a secret superstar in the making.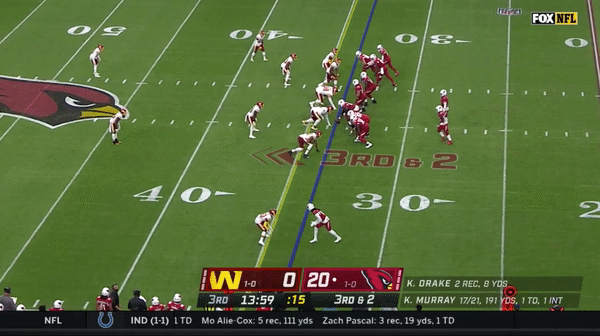 PLAY OF THE WEEK
TOE. DRAG. SWAG.

Unbelievable catch from David Moore for the TD!pic.twitter.com/MFFhasWZk7

— PFF (@PFF) September 21, 2020
The throw from Wilson really could not have been more perfect, but the awareness/catch/footwork from Moore is what makes this the play of the week. It was a game-changing moment for Seattle on Sunday Night Football, as it gave the Seahawks a 21-17 lead on the Patriots and they'd end up holding on for the win.
The onside kick recovery by the Dallas Cowboys late in the fourth quarter that cleared that path to victory for them was in consideration here, but ultimately we went with Seattle's acrobatic play over the one that was more a product of horrid decisions by Atlanta's special teams unit.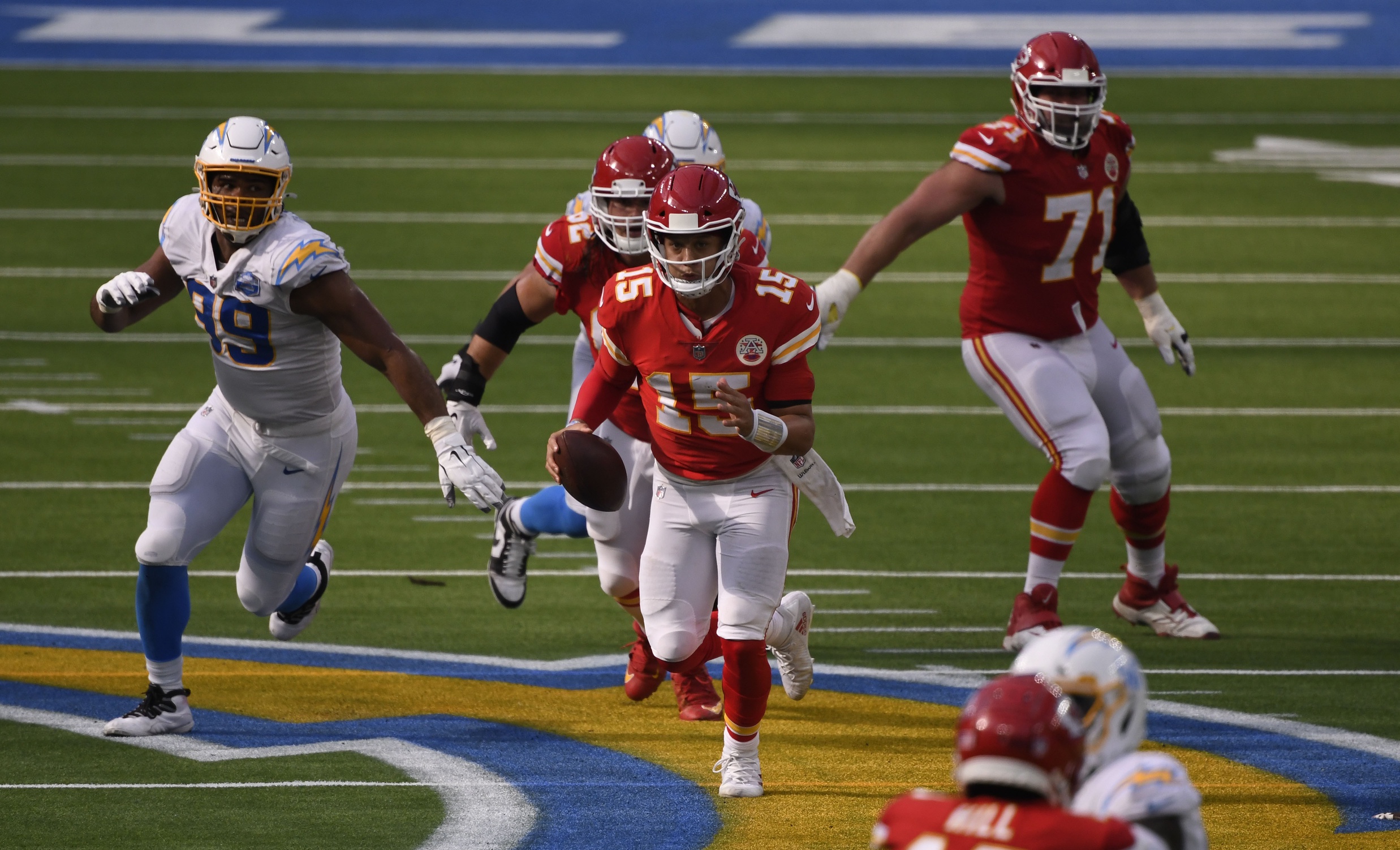 AN EARLY LOOK AHEAD TO WEEK 3
This next week of NFL action has perhaps the best game of the entire 2020 schedule as we get to see Patrick Mahomes and the Kansas City Chiefs take on Lamar Jackson and the Baltimore Ravens on Monday Night Football.
Kansas City will be looking to get its offense back to elite form after a down week that nearly resulted in the Los Angeles Chargers pulling off an upset. As for Baltimore, they have routed each of their two opponents thus far in the 2020 season with their defense really carrying the way. The Ravens are first in EPA per play allowed through the first two weeks by a considerable margin, whereas the offense ranks eighth in EPA per play generated.That's still great, but it's not quite on the same level as 2019 when they ranked first.
There are several great matchups in the Sunday slate, from Dallas taking on Seattle to Green Bay vs. New Orleans, but perhaps the most intriguing game is the Los Angeles Rams versus the Buffalo Bills. As noted earlier in the takeaways portion, both teams are off to hot starts in 2020, but are either of them for real, and do they have a shot at making a run this season? We have an idea, but we should find out with greater certainty during next week's matchup.