The biggest negative impacting the Chicago Bears in 2019 — quarterback Mitchell Trubisky — is all of a sudden no longer a problem through two weeks of the 2020 NFL season, and that makes the Bears a team that needs to be taken seriously.
Trubisky's play hit its nadir last year, and its impact was crippling. Not only had he regressed from his early showings, but he struggled even when Matt Nagy simplified the offense. If anything, Nagy's attempt to get some functional play from his quarterback only magnified the problem.
Subscribe to
Nagy's offense, which, at its core, is the same one Patrick Mahomes runs in Kansas City and Carson Wentz runs in Philadelphia, is a fundamentally quarterback-friendly system. But when he started to unpick the stitching that held it together, the entire thing unraveled around him.
With Trubisky at the helm, the Bears were just a non-viable prospect. It didn't matter what other portions of the team were capable of; they didn't have workable play at the most important position in the game.
Consequently, very few people had the Bears on their radar when it came to preseason predictions, but the step from where Trubisky was in 2019 to where he seems to be now — in viable-quarterback territory — is one of the single biggest leaps any team could take, and it completely transforms the potential of the other parts of this roster. Without an engine, it wouldn't matter how great every other component in the car was; the thing still wouldn't go down the road under its own power. But put an engine under the hood — any engine — and you're talking about a whole different experience.
Mitchell Trubisky: Passing stats since 2017
| | | | | |
| --- | --- | --- | --- | --- |
| Season  | PFF overall grade | PFF passing grade | % of throws past the sticks | Passer rating from a clean pocket |
| 2020 | 74.4 | 72.2 | 60.9% | 102.2 |
| 2019 | 64.3 | 63.5 | 44.6% | 93.0 |
| 2018 | 63.2 | 56.5 | 44.7% | 100.5 |
| 2017 | 66.4 | 71.2 | 41.3% | 89.0 |
Through two weeks, Trubisky has played at a level we haven't seen from him in a long time. He earned an 80.2 PFF grade against the Giants, his best single-game grade since Week 12 of the 2018 season.
All of a sudden, Trubisky was the one being let down by his teammates — not the other way around. He completed 64.3% of his passes, but he had two key passes dropped, both on third down, and one of which would have been an absolute dime of a touchdown.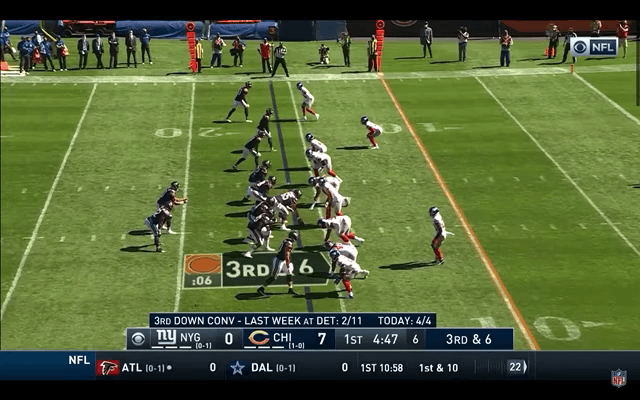 It's important to temper this positivity with the realization that this performance came against the New York Giants, whose defense is far from good, and that we are still some way from talking about Trubisky as a player that will elevate the play of those around him. But that is missing the main point.
If the Bears can get passable quarterback play from their young passer — and so far this year, they have — they will be transformed into something far different than what they were expected to be entering the season.
Suddenly the receiving corps of Allen Robinson, Anthony Miller, Tarik Cohen, David Montgomery and others is a group that can actually do damage to opposing defenses, as opposed to being looked on as an untapped resource that could change games only if they had somebody who could get them the football.
The team's offensive line, which slipped to 25th in PFF's offensive line rankings by the end of the 2019 season, suddenly looks reborn because they are working more in harmony with the player they are tasked with protecting, rather than fighting against his urges to undermine his own pass protection in the pocket.
A Trubisky playing with more confidence and assurance in the pocket immediately makes his team's pass blocking look better, and through two weeks, three of the five starters have a PFF pass-blocking grade of at least 78.0 — three grading points higher than the best mark from the group last year.
If the offense can hold up its end of the bargain, the defense has a chance to show that the unit from 2018 hasn't disappeared, and most of the talent from that exceptional group remains.
Khalil Mack has 12 total pressures through two games to go along with yet another PFF grade above 90.0. Robert Quinn has been deployed as a situational pass-rusher thus far and has a pass-rush grade above 90.0, even if it has resulted in just two total pressures so far. Rookie cornerback Jaylon Johnson has hit the ground running with four pass breakups while allowing only 41.7% of his targets in coverage to be caught by the receiver.
This is a team that has the ability to play postseason football, but everybody forgot that fact because their quarterback was Mitchell Trubisky. With Detroit seemingly not the force many expected them to be, and the Minnesota Vikings suffering badly from the loss of talent on that roster, the door is suddenly widely ajar for Chicago to challenge the Green Bay Packers for NFC North supremacy.
Even if they come up short within the division, there are three wild card spots up for grabs. If Trubisky plays the remaining 14 games at the level he has played the opening two, Chicago will earn one of those spots and be playing January football once more.
ELITE subscribers can view player grades, advanced statistics, positional snap counts and more from Week 2's slate of games in Premium Stats 2.0. Subscribe today for access!