With only one week of regular-season football to go, it's time to really cherish the full slate of games while we can. The PFF Week 16 Team of the Week features a star-studded cast from the record-breaking Michael Thomas at wide receiver to the dominant presence of T.J. Watt at edge defender. 
PFF's NFL Team of the Week series features game grades and advanced statistics for the NFL's top players at every position in a given week. All of PFF's ELITE subscribers have access to game grades, advanced statistics, positional snap counts and more in Premium Stats. All of PFF's grades and advanced stats from this week and every other week this upcoming NFL season are made available to ELITE subscribers within 24 hours of the final whistle.
[Editor's Note: All of PFF's advanced stats and grades for every NFL player are made available in PFF's ELITE subscription. Subscribe today to gain access!]
Despite the loss to the New Orleans Saints, Tannehill continued his tremendous season throwing the football, as he finished with three big-time throws and no turnover-worthy plays. He was pinpoint on a deep ball to wideout A.J. Brown, and his tight-window red-zone touchdown kept the Titans in the game in the fourth quarter. Tannehill's downfield accuracy was excellent once again, and he finished 7-for-10 for 151 yards and two touchdowns on throws of 10-plus yards downfield.
This was the big-play, mismatch game the Giants envisioned when Barkley was drafted at No. 2 overall in 2018. He rushed for 189 yards on 22 carries, creating 153 of those yards after contact while also catching all four of his targets for 90 yards and a score. Barkley forced six missed tackles on his 26 touches on the day.
Thomas set the all-time single-season receptions record in style as he collected 12 passes on 17 targets for 136 yards and a touchdown. He did his usual fine work at all levels of the field, as he caught three at the intermediate (10-19) level, one at the deep (20-plus yard) level and all eight of his targets on throws up to 10 yards.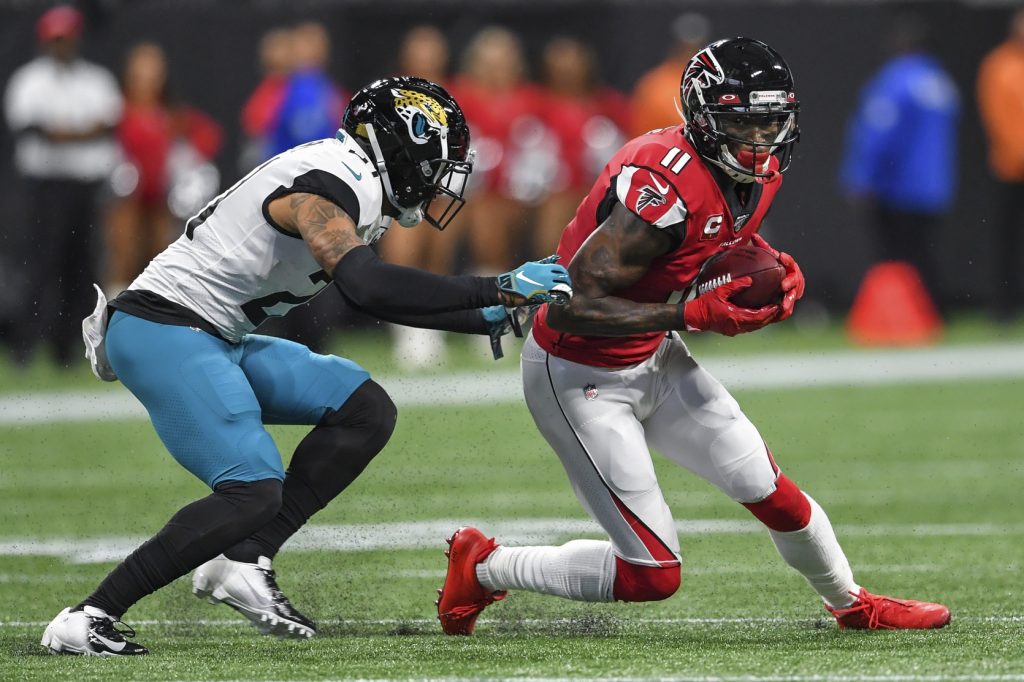 © Dale Zanine-USA TODAY Sports
In another classic performance, Jones caught 10 passes for 166 yards with nine of those receptions moving the chains. Jones turned a deep out into a 32-yard gain and he also hauled in a 24-yarder on a corner route that saw him take a big hit from a safety. Jones remains one of the most difficult covers in the league, and he now ranks third in PFF receiving grade on the year.
A depleted receiving corps needed a huge game from Goedert, and they got it in the form of nine catches for 91 yards and a score. He ran a crisp route for his red-zone touchdown, and he converted five other first downs, including a downfield back-shoulder throw and a flat route to help seal the game for the Eagles in the fourth quarter.
Higbee posted similar numbers to Goedert, finishing with nine catches for 104 yards and six first-down conversions. He created 53 yards after the catch while forcing two missed tackles, and he added 11 solid snaps in pass protection to cap off an excellent all-round performance.
We saw the best game of Bolles' three-year career in Week 16, as he posted a 93.3 overall grade after not grading above 80.0 in any previous game. He remained clean in pass protection, allowing no pressure on 40 dropbacks, though he did have one holding penalty. Bolles was a monster in the run game, posting the most positively graded blocks among tackles this week, including a beautiful reach block on a 13-yard fourth-quarter run.
Bitonio had a pressure-free day on his 40 snaps in pass protection while playing mistake-free in the run game where he got the best of one of the game's best run defenders in DT Brandon Williams.
No center had more positively graded run blocks than Jensen, whose 90.3 run-blocking grade is his best of the season. He also didn't allow a pressure on Tampa Bay's 54 dropbacks.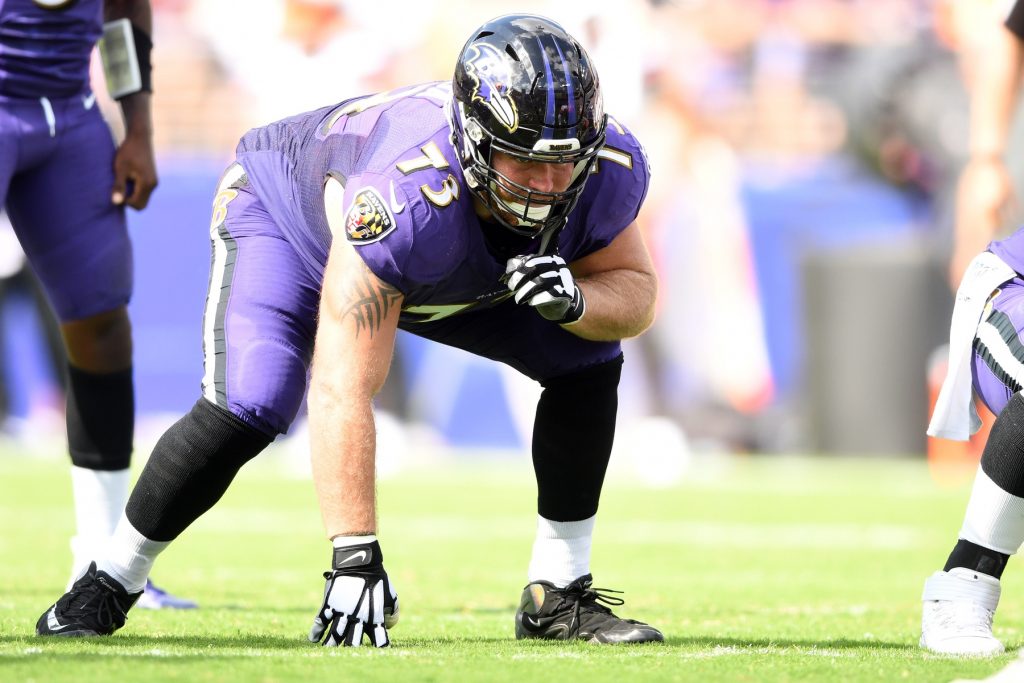 © Mitchell Layton-USA TODAY Sports
The future Hall of Famer added to his highlight reel with two big-time blocks, which included a fourth-quarter reach that led to an 18-yard touchdown and a similar block a few plays later that only led to a two-yard gain due to another missed block. Yanda did not allow a pressure on 36 snaps in pass protection.
Smith didn't allow a single pressure on his 32 attempts while posting a strong 87.2 grade in the run game. He had the lowest percentage of negatively graded run blocks in the league this week, and he had the key block out in front on a 10-yard fourth-quarter gain.
Jarrett continued his disruptive ways with four pressures on 32 rushes to go with two defensive stops in the run game. The stat sheet doesn't capture just how dominant those wins were, as Jarrett won almost immediately off the snap on his sack and he had three other sub-2.5 second wins as a pass-rusher.
It wasn't a great week for interior defensive linemen, but Blackson stepped up with two pressures and three defensive stops on just 29 snaps. He saved the Texans multiple times on the backside of run plays, and he did a good job of pushing the pocket on his limited opportunities.
Week 16 was a monster game for Jones, who finished with eight total pressures —  four sacks, two hits and two hurries — with two of the four sacks being strip-sacks. Jones now leads the league with 19 sacks and eight forced fumbles on the season.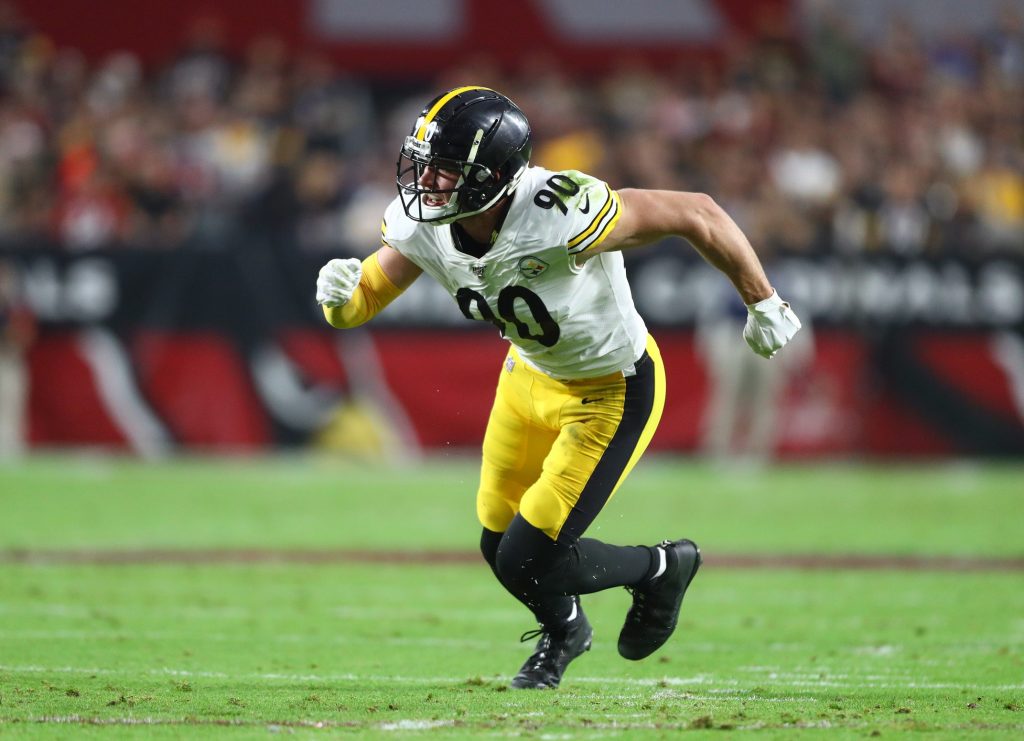 © Mark J. Rebilas-USA TODAY Sports
The league's highest-graded edge defender continued his strong play, as he picked up six pressures (one sack, two hits, three hurries) on just 26 rushes. He also got in there with a strip-sack while adding four other defensive stops.
Walker earned a career-high 93.2 overall grade in Week 16 for a performance that included six defensive stops and an interception. The pick was an excellent play, as Walker carried the deep post across the field and made the play on Will Grier's scramble drill.
It was an interception that highlighted Warner's Week 16 game, as he read Jared Goff's errant throw to the flat and took it to the house. Warner only allowed three catches into his coverage while putting up the week's fifth-best grade against the run.
Desir spoiled Grier's debut with two interceptions and three pass breakups on his 10 targets. He allowed just three catches and 18 yards into his coverage, and he looked like a free safety on both picks as he tracked down Grier's errant downfield throws.
Phillips made the most of his 27 snaps, allowing just one catch for six yards while picking off a pass and breaking up two others. He won at the catch point for his nifty third-quarter interception, and he nearly had another one on a deep out route in overtime before laying the lumber on another overtime pass breakup over the middle of the field.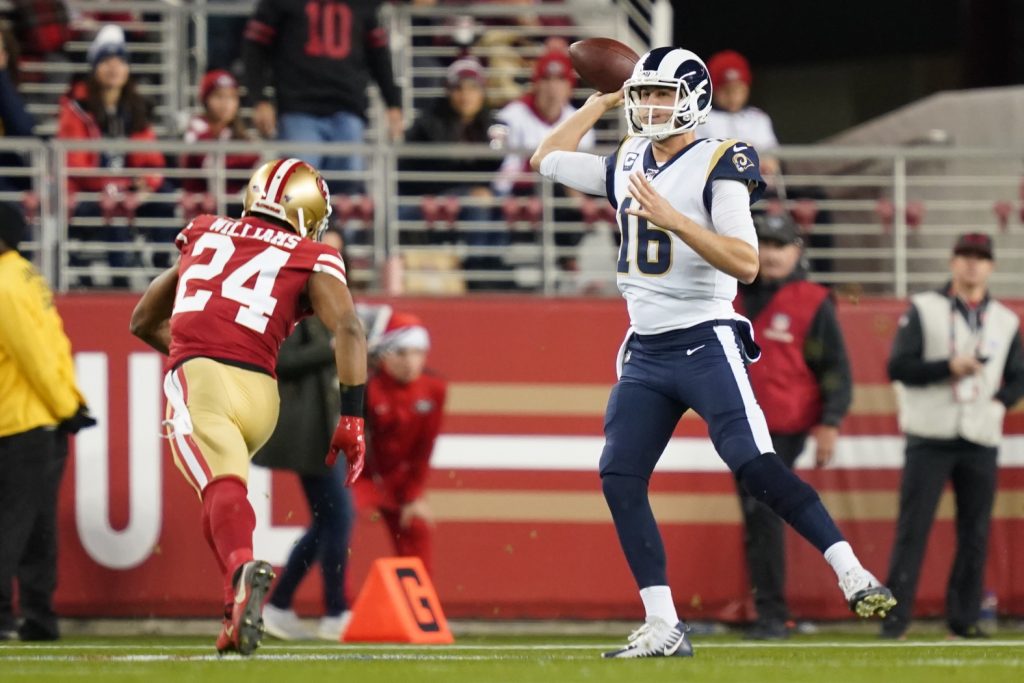 © Kyle Terada-USA TODAY Sports
While Williams didn't make any plays on the ball, he played his short zone well, allowing just 20 yards on four targets. He picked up two pressures and three defensive stops, including a forced fumble on a screen pass to wide receiver Cooper Kupp. It was a classic, all-around slot corner game from Williams.
It wasn't a perfect game for Wilson, but he made one of the most impressive plays of the week as he broke on a Julio Jones crossing route to pick it off. He also broke up a pass in man coverage against tight end Austin Hooper and allowed just 23 yards on six targets on the day.
Aaron Rodgers targeted Anthony Harris just once on Monday Night Football, but that pass resulted in a terrific leaping interception after Harris undercut Davante Adams' deep over route. Harris now has six interceptions on the year, which is tied with Tre'Davious White and Stephon Gilmore for the most in the NFL.
Smith was also a force to be reckoned with on Monday night. The veteran safety was all over the field and secured three solo tackles, one tackle for loss and one quarterback hurry on one of his three snaps as a pass-rusher, but his best play of the game came when he laid a ferocious hit on Adams to knock the ball loose.