• Giants-Cowboys live-bet gameplan: Game script could force Big Blue into passing mode, creating live player-prop potential on Daniel Jones, Darius Slayton and Dallas' dangerous pass rush.
• Jones threw a season-high 44 passes in the Week 11 loss, only the Giants' second game of the season decided by 2+ scores.
• Packers-Eagles live-bet gameplan: Packers' snail-like pace and rushing success rate could pose problems for Eagles squad unaccustomed to playing from behind, where they've run NFL's 3rd-fewest plays.
Last updated: Nov. 23, 12:00 p.m.
Estimated reading time: 4 mins
---
Live betting can be one of the better ways to profit, as sports books are slower to adjust to new information than in other markets.
But with 3 Thanksgiving games, plus 12 games on Sunday in Week 12, it can be quite overwhelming for the bettor to follow the different markets and capitalize on inefficiencies. The goal in this space is to provide angles to monitor and capitalize on specific team tendencies not accounted for in live markets, helping bettors cut through the noise with a gameplan and better process for how to profit live betting.
---
Live-bet gameplan
If the Giants are in catch-up mode (down 2+ scores) after the first 20 minutes, take advantage of the market pricing in the Giants' season-long averages, not their emerging game script with Daniel Jones dropping back often. 
Potential Live Bets
• Jones o passing yds ( ~220)
The Giants played to a rare negative game script last week — only their second game decided by more than one score — and Jones threw a season-high 44 passes in comeback mode.
• And while the market is (mostly) pricing in the Giants' low-volume and run-heavy attack: A spot against a Cowboys offense 4th in EPA since Dak Prescott's return vs Giants defense sans Adoree' Jackson, might again force Big Blue to a pass-heavy attack.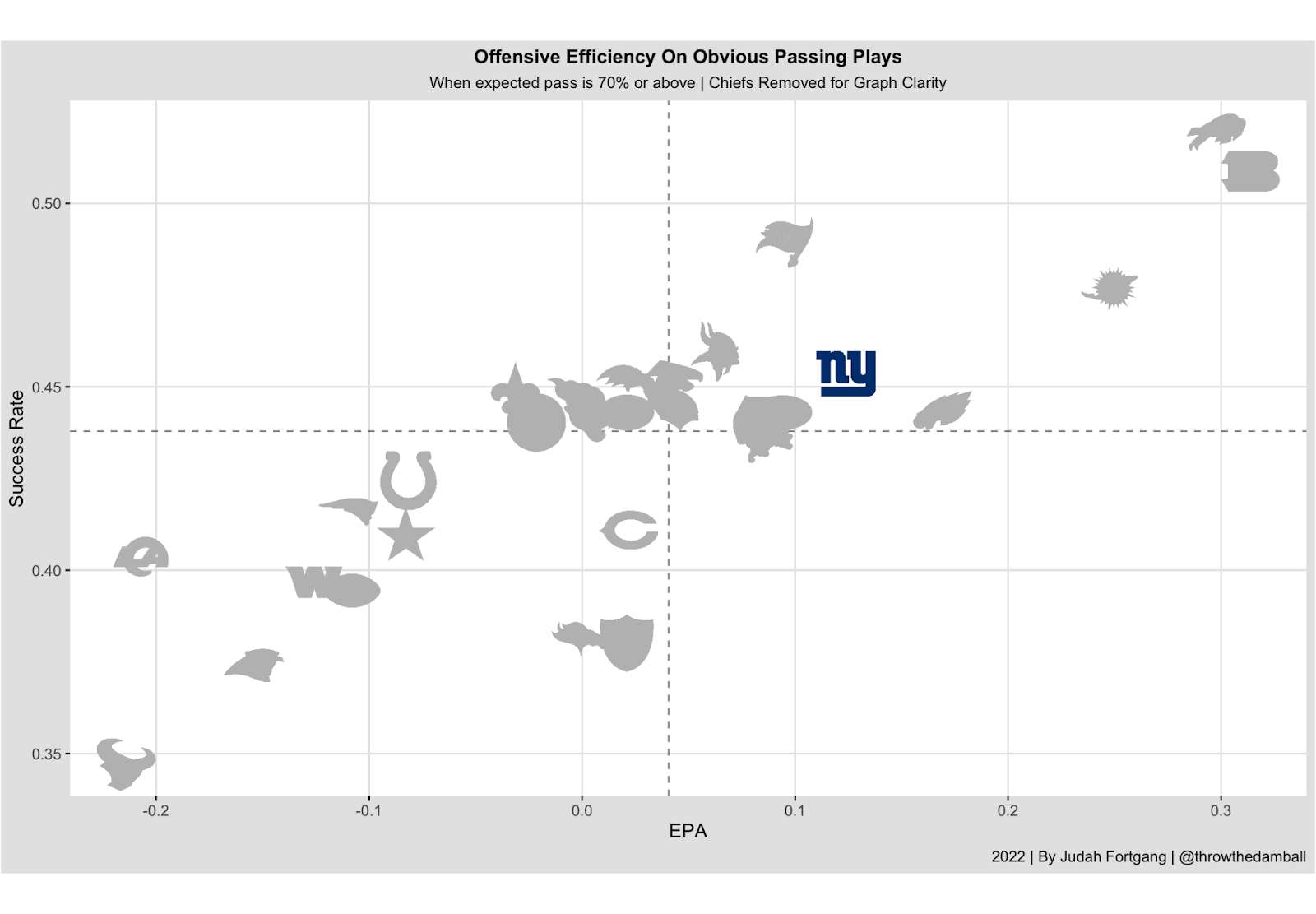 • Daniel Jones has excelled this year in obvious passing situations — 6th in EPA and 7th in Success Rate: And with Wan'Dale Robinson now out for the year, the targets for the Giants will flow through Darius Slayton, now the Giants' clear No. 1 receiver.
• Leading the NFL in pressure rate and sacks, the Cowboys face an O-line that has struggled to prevent sacks: Another angle to monitor: Although Jones has cut down on his sacks this year, that is in part a function of fewer dropbacks. If a tough opponent forces the Giants to drop back more often, we can throw the season averages out the window.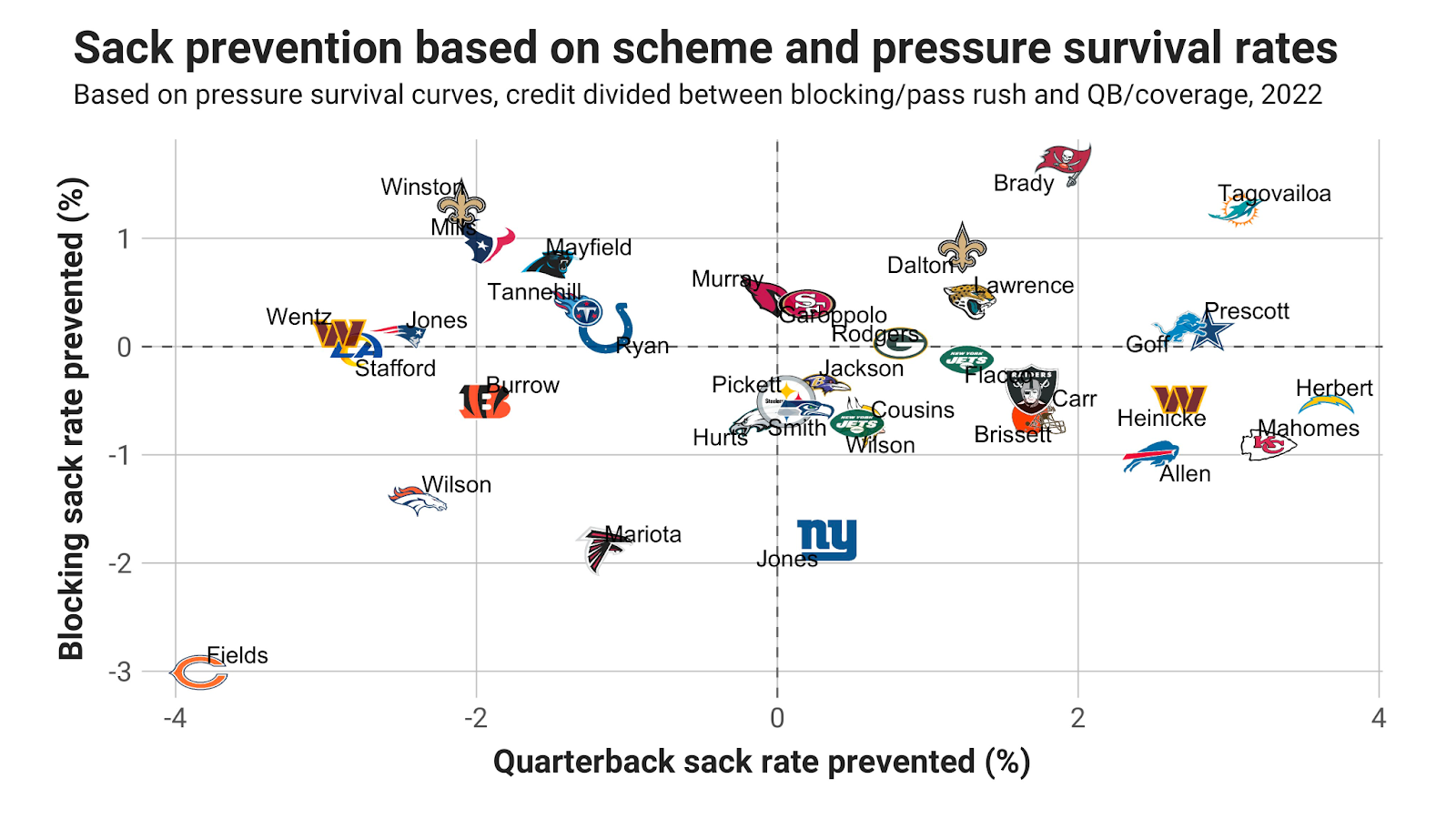 Live-bet gameplan
Rather than guess before kickoff how the run games will fare, we can build in that information along with the scripted data. Assuming the Browns lead early …
Potential live bet if both run games fast out of gate
• The Over (up to 46) is attractive.
Potential live bet if both run games slow out of gate
• The under (up to 46) is attractive.
Potential live bet if Bucs running well and browns can't gain traction
• Bet on the Bucs money line at plus money and sprinkle on their alt lines.
Potential live bet if Browns running well and Bucs can't gain traction
• Bet on the Browns to extend lead —with their deep alts (-6.5/-9.5/-13.5) in play as sputtering Bucs offense unable to take advantage of Browns' porous  off-script defense.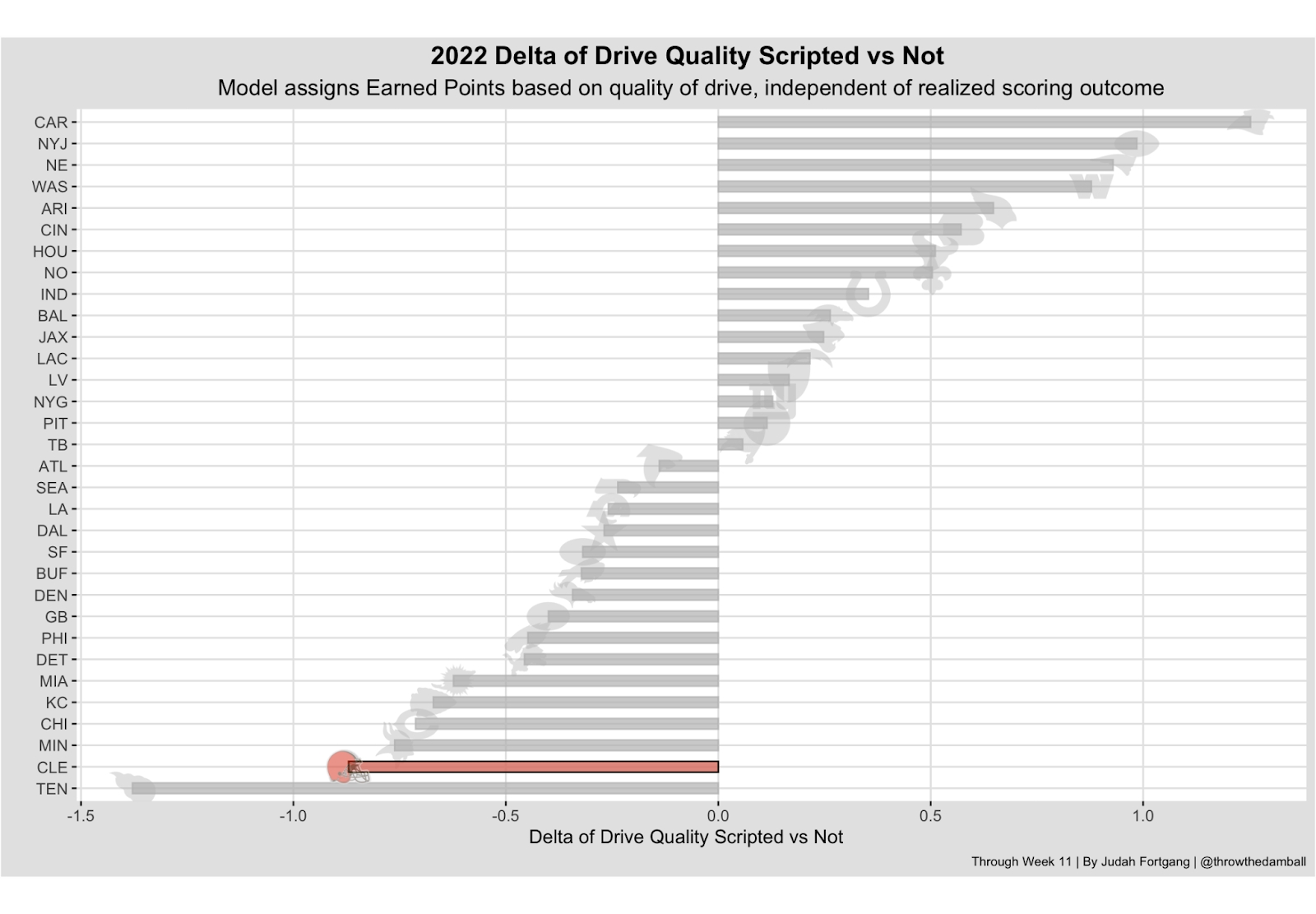 • The Browns have perhaps the most drastic splits of any team on vs off script: On the offensive side of the ball, only the Titans have a more drastic difference in Drive Quality on vs off script.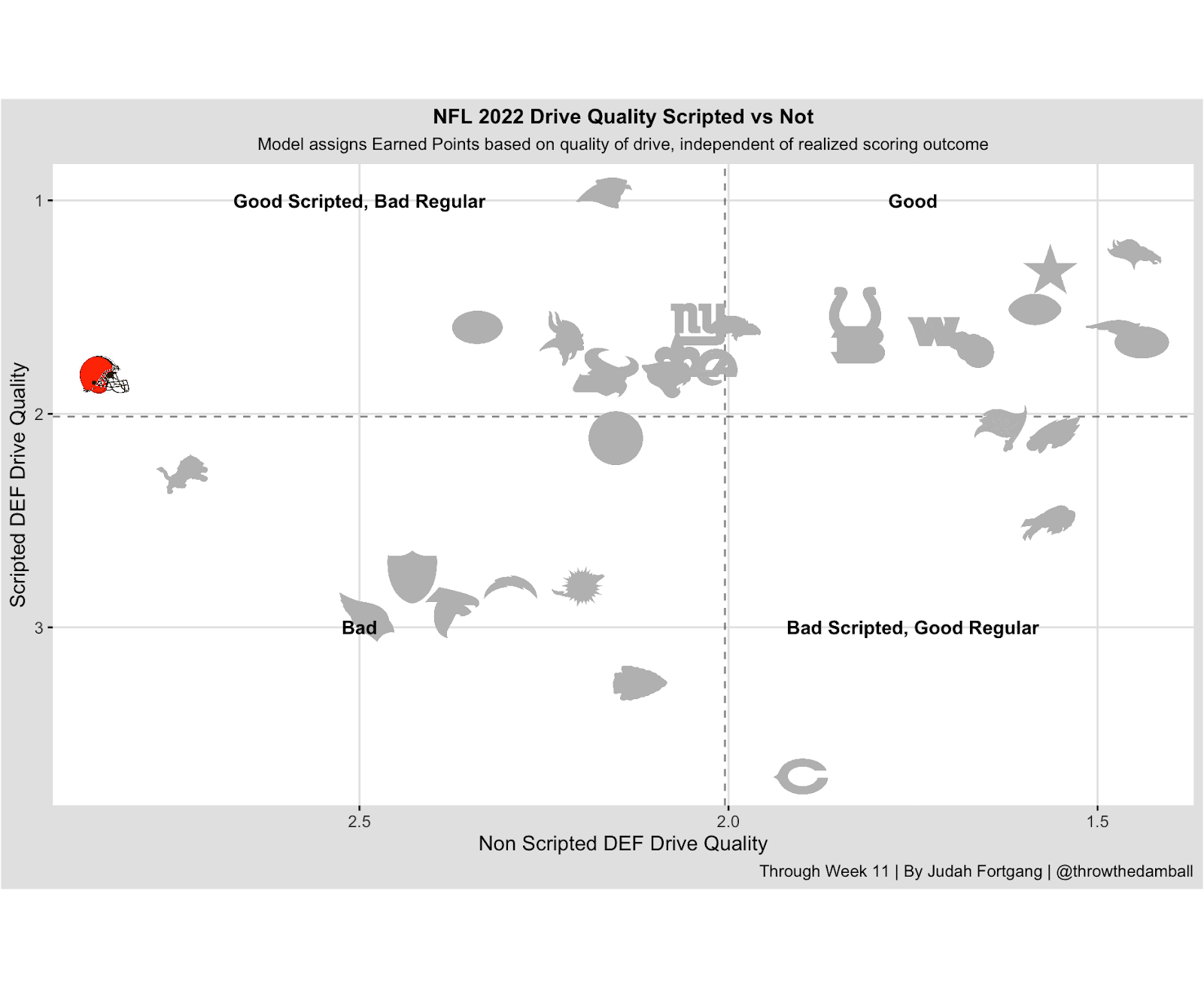 • Meantime, the Browns' defense has been above average early but the league's worst defense off script. 
But how to attack this game building in the scripted information is also largely dependent on how each team is running the ball. 
• The Browns are No. 3 in Rush EPA, compared to the Bucs at No. 21 in Rush EPA allowed: But Tampa recently welcomed back run stuffer Akiem Hicks to the fold of a unit that was among the league's best in 2020-21. 
• The Bucs offense finally awakened in Germany a few weeks ago behind a good rushing performance by rookie Rachaad White: But the team is dead last in Rush EPA for the season.
How Tampa fares against a Browns' run defense that's almost twice as bad as the No. 31 run defense in EPA allowed might determine the outcome of this game.
Live-bet gameplan
As Washington and Indianapolis demonstrated these past 2 weeks, the formula to beat the Eagles is slowing the game down and attacking a run defense ranked 29th in EPA. If the Eagles don't jump out to a big lead in the first 25 minutes …
Potential live bets
• Bet the Under at 43 and up
• Sprinkle on Packers money line at +175 and up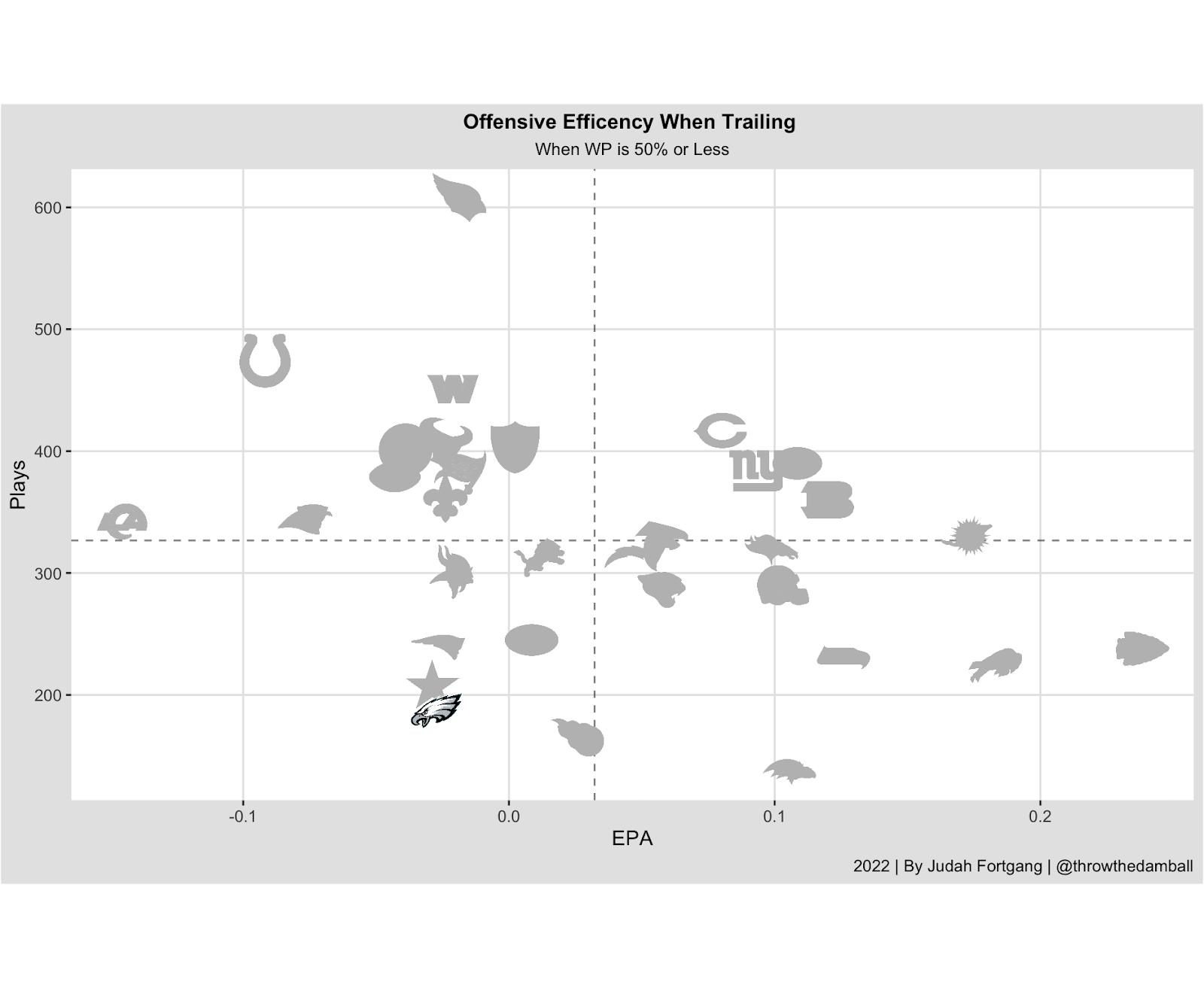 • 
Eagles have NFL's 7th-worst EPA when trailing: They've been among the league's best teams this season, but the Eagles mostly have game scripts playing with a lead ( 3rd-fewest plays while trailing in games). 
• Packers play at NFL's slowest pace, with 4th-best Rush Success Rate: This suggests they can execute long drives, stacking up successful rush plays one after the other. This angle plays right into the Packers' hands.