• The Chicago Bears could be busy before Week 1. Both linebacker Roquan Smith and tackle Teven Jenkins are potential trade candidates.
• The Jimmy Garoppolo trade saga will likely culminate in no trade at all, although the Cleveland Browns and Seattle Seahawks are potential team fits if the 49ers release him
• A handful of wide receivers could be moved before Week 1, including Darius Slayton, Denzel Mims and Nelson Agholor.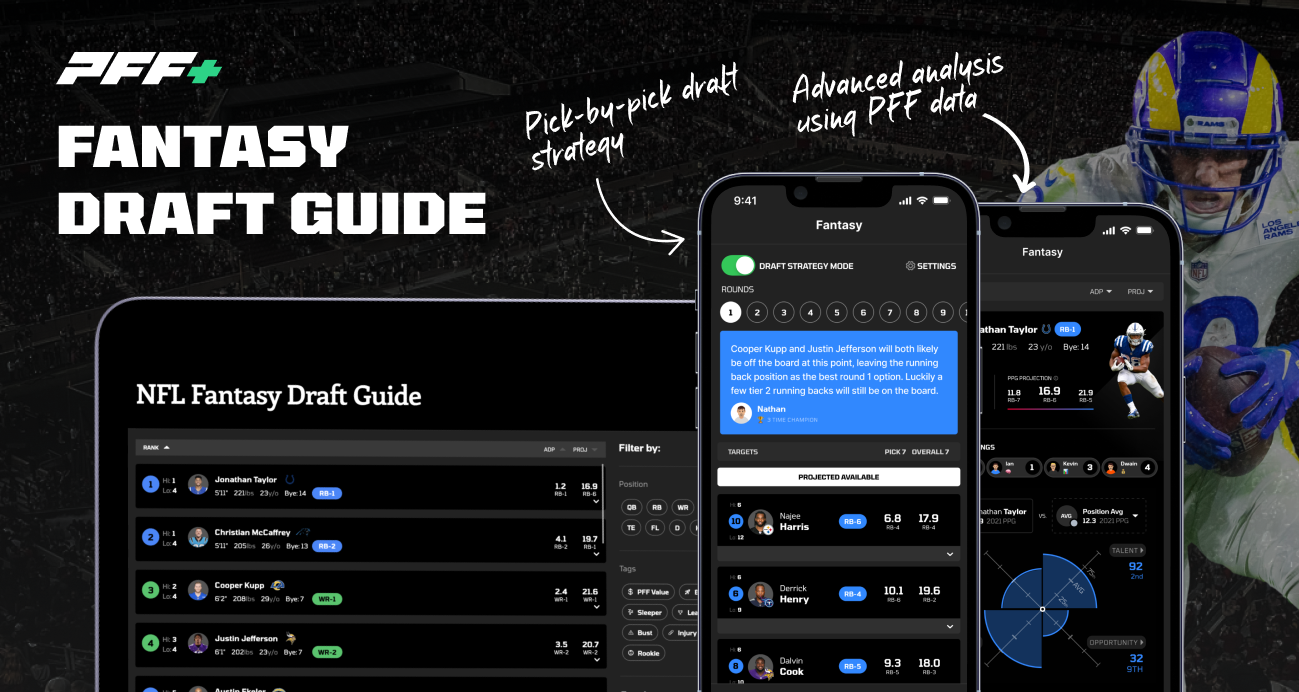 With Week 1 of the NFL preseason in the books, teams have a much better idea of the relative strengths and weaknesses of their respective rosters than they did prior to experiencing any live game action. The first of three roster cutdowns — from 90 players to 85 — occurred Tuesday, with the next two Tuesdays seeing teams drop down to 80 players and then to the first official 53-man roster on Aug. 30.
A shortened preseason schedule leaves just two games to be played, so these cutdown days will also lead to teams swapping talent based on depth chart disparities. Look no further than the Philadelphia Eagles trading 2019 second-round pick wide receiver J.J. Arcega-Whiteside to the Seattle Seahawks for 2019 fourth-round pick defensive back Ugo Amadi. This should be the first of several trades in the coming weeks.
We take a look at 10 potential trade candidates across the NFL before Week 1:
---
Projected trade value: 2023 second-round pick, 2024 fifth-round pick
Team fits: Arizona Cardinals, Houston Texans, Pittsburgh Steelers, Washington Commanders
Smith requested a trade on Aug. 9, and there have been several new developments since then. First, Bears general manager Ryan Poles held a press conference in response to Smith's trade request to express frustration about the negotiation process and ultimately to underscore his desire to keep Smith on the team.
The process, which involves Smith negotiating on his own behalf with the help of an advisor, hasn't been without hiccups. The NFL Management Council released a statement warning the 31 other clubs to not engage with Smith's advisor, Saint Omni, in his apparent attempts to call teams to gauge trade interest. The Bears did not grant Smith's camp permission to seek a trade, so any reciprocation would constitute tampering.
Smith was recently removed from the physically unable to perform list but has continued his camp hold-in. Head coach Matt Eberflus said at a post-practice press conference that all healthy players are expected to participate in activities, but nevertheless, the team does not appear to be at the point of issuing fines.
Since Smith was selected with the No. 8 overall pick in the 2018 NFL Draft, he has amassed impressive volume numbers among off-ball linebackers:
391 solo tackles (2nd)

57 tackles for loss / no gain (2nd)

15 sacks (4th)
Smith's 78.7 coverage grade since 2018 ranks 11th among off-ball linebackers, and he was recently ranked as the 14th-best off-ball linebacker in the NFL in Sam Monson's 2022 linebacker rankings. A move to Eberflus' 4-3 base defense, where Smith is expected to play the weakside or "WILL" linebacker role after serving as the middle linebacker to start his career, is widely considered a perfect fit for his athletic profile. However, perhaps Chicago wants to see him in the new system before committing massive amounts of money.
If a trade is eventually explored, it could be tough for Chicago to recoup sufficient draft capital to justify a trade for a few reasons. First, the off-ball linebacker position has seen a devaluation across the league in recent years. And second, Smith is set to earn $9.735 million on his 2022 fifth-year option and any acquiring team would immediately have to make him the highest-paid player at his position, which would carry a price tag of at least $20 million per year.
The Seattle Seahawks' trade of multiple first-round picks for safety Jamal Adams should serve as a cautionary tale for teams around the league about the danger of such an investment at a non-premium defensive position. That being said, perhaps a few of the team fits above still explore the idea, as it seems Smith's request is a very real one. 
---
Projected trade value: 2024 fifth-round pick
Team fits: Buffalo Bills, New Orleans Saints, Philadelphia Eagles
Hunt engaged in a very brief hold-in before returning to practice but has made it known that he would like either a contract extension from his hometown Browns or to be traded to a team willing to give him a new deal. Cleveland signed Hunt to a two-year, $12 million extension that expires after the 2022 season and subsequently signed star running back Nick Chubb to a three-year, $36 million extension that runs through 2024. With restricted free agent D'Ernest Johnson and rookie fifth-round pick Jerome Ford also in the fold, another significant investment at the running back position seems unlikely.
The all-around Hunt is coming off his fifth straight season with a 70.0-plus rushing grade and 65.0-plus receiving grade with 20-plus receptions in each. Over the past two seasons, Hunt's 41 explosive rushes and 0.2 forced missed tackles per rush are both top-20 marks among running backs with at least 100 carries. As a receiver, his 29 first-down receptions rank 12th, and his 22 forced missed tackles on receptions rank ninth.
A trade partner would have to both part with significant draft capital and be willing to give Hunt a new deal immediately, and there aren't many teams likely to double down in such a fashion. Nevertheless, there are a few playoff contenders that could benefit from backfield reinforcements.
The Buffalo Bills have consistently invested Day 2 draft picks into running backs, doing so in three of the past four drafts, including using the No. 63 overall pick in this year's draft on former Georgia running back James Cook. Cook had just 90 carries in his final college season, and that was double his prior career-high in college. He can run between the tackles effectively and line up all over as a receiving weapon. Buffalo has depth with Devin Singletary and Zack Moss also on the roster, but perhaps they decide to leave no stone unturned in their quest for a Super Bowl bid in 2022 and make a splash move for a proven commodity in Hunt.
The New Orleans Saints may not have to worry about losing star running back Alvin Kamara to a suspension in 2022, with ESPN's Adam Schefter reporting it's seeming less likely he'll face league discipline this season. If Kamara was potentially set to miss six games, New Orleans would have long-time Saint Mark Ingram II and a pretty thin depth chart behind him to fill in.
The Philadelphia Eagles have 2019 second-round pick Miles Sanders entering a contract year, with third-down backs Kenneth Gainwell and Boston Scott in the mix as well, but Hunt could be the do-it-all back they haven't had in some time. Philadelphia seems to prefer the committee approach and may not want to invest a lot in the running back position, but the fit does make sense from a football perspective.
---
Projected trade value: N/A, released soon
Team fits: Cleveland Browns, Seattle Seahawks
The longest-lasting trade saga in recent NFL memory may have a very unceremonious conclusion, not culminating in a trade at all after months of speculation. The 49ers were put in a tough position following offseason shoulder surgery for Garoppolo, and now with the regular season right around the corner, he remains in limbo on San Francisco's roster.
Players on the roster at 4 p.m. EST on Sept. 6 will get paid for Week 1, which would be over $1.4 million for Garoppolo. Veterans on the 53-man roster at 4 p.m. EST EST on Sept. 10 will be eligible for the Article 30 Termination Pay Benefit, which would effectively guarantee Garoppolo's entire $24.2 million 2022 salary. San Francisco thus has a little over two weeks to either trade, release or negotiate a pay cut for Garoppolo.
Getting Garoppolo to take a pay cut may be a challenge, and the 49ers also may not want the optics of having him on the bench if/when Lance struggles in his first NFL action.
At this point, any trade demand appears to have subsided. 49ers head coach Kyle Shanahan told reporters he has "not heard of" any offers on the table. It's hard to imagine any team agreeing to take on Garoppolo's $24.2 million salary at this point, so they'd have to attempt to negotiate a new deal as a part of the trade as well, further complicating matters.
Waiting for a preseason injury to potentially arise always makes sense. New York Jets offensive coordinator Mike LaFleur was Garoppolo's passing game coordinator from 2017-20 in San Francisco, but Zach Wilson received good news on his meniscus injury and is expected to return early in the 2022 season.
If Cleveland Browns quarterback Deshaun Watson has his six-game suspension increased on appeal, the Browns will revisit the idea of adding Garoppolo after doing their homework on him earlier this offseason, according to PFF's Doug Kyed.
Last but not least, the Seattle Seahawks remain the lone team arguably without a starting-caliber quarterback on their roster, but the 49ers will most likely not trade within their division. Since 2019, Garoppolo has more pass attempts than Drew Lock and Geno Smith combined, and his 76.4 passing grade outpaces both Lock (61.6) and Smith (71.9).
A trade may not be available at this point in the offseason, as teams know the 49ers effectively have a rapidly approaching deadline to make a move.
---
Projected trade value: 2023 second-round pick, 2024 fourth-round pick
Team fits: Green Bay Packers, Houston Texans
The timeline on a trade involving Waller certainly doesn't make a ton of sense, as the Raiders have created this two-to-three-year window of contention with the additions of wide receiver Davante Adams and edge defender Chandler Jones, and losing Waller would represent a major step backward. However, Waller has made it clear he wants a new contract, and time is running out before Week 1. He is currently being  held out of training camp due to a hamstring injury that is not considered serious, per ESPN's Adam Schefter.
Over the past three seasons, Waller trails only Travis Kelce and Mark Andrews in Wins Above Replacement among tight ends. While Waller is on the older side for a tight end, he's sustained much less wear and tear because of his late breakout, having played only 2,917 snaps to date. Kelce has logged over 3,300 snaps in just the past three seasons alone, almost entirely while in his 30s. While Waller has dealt with a few minor injuries, including last season, he could certainly make the argument that he has several years of top-end play left in him.
At the same time, Waller is also wise to get new money as soon as possible with the fleeting reality of football, with just $14 million owed to him over the two remaining years on his current contract. Aaron Nagler of Cheesehead TV reported the Green Bay Packers made attempts to acquire Waller earlier this offseason, so perhaps they revisit that conversation if an extension can't be reached with the Raiders.
The Packers could certainly use a reliable pass-catcher and also have a short window of contention before quarterback Aaron Rodgers hangs 'em up. Making Waller the highest-paid tight end in the NFL would still only cost about half of what Davante Adams signed for in Las Vegas.
While Houston is certainly not in the midst of a competitive window, this move makes sense for reasons beyond just the connection between Texans general manager Nick Caserio and the Raiders' handful of former New England Patriots staffers. The Texans tried to trade for Miami Dolphins tight end Adam Shaheen, but Shaheen failed a physical and reverted back to the Dolphins' roster. Houston's top tight end in Pharaoh Brown signed a one-year deal this offseason, and 2021 draft pick Brevin Jordan is the only other pass-catching option on the depth chart.
If the Texans do believe in quarterback Davis Mills, pairing Waller and his ability to create separation underneath with Brandin Cooks' deep ability on the outside could be a great duo for the duration of Mills' rookie contract window. Houston has extra draft capital for the next several years on account of the Deshaun Watson trade and could perhaps maximize the next three years of Waller, with plenty of available cash and cap space to work with.
---
Projected trade value: 2023 fourth-round pick
Team fits: Atlanta Falcons, Arizona Cardinals, Las Vegas Raiders, Los Angeles Chargers
Jenkins has had a tumultuous 2022 offseason to say the least, and that's on the heels of an equally rocky rookie campaign in Chicago in 2021 with back surgery keeping him sidelined until Week 14. Upon his return, Jenkins struggled out of the gate, earning a 25.0 PFF grade and allowing seven quarterback pressures, including two sacks, against the Green Bay Packers on just 41 pass-block reps. However, he surrendered only four total quarterback pressures over his final 76 pass-blocking snaps of the season, earning an 81.8 pass-blocking grade.
Jenkins was tasked with transitioning to left tackle after spending the majority of his college career at right tackle, but the new regime has him back working at right tackle and right guard, primarily with the second- and third-team offense.
NFL Media's Ian Rapoport reported the Bears have taken calls on Jenkins already this offseason and are engaging in potential trade discussions, just one year after the prior regime in Chicago selected Jenkins with the No. 39 overall pick.
Rookie fifth-rounder Braxton Jones has lined up as the starting left tackle for much of training camp, and Chicago signed veteran Riley Reiff in late July as the presumed starter at right tackle. With fellow 2021 draft selection Larry Borom serving in the swing tackle role, Jenkins appears to be battling for a spot along the offensive line. Chicago could flip a player with a lot of potential, and three years still remaining on his rookie contract, for as much value as they can get.
The Atlanta Falcons declined the fifth-year option for 2019 first-round right tackle Kaleb McGary, making him a free agent following the 2022 campaign. Former Bears general manager Ryan Pace, who traded up to select Jenkins during the 2021 Draft, now works with the Falcons, and they've signed a handful of his former players already.
The Arizona Cardinals have signed veteran right tackle Kelvin Beachum on a year-to-year basis to near-minimum contracts and eventually will need to find a long-term starter opposite the recently-extended D.J. Humphries on the left side. Perhaps Jenkins could serve as a cheap option for the next three seasons while Humphries, quarterback Kyler Murray and wide receiver DeAndre Hopkins play on big contracts, with wide receiver Marquise Brown potentially getting an extension of his own in the near future.
The Las Vegas Raiders used their first-round pick in 2021 on tackle Alex Leatherwood, but he was relegated to the right guard spot to finish the 2021 campaign and frankly struggles regardless of where he lines up. Jenkins could be an intriguing prospect at right tackle or right guard, and Raiders assistant general manager Champ Kelly was with the Bears in 2021, so he has familiarity with Jenkins and perhaps insights on the ongoing situation in Chicago.
Last but not least, the Los Angeles Chargers are still working to find their starter at right tackle opposite Rashawn Slater after fortifying their interior the past two offseasons. Jenkins could make a lot of sense as a flier for a team that needs to start filling holes and adding depth for cheap as their best players get paid big money.
---
Wide Receivers
Last but not least, a collection of wide receivers across the league find themselves on the trading block for various reasons, with many on the outside looking in on their respective clubs' depth charts.
Projected trade value: 2023 sixth-round pick
Team fits: Baltimore Ravens, Chicago Bears, Indianapolis Colts, Tennessee Titans
Slayton burst onto the scene as a rookie in 2019 with eight touchdown receptions and a 15.4 yards per reception average, a top-25 mark at wide receiver. Since then, he has moved in the wrong direction on the depth chart and now finds himself behind a collection of guys including Kenny Golladay, Kadarius Toney, rookie Wan'Dale Robinson and eventually Sterling Shepard when he returns from injury.
Slayton has one year remaining on an elevated salary of $2.54 million.
---
Projected trade value: 2024 sixth-round pick
Team fits: Chicago Bears, Dallas Cowboys, Detroit Lions, Green Bay Packers
After using a second-round pick on Mims in 2020, the Jets followed that up by using an even earlier second-round pick the following year on wide receiver Elijah Moore and then took wide receiver Garrett Wilson with the No. 10 overall pick in this year's draft. Clearly, the Jets don't view Mims as a starter in 11 personnel for this team, and he very well may be on the roster bubble.
---
Projected trade value: 2024 fifth-round pick
Team fits: Arizona Cardinals, Green Bay Packers
A source recently told PFF's Doug Kyed that Agholor could be the "odd man out" in an exceptionally deep New England Patriots wide receiver room, with Agholor entering a contract year after signing a two-year deal last offseason on the heels of a resurgent season with the Las Vegas Raiders in 2020. The Patriots traded with the division rival Miami Dolphins for wideout DeVante Parker, who joined a room that includes Kendrick Bourne, Jakobi Meyers and rookie second-rounder Tyquan Thornton, among others.
Agholor has a $9 million salary in 2022, $5 million of which is guaranteed, and that could be a tougher sell for an acquiring club.
---
Projected trade value: 2024 seventh-rounder
Team fits for Bowden: Cleveland Browns, Houston Texans, Seattle Seahawks
Team fits for Williams: Dallas Cowboys, Denver Broncos