When you're watching an NFL game casually, evaluating the performance of an offensive lineman in its entirety — not simply noting a handful of plays in which he pancaked a defender or got beaten badly for a sack — is not an easy thing to do. The broadcast follows the football not the trenches, and there are few readily available statistics for offensive linemen which leaves much of their perception up to reputation and the occasional splash play that does get highlighted.
What about the reach block that seals the hole for a seven-yard run, or the quick pass-blocking loss that doesn't result in a sack only because of a quick quarterback release? That's where PFF comes in. We watch and evaluate every snap for every offensive lineman using All-22 to cut through the noise and highlight how each player plays on a down-to-down basis. That play-by-play evaluation then turns into a PFF grade. These 10 tackles, 10 guards and five centers are the highest-graded players relative to their position this season.
Positional grade rank: 1st at guard
It was less than a year ago that Brooks tore his Achilles in a playoff game against the Saints. Now, he is the top-graded offensive lineman in the NFL, anchoring the best offensive line in the NFL. That kind of performance off that injury should, at the very least, put Brooks in the conversation for Comeback Player of the Year.
Brooks has been a wall in pass protection, owning a pass-blocking grade of 85.7 that ranks second among all right guards, but he has really earned his top spot on this list with his run blocking. His 91.6 run-blocking grade is higher than any other interior offensive lineman, and it is second in the NFL to only the man to his right on the Eagles offensive line, Lane Johnson. It's safe to say Brooks earned his Pro Bowl nod.
Positional grade rank: 2nd at guard
Nelson was one of those guards everyone knew was going to be a perennial All-Pro coming out of Notre Dame. The "can't-miss" prospect designation gets thrown out more than it should be given the volatility associated with projecting college prospects to the professional level, but for Nelson it was a fitting description. He's gone on to show why in his first two NFL seasons.
In his rookie season, Nelson was the highest-graded left guard in the NFL when you take the postseason into account. This year, he's back atop the list at the position with a more dominant showing and a 91.9 overall grade. He has been the most valuable player on the Indianapolis Colts based on PFF WAR, the only offensive lineman who can claim that feat for his team. Nelson has been dominant from the jump, and he figures to continue to be one of the top offensive linemen in the league for years to come.
Positional grade rank: 3rd at guard
Like Nelson, Martin wasted no time in making it known he would be a perennial force in the middle of the Cowboys offensive line. He has been a top-five graded right guard in every season since he entered the NFL back in 2014, and this year his overall grade of 89.2 this season falls behind only Brooks at the position.
He's been best this season in pass protection. Martin's 91.2 pass-blocking grade is the highest in the NFL among guards, and he has yet to allow a sack on 556 pass-blocking snaps this season. Only Will Hernandez has recorded more snaps in 2019 without a sack allowed. Dak Prescott has received clean pockets at a higher rate this season than any other year in his career, and Martin's play has been a key part of that picture.
Positional grade rank: 4th at guard
Yanda has put together a career worthy of Canton. He's not fading at the end of his career, either. He is still very much among the position's elite, coming in as the fourth-highest graded guard and the fourth offensive lineman overall through 15 weeks.
In 431 pass-blocking snaps in 2019, Yanda has allowed just nine total pressures – eight quarterback hurries, no hits and one sack – for a league-best rate of 2.1% among guards. Lamar Jackson has taken the league by storm in his second season, juking and diming his way to the MVP favorite, but his offensive line has helped pave the way by giving him time to make plays and clearing lanes on designed runs. Yanda has been front and center in that effort.
Positional grade rank: 1st at tackle
Johnson is the highest-graded tackle in the NFL, making his absence from the Pro Bowl roster particularly egregious. He has consistently been one of the better right tackles in the league, particularly when it comes to run blocking, but he has taken his game to another level this season.
Johnson has the highest run-blocking grade of any player in the NFL this season at 92.6. Whether it be sealing the edge on an outside run or getting up to the second level to redirect a linebacker, no offensive lineman has been better in that aspect of the game than Johnson. When you pair him with Brooks, it comes as no surprise that the Eagles have the highest team run-blocking grade on runs to the right.
Positional grade rank: 2nd at tackle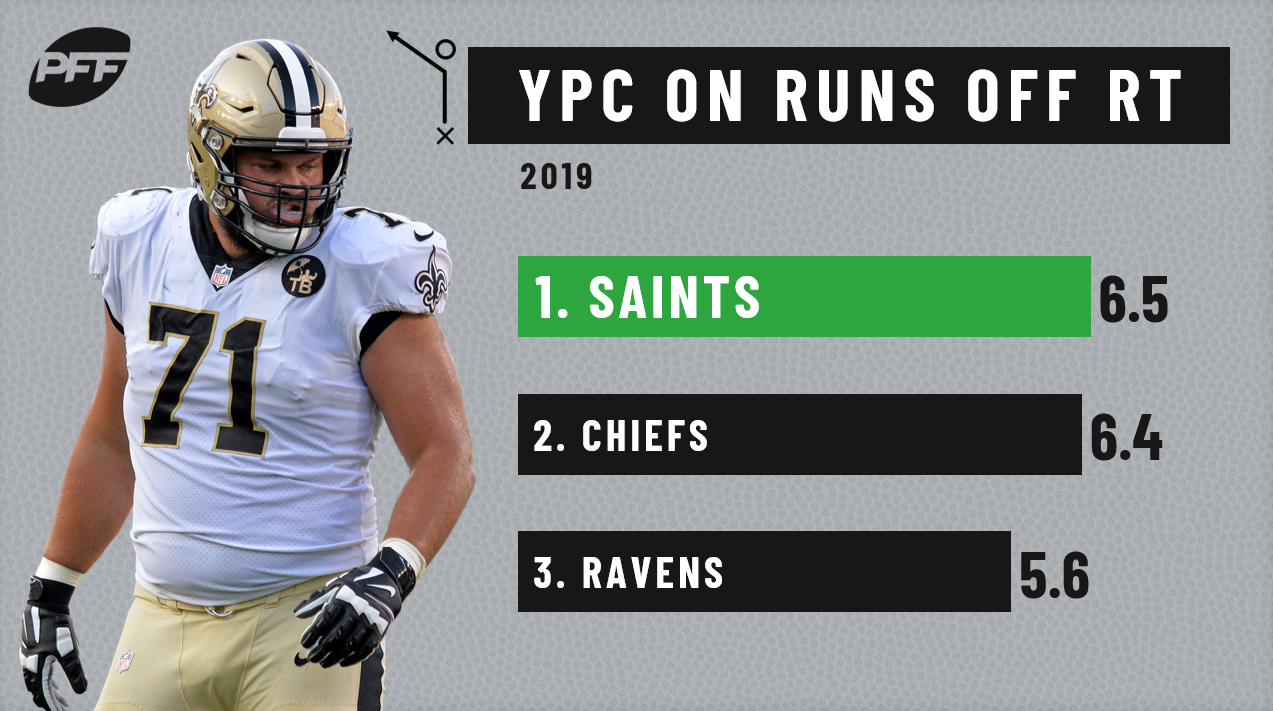 The right tackle position continues to get less love than the left tackle position, and Ramczyk fell victim to that as he is still searching for his first Pro Bowl selection despite being the second-highest graded tackle in the NFL. Ramczyk was great in his first two seasons with grades of 81.2 and 81.3, respectively, but he's elevated that to 88.3 in 2019, including an elite run-blocking grade of 90.1.
That run-blocking success shows in the results when Alvin Kamara and company run in Ramczyk's direction. The Saints are averaging a league-high 6.5 yards per carry when they run off right tackle this season, and 35% of the runs have gone for a first down or a touchdown (also highest in the league).
Positional grade rank: 5th at guard
Thuney ended the 2018 season on the highest of notes, not allowing a single pressure in 18 pass-blocking snaps matched up against Aaron Donald in the Super Bowl. That isn't a feat to take lightly. He has carried over that play into 2019 and comes in at seventh on the list of the top offensive linemen this season.
Thuney has been outstanding in pass protection, allowing just 16 pressures in 584 pass-blocking snaps this season, ranking fourth among all guards in pressure rate allowed at 2.7%. He will need to continue to provide clean pockets for Tom Brady because, as we've dived into recently, the Patriots offense has struggled this season to make plays when pressure gets home against them.
Positional grade rank: 3rd at tackle
Tyron Smith is the tackle for the Cowboys that garners the national attention, and he was the one selected to the Pro Bowl earlier this week. And Smith isn't having a bad season by any means. But Collins has been better in 2019 with an overall grade of 84.3 that ranks third among all tackles.
Like Johnson and Ramczyk, Collins has taken a big step forward this season as a run blocker. Once he gets hold of a guy, there are few offensive linemen that can seemingly move defenders at will like Collins can. Due to the circumstances surrounding Collins coming out of the draft, the Cowboys were able to land him as an undrafted free agent, and five years into his career, that acquisition is beginning to pay dividends.
Positional grade rank: 4th at tackle
PFF Senior Analyst Sam Monson recently wrote that Stanley is the best pass-blocking tackle in the NFL. He has yet to allow a single sack and has allowed just six pressures total in 412 pass-blocking snaps this season. To put that in context, Stanley's pressure rate allowed on the season is 1.5%. There is only one other player who has 250 pass-blocking snaps and has allowed pressure on fewer than 3% of the time – Taylor Lewan (2.4%).
It doesn't matter which way you look at it – true pass-blocking sets, plays in which he doesn't receive any help from teammates, obvious passing situations – Stanley has been the highest-graded tackle in the NFL in pass protection, and that has him as the highest-graded left tackle this season.
Positional grade rank: t-5th at tackle
Peters has been in the NFL a long time, outdating the PFF era that began in 2006, and the fact that he is still performing at a level that warrants a top-10 spot at nearly 38 years old is remarkable. He hasn't lost a step, losing a pass-blocking rep once every 17 snaps which is the fourth-best mark among qualifying left tackles. The Eagles haven't lived up to expectations this season, but Peters and his 83.7 overall grade certainly isn't the reason for that, nor is the offensive line as a whole. Peters is the third Eagle on this list, and they're not done yet.
Positional grade rank: t-5th at tackle
Schwartz has been one of the more consistent offensive linemen in the NFL since being drafted by the Browns in the second round of the 2012 NFL draft. Since that time, Schwartz has played 1,000 or more offensive snaps and graded at 72.0 or higher each year. It's been the last two seasons that he has really taken off, though. After receiving an overall grade of 83.6 last season, Schwartz has earned a nearly identical grade of 83.7 to this point in 2019.
That spike over the last two seasons has been driven by his performance as a pass-blocker. Since 2018, his pressure rate allowed of 3.3% is the best mark among all qualifying right tackles. Schwartz is doing his part to give Patrick Mahomes more of the clean pockets that he thrives from.
Positional grade rank: 7th at tackle
As a team, the Colts have the second-highest graded offensive line in the NFL this season behind only the Eagles. They've been great, which is something that couldn't always be said in years past, and it is part of the reason that Andrew Luck retiring when he had perhaps his best offensive environment yet was so surprising.
Castonzo has been the constant on that line since being drafted in 2011, serving as an above-average tackle in pass protection for most of his career. This season has been one of his best in that regard. His pass-blocking grade of 87.2 is his highest since he had a grade of 90.8 in 2014, and it has him as the third-highest graded left tackle in the NFL.
Positional grade rank: 6th at guard
Scherff's 2018 season was cut short with a torn pectoral, and now his 2019 season has ended on IR thanks to shoulder and elbow injuries. It's a shame for both Scherff and the Redskins because when healthy, he has performed among the best guards in the NFL. It leaves the Redskins with an interesting decision as he is set to enter free agency this offseason, but whatever team gets Scherff, they're getting a guard with a proven track record of NFL success.
This season, Scherff has earned the fourth-highest run-blocking grade among guards behind only Brooks, Nelson, and Martin. He has shown the ability to manhandle defensive linemen at the point of attack and get out in space on smaller linebackers and defensive backs as a lead blocker. Whichever offensive line he ends up on next season will be the better for it.
Positional grade rank: 1st at center
Over the last several seasons, Kelce has set himself apart as the clear-cut top center in the NFL. He was the top-graded center in the NFL in 2017 and 2018, and he is the frontrunner once again this season. His athleticism just allows him to make blocks that most other centers can't. Looking back at the last three seasons combined, Kelce has by far the highest run-blocking grade at the center position (93.4). His appearance makes it four Eagles in the top-15 offensive linemen this season. As a unit, they've been utterly dominant all season long.
Positional grade rank: 7th at guard
Incognito may have a plethora of off-the-field issues that have followed him throughout his career, but when he is on the field, he has proven to be a good offensive lineman. Incognito returned from the second full season out of football in his career this season with the Raiders, and he's graded among the top ten guards in the NFL at 36 years old in that return.
Incognito has done a tremendous job of keeping pressure away from Derek Carr this season. His pass-blocking grade of 88.5 is the second-best mark among all guards, and he has allowed just eight hurries and one sack in 414 pass-blocking snaps all season. That pressure rate allowed of 2.2% trails only Yanda among qualifying guards.
Positional grade rank: 8th at guard
If you go back to 2015, the Browns offensive line was loaded with talent. They had a starting lineup that consisted of Joe Thomas, Bitonio, Alex Mack, John Greco and the No. 14 player on this list (Schwartz). Bitonio is the last man standing of that group, and he's still getting the job done despite the change for the worse around him. He is the owner of the fifth-highest pass-blocking grade among all guards this season, being charged with just 14 pressures and three additional pass-blocking losses on 526 pass-blocking snaps. The Cleveland offense has been a disaster on all fronts given the expectations coming into the season, but Bitonio has been a constant that keeps churning out strong, reliable play at guard.
Positional grade rank: 9th at guard
Before the trade to New York, Zeitler helped Bitonio man the interior of the Browns offensive line, and he finds himself right next to him once again on the list of the top offensive linemen through Week 15 this season. In 61 combined pass-blocking snaps against Ndamukong Suh, Fletcher Cox, and Kenny Clark this season, Zeitler allowed just one quarterback hurry. That ability to stonewall some of the best interior pass rushers in the NFL has been his calling card as one of the top pass-blocking guards in the league over the course of his career. After stops in Cincinnati and Cleveland, the Giants are now the ones benefitting from that pass-blocking prowess.
Positional grade rank: 2nd at center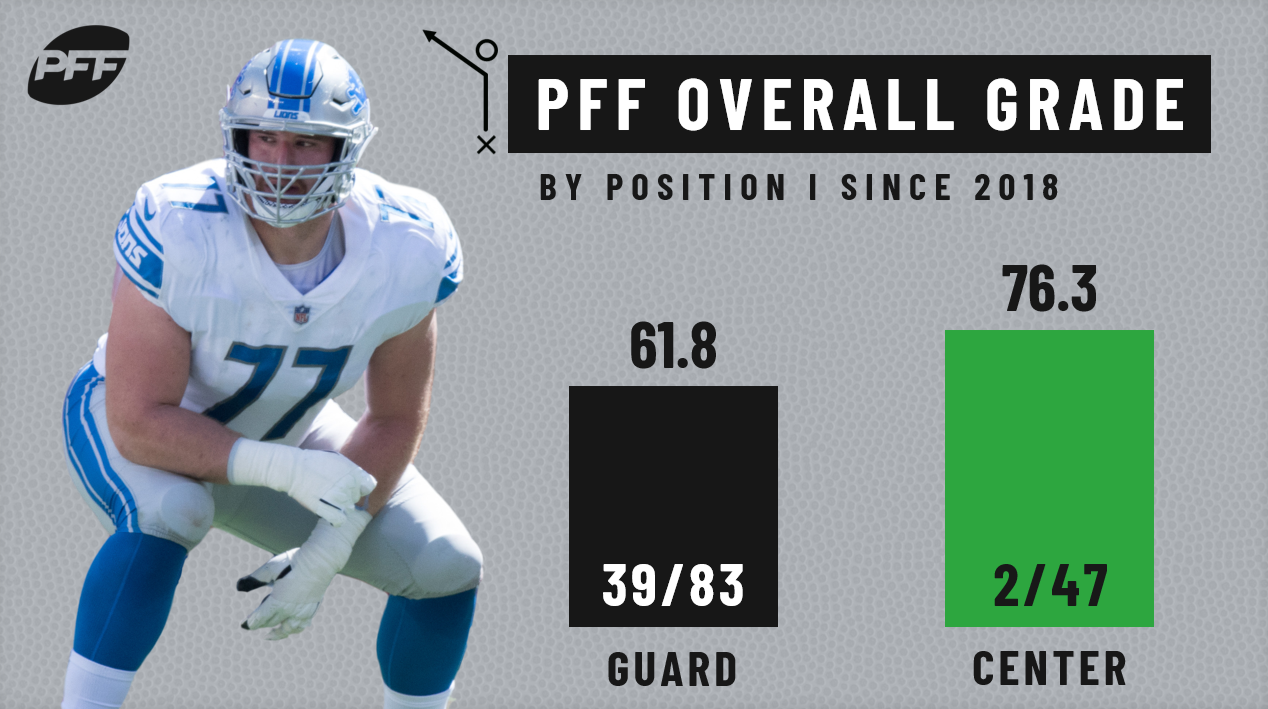 Prior to this season, we wrote about why Ragnow's move to center could mean big things for the Detroit's offensive line. He didn't quite live up to our expectations as a rookie – coming out of Arkansas as the 14th-ranked player overall on the PFF Big Board – but he wasn't playing to his strengths as a left guard. Ragnow was significantly more effective as a center in college, and that is showing itself again at the NFL level.
Ragnow is the second-highest graded center in the league behind Kelce, and his run-blocking grade is higher than even Kelce's is this season. That is where he dominated at Arkansas, recording a 94.4 run-blocking grade across his center snaps. The Lions recognizing he should be playing at center not guard has made all the difference.
Positional grade rank: 3rd at center
Jones has been around for a while now, providing the Texans and Titans with solid play, but Year 8 has brought with it the best year of his career. His overall grade falls behind only Kelce and Ragnow among centers in 2019, and Jones has been better than every center not named Rodney Hudson in pass protection with an 85.7 pass-blocking grade. He's the top player on a Titans' offensive line that ranks 10th in the NFL in overall grade as a unit in 2019.
Positional grade rank: 10th at guard
Warford recorded the worst overall grade of his career last season, but he has rebounded nicely in 2019 to crack the top 10 guards in PFF grade. He's a key cog in a Saints offensive line that has been one of the best in the league this season. They rank fourth in team run-blocking grade behind the Eagles, Colts, and Cowboys, and they've combined to keep pressure away from Drew Brees and Teddy Bridgewater. The Saints have allowed a pressure rate of 24.6% in all this season (fifth-best rate in the NFL).
Positional grade rank: 4th at center
Coming into the NFL as a rookie offensive lineman and playing at the level that McCoy has this season for the Saints – ranking as the fourth-highest graded center in the NFL through 15 weeks – isn't an easy thing to do. McCoy's run-blocking grade of 73.3 ranks third among centers, and he's allowed just 10 pressures (none of which were sacks) in 539 pass-blocking snaps this season. That includes two divisional games against Grady Jarrett and the Atlanta Falcons and a game against Donald and the Los Angeles Rams in which McCoy didn't allow any pressures. As of now, it's looking like the Saints hit on that pick.
Positional grade rank: 8th at tackle
A 77.7 overall grade qualifies as a "down year" by Armstead's standards, but it's still one of the top overall grades by an offensive tackle this season. Armstead has perennially been one of the best tackles in the league in pass protection, and since 2015, no left tackle has allowed a lower pressure rate than Armstead (3.8%). He's obviously helped by the quick release of Brees with those numbers, but he's also grading out as one of the top tackles in pass protection. That has remained the case in 2019. Armstead has not allowed a sack in 474 pass-blocking snaps this season.
Positional grade rank: t-9th at tackle
David Bakhtiari has been the gold standard when it comes to pass-blocking tackles in the NFL for years now. He is near the top again this season, but it's Bulaga that is the higher graded of the tackle tandem thanks to a well-rounded effort as a run blocker and in pass protection. Bulaga is one of five tackles to grade at 74.0 or higher as a run and pass blocker, joining Johnson, Ramczyk, Schwartz, and Peters. Aaron Rodgers puts the offensive line under a lot of stress by holding onto the ball for nearly three seconds on average, but few tackle duos are better equipped to deal with that stress than Bulaga and Bakhtiari.
Positional grade rank: t-9th at tackle
Decker came out of the gates strong in his rookie season out of Ohio State, grading at 81.9 in 2016, but he wasn't able to match that level of play in either 2017 or 2018. The biggest area of improvement for Decker was as a run blocker. He never dipped below a pass-blocking grade of 70.0 in his four seasons, but in both 2017 and 2018, Decker recorded a run-blocking grade south of 60.0. That is back up to 72.8 in 2019 and paired with a pass-blocking grade of 75.8, Decker lands among the top-10 tackles through 15 weeks.
Positional grade rank: 5th at center
Jensen has seen one of the largest improvements of any center in the NFL this season, improving his overall grade from 54.9 last season to 73.3 this year. In 2019, he has been one of the top pass-blocking centers in the NFL with an 84.2 pass-blocking grade (fourth among centers) on 629 pass-blocking snaps. Those 629 snaps are fewer than only Alex Mack at the position this year. Given the pass-happy gamescripts that Jameis Winston and the Bucs have often found themselves in this season, pass protection like that isn't going to be turned away.