Tampa Bay Buccaneers quarterback Tom Brady famously once said, "When I suck, I'll retire."
That quote came in 2014, meaning Brady was being asked about retirement eight years ago when he was just 37 years old. Twelve of the 32 NFL starting quarterbacks in Week 12 were in high school in 2014. Only 10 of the 32 were playing in the league.
Now 45 years old and four Super Bowl rings richer, Brady still does not suck. He has been less productive in 2022, however. The seven-time Super Bowl champ is on pace for just 4,700 yards with 22 touchdowns and three interceptions this year after tossing 43 touchdowns and 12 interceptions with a career-high 5,316 yards as an MVP contender in 2021.
But his big-time throw rate ranks eighth in the NFL. His turnover-worthy play rate is third-lowest. He's fourth in accuracy rate. He ranks 10th in PFF offensive grade, eighth in passing grade and 15th in EPA per play among quarterbacks.
On the surface, with a 5-6 record and sporting his lowest PFF grade since 2009 — the year he returned from a torn ACL — Brady finally appears to be regressing or at least settling into mortality 22 years into his Hall of Fame career.
But Brady has always had ebbs and flows since being drafted by the New England Patriots in 2000, and those peaks and valleys always seem to be related more to the talent around him than to his own physical skill. He earned a 93.8 PFF grade in 2007 and tore his ACL in 2008, then came back in 2009 and posted a 75.4 mark. The Patriots had Randy Moss and Wes Welker at wide receiver, which doesn't seem like it would be much of a problem for a quarterback. But, as captured by NFL Films for "A Football Life" during the 2009 season, head coach Bill Belichick said during a coaches meeting, "If you just take Moss away in the deep part of the field and get down on Welker, we're done. We're done. We can't run the ball. We can't throw it to anybody else. We're done."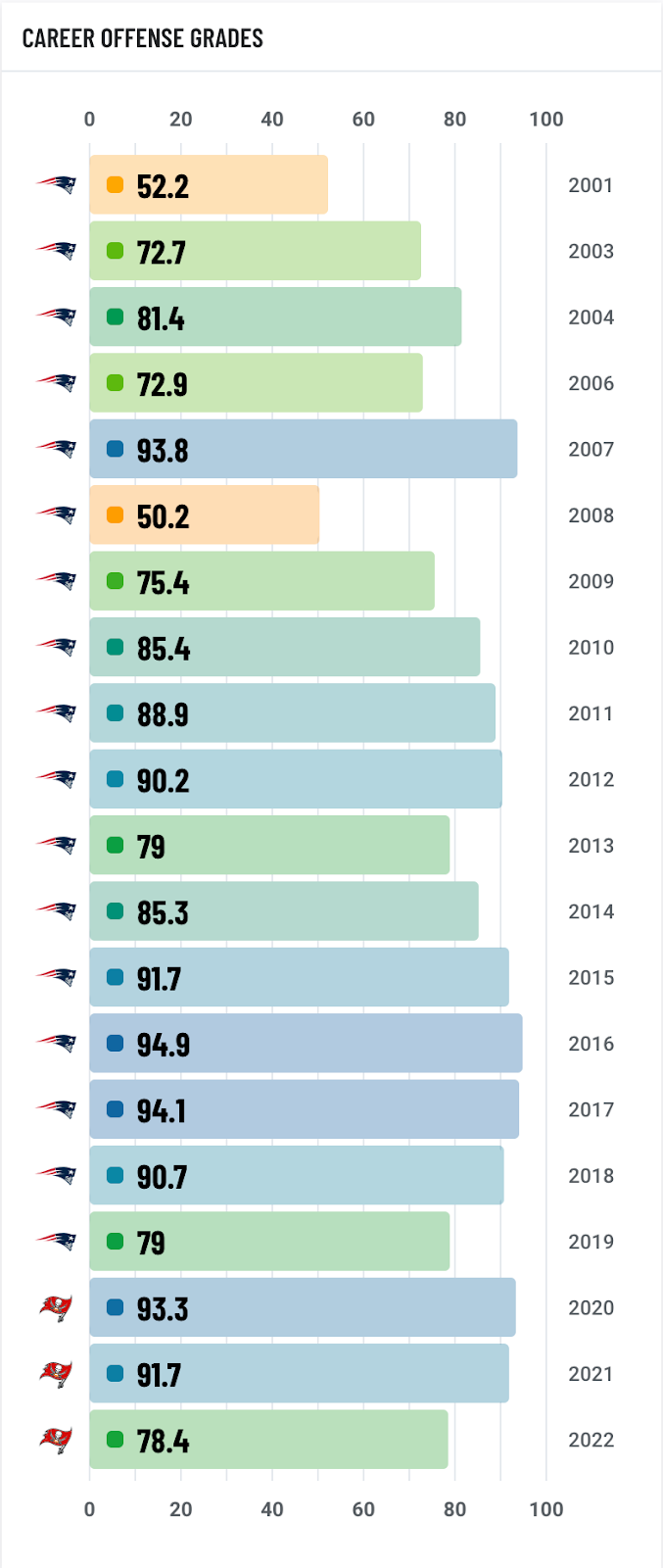 Brady's season grades then ascended until 2013, when Moss and Welker were gone, tight end Rob Gronkowski missed more than half of the season with injury, new addition Danny Amendola was banged up and Julian Edelman was just becoming Julian Edelman. Aaron Dobson and Kenbrell Thompkins were Brady's third- and fourth-most targeted pass-catchers. Brady improved again and won three Super Bowls as the playmakers around him improved until 2019, when he was throwing to Edelman (a year before retirement), Phillip Dorsett, Mohamed Sanu, a rookie Jakobi Meyers, Josh Gordon and N'Keal Harry. With Gronkowski retired, Brady's tight ends were a 39-year-old Ben Watson and Matt LaCosse. Brady's lowest-graded season of the PFF era (since 2006) came in 2006 when Reche Caldwell was the team's leading receiver.
You get the point.
This isn't to say that Brady's success is solely predicated on those around him. After 100,000 passing yards and three MVPs, we're well past that talking point. But his production is affected by his running backs, wide receivers and tight ends based on pure talent or specific fit to his skill set.
We talked to one AFC defensive coach who believes that "Brady still looks like himself."
The defensive coach doesn't believe Tampa's personnel is fit to Brady's strengths, however. They don't have the prototypical Brady slot receiver in the mold of Troy Brown, Welker and Amendola.
"(Chris) Godwin has tried to be that guy, but he doesn't separate good enough, in my opinion," he said.
And the Buccaneers lack a quality receiving running back, as well. Running back Leonard Fournette, who's currently battling an injury, has the sixth-most targets among running backs but the 15th-highest receiving grade.
"Lenny has caught a lot of balls this year, but he's not (Shane) Vereen, (James) White, (Kevin) Faulk, etc. Those guys caught so many check downs that turned into first downs," the defensive coach said.
"All in all, I think Brady is at his best when he has a big body he can throw to like Gronk or Mike Evans, a possession underneath guy he trusts like Edelman and great check-down running backs like he had in Vereen and White. I just think he's missing a reliable possession guy and a good check-down running back. Tampa Bay's run game is also atrocious. They put too much on his shoulders to win games at 45 years old."
Brady doesn't appear to trust his offensive line like he has in years past, as well, and his time to throw, on average, is a career-low 2.28 seconds (PFF started tracking data in 2006). From 2011 to 2021, his average time to throw was 2.48 seconds. Hurrying his throws has led to a career-low pressure rate, but that has more to do with Brady's lack of patience than anything else.
"He obviously does not want to get hit," the defensive coach said. "So, the ball is coming out even quicker than years before, it seems. But not that much quicker."
Brady's 70.1 passing grade ranks 21st of 38 qualified quarterbacks when he gets rid of the all in less than 2.5 seconds. It rises to 82.4, which is third-best in the NFL, when he throws the ball in 2.5 seconds or more.
Other people around the NFL have seen Brady affected by his line, too. One AFC pro scout said earlier this season that Brady "becomes human" when he can't step up in the pocket due to interior pressure. The Buccaneers' offensive line has actually been solid this season, but starting center Ryan Jensen has yet to play since suffering an injury in training camp, and Tampa Bay lost guard Ali Marpet to retirement and guard Alex Cappa in free agency this offseason.
The Buccaneers are still betting favorites to win the NFC South despite their losing record, and who knows what can happen when Brady gets into the postseason. But this is looking like somewhat of a lost campaign for Tampa Bay. And Brady clearly is not playing poorly. So, this could be as good of an opportunity as any for him to say he might not have gone out on top, but he wasn't a shell of himself in his final NFL season. He's set to join FOX Sports as the network's top NFL analyst when he decides to retire.
Still, Brady, despite briefly retiring in the offseason, hasn't said he'll hang up his cleats after this season.
"Look, losing is hard for all of us, but I'd rather lose and play than not play at all," Brady said Monday on his Let's Go! podcast.
There's the uncomfortable fact that Brady is now divorced, and he was saying as far back as the 2016 season that his now-ex-wife Gisele Bündchen wanted him to retire. He'll be entering free agency with the chance to find a team that does have a big-bodied receiver, third-down possession receiver and check-down back.
The Las Vegas Raiders employ Brady's longtime offensive coordinator as head coach in Josh McDaniels, wide receivers Davante Adams and Hunter Renfrow, tight end Darren Waller and running back Josh Jacobs (who's also set to hit free agency). The San Francisco 49ers previously showed interest in Brady and also have a litany of playmakers in Deebo Samuel, Brandon Aiyuk, George Kittle and Christian McCaffrey. The New York Jets need a quarterback and have young offensive playmakers in Garrett Wilson, Elijah Moore, Michael Carter and Breece Hall.
I've asked a lot of people about the Buccaneers' struggles this season, and no one has mentioned Brady. It's age, injuries or a downgrade in talent — but not the quarterback. Perhaps that's just the perpetual unease that comes with counting out the GOAT.
Despite being 45 years old with a fraction of as many touchdown passes as he threw a year ago, Brady does not seem to be listed in the index of problems facing Tampa Bay this season. He's faced dips in his career like this in the past, and he's come back to prove that it wasn't him, it was his supporting cast. Brady's pass-catchers currently rank 23rd in receiving grade this season as a unit. His offensive line places ninth in PFF's rankings but has been without Jensen. They're dead last in EPA per run play.
Brady might not even know at this point if he plans to come back in 2023, but if he does choose to keep playing, then no one would blame him for moving on from Tampa Bay to find a team that better suits his needs. Brady brought a ring to Tampa and lived up to his end of the bargain. Gronkowski is out of football, head coach Bruce Arians has retired and key offseason additions like Julio Jones, Russell Gage and Kyle Rudolph have failed to stay healthy or step up through 11 games.
Brady still has a place in this league if he wants to keep playing. And if history repeats itself, he could ascend back into the top echelon of quarterbacks if the right pieces are around him.