Not since the formation of the AFC North division in 2002 have all four teams fielded a quarterback who is genuinely considered to be a game-changing, franchise-caliber signal-caller. And now that both free agency and the 2020 NFL Draft are now in the rearview mirror, the Baltimore Ravens, Pittsburgh Steelers, Cleveland Browns and Cincinnati Bengals all have visions of future dominance based on their ability to build around their quarterback.
Here, we examine how each club has built their team with quarterbacks who have a first-round pedigree. We also look at their strengths and weaknesses from a season ago and take a glance at some of the notable additions that have been made to their rosters.
[Editor's note: Subscribe to PFF ELITE today to gain access to PFF's Premium Stats and new Player Grades experience in addition to the 2020 NFL Draft Guide, 2020 Fantasy Rookie Scouting Report, PFF Greenline, all of PFF's premium article content and more.]
Just over a year ago, Baltimore set out to completely rebuild its offense and tailor its scheme to the unique talents of second-year quarterback Lamar Jackson. At the time, the team's decision to move away from the league's pass-first status quo was a bold one, even a "revolutionary" one, but the end result more than justified that brave decision.
Offensive coordinator Greg Roman ended up designing a historic offense that not only racked up an NFL-record 3,296 rushing yards but also allowed Jackson to lead the league with 36 touchdown passes. And the Ravens' second-year quarterback almost single-handedly redefined the game's most important position by becoming the first player in league history to produce over 3,000 yards passing and 1,000 yards rushing in a single season.
With Jackson as the catalyst, the Ravens fielded the league's most efficient offense, ending the season ranked first among teams with 0.173 expected points added (EPA) per play. Jackson ultimately earned league MVP honors after also leading the Ravens to a second-ranked 85.4 team offensive grade and a top-five finish in both team rushing grade (88.5, third) and team passing grade (80.8, fifth).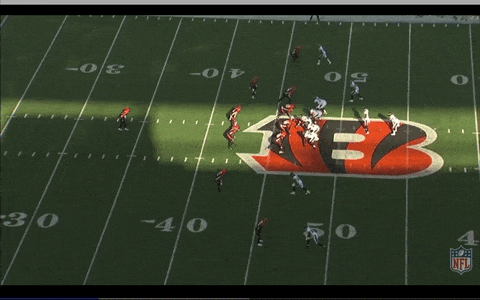 Not much went wrong for the Ravens a season ago, but they certainly could have used more production from what was a relatively anemic group of wide receivers. However, the Ravens tried to address this need in the 2020 NFL Draft by using their third-round pick on the speedy slot receiver Devin Duvernay from Texas and by snagging SMU wide receiver James Proche in the sixth round. Proche, in particular, has the kind of ball skills that are elite enough to see the field in the NFL, and that shows in his 20 contested catches from a season ago, tied for the second-most in college football during the 2019 season.
Baltimore Ravens WRs: Receiving statistics and ranks among all 32 receiving corps
| | | |
| --- | --- | --- |
| Stat | | Rank among 32 WR corps |
| PFF receiving grade | 64.6 | 28th |
| Targets | 172 | 32nd |
| Receptions | 115 | 32nd |
| Yards per route run | 2.81 | 31st |
| Explosive pass plays (15+ yards) | 30 | 32nd |
| First down receptions | 72 | 32nd |
More offensive weapons on the perimeter for Lamar Jackson will create more problems for opposing defenses, who must assign an extra defender in the box to focus on the quarterback as a running threat. And after winning the division title in each of the last two years with Jackson under center, the Ravens are banking on their upgrades at the wide receiver position to provide the new wrinkles needed to maintain their winning edge.
One season after leading the league with 5,129 passing yards, quarterback Ben Roethlisberger was forced to miss 14 games in 2019 after undergoing season-ending surgery on his right elbow. In his absence, Pittsburgh's offensive production plummeted to a league-low -0.211 EPA per play and a last-ranked team of offense grade of 60.0.
Ben Roethlisberger is now 38 years old as he returns for his 17th NFL season, but Steelers general manager Kevin Colbert says he expects an "even better Ben" when he reports for training camp to begin the 2020 season. 
The Steelers had only one selection (49th) within the top 100 picks in the 2020 draft, and Colbert used it on Notre Dame wide receiver Chase Claypool, who will join JuJu Smith-Schuster, James Washington and Diontae Johnson as the team attempts to revitalize its passing game.
At 6-foot-4 and 238 pounds, Claypool has 4.42 speed with a 40.5-inch vertical jump. In his three seasons with the Fighting Irish, he hauled in 57.7% of his contested-catch opportunities while earning an elite receiving grade of 94.3 on his deep targets (passes thrown at least 20 yards downfield). Claypool gives the Steelers a bigger receiver who adjusts well to off-target throws, and he has the ability to shield off defenders to gain possession of the ball in tight spaces.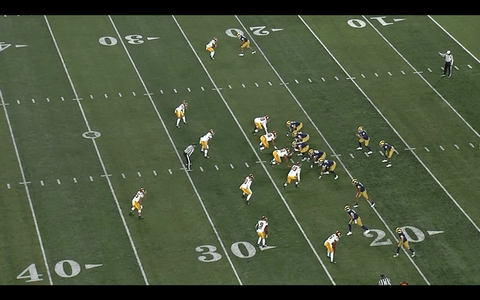 When Big Ben does return to lead the Steelers this season, he will also have one of the league's best defensive units to back him up. Led by T.J. Watt, the Steelers' defense is the only defense in the NFL that has produced 50 or more sacks in each of the last three seasons, and their 170 total sacks are 17 more than the second-place Carolina Panthers during that same time frame.
Last season, Watt led the Steelers with 81 total quarterback pressures — 18 sacks, 19 quarterback hits and 44 hurries — and secured a pass-rush rate of 16.8% during the regular season, tied for sixth among edge rushers with at least 100 pass-rushing snaps. 
Pittsburgh Steelers' pass-rush production: 2019 regular season
| | | |
| --- | --- | --- |
| Stat | | Rank among 32 defenses |
| PFF pass-rush grade | 90.8 | 1st |
| Total pressures | 327 | 3rd |
| QB sacks | 59 | 1st |
| QB Hits | 61 | 5th |
| QB hurries | 207 | 6th |
| Pass-rush win rate | 64.5% | 1st |
| Pressure rate | 40.4% | 1st |
After also earning a third-ranked team coverage grade of 89.3 in 2019 thanks in large part to the stellar play of promising safety Minkah Fitzpatrick — who gave up a passer rating of just 27.3 to opposing quarterbacks from Week 3 to Week 17, the best figure among all defensive backs who saw at least 15 targets in that time frame — the Steelers' defense is well balanced to aid Big Ben and an offense that performed well below expectations in 2019.
And after missing the playoffs in each of the last three seasons, it will be up to Ben Roethlisberger to lead his team against a much younger group of talented quarterbacks in the AFC North.
Baker Mayfield is now on his third head coach in three seasons, and after a mightily disappointing sophomore campaign, it's now up to new head coach Kevin Stefanski to help his talented quarterback take the next step and lift his team above Pittsburgh for the first time in AFC North history.
Despite finishing the 2019 regular season with PFF's highest-graded rushing attack (88.8), the Browns' overall offensive grade of 71.6 ranked 20th league-wide, thanks in large part to Baker Mayfield's step back as a passer. And while not all of the team's shortcomings were the fault of the offensive line, the play of Cleveland's pass-blockers certainly didn't help — of the 91 offensive tackles who played at least 100 pass-blocking snaps last season, the Browns' tackles ranked 46th, 64th and 89th in PFF pass-blocking grade.
This offseason, general manager Andrew Berry went ahead and gave Mayfield some much-needed protection by signing free agent offensive tackle Jack Conklin to a three-year, $42 million contract. He also used the 10th overall pick on Alabama's Jedrick Wills to man the left tackle position on the Browns' offensive line. 
With an improved offensive line, Stefanski will use the outside-zone run scheme along with Mayfield's mobility and strong arm to create a variety of play-action pass opportunities, which can only be a good thing for the 2018 first-round pick. Despite his struggles over the last two seasons, Mayfield has been at his best when using play-action to push the ball downfield.
Baker Mayfield: Performance on play-action passes in 2019 (regular season only, among QBs with 100-plus attempts)
| | | |
| --- | --- | --- |
| Stat | | Rank |
| PFF passing grade | 83.1 | 6th |
| Pass attempts | 158 | 3rd |
| Completions | 105 | 3rd |
| Big-time throws | 13 | 1st |
| Turnover-worthy plays | 7 | 15th |
| Big-time throw percentage | 7.2% | 1st |
| Turnover-worthy play percentage | 3.9% | 12th |
| Yards per attempt | 9.0 | 7th |
| Passer rating | 102.5 | 11th |
| Negatively graded play rate | 12.5% | 4th |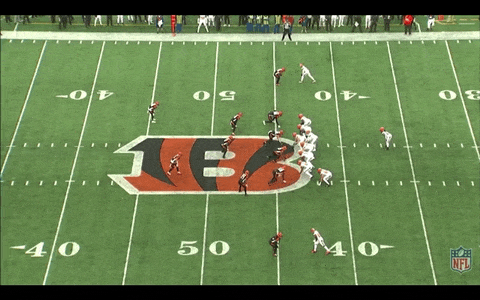 Mayfield's six interceptions on play-action may have led all qualifying quarterbacks during the 2019 season, but his 13 big-time throws also topped the list. For Mayfield, play-action will create easier coverage reads and easier throws downfield for big pass plays, and the addition of tight end Austin Hooper — who has a useful knack for finding the holes in zone coverage — in the offense alongside Jarvis Landry and Odell Beckham Jr. will give Stefanski plenty of options when designing plays.
Just two short years ago, Mayfield was drafted first overall, 31 picks ahead of Lamar Jackson, who has already claimed a league MVP award. However, Mayfield is now finally surrounded by the kinds of coaches who seem more prepared to help turn his potential into production as he heads into his third year.
After five consecutive postseason appearances between 2011-15, the Cincinnati Bengals have now missed the playoffs in each of the last four seasons, but now that they're armed with their quarterback of the future — LSU product Joe Burrow — the franchise will be eyeing a return to January football. 
Last season, Burrow earned the highest passing grade PFF had ever given to a college quarterback (94.1), and he also set a single-season record with a 61.6% accurate pass rate on throws targeted 10-plus yards downfield. And among the top-10 quarterbacks in this year's draft class, Burrow's performance on in-rhythm throws proved to be unparalleled. 
Joe Burrow: Passing statistics on in-rhythm throws (rank among PFF's top-10 draft-eligible quarterbacks)
| | | |
| --- | --- | --- |
| Stat | | Rank |
| PFF passing grade | 95.3 | 1st |
| Big-time throws | 33 | 1st |
| Turnover-worthy plays | 4 | 2nd |
| Big-time throw percentage | 8.5% | 2nd |
| Turnover-worthy play percentage | 1.0% | 1st |
| Yards per attempt | 11.3 | 3rd |
| Passer rating | 149.9 | 1st |
| Negatively graded play rate | 9.5% | 1st |
Burrow's poise under pressure also helped him to lead all FBS quarterbacks with an 80.5 passing grade while under duress. His pocket awareness while under pressure also saw him produce 11 big-time throws and zero turnover-worthy plays.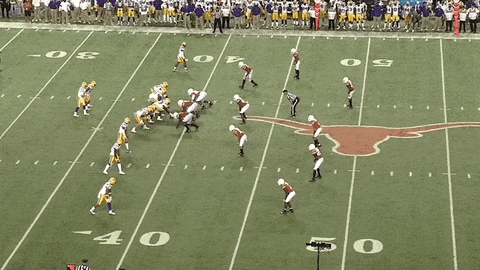 With their future franchise signal-caller secured, the Bengals then used their second-round pick on Clemson wide receiver Tee Higgins, who provides the kind of massive catch radius that allowed him to haul in 55% of his contested-catch opportunities a season ago. Higgins' rare combination of speed, size and hands will blend perfectly with veteran receivers A.J. Green, who has never ranked lower than 11th in single-season PFF grade, and Tyler Boyd, who has been the ninth-highest-graded slot receiver in the NFL since 2018.
With a youthful coach and a promising rookie quarterback, the Bengals will now need their offensive line to take a step up after allowing a league-high 115 quarterback sacks over the last four seasons. But even if the returning Jonah Williams fails to make an impact, Burrow has already shown all the poise and patience that he'll need to accomplish the task in front of him.