Quarterback is the position in the draft — if a team doesn't have one, it better be looking for one. Nothing can propel a franchise into immediate success quicker than a franchise QB on a rookie deal. That being said, the ability to evaluate the position properly has become more important than ever.
We think there are two real-deal franchise quarterbacks in this class and then a handful of guys with some serious question marks on tape. However, while we are always hesitant to say a prospect's flaws can be fixed, we won't hate on teams too much for taking a chance at the most valuable position in the NFL.
[Editor's Note: PFF's 2020 NFL Draft Guide is LIVE and available to all EDGE and ELITE subscribers. Download your copy today!]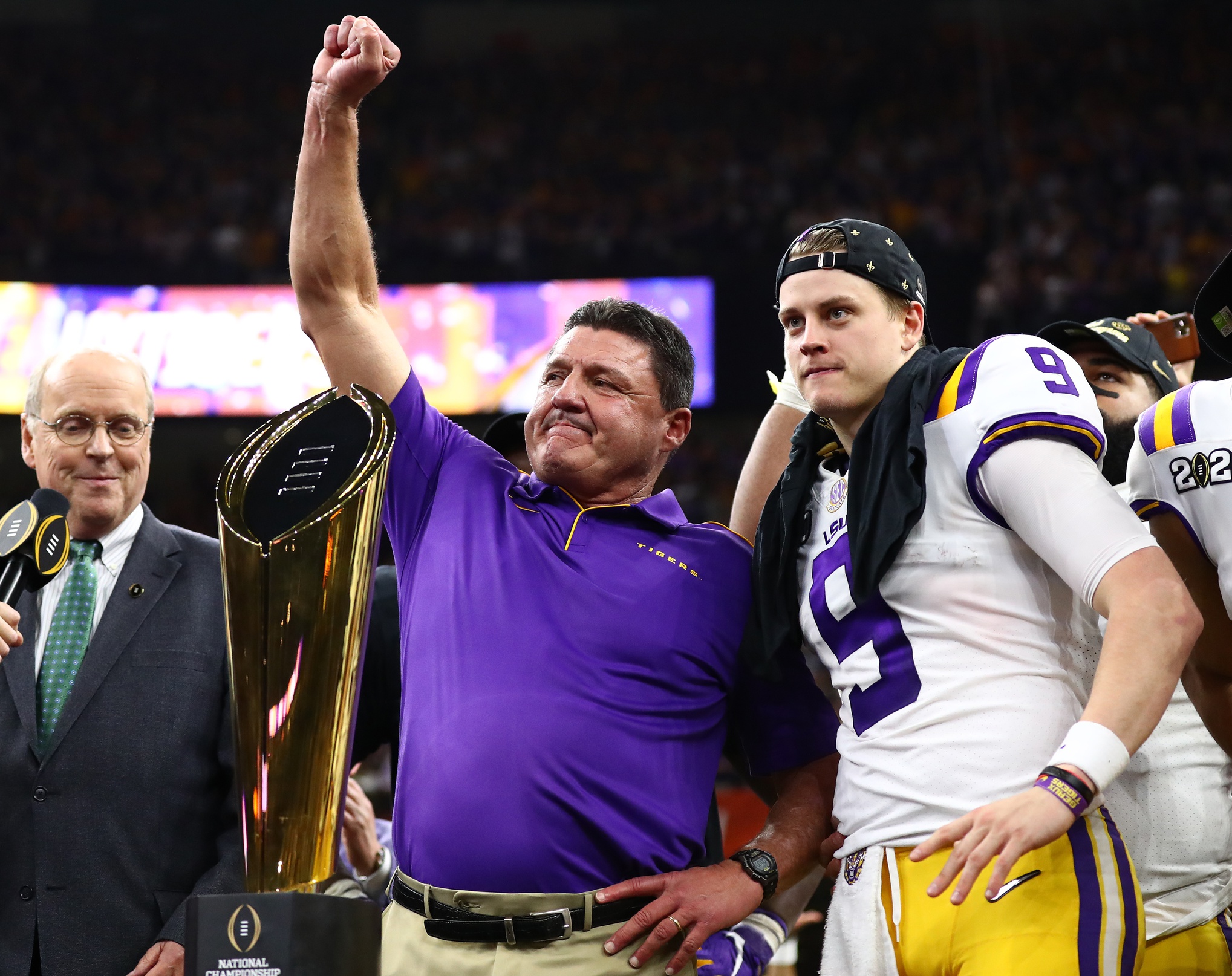 1. Joe Burrow, LSU
Draft Board Rank: 1st
With the highest single-season grade we've ever given to a quarterback and quite easily the most impressive statistical season in college football history, Burrow is an easy pick for the No. 1 prospect in the class. His accuracy is on another level from any other top prospect we've seen: 61.6% of his targets 10-plus yards downfield this past season were accurately placed, and to put into perspective how absurd that is, Baker Mayfield held the previous record at 55.7% in 2017.
You have to look long and hard to find negatives from Burrow's play this past season. His lowest-graded passing game still earned a PFF passing grade of 68.2, and he went 25 of 32 for 327 yards, four touchdowns and zero interceptions in that game. He's on the "older" end at 23 years of age and won't wow anyone with his arm strength, and any true on-field negatives would have to be prior to the 2019 season, though if he fixed them in 2019, are they really still negatives? It's difficult to see Burrow being anything other than a top-15 quarterback in the NFL.
2. Tua Tagovailoa, Alabama
Draft Board Rank: 3rd*
Tagovailoa's rank will always come with the asterisk that assumes full health. It's a big assumption with how serious his injury is, but it's a fool's errand this far out to try to predict the future and the consequences of that injury. We'll deal with Tagovailoa's on-field play for now, where there is far less to be worried about. He's shown pocket presence, decision-making and accuracy well beyond his years.
Over the course of his entire career, Tagovailoa has converted only 12.5% of his pressures into sacks. For context, only seven quarterbacks had lower rates in all of college football last season, and when you consider the fact that he's been seeing time since he was a true freshman, that figure is insane. He's also only made 24 turnover-worthy plays in his career — four QBs in college football had more in 2019 alone. 
The concern with Tua is that his arm strength is fairly borderline when it comes to the NFL. The longest targeted throw of his career didn't even travel 50 yards downfield and was picked off (last year against LSU). Tagovailoa also played alongside one of the greatest collections of talent in college football history. I'd like to think our grading and ball charting does a good job of isolating Tua's performance from those around him, but we're never going to truly be able to separate the two. One could also argue that he was somewhat stagnant this season and was largely the same guy we saw in 2018. However, while those are fair critiques, the guy we saw in 2018 was still very much a franchise quarterback prospect.
3. Justin Herbert, Oregon
Draft Board Rank: 29th
From purely a physical traits perspective, there's not much to dislike about Herbert. He's got a cannon for an arm; he has decent accuracy, size, speed and is by all accounts a very bright individual. The reason he sits at 27th overall on our draft board, though, has nothing to do with the physical and everything to do with his play at the quarterback position. It can be difficult to describe, but something perpetually seemed off with Herbert, and the best way to put data behind that is simply through the grading. Against any sort of quality defense, Herbert's game completely went in the tank. In games against Auburn, Cal, Washington, Arizona State, Utah and Wisconsin this season, his stat line was the following:  
| | |
| --- | --- |
| PFF Grade | 64.0 |
| Completion % | 62.0% |
| Yards per attempt | 7.1 |
| Touchdowns | 9 |
| Interceptions | 4 |
| Big-time throws | 7 |
| Turnover-worthy plays | 10 |
Only one of those games (Washington) earned a passing grade over 70.0 (74.2). Those splits are pretty much the same dating back every year of his career — he pretty much never elevated his game on the biggest stage.
The one overarching caveat to all the above is the scheme in which he played. If you were to build an offense specifically for Herbert's talents, it would look nothing like the one he ran at Oregon. The Oregon offense was a quick, timing, horizontal sort of scheme. A more vertical offense where his eyes have to stay downfield would be much more suited to his talents, and it would give him a much better path to success in the NFL.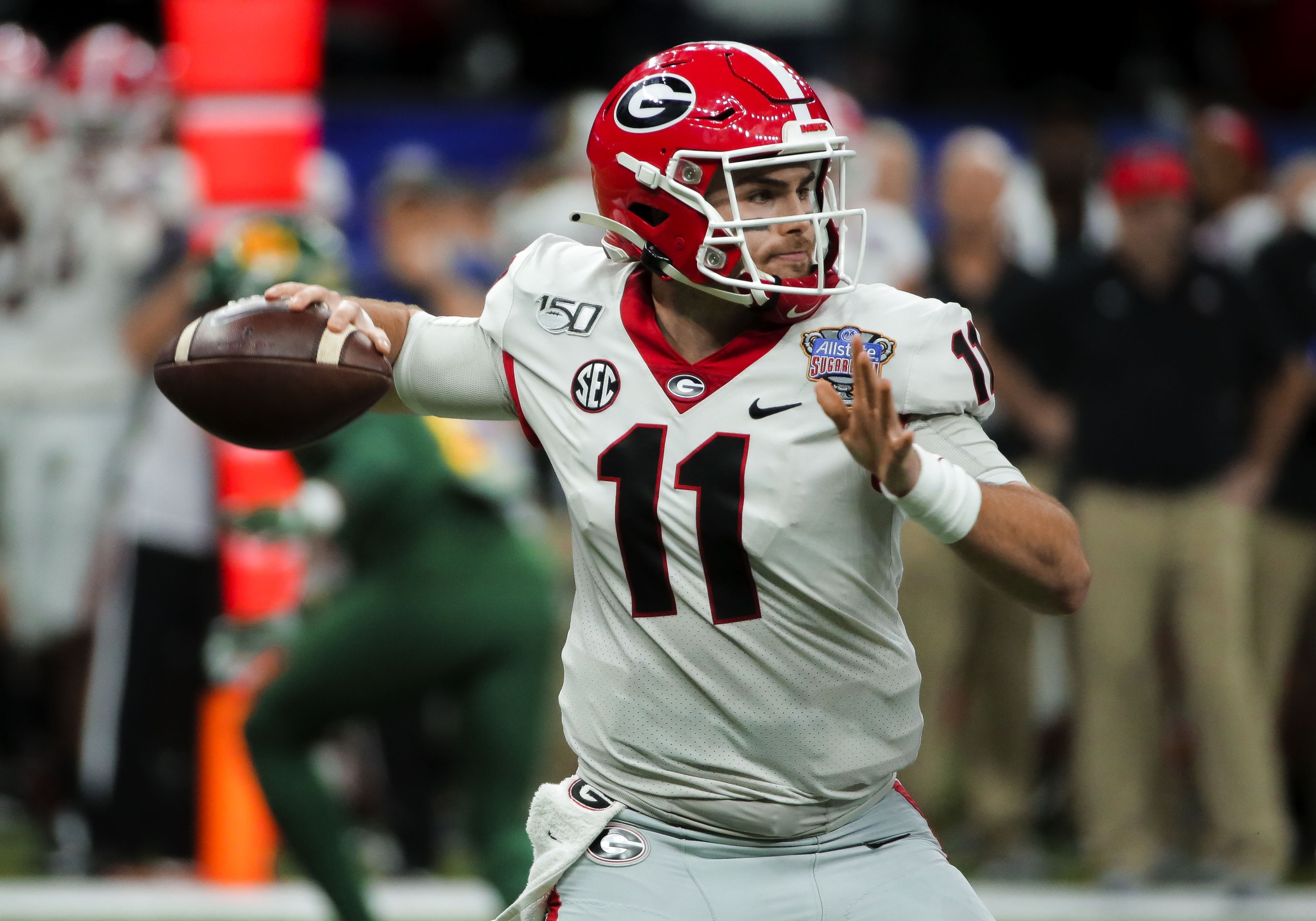 4. Jake Fromm, Georgia
Draft Board Rank: 43rd
Fromm's strengths and weaknesses are very well defined. He will throw with timing, play within structure and will not turn the ball over, but if you put the ball in his hands all day long and ask him to win you a game, the chances are you'll be disappointed. Fromm has taken 35-plus dropbacks in only seven games over the course of his career. These are his stats from those games:
| | |
| --- | --- |
| PFF Grade | 67.3 |
| Completion % | 52.8% |
| Yards per attempt | 6.3 |
| Touchdowns | 11 |
| Interceptions | 10 |
| Big-time throws | 11 |
| Turnover-worthy plays | 10 |
To say that those are concerning numbers would be an understatement. Still, even at his worst, Fromm does a great job of taking care of the football as his seven turnover-worthy plays on 445 dropbacks this past season was one of the lowest rates in college football. All that adds up to a player who was very much a game manager at Georgia, and it will be a label that follows him into the NFL.
5. Jordan Love, Utah State
Draft Board Rank: 75th
Love is a great litmus test for what one values at the quarterback position. Do you value consistency and decision-making? If so, Love is not going to be your guy. Do you value special downfield throws and avoiding sacks? Then the chances are that you have Love as a first-rounder. The Utah State product's 32 big-time throws this past season were the fifth-most in college football, the problem, though, is that his 26 turnover-worthy plays were fourth-most.
You can make all the excuses you want for Love's performance this past season. He lost his head coach and nine starters offensively from 2018, but the inconsistency is far from a new thing. Below are his game-by-game passing grades from his much-revered redshirt sophomore season in 2018:
| | |
| --- | --- |
| Opponent | PFF Passing grade |
| Michigan State | 75.8 |
| New Mexico State | 46.6 |
| Tennessee Tech | 85.5 |
| Air Force | 77.7 |
| BYU | 83.0 |
| UNLV | 92.0 |
| Wyoming | 47.3 |
| New Mexico | 89.8 |
| Hawaii | 85.6 |
| San Jose State | 79.3 |
| Colorado State | 58.5 |
| Boise State | 54.5 |
| North Texas | 66.1 |
Those numbers are still very much all over the map. So, even if one could theoretically fix Love back to his 2018 form, drafting him early is still a scary proposition.
6. Anthony Gordon, Washington State
Draft Board Rank: 80th
Gordon is going to be set in the shadow of Gardner Minshew throughout pretty much the entire draft process, but that particular comparison is one I'm not on board with whatsoever. Gordon may actually be more talented as a pure passer, but he has far more flaws in terms of on-field play. When things went south for Gordon this season, things got very ugly. Against Utah, he threw directly to multiple stationary defenders, and against Washington, he dropped back 70 times and completed only three passes 10-plus yards downfield.
We love that Gordon was pretty much asked to go out and put the team on his back every week, and his ability to get the ball out of his hands quickly and throw with timing is already at an NFL level. The worry is what happens when that ball doesn't come out of his hands quickly. He has a propensity to freeze in the pocket and offers pretty much nothing in the way of second-reaction plays in the way Minshew did. Gordon went from completing 81.1% of his passes in 2.5 seconds or less to only 49.9% on anything over 2.5 seconds, and he also saw his grade drop from 90.3 with no pressure to 46.6 with pressure. With how big a transition going from Air Raid to the NFL has been for some, Gordon likely won't hit the ground running the way Minshew did.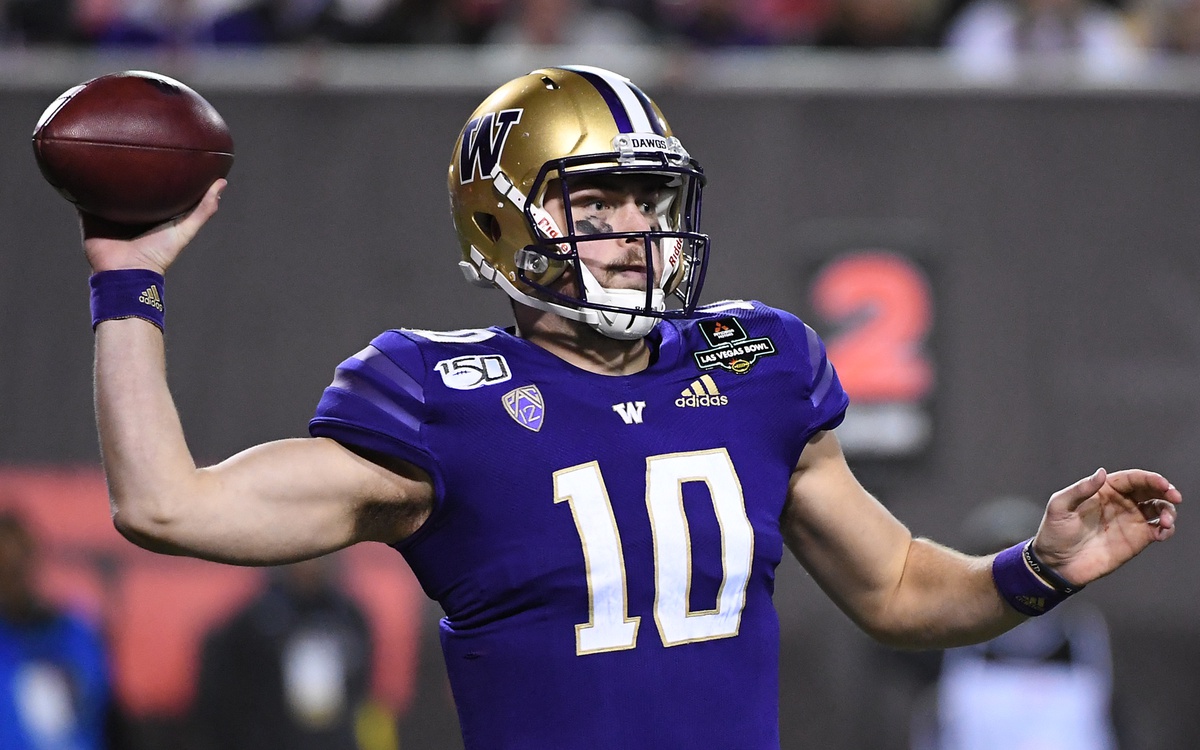 7. Jacob Eason, Washington
Draft Board Rank: 100th
Eason has an absolute cannon for an arm, and he very much looks the part at 6-foot-6, 227 pounds. Outside of those two things, though, there's not much more on tape that makes Eason look like an NFL quarterback.
We would have loved to see him return to school and prove his pocket presence issues were a fluke. The analytics guys will tell you that performance under pressure is less stable than performance from a clean pocket, but with how bad Eason looked under pressure, it's difficult to see him easily transitioning to the NFL. Eason was sacked 22 times this year, and of those, we charged eight to Eason himself. His passing grade under pressure was a disastrous 37.6, the lowest of any player on this list, and the panic was visible in his feet and throwing mechanics when pressure hit. After playing behind one of the best offensive lines in college football, Eason is in for a rude awakening when he sees how tight NFL pockets are.
8. Josh Love, San Jose State
Draft Board Rank: 121st
We're digging deep for prospects here by number 10, but there's a lot to like on Love's tape, and that gets him to jump some of the more well-known Power-5 signal-callers. One thing he's already been exceptional at is handling pressure. He earned a 68.6 passing grade under pressure this past season and had an 83.7 passer rating on those 145 dropbacks. He also converted pressure into sacks only 9% of the time, the lowest of any starting quarterback in the FBS this past year. Even without a massive arm or without playing against the best competition, that's a solid starting point for a QB prospect. 
9. Cole McDonald, Hawaii
Draft Board Rank: 134th
McDonald is one of the most difficult projections in this class because of the absurdity of the offense he was playing in at Hawaii. Of McDonald's 581 dropbacks last season, every single one had at least four wide receivers on the field, and 100 were from a completely empty look. He's also an oddity because he combines a big arm with exceptional underneath accuracy. On throws targeted 1-9 yards downfield, McDonald ranked 16th in adjusted completion percentage. However, it was the downfield stuff that was more of an issue, as he threw more balls to defenders that didn't even have to move than any quarterback in the country last year. He finished with 31 big-time throws compared to 29 turnover-worthy plays.
10. Jalen Hurts, Alabama
Draft Board Rank: 149th
There is a well-defined path to success for Hurts in the NFL. People are going to point to Lamar Jackson as a reason to believe Hurts can work in the league, but athletically, they are on vastly different playing fields. In fact, Tyrod Taylor's tenure in Buffalo is likely a better corollary for Hurts' best case scenario at the next level.
Hurts has simply never flashed any sort of consistent downfield passing ability. Despite an average depth of target of 11.5 yards downfield, Hurts made only 19 big-time throws this past season on 388 attempts. That figure ranked 39th among FBS quarterbacks in 2019 and paled in comparison to what Kyler Murray (29) and Baker Mayfield (35) did in the same Oklahoma offense the past two years.