The 2020 NFL Draft is just under one month away, so by now, all 32 NFL franchises will be putting the finishing touches on their draft boards and finalizing their plans so they can best get exactly what they want at precisely the right price.
This is far from a last-minute process, however. Some of these plans will have even been put in place as far back as 2018, as rebuilding NFL teams — or even teams on the verge of a rebuild — must often plan multiple years in advance, especially when the following year's draft looks to contain a pair of historic NFL quarterback prospects.
As PFF's Eric Eager recently touched on in his in-depth look as to what the Patriots should do at quarterback for 2020, the 2021 QB class could be as top-heavy as we have ever seen. And right now, both Clemson's Trevor Lawrence and Ohio State's Justin Fields have better NFL projections than even Alabama's Tua Tagovailoa, whom some once had as the top QB of the 2020 draft class.
While Lawrence gets the majority of the hype — though our college-to-pro projections actually favor Fields at this stage — this is a battle that most likely won't be settled until the National Championship trophy is hoisted in 2021. So, with the idea that teams should be positioning well in advance for the opportunity to select either one of these promising passers, two let's take a closer look at what teams could either tank or be one injury away from a freefall that ends with one of the top picks of the 2021 NFL Draft.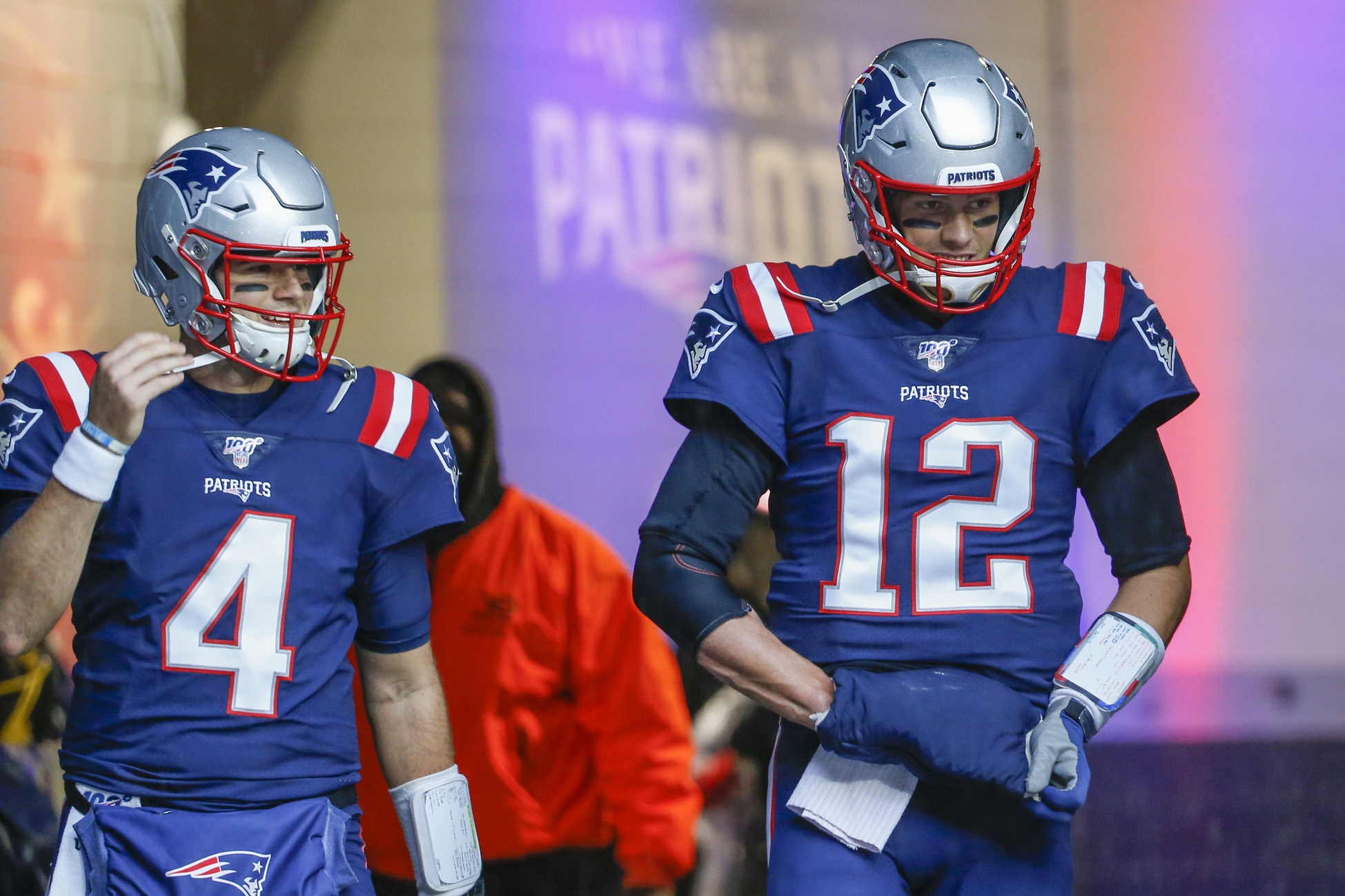 Teams with little to no long-term solution at quarterback
New England Patriots: Eager went into great detail in his discussion on Jarrett Stidham and the New England Patriots, so allow me to be brief in this case. The Pats clearly have a gaping hole to fill with the loss of Tom Brady, and they have an aging roster that did little to help Brady in 2019. However, they're going to be playing in the worst division in the NFL in 2020, making a tank harder to pull off than it would be in other situations, while their defense, which ranked second in WAR generated in 2019, should still be capable of keeping them in most games. Still, Belichick is a mastermind who clearly understands the value of an elite quarterback — if anyone can pull off an actual tank job in the NFL, it will most likely be him.
Carolina Panthers:  My colleague Anthony Treash actually touched upon this situation before free agency kicked off, but in the past couple of weeks, the Panthers have picked up Teddy Bridgewater and Phillip Walker to overfill their quarterback room, leading to Cam Newton's release and Kyle Allen's departure via trade. This is now a completely revamped position for the Panthers, with subsequent free agent signings signaling more of a win-now mentality from first-year head coach Matt Rhule. And while both quarterback signings have a connection to this coaching staff, if they don't provide outsized production compared to expectations, then this is still a prime spot for either Trevor Lawrence or Justin Fields to land in 2021.
Miami Dolphins: The Dolphins have been heavily linked to Tua Tagovailoa over the last year-plus, since the time Tua was far and away the class' No. 1 prospect. The Dolphins certainly looked capable of tanking last year, but things didn't go quite as expected with Tua getting injured and Fitzmagic leading the upstart Dolphins to a few too many wins. Still, the likely landing spot for Tua appears to be to the Dolphins with the fifth pick of the upcoming draft, but even if they do pull the trigger on the pick, the Dolphins still appear to be a couple of years away, despite some flashy free agent signings this offseason. Last year they ranked dead last in WAR generated from the defense and their offensive line, and they finished third-to-last in skill position WAR ranking. Selecting Tua and having another down year could give them multiple swings at the game's most important position, a process that PFF has been advocating for quite some time.
Chicago Bears: Nick Foles immediately emerges as the odds-on favorite to win the starting quarterback position for the Bears after being traded from Jacksonville. Foles had the perfect contract to take on, as it contained a guaranteed salary in 2020 with only a $5 million roster bonus thereafter, according to OverTheCap.com. This gives the Bears the opportunity to evaluate Nick Foles, and if he plays well, the Bears could keep him for two more seasons. If he doesn't play anywhere near the 2018 Super Bowl MVP level he has flashed, the Bears can move on from him and hopefully be in a position to draft Fields or Lawrence in 2021.
Jacksonville Jaguars: The Jaguars are now worlds away from being the kind of team that was four points away from a Super Bowl berth in 2017. The team appears to be on the brink of full disarray after losing all of their defensive starters from that squad — they ranked just 23rd in defensive WAR in 2019 after having the top unit in the NFL just two years earlier. Gardner Minshew appears to be locked into the starting quarterback role in 2020, and he was better than expected for a sixth-round pick last year, posting a 69.6 passing grade in his rookie season. Still, the Jaguars are far from being fully committed to Minshew, even though he outplayed several quarterbacks who were drafted higher than him last season. If odds existed for the 2021 first overall pick, the Jaguars could easily be considered the favorites at this time. 
Los Angeles Chargers:  The Chargers have a well-built roster with arguably the best secondary in the NFL, and their skill position WAR figure ranked 17th league-wide in 2019. So, after refusing to allow Philip Rivers back into the building after their 2019 season, the expectation was that the Chargers would address their quarterback situation in free agency, though this didn't turn out to be the case. Tyrod Taylor is capable of leading a defense-oriented team to the playoffs, and they always have the option of taking a quarterback at No. 6 overall in the draft even if that means reaching for Oregon's Justin Herbert. Without a concentrated effort to tank the 2020 season, their roster might be too talented outside of the quarterback position to end up with either of the top two picks in the 2021 NFL Draft.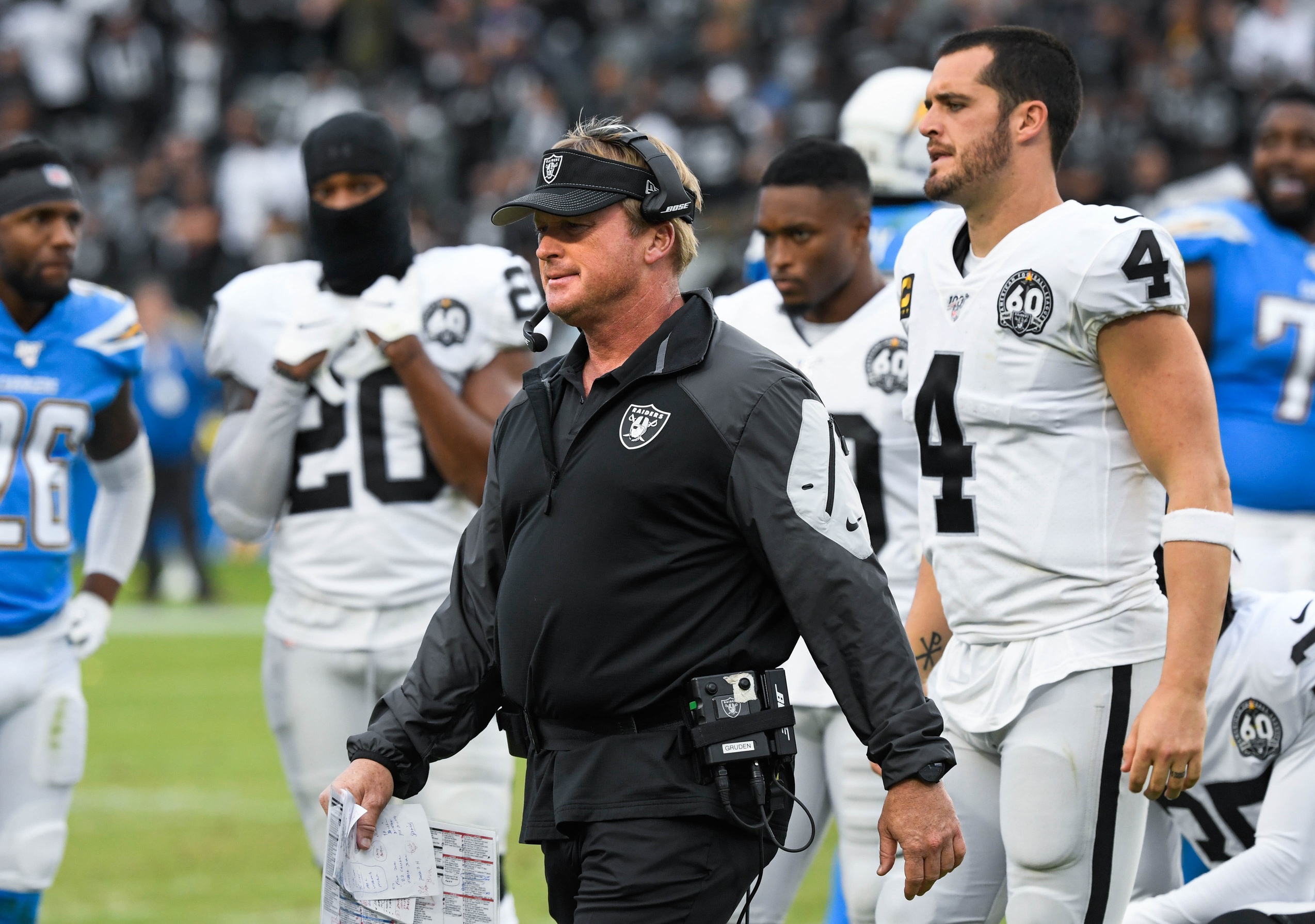 Teams with questions still to be answered at quarterback
Las Vegas Raiders: The Raiders are a tweener team in this exercise. Derek Carr will be 29 soon, and his contract is set to expire in 2023. Their pursuit of Tom Brady was real, though, and settling for Marcus Mariota means they have some very real intra-building questions about their existing quarterback room. With a roster devoid of top-end talent at critical positions, they could easily find themselves in a position to draft their future franchise quarterback in next April's draft.
Washington Redskins: Despite our persistent attempts to persuade the Redskins to draft Tua at No. 2 overall in this year's draft, it seems that they are set on riding with Dwayne Haskins for at least one more season. Team owner Daniel Snyder was apparently enamored with him leading up to last year's draft, and Haskins somewhat repaid that confidence by flashing potential in his rookie season. That said, Haskins still finished last among qualifying quarterbacks in adjusted completion percentage at just 68.6%, while he also finished last in passer rating from a clean pocket (which is one of our more predictive stats for quarterback play) at 81.8. If Haskins doesn't take a significant step forward in Year 2, then the Redskins should once again be in prime position to draft his replacement. 
Denver Broncos: The Broncos say they are high on second-year signal-caller Drew Lock, despite him being the second-worst quarterback in the NFL when comparing big-time throw percentage to turnover-worthy play percentage. He actually played quite well from a clean pocket, though, posting a 12th-ranked 105.3 passer rating when the pass-rush was kept at bay. Drafted in the second round, the Broncos aren't nearly as financially committed to Lock as other teams are with their first-round passers, though. The AFC West is top-heavy, with the other three teams all seemingly in contention for a high draft pick next April. How well they play in their division will go a long way towards determining who, if anyone, gets a coveted top spot in 2021's draft.
Houston Texans: Unlike every other team on this list, Houston has a quarterback who has shown high-end ability throughout his short NFL career. The question, though, is what is going on with the Texans outside of the quarterback room? Deshaun Watson is the latest superstar to begin sending cryptic tweets that hint ever so slightly that he may be disgruntled in Houston, and it's not particularly hard to imagine why that might be the case. He is currently one of the most valuable young quarterbacks in the NFL, but he is capable of testing free agency next season, and after seeing his best weapon jettisoned for another running back, we wouldn't blame Watson for thinking that Bill O'Brien is not concerned with surrounding him with worthwhile talent on the perimeter. If things really go sideways in Houston, not only could the Texans land in the top two, but Deshaun Watson could also become the 1A option for other teams on this list (we are looking at you, New England).