"Success isn't permanent, and failure isn't fatal." — Hall of Fame coach Mike Ditka
This quote encapsulates the NFL well. In any given year, a team can go from worst to first or vice versa — precisely what we have seen from the Chicago Bears over the last three seasons. After slogging through a 5-11 season under John Fox in 2017, the Bears broke out with a 12-4 record and division title in 2018 under new head coach and offensive guru Matt Nagy. But the team came back to Earth with an 8-8 record last season, which put the spotlight directly on young quarterback Mitchell Trubisky, the former No. 2 overall pick who struggled badly during his Year 3 campaign.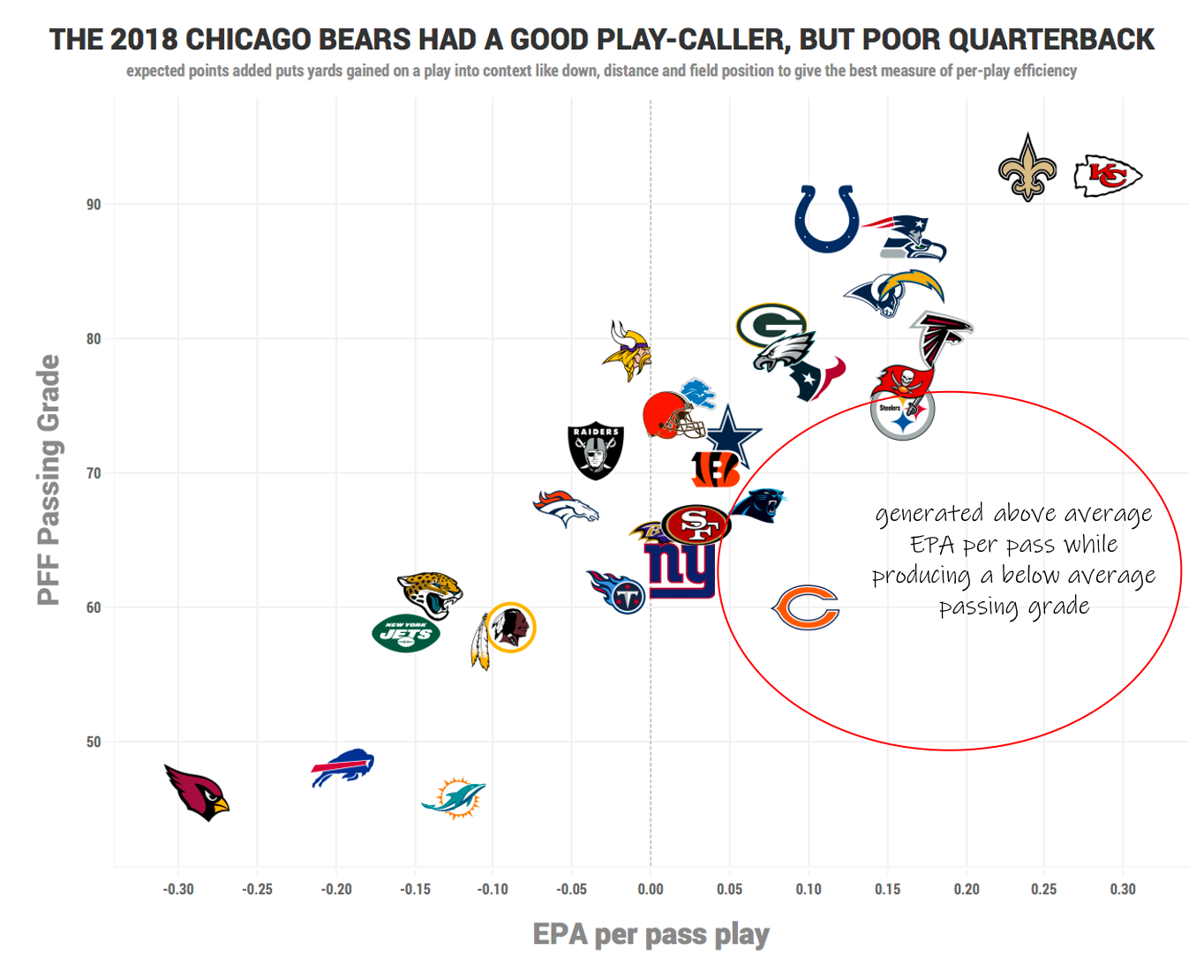 Some thought the rise of the Chicago Bears in 2018 was partly due to Trubisky, but the truth is that he really had nothing to do with it — the success was due to a combination of the team's outlier season on the defensive side of the ball and its solid offensive play-caller and scheme-designer. PFF's research and development team has investigated defensive regression before, specifically on the decline we saw from the Chicago Bears. You simply can't count on historic defensive performances to make up for poor QB play from one year to the next. 
And poor Trubisky has been. In all three of his career NFL seasons, Trubisky has landed in the bottom quarter of quarterbacks in PFF grade. His rate of negatively graded throws ranks ahead of only Josh Allen and Jameis Winston since entering the league, and his rate of catchable passes thrown beyond the line of scrimmage is the second worst. The Bears have been heavily criticized as Trubisky has struggled, particularly for passing up on reigning Super Bowl MVP Patrick Mahomes and Deshaun Watson, who were taken 10th and 12th overall in the same draft.
We'll get to that decision in a moment. For now, let's focus on what the Bears are doing in response to this dire QB situation — having traded a fourth-round pick to the Jacksonville Jaguars for Nick Foles. While Foles is no superstar, this move gives the Bears perhaps the best quarterback they have ever had in the PFF era. Foles has spent time working with numerous members of the Chicago coaching staff during his NFL career, including Nagy, and has played in an offense similar to what Chicago runs during his time with the Philadelphia Eagles and Kansas City Chiefs (the Andy Reid effect). He's a capable NFL starter with PFF passing grades better than Bears fans are used to seeing.
So the Bears are heading into 2020 with a QB they can't blame for their problems. That's the good news. But there's bad news as well: The team can't expect its current defense to do anything near what we saw back in 2018 — and that's going to be a problem.
The Mitch Trubisky Miss
Before we dive into Foles and what he brings to the table, we still have a couple of glaring questions that need to be answered regarding Trubisky the prospect and why so many evaluators were wrong about him.
To be fair, Trubisky was the consensus QB1 in the 2017 draft class and many experts and scouts, including us at PFF, viewed him as the best quarterback available. We all were members of the Trubisky cult and fell in love with him as a prospect. 
Subscribe to PFF Edge to continue reading
Already have a subscription? Sign In