There's a new look in New York as Joe Judge takes over as head coach, but 2020 will be a pivotal year for the front office that has overseen the recent rebuilding effort. The decisions to draft running back Saquon Barkley and quarterback Daniel Jones remain under scrutiny, and we'll learn more about the Giants and where they're heading as a franchise now they have a new on-field regime.
A healthy season could work wonders for the offensive side of the ball in New York, while it's going to be a pivotal year when it comes to the very many defensive pieces the front office has thrown at the secondary. The pass rush remains a question mark, but that will be less of an issue if that secondary comes together.
There are holes on this roster overall, but with a quarterback capable of high-end play and with solid talent on the offensive side, the Giants could surprise this season.
Subscribe to PFF's EDGE or ELITE subscriptions get access to the following tools, charts, etc. 
– All Premium Article Content
– Fantasy Football Rankings & Projections
– Fantasy Football Draft Guide, Cheat Sheets & Advanced Stats
– Fantasy Football Mock Draft Tool (DraftMaster)
– Fantasy Football Strength of Schedule Matrix
– NFL Player Grades
– NFL Premium Stats
ADDITIONS/SUBTRACTIONS
Additions/players brought back:
CB James Bradberry (signed for three-years, $45 million, $32 million guaranteed)
DI Leonard Williams (franchise tag)
LB David Mayo (re-signed for three years, $8.4 million)
TE Levine Toilolo (signed for two years, $6.2 million)
LB Blake Martinez (signed for three years, $30 million)
S Nate Ebner (signed)
EDGE Kyler Fackrell (signed for one year, $4.6 million)
T Cam Fleming (signed for one-year, $4 million)
Losses:
QB Eli Manning (retired)
EDGE Markus Golden
S Antoine Bethea (cut)
LB Alec Ogletree (cut)
T Mike Remmers
 QUARTERBACK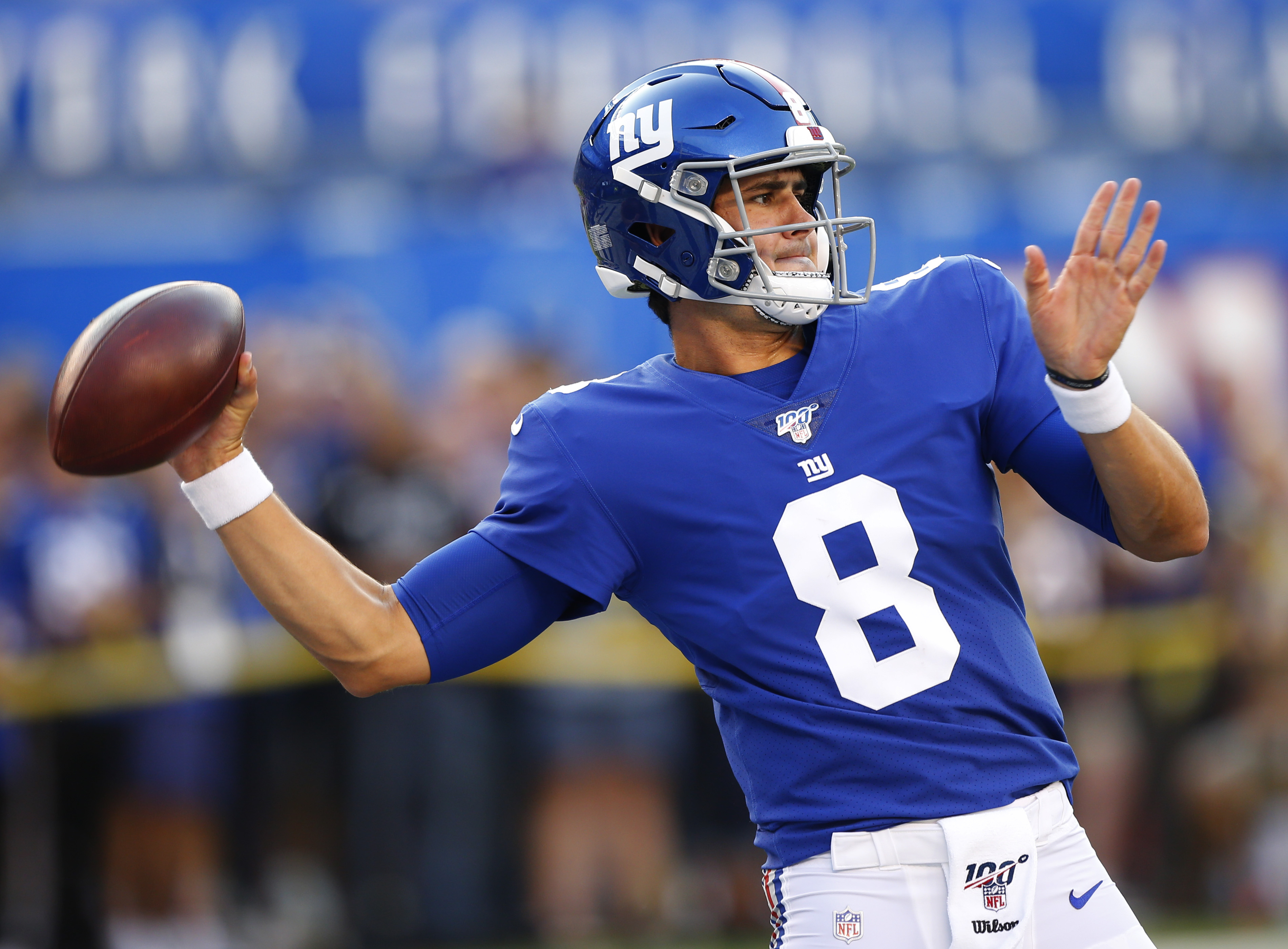 Here's what I said about Daniel Jones after the 2019 season:
There was plenty to like from Daniel Jones' rookie season — he attacked effectively down the field and had multiple high-end games from a production standpoint. The big question is the turnover-worthy plays, as he put the ball in harm's way at a high rate both as a passer and in the pocket, with too many unfortunate fumbles. Jones is fearless under pressure, which leads to big-time throws, but he also had numerous forced throws and a league-high 10 fumbles that were deemed turnover worthy. The range of outcomes is wide with his playing style, meaning Jones may have high-end seasons with a strong supporting cast and some luck, or it could go the other way in a hurry. Still, Jones did a good job of avoiding the overall negatives, and his downfield aggressiveness could lead to big seasons in New York.
Jones has many similarities to his predecessor, Eli Manning, including a volatile style that can lead to a wide range of outcomes. We saw that in Jones' rookie season, as fans and detractors alike both had plenty of evidence to back up their respective points.
One of Jones' best attributes is his willingness to create big plays when under pressure, and that can sometimes lead to spectacular plays as well as disastrous ones. Giants fans are just rooting for the season in which those plays land in Jones' favor, and that's precisely how you get the improbable Super Bowl runs that Manning produced.
RUNNING BACK
Few running backs have the big-play potential of Saquon Barkley, as he can seemingly take it to the house at any time. Last season, he was unable to sustain the breakaway runs that defined his rookie season — he had seven 40-plus-yard carries that season — but such is the volatile nature of running back production. Barkley still must improve when it comes to just taking what is there, but one of these years the Giants' run blocking will improve, and he could go off for a monster statistical season. Most importantly, though, Barkley is a weapon in the passing game, and he's forced 42 missed tackles on only 143 career receptions so far.
The Giants also add Dion Lewis into the mix. Lewis is another elusive back who is coming off a 59.8 overall grade with the Titans, a career-low mark. He is capable of taking some of the pressure off Barkley when it comes to catching passes out of the backfield, however, as the former Patriot has two seasons in which he forced at least 15 missed tackles after the catch. Wayne Gallman then rounds out the group as the No. 3 option who is set to enter the last year of his rookie contract.
Barkley is one of the league's best all-around running backs, so if Lewis can return to past form, this duo could give the Giants one of the most dynamic units in the league.
WIDE RECEIVER
We didn't get to see much of the complete Giants receiving corps in 2019, and they could surprise this season. Golden Tate played in just 11 games, but his 13.8 yards per reception was his highest mark since 2012 — he remains an effective after-the-catch threat. Tate had broken at least 20 tackles after the catch in every season from 2012 to 2018, and a return to that form will be a huge asset for the Giants offense.
Sterling Shepard played in just 10 games last season, though he was on a 91-catch pace. He spent nearly half of his snaps in the slot, where he's become a dependable option in his four years in the league. The wild card is Darius Slayton, who impressed with 740 yards and eight touchdowns as a fifth-round rookie. While the consistency wasn't there, Slayton had multiple high-end games and finished with 265 yards on deep (20-plus yard) passes, fifth-best among rookies.
The fourth spot on the depth chart is open, with Cody Core and annual first-round reclamation project Corey Coleman both in the mix. With few established options beyond the top three, this could be an opportunity for three undrafted free agents to make the roster, or perhaps the Giants will be active in the receiver market as rosters unfold in August. While the top three receivers don't have a prototypical "No. 1" option, the Giants have a well-rounded group that can do damage if it remains healthy.
TIGHT END
Injuries struck the Giants' tight ends in 2019, as none of their four options played more than 10 games. Evan Engram caught 44 passes in just eight games, and he's been a solid option who has excelled after the catch, averaging 6.2 yards after the catch per reception since entering the league.
While he's never graded above 60.6 as a run-blocker, Engram's 746 yards when lined up as a wide receiver ranks 12th among tight ends, so his best asset is the ability to produce all over the formation.
It will be a battle for the backup job, with 2019 sixth-rounder Kaden Smith being the top returning producer after recording 31 receptions last season. However, Smith is not a dynamic receiver — he graded at 54.6 overall last year — so expect competition with veteran backups Levine Toilolo and Eric Tomlinson. Toilolo has three straight years grading in the 60s, while Tomlinson has bounced between multiple teams as a solid run-blocker.
A healthy Engram could be in line for a big season, and any kind of production from the backups will keep this unit in the top half of the league.
OFFENSIVE LINE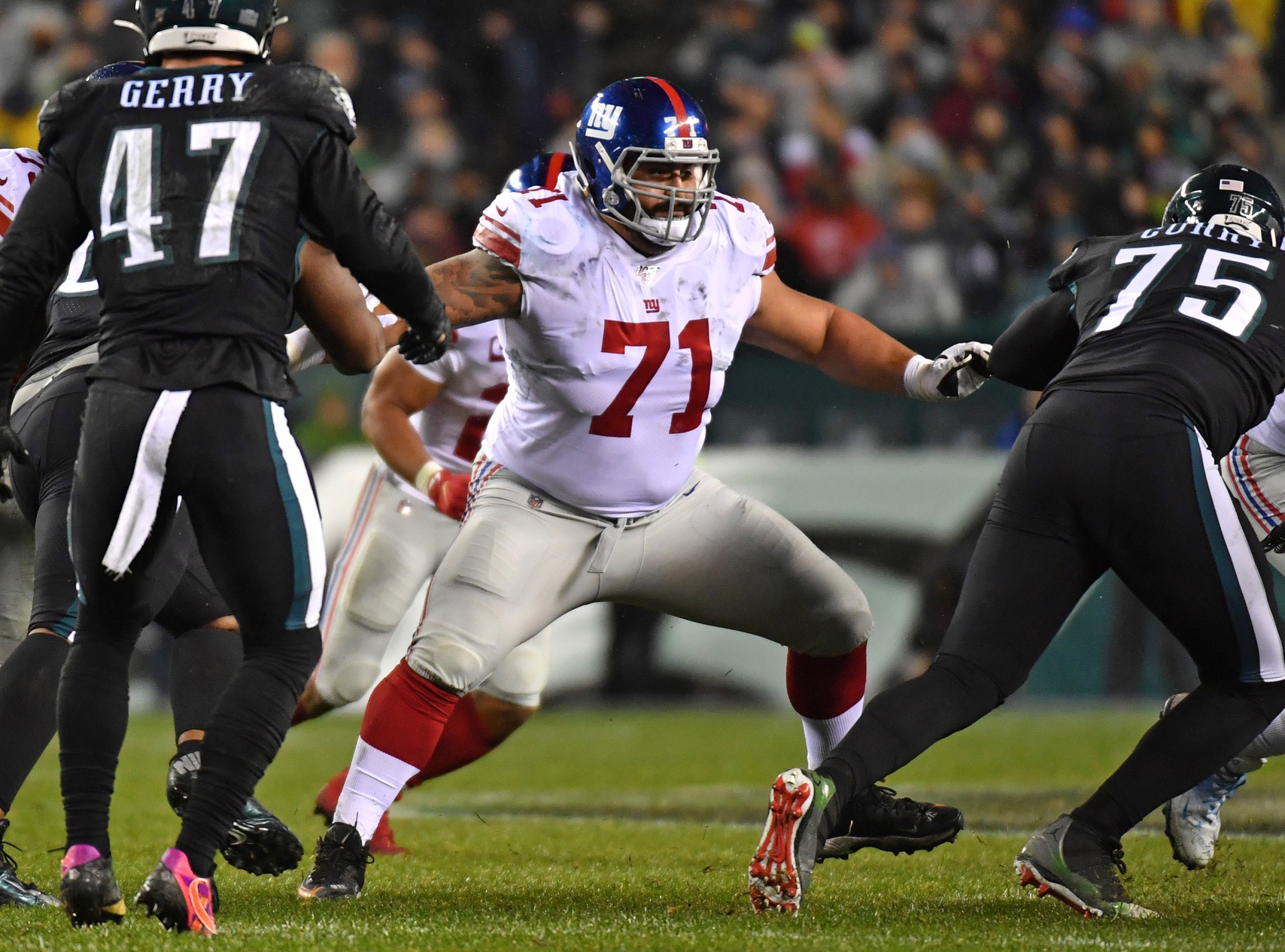 The Giants weren't as bad as the perception last season, finishing 17th in our regular-season rankings, and the line is heading in the right direction. Left tackle Nate Solder posted the worst grade of his career at 64.8 overall, as he allowed a league-high 56 pressures while ranking just 70th out of 89 qualifiers with a 52.9 run-blocking grade. Solder graded in the 70s as a pass blocker in all but one full year as a starter, and he was once one of the most dependable run-blocking tackles in the league, so the Giants need him to return to his previous form.
At right tackle, fourth overall pick Andrew Thomas steps in after Mike Remmers tied for 10th with 40 pressures allowed. Thomas was the highest-ranked tackle on the PFF draft board and was the only player to rank in the top five as both a pass and run blocker in the draft class. Thomas should be able to step in as a solid right tackle and could eventually play on the left side if New York moves on from Solder. Another player to keep an eye on is third-round tackle Matt Peart out of UConn, a classic developmental prospect who performed well in college but still has room to grow. He had the No. 6 overall grade in the draft class last year at 90.2 and he just started playing football in high school.
The interior was aided by the addition of right guard Kevin Zeitler a year ago, annually one of the league's best whose 76.4 overall grade ranked seventh. Zeitler is as reliable as they come — he's never graded below 73.0 and has ranked among the top 10 guards in five of the last six seasons. Left guard Will Hernandez has not developed as expected, grading at just 58.4 last year to rank 57th out of 89 qualifiers, though he could be a classic Year 3 breakout candidate after a dominant college career at UTEP. Center is the other big question mark for the Giants, as last year's starter Jon Halapio ranked just 32nd with a 56.3 grade. Spencer Pulley is in line to start, though he's never graded above 56.7 in his four-year career.
The Giants have some volatility up front heading into 2020, but with positive regression in a few areas — plus a boost from Thomas if he's as polished as expected — they could sneak into the top half of offensive line units this season.
DEFENSIVE LINE
The policy in New York under general manager Dave Gettleman has been getting bigger, tougher and meaner against the run on the defensive line.
Dexter Lawrence was their first-round pick a year ago, and Leonard Williams was acquired to add serious weight inside. Add Dalvin Tomlinson and B.J. Hill to the mix, and this team is awash with powerful run-stoppers. All four players earned a PFF run-defense grade above 70.0 last season, but none was a difference-maker as a pass-rusher.
Lawrence — all 342 pounds of him — had the best pass-rush grade of the four, but it was just 64.5. The former first-rounder had only 30 total pressures from 412 rushes, which falls into the category of "good for a nose tackle" but some way short of dominant overall.
Williams' pass-rushing grade improved after he was traded to the Giants (69.1 against 61.4), but he has never quite been the force people expected him to be when he was drafted.
The Giants are short on interior players who can truly pressure the passer and instead will rely on just squeezing the pocket. And that strategy that could work if they had plus play on the edge — the problem is that they don't have that proven commodity yet.
Lorenzo Carter has flashed that ability, while 2019 third-round pick Oshane Ximines has yet to show he can translate his college production to the NFL. Kyler Fackrell was also added to the mix, but again, his production has come in spikes and flashes at the NFL level, and he never managed to be a consistent threat during his time in Green Bay.
The Giants have a group of solid options but don't have much in the way of proven players who can get after the quarterback in a league that has never been more pass-happy.
LINEBACKER
Annually one of the NFL's lowest-graded linebacker units, the Giants were no different last year and graded at 54.5, good for 23rd in the NFL.
Blake Martinez is the biggest offseason addition after he racked up the tackles over the last few years with the Packers. Martinez has had a quirky career, both at Stanford and in the NFL, as he has a top-10 season against the run (2016) and in coverage (2018), though he has just one year with an overall grade above 70.0 (74.0 overall in 2018). Martinez is a solid player — though the tackle stats are misleading — and he's yet to put together a high-end season in all facets.
David Mayo was a bright spot last season, ranking second in the league with a 90.1 grade against the run, though he struggled to a 48.8 coverage grade. It was Mayo's first time playing more than 150 snaps in a season, and he made the most of it. Former fifth-rounder Ryan Connelly also returns after grading at 57.1 across 187 snaps as a rookie.
The Giants added a pair of linebackers in the seventh round in Tae Crowder and T.J. Brunson to round out the depth chart. This group's success will be determined by which Martinez shows up in his first year as a Giant as well as Mayo's development in his second year of extended action.
SECONDARY
James Bradberry is the big offseason addition to the Giants secondary, and while it's true that few cornerbacks have had a tougher job over the past few seasons, given the division in which he has had to ply his trade, he's also never quite lived up to the potential we saw as a rookie. Bradberry has consistently generated PFF grades in the 60s but has a rare skill set and should immediately look significantly better without needing to try and cover the likes of Julio Jones and Mike Evans twice a season.
DeAndre Baker struggled badly as a rookie and was beaten for eight touchdowns in total, though his future is somewhat up in the air, given the reported off-field troubles. Beyond Baker, the Giants would be turning to Sam Beal, who played fewer than 300 snaps last year, or one of either Corey Ballentine, Darnay Holmes, Chris Williamson or Montre Hartage. So, for as much as Baker struggled last year, the prospects of a season without him would not be good.
On the inside, Grant Haley was the team's slot corner in 2019, but he earned a PFF coverage grade of 48.3 and was beaten for a passer rating of 114.2 when targeted. And at safety, Antoine Bethea has now gone, leaving Julian Love to try and fight off rookie Xavier McKinney for playing time alongside Jabril Peppers. McKinney has elite versatility and was used much the same way as Clemson's Isaiah Simmons, though McKinney does come without the absurd size and measurables. Love played well last season, so it would be unfortunate if he were to lose time this year.
The Giants have the potential to feature one of the league's best offensive lines, but they can't do that unless Hernandez takes a step forward in his third year.
Hernandez was nearly flawless in pass protection in college, and he was also a mauler in the run game, though it's been a much shakier ride to this point in the NFL. He was better as a run-blocker as a rookie, while pass protection has been solid through two years. If Hernandez returns to form in the run game, look for a huge year from Saquon Barkley and for the Giants' offensive line to take another step forward as a unit.
DRAFT CLASS REVIEW
New York grabbed the top offensive tackle on the PFF Draft Board in Andrew Thomas and then added an excellent developmental option in Matt Peart in the third. Safety Xavier McKinney provides another versatile option to the secondary, while fourth-round cornerback Darnay Holmes got a Janoris Jenkins comparison in the PFF Draft Guide. The Giants got a good balance of short and long-term plays while boosting the offensive line and the secondary — it was a solid all-around draft.
BEST BET
According to our simulation, the Giants project for slightly over 6.5 wins, which is only just higher than the 6 they are currently being given in the betting market. However, the juice is considerably tilted toward the over.
The bet on the team making the playoffs bet is also accurately priced, at +380, with our simulation in line with the implied probability of 20.8%. This is another situation where the team-level bets have been bet into alignment, so it offers no real value on any current markets.
If player props are more your angle, then any bets related to Daniel Jones and the under would likely be bets that our projections would agree with. The market for passing touchdowns, which sits at 25.5, offers significant wiggle room, as our fantasy projections currently have this total right at 20.