Since general manager Chris Ballard took over prior to the 2017 season, the Indianapolis Colts have slowly transformed their roster with young players on both sides of the ball. They're primed to take another step forward in 2020, especially after adding quarterback Philip Rivers and veteran defensive tackle DeForest Buckner. The Colts are no longer a young upstart, as they feature the best offensive line in the league, a capable quarterback and a defense with playmakers at all three levels. The big question will be the development of young receivers for Rivers, who still has enough to offer if he has playmakers to throw to. The Colts are set up to compete in a wide-open AFC South.
Subscribe to PFF's EDGE or ELITE subscriptions to get access to the following tools, charts, etc. 
– All Premium Article Content
– Fantasy Football Rankings & Projections
– Fantasy Football Draft Guide, Cheat Sheets & Advanced Stats
– Fantasy Football Mock Draft Tool (DraftMaster)
– Fantasy Football Strength of Schedule Matrix
– NFL Player Grades
– NFL Premium Stats
ADDITIONS/SUBTRACTIONS
Additions/players brought back:
DI DeForest Buckner (via trade)
T Anthony Castonzo (re-signed for two years, $33 million)
QB Philip Rivers (one year, $25 million guaranteed)
CB Xavier Rhodes
DI Sheldon Day
Losses:
TE Eric Ebron
WR Devin Funchess
EDGE Jabaal Sheard
S Clayton Geathers
CB Quincy Wilson (traded)
QUARTERBACK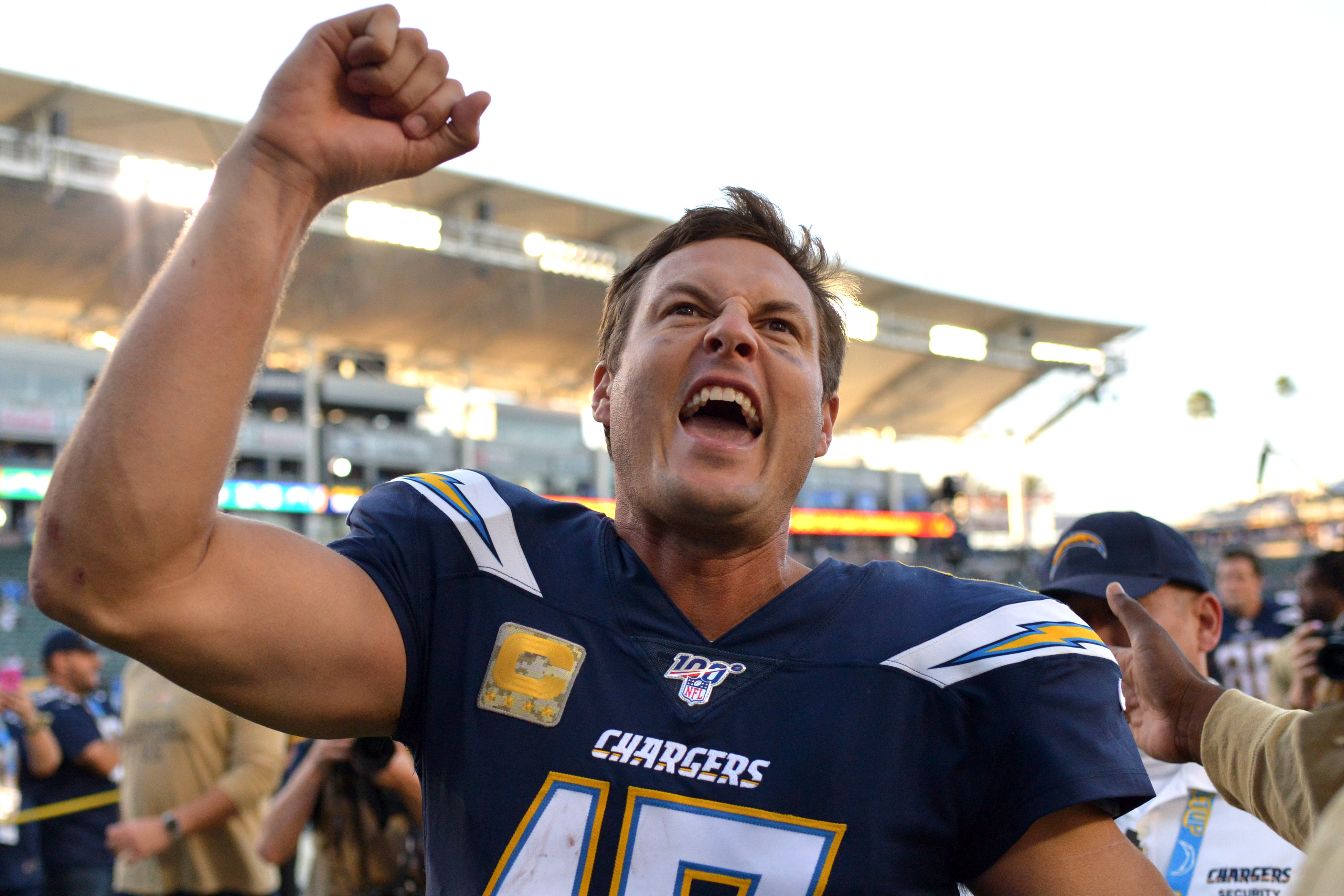 Here's what I said about Philip Rivers after the 2019 season:
After back-to-back seasons with a top-10 PFF grade, Rivers settled back in with the middle tier of quarterbacks in 2019. As with any older quarterback, questions have been raised about whether Rivers still has it, but he's been working with diminished tools for a few years now while still finding a way to succeed. The concern is Rivers once again ranking among the league leaders in turnover-worthy plays while experiencing the fifth-highest increase in total negatively graded throws this season. That volatile style is not new for Rivers, as he still ranked among the best in big-time throws while showing his usual anticipation when throwing to all levels of the field. Rivers has been playing behind terrible pass blocking for a few years now, but he's shown that he can still produce, especially if given a few more clean pockets to work from moving forward.
It will be a new world for Rivers in 2020 — he's playing behind a good offensive line for the first time in years, and having a bigger pocket to maneuver around should work wonders. Rivers has been battling diminished arm strength, but playing indoors with the Colts should help, and it's not like he wasn't capable of getting the ball downfield to his playmakers with the Chargers.
That's where things are different this season; Rivers leaves one of the better receiving units to throw to a corps that consists of T.Y. Hilton plus young question marks. If the youth develops, Rivers playing indoors behind a strong offensive line should put the Colts in position to win plenty of games, and it would not surprise to see another one-year rejuvenation to his career.
RUNNING BACK
With a strong offensive line in place, Marlon Mack and second-round pick Jonathan Taylor are primed to benefit. Mack has been one of the best runners in the league since 2017, posting an 81.8 rushing grade and averaging an impressive 2.9 yards after contact per rush. He uses his above-average burst to get into the secondary and create big plays, as he has the 10th-highest percentage of breakaway (15-plus yards) runs since entering the league.
Taylor adds a nice complement as perhaps the best all-around runner in this year's draft class. He had an incredible three-year run at Wisconsin, grading at 95.3 as a rusher while averaging 4.2 yards after contact per rush. Like Mack, Taylor excels in any scheme, giving the Colts one of the NFL's most versatile duos from a run-game perspective.
The only question is in the pass game, where Mack has never graded above 53.8 and Taylor has the third-highest drop rate of NFL caliber running backs to come out in recent years. That's where Nyheim Hines is still useful — he has caught 107 passes over the past two years. The Colts have one of the best all-around backfields in the NFL.
WIDE RECEIVER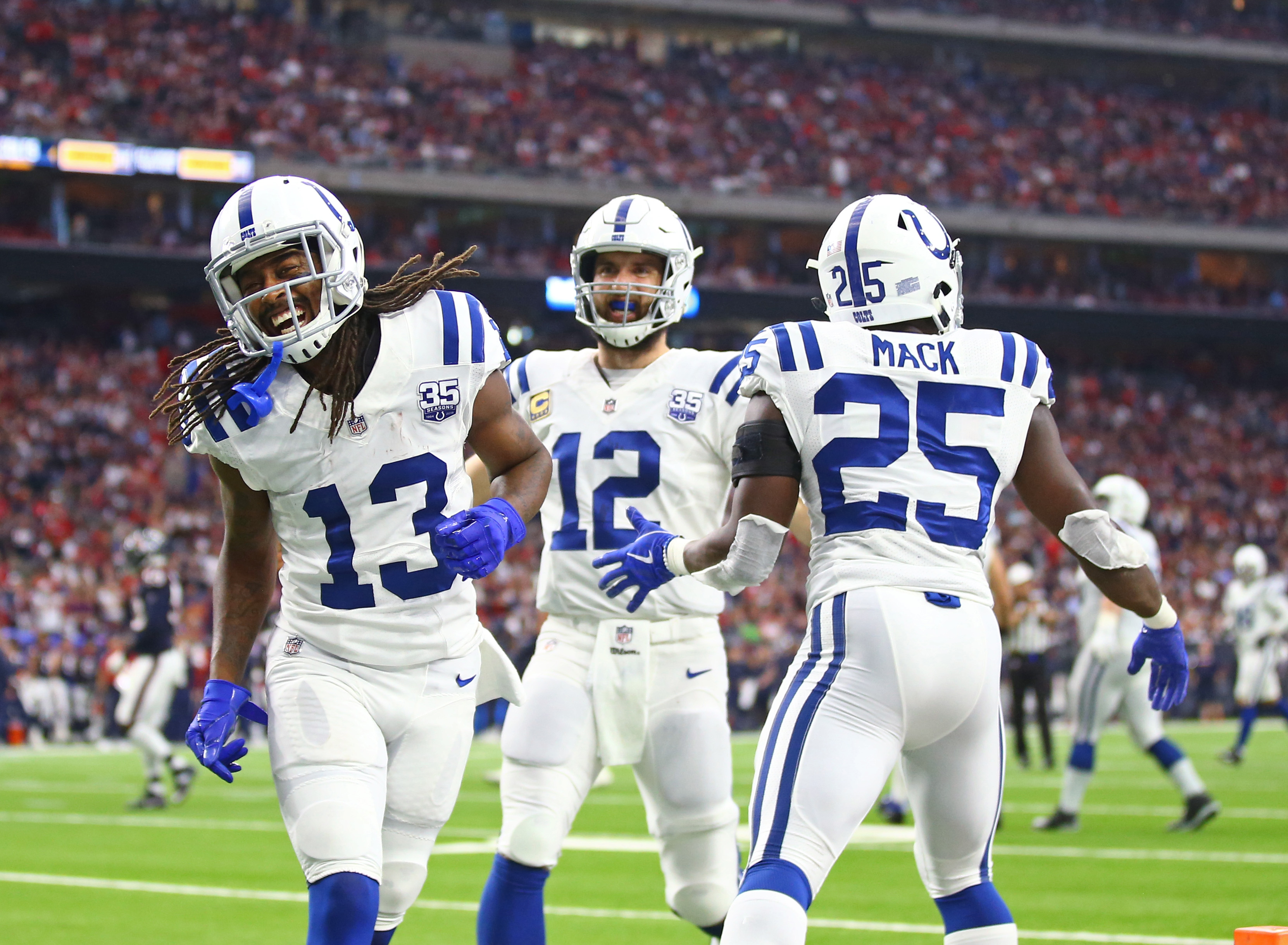 Only three teams had a worse receiving grade than the 64.0 mark posted by Colts receivers during the regular season, and this unit will have a massive impact on the team's prospects in 2020.
T.Y. Hilton is the No. 1, a speedy outside receiver with five 1,000-yard seasons under his belt. Hilton was banged up last season and played in only 10 games, but he's one year removed from ranking fourth in the league in yards per route at 2.54 in 2018. The Colts drafted a fine complement to Hilton in second-rounder Michael Pittman, Jr. out of USC, a big-bodied possession receiver who has dropped just four passes over the past two seasons.
Pittman's 6-foot-4 frame is a good fit for quarterback Philip Rivers, who has had great success throwing to bigger receivers through the years — and he'll have plenty of opportunities to use his size at the short and intermediate levels. Pittman's presence takes some pressure off 2019 second-rounder Parris Campbell, who is at his best as an after-the-catch threat. Campbell ran a 4.33-second 40-yard dash and averaged 9.4 yards after the catch per reception during his college career at Ohio State, but he lacks the polish and route running to be a true No. 2 receiver as of now.
Fourth-year receiver Zach Pascal is also in the mix after posting a strong 71.4 receiving grade to go with 607 yards and four scores a year ago. He did most of his damage at the short and intermediate levels, and at 6-foot-2, he could become an early favorite for Rivers. The Colts need their big targets to emerge and Hilton to get back to form to rank among the top receiving units in the NFL.
TIGHT END
The Colts were able to rejuvenate Eric Ebron's career, and he combined with Jack Doyle to form a productive tight end pair over the past two years. With Ebron moving on to Pittsburgh, Doyle is once again the top option at tight end. He's a solid, sure-handed option who caught a career-high 80 passes in 2017, his last season as the No. 1 tight end. Doyle is also one of the better run blockers in the league, ranking 11th with a 68.2 grade last season.
The Colts brought in Trey Burton this offseason — a player who is two years removed from a career-high 569 yards and six touchdowns. If healthy, Burton is a fine No. 2 option who can move around the formation. Mo Alie-Cox and Matt Lengel round out the depth chart with 15 and five career receptions, respectively.
The Colts won't be winning in the pass game through their tight ends, but Doyle and Burton are a solid pair who should create a good safety net for Philip Rivers underneath.
OFFENSIVE LINE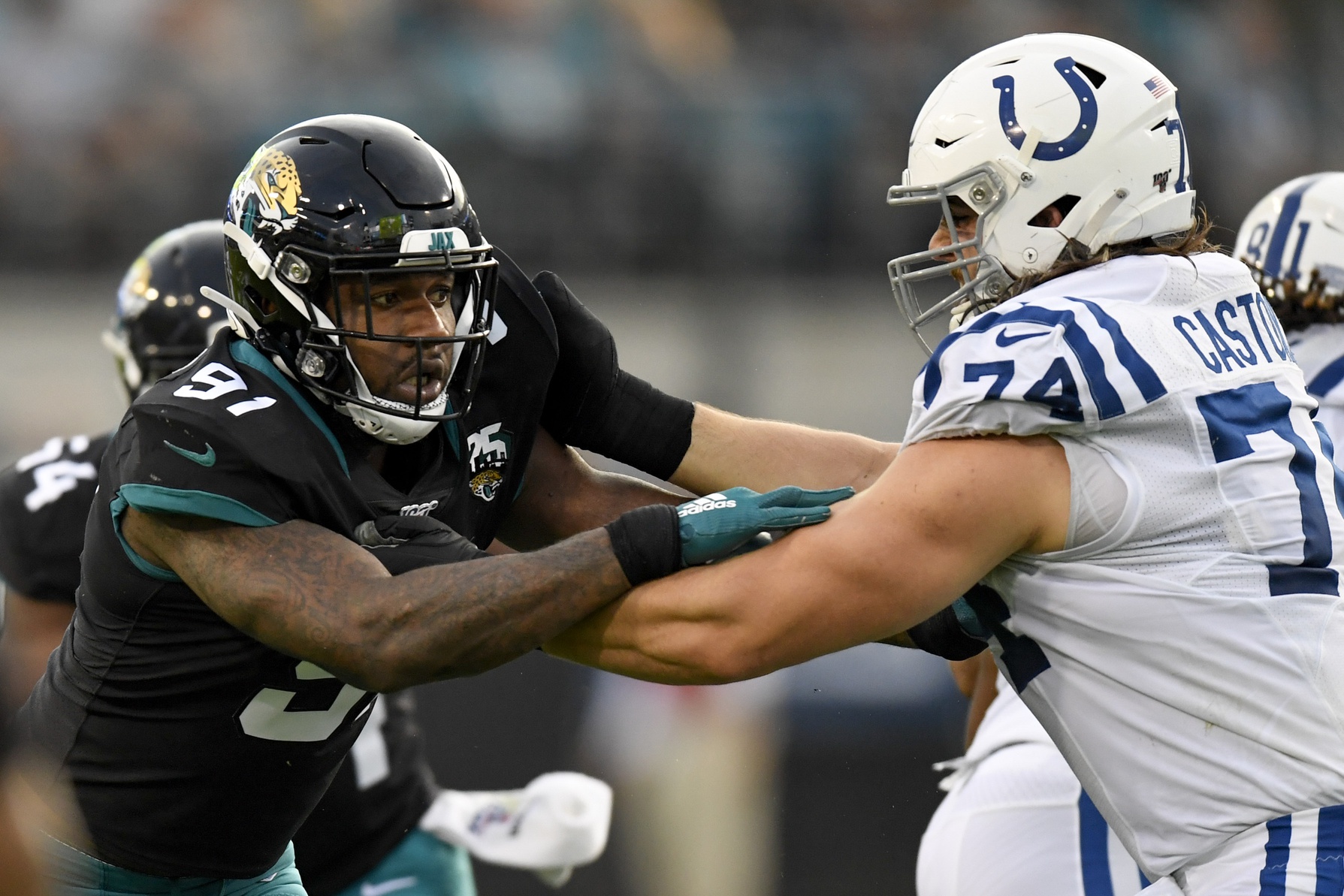 Last year's No. 3 offensive line remains intact for 2020 and is primed to repeat as one of the league's best. The only question mark coming into the offseason was left tackle Anthony Castonzo, but he re-signed for two years to solidify the Colts' continued success up front. Castonzo is one of the more underrated players in the league, grading between 76.9 and 84.2 in each season since 2012. Castonzo's 81.3 overall grade last season tied for seventh in the league, as he ranked in the top 16 as both a pass-blocker and a run blocker.
At right tackle, Braden Smith has made a rare transition from college guard to NFL tackle, and he's been fantastic in his first two years in the league. He finished No. 9 overall among tackles last season, including the No. 4 mark as a run blocker.
At left guard, Quenton Nelson is among the best guards in the league and is already making his mark as one of the top overall players in the NFL after two outstanding seasons to start his career. Nelson had the No. 2 run-blocking grade and the No. 7 pass-blocking grade in 2019, as his combination of power, quickness and technique have him on a Hall of Fame path despite entering just his third NFL season.
On the other side, right guard Mark Glowinski has come on strong over the past two years, but he's a far better run blocker than pass-blocker. He gave up 42 pressures during the regular season in 2019, the fourth-most in the league.
Center Ryan Kelly ranked eighth at the position last season with a 73.0 overall grade, giving the Colts four out of five starters ranking in the top 10 at their respective positions. With all five starters returning, Indianapolis will be in the running to rank as the league's best offensive line.
DEFENSIVE LINE
The Colts' defensive front will be anchored by their big offseason acquisition, DeForest Buckner, brought over from San Francisco in a trade that cost the team its first-round pick. Buckner signed a big-money extension and will be expected to alter the entire dynamic on the defensive line. Buckner has four-straight solid to good NFL seasons and has racked up 208 total pressures across those four years. He is a rare athlete in terms of size (6-foot-7, 300 pounds) and length, and is good against both the run and pass. His best season came back in 2017, but he has been a consistently positive force for the 49ers and should be again for the Colts this season.
Veteran edge rusher Justin Houston was quietly back to something like his best last season for the Colts, aided by a reduced role that helped keep him healthy and let him focus on getting after the passer. Houston had a top-10 pass-rushing grade (81.9) and generated 60 total pressures on the year despite playing nearly 150 fewer snaps than the year before and 300 fewer than the season before that.
Houston is still likely to be the team's primary source of pressure off the edge, though Kemoko Turay had absurd numbers in a tiny sample size last season before getting hurt, notching 14 pressures on just 69 pass-rushing snaps and registering a 91.3 PFF pass-rushing grade. Turay might have just caught lightning in a bottle for a few weeks, but he could be a surprise force for the Colts if he can come back the way he left off.
Depth is a concern for this defensive front. Outside of those star players of whom much is expected, there is a lot in the way of journeymen and average starters. Denico Autry, Al-Quadin Muhammad and Grover Stewart all return, but the highest PFF grade among the group in 2019 was Autry's 71.0 mark.
Jabaal Sheard was let go after suffering a steep decline last season, but even that deterioration leaves 42 pressures out of the picture. Ben Banogu was the team's second-round pick a season ago, but his rookie year was ugly, resulting in just a 49.0 grade and only 17 total pressures on 181 pass rushes. The team needs him to take a major step forward in 2020 if this unit is to be better than average.
LINEBACKER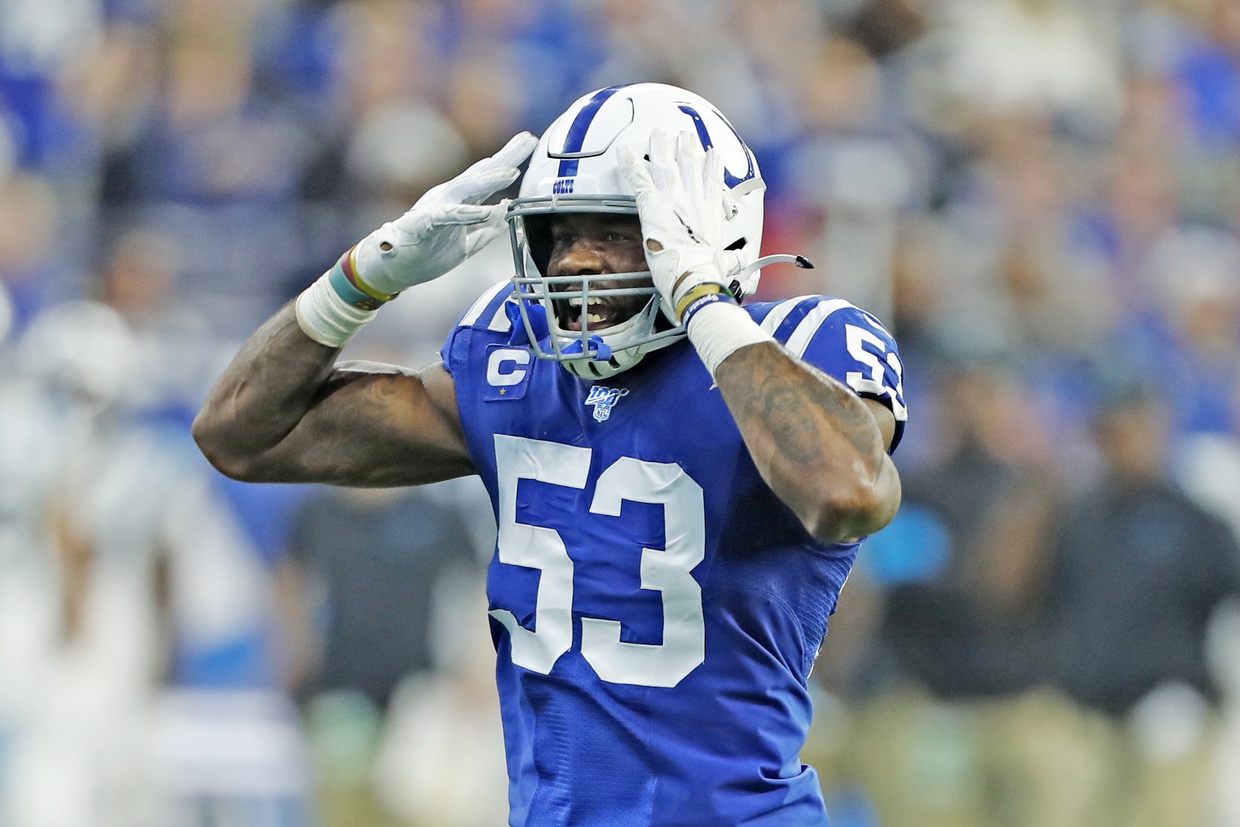 The Colts have one of the better linebacker groups in the league, led by Darius Leonard, who was selected in the second round of the 2018 NFL Draft. Leonard has the sixth-ranked grade among linebackers over the past two years and has missed just 5.6% of his tackles, good for seventh-best. A true three-down linebacker, Leonard has graded well in all phases, and his length has fit well in the Colts' zone-heavy scheme.
Indianapolis added more length with 2019 third-rounder Bobby Okereke, who is slated to start next to Leonard after seeing 472 snaps last season in which he graded at 77.3. Both Okereke and Leonard have 97th-percentile arm length among linebackers, and that length compresses passing lanes in the middle of the field. Anthony Walker is the other projected starter and is coming off his best year in coverage, posting a 73.3 grade. The issue for Walker is his 40 missed tackles over the past two seasons, which showed up in his 43.5 grade against the run that ranked just 87th among linebackers last season.
E.J. Speed, a 2019 fifth-rounder, adds depth as an athletic backup, and Matthew Adams also returns after back-to-back years grading in the 50.0s on 332 total snaps. A couple of years ago, the Colts had one of the worst linebacker units in the league. Now, they have one of the best.
SECONDARY
The outlook for the Indianapolis Colts' secondary rests largely in the hands of young players the team has added over the past couple of seasons, but they did bring in a veteran insurance policy in Xavier Rhodes from the Vikings. At his best, Rhodes was a top man corner in the NFL, but his best play is some way in the rearview mirror. In 2019, he allowed a 127.8 passer rating when targeted and an ugly 84.3% of passes thrown his way to be caught — numbers that only got worse in the playoffs. Unless Rhodes can show some signs he is returning to his best play, he isn't much more than a supplementary option after the young players, but he is one with intriguing upside.
T.J. Carrie also gives the team another veteran insurance policy at corner. Pierre Desir's departure opens up a starting spot from last year, and the team will look for Marvell Tell III to show enough to claim that spot. Tell played 254 snaps as a rookie and had a solid 67.6 PFF grade. Given that he was converting from safety in college at USC, those early signs were encouraging, though a truncated offseason won't help his cause.
Former second-rounder Rock Ya-Sin will be expected to step up and become a true No. 1 corner after a solid rookie season in which he was a starter all season. He surrendered two touchdowns on 56 targets and had solid grades across the board. Kenny Moore II was the best-graded member of the secondary a season ago and should remain their slot corner in 2020. Moore has improved every season of his career so far and will provide a chance for other young corners to focus on their specific roles as perimeter corners.
At safety, the duo of Khari Willis and Malik Hooker remains, and the departure of Clayton Geathers opens up snaps that could be claimed by rookie third-round pick Julian Blackmon. The Colts played around 200 snaps of dime defense last season, so depth is more important for them than it is for other teams, and that is one concern for the team on paper.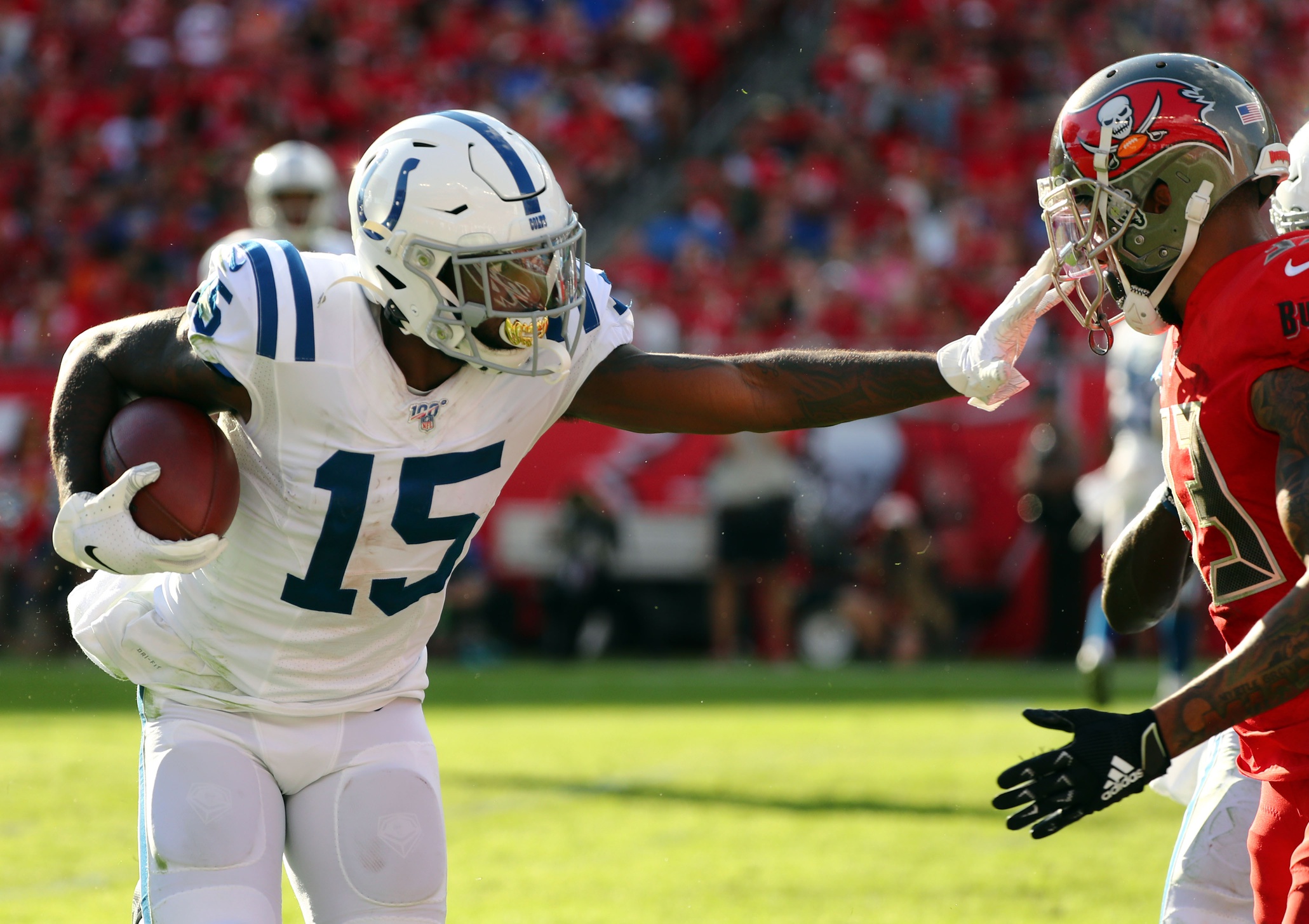 While adding Pittman to the receiving corps takes pressure off Campbell, his development as a receiver could take the unit to the next level. He came out of Ohio State as more of a gimmick receiver, but with 4.3 speed, the Colts would love for him to develop into more than just a screen/jet sweep option.
Last season, Campbell caught 18 passes for 127 yards — with 109 of those yards coming after the catch. The Colts will play to his strengths, but this offense is even more dangerous if Campbell can also use his speed on the outside to occasionally get behind the defense.
DRAFT CLASS REVIEW
The Colts didn't have a first-round pick, but they added skill position players with each of their second-rounders in wideout Michael Pittman Jr. and running back Jonathan Taylor. Both players have an immediate role in an offense that needs more playmakers. There are also longer-term plays in third-round safety Julian Blackmon, who suffered an ACL injury late last season, and big-armed fourth-round quarterback Jacob Eason, who just started living up to his potential last season. Keep an eye on fifth-round guard Danny Pinter, a former tight end who has starting potential down the road. 
BEST BET
Philip Rivers was once again overshadowed by Tom Brady this offseason, but landing in Indianapolis flipped sentiment from betting markets. The Colts are now favored to win the AFC South and are the fourth-most likely AFC team to reach the Super Bowl. Our simulation shades under for their win total while making their playoff odds at 45.6%. At their current sky-high price, the Colts seem untouchable from a betting perspective, with our simulation pricing their current market as an overcorrection. We lean toward the Texans in this division given the current prices.