It was a rough 2019 season for the Cincinnati Bengals as they ultimately ended up with the No. 1 overall pick of the 2020 NFL Draft, but there's hope in the Queen City that rookie quarterback Joe Burrow is the right man to turn things around.
Burrow's high-end potential — combined with additions at wide receiver and in the secondary — should immediately have the Bengals looking more competitive in 2020. However, there's still more rebuilding to be done, from the offensive line to the see-what-sticks approach in the secondary, so hope plus patience may be the theme for the 2020 Bengals.
ADDITIONS/SUBTRACTIONS
Additions/players brought back:
WR A.J. Green (franchise tag)
CB Mackensie Alexander (signed for one year, $4 million)
DI D.J. Reader (signed for four years, $53 million)
CB Trae Waynes (signed for three years, $42 million)
Losses:
DI Andrew Billings
CB Darqueze Dennard
T Cordy Glenn (cut)
LB Nick Vigil
G John Miller (cut)
CB B.W. Webb
TE Tyler Eifert
CB Dre Kirkpatrick
QUARTERBACK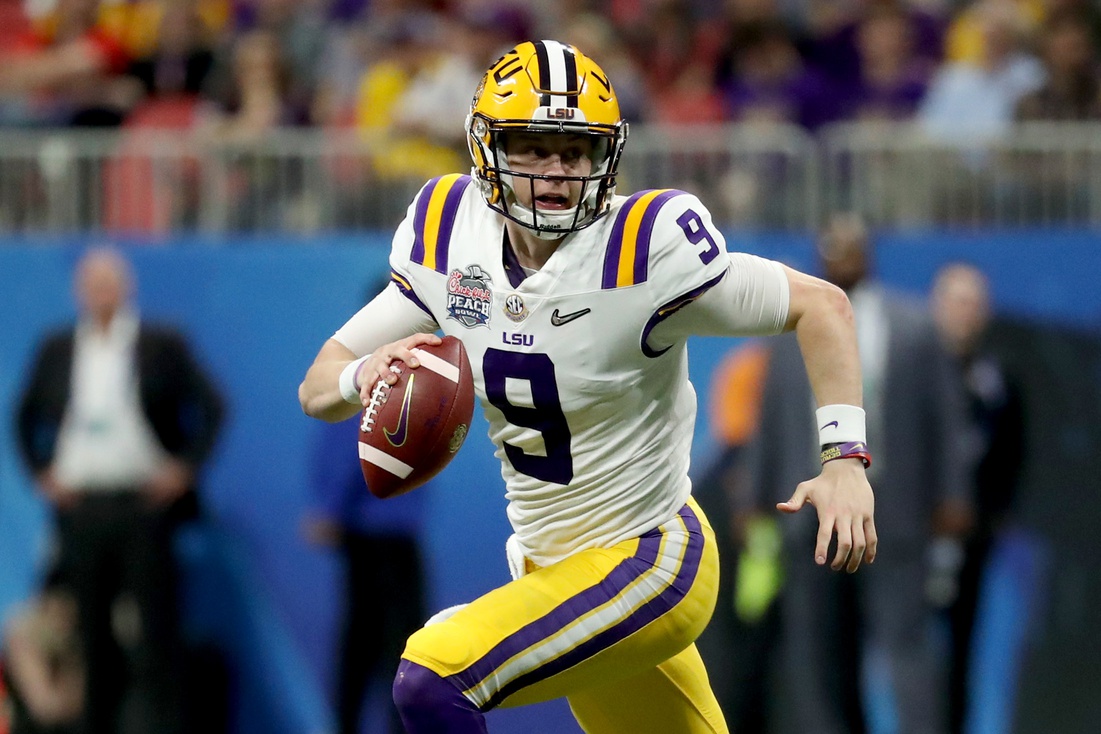 It's a new era in Cincinnati, with No. 1 overall pick Joe Burrow taking over after posting the highest single-season grade of the PFF College era. Burrow's accuracy, pocket presence and overall playmaking ability made him the best prospect in the draft, and he has the skill set to produce at the next level.
While Burrow was certainly surrounded by outstanding talent at LSU, his 2019 season might be the best in college football history — he never had a down game and he elevated his play as the season progressed.
And that may be the most encouraging sign for the Bengals, as Andy Dalton was a fine quarterback for many years, but Burrow has higher-end possibilities and has shown the ability to rise to the occasion in crunch time. Drafting Burrow was the right move for Cincinnati; now it's just a matter of continuing to build the offense around him.
RUNNING BACK
Last season, Joe Mixon continued his progression into more of a bell cow, ranking fifth in the league with 278 carries and finishing with the No. 14 rushing grade among running backs with at least 150 carries.
Mixon's vision and burst have helped him create breakaway runs (runs of 15-plus yards) at the 14th-best rate among 71 qualifiers since 2017, but his production has been hurt by the Bengals ranking as a bottom-eight run-blocking unit in each of his three seasons. Mixon has three strong years of grading under his belt, and he'll be even more dangerous with improvement up front.
Giovani Bernard returns as the backup, and he'll be looking to return to normalcy after he had his string of four high-60s grades broken up by a 51.8 mark over a 2019 season that saw him fumble four times on just 83 touches. A pair of 2019 sixth-rounders, Trayveon Williams and Rodney Anderson, will then compete for snaps behind Mixon and Bernard.
Mixon has developed into one of the league's best backs, and the Bengals have solid depth assuming a bounce-back season from Bernard.
Cincinnati Bengals: PFF run-blocking grades and ranks, 2017-19
| | | |
| --- | --- | --- |
| Year | Run Block Grade | Rank |
| 2017 | 56.3 | 28 |
| 2018 | 56.3 | 25 |
| 2019 | 46.8 | 31 |
WIDE RECEIVER
The big question for the Bengals' receiving corps heading into 2020 is A.J. Green's health and long-term prospects. The superstar has played only 458 snaps over the past two years, and even if healthy, he'll be 32 years old at the start of the season. Green has been one of the league's best wideouts since 2011, producing six top-10 finishes in PFF WAR (wins above replacement) among wide receivers. If Green is healthy, he's a vertical and red-zone threat who can ease quarterback Joe Burrow's transition to the NFL.
The Bengals hope they got the next Green in second-round pick Tee Higgins out of Clemson. Higgins has spectacular body control, and his ability to win along the vertical route tree should mesh well with Burrow's ability to put the ball where his receivers can make plays. Tyler Boyd has emerged as one of the league's best options in the middle of the field, where his 1,304 yards rank seventh among receivers over the past two years. Boyd has shown the ability to produce without great complements around him, and the prospect of having Green return and/or Higgins in the mix on the outside should excite Bengals fans.
There's even more size with Auden Tate, who leads the NFL with 37.8% of his targets being "contested" over the past two years. Tate doesn't separate well, but he can make plays even when covered. That leaves John Ross, the former top-10 pick who cycles between tantalizing and disappointing. Ross has the speed and quickness to instill fear in opposing defenses, but inconsistent hands and route running continue to let him down. He'll take one more shot at becoming a legitimate deep threat in this offense before another team looks at him as a reclamation project in 2021. There's a wide range of outcomes for this Bengals receiving corps in 2020, with their prospects hinging on Green's health, Higgins' transition to the NFL and Ross' performance in a contract year.
TIGHT END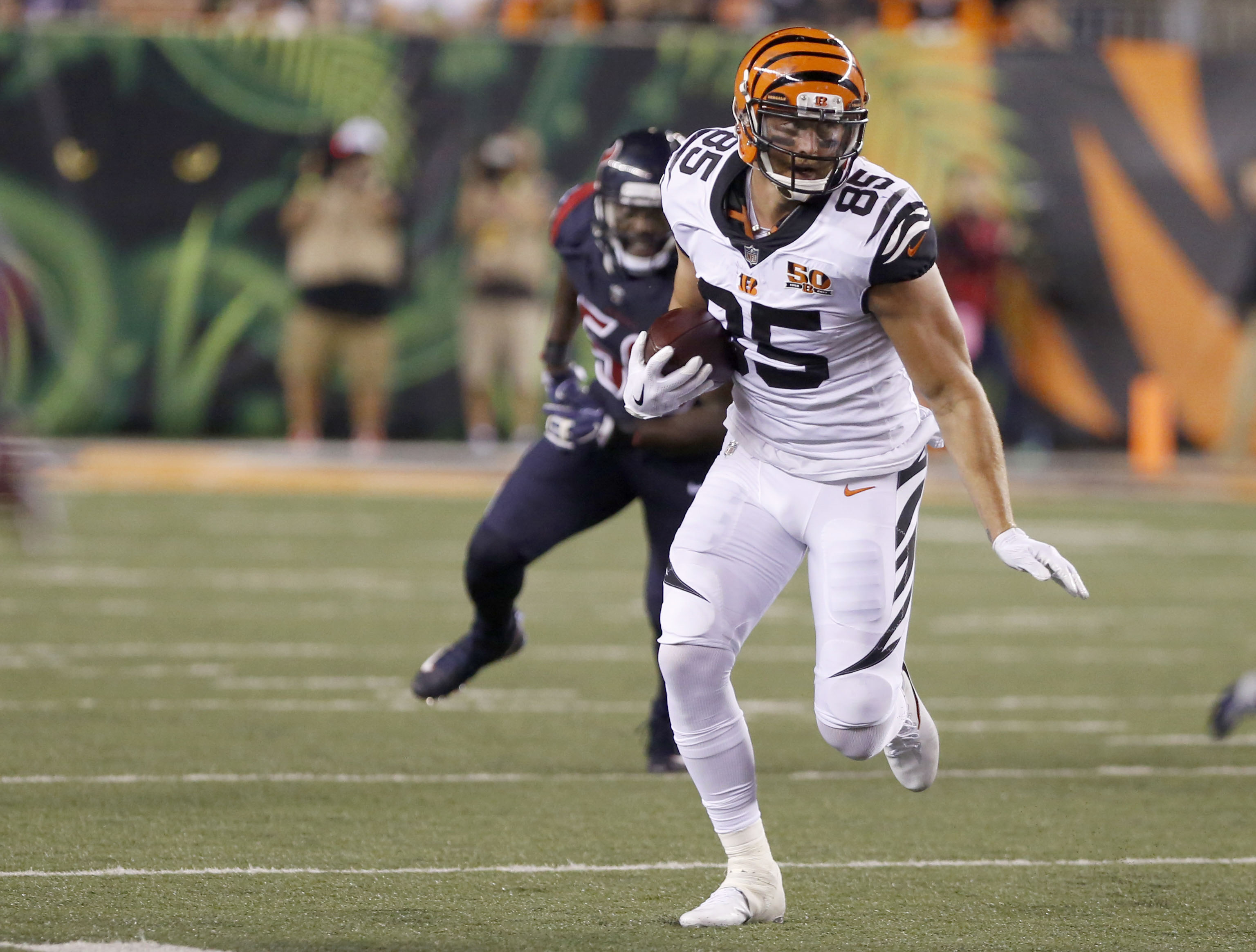 Last season, we finally saw Tyler Eifert for a full season, though he certainly didn't get back to his incredible 2015 performance that had him looking like one of the best young tight ends in the league. Eifert moves on to the Jaguars after seven years with the Bengals, and that leaves 2019 second-rounder
Drew Sample as the projected starter. Sample played just 108 snaps last season. In college, he was a better run blocker than a receiver, never grading higher than 61.6 in the latter area. C.J. Uzomah hasn't had a receiving grade better than 60.0 since 2016 and, like Sample, he usually does his best work in the run game.
Beyond the top two, the Bengals have only four other career receptions from tight ends on the depth chart, so the position is a huge question mark when projecting pass-game production in 2020.
OFFENSIVE LINE
Only two teams had a worse offensive line than the Bengals last season. The good news is the return of 2019 first-rounder Jonah Williams, whose lost season due to injury led to Cordy Glenn, John Jerry, Andre Smith and Fred Johnson all playing at least 130 snaps at left tackle in 2019.
Williams was a polished college player who finished with the nation's third-best overall grade (89.2) in 2018. Even in his first year of action, he should bring some stability to a position that has had issues since the departure of Andrew Whitworth after the 2016 season.
The rest of the line has plenty of question marks, including right tackle Bobby Hart, who did take a step forward in pass protection last season but has still been well below average in his four seasons as a starter (109th out of 151 qualifiers on true pass sets). Hart has also ranked as a bottom-10 run-blocker in each of his last two seasons.
At left guard, both Michael Jordan and Billy Price graded in the 40s and ranked among the bottom six guards last season, and they'll both be in the mix to start again. Xavier Su'a-Filo joins the three-way competition after posting his highest grade since 2016, a 60.1 mark that came on only 307 snaps. Jordan, Price and Su'a-Filo will battle for the two starting guard spots in what looks like one of the worst situations in the league unless two of the three improve quite a bit.
 Trey Hopkins earned a career-high 62.4 grade at center last year, but even that still ranked just 24th among players at the position. Even with Williams' return, the Bengals have only marginally improved up front this offseason.
DEFENSIVE LINE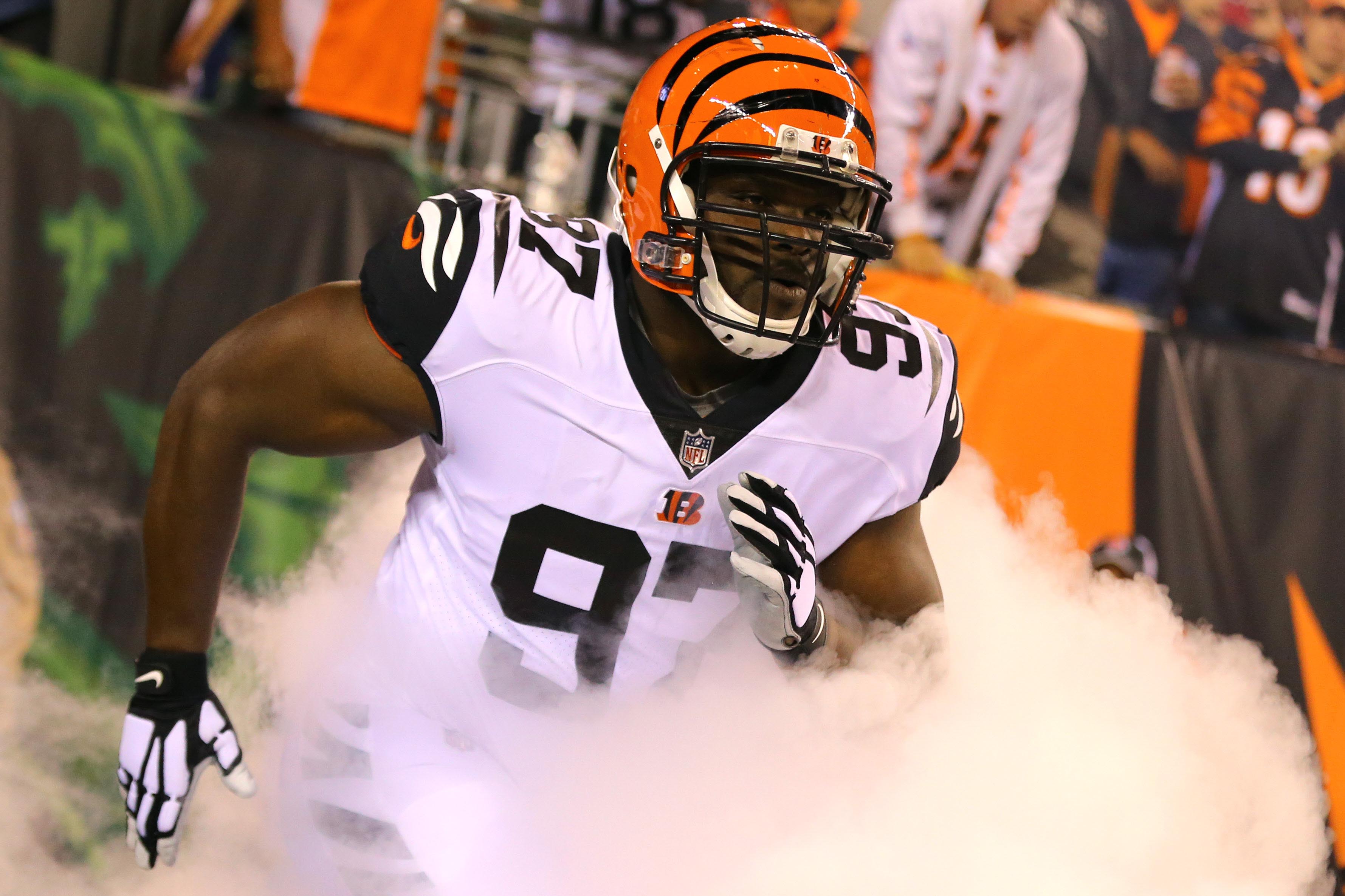 The Bengals' defensive line remains anchored by Geno Atkins and Carlos Dunlap, two of Cincinnati's best players over the past decade, but the team does have some more interesting pieces in 2020.
Atkins is coming off his least effective season since tearing his ACL back in 2014 and may just have hit the decline of his great career. Atkins' 53 total pressures a season ago were the fewest he has totaled in a season since that 2014 season, and the Bengals will be hoping he can bounce back to his baseline this year.
Dunlap quietly put together a career year in 2019, leading the team's defensive linemen in PFF grade (89.7) and grading well in all facets of play. His 36 defensive stops were the most he had recorded over a single season since 2014, and he ended the season on fire with 30 pressures over his final five games.
They are joined by free agent acquisition D.J. Reader, who showed in Houston last season that he can be more than just a run-stuffing nose tackle. Reader was asked to rush the passer more than any previous year of his career, and he responded with a career-best PFF grade and a dozen more total pressures than he had in any season previously. The former Texan should provide the team with the impact alongside Atkins that Andrew Billings never quite could.
On the edge, Carl Lawson's play fell away last season, and he earned a career-low PFF grade (55.5) while notching just 35 total pressures on 268 pass-rushing snaps. Sam Hubbard was more effective, but he had a massive 412 opportunities to rush the passer to get his 49 pressures.
The depth on the defensive line has been an issue, and the Bengals would dearly love one of their young players to take a big step forward and provide a consistent impact alongside the proven commodities they expect to be difference-makers. Lawson and Hubbard have the clearest path to doing that, but players like Renell Wren or rookie Khalid Kareem could force their way into a contributing role.
LINEBACKER
The Bengals linebacking corps has the lowest grade in the NFL over the last two years, and they have heavily addressed the position in the draft over that span.
They drafted Germaine Pratt in the third round of the 2019 draft, but he struggled to a 51.0 overall grade as a rookie. And Jordan Evans was showing signs that he could turn around his coverage woes after two years of grading in the 30s, but he was limited to just 76 snaps last season.
Pratt and Evans will compete with third-round pick Logan Wilson and fourth-rounder Akeem Davis-Gaither. Wilson has an old-school build; he can play the run and looked good in Wyoming's simple coverage schemes. Davis-Gaither played more of a hybrid role at Appalachian State, rushing the passer 190 times to go with 316 snaps in coverage, and he's a smooth mover who should add subpackage versatility, though he must improve his tackling after missing 33 tackles over the last two years.
Josh Bynes also comes over from the Baltimore Ravens, where he posted a career-high 80.0 overall grade across 428 snaps last season. He's done his best work against the run, grading at 70.0 or better in all but one year of his eight-year career. It's still not the most exciting linebacking corps in the league, but the Bengals have intriguing youth combined with veteran role players who should make this unit better.
SECONDARY
The Bengals recently imported two intriguing options at cornerback, with Trae Waynes and Mackensie Alexander both joining the team in free agency. They combine with William Jackson III to give the team an interesting group.
Jackson needs a bounce-back season after seeing his overall PFF grade decline in each subsequent season after a spectacular first season of play in 2017. That year was one of the greatest statistical seasons we have ever graded — he allowed a completion rate of just 34.9% and a passer rating of 36.1 — but he hasn't come close to replicating it since.
Waynes was seen as a disappointment in Minnesota because he was once the No. 11 overall pick in the draft, but he has been a consistently solid starting corner for his entire career, grading in the 60s in every single season. Alexander, meanwhile, was just starting to find his feet as a slot corner in the Vikings' defense, also grading above 60.0 in each of the last two seasons.
The new imports will battle with Darius Phillips, who has shown flashes of high-end play in limited snaps. If all goes well, this cornerback group will be a massively improved unit.
At safety, Jessie Bates III and Shawn Williams are both solid starters, though neither is coming off a strong year, with the highest PFF grade between them being the 61.4 that belonged to Bates last year. If they can get back to their best play, the Bengals could have one of the best secondaries in the league.
DEVELOPMENT NEEDED: JONAH WILLIAMS
We've yet to see Williams take an NFL snap, but there's no doubt that his performance will be crucial for Cincinnati's success this season. Given the weaknesses along the rest of the offensive line, stability at left tackle is a must, and Williams' ability to hit the ground running will be a big factor in Joe Burrow's rookie-year success. Williams had above-average marks on true pass sets in college, though he was below average at avoiding negatively graded run blocks, so he projects as a solid pass-protector who may take some time to get going in the run game.
DRAFT CLASS REVIEW
After selecting Burrow with the first overall pick, the Bengals added WR Tee Higgins to give him a big-bodied downfield target. The rest of the draft attacked a need at linebacker and added depth along both lines.
The key to the draft is the Burrow-Higgins connection. Higgins' development is the story to watch, however, as Cincinnati had their pick of many good players at that spot but went with the best catch radius in the draft to help Burrow.
BEST BET
The Cincinnati Bengals making the playoffs is the best long shot bet still on the board, according to our recent studies — our simulation probability is almost 10 percentage points higher than the current implied betting market probability.
Seven teams will enter the AFC playoffs, but a log jam is expected after the top two teams. If the AFC East sends only one team, the Bengals could easily sneak in if Burrow performs close to expectation.