It's truly rare to see rookies perform at the elite levels that Justin Jefferson, Tristan Wirfs and Chase Young were at in 2020. The reality is, rookie performance isn't as important in predicting a player's career outcome as Year 2. Breakouts typically occur in that sophomore campaign, and there are several prime candidates from the 2020 NFL Draft class to take the next step in 2021.
With the help of PFF's advanced database that is available to PFF EDGE or ELITE subscribers, we're going to highlight six rookies who are in some of the best positions to have big second-year leaps.
Round (Selection): 1 (15th)
What went wrong in 2020: Jeudy had a bad case of the yips in 2020. He caught just 76.5% of his catchable targets on the year, the worst rate in the NFL. And of the ones he didn't catch, 17.6% went down as a drop. Jeudy had a fairly high target volume, with over 110 passes thrown his way, so this is not good. As a matter of fact, his drop rate is the fifth-worst since 2010 among wide receivers with at least 100 targets in a single season.
Worst single-season drop rate | WRs since 2010 (min. 100 targets)
| | |
| --- | --- |
| Player, Team, Year | Drop % |
| Greg Little, Cleveland Browns (2011) | 22.9% |
| Amari Cooper, Oakland Raiders (2015) | 20.0% |
| Donnie Avery, Indianapolis Colts (2012) | 20.0% |
| Pierre Garcon, Indianapolis Colts (2010) | 19.4% |
| Jerry Jeudy, Denver Broncos (2020) | 17.6% |
Jeudy dropped five balls alone against the Los Angeles Chargers in Week 16, the most by a player in a single game over the past five years. That put a damper on his overall production and PFF grade. Jeudy generated 1.66 yards per route run and a 64.8 receiving grade, both of which sat outside the top 50 at his position.
Why they are going to break out in 2021: On top of the drops, poor quarterback play limited Jeudy's production. No receiver had a higher rate of their targets result in a quarterback-fault incompletion this season than the rookie. The Alabama product also racked up the most targets on which he created separation that resulted in a quarterback-fault incompletion.
However, it's worth noting that drop rate is one of the most unstable metrics at the wide receiver position. Despite Jeudy's struggles, we saw the same elite route-running chops, deep speed and quickness at the line of scrimmage against press coverage that made him such a highly touted prospect coming out of college.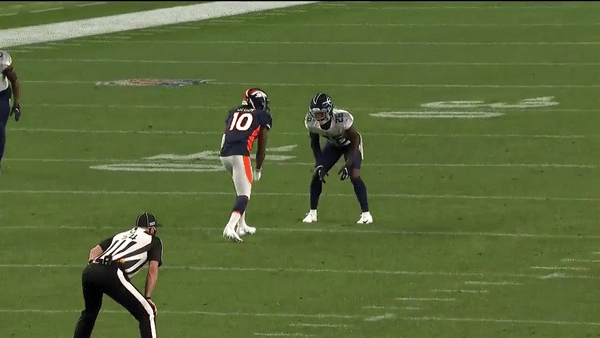 His 2021 production is still going to be skewed by whichever quarterback Denver trots out, but regardless, I'd bet the farm Jeudy becomes a top-10 wide receiver in the years to come.
Round (Selection): 2 (50)
What went wrong in 2020: Johnson, like most rookie cornerbacks, endured an up-and-down season in Year 1. He broke up 13 passes in 13 games but also allowed 14 catches to result in a gain of 15-plus yards. A lot of the latter came in zone coverage, leading Johnson to rank fifth-to-last in zone coverage grade among outside corners. That is quite the opposite of what we saw from him at Utah, where he established himself as one of the most instinctive players in the country and made numerous impact plays in off-zone coverage.
Why they are going to break out in 2021: Cornerback has the steepest learning curve from college to the NFL. The biggest thing you want to see from a rookie like Johnson is holding up at the line of scrimmage and not getting burnt in man coverage. And that's where he impressed in 2020. His coverage grade among outside corners in man coverage was the second-best in the NFL.
Among rookie outside corners over the past five years, Johnson finished fifth in man coverage grade — behind J.C. Jackson (2018), Marshon Lattimore (2017), Tre'Davious White (2017) and Denzel Ward (2018). And Johnson recorded a 21.2% forced incompletion this season, the best mark by a rookie outside corner in the PFF era (since 2006).
Highest forced incompletion % | rookie outside CBs since 2006
| | |
| --- | --- |
| Player, Team, Year | Forced Inc. % |
| Jaylon Johnson, Chicago Bears ('20) | 21.2% |
| Jamel Dean, Tampa Bay Buccaneers ('19) | 21.1% |
| Marlon Humphrey, Baltimore Ravens ('17) | 20.3% |
His zone awareness is bound to improve in the next couple of years. He held up better than any other rookie in man coverage this season and has flashed all the signs of taking a big step forward in 2021.
Round (Selection): 1 (4th)
What went wrong in 2020: Thomas slotted in second-to-last in pass-blocking grade among left tackles in 2020. He gave up 14 more pressures (57) than any left tackle in the league and also surrendered more sacks (10) than anyone at the position. Thomas allowed four or more pressures in over half of his games this season. Early on in the season, he was getting impatient and would immediately pop out of his stance. The fourth overall pick overall had exceptionally poor timing, and that led to a lot of lost reps. 
Why they are going to break out in 2021: Things did take a turn for the better for Thomas in the middle of the year. While he was still imperfect, we weren't seeing him extend on his punch in pass protection as often as he was before. He was more patient with it. That played a significant part in his pass-blocking grade jumping from 45.3 through Week 7 to 63.5 from Week 8 on.
And for those concerned about the lofty pressure total Thomas gave up in Year 1, not every quality pass-protecting tackle in the NFL came out and had a hot start to their NFL career.
LT Andrew Thomas
NYG 2020 4th overall pick  

Stat

RT Lane Johnson
PHI 2013 4th overall pick

10

Sacks

10

8

Hits

8

39

Hurries

39

57

Total pressures

57

615

Pass-block snaps

620
Just as PFF's Ben Linsey wrote, the Giants would have taken Wirfs 10 times out of 10 knowing what they know now. At the end of the day, though, all is not lost with the former Georgia Bulldog. He is still more than capable of climbing out of the hole he dug himself after his notable improvement in the middle of the 2020 campaign.
Round (Selection): 1 (1st)
What went wrong in 2020: Three things: 1) The offensive line, 2) the deep ball and 3) the injury. Prior to Burrow going down with a season-ending injury in Week 11 of the 2020 season, no quarterback in the NFL had more dropbacks with a quick pressure within 2.5 seconds of the snap than him. He saw ample pressure thanks to the lowly offensive line in front of him. The No. 1 overall pick didn't fare too well on those plays, posting a 37% completion rate, 4.2 yards per attempt and a 47.5 passing grade. Burrow also converted pressure to sacks at a bottom-10 rate in the league (21.2%).
Along with pressured play hindering his success, Burrow couldn't find much success deep downfield — an area of strength In his breakout 2019 season at LSU. Burrow was college football's highest-graded deep passer in 2019, and it wasn't particularly close. In Year 1 with the Bengals, though, Burrow ranked second-to-last in passing grade on 20-plus-yard throws. Poor pass protection obviously played a part, as did the lack of receiver-created separation (third-lowest rate of deep passes to a receiver with open separation).
Why they are going to break out in 2021: First things first, Burrow did not have a bad rookie season. It was actually quite impressive considering the lack of an offseason or preseason due to COVID-19. Despite the bad performance under pressure and when launching it deep, Burrow still managed to finish 18th in the NFL in passing grade (74.3_. That mark is the eighth-best by a rookie quarterback since 2006. 
It's important to note that both pressured and deep passing are highly volatile areas from year to year. The metrics that matter the most and are more stable year-to-year are non-deep passes, clean-pocket passing, and negatively graded throw rate. Burrow shined in each of those facets in his rookie season prior to injury. His negatively graded throw rate this past season sits at the 87th percentile among all quarterback seasons since 2006. When looking at non-deep passes from a clean pocket among that same group of 400-plus quarterbacks, Burrow's passing grade rings in at No. 23. Not too shabby. 
We saw the same pinpoint accuracy and routine anticipatory throws in 2020 that Burrow flashed at LSU. Don't let the deep numbers dissuade you — he still made several difficult throws downfield this season, such as this perfect holeshot against Cleveland's Cover 6 defense.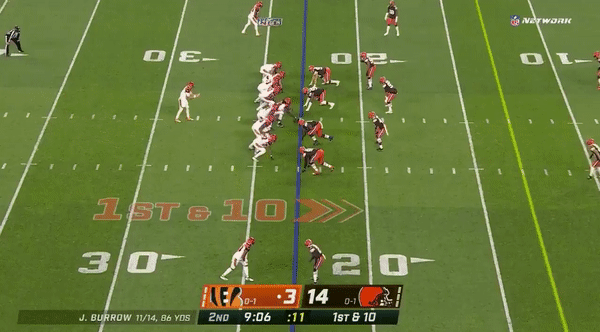 If Burrow is fully healthy to start the 2020 season, he's the biggest candidate among second-year players to take his play to elite status.
Round (Selection): 1 (14th)
What went wrong in 2020: Kinlaw was unproductive, plain and simple. He lacked consistency both in run defense (46.9 grade) and pass rushing (58.0 grade), leading to an overall PFF grade that ranked 85th among 111 qualifying interior defensive linemen (54.1). His production, or lack thereof, isn't entirely unexpected given the type of prospect he was coming out of college. Kinlaw won as much as he did at South Carolina because of his height, length, overall athleticism, get-off and bull rush. He still had a long way to go with his pass-rush toolbox and hand placement, which was evident in 2020.
Why they are going to break out in 2021: I wouldn't expect Kinlaw to make a jump to elite status in 2021, but a breakout to a certain degree is in the cards. Again, this rookie class was at a disadvantage more than any other set of first-year players in NFL history due to the coronavirus-impacted offseason. Kinlaw recognized coming out of college that his pass-rush repertoire was an area of weakness and knew it was bound to improve with better coaching. I alluded to his bull rush when asking him a question at last year's NFL combine, and this was his response: 
"I haven't really scratched the surface with my pass rush. A lot of the times, I just be out there bull rushing — just walking guys back. So, I feel like once I get the right coaching, the sky's the limit."
Another year with the 49ers' coaching staff could do wonders for Kinlaw. He could be in line for a similar career trajectory as Stephon Tuitt, who struggled as a rookie (49.9 PFF grade) and was actually PFF lead draft analyst Mike Renner's player comparison for Kinlaw in last year's PFF Draft Guide.
Round (Selection) 1 (8th)
What went wrong in 2020: Simmons was baptized by fire in his NFL debut. In Week 1 against the San Francisco 49ers, the linebacker recorded a 27.1 PFF grade that featured three catches allowed for 86 yards and two touchdowns on just eight coverage snaps. Arizona kept him off the field for most of the first half of his rookie campaign, as he did not see 25 snaps in a single game until Week 9.  
Why they are going to break out in 2021: Taking Week 1 out of the equation, Simmons produced the ninth-best coverage grade among off-ball linebackers this season. He allowed just four first downs and touchdowns combined while posting eight passing stops, an interception and a forced incompletion. It may have been on a part-time basis, but that is quite impressive considering he served in such a versatile role at Clemson and didn't play much as a traditional linebacker.