This past offseason was by no means a traditional offseason for first-year players looking to get their feet wet with a new team a new scheme. COVID-19 not only took away the preseason, but it also deprived rookies of various offseason opportunities to receive reps and earn a role. So, it shouldn't be a surprise that several players who came off the board early in the 2020 NFL Draft struggled in their first season.
In this piece, I'll go through those disappointing seasons and attempt to shed light on what those performances mean for the players' prospects in the league.
2020 Regular season PFF grade: 41.8, 117th out of 124 qualifying cornerbacks
Okudah appeared to be one of the "can't-miss" prospects from this past year's draft; he was the third-ranked player on The Athletic's Consensus Big Board, and his bottom line in the PFF Draft Guide read, "Okudah really does have it all. The "cons" on his scouting report were some of the most difficult to write of any prospect in the class. He not only has a high floor but everything you want for a high ceiling."
Well, the floor may not have been as high as we — along with many others — thought.
Okudah's history of production at Ohio State and high-end athletic traits didn't translate in his rookie year. His debut in Week 2 against the Green Bay Packers set the stage for a season he would eventually end with just a 30.1 PFF coverage grade. He seemingly blew assignments, like on the play below where he sticks in man on a crossing route that carries over into zone coverage on the other side of the field.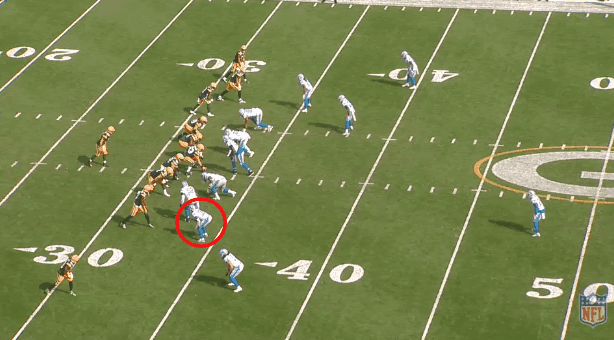 Okudah was also just flat-out beaten in man coverage on plays like this slot route down the sideline by Marquez Valdes-Scantling.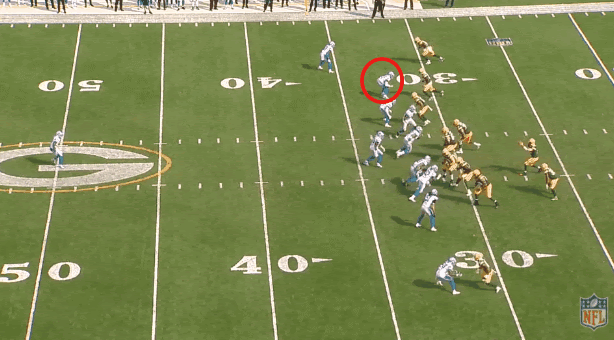 That wasn't a one-game aberration, either. Okudah allowed 579 yards into his coverage on just 251 coverage snaps on the year, the most of any cornerback with at least 200 coverage snaps in the NFL this season. On top of that, he forced just two incompletions all year. In terms of disappointing rookie seasons, Okudah's name has to be near the top of the list.
Plenty was working against Okudah beyond the aforementioned effect of COVID-19, however. He missed the season opener against the Chicago Bears with a hamstring injury. He dealt with that hamstring injury along with shoulder and groin injuries throughout the season before playing in his final game in Week 11. Matt Patricia's defense in Detroit was also one in which cornerbacks are routinely handed tough man-coverage assignments — a scheme where few players have had success in recent years.
Expect a healthy Okudah to look better in a new defense in 2021.
2020 Regular season PFF grade: 62.5, 31st out of 38 qualifying left tackles
Thomas' overall grade is helped a bit by his run blocking, but only Brandon Knight and fellow first-round selection Austin Jackson recorded a lower pass-blocking grade at left tackle than Thomas' 54.6 mark.
Jackson was expected to be a project, which is why he isn't included in this piece, but Thomas was considered one of the more "pro-ready" tackle prospects in the class after three years of quality starting play at Georgia going up against SEC pass-rushers week in and week out. He earned a 76.7 pass-blocking grade as a true freshman, and that number only improved in the two subsequent seasons.
The sailing wasn't nearly as smooth this past season in the NFL.
Most pressures allowed by a left tackle during the 2020 regular season
The sheer number of pressures allowed doesn't necessarily paint an accurate picture of the NFL's best and worst pass-blockers. Not all pressures are created equal. Allowing 14 more pressures than any other left tackle in the league will never be a good thing, though.
Thomas was beaten frequently by inside moves, particularly early in the season. He allowed sacks to each of Derek Barnett (twice), Ogbonnia Okoronkwo, Myles Garrett, Demarcus Lawrence and Robert Quinn this season.
Now, there are several reasons to think things will improve next season. The first is that it takes time for offensive tackles to develop once entering the league. PFF's Timo Riske put numbers to that in a piece last season that looked at learning curves by position. That learning curve was affected by a limited offseason and a midseason change at offensive line coach, as well.
Thomas also showed signs of improvement as the season progressed. His worst pass-blocking performance of the year came in a disastrous Week 14 matchup with the Arizona Cardinals — when he allowed seven pressures and two sacks — but removing that performance, Thomas recorded a 69.6 pass-blocking grade from Week 9 through the end of the season.
Given the performance of several other rookie tackles — namely Tristan Wirfs — the Giants would probably like a redo at fourth overall, but it's still much too early to bury Thomas with a "bust" label.
2020 Regular season PFF grade: 54.0, 125th out of 131 qualifying wide receivers
At least Ruggs will always have the game-winning touchdown against the New York Jets in Week 13 — the play that cost Gregg Williams his job as defensive coordinator. Beyond that, the pickings were slim for the first wide receiver to come off the board in a loaded 2020 wide receiver class.
Ruggs finished the year with just 26 receptions for 452 yards and two touchdowns even though the role as Las Vegas' No. 1 option on the outside was his for the taking.
His lack of production would be one thing if it were merely a case of Ruggs profiling as a deep threat on an offense that has been reluctant to push the ball downfield in recent years with Derek Carr at quarterback. To back that narrative, Ruggs' 17.3-yard average depth of target did rank second among all wide receivers to see at least 40 targets, trailing only Marquez Valdes-Scantling in Green Bay.
However, the more concerning aspect of his rookie season was that he was handily outplayed in that deep role by low-cost free-agent acquisition Nelson Agholor.
Henry Ruggs vs. Nelson Agholor on passes 20 or more yards downfield in 2020
| | | |
| --- | --- | --- |
| Category | Henry Ruggs III | Nelson Agholor |
| Targets | 15 | 23 |
| Receptions | 5 | 11 |
| Yards | 245 | 444 |
| Touchdowns | 2 | 6 |
Leading up to the 2020 NFL Draft, I made the argument that Ruggs was worth an early first-round pick, even if Jerry Jeudy and CeeDee Lamb should go ahead of him. His tape at Alabama didn't show a one-dimensional player. As the PFF Draft Guide said, "Don't just call Ruggs a speedster. He's a complete route-runner with legit ball skills, as well. He doesn't just have to be a deep threat, but he looks like a sure thing in that regard."
However, Ruggs had very little success outside of several big downfield receptions as a rookie. He had just one reception that was targeted within nine yards of the line of scrimmage and went for 15 or more yards, and that came on a blown coverage assignment against Tampa Bay.
The hope is that another year in the offense leads to Ruggs playing with more confidence in 2021 and delivering a more productive, well-rounded effort. Still, it's hard not to have at least some level of concern, particularly at a position like wide receiver where we've seen plenty of rookies hit the ground running in recent seasons.
2020 Regular season PFF grade: 29.8, 89th out of 90 qualifying linebackers
Seeing a PFF grade in the 20s like Queen's is jarring, but there is an explanation — playing linebacker in the NFL is difficult, particularly for first-year players.
Rookie grades for first-round linebackers since 2018
Outside of Vander Esch in 2018, few first-round rookie linebackers have been able to produce high-level play right out of the gate. Queen sticks out even on that list, but the areas where his grade has suffered the most are areas we should expect him to improve.
Looking at where most of his downgrades on the season came, they fall into two categories for the most part. The first consisted of plays where he got caught out of position, either finding himself blocked out of his gap in the run game or losing a receiver in zone coverage. The play below is an example of the latter.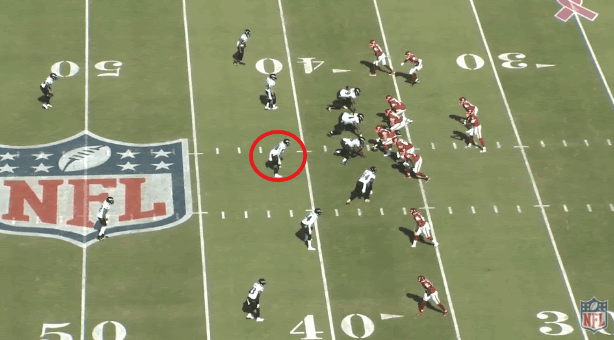 Queen vacates his zone to carry the crossing route, which leaves a wide-open window for Dwayne Haskins to deliver the ball for a first down over the middle of the field. It's a mistake that is all too easy for a linebacker to make in today's NFL and one that Queen should make less often as he grows more comfortable in the defense.
The other area is missed tackles. Queen's 22 missed tackles this season were tied for the most in the NFL with Houston's Zach Cunningham. The caveat there is that athletic linebackers such as Queen are always going to put themselves in a position to make more tackles — and attempt more difficult tackles — than lesser athletes. That said, 22 is still too many.
With Queen, you're banking on his play catching up to his athletic ability, a similar situation to what we've seen early in Devin White's career. There is reason to expect things to start to trend in that direction in 2021 after a rough first year.
2020 Regular season PFF grade: 60.0, N/A (3 offensive snaps played all season)
Among all 32 first-round picks in the 2020 NFL Draft, Wilson has given the most reason for concern, and it isn't particularly close.
He played just three offensive snaps in a year in which he was arrested for a DUI, placed on the Reserve/COVID-19 list multiple times and suspended for violating club rules. That all came after he reportedly jumped off a second-floor balcony to avoid getting caught by the police at a Tennessee State University party during training camp. The latest distraction was a video of him partying on New Year's Eve.
Per Adam Sparks of the Tennessean, Mike Vrabel said of Wilson's future with the team, "I can't comment on Isaiah. I wouldn't even begin to be able to eloquently have an answer for you."
It would be one thing if Wilson's only concerns were off the field. There are plenty of those. However, Wilson also stood out as one of the bigger reaches early in the draft when the Titans took him in the first round last year. He was ranked 111th on the PFF Big Board thanks to questions about his agility, recovery ability and ability to operate in space, which is a real concern at tackle.
It's hard to spin this situation as anything other than concerning for Wilson and the Titans.