At its heart, PFF is a player evaluation website, and the most interesting players to evaluate every year are rookies. These first-year players represent the weight of hope for their respective franchises and, depending on the team, can be shouldering the entire weight of that hope.
[Editor's Note: PFF's advanced statistics and player grades are powered by AWS machine learning capabilities.]
This season, more than most, the performance of these rookies early on will be interesting to watch because none of them played preseason football to get their feet wet, and some are still waiting for their NFL debuts.
So, let's take a look at some rookie studs and duds in Week 4.
STUDS
Week 4 overall grade: 91.2
One big game can be a fluke, but back-to-back dominant outings of the caliber that Justin Jefferson has shown is far more likely to be a trend that can be relied upon going forward. Jefferson has transformed a Vikings offense that now has more than one receiving threat, which in turn has made the run game better and the offensive linemen's lives easier.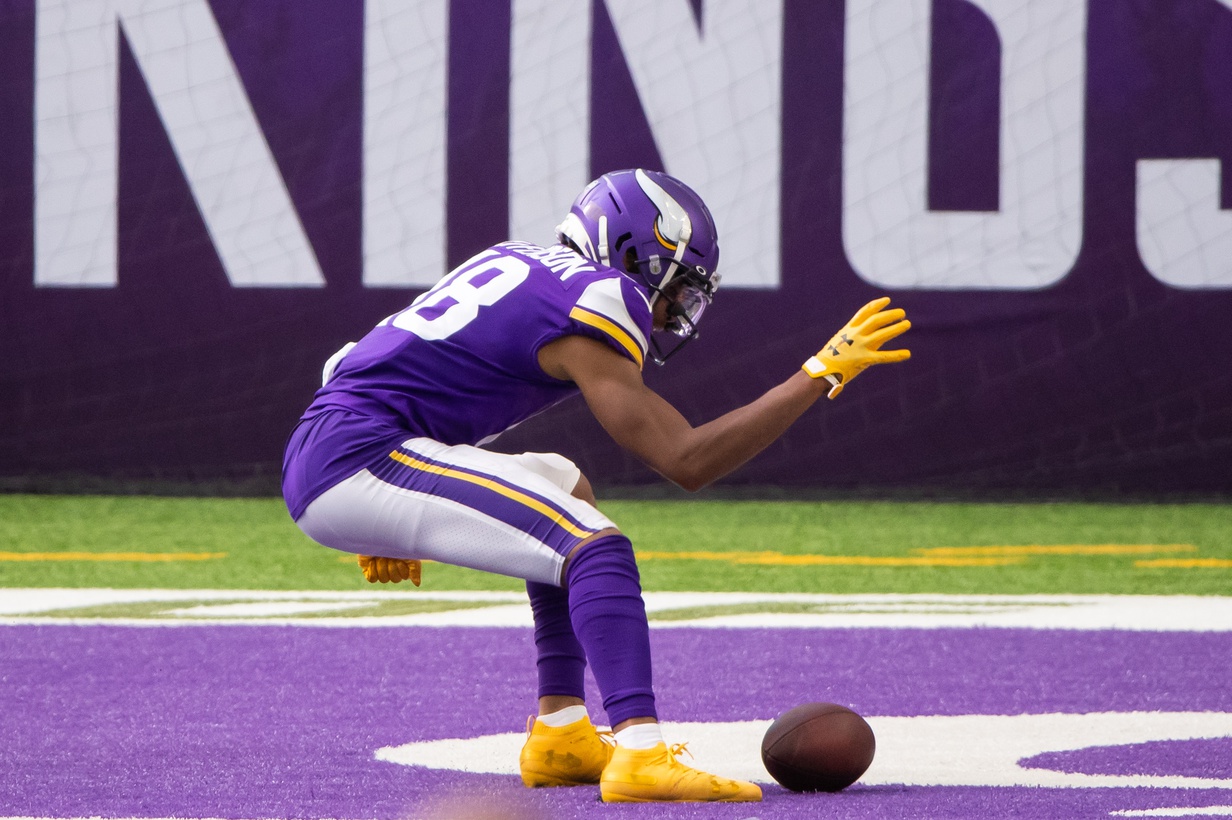 Jefferson posted his second-consecutive PFF grade above 90.0 and averaged almost 5 yards for every route run against Houston. And despite barely featuring in the first two games, he now has 348 receiving yards for the season. Jefferson has caught 80% of the passes thrown his way, and we saw this week that he already has the trust of Kirk Cousins, who was prepared to give him a chance to make a play against tight coverage and was rewarded with an excellent contested catch from his rookie receiver.
It seemed a long shot that Jefferson would be able to step in and immediately replace what the team lost in Stefon Diggs, but after he was given the chance to fill that role, that's exactly what he has done.
Week 4 overall grade: 83.8
A matchup against Baltimore's defense is not what a struggling offense wants to contend with, regardless of what we saw the Kansas City Chiefs do to them the week before, but Washington had several decent performances on offense. Antonio Gibson earned the highest PFF receiving grade of the week among running backs and was able to make some plays after the catch, using speed, strength and instincts to rack up yardage against a good defense. He also showed impressive hands to snag a simple dump-off pass that was coming at him with plenty of heat and not pinpoint accuracy, rescuing what could have easily been an incompletion.
What is interesting, though, is that three of Gibson's five targets came from him being lined up as a wideout after motioning out of the backfield. Washington was leaning on his college experience as a wide receiver to put the Ravens' defense in a bind, and throwing the ball to him in space where he was able to make plays worked to great effect.
Week 4 overall grade: 86.5
Joe Burrow finally got the first NFL win that his play has deserved, overcoming the Jacksonville Jaguars, as well as his own team at times, in Week 4. Burrow earned a top-10 PFF passing grade (81.0) for the week, had zero turnover-worthy plays and was a classic example of how stats sometimes don't tell the whole story.
He did register a 300-yard passing performance, but one touchdown to one interception paints a picture of an average day at the office. The interception should have been a touchdown on a well-thrown pass to the end zone that at worst should have fallen incomplete, but his tight end not only failed to bring it in despite superior positioning and chance to adjust, but also lost the battle for the ball and let Myles Jack make a great play to intercept it. Burrow also put another pass in the end zone for a touchdown, only to find the play taken off the board due to a holding call on one of his offensive linemen.
Joe Burrow is looking like an excellent value for the first overall pick so far this season, but he is battling both the opposing defense and his own players far too regularly.
Week 4 overall grade: 84.6
All you can do is beat the opponent in front of you, and for the second straight week, Derrick Brown was a dominant force in the run game against a weak opponent. This was the Derrick Brown we saw on tape at Auburn, crushing the blocks of interior linemen and looking like a man amongst boys in terms of raw strength and power.
His best plays came against Cardinals center Mason Cole, who just couldn't live with Brown's power. He had a pair of defensive stops, averaging a tackle for loss for the second week running, but his impact was significant enough that it seemed to change the Cardinals' plan of attack and actually alter the game plan to avoid runs that could be affected as much by his disruption inside. That's elite-level impact.
It's a little concerning how that physical dominance hasn't translated to pressure in the passing game, with Brown registering just one hurry across 20 pass-rushing snaps. This was the area of his game that was a question entering the NFL, and he has yet to do anything to answer that.
Week 4 overall grade: 91.3
With no Chris Jones for the Kansas City Chiefs on Monday night, Michael Onwenu's day at the office became notably less stressful, but that shouldn't detract from just how good he was. Onwenu got the better of any Chiefs lineman that he was assigned to block, and despite Jones' absence, the rookie guard still had to contend with some impressive run defenders, such as Mike Pennel. Onwenu didn't allow a single pressure of any kind on 42 pass-blocking snaps and wasn't penalized all game while continuing his stretch of dominant run blocking this season.
Onwenu has now made this studs list in multiple weeks now and has yet to have a bad game in the NFL despite playing multiple positions and both from the bench and as a starter. It looks as if the Patriots have a real find in the sixth-round rookie.
DUDS
Week 4 overall grade: 45.1
With the offensive line the Chargers were able to field this week, any running back was likely to struggle, but when Austin Ekeler went down injured, Joshua Kelley was given the opportunity to be the team's lead back the rest of the way. Stats don't always tell the story, but in this case, gaining 7 yards on nine carries about covers it.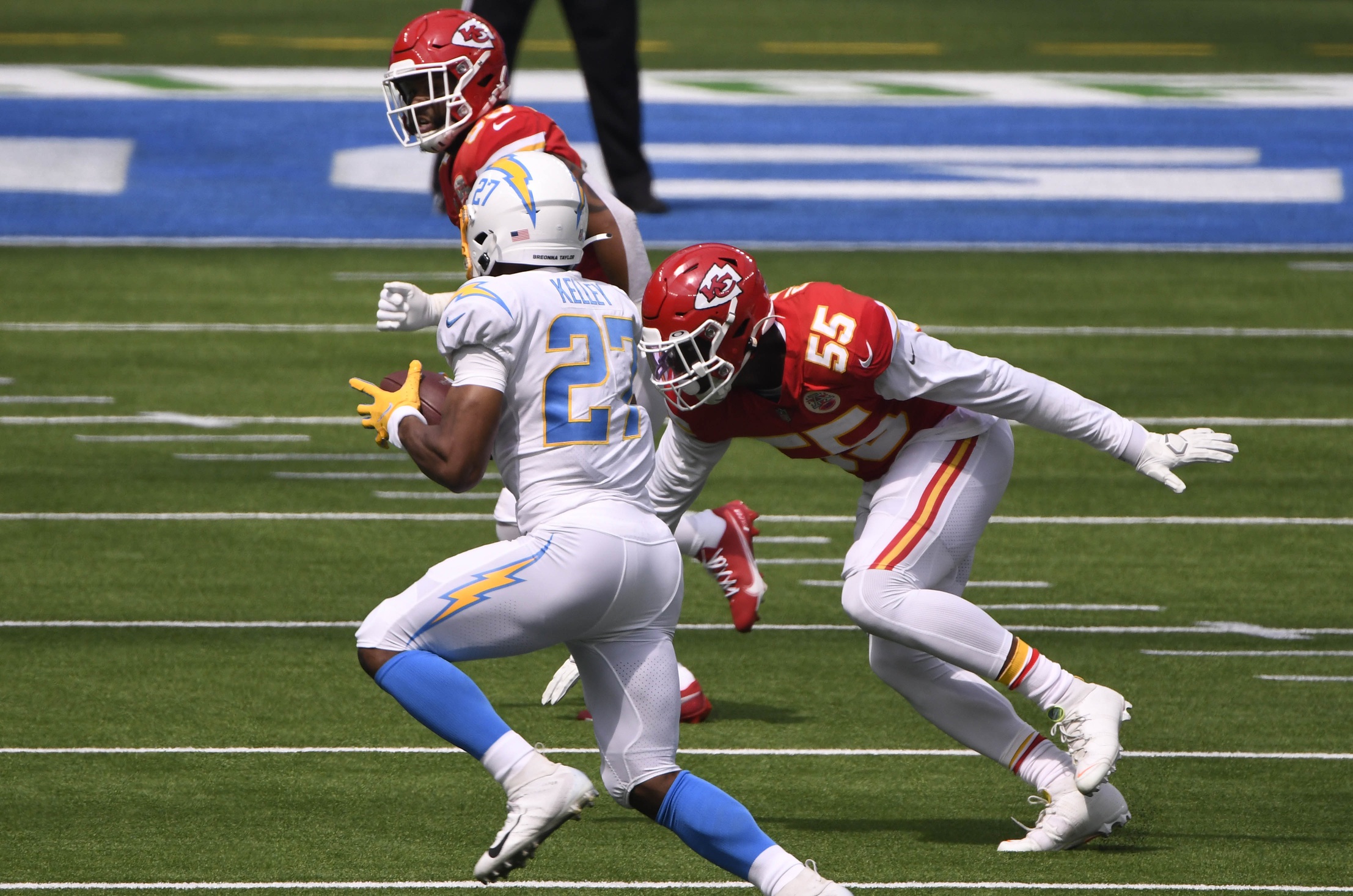 Nothing better summed up the disfunction in the run game better than Kelley's fumble. He bobbled the exchange with quarterback Justin Herbert, and the ball was then immediately punched free by the defense that was bearing down on him, giving him nowhere to go even if it had been a clean handoff. The blocking gave him no chance, but even so, Kelley did little to make the best of a bad situation.
Week 4 overall grade: 29.4
This is not the first week that Noah Igbinoghene has appeared on the rookie duds list, and in his defense, he is drawing a sequence of nightmare assignments in his first year in a man-heavy coverage system. With Russell Wilson and the Seahawks coming to town, the idea that Miami's secondary would struggle wasn't a controversial one, but the team may be disappointed that it was David Moore — not D.K. Metcalf or Tyler Lockett — who did the majority of the damage in Igbinoghene's coverage.
The rookie corner was beaten badly on at least three occasions, one of them for Moore's touchdown in the back corner of the end zone, and was responsible for 115 yards overall in coverage.
Week 4 overall grade: 39.4
Trevon Diggs has made the occasional impressive play but has not been impressive overall, and he has put some worrying plays on tape already for Dallas. Though his coverage numbers against Cleveland were not terrible (five catches for 54 yards on eight targets), it's the plays that tend to be forgotten about where his worst play was found. Diggs missed two tackles, each of which allowed a first down on the play, and was part of the comedy of errors from the Cowboys' defense on Odell Beckham Jr.'s end-around play late in the game that effectively sealed the win for the Browns.
It's harsh to single out Diggs as the reason that play went the distance, but he was one of a number of Cowboys defenders who could have prevented it with better angles and effort.
Week 4 overall grade: 34.1
Lloyd Cushenberry had one outstanding play in this game, and it was effectively a pass breakup. He was able to come in with a swinging arm to prevent a turnover by swatting the ball out of the defender's hands and keep Denver in possession. As impressive as it was, it's usually not a good sign when the best play an offensive lineman makes is unrelated to blocking.
In Cushenberry's primary role, he struggled badly against the Jets' defensive line. He was beaten for four total pressures to tie for the team lead and ended the game with just a 7.4 PFF pass-blocking grade … on a 0-100 scale.
In the run game, things were better but still poor. He allowed his man to make the tackle twice, with each play going for a defensive stop. Overall, this was not a game he will look back on fondly.
Week 4 overall grade: 36.4
Antoine Winfield Jr. has been a positive impact player for the Bucs' defense, and his future is incredibly bright. But this week against the Chargers, we saw just how difficult playing safety in the NFL can be. Sometimes, you are at the mercy of excellent offensive play and your day can unravel in a hurry. Winfield was beaten once badly for a touchdown as Justin Herbert made one of his best throws, and he also gave up a couple of other first downs in coverage.
That's not a terrible performance if he could have offset it with the positive plays that he typically makes, but Winfield was unusually quiet in this game on that side of the ledger. There is no reason to be concerned with his future outlook. Week 4 was simply a dud game for Winfield.