With the headliner of the 2017 NFL Draft just winning his first Super Bowl, it seems like a good time to play a game of "what if?" by going back and shaking up the selections in Patrick Mahomes' draft. I apologize in advance to the city of Kansas City.
There's a caveat. This is not a prediction of what would happen if each team went back to April of 2017 with the knowledge that they have now. Instead, it is what I would do in the shoes of these teams, taking positional value into account. There's some attention paid to glaring needs, but the primary goal was to get the highest-graded and most valuable players based on PFF WAR into the first round.
That means the biggest omissions will come at the running back position in what was a very deep class. Guys like Christian McCaffrey and Alvin Kamara found their way into the first round because they have been that good and impactful for their respective teams, but many talented players didn't make the cut because of the replaceability of the position.
The same can be said for someone like Dalvin Tomlinson, who has graded well for us here at PFF with three consecutive seasons at 75.0 or higher. He's done that through being a run-stuffing specialist, however, and as we know, that just isn't going to give a team as much value as a player who can excel in coverage or get after the quarterback. You want players like Tomlinson on your team, but you don't want to spend premium draft capital to get one.
For that reason, our amended first round is filled with players who affect the passing game in one way or another. Without further ado, the first overall pick is…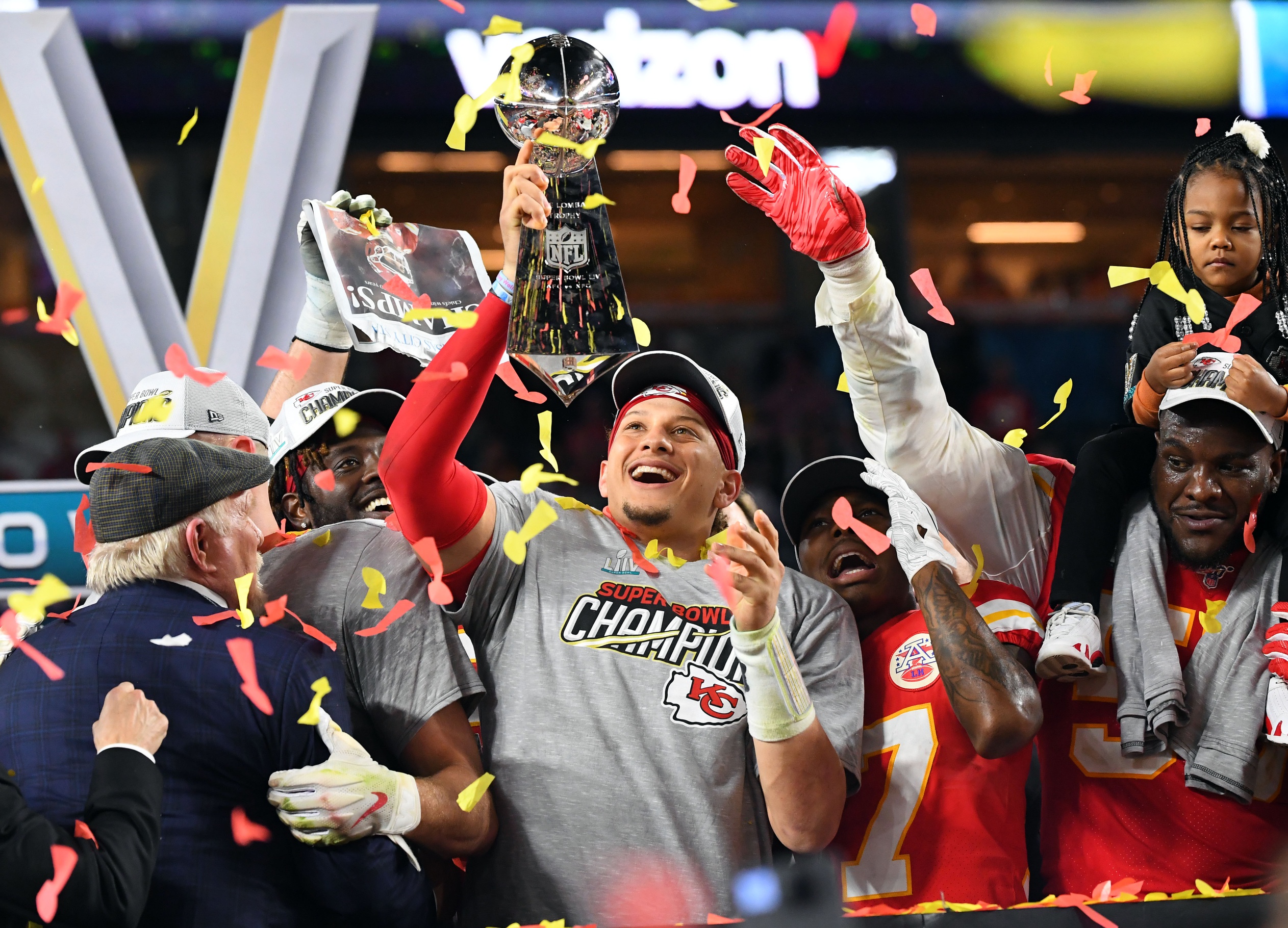 There is no chance that any other pick makes sense at first overall here. When you get the opportunity to take the best quarterback in the league, one who already has a league MVP and a Super Bowl MVP title at just 24 years old, you take it. Since entering the league, Mahomes has already been worth over seven wins above a replacement-level player, nearly three wins more than the next closest player in the class, despite not starting until his second season. People like to talk about his ability to make big plays outside of structure and rightfully so, but he's even more dangerous when he can sit from a clean pocket and pick apart your defense in rhythm. It's a "damned if you do, damned if you don't" situation when it comes to defending Mahomes. That's the kind of player you want leading your team.
I kept trades out of this redraft with the exception of this one. The Bears wanted their quarterback of the future in 2017, and they thought Trubisky was that guy when they traded up to second overall to select him. However, Trubisky has since proven that he is not the long-term answer with three consecutive subpar PFF grades as the Bears' starter.
Watson isn't perfect. He still tries to play hero ball too often and forces unnecessary pressure on himself because of it, but he has shown that he can be a borderline MVP candidate when he's on his game, as he was earlier this season before finishing the season as the eighth-highest graded quarterback (82.4 overall grade). Those quarterbacks aren't a dime a dozen, so the Bears trade up again in the hopes of securing theirs. This time they make the right decision.
Previous Pick: EDGE Solomon Thomas (via trade)
Unfortunately for the 49ers, Kittle isn't going to last until the 146th overall pick anymore. He's made sure of that by recording receiving grades north of 90.0 in each of the past two seasons while also cementing his place as one of the best run-blocking tight ends in the NFL. Luckily, the 49ers can lock him up at third overall instead of Thomas, who has yet to crack a 65.0 overall grade in three seasons with San Francisco. Kittle uses his physicality to be both the best receiver in the league after the catch (8.6 yards after the catch per reception since 2018, first by over a yard) and a menace in the run game as a blocker. He's a rare example of a player whom a team would be happy with taking four rounds earlier.
As sad as it is to see Fournette go, the Jaguars get a massive upgrade in the form of Godwin when it comes to offensive playmakers. The Penn State product has grown his role within the Tampa Bay offense each of his first three years, building up to a massive 1,333-yard, nine-touchdown season in 2019. He ended the year as PFF's highest-graded wide receiver, edging out top names at the position like Michael Thomas and Julio Jones. Ever since entering the league, Godwin has been as sure-handed as they come with a 2.1% drop rate (first among qualifying wide receivers), and he'd give the Jaguars the legitimate No. 1 option that they've missed since the departure of Allen Robinson.
In a turn of events, the Titans edge out Adams' original pick slot by one selection to get the versatile and talented safety out of LSU. Adams spends most of his time causing disruption in the box, but he has also shown the ability to play in the slot, at free safety and even as an edge rusher on the line of scrimmage. He does it all well, too. Adams has recorded overall grades of 88.0 or higher each of the past two seasons. He would be a nice complement to Kevin Byard on the back end of the Titans' defense, forming arguably the best safety tandem in the NFL.
Watt has improved each year in the NFL, culminating in a 2019 season in which he was a legitimate Defensive Player of the Year candidate. Whether it is chasing down a rusher off the backside of the play or beating his blocker off the jump, Watt has a relentless motor. That motor helped him rack up 81 total pressures (fourth in NFL) and 37 combined quarterback hits and sacks (third) this past season. Losing out on a multi-dimensional defensive chess piece like Adams by one pick is a tough blow for New York, but Watt isn't a bad consolation prize by any means. He figures to be one of the top edge defenders in the league for years to come — just like his brother.
Over the last three seasons, no tackle in the league has graded higher than Ramczyk. The scary part is that it has come in the first three seasons of his career. The learning curve that some tackles have once they get to the NFL level hasn't existed for Ramczyk, and he was the only tackle with pass-blocking and run-blocking grades above 80.0 in 2019. The Chargers, who have had struggles on the offensive line for a decade, would welcome Ramczyk with open arms to start opposite Russell Okung and hopefully provide them some stability up front. We all know they could use it.
Passing on McCaffrey might rub some fans in Charlotte the wrong way, but if given the choice, the Panthers should be taking a shutdown cornerback like White over McCaffrey 10 times out of 10. Since entering the league, White has allowed a passer rating of 59.8, over five points lower than any other cornerback with 150 or more targets over that span. In 2019, he didn't allow a single touchdown pass into his coverage on 568 coverage snaps. Shutting down opposing wide receivers like that is simply more valuable than what McCaffrey is able to do as a ball carrier and as a receiver out of the backfield. Not to mention, it's something that the Panthers could sorely use right now.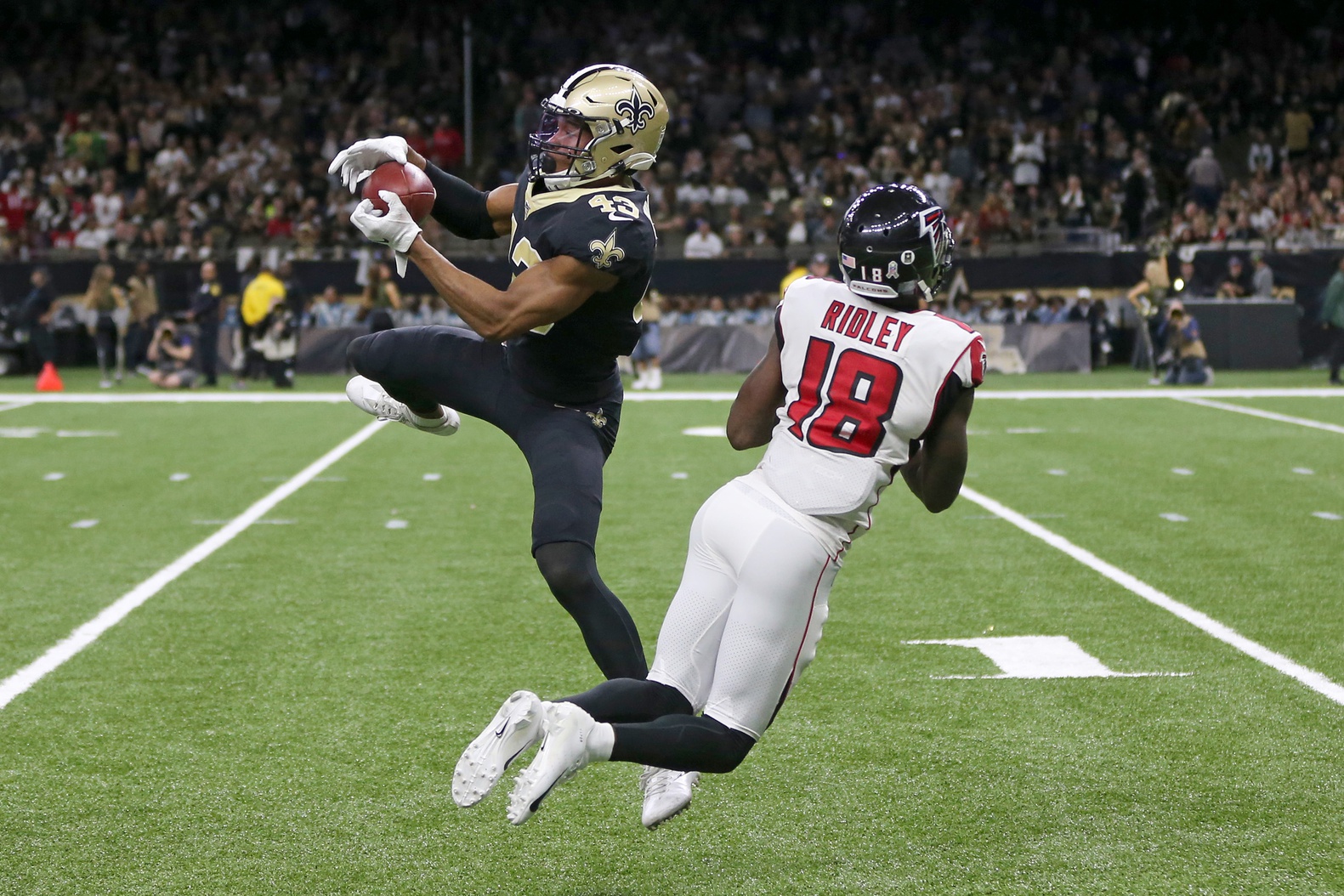 A lot of people probably still remember Williams for the play he made — or rather, didn't make — at the end of the Saints' playoff loss to the Minnesota Vikings. That's a shame because Williams has developed into one of the league's best free safeties. His 90.8 overall grade since 2017 ranks sixth at the safety position, and he ranks sixth in the entire 2017 class in PFF WAR over the first three seasons of his career. The Bengals are in a position where they can use all the help that they can get in coverage. Williams would be a massive step in the right direction, and he would be a clear upgrade over their previous pick in this slot, Ross, who has struggled to live up to the hype that accompanied his impressive 40-yard dash.
Previous Pick: QB Patrick Mahomes (Chiefs via trade)
Prior to clubbing Mason Rudolph over the head with his own helmet, Garrett was on his way to a career year and a potential finish as the league's highest-graded edge rusher. He has all the physical traits and the pass-rushing repertoire that made him the first overall pick in the draft originally, and he's backed that up with three seasons that graded at 80.0 or higher. Assuming the incident from this season is a blip on the radar and Garrett returns to action all systems go in 2020, he should continue to entrench himself as one of the league's best pass-rushers. He would fit nicely on a Buffalo defense that has since become one of the league's best groups.
As one of two selections in the first round of this redraft that remained the same, the Saints nailed the Lattimore pick. He has been on the decline, dropping from a grade of 87.9 in his rookie season to 77.0 in 2018 to 65.7 in 2019, but he rebounded towards the end of the year to hold his receiver to 50 or fewer receiving yards in 11 consecutive games. It's safe to call him a No. 1 cornerback and one of the better young players at the cornerback position in the NFL. In this scenario, the Saints should have no qualms with going back to Lattimore.
Previous Pick: QB Deshaun Watson (Texans via trade)
Over the last two seasons, Golladay has emerged as the top option in Detroit's downfield passing game, attacking the ball in contested-catch situations with the league's best. His 43 contested catches since the start of the 2018 season are tied for the most in the NFL with Julio Jones. There are few positions that impact the game at the same level as an elite wide receiver, and while Golladay isn't in that elite tier quite yet, his 2,000-plus receiving yards and 16 touchdowns over the last two seasons have him knocking on the door. The Browns should jump on the opportunity to add a player like that to an already talented offense.
If you asked most people to rank White, Lattimore and Jackson, Jackson would come in third more often than not, and that's ultimately where he landed in this redraft. The margins are smaller than most would think, though. Jackson has picked up overall grades of 74.6, 73.0 and 80.0 to open his career, finishing the 2019 season as PFF's eighth-highest graded cornerback thanks to several strong playoff performances. That's the kind of player the Cardinals could desperately use to bolster one of the league's worst coverage units, particularly with Patrick Peterson's uncertain future in Arizona.
The attrition that the Eagles suffered at the wide receiver position in 2019 was something to behold. In a similar vein, Smith-Schuster's 2019 season was dampened by a combination of his own injuries and the injury to Ben Roethlisberger, which left the underwhelming duo of Mason Rudolph and Devlin Hodges distributing the ball to him. Prior to this season, JuJu had picked up overall grades of 73.0 and 81.8. He had 1,342 receiving yards from the slot over those two seasons, more than any other wide receiver in the NFL. Those numbers took a hit this season, but he still figures to be a reliable option, one who can get open and create after the catch moving forward. The fit here works out as well because those types of reliable receiving options are the Eagles' biggest need.
King was fantastic across his first two seasons with overall grades of 85.7 in 2017 and 88.6 in 2018. That fell to 69.4 this past season, but it was still good enough to rank 37th among 114 qualifying cornerbacks. The Chiefs and the 49ers were the two most efficient teams in the NFL when targeting the slot this season, and the fact that those two teams were Super Bowl representatives is no mistake. The best teams in the NFL have gotten good at attacking the slot, so teams have to be able to counter with players who can limit production inside. That's exactly what King provides.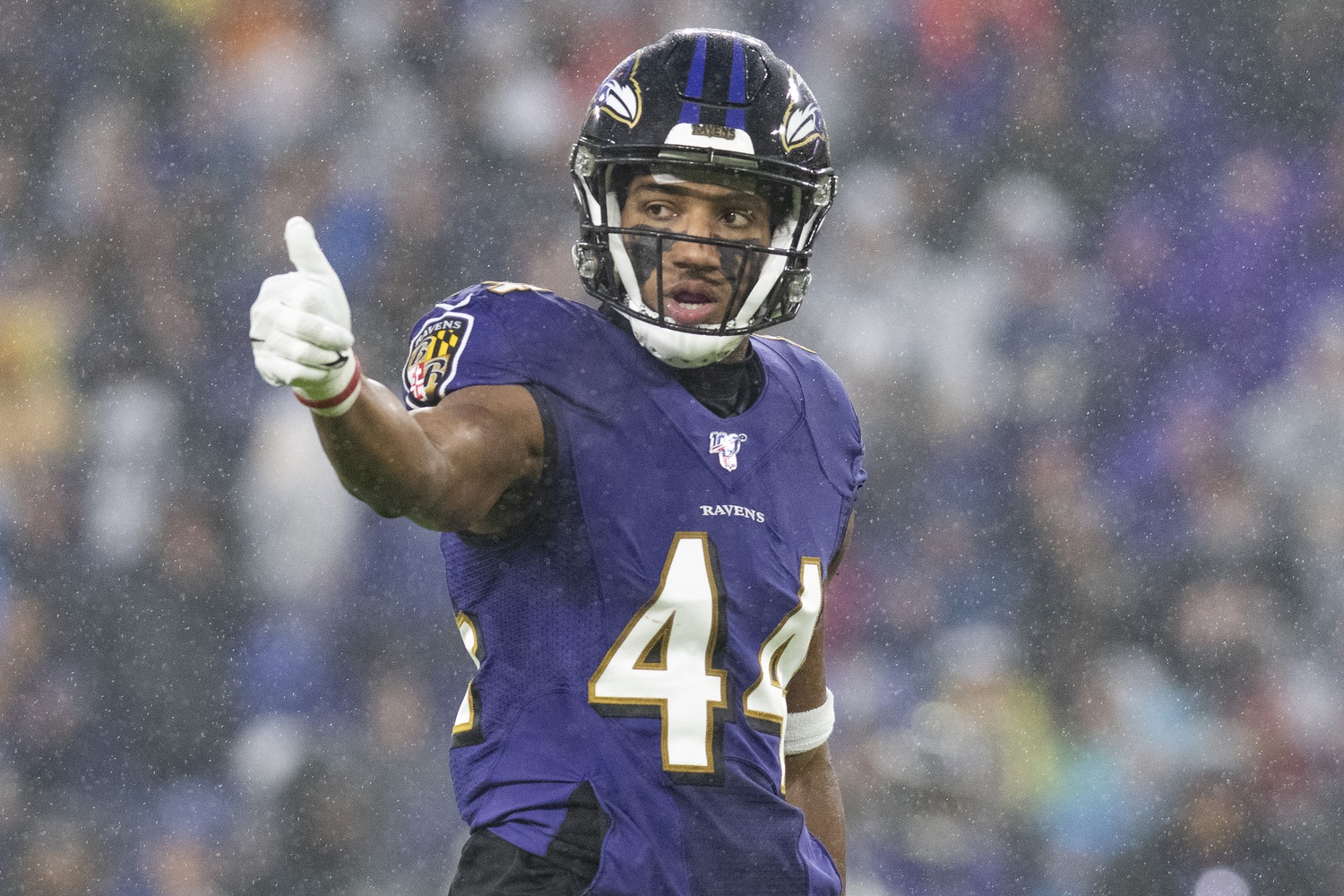 Another pick, another cornerback. The 2017 draft delivered in the secondary, folks. The Ravens made some splashes this season by adding pieces like Earl Thomas and Marcus Peters to their secondary, but the biggest part of the base that they were adding to was Humphrey. He's been a ballhawk from the cornerback position, forcing 47 incompletions since 2017. That number trails only Stephon Gilmore, Kyle Fuller and Darius Slay at the position over that stretch. There are some interesting players left on the board, but the Ravens should feel comfortable bringing back Humphrey given what he has provided through the first three years of his career.
Jackson is the player who probably has the best case to be higher on this list, but it all works out for the Redskins to get Jackson, instead of Allen,  at 17th overall. Jackson was a big part of the Bears' stifling defensive display in 2018. He picked up a 93.2 overall grade to go along with a 94.7 grade in coverage. His 14 combined interceptions and pass breakups were easily the most at the safety position, as well. It was a tremendous year, and he's surrounded that with two solid seasons that didn't quite reach the same heights. At best, the Redskins are getting one of the league's top defensive playmakers, and at worst, they're getting a quality starter. That's not a bad spot to be in.
Kupp is the third wide receiver to come off the board thanks to three productive seasons with the Los Angeles Rams in which he recorded receiving grades of 75.0 or higher. He's been one of the most efficient wide receivers in the entire league from the slot over that stretch. Since 2017, he has averaged 2.22 receiving yards per route run from the slot. The only two players with 500 or more routes run inside and higher marks in yards per route run are Tyreek Hill (2.48) and Travis Kelce (2.47). There's something to be said for guys who can just get open, and it always seems like Kupp is open. If the Titans wanted to go wide receiver here, he would be the choice over the back-to-the-well option of Corey Davis.
If we're talking purely best players in relation to their position, McCaffrey would be taken higher than 19th overall, but this seems to be a fair landing spot for him when taking value into account. A big part of what gives him a boost is how active he is in the receiving game. Since entering the league in 2017, McCaffrey leads all running backs by a wide margin in receiving first downs or touchdowns, with 135. In fact, he's the only player at the position up over 100. He's a dynamic athlete with the ball in his hands, and it would be fun to see how Bruce Arians would find ways to use him offensively.
The battle for the second-best tackle in the class is pretty close between Dawkins, Taylor Moton and Garett Bolles, but the Broncos opt for Dawkins in the redraft. He has been as reliable as they come in pass protection, recording pass-blocking grades above 75.0 each season of his career to this point. If he's able to get his run-blocking consistently up to the level that we saw in his rookie season when he picked up a run-blocking grade of 78.7, Dawkins could begin to push towards that next tier of tackles around the league.
The Lions' initial decision to select Davis in this slot is not aging well. He's picked up PFF grades of 52.8, 51.0 and 40.4 in his first three seasons while playing a large role in the defense in all three years. The Lions get the opportunity to right that wrong here, however, and they do that with the safety who was originally drafted by the Rams. Johnson had an excellent start to his career in Los Angeles with back-to-back seasons with overall grades and coverage grades of 80.0 or higher to start his career. He didn't grade quite as well in his injury-shortened 2019 campaign, but banking on that being exception rather than the norm would be smart here for the Lions at the 21st overall pick.
Kamara is the second and final running back to crack the first round of this redraft, and he's able to do so because of how effective he has been as a receiver. And not just a receiver out of the backfield — a receiver in the slot and out wide. Over the last three seasons, Kamara leads all running backs in receiving yards (650) and receptions of 15 or more yards (15) when lined up as a wide receiver. He can win in the passing game past the line of scrimmage, he's forced more missed tackles than any other running back in the league and he's also an effective runner. The 2019 season was a down year for the Tennessee product, but when he's healthy, he's one of the most dynamic running backs in the NFL.
Hooker has played his role of centerfielder in the Colts' zone defense well to this point in his career. He's been credited with 11 combined interceptions and pass breakups compared to just 21 receptions allowed. The infrequency of passes targeting Hooker as the primary coverage defender plays into that, but he's also shown a knack for making instinctive plays deep. That skill set is something that the Giants could make use of in their secondary.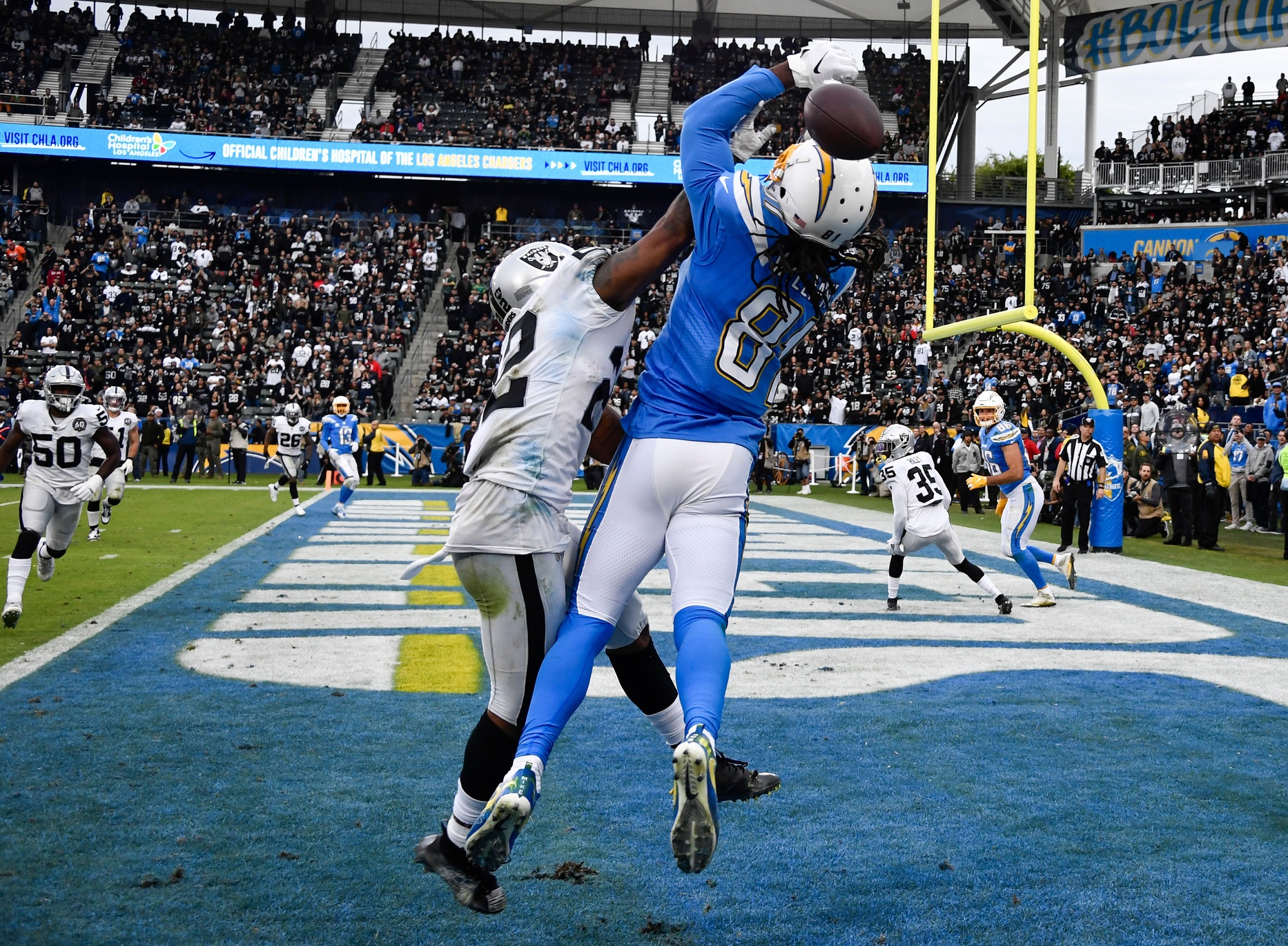 The wide receiver position didn't go according to plan for the Raiders this offseason after trading for Antonio Brown and signing Tyrell Williams in free agency. However, they have a chance to add again to the position here with a downfield threat in Mike Williams. He had a rough rookie season that never really got a chance to develop fully thanks to injuries, but he has rebounded with two strong showings, posting an overall grade of 80.5 in 2018 and a grade of 74.1 this past season.
The Chargers have primarily attacked vertically with Williams. Among all wide receivers with 100 or more targets over the last two seasons, he ranks first in average depth of target, at 17.1 yards, and his 31 contested catches are tied for the sixth-most in the NFL with Mike Evans. Williams would provide a downfield, jump-ball weapon for Derek Carr and an improved Raiders' offense.
Previous Pick: S Jabrill Peppers (Browns via trade)
The Texans' biggest area of need right now is help in the secondary, and Awuzie is the cornerback left on the board with the best track record over a three-year span. He's been solid in coverage for the Cowboys the past two years, with coverage grades of 65.4 and 70.5 to go along with an allowed completion rate of 62.5%. Those aren't spectacular numbers, but they also aren't going to kill your team. Looking at the players left on the board and the sort of value that a player like Awuzie has brought to the table, it makes sense for him to go here to a team that could use him.
Previous Pick: EDGE Takkarist McKinley (Falcons via trade)
The only consistently productive member of the Seahawks' offensive line in recent seasons has been Duane Brown. Moton would give Brown an eventual bookend, which in turn presents the Seahawks with two reliable offensive linemen at the tackle position. Moton didn't earn a starting role until his second season, but he has made the most of his two years as the Panthers' starting right tackle. His strength has been as a pass protector where he has earned grades of 82.7 and 79.1 in the last two years. His addition would save Russell Wilson from having to do so much freelancing in the pocket, something he was seemingly doing on every other down this past season.
Previous Pick: CB Tre'Davious White (Bills via trade)
Brown is the first and only off-ball linebacker to come off the board in this redraft of the first round of the 2017 NFL Draft. It's tough to tell exactly what Brown is at this point in his career, but there is some upside there for Kansas City. He turned in a subpar rookie performance at 54.1 overall before really rebounding in 2018 with an overall grade of 81.6 and a coverage grade of 84.6. His 2019 effort was a combination of the good and the bad, as Brown evened out to a 68.8 overall grade across 892 defensive snaps, but the upside he flashed in 2018, particularly in coverage, is intriguing for Brown moving forward.
Woods finds a home again with the Cowboys, only this time it comes as a first-round pick rather than a sixth-round selection. The three-year man out of Louisiana Tech is coming off the best season of his career in coverage, as he earned a 78.0 coverage grade in 2019. Woods has been solid as the Cowboys' free safety each of the past two years, and providing average to above-average play at safety like Woods has is inherently valuable to a defense. Rather than wasting away a pick with Charlton, the Cowboys secure their safety several rounds earlier.
Previous Pick: TE David Njoku (Browns via trade)
Griffin is one of the more interesting players to crack the first round because this is primarily based on an excellent 2019 season where Griffin ranked 10th among 114 qualifying cornerbacks in overall grade and third at the position in forced incompletion rate. Prior to that breakout, Griffin had his fair share of troubles in the Seahawks' secondary, recording overall grades of 65.3 as a rookie and 50.7 in his second season in 2018. Was 2019 truly a breakout or was it an outlier before a return to the level of play seen the previous two years? The Packers are willing to bet on the former here at 29.
Previous Pick: EDGE T.J. Watt
Ever since Heath Miller retired, the Steelers have been searching for a tight end who can add something in the passing game. At various points, they thought they had that in guys like Jesse James, Ladarius Green and Vance McDonald, but none of those options have stuck, so they're going after another one in Engram. Engram has dealt with injuries each of the last two years that have held down his production, but when healthy, he possesses a unique skill set at the tight end position that gives opposing defenses problems. His 1.71 yards per route run over the past two seasons ranks eighth among qualifying tight ends — he would add a new element to the Steelers' offense from the tight end position.
Previous Pick: LB Reuben Foster (49ers via trade)
The Falcons need some help in the secondary this offseason, particularly in the slot where they ranked 28th among all defenses in PFF coverage grade. That's an area that Moore could step in and immediately upgrade, as he has been solid there for the Colts over the last two seasons. Moore earned an overall grade of 69.1 in 2018 and 75.6 this past season in Indianapolis, playing primarily in the slot but also splitting outside on occasion. His run defense grades of 79.4 and 86.2 in those seasons indicate that he's not afraid to mix it up on the perimeter, either.
The first round closes out with Maye coming off the board. I know, not quite exciting as Ramczyk, but Maye deserves the first-round nod after a strong injury-shortened showing in 2018 and a continuation of that play in a full season of action this past season. In 2019, Maye intercepted or broke up seven passes while allowing just nine receptions as the primary coverage defender. That resulted in a coverage grade of 77.4 for the former second-round pick. Like many of the players making their way into the first round, his career looks to be on the upswing.