The 2020 NFL regular season has officially come to a close, which means it is time to unveil our final rookie rankings. However, we are doing things a little bit differently this time around. Instead of ranking the rookies based on PFF grade as we have after each week, we rank them on a variety of factors in addition to their grade — such as PFF WAR and other advanced data found in Premium Stats 2.0.
These rankings have nothing to do with positional value. Instead, we're solely looking at how the players performed at their respective positions. So, without further ado, here are our final rookie rankings for the 2020 NFL season.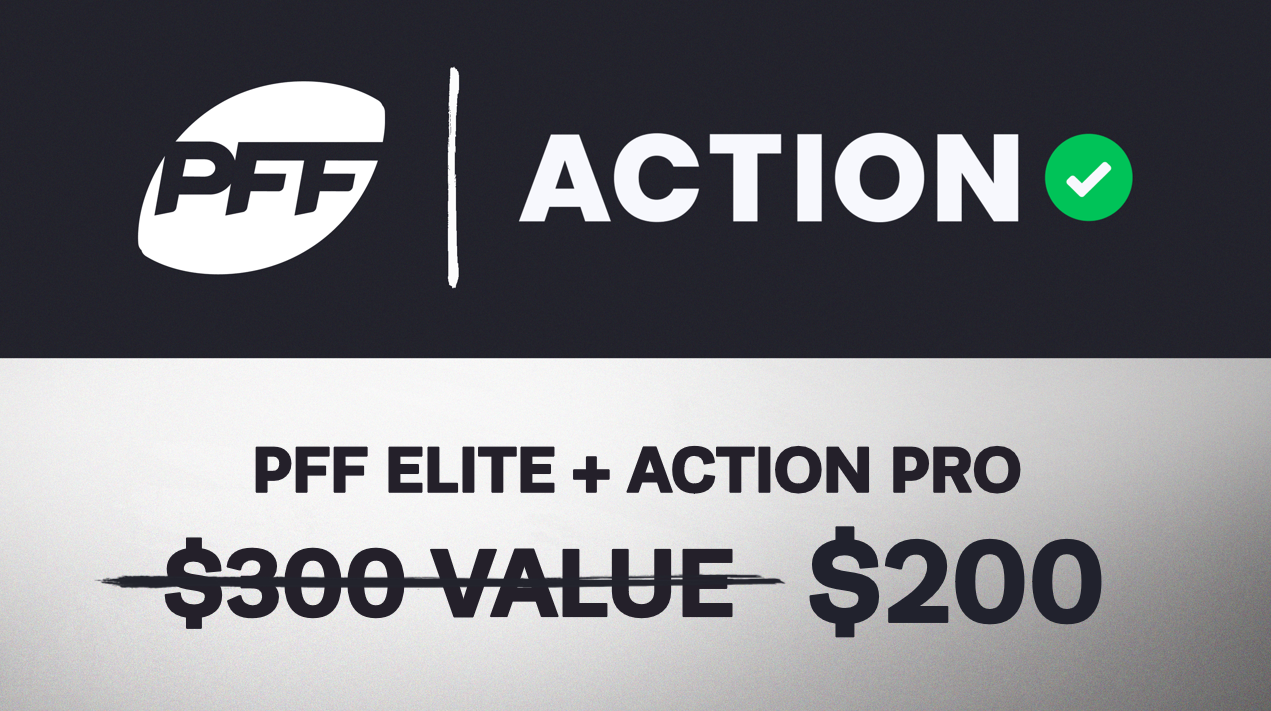 While Jefferson was a first-round pick, no one quite expected him to end up the best performing rookie of the 2020 class after Year 1. He finished the season with an elite 90.5 receiving grade that trailed only Davante Adams for the best in the NFL and was just shy of the rookie record set by Odell Beckham Jr. in 2014 (91.2).
The most impressive aspect of his first year in the NFL ranks was his performance against single coverage. That was an area of concern when he left LSU because of his role there, but he has undoubtedly proved that he can handle those situations. Jefferson maintains his No. 2 receiving grade rank against single coverage and jumps to first in yards per target (13.2) on such plays.
Young closed out the regular season on an absolute tear. Through Week 11, he had been up-and-down but still managed to produce a respectable 72.6 PFF grade for a rookie at his position (18th among edge defenders). Since Thanksgiving Day in Week 12, though, Young started looking like the dominant force we saw weekly at Ohio State.
From Week 12 on, he earned a 90.6 PFF grade that trailed only Khalil Mack for the best at the position. Get used to seeing the latter form of Young, as it appears he'll be dominating for years to come.
Tom Brady and the Tampa Bay Buccaneers desperately needed 13th overall pick Tristan Wirfs to step as the starting right tackle and provide strong play right away. And they clearly got that and then some.
Wirfs closed out his rookie regular season as the second-highest-graded right tackle in the NFL (82.2). His 81.0 pass-blocking grade is also the second-best we have ever seen in the PFF era (since 2006) by a rookie right tackle — behind only Marshal Yanda in 2007. Wirfs held his own against several top-notch pass-rushers, such as Cameron Jordan and Joey Bosa, and is bound to continue that trend moving forward.
There were some doubts about Herbert's ability to immediately produce for the Chargers, but he silenced the critics in a convincing fashion. Herbert earned a 78.6 passing grade, tying for 12th in the NFL this season and ranking as the sixth-best mark we have ever recorded from a rookie. Don't get completely carried away with Herbert's success in Year 1, though.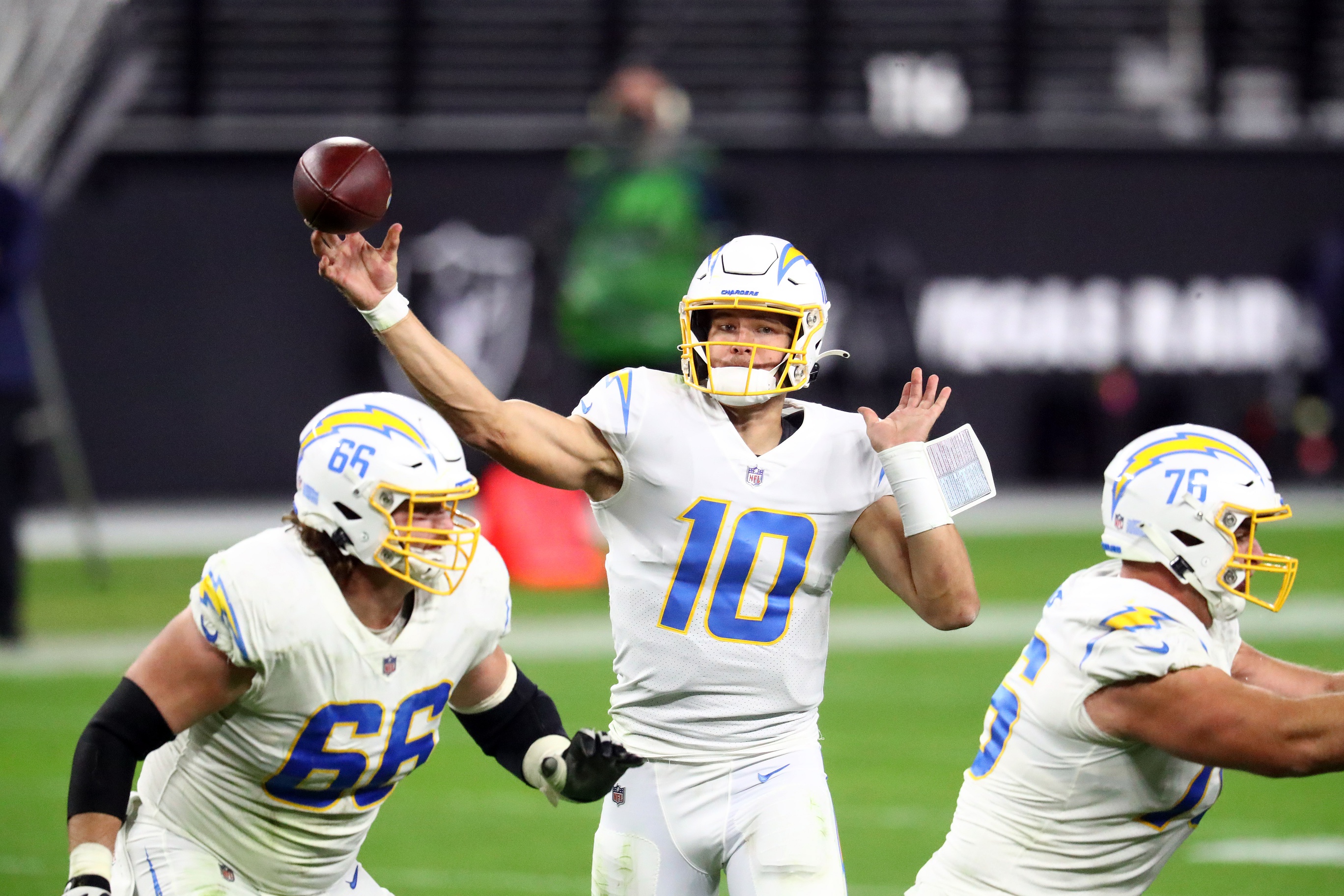 When isolating his play to just throws from a clean pocket, Herbert drops to 24th in the NFL in passing grade (76.2). His performance was fairly reliant on plays under pressure, which is extremely volatile from year to year. On those dropbacks, Herbert's 75.4 grade was the best in the NFL.
The sixth overall pick actually had more turnover-worthy plays when kept clean (10) than when pressured (six). This is no slight to Herbert, as he had a remarkable rookie campaign. No one quite expected him to rank third in deep passing touchdowns (12) and ninth in big-time throws (31).
Despite missing nearly the entire second half of his rookie campaign following a gruesome knee injury in Week 11, Burrow still finished as the 16th-most-valuable quarterback in the NFL. His deep ball wasn't as finely tuned as back in his historic 2019 season at LSU, but Burrow was money on just about every other throw. In fact, he recorded the sixth-best passing grade in the NFL this year when throwing 19 yards or less downfield.
The 2020 No. 1 overall pick also had the lowest rate of passes to result in a quarterback-fault incompletion (4%) this season when in a clean pocket. That's two percentage points higher than any other NFL quarterback in 2020. The future is bright for the Bengals with Burrow leading the offense.
Onwenu logged over 80 snaps at each of left guard, right guard and right tackle this season, and he performed well regardless of position. The sixth-round pick posted a grade above 79.0 at each of those three alignments.
Onwenu's performance at right tackle, in particular, is what's most impressive about his rookie campaign — he didn't even log a snap at tackle in his four years at Michigan. Onwenu spent most of his rookie campaign there, with 616 snaps at the position, and he finished the year ranking 10th of 39 qualifying right tackles in PFF grade. A lot can happen in the next couple of years, but it's looking like he may be the biggest Day 3 steal of the 2020 NFL Draft.
Taylor closed out the regular season and enters the playoff on a tear. The past six games of his rookie year were his six highest rushing grades of the regular season. Taylor started off the year with a 62.4 rushing grade through Week 10. He then improved that mark to 91.2 from Weeks 11-17, ranking behind only Derrick Henry for the best in the NFL.
The former Wisconsin Badger led all backs in percentage of runs to pick up a 10-plus yard gain (21%) in that stretch and ranked second in broken tackles per attempt (0.28). Obviously, some of that credit has to go to a Colts offensive line that finished eighth in run-blocking grade, but Taylor's rushing grade down the stretch is something few obtain in a given year.
Aiyuk had a red-hot streak brewing, but it came to an end in Week 16 against the Arizona Cardinals in what was his final game as a rookie. He posted a poor 53.3 receiving grade and one drop to just one catch. In his six games prior to that, though, Aiyuk was one of the most productive wide receivers in the league, generating 2.44 yards per route run and an 86.3 receiving grade. The best part about that stretch was how he showed he can win against single coverage with his route-running prowess.
Higgins left his final game as a rookie in Week 17 a few plays into the game with an injury that caused him to miss out on joining Cris Collinsworth and likely future Hall-of-Famer A.J. Green as the only 1,000-yard rookie receivers in franchise history. He was, however, one of the 10 most valuable rookies this year, ranking 26th in receiving grade (79.0).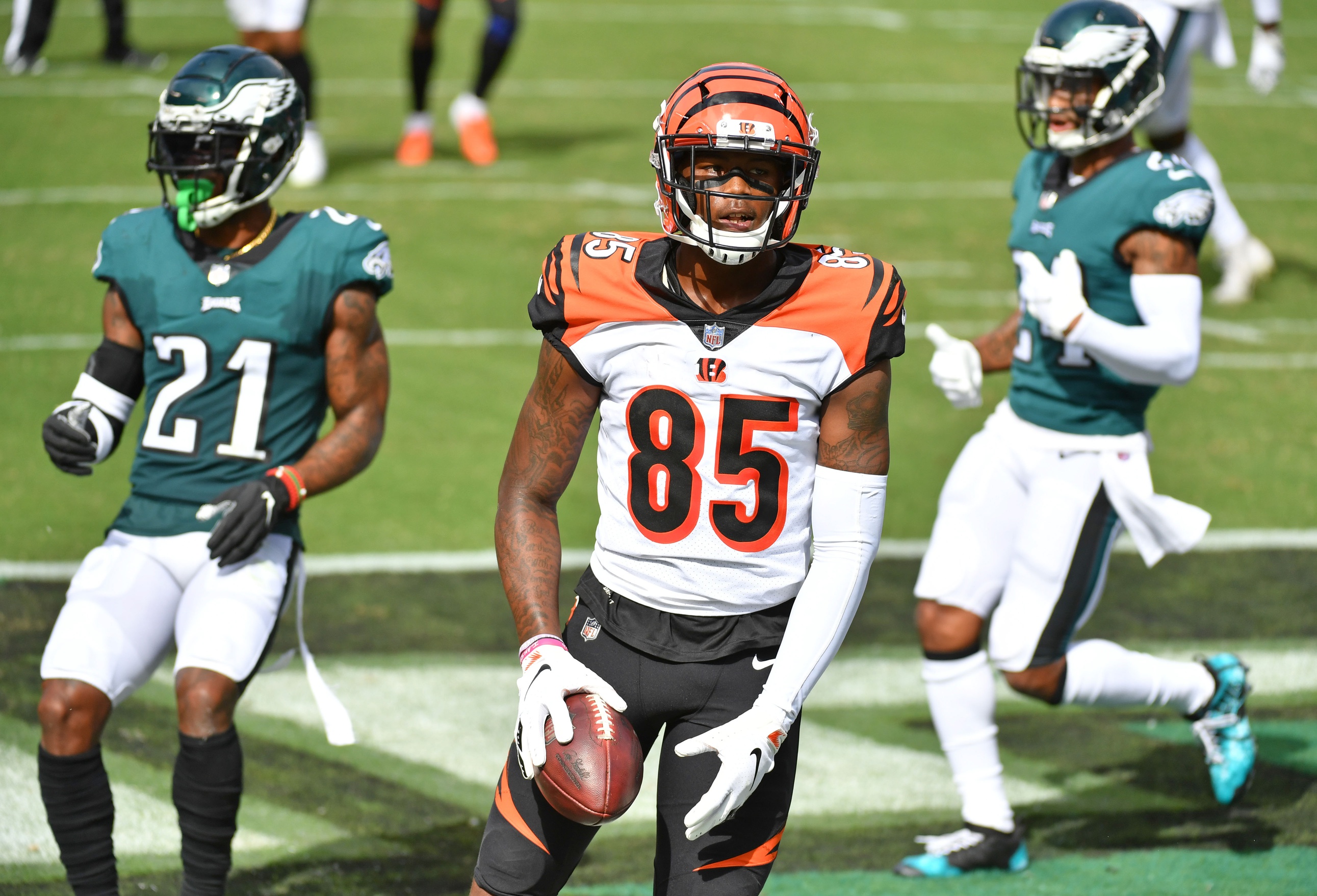 Despite missing out on that record, Higgins still produced a successful rookie year and continuously got better. Back in Week 16, he had a performance that was reminiscent of his days at Clemson, as he hauled in three contested targets along with a highlight-reel, toe-tapping touchdown.
Every rookie cornerback had a "disappointing" season, except for one: L'Jarius Sneed, the 138th overall pick in the 2020 NFL Draft. Whether he was in the slot or manning the outside, Sneed provided valiant play for the Chiefs with a 73.8 coverage grade on the season. He allowed just 13 first downs in coverage while intercepting three passes, breaking up four balls and forcing seven passing stops. That led to Sneed being the most valuable rookie cornerback in the league by a country mile.
Curl emerged in the second half of the season for the Washington Football Team and finished the year as the highest-graded safety from the 2020 rookie class. Considering Curl was a seventh-round pick, the Football Team got pretty good value for him. He logged more snaps in the box than any safety in the league from Week 9 on and provided strong play there. The former Arkansas Razorback ranked 14th of 56 qualifying safeties in PFF grade in the box over that span.
Winfield was a difference-maker for Tampa Bay right out of the gate. On top of providing value as a blitzer with nine pressures on 53 rushes — two of which were strip-sacks — he has been one of the best safeties in the league against the run. Winfield's 86.3 run-defense grade ranks second-best at his position. But while he forced four incompletions and intercepted one pass, Winfield was responsible for allowing seven explosive plays in coverage this season, tying for the most among free safeties.
Gibson may not have had an eye-popping, breakout stretch of play like Jonathan Taylor did, but he still put together a successful rookie campaign. The third-round pick recorded the NFL's fifth-best rushing grade (85.3).
He also generated value as a receiver, just like what he was tasked with doing at Memphis. Gibson's receiving production for Washington this year didn't come lined up in the slot like in college, though. He never saw a flare at Memphis, but he caught 22 for Washington this past season, tying for the fourth-most in the NFL. The running back finished 13th at the position in yards per route run (1.36) and tied for 10th in broken tackles after the catch (11).
Claypool opened his rookie year with a few huge games and closed out the regular season with another big one. The 49th overall pick produced an 82.7 PFF grade in his first four games with 3.53 yards per route run. There was a bit of a midseason lull, but Claypool rebounded against the Cleveland Browns in Week 17 with Mason Rudolph throwing him the ball, as he recorded an 89.1 PFF grade and hauled in a couple of deep balls.
Claypool actually saw more deep targets than anyone in the NFL, including plays nullified by penalty. He may have ranked only 11th in total deep receiving yards (347), but Claypool drew two more defensive pass interferences on deep targets than anyone in the league (seven). The latter is the second-most we have recorded in the past decade.
Hauling in targets has been an issue for Lamb this season. He tied for the fourth-most drops this year at the position, with nine. Lamb did continuously exploit holes in zone coverage from the slot, though. No wide receiver generated more 15-plus yard plays from finding a hole in zone coverage from the slot than him (nine). He hauled in 21 of 27 such targets for 325 yards, and none of his drops came on those targets.
Highsmith has been a PFF darling since his days as a Charlotte 49er, where he posted one of the highest pass-rushing grades in the country in his 2019 season (91.4). We haven't seen that kind of elite production from the third-round rookie at the NFL level, but he has certainly exceeded expectations.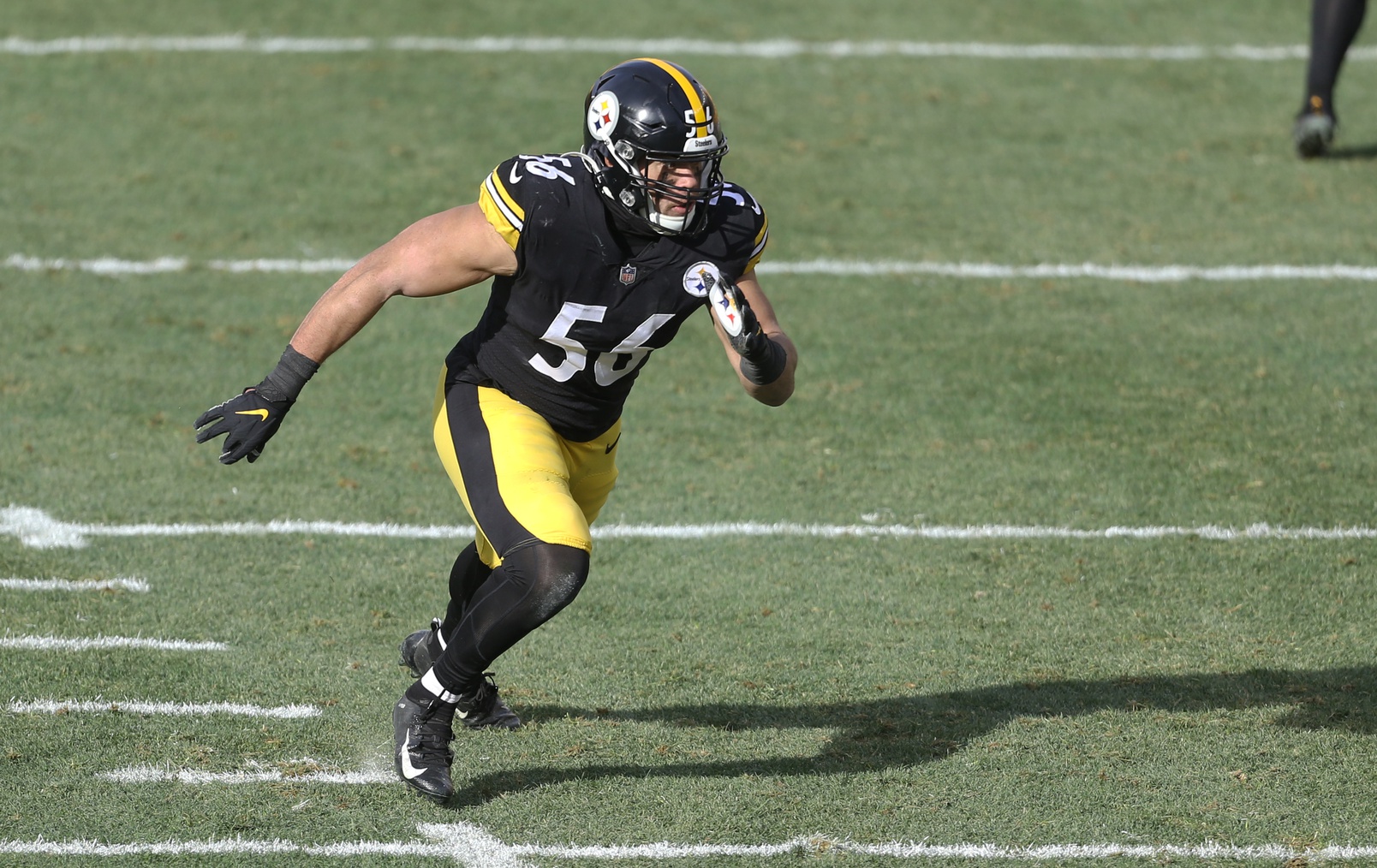 Highsmith has been hot-and-cold this season and managed to finish the regular season with a 72.0 PFF grade. That mark is over 11 grading points higher than what Bud Dupree — whom Highsmith replaced — was at in 2020 prior to his torn ACL. It's also nearly 30 grading points better than what we saw from Dupree as a rookie in 2015. Considering the looming contract situation with the sixth-year edge defender, seeing this kind of production from Highsmith might make it easy for Pittsburgh to let Dupree walk this offseason.
Dantzler, like every rookie corner, endured a bit of a roller-coaster season. Still, the 89th overall pick provided more high-end play than any other rookie corner this year. Dantzler's Week 13 performance against Jacksonville and Week 15 showing against Chicago were the two best single-game PFF grades we saw from a rookie corner this year. He also allowed the lowest passer rating in coverage among the 2020 class in the second half of the season, a 41.9 mark from Week 11 on.
Becton was one of a handful of surprises on this list. Yes, he was the 11th overall pick, but the fact that he was rarely tasked with true pass sets in a play-action and screen-heavy offense at Louisville was a big concern. Needless to say, it was a shock to see the 6-foot-7, 369-pound tackle outperform in pass protection as much as he did. Becton's true pass set grade was the 13th-best among all left tackles this season.
Lewis didn't perform up to snuff when it came to pass protection. His 48.4 pass-blocking grade tied for 71st among 83 qualifiers this season. Yet, his run blocking was some of the best we saw at the position this season. He came in at No. 6 among all guards in run-blocking grade, posting an 81.5 mark. Even in the lone game where Lewis played center — a position he had no experience with — he provided stout run blocking. But if he wants to take that next step forward and become a quality starting guard, he has to improve in pass protection.
Walker started just a handful of games this season for the Falcons, but he undoubtedly exceeded expectations across his 387 snaps as a rookie. The fourth-round pick earned a 90.7 coverage grade, allowing only 74 yards while forcing an incompletion and a fumble. He also made five passing stops.
Edwards-Helaire didn't quite have the season that many — mainly the fantasy community — expected, but he still finished 20th among 63 qualifying backs in rushing grade this season. Chiefs head coach Andy Reid utilizes a zone concept just as much as anyone in the league, with just over 67% of his runs being zone. A good chunk of those stem from one of his patented RPOs. Edwards-Helaire has been even better on zone runs, jumping to 10th in rushing grade on such plays. That still doesn't justify taking him in the first round, but it's noteworthy nonetheless.
Shenault flashed the same running back-esque elusiveness that we saw from him back in his days at Colorado this year. He hauled in 58 receptions as a rookie and broke the eighth-most tackles after the catch (16) among NFL wide receivers. The 42nd overall pick tacked on six more broken tackles on 18 runs.
There weren't really any "blow-up" performances from Shenault this season, but he was impressive at the catch point. His grade on contested targets was the 12th-best in the league, and his 72.2% contested catch rate ranked second.
Let's state the obvious: Jeudy's drop problems did him no favors. His five drops against the Los Angeles Chargers in Week 16 were the most we have seen in a single game in the past five years, and his 18.8% drop rate for the season was the second-worst in the NFL. Jeudy did, however, show off the route-running chops that we saw from him routinely at Alabama — the skill set that made him a first-round pick to begin with.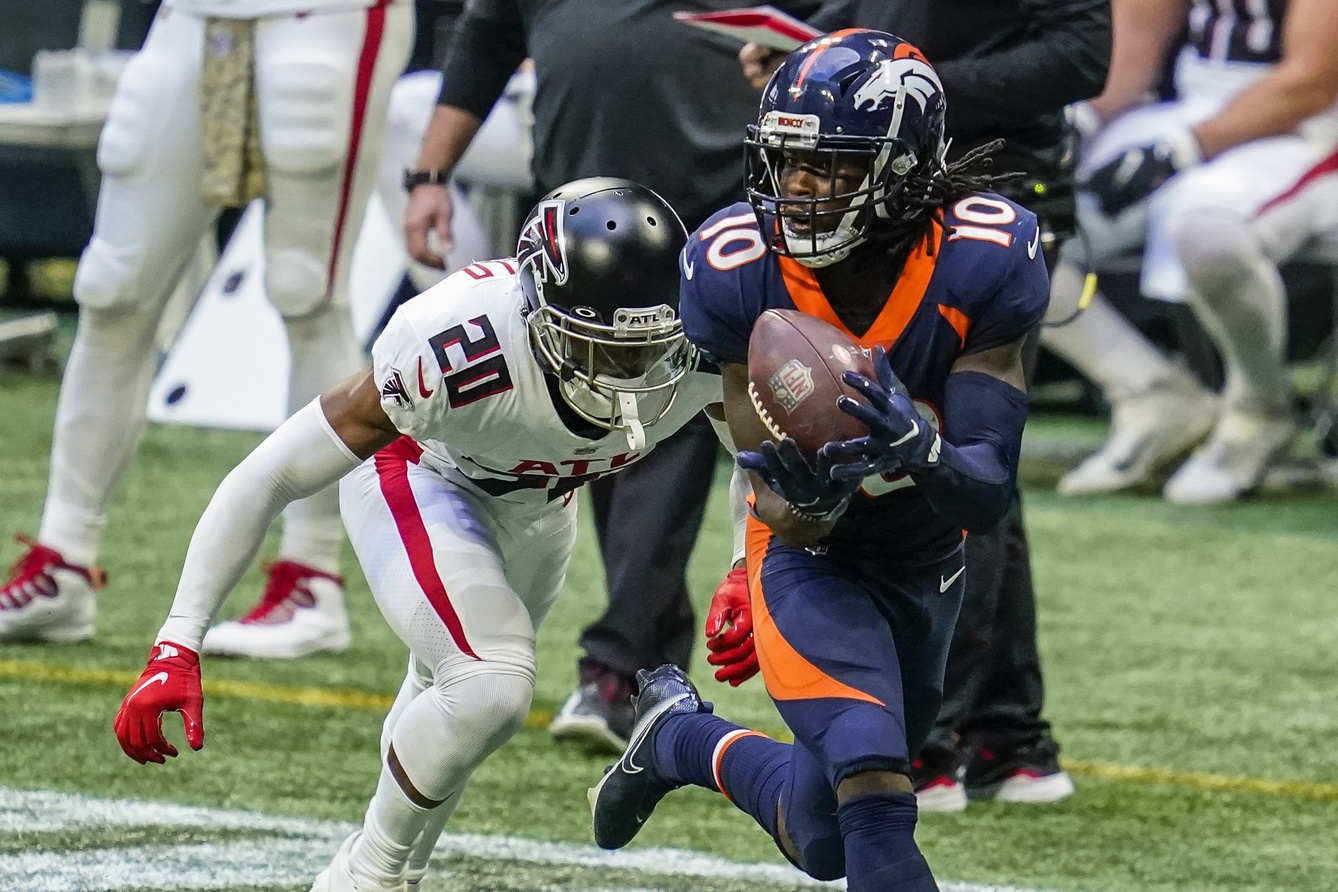 And despite him having that high drop rate and the highest rate of targets resulting in a quarterback-fault incompletion (25%), Jeudy still managed to rack up the 13th-most receptions of 15-plus yards in the NFL (26).
Chinn did rack up the seventh-most defensive stops at his position (30) and the fourth-most instances of being the first defender to contact (82), but it was an up-and-down affair all year long for the safety. He also tied for the fourth-most touchdowns allowed in coverage (six) and had the sixth-worst run-defense grade among all safeties this season (47.2). That's why he is not any higher than No. 24 here despite some claiming him to be the runner-up Defensive Rookie of the Year behind Chase Young. That said, Chinn still showed promising signs for a former FCS player in his first year at the NFL level, and Carolina fans should be excited.
Blackmon flipped to safety in his final season at Utah in 2019 after a few middling years at outside corner. And the move really elevated his play. He recorded an 89.6 PFF grade in that final year while playing predominantly deep safety for the Utes, and he has carried some of that success early into Year 1 in the NFL.
Through the first 11 weeks of his pro career, Blackmon was the highest-graded rookie in the league by over nine grading points (73.0). Things went downhill for him the rest of the year, though, as he posted a 46.0 PFF grade from Week 12 on.