As the 2022 NFL season draws nearer, the prospect of seeing the best players in football take the field once more is getting ever closer.
PFF is, at its heart, a player evaluation company, quantifying hundreds of data points on any given play in an effort to identify the best players and use that information to create useful insights across the spectrum of football analysis.
This is a list of the best 50 players in the NFL entering the 2022 season. No single number or grade dictates this list, but the grading along with PFF's wins above replacement (WAR) metric has been used as a foundation while weighting toward the most recent season.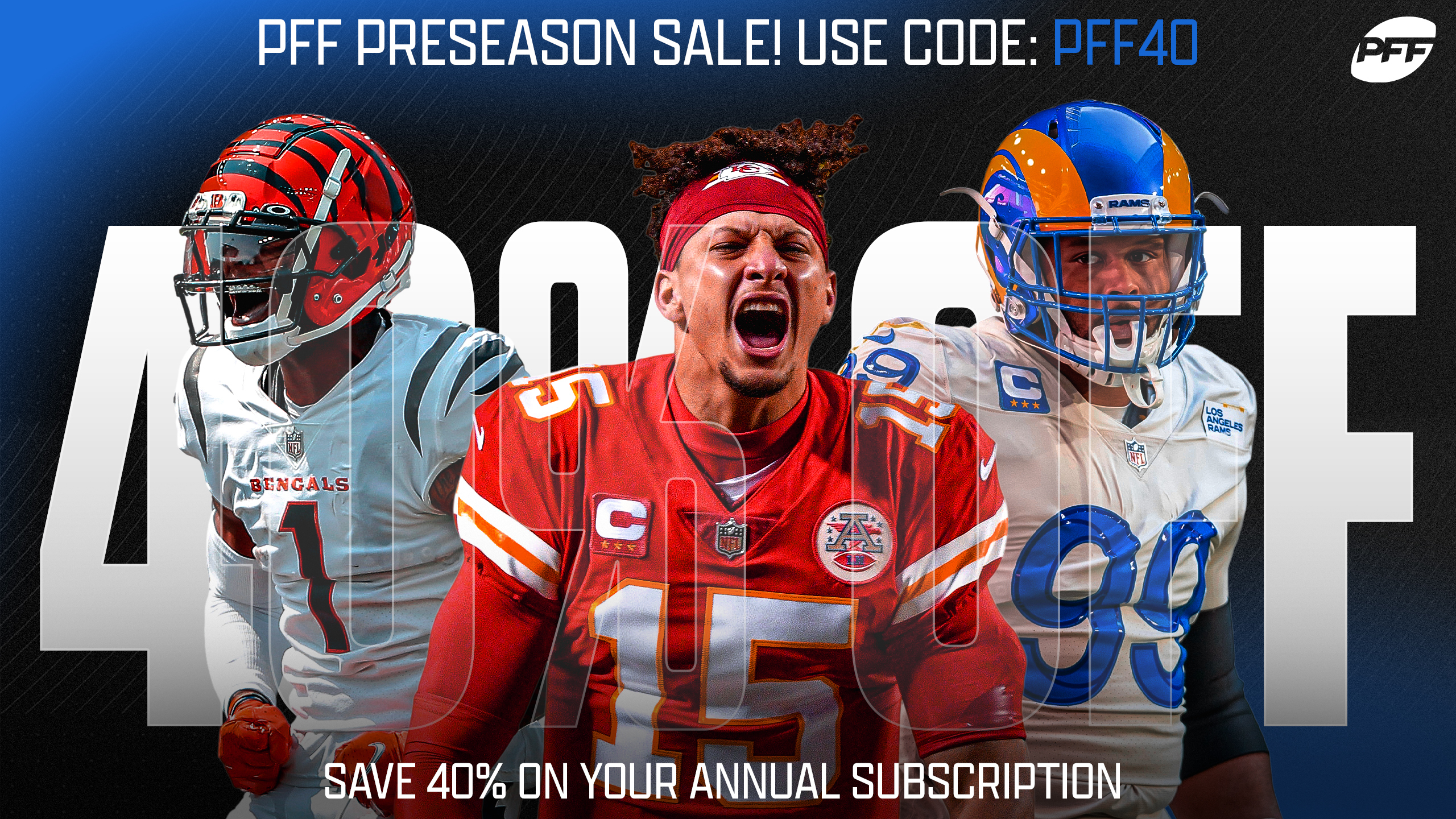 Donald is the best player in football and is increasing his all-time legacy with each passing season. It's difficult to quantify his standing alongside such greats as "Mean" Joe Greene, Alan Page, Reggie White and Lawrence Taylor without PFF data and grading for those legends of the game. Nonetheless, at the very least, the gap between the best to ever do it and Donald is negligible at this point. Donald once again led all defenders in PFF grade last season (93.5) and took over the Super Bowl on the final drive to secure a championship for the Rams.
---
Williams had a season for the ages in 2021, finishing with a 97.8 overall PFF grade on a scale that only goes up to 100. His run-blocking tape was an endless clinic of dominance, showcasing a peerless combination of technique, speed, agility, pure strength and power. We may never see that level of run-blocking dominance over a single season again. As a pass blocker, he allowed 16 pressures in 15 games. 
---
Rodgers backed up an MVP season with another, and even if he was a small step behind the leaders in overall PFF grade in 2022, his two-year run has been as good as anybody's. His ability to avoid turnovers while still maintaining a high volume of big plays is unique, and he had one-third or fewer of the interceptions that the players ranked above him in PFF grade managed.
---
Adams remains the best receiver in football, though the number of challengers for that crown appears to be growing by the year. Over the past two seasons, he has the highest PFF receiving grade among receivers and has gained the most yards per route run (2.88). He now teams up with his college quarterback in Las Vegas to see if he can replicate the connection he had with Aaron Rodgers in Green Bay.
---
In a "down" year, Mahomes threw for over 4,800 yards with 37 touchdowns and 13 interceptions. That's a career year for many quarterbacks, but we know there's more in the tank for Mahomes, and we should see more of it in 2022, despite Tyreek Hill's departure. Mahomes still boasts the best pure passing ability in the game right now.
---
Allen proved that his breakout 2020 season was no fluke, as he was once again phenomenal in 2021. He now has back-to-back PFF grades above 90.0, and he recorded the best grade at the position in the playoffs (95.8). Allen's combination of physical tools is unrivaled at the position, and his running ability makes the Bills' offense so difficult to stop in "got to have it" situations. He posted 10 rushing first downs, eight broken tackles and 134 yards in just two playoff games as a rusher.
| | | | | |
| --- | --- | --- | --- | --- |
| Year | PFF Grade | PFF Passing Grade | Big-Time Throw Rate | Turnover-Worthy Play Rate |
| 2021 | 90.9 | 81.9 | 5.9% | 3.2% |
| 2020 | 90.3 | 87.9 | 6.1% | 3.5% |
| 2019 | 64.1 | 61.4 | 2.8% | 4.3% |
| 2018 | 65.3 | 58.0 | 4.9% | 5.1% |
---
Over the past two seasons, Watt leads the league in sacks and sack rate despite rushing the passer over 450 fewer times than some of the players behind him. He also has an exceptional knack for making other plays, batting 12 passes and forcing seven fumbles over that span. Watt is an impact player who is playing as well as any edge rusher in the league right now.
---
Last season, at 44 years old, Brady finished the regular season with a 92.0 PFF grade — the best among NFL quarterbacks. And it was only Joe Burrow's Super Bowl run that leapfrogged him ahead when including the playoffs. Brady recorded the second-lowest turnover-worthy play rate and tossed 43 touchdown passes. Now at almost 45 years old, there's no reason to expect anything less than spectacular again this season.
---
Martin may be the most underrated player in the NFL. He accrued a career-best 93.9 PFF grade last season, posting six separate PFF game grades above 90.0 during the season. He allowed 19 pressures on 688 pass-blocking snaps and has seen his performance improve in each of the past three years.
---
Did 2021 mark the beginning of Kelce's decline, or was it just a product of Kansas City struggling to deal with all of the two-high coverage shells it saw all year? That's the big question heading into the 2022 campaign, but Kelce's production over the past several seasons speaks for itself. Even in 2021, passes thrown his way generated a 103.4 passer rating — his eighth-consecutive season topping 100.0.
---
Nelson has as much talent as any offensive lineman in the game, but we didn't see a fully healthy version of him in 2021. At his best, he is a unique force in the running game and a very high-level pass blocker, but he needs to bounce back in 2022 now that he is back to full health.
| | | | | | |
| --- | --- | --- | --- | --- | --- |
| Season | Overall Grade | Run-Blocking Grade | Pass-Blocking Grade | Snaps Played | Pressures Allowed |
| 2021 | 69.1 | 70.4 | 62.0 | 767 | 15 |
| 2020 | 87.5 | 86.0 | 81.8 | 1,160 | 15 |
| 2019 | 91.2 | 90.1 | 82.8 | 1,044 | 20 |
| 2018 | 81.6 | 80.9 | 83.5 | 1,261 | 24 |
---
Very little separates Garrett from T.J. Watt as the best edge rusher currently in the NFL. Over the past two seasons, Garrett has the best pass-rush win rate (22.6%) among edge rushers, narrowly ahead of Watt. He also leads the league in pass-rush wins that never developed into pressure because the quarterback got rid of the ball beforehand. Garrett is simply a dominant force on Cleveland's defensive line.
---
Kupp stepped up last season as a truly dominant force across the board for the Rams. Once seen as a slot receiver only, Kupp dominated in all areas, including on the outside against press coverage. He was the only receiver in the league who gained more than 3.0 yards per route run (3.12) and caught over 50% of his contested targets.
---
Ramsey continued to excel in 2021 despite playing in a new role, producing his best overall PFF grade since his career year in 2017 for Jacksonville. Ramsey lined up in the slot or in the box on more than double the snaps he did a year ago, and it meant he racked up 25 defensive stops, 12 pass breakups and four interceptions in the regular season.
---
The Chiefs began the season with Jones — a 6-foot-6, 310-pound interior lineman — playing as a true edge rusher, given their difficulties at the position. They abandoned that plan as the season wore on, but the fact that he was able to do it and succeed — not to mention legitimately be the team's best edge rusher — is a testament to skill. When he moved back inside, he immediately returned to being a dominant interior force.
---
This past year proved that Henry is, in fact, human. The first significant injury of his career kept him out for the final nine games of the season, but despite playing in just eight contests, Henry finished with the ninth-most rushing yards in the league and ranked No. 6 in rushing touchdowns. He has averaged at least 3.3 yards after contact for four consecutive seasons.
Most Forced Missed Tackles on Runs | Since 2019
| | | |
| --- | --- | --- |
| Player | Carries | Forced Missed Tackles |
| Nick Chubb, CLE | 747 | 189 |
| Derrick Henry, TEN | 1,021 | 184 |
| Josh Jacobs, LVR | 745 | 180 |
| Dalvin Cook, MIN | 849 | 159 |
| David Montgomery, CHI | 726 | 139 |
---
Jefferson has more receiving yards than any other player in NFL history after their first two seasons. It's impossible to say he is the best receiver in the game right now, but it's also impossible to say with any certainty that he isn't. Jefferson is a complete weapon for the Vikings' passing game and will now play in an offense under new head coach Kevin O'Connell that features the passing game even more.
---
Bitonio has been an excellent player for his entire NFL career, but he took things to a different level in 2021, posting a 93.6 overall PFF grade while allowing 17 pressures in 17 games for the Browns. His pass-blocking grade came in above 85.0 for the fifth straight season, and his run-blocking mark finished at 92.5.
---
Playing on the interior of the defensive line in today's NFL leads to unwinnable comparisons to Aaron Donald, but Heyward is consistently in the battle for the best non-Donald performances in the league. Last season, he was the only other interior player who posted a 90.0-plus grade, and he notched 61 pressures as he continues to play his best football deep into his career. Heyward has recorded at least 60 pressures for three straight seasons.
---
20. TE George Kittle, San Francisco 49ers
Deebo Samuel stole the show for the 49ers' offense last season, but when he was out of the lineup, Kittle continued to dominate like few tight ends the game has ever seen. He led the position in yards per route run (2.35), and the three games in which he saw double-digit targets netted 372 yards and three touchdowns.
---
Taylor led the league in rushing in 2021 and was a perfect example of how much running backs can still matter in the NFL. The Colts' offensive line blocked well for him, but he also led the league in rushing yards above expectation, maximizing that blocking for bigger gains better than his peers. Taylor averaged 3.8 yards after contact and posted a league-leading 23 runs of 15 or more yards.
---
Alexander missed almost the entire 2021 season with an injury, forcing Green Bay to lean on rookie Eric Stokes and Rasul Douglas. However, we're a year removed from seeing him play as well as any cornerback in the game. He earned a 90.6 PFF coverage grade and notched 13 pass breakups while allowing 50.7% of passes thrown his way to be caught in his last full season.
Highest-Graded CBs in Coverage Since 2020
| | |
| --- | --- |
| Player | PFF Coverage Grade |
| Jaire Alexander | 90.8 |
| Jalen Ramsey | 90.0 |
| Xavien Howard | 86.3 |
---
Another Packers player who missed almost all of 2021, Bakhtiari played just 27 snaps in the regular season in an effort to get back for Green Bay's playoff run. Previously, when he's been fully healthy, Bakhtiari was the best pass-blocking tackle in the game, allowing nine pressures across 446 pass-blocking snaps in 2020. A healthy Bakhtiari should still be an elite force in 2022.
---
NFL defenses frustrated Hill and the Chiefs' offense last season with a determined refusal to give up the deep plays that have made him so dangerous. His average depth of target dropped 2.4 yards from the previous year, but he caught a career-high 111 passes in the regular season and was still an elite and dynamic threat at all times. Players who can set the schematic agenda for an entire season are extremely rare, and Hill is one of them.
---
With more help arriving in the form of Khalil Mack — not to mention Sebastian Joseph-Day and Austin Johnson inside — we might see a career year from Bosa in 2022. Bosa has been one of the most dominant edge rushers in recent seasons, posting three consecutive 90.0-plus PFF pass-rushing grades. He recorded 68 pressures and 31 defensive stops last year.
---
Bosa bounced back from a knee injury in 2020 to resume his career as a game-changing edge rusher. He posted 75 total pressures, 39 defensive stops and a career-best 89.8 PFF pass-rushing grade in 2021. Bosa has elite speed around the edge and the power to cause frequent problems for opposing tackles.
---
It seems hard to believe that just a year ago everybody was just hoping a serious knee injury didn't derail Burrow's career. He came back significantly better and finished the 2021 season with the highest overall PFF grade (91.8) among quarterbacks, including the playoffs. Burrow looks like one of the game's best already and will have an improved offensive line to work behind in 2022.
Highest-Graded QBs | 2021 Regular Season & Playoffs
| | | | |
| --- | --- | --- | --- |
| Player | PFF Grade | Big-Time Throw Rate | Turnover-Worthy Play Rate |
| Joe Burrow, CIN | 91.8 (1st) | 5.6% (9th) | 2.1% (4th) |
| Tom Brady, TB | 91.7 | 5.2% | 1.8% |
| Josh Allen, BUF | 90.9 | 5.9% | 3.2% |
| Justin Herbert, LAC | 90.1 | 3.8% | 1.6% |
| Aaron Rodgers, GB | 89.4 | 6.1% | 2.0% |
---
Samuel is a unique weapon in today's NFL — a hybrid player who is capable of excelling as a wideout but then moving into the backfield and taking handoffs as a running back. Only Kupp gained more yards per route run than Samuel's 2.93, and Deebo added another 500 rushing yards and nine touchdowns on the ground (including the playoffs).
---
Parsons drew comparisons to Lawrence Taylor during his rookie season, and they weren't crazy — that's how much of an impact he made during a season in which he was a real Defensive Player of the Year candidate. Parsons ended the year with the best pass-rush win rate (25.3%) among pass rushers and was only doing that to fill in when injuries hit Dallas' defensive line. Parsons has special ability, and if he can develop his play off the ball a little further, he will be one of the NFL's best players.
---
Warner wasn't as dominant in 2021 as in the year before, but he still remains an elite player at the position and one of the best coverage linebackers in the game. Warner recorded 77.0-plus PFF grades in every facet of play except as a pass rusher, where he notched eight pressures across 48 blitzes. This season will be important for him to see where his baseline of play truly lies.
---
An injury cost Hopkins much of the 2021 season, and a suspension will cost him the beginning of the upcoming one. Before that, we saw a four-year stretch where he was as good as any receiver in the game. Hopkins dropped just nine passes over the past four seasons and caught at least 45% of contested targets in each of those years, and he continues to dominate despite the Cardinals' offense doing little to scheme him favorable matchups.
---
Herbert didn't just avoid regression after an impressive rookie season; he improved across the board and is now clearly one of the NFL's best quarterbacks. He generated the lowest turnover-worthy throw rate (1.6%) in the NFL last season and remained one of the best players under pressure.
Best Turnover-Worthy Play Rate | 2021 Regular Season
| | |
| --- | --- |
| Player | Turnover-Worthy Play Rate |
| Justin Herbert, LAC | 1.6% |
| Tom Brady, TB | 1.9% |
| Aaron Rodgers, GB | 2.0% |
| Kyler Murray, ARZ | 2.1% |
| Joe Burrow, CIN | 2.4% |
---
Linsley was able to back up his outstanding 2020 season in Green Bay with another excellent one in Los Angeles after signing with the Chargers. He has back-to-back seasons with 85.0-plus PFF grades and has now allowed just 17 pressures across two years and 1,254 pass-blocking snaps. He is the gold standard at the position right now.
---
Other receivers may have more overall production than Brown, but few appear at the top of every receiver list when it comes to excelling in difficult situations, such as versus press coverage, like him. He is an elite No. 1 receiver who can win in all areas and take over games. He will bring something that's been missing from the Eagles' offense, and if Jalen Hurts can take advantage of that, Brown should continue to dominate.
---
Byard is arguably the best safety in the game right now and has been remarkably consistent while playing a position that is very dependent on outside factors. He posted a career-best 90.9 PFF coverage grade last season, notching six pass breakups to go along with his five interceptions (including the playoffs).
---
Vea is a walking embodiment of Bill Parcells' "Planet Theory" — there are only so many human beings that are that big and capable of moving the way he does walking around on Earth. In a league of rare athletes, he is a rare athlete, and when he finds his groove, he can make good NFL players look overwhelmed. He generated 48 pressures and 27 defensive stops last season.
---
Cook hasn't had as good of blocking in front of him as some other elite running backs, but his ability to make something out of nothing shows up time and time again for the Vikings. He has averaged 3.0 yards after contact for his career while posting double-digit breakaway runs of 15 or more yards in each of the past three seasons.
---
Wirfs was one of the league's best right tackles the moment he stepped foot on an NFL field, and he only backed that up in Year 2. He was the NFL's highest-graded right tackle and allowed just 15 pressures across 18 games (including the playoffs).
Lowest Pressure Percentage Allowed | Among All Tackles Since 2020; Regular Season
| | | |
| --- | --- | --- |
| Player | Pass-Blocking Snaps | Pressure Percentage Allowed |
| David Bakhtiari | 440 | 2.1% |
| Andrew Whitworth | 894 | 2.5% |
| Lane Johnson | 638 | 2.5% |
| Tristan Wirfs | 1,419 | 2.5% |
---
Diggs justifiably wanted a larger role than he was getting in Minnesota, and now that he's in Buffalo, he has recorded at least 27 more targets than his highest-volume Vikings season in both years with the Bills. He wasn't quite as effective during his second season in Buffalo, but he still caught 10 touchdowns and cut his drop total in half from a year ago.
---
Amos is one of the most underrated players in the game and has a real argument to be seen as the league's best safety or, at the very least, one of the best. He has never had a bad season in the NFL, recording seven pass breakups along with three interceptions this past year. He has missed fewer than 10% of his tackle attempts in each of his past three campaigns.
Smith was back to his best this past season despite missing some time due to injury. He posted a 90.0-plus overall PFF grade for the first time since 2015, allowing just 17 pressures across more than 500 pass-blocking snaps. Smith finished with PFF grades of at least 87.0 as both a run blocker and a pass protector.
---
Chase dominated the college football landscape in 2019 on LSU's way to the national title before taking a year off and then doing the same thing in the NFL as the Bengals came up just short of a Super Bowl. He was one of the most dominant receivers in the league immediately, racking up 37 explosive plays and dragging Cincinnati to wins in a handful of games.
Deep Production (20-Plus Yard Targets) | 2021 Regular Season
| | | | | |
| --- | --- | --- | --- | --- |
| Targets | Receptions | Yards | Yards After Catch | TDs |
| 34 (3rd) | 15 (T-3rd) | 576 (2nd) | 141 (2nd) | 8 (1st) |
---
Few players have Leonard's nose for the football, and his ability to perfect the "Peanut Punch" style of forcing fumbles at linebacker has made him a major problem for offenses to deal with on any given play. He generated a ridiculous seven forced fumbles last season along with four interceptions.
---
Chubb is as good as any running back in the game with the ball in his hands. The only thing separating him from Derrick Henry and/or Jonathan Taylor is how little impact he has in the passing game along with the Browns coaching staff's slight lightening of his workload. Chubb accrued the third-most rushing yards last season, despite recording only the 12th-most carries, and averaged 4.2 yards after contact.
---
Williams has posted 70.0-plus overall PFF grades in each of his five NFL seasons and 80.0-plus coverage grades in three. He was remarkably consistent inside New Orleans' defense, and in 2022, we will get to see him in a Ravens system that asks a little more from its safeties.
Highest Three-Year PFF Grades (2019-21) | Safeties
| | |
| --- | --- |
| Player | Grade |
| Marcus Williams | 90.5 |
| Justin Simmons | 90.5 |
| Harrison Smith | 89.8 |
| Adrian Amos | 89.5 |
| Kevin Byard | 87.2 |
---
Jordan continues to truck on and has recorded at least 50 pressures in every season since 2015. In 2021, he posted a career-high 43 defensive stops and the best PFF run-defense grade (87.1) of his career. Jordan may be starting to slow down from his peak, but he remains one of the best players in the game.
---
Mack played only 315 snaps last season due to injury and wasn't performing at his usual level even before he was shut down. However, he is just a season removed from a stellar 92.5 PFF defensive campaign. He is likely to bounce back with the Chargers, but at his age, anticipating the decline is always a real concern.
---
Few cornerbacks are as natural a ballhawk as Howard, who still recorded five interceptions and seven pass breakups in a year that was a significant step back from his previous season. Howard has allowed a 71.3 passer rating into his coverage throughout his NFL career and is a dangerous cornerback to test at any time.
---
Gary was a raw prospect who had immense physical tools when the Packers drafted him in the first round, and last year, he realized all that potential in a major way. He recorded a 90.1 PFF pass-rushing grade while racking up 81 pressures over the course of the season and improving as the year went on. He could be even better in 2022.
---
Crosby broke out in a huge way and led the entire league in pressures during 2021, becoming just the third player since 2006 to top 100 pressures over the course of a season. Crosby faced an absurdly weak collection of tackles, but even when he faced better players, he continued to dominate. Time will tell if he can keep that up against a better slate of blockers in 2022.
Most Pressures in a Regular Season | Since 2006
| | | |
| --- | --- | --- |
| Player | Season | Pressures |
| J.J. Watt, HOU | 2014 | 119 |
| Aaron Donald, LAR | 2018 | 106 |
| Maxx Crosby, LVR | 2021 | 101 |