The bar keeps being set higher, and even with the adjusting scale, Minnesota Vikings receiver Justin Jefferson has enjoyed a remarkable start to his NFL career.
Famously the fifth receiver taken in the 2020 NFL Draft, Jefferson dominated the second he was given the opportunity to start for the Vikings, as he somehow replaced Stefon Diggs and his production without missing a beat.
Nonetheless, does he already have a case as the best receiver in the NFL?
Jefferson has earned second-team All-Pro nominations in each of his first two seasons in the league, meaning he already has one more All-Pro appearance than Mike Evans. He has more receiving yards than any other receiver through the first two years of his career and more yards than any other receiver before turning 23 years old (both no doubt aided by the extra game last year).
Jefferson is excited about the new offense being installed by head coach Kevin O'Connell because "it's not a run-first offense anymore." However, prior to 2022, he's thrived in a run-first offense that was conservative enough to frustrate Diggs into leaving to get more opportunities elsewhere. Jefferson has been one of the NFL's most productive receivers in an offense that has been the eighth-most run-heavy over that time. 
Since entering the NFL, only Davante Adams and Deebo Samuel have generated more yards per route run than Jefferson. Adams is the only receiver who's had a higher PFF receiving grade than Jefferson, and he's had Aaron Rodgers, who is enjoying back-to-back MVP seasons, throwing him the football. 
Adams has been the benchmark for receivers for a couple of years now, and in order to rival him, a receiver needs to have an all-around skill set. Early in his career, Adams was a great route runner, but it took him a while to flesh out his skill set and become good at everything. Jefferson has had it all from Day 1. The big question mark about him as a prospect was whether he could win on the outside at the next level because he had done the majority of his damage in college in the slot, aligning there to accommodate Ja'Marr Chase playing on the outside.
Obviously, the answer to that is a resounding yes, and once that was put to bed, everyone could see a receiver that wins everywhere.
The best three PFF grades when lined up in the slot last season were from Cooper Kupp, Adams and Jefferson, but Jefferson also trails only Adams in grade when lined up on the outside since he entered the league.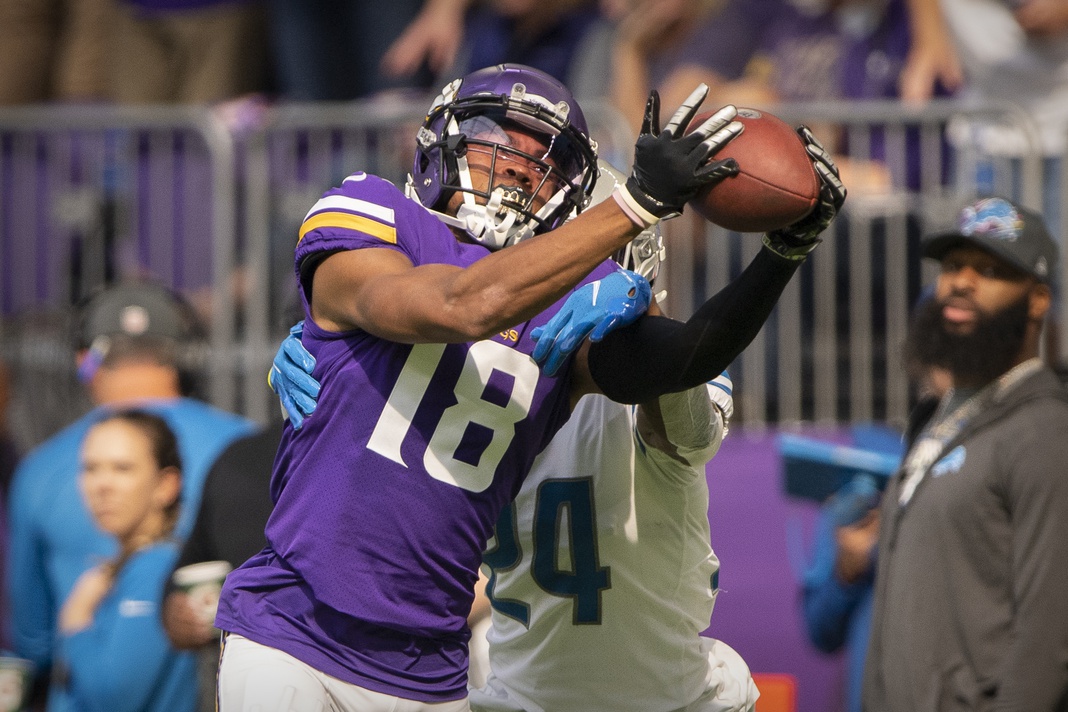 Against man coverage, Jefferson is once again in the top three, and nobody has a better grade against press coverage. When he has faced press coverage — the question teams had about him as a prospect — he has gained 3.27 yards per route run and generated a 129.5 passer rating. He also has nine more explosive plays than any other receiver over the last two seasons in those situations. 
Jefferson already has elite route-running skills and the ability to defeat aggressive man coverage. He's also extremely good after the catch, as he has broken 22 tackles after the catch since entering the league.
Most of Jefferson's biggest plays come from deep targets, excelling in that area in the NFL with one of the highest deep target rates among elite receivers and one of the highest target rates relative to his snap total.
Jefferson has caught 51% of his contested targets — a wildly volatile data point, but one in which anything above 50% is a good number. Jefferson's size and length (6-foot-1 and 195 pounds with 33-inch arms) allow him to take advantage of his ball skills and make plays even with defenders in close attendance.
When adding all of those skills together, it creates a composite that doesn't have a glaring weakness. Jefferson is an elite route runner — even against aggressive, physical coverage — has excellent ball skills — even when the target is contested — is one of the best deep threats in the league and is hard to bring down after the catch.
At a minimum, it's clear that Jefferson is one of the NFL's most complete receivers already, and his PFF grading suggests that he's also one of the best.
Top WR Production in 2021
| | | | | |
| --- | --- | --- | --- | --- |
| Player | Receiving Grade | Yards Per Reception | Touchdowns | Yards Per Route Run |
| Justin Jefferson | 90.1 | 15.0 | 10 | 2.59 |
| Davante Adams | 92.8 | 12.4 | 11 | 2.81 |
| Cooper Kupp | 93.1 | 13.6 | 22 | 3.12 |
| Ja'Marr Chase | 86.1 | 17.2 | 14 | 2.44 |
| Tyreek Hill | 85.6 | 11.4 | 12 | 2.14 |
The issue is that there are other receivers that can make a similar case. This article already touched on Adams, and Chase showed as a rookie that he is set to torch the NFL just the way he did in college when he was Jefferson's teammate at LSU.  When they played in the same offense in college, Chase was the alpha receiver and the primary threat. With another year in the NFL, he could easily surpass Jefferson again and make his own case to be the best receiver in the game.
There are also players, such as Tyreek Hill, who bring truly unique trump cards to the table. Nobody can match Hill's combination of speed and short-area quickness, and that can make up for other areas where he isn't quite as proficient as others. Kupp just got done with a season in which he led the league in all major receiving categories on his way to a Super Bowl MVP award.
The league has never been more pass-happy than it is right now, and that's why it's swimming with elite receivers. Jefferson began his career at a record-breaking pace, and he has a better environment on paper for 2022 than he has had in either of his previous seasons. It might be a little early to definitively declare him as the best receiver in the NFL, but when you look at his tape, production and advanced metrics it's impossible to decisively rule him out of consideration. Jefferson is as good as it gets right now and is only entering his third season as a professional.