The structure of this past offseason was not an optimal one for rookies entering the league. There were limited offseason workouts and no preseason games for those first-year players to acclimate to their new teams, but despite that, several rookies stepped right in and looked like veterans early on.  Those players — along with a few guys who won the battle of attrition at weaker positions — find themselves on PFF's 2020 All-Rookie Team.
Herbert earned the first start of his NFL career thanks to one of the more bizarre situations in the league this season — a Tyrod Taylor punctured lung suffered at the hands of a team doctor. For the second time in three seasons, a rookie quarterback took the reins from Taylor early on and never gave him an opportunity to get back onto the field.
Much has been made of the offensive line that Joe Burrow was playing behind in Cincinnati, but the offensive line in Los Angeles did Herbert no favors, either. The Chargers will end the 2020 regular season ranked 30th in team pass-blocking grade, and Herbert will finish the season as the highest-graded quarterback in the NFL under pressure to go along with a league-high 99.4 passer rating when the pass rush gets home.
The way that Herbert was able to produce big plays from less-than-ideal circumstances isn't necessarily the most repeatable way to make a living at the quarterback position, but it was impressive nonetheless.
There were several rookie running backs who had strong first seasons —making this position a difficult one to nail down to just one player — but the way that Taylor finished the regular season for Indianapolis is what earned first-team honors.
From Week 11 through the end of the regular season, Taylor's 91.2 rushing grade ranked second in the league to Derrick Henry. His 33 missed tackles forced on the ground fell behind only Henry and Nick Chubb over that same stretch. It wasn't always pretty early on, but Taylor started to find his footing in this run game as the season progressed.
Taylor's receiving ability — not something that was considered a strength coming out of Wisconsin — was a pleasant surprise, as well. He led all rookie running backs in PFF receiving grade (73.3), and he dropped just one of his 38 targets on the year. Continuing to develop that part of his game will be big heading into 2021.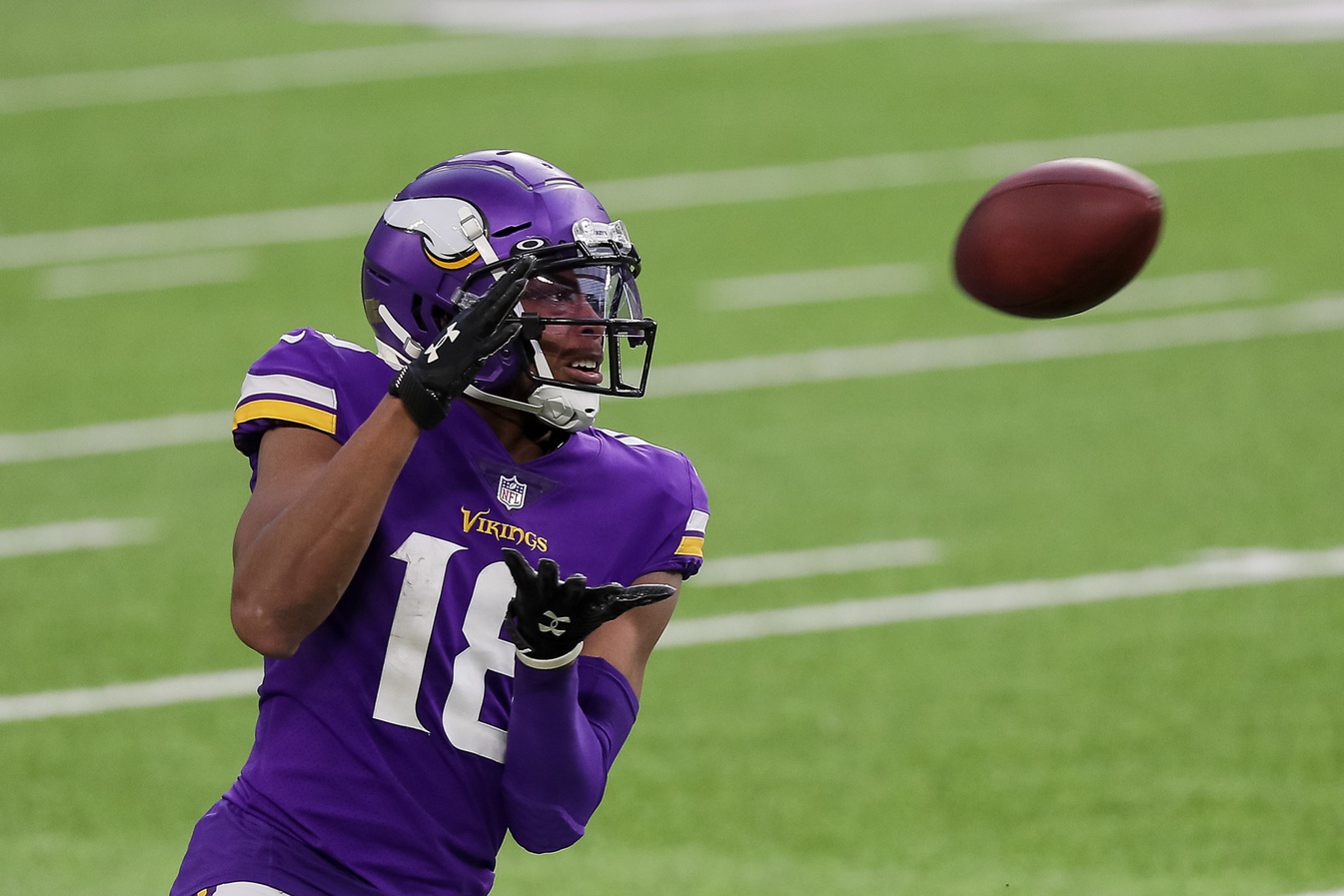 There was no easier selection on this team than slotting in Jefferson at wide receiver. Not only was he the best rookie wide receiver in the NFL this season, but he was one of the best receivers in the league … period.
The first-round selection out of LSU ended the regular season ranked second at the wide receiver position in PFF grade (90.4) behind only Davante Adams. His 2.7 yards per route run ranked second among all wide receivers behind Adams, as well. No matter which way you want to cut it, Jefferson was one of the most productive receivers in the NFL in 2020. Considering he's a rookie on a team that first and foremost wants to run the football, it's hard not to be impressed with that kind of performance.
The blow of dealing Stefon Diggs and seeing the kind of success he has had in Buffalo is softened significantly for Minnesota by the fact that they drafted a replacement that just put out the best rookie wide receiver grade since 2006 outside of Odell Beckham Jr. in 2014.
Cincinnati's offense was not the most high-flying environment for Higgins to show what he could do — particularly following Burrow's injury — but he was still able to turn in nearly 1,000 receiving yards on an offense that had other mouths to feed such as Tyler Boyd and A.J. Green coming into the season.
It became apparent early on that Higgins was going to quickly move ahead of Green in the passing game, and he proved to be the team's top option in two areas where Green has historically excelled — downfield passes and red-zone work. Higgins earned a team-high nine receptions and six receiving touchdowns in the red zone this season, and he was the only player on Cincinnati to catch more than three passes thrown 20 or more yards downfield (nine).
Higgins showed that he will be a key part of the Bengals' offense moving forward as they continue building around Burrow.
The 49ers struck again. Aiyuk is in the same mold as the George Kittles and the Deebo Samuelses added to San Francisco's roster in recent years — he's a dynamic player with the ball in his hands and dangerous after the catch.
His 80.8 receiving grade on the season trailed only Jefferson among rookies, and he got to that mark as the top option in the passing game for a 49ers team that was hammered with injuries for much of the season. Aiyuk's relatively modest totals of 60 receptions for 748 yards and five receiving touchdowns were all top marks for San Francisco this season.
A more stable quarterback situation in 2021 and a healthier 49ers offense should only help Aiyuk moving forward.
The state of rookie tight ends in the league this season wasn't pretty, as only three rookies played at least 300 offensive snaps at the position. Of those three — Trautman, Harrison Bryant and Cole Kmet — Trautman played the fewest snaps (393), but his 79.2 PFF grade led the group by a decent margin.
Trautman didn't get a ton of opportunities in the passing game, but he did take advantage of the looks that came his way. He caught 15 of his 16 targets for 171 yards.
Where Trautman really impressed was as a run-blocker, though. His 86.9 run-blocking grade on the season led all qualifying tight ends, regardless of experience in the league.
That kind of blocking on the edge alongside tackles like Ryan Ramczyk and Terron Armstead gives the Saints an advantage when attacking teams with runs outside the tackles.
Rookie offensive linemen aren't supposed to come into the league and be as good as Wirfs has been in his first season. His 82.2 overall PFF grade ranks second at the right tackle position behind only Jack Conklin, and Wirfs has earned that by going toe to toe with some of the best edge defenders in the league.
Wirfs showed he could handle different styles of pass-rushers all season — holding each of Cameron Jordan, Joey Bosa, Khalil Mack and Brian Burns to three or fewer pressures over 15-plus pass-blocking snaps. It's hard to imagine things breaking better for the Buccaneers, who got what appears to be the top rookie tackle in a talented class as the fourth offensive tackle to come off the board in the 2020 NFL Draft.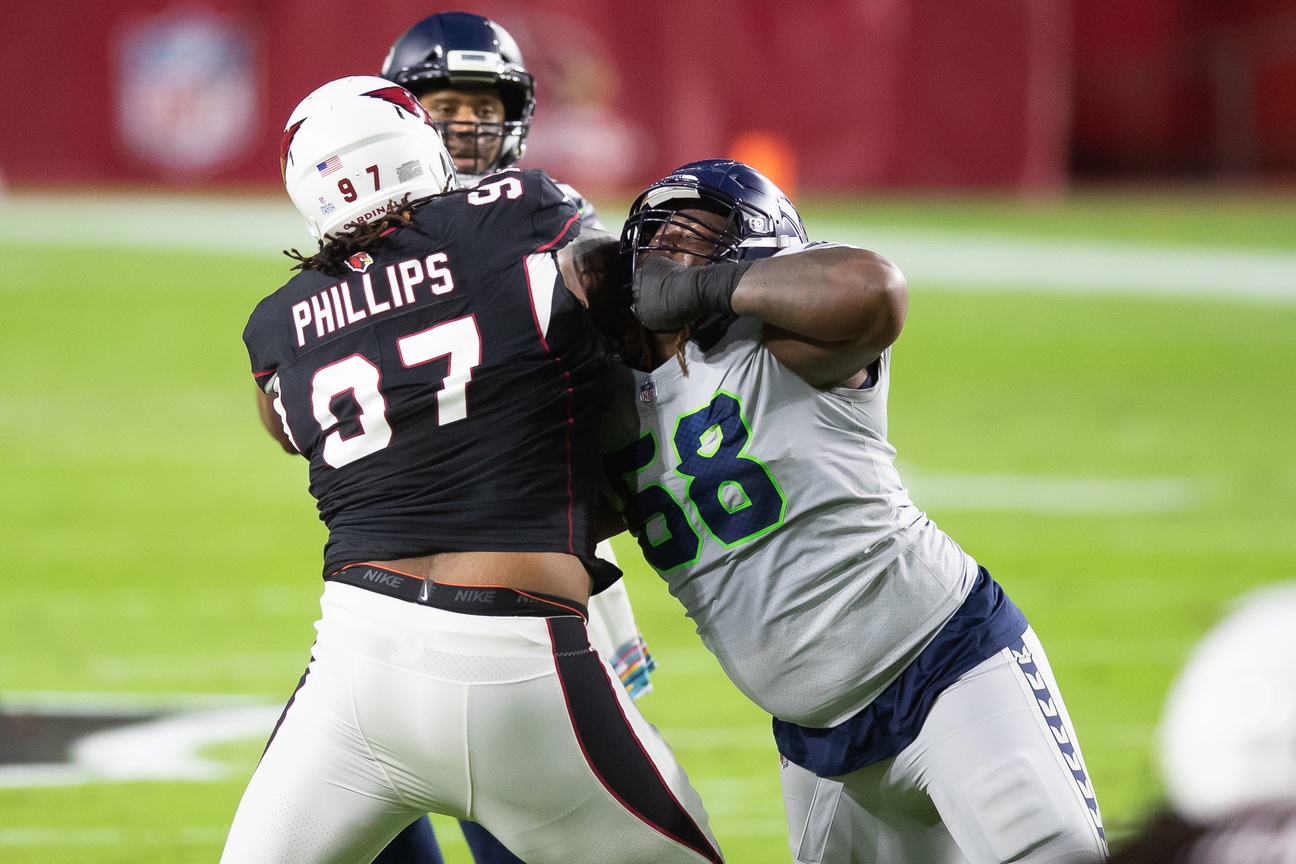 The guard position was another one where finding two players deserving of first-team all-rookie honors was a bit of a struggle. No rookie guard performed well both in pass protection and in the run game, but Lewis was the only member of that group to 1) start the entire season, and 2) put in a dominant performance in one phase of the game.
His 81.5 run-blocking grade on the year ranked sixth among all guards Lewis' success in the run game shouldn't come as a surprise. Some of his biggest pros in the 2020 Draft Guide coming out of LSU were things like "run off him on double teams and profit" and "wants to take your soul in the run game."
Lewis' dominance as a run blocker helps make up for some of his deficiencies in pass protection, but his pass blocking is still an area Seattle would like to see improvement from in 2021.
Only two rookie centers played more than 200 offensive snaps this season — Lloyd Cushenberry III at 1,076 and Biadasz at 427. Among 37 qualifying centers, Cushenberry's 40.5 PFF grade ranked dead last. It's hard to put a player with that kind of performance on the all-rookie team, which leaves Biadasz as the default selection.
Granted, Biadasz didn't dominate by any means, either. His PFF grade of 53.6 at center this season ranked 33rd among those same 37 qualifying centers, but he did edge out teammate Joe Looney (53.1) on a Dallas offensive line that was interchanging parts all season. The Cowboys will hope some stability brings better results in 2021.
Like Lewis, Dotson dominated in one area of his job — pass protection. Dotson only drew four starts on the season and played just 358 offensive snaps total, but in that time on the field, he was one of the better pass-blocking interior offensive linemen in the league.
Dotson allowed just one pressure — a hurry — the entire season in 206 pass-blocking snaps. That 0.5% pressure rate allowed is the lowest by any rookie offensive lineman with at least 150 pass-blocking snaps in the past 10 seasons. Ben Roethlisberger getting the ball out as quickly as he did played a role there, but Dotson deserves his credit, as well.
If Dotson can earn a starting role in 2021, he will need to improve as a run-blocker, where he earned just a 55.1 grade as a rookie.
Onwenu ended up settling in and starting 12 games at right tackle for the Patriots this year, but he started games at both left guard and right guard, as well. Not only did he start at three different positions, but Onwenu also earned PFF grades of 79.0 or higher at each of left guard (83.5), right guard (79.7) and right tackle (79.2) on 100-plus snaps. That kind of versatility and high-level play across multiple positions is rare for any offensive lineman, let alone a rookie.
Onwenu was solid in pass protection, but he really made his mark as a run-blocker on a New England team that skewed very run-heavy this season. He earned one of the highest run-blocking grades of any tackle in the league this season on gap runs.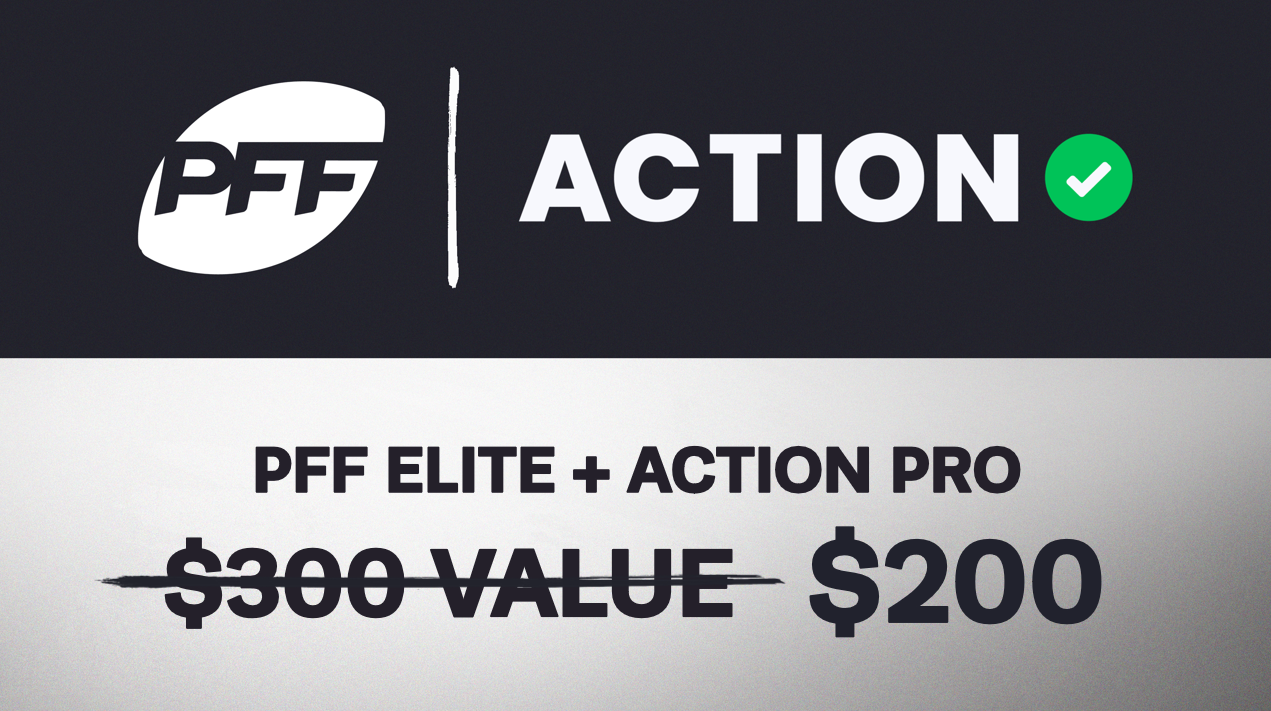 The questions surrounding Brown coming into the NFL were whether he would give teams enough as a pass-rusher to justify an early first-round pick. His run defense was supposed to be the given, so naturally Brown is coming off a season where he graded nearly 20 points higher as a pass-rusher than he did as a run defender.
Brown's 34 pressures on the season are more than any other rookie in the league not named Chase Young. He added four batted passes to his pass-rushing stat sheet, as well. That should be the big takeaway from his rookie performance because the run defense should come along given how dominant he was in that phase of the game at Auburn.
Davis' clear strength coming out of Alabama was his ability to impact the run game, and he finished the 2020 regular season as the highest-graded rookie interior defender against the run (66.8).
That result carries additional weight, given that Davis spent more time at the nose tackle position in his first year with Miami than he ever did at Alabama. The only player to line up directly over the center as a 0-technique more than Davis did (216 snaps) this season was Poona Ford.
Davis was able to take advantage of several of those matchups against centers as a pass-rusher, as well. He and Christian Wilkins give the Dolphins a pair of young, highly-drafted pieces along the defensive line for Brian Flores to work with moving forward.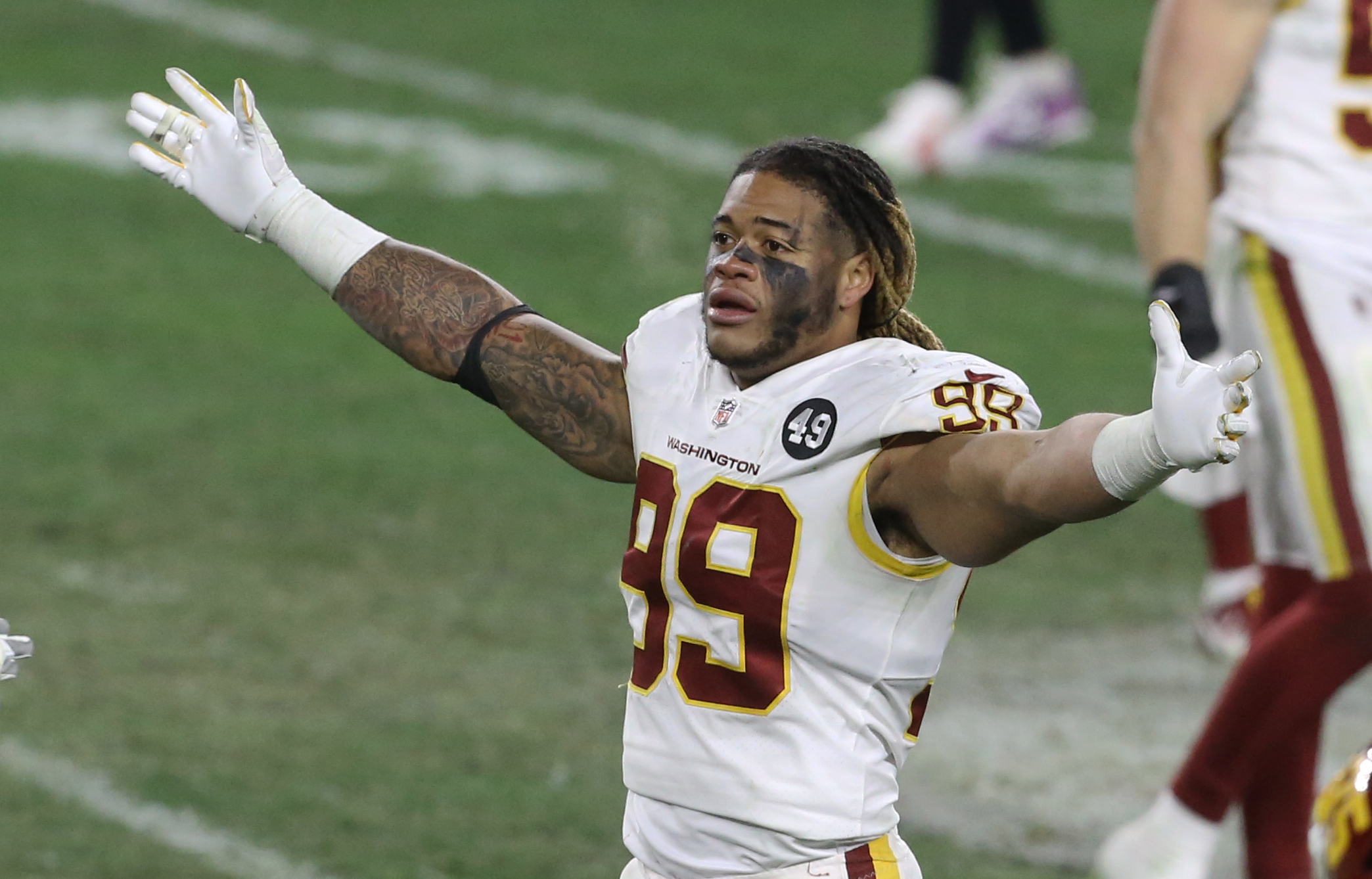 Young's overall pass-rushing numbers aren't going to jump off the page at you, but it's impossible to deny the high-end plays he has put on tape against both the run and as a pass-rusher in his first year. He leads all rookies in sacks (7.5), forced fumbles (five) and tackles for loss or no gain against the run (11). His 87.2 overall grade on the season sits behind only 2011 Aldon Smith, 2011 Von Miller and 2019 Nick Bosa when looking at every rookie edge defender seasons over the past decade.
He is likely the most talented defensive lineman on what has emerged as one of the best defensive lines in the NFL this season. If Young does walk away with the defensive rookie of the year award, it will be well deserved.
Highsmith wasn't expected to have much more than a rotational role on a talented Steelers defense this season, but Bud Dupree's injury thrust him into a starting role late in the year. His 16.5% pass-rush win rate led all rookie defenders with at least 100 pass-rushing snaps, and he joined Young as one of two rookie edge defenders with more than 10 run stops — tackles that are considered "wins" for the defense based on down and distance. Highsmith had 18 such tackles.
With a decision looming on Dupree's future in Pittsburgh following his season on the franchise tag, Highsmith's solid play as a rookie may make it easier for the Steelers to part ways with Dupree as they stare down an offseason with plenty of cap-space questions.
If going purely off counting stats such as tackles, the all-rookie linebackers would be players like Kenneth Murray and Patrick Queen, who started for their respective defenses and piled up numbers. The PFF grades tell a different story, with Murray earning a PFF grade of 54.4 on the season and Queen coming in as one of the lowest-graded linebackers in the league at 29.8.
Walker is one of the players who shined in a more limited role. Across 387 defensive snaps this season, he earned a 74.0 overall grade that included a 90.7 grade in coverage. Walker allowed just 74 passing yards into his coverage on 152 coverage snaps all season. He may not have the same stats as several of the other rookie linebackers across the league, but his play warrants some recognition here.
Simmons' NFL career started just about as poorly as it could have against Kyle Shanahan and the 49ers' offense in Week 1. Still, he has done an excellent job of rebounding and contributing positively to the Cardinals' defense since. In two games against San Francisco, Simmons has earned a PFF grade of just 27.7, but that rises to 68.7 against all other opponents.
He has shown flashes of the kind of plays he can make in coverage — none bigger than the overtime interception against Russell Wilson and the Seahawks back in Week 7 — but he still hasn't quite put it all together. What Simmons was able to put on the field narrowly edged out other players who delivered solid performances in limited samples, like Willie Gay Jr. and Kamal Martin.
From a statistical standpoint, no rookie cornerback came close to matching the season that Sneed had for the Chiefs. He allowed just 214 passing yards into his coverage on 45 targets, and those targets yielded a passer rating of just 53.4 — third-lowest of any cornerback to be targeted at least 30 times this season behind only Bryce Callahan (46.9) and Xavien Howard (53.0).
Sneed also showed the ability to play both outside (164 snaps) and inside in the slot (171 snaps) with different roles before and after an injury that held him out from Week 4 through Week 10. All of that led to a wins above replacement mark that was nearly double the next closest rookie cornerback. The Chiefs couldn't have hoped for much more from the fourth-round pick out of Louisiana Tech.
Dantzler's season can be separated into two distinct segments. Before his injury in Week 8, Dantzler sported a coverage grade of 52.4, allowing a passer rating of 133.8 into his coverage. After returning to the field in Week 11, he earned a coverage grade of 83.9 while allowing a passer rating of 41.9 on passes into his coverage.
The receivers that Dantzler lined up across from most frequently during that stretch included D.J. Chark, Allen Robinson, D.J. Moore, Robby Anderson and Mike Evans — a list that includes some quality opponents.
That late-season surge earns Dantzler the first-team spot here, and it gives the Vikings some reason for optimism in their young cornerback group heading into the 2021 season.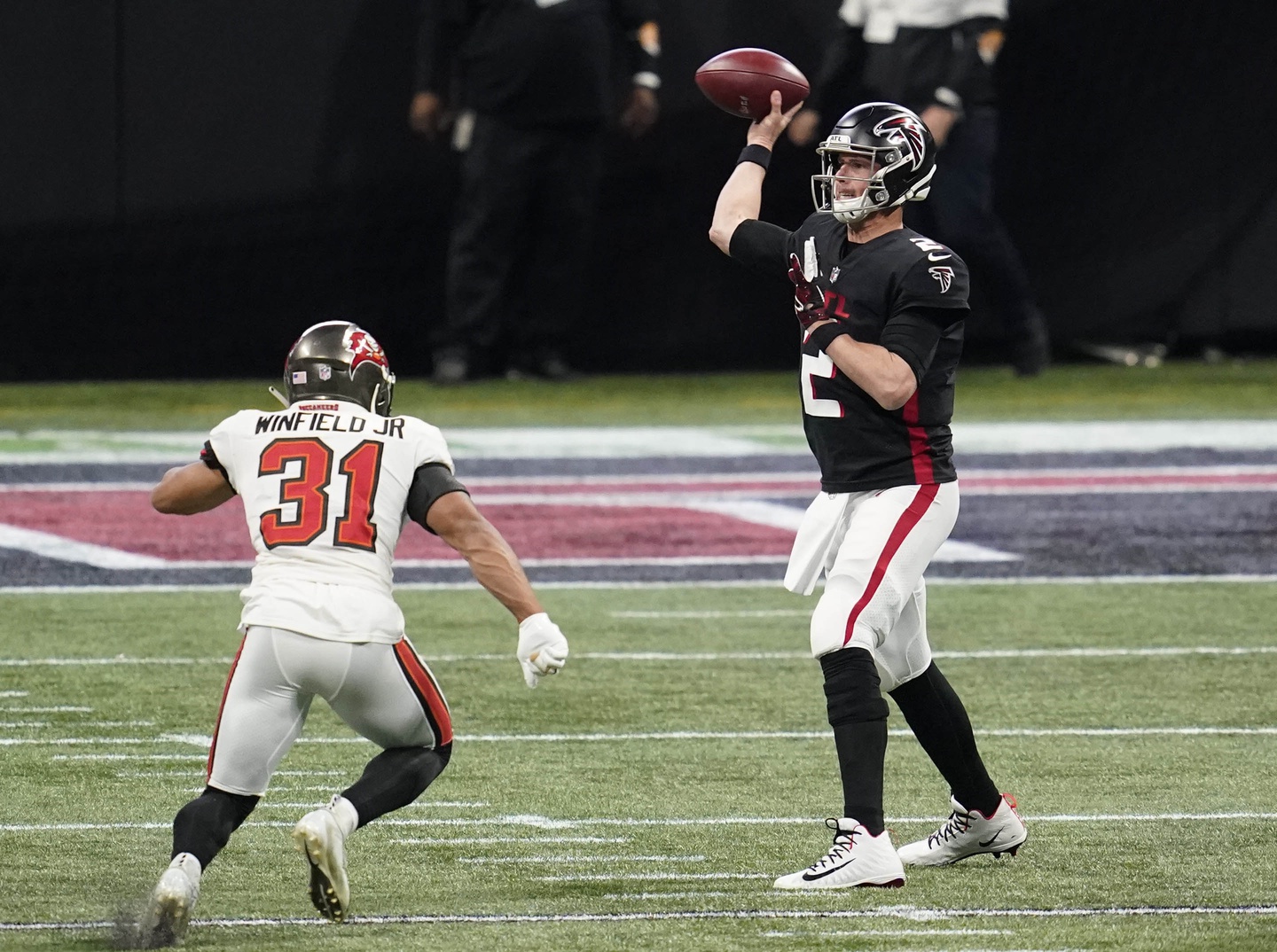 Winfield Jr. came into the league and immediately showed he was going to provide support in the run game and tackle at a high level. Winfield's 86.3 run-defense grade ranked second among all safeties over the course of the regular season. Like father, like son.
He also provided some splash plays in the passing game, with nine pressures on just 51 pass-rushing snaps, four pass breakups, an interception and two forced fumbles. The things that stood out as strengths coming out of Minnesota — namely his instincts and playmaking ability — have largely translated early on.
He, along with Wirfs, look to be cornerstones of this draft class for the Buccaneers.
After finding himself on this team, it's safe to say that Curl exceeded expectations in his rookie season as a seventh-round pick out of Arkansas. Curl will actually finish the 2020 regular season as PFF's highest-graded rookie safety at 68.0 overall across 763 defensive snaps after starting every game at safety for Washington since Week 9.
Curl played at least 150 snaps in the box, in the slot and at free safety for the Football Team as a rookie, and he made key tackles throughout the season for Washington. His 19 run stops were more than any other rookie safety this season, as were his 16 stops in coverage.
The defensive line gets all the headlines in Washington, but Curl is part of a back seven that has quietly played very well for much of the season.
Chinn had no slow ramp up to a large role in the NFL. His 967 defensive snaps rank third on the team behind only Tre Boston and Shaq Thompson, and he leads the defense in tackles while playing 200 or more defensive snaps in each of the box, slot and from a deeper alignment at free safety.
Chinn also produced most of his better games as a rookie toward the back half of the 2020 season. His overall grade jumped from 47.9 over the first five weeks of the season to 67.4 since Week 6.
The expectation coming into the season was that Chinn would be a project — an FCS prospect with elite athletic tools who was still learning how to read and react on defense. That showed at times in his rookie year, but the Panthers will certainly take the kind of production they got from him in his first season.