Playing football at the professional level is tough, and excelling in the NFL is never a given, even for some of the best to come out of college. Some guys can figure things out right away as an NFL rookie and carry that standard throughout their careers, but for most, it takes some time to adjust to the standard of play at the highest level. Below are PFF's top 25 second-year players through Week 7 of the 2019 NFL season.
[Editor's Note: All of PFF's advanced stats and grades for every NFL player are made available in PFF's ELITE subscription. Subscribe today to gain access!]

Four guards in the entire NFL have an overall grade higher than 80.0 this season. Nelson currently sits at 88.2 overall, first among qualifying left guards and second among all guards behind only Brandon Brooks. He moves defenders in the run game with ease, and his 85.8 run-blocking grade sits firmly atop the position. All that comes a season after Nelson ended his rookie campaign as the highest-graded left guard in the league, giving him a strong case for the title of top interior offensive lineman in the NFL in only his second season.
Is there any player that is more exciting to watch in the NFL right now than Lamar Jackson? The second-year quarterback has the Ravens in prime position to take home the AFC North and contend in a muddled AFC, and a big reason why is his devastating ability to break off big plays on the ground with ease. Jackson is averaging 4.2 rushing yards before contact on his 83 rushing attempts this season, leading all rushers with 50 or more attempts. Simply put, it's hard to get a hand on him out of the backfield. He still has a ways to go when it comes to accuracy — only 56% of his passes have been deemed to have accurate ball location this season (25th) — but in the meantime, his unique skill set has been enough to earn him a top-10 quarterback grade.
No other cornerback has come close to matching what Alexander has done in terms of making plays on the football this season. Alexander's 13 forced incompletions are five more than any other cornerback, and he is allowing only 50% of the passes into his coverage to be completed, the fifth-lowest rate among players at the position who have seen 25 or more targets. On the flip side, his aggressiveness will get him into trouble at times—Alexander's seven receptions allowed of 20 or more yards are tied for fourth-most in the league—but his playmaking ability has been able to make up for it to this point. He has the makings of being a dominant, shutdown corner for years to come.
This offseason, PFF analyst Gordon McGuinness wrote that Frank Ragnow's move to center could mean big things for Detroit's offensive line. Well, through seven weeks this season, Ragnow is the highest-graded center in the NFL. The improved play shouldn't come as a surprise to those who followed his career at Arkansas, where he put up a massive 92.5 overall grade—including a run-blocking grade of 94.4—when lined up at center compared to 80.6 when lined up at guard. That success, especially in regards to run blocking, has carried over, as Ragnow's run-blocking grade of 79.7 this season is 10 points higher than any other center.
Last season, Chark caught 14-of-31 passes for 174 yards and a passer rating of 49.7, dropping five passes in the process. This year, he has caught 33-of-47 targets for 581 yards, five touchdowns and a passer rating when targeted of 138.7 (fifth among wide receivers with 25 or more targets), and he has dropped just one pass. What a difference a year makes. Chark has developed nice chemistry with his rookie quarterback, Gardner Minshew, especially on downfield throws. Only Amari Cooper has more receiving yards than Chark (217) on go routes this season.
Like Chark, drops were a real issue for Sutton last season with the Broncos. His nine drops on the season were fewer than only Michael Crabtree (11), and Sutton caught just 72.4% of the catchable passes thrown his way (worst among all players with 75 or more targets). He is yet to drop a pass so far this year, and he is well on his way to a massive Year 2 improvement. Sutton has been strong at the catch point, bringing in five of his eight contested passes, and he's shown the ability to make defenders miss after the catch with nine broken tackles, which are more than any other wide receiver. The Broncos should feel comfortable with Sutton in the "number one" role after trading Emmanuel Sanders.
It's easy to overlook the addition of Smith to the Colts' offensive line last season, given the sterling start to Quenton Nelson's career from the same draft class. Still, Smith has gotten off to an impressive start himself as a second-round selection out of Auburn. He had the third-highest grade of any rookie offensive lineman in the league in 2018, and his overall grade of 72.3 this season ranks seventh among 32 right tackles with 175 or more offensive snaps. Smith has been a key part of the Colts' transformation into one of the better lines in the NFL.
At the time that Edmunds was drafted, he was just 19 years old. That youth and inexperience showed early in his career, as he stumbled out of the gate with a 47.0 overall grade across his first eight career games. As the season progressed, though, his athleticism and playmaking ability in the middle of the Buffalo defense began to make it apparent that improvement was on the way. Edmunds did, in fact, improve his grade to 70.5 over the second half of the season, and he has carried over that improved play into 2019. His overall grade of 71.1 this season ranks 12th among 70 linebackers with 175 or more defensive snaps, anchoring one of the better defenses in the league.
There haven't been too many compliments paid out to Vikings offensive linemen in recent seasons, but second-year right tackle Brian O'Neill is deserving of one. He currently sits one spot behind Braden Smith at eighth in overall grade among qualifying right tackles. Since the start of 2018, O'Neill has gone 705 pass-blocking snaps without allowing a single sack. He is the only tackle with 500 or more pass-blocking snaps over that span that has yet to be credited with a sack as his fault. It's hard to find fault with that.
It didn't take long for Chubb to show that he was going to be a very good running back at the NFL level, and he ended his rookie season as the highest-graded running back in the entire league. He's off to another strong start this season, ranking sixth among 38 qualifiers at running back in overall grade. Part of what makes him so effective as a rusher is his ability to run through contact and break tackles. Since the start of last season, Chubb is tied with Dalvin Cook for the best broken-tackle rate among running backs with 200 or more carries.
Goedert missed some time earlier this season with injury, and he plays more of a secondary role to an entrenched Pro Bowler in Zach Ertz, but he's certainly made the most of his opportunities when given a chance. Interestingly enough, it's been as a run blocker that Goedert has seen the most success this season. It may not be what he's been known for in his young career, but Goedert's 87.7 run-blocking grade in 2019 ranks first among all qualifying tight ends. He has paired that with a solid receiving line of 14 receptions on 21 targets for 160 yards and two touchdowns.
It was an ugly affair in Seattle this past week for Andrews, dropping more passes (3) than he caught (2), but all things considered this season, he has been excellent as the passing game focal point in the Baltimore offense. He has been their big-play threat, catching 11 passes of 15 or more yards and notching 449 receiving yards in total, which paces the team by over 100 yards. If the start to his second season as a pro is any indication, Andrews figures to be one of the top receiving threats at the tight end position for years to come.
Coming into this season, the Chiefs were in dire need of one of their young "unknowns" at cornerback to step up, especially since they didn't address the position in a meaningful way during the offseason. Ward has done just that to start the season, ranking 26th out of 94 players at the position with 175 or more snaps in overall grade. On the season, Ward has allowed a passer rating of just 69.8 on passes into his coverage, which ranks 10th best among all cornerbacks who have seen 25 or more targets this season.
Walker played sparingly as a rookie, notching just 268 defensive snaps on the season, but he was impressive on those snaps with an overall grade of 89.8. Walker has expanded his role on the Lions defense in Year 2, but he has maintained a high level of play relative to the position, ranking 18th among 70 qualifying safeties in overall grade. Walker's position profile in 2019 shows that he's been asked to move around the defense, with over 100 snaps in the box, in the slot and deep at free safety. His free safety grade of 90.1 this season indicates that it is his preferred location. It was also his primary alignment in his strong rookie campaign.
Moore has built on what was a solid rookie season in which he grew into the top option at wide receiver for the Panthers. He has the makings of a wide receiver that can win at all levels, capable of winning both after the catch and down the field at the catch point. Last season, Moore was one of the top receivers in the league after the catch, with 7.9 yards after the catch per reception (first among wide receivers with 50 or more targets) and 17 broken tackles (third at wide receiver). Those numbers are down this season, but he has been more efficient overall, increasing his yards per route run mark from 1.81 to 2.00.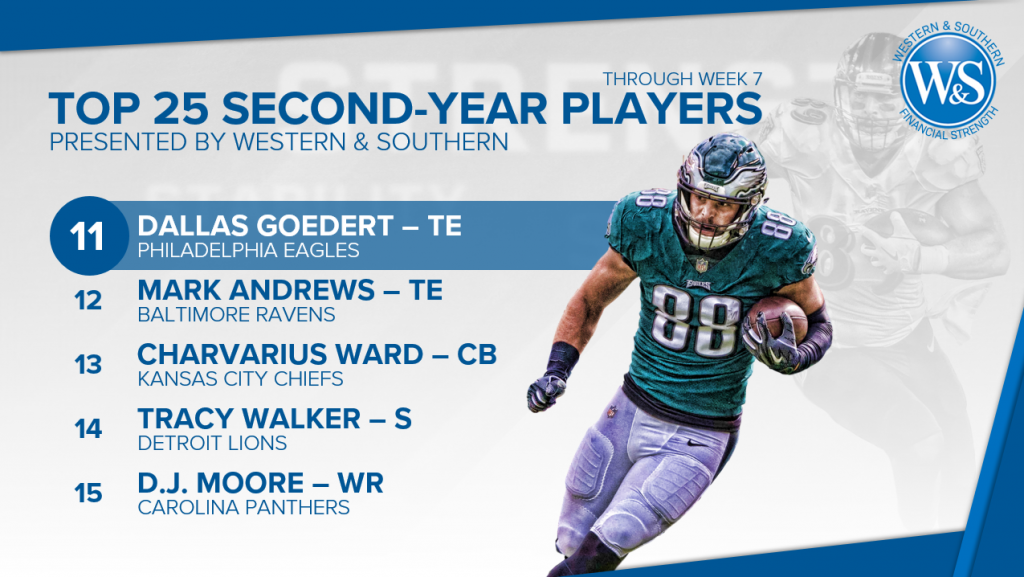 It's a shame that Dissly suffered a season-ending Achilles injury because he was beginning to develop a special connection with Russell Wilson in the Seattle passing game this season. Dissly caught 23 of his 26 targets for 262 receiving yards, four touchdowns and a passer rating when targeted of 148.2. At the time of his injury in Week 6, only Chris Godwin had a higher passer rating when targeted among all players with 25 or more targets.
The Saints paid a heavy price to move up in last year's draft to select Davenport, but he is beginning to repay the team's faith in him. This season, Davenport has both a pass-rush win rate and pressure rate north of 19%. His 36 total pressures fall one behind teammate Cameron Jordan and rank eighth among all pass-rushers this season. It's a nice step up from his performance last season, and his emergence adds a legitimate threat opposite Jordan that opposing offenses have to worry about.
Listed at 6'4", 347 pounds, Vea is a massive human being. As several interior offensive linemen have found out this season, though, Vea is surprisingly quick with some of his pass-rush moves for someone of that size. He has been able to translate that to some pass-rushing success alongside a stout performance in the run game on his way to an overall grade of 77.4, which ranks 19th among 79 qualifying interior defenders this season.
Coming into the NFL, Hernandez had all the tools to be a dominant run blocker at the next level, but he's excelled in pass protection so far, especially this season. Hernandez's pass-blocking grade of 79.5 this season ranks eighth among all guards, but his run-blocking grade of 51.7 ranks 57th among qualifiers. Despite that, Hernandez has been solid in the interior of the Giants offensive line. If his run blocking begins to come around, as one would expect it to, Hernandez should only continue to improve the interior of the Giants offensive line.
Settle doesn't have a large role on the Washington defense—he barely made the snap threshold for this list at 175 snaps exactly—but he has impressed in his time on the field. His 81.9 grade ranks 10th among the 79 interior defenders with 175 or more defensive snaps. On several snaps, Settle has simply overpowered some of the better guards in the league (Brandon Brooks and Shaq Mason, to name a few). It will be interesting to see whether he can maintain that level of play as the season progresses and he continues to get opportunities on the Washington defensive line.
Moseley is another example of a player who hasn't had a consistent role in his defense, not seeing an expanded role until Week 5 following an injury to Ahkello Witherspoon, but Moseley has taken advantage of that opportunity. In his three games as the starter, Moseley has allowed four receptions on eight targets for 28 receiving yards. It's certainly hard to get a whole lot better than 28 yards allowed in coverage across three games. When Witherspoon returns, Moseley will likely return to a lesser role. The last three weeks have shown he is capable of stepping in with quality play in relief should it be needed, though.
Starting with the bad for Gallup this season, he has dropped seven of his 40 targets. That is not great. Alternatively, Gallup has provided a solid option across from Amari Cooper for Dak Prescott to look to, and his receptions have been valuable. Eighteen of his 27 receptions this season have gone for first downs, and his 15.6 yards per reception are seventh-most among wide receivers with 25 or more receptions this season. Cleaning up the drops should be priority number one for Gallup, but even with the drops, he is playing well for Dallas in his second season.
It's easy to not pay attention to what is going on in Cincinnati as they have stumbled out of the gates to an 0-7 start, but their second-year wide receiver Auden Tate is quietly having a nice season. He's been strong in contested catch situations, hauling in 7-of 13 contested targets. Tate's ability to time his jumps and high point the football with a defender on his hip is impressive, and it is a big reason that he finds himself on this list after recording an overall grade of 71.4 through the first seven weeks of this season.
Brown has slotted in at right tackle on the Ravens offensive line and put his combine results further and further into the rearview mirror with his play since the start of last season. Among the 29 right tackles with 500 or more pass-blocking snaps since 2018, Brown's pass-blocking grade of 76.2 ranks sixth. His run-blocking grade is what has held his overall grade down a bit, and it's the reason he ranks 14th among qualifying right tackles in 2019. Nonetheless, Brown's protection of Lamar Jackson has been impressive enough to earn him a spot among the top 25 second-year players in the league this season.
Reid hasn't quite played up to the level that he did as a rookie when he recorded an overall grade 77.0, but he has still been a steady force on the Houston back end in 2019. Part of the dip in grade to 66.9 this season (30th out of 70 qualifying safeties) stems from missed tackles. Last season, Reid missed only five tackles all season. That number is already at eight this season, tied for the 14th most in the NFL. With Reid patrolling at free safety, the Texans have done a good job of limiting deep success for opposing offenses, though. As a team, they have allowed just 11 of the 37 passes 20 or more yards downfield to be completed against them. That completion percentage of 29.7% is seventh-best in the league.
Yes, these three players aren't among the top-25 graded second-year players this season. No, that does not mean they aren't among the top 25 players to come out of last season's draft class. All three of these guys have followed up excellent rookie seasons with less impressive sophomore campaigns for one reason or another.
Mayfield has struggled with accuracy, and though his interception numbers are harsh (11 interceptions but only eight turnover-worthy plays), he hasn't played well enough this season to deserve a spot on this list. Barkley has dealt with an injury and hasn't seen much success as a receiver when on the field, picking up just 82 receiving yards on 21 targets. Lastly, Vander Esch has recorded a run-defense grade of 44.4 this season while allowing 243 receiving yards as the primary coverage defender.
It seems likely that in the long run, these three guys will be among the best players in the class, but as of now, they haven't lived up to expectations in 2019.