Our Baltimore Ravens odds were a bit lower than the overall consensus going into last week, as we gave them about a one-in-four chance of capturing the Lombardi for the first time since 2012. The Titans, with about a one-in-four chance to simply advance, did so Saturday night at M&T Bank Stadium, the only underdog of the week to win.
With the power of AWS, we simulated the final two rounds of the NFL playoffs thousands of times to estimate the probability that each team wins the Super Bowl. Enjoy!
With a win Sunday against the Titans, the Chiefs would ensure that for the eighth straight season the conference representatives consist entirely of teams earning a bye in the regular season. That feat was in dire straits Sunday at Arrowhead, down 24-0 to Bill O'Brien, Deshaun Watson, and the Houston Texans before Patrick Mahomes showed everyone why he's the league's best quarterback. Mahomes completed six of eight passes between 10 and 19 yards, for 158 yards against the Texans, while needing to target Tyreek Hill and Sammy Watkins only six total times. Their defense created just enough stops after the initial Texans surge, with 2019 trade acquisition Frank Clark getting three sacks, one hit, and five hurries on a defensive line missing Chris Jones.
Against Tennessee Sunday they will need to slow the Tennessee attack that has been the second-most-efficient in the league since Week 7 (when Ryan Tannehill took over, and counting playoffs), outpacing even Kansas City, which ranks third. Since Week 11, these two teams are 1-2, so expect a high-scoring affair, with neither defense doing a whole lot to factor in. Our model likes the Chiefs to win over 70% of the time Sunday. That said, while it might be enticing to buy tickets to Miami early if you're a Chiefs fan, take stock in what happened to the Ravens last week, and proceed with caution.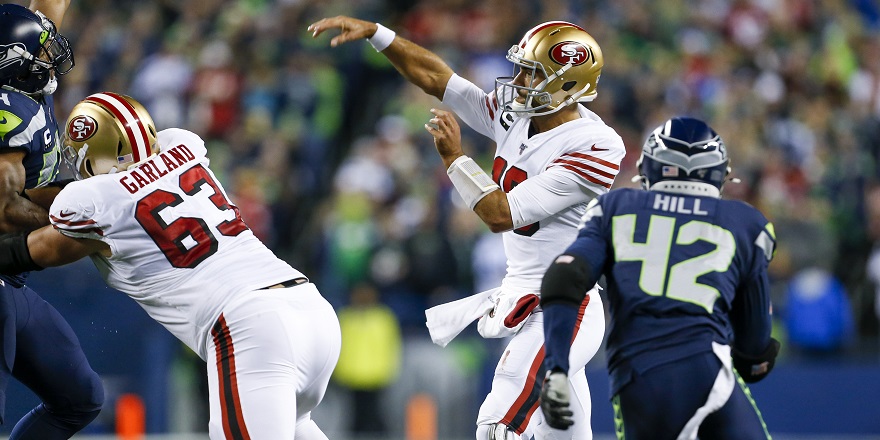 © Joe Nicholson-USA TODAY Sports
A testament to how rest, travel, and time off can affect a team, the 49ers thoroughly dominated the Minnesota Vikings Saturday in Santa Clara, allowing a staggering -0.5 EPA per play to a Kirk Cousins team that generated a positive EPA per play against a good Saints team just a week earlier. Rookie Nick Bosa was particularly menacing, generating two sacks, one hit and four hurries in his first career playoff game.
Going into Sunday's rematch with the Packers, the 49ers will need a bit more from Jimmy Garoppolo, as he was basically a spectator for much of their effort against the Vikings, going just 2-of-6 for 24 yards and an interception to the intermediate middle of the field. The Packers' defense is about as good as the Vikings', so nothing will be easy going in the passing game if they don't protect Jimmy G and he is not accurate on intermediate-to-deep passes. Our model, like with the AFC game, likes the 49ers to win over 70% of the time, so while it might be natural to look at their 37-8 win earlier this season as evidence that the 49ers have this game in the bag, I'd like to provide similar caution to Niners fans as they hope for their first Super Bowl title since 1994.
Green Bay outlasted Seattle 28-23 Sunday in a game in which Aaron Rodgers did not throw an incompletion on a pass traveling 10 or more yards, and they converted 9-of-14 third downs. The defense put pressure on Russell Wilson on more than half of his dropbacks (also Wilson was mostly to blame), and was able to force a punt on the last drive following a drop by Malik Turner on first down.
As we saw Sunday, the Packers have been very good this year early in games, generating a successful play on more than 54% of their early-game pass plays. While this isn't as predictive as we'd like, failing to get off to a hot start is what killed them in their Week 12 defeat against the 49ers, where San Francisco took some time to get going offensively before gaining some separation on them late. If they can put some pressure on the 49ers and Jimmy G early, maybe the signal-caller's deficiencies (league-low aDOT, eighth-highest rate of taking sacks when pressured, higher turnover-worthy play rate than big-time throw rate) will give Green Bay more than the one-in-four chance that they are being given to win this game.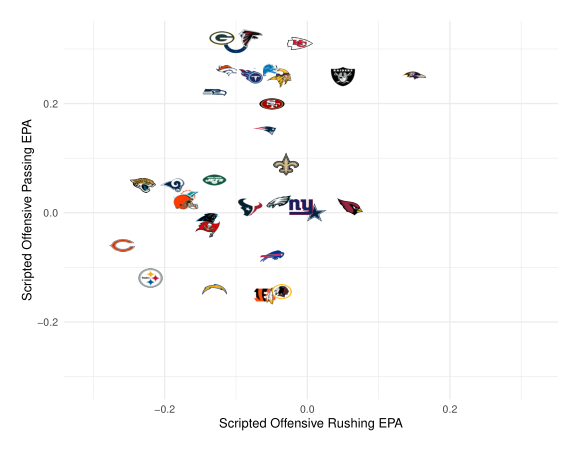 The Titans have given us a wild ride. We were low on them going into the season, then high on them early in the regular season, before fading them later on. As stated above, they have been the most efficient offense in the NFL at times this year, and while Tannehill has not thrown the ball for over 100 yards in either of their two playoff games, he's been very efficient, generating 0.13 EPA per pass play in January, which is fourth-best in the league during that time. Their defense has overcome a series of injuries to land in the middle of the pack in terms of EPA allowed per play (0.01), holding their two playoff opponents to a combined 25 points.
For them to win Sunday and reach their first Super Bowl since their first season as the Titans (1999), their approach has to be a bit different than it was against the Ravens and the Patriots. An early lead against Kansas City, as we found out Sunday at Arrowhead, is not one that can be maintained unless said team continues to score points. The Titans, to their credit, have been able to generate success on the ground with the lead the last two weeks (averaging over a 10th of an expected point per run play), but have only 21 offensive points per game to show for it. They needed 35 points to best the Chiefs earlier this season, and it's looking like that's the lower bound for them being competitive this week as underdogs in KC.