Our cold streak continued in Week 15, with both Cleveland (-2.5) and Pittsburgh (-2) failing to come through for us. Luckily, Chicago UNDER 9.5 and Tampa Bay OVER 6.5 cashed, making our season record 23-19-1. We are 116-100-11 (53.7%) on all picks since we started this column in 2017.
This week's slate is interesting in that there aren't any gigantic spreads; there are plenty of intra-division matchups that have huge playoff implications and there are some real duds. The duds have been where our model has been good over the last few weeks, so it will be interesting to see if that continues. 
We have two picks this week as we look to ride the wave of road teams covering this season.
Point (Eric Eager): I think people are viewing the 49ers' loss to the Atlanta Falcons as fluky while viewing Los Angeles' losses to the 49ers (early in the season) and Dallas (last week) as something fundamental. I get that. The Falcons were the classic letdown spot for San Francisco, and they sure let down. But a closer look into what happened last week in Santa Clara shows a weakness that future teams like the Rams can exploit. Grady Jarrett feasted on the injury-riddled interior of the 49ers' offensive line, generating a 90.8 overall grade while recording six pressures and four stops. Jarrett is a great player, but he's no Aaron Donald, who had six pressures and over a 90.0 overall grade himself the last time the two teams met (along with five stops), a game in which the 49ers were much healthier than they are now on the offensive line.
While it's a leap of faith to assume that road Jared Goff is going to go toe-to-toe with the 49ers in Santa Clara, there are a couple of handicap-related things in our favor. First, familiarity breeds both contempt and tighter scores, and that should be even more the case in San Fran on Saturday, where we might see winds near 15 MPH at kickoff. There are also a nontrivial amount of injuries up and down the 49ers' defense, and while they may get K'Waun Williams and Richard Sherman in uniform in time for this game, Jaquiski Tartt and Dee Ford are likely out. With the emergence of Tyler Higbee and the league's best trio of wide receivers, I like the Rams in this one.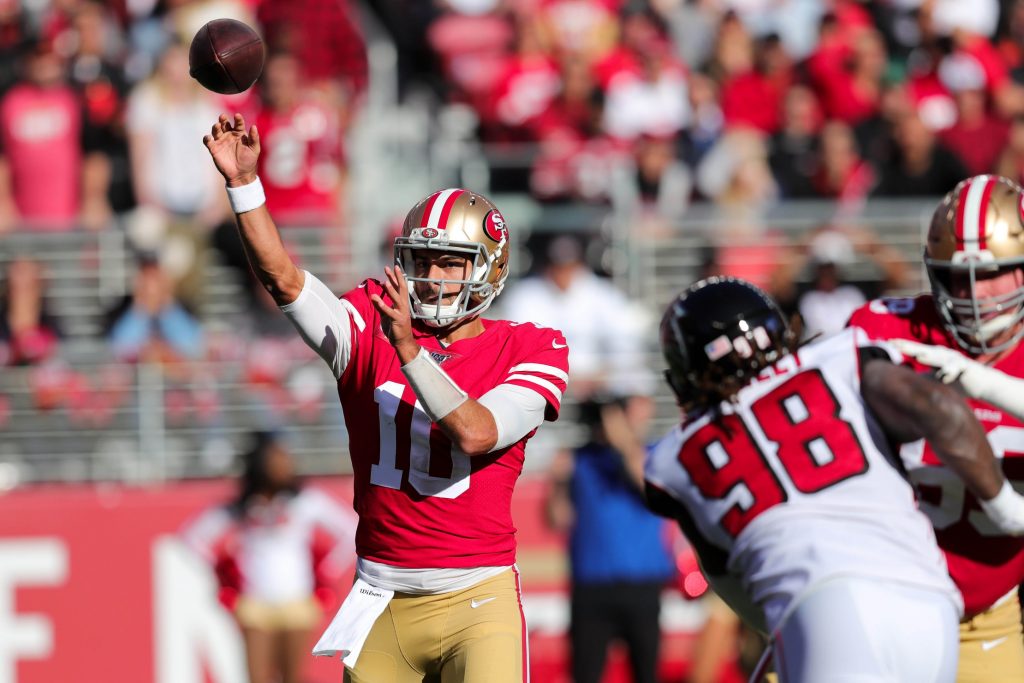 Counterpoint (George Chahrouri): The 49ers staggered out of New Orleans and into a trap that shouldn't have been against the Falcons in Week 15. A fumble by their best player and the best tight end in football, George Kittle, along with a mathematically egregious fourth-down decision with less than two minutes to go, derailed a 49ers victory but there was no chance they were going to cover the double-digit spread. After looking at this matchup, many will be quick to point out that Grady Jarrett was dominant against the weak 49ers interior (Mike Person alone allowed five pressures) and that Aaron Donald is the highest-graded interior defender for what seems like the 10th consecutive season. While this is a concern, the 49ers also have a play-action game that can neutralize pressure and create big plays down the field, and quarterback Jimmy Garoppolo is averaging 10.4 yards per play-action pass (2nd). Not to mention that for all the publicity that the Rams' receiving trio receives, the combo of Kittle, Emmanuel Sanders and Deebo Samuel has been devastating.
If pressure were to impact one offense more, it's the Rams that are in the most danger. Jared Goff has been under pressure 6% more often than Garoppolo this season, and in the last game against the 49ers, he suffered mightily going 2-of-9 with four sacks when under duress. If both offenses need to function with a quarterback under pressure, the 49ers can still thrive with a big-play running game and a quarterback to whom some have attributed "energizer bunny" qualities.
Point (GC): At this time last year, Drew Brees and the Saints' offense was in the midst of decline. Now it seems Brees is finally hitting his stride after a magnificent performance on Monday night that earned Brees the highest grade of any quarterback in Week 15. On a day that figures to be very mild for December in Nashville — 51 degrees with a light 5 mph wind — Brees should be ready to take advantage of a decimated Tennessee Titans secondary that has allowed the ninth-most yards per pass attempt over the last three weeks. No one in the NFL can cover wide receiver Michael Thomas right now, and the Titans are not going to change that. Brees and Thomas are the only quarterback-to-receiver duo who are completing over 80% of their targets. In fact, they're 5% clear of Russell Wilson and Tyler Lockett, who sit in second. 
The Titans' non-existent pass-rush is equally as concerning as their coverage. Since Week 10, the Titans have pressured the opposing quarterback on just 29% of dropbacks — worse than everyone but the hapless Miami Dolphins. If you are going to stay within a field goal of Drew Brees, you can't allow the second-highest-graded clean-pocket passer over the last three seasons to get extra chances to dice you up from a clean pocket.
Ryan Tannehill was a nice story reminiscent of the great Billy Volek from a little over a decade ago. In true Titans fashion, though, as soon as you buy in, they let you down. The Saints march one meaningful step closer to home-field advantage throughout the NFC tournament.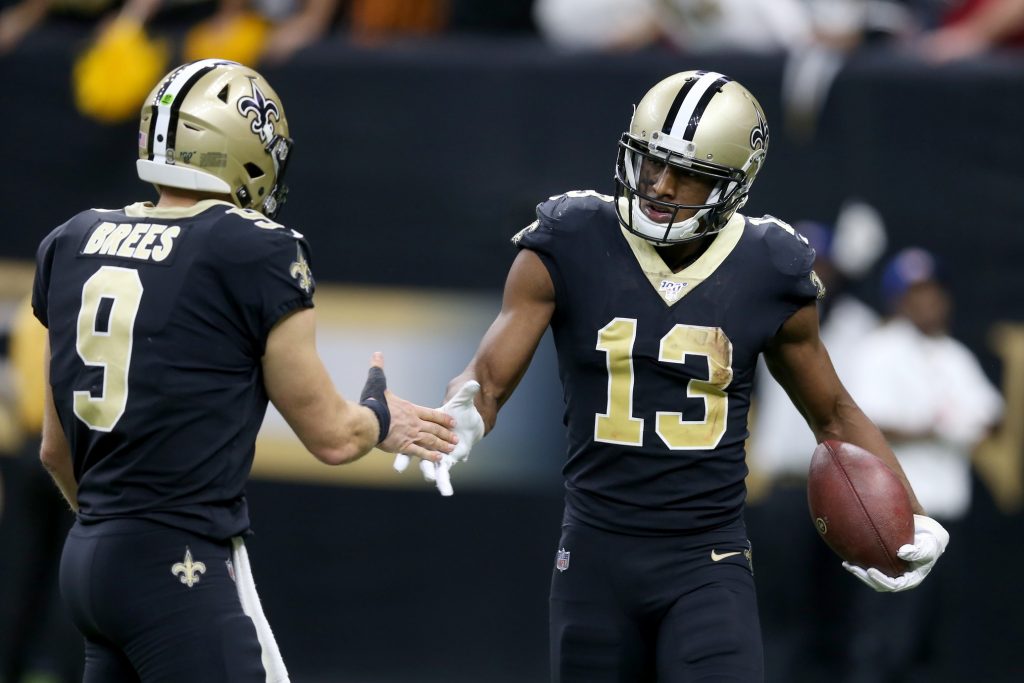 Counterpoint (EE): I have no idea what the Titans are, and last week's game made me less sure than ever. Sure, they got two interceptions in the red zone, helping under-bettors and providing a legitimate case that they shouldn't have even been in the game during their second-half run. However, they also had a field goal blocked (they have missed more field goals this season than they have made) and gave up a red-zone interception that was returned deep into their end of the field. From a game-winning blocked field goal return in Indy, to four missed field goals in a one-score loss to Buffalo, to getting the Chargers' game-winning touchdown called back (twice) in a victory against Los Angeles to winning via an officiating debacle against Tampa Bay: The Titans' season has been weird. Part of me wants to say the coming positive-throw-rate regression of Ryan Tannehill is stronger than the fact that Drew Brees is playing outdoors for only the second time this year. Another part of me wants to say that short road favorites are a trap against decent teams like Tennessee and that the Titans need this game more than the Saints do. A loss by the Titans would drop them to 16% to make it to January, while the Saints would still have a 59% chance to get a first-round bye even if they were to drop this game. 
The only thing I have against this pick is the uncertainty, which is present in every pick. Go with George.