Week 9 is in the books, officially putting us past the halfway point of the 2020 NFL season. Now, it's time to break out PFF's midseason All-Pro team.
This team uses PFF grades and the full breadth of data at our disposal to make the call. Playing time is a factor, and it has ruled out a few of the most spectacular performances of the season from players who have a shot to get back into the team by the end of the year.
So, without further delay, here are PFF's picks for the midseason All-Pro team.
OFFENSE
We could have gone in a number of different directions at quarterback, but in the end, we decided to jump aboard the Aaron Rodgers revenge tour. Rodgers is the highest-graded quarterback in the NFL through nine weeks despite an ugly performance against Tampa Bay in Week 5.
He has 23 big-time throws, second only to Russell Wilson, and has offset those with just four turnover-worthy plays all season. You could make a strong case for Wilson, Patrick Mahomes or even Tom Brady — despite his most recent disaster — but Rodgers' numbers are too good to ignore.
Dalvin Cook has been on fire for the Minnesota Vikings in recent weeks and has played at a high level all year when on the field. Only Derrick Henry has more total rushing yards than Cook has yards after contact, and the Vikings' running back leads the league with 41 broken tackles across his carries and catches.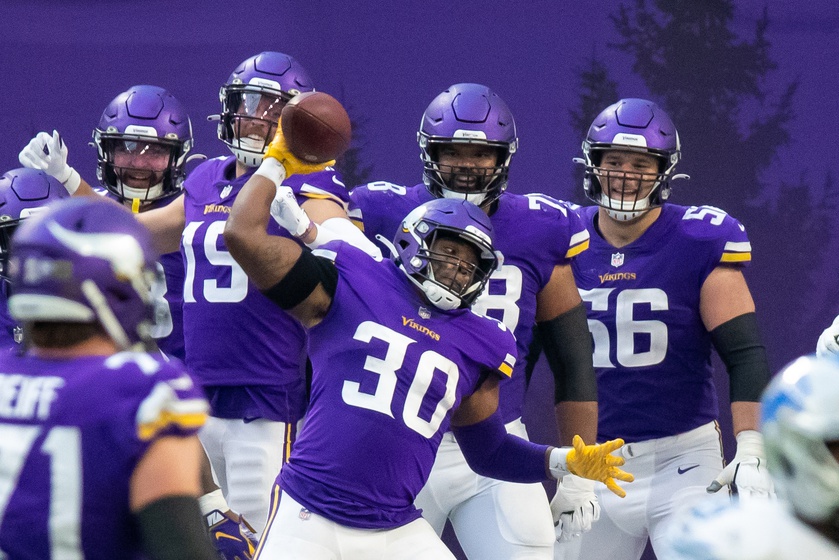 Cook also has the best PFF elusive rating — a measure of work the running back does independent of the blocking in front of him — of any back with at least 100 carries while being of the few players to dramatically outperform their rushing environment.
Davante Adams has been arguably the best route-runner in the game for a number of years now, but this season, he may just be the best receiver, period. Despite missing time, Adams still has 675 yards and eight touchdowns, averaging 3.2 yards per route run and generating a 135.8 passer rating for Aaron Rodgers when targeted.
He is the league's highest-graded receiver through the first nine weeks and could push that figure even higher if he has a healthy second half of the year.
New team, new quarterback, new offensive system, same dominant DeAndre Hopkins. Only Stefon Diggs and Keenan Allen have more catches than Hopkins, who has been just as effective in the desert for Kyler Murray as he was for Deshaun Watson in Houston.
Hopkins has caught 96.8% of the catchable passes thrown his way this season, breaking 10 tackles along the way.
With George Kittle missing time, Travis Kelce was a slam dunk selection at tight end, where he is putting up some absurd numbers thanks to Patrick Mahomes and the Kansas City offense.
Only Stefon Diggs (813) and D.K. Metcalf (788) have more receiving yards than Kelce's 769, and he also ranks top three in yards after the catch (362) while averaging 2.4 yards per route run. Kelce is on track for the best PFF grade of his career in 2020.
There is no more fitting selection for our flex position on offense than the game's ultimate flex weapon — Alvin Kamara. With all the injuries the Saints have dealt with at receiver, their offense has revolved around getting the ball to Kamara and hoping he secures a first down — and it's largely worked.
Kamara has 15 broken tackles on receptions this season and 13 more as a ball carrier, averaging 2.8 yards per carry after contact and leading the NFL in yards after the catch with 544.
An unkind observer might suggest that the giant leap in play from Garett Bolles is due to the NFL halfway eliminating holding calls this season, but in truth, his play has jumped up across the board.
Bolles has yet to surrender a sack this season and has been beaten for just nine total pressures over eight games. His run blocking has taken an even bigger leap, grading out at 90.1 through the first half of the season — almost 20 grading points higher than a season ago.
One of the most surprising players of the 2020 season, Michael Onwenu has been a rookie standout for the New England Patriots despite having to fill in wherever needed along the offensive line.
Onwenu has played significant snaps at three different positions this season — and played well regardless. Only Wyatt Teller — who has missed time injured — and Zack Martin have higher PFF run-blocking grades than the sixth-rounder out of Michigan. And to look as good as he has despite that lack of stability on the line has been remarkable.
The Green Bay Packers' offense boasts one of the best pass-blocking units in all of football, and Corey Linsley is certainly a major part of that in the middle. He has allowed just one hurry across the first half of the season and has a PFF run-blocking grade just below 90.0.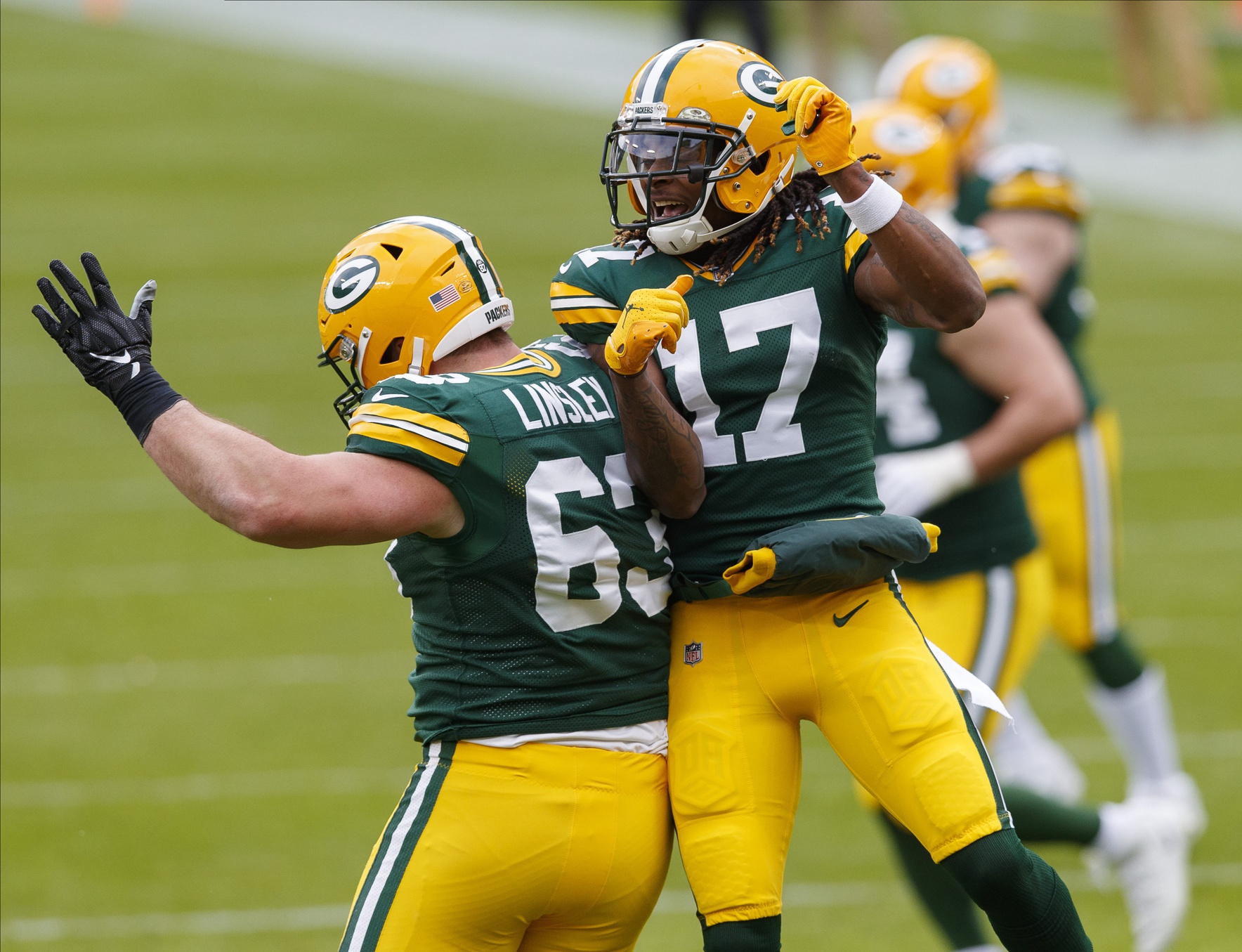 He is one of a very few players who have a PFF grade of at least 85.0 as both a run blocker and pass protector this year at a position along the offensive line.
The last member still standing of the once-best offensive line in football, Zack Martin is still doing an outstanding job despite everything around him collapsing in on itself.
His run-blocking grade this season is bested only by Cleveland's Wyatt Teller, and though his pass protection has been a little weaker than in years past, it can largely be explained by the influence of constant quarterback change and weaker players on either side of him than he is used to.
The gap between the best left tackles and the best right tackles in the league in 2020 has been huge. You could name seven or eight left tackles who have outperformed the best on the right side, particularly with Mitchell Schwartz missing time, but Buffalo's Daryl Williams is back to near his best play this season.
Williams has a PFF grade of at least 77.0 as both a pass blocker and a run blocker, and that elevates him over the other right tackles who are clustered around with similar overall grades.
DEFENSE
In a shock to absolutely nobody, Aaron Donald remains not just one of the game's best defenders but arguably the best player in the league.
He leads the NFL with 48 total pressures, and despite claims that his run defense is a weakness, he has the third-best PFF run-defense grade of any interior defender this season. Donald remains a force that can be quietened in impact only by a concerted effort and game plan each week.
If this holds for the second half of the season, Pittsburgh's Cameron Heyward will appear alongside Donald on the All-Pro team for the second consecutive season, stepping up his game in an impressive way late in his career.
Heyward earned a career-best 91.5 PFF grade last season and is barely behind that this year at 88.7. He has the best run-defense grade (90.0) of any defensive lineman and is the only player with enough snaps to earn a mark above 90.0 in that facet of play. Heyward even has an interception to his name this season.
Another player with an unexpected interception to his name is T.J. Watt, who was able to read a quick-game pass well enough to drop under and pick it off against Daniel Jones and the Giants.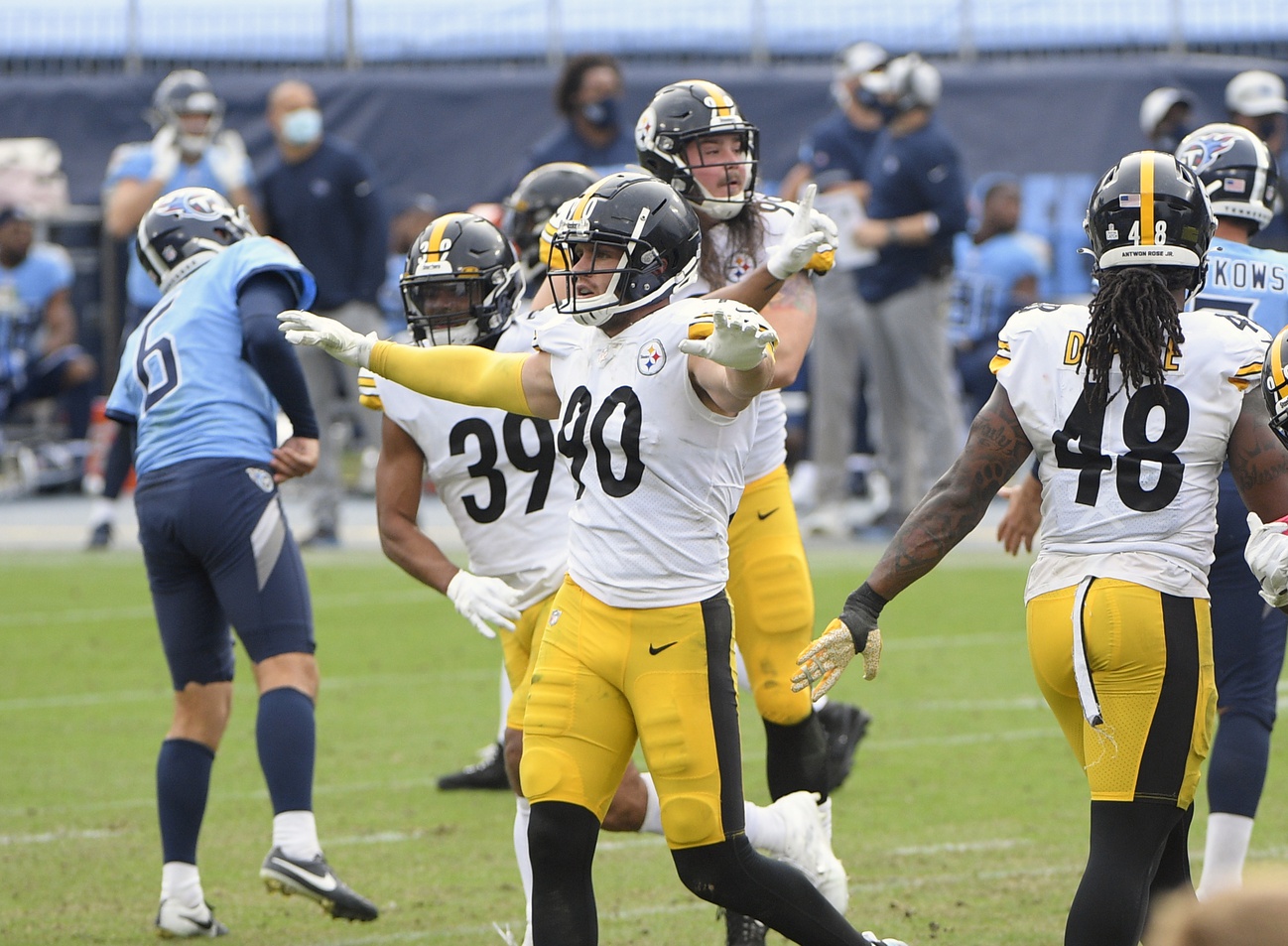 Coverage moonlighting aside, Watt also has 46 total pressures, 21 defensive stops and the best PFF pass-rushing grade of any edge rusher. He was a legitimate Defensive Player of the Year candidate a season ago and is coming back for another run at that award in 2020.
Khalil Mack is well and truly back in full force this season — he is playing as well as he ever has. He has 37 total pressures and 23 defensive stops to his name, one off the lead among edge defenders. His 91.2 overall PFF grade ranks as his best mark since the 2016 season when he was still playing in Oakland for the Raiders.
Fred Warner has become a coverage superstar for the San Francisco 49ers at linebacker. Throw on the tape, and you see him make incredible coverage plays that few players at the position have any hope of matching.
It shows up in his numbers — he has allowed just a 60.5 passer rating when targeted, more than 40 points lower than the average linebacker. Warner has two interceptions and a pass breakup to his name, and he hasn't been beaten for a catch longer than 21 yards all season.
Bobby Wagner is the undisputed class of the linebacker position in the NFL now that Luke Kuechly has retired. With Seattle desperately trying to manufacture some pressure on the quarterback, he has even become one of their best pass-rushers.
Wagner has 62 pass-rushing snaps this season so far, well on pace to shatter his previous career-high, and 14 total pressures — already matching his total from 2019 on 18 fewer pass-rushing attempts.
Jaire Alexander has been the best cover corner in football through Week 9. He threatened to become that player a year ago but then lapsed into some rough games.
This season, he opened against Minnesota by allowing 66 receiving yards. But in the seven games since, he has allowed 75 yards combined. Alexander has surrendered just 16 receptions in eight games to go along with an interception and three pass breakups.
Jason Verrett is one of the comeback stories of the season. He had played just four snaps on defense since the beginning of the 2018 season, and 327 since the start of 2016, but he has surpassed that total this year alone while establishing himself as one of the best cover guys in the league.
Verrett boasts an interception and three pass breakups from only 20 targets into his coverage and has four games of allowing fewer than 10 receiving yards.
Bryce Callahan is a slot cornerback prototype in today's NFL, but early in the season, he was forced to play outside for the Broncos when they were short-handed.
He played well in that role despite being undersized for the task. he has moved back inside since then, grading as the best corner in the league. Callahan has yet to surrender a touchdown in coverage and is allowing just 8.5 yards per catch as well as a 46.0 passer rating.
Things haven't been going too well for Cincinnati's defense in 2020, but Jessie Bates III is still making plays all over the field — far more than a player at his position has any business making.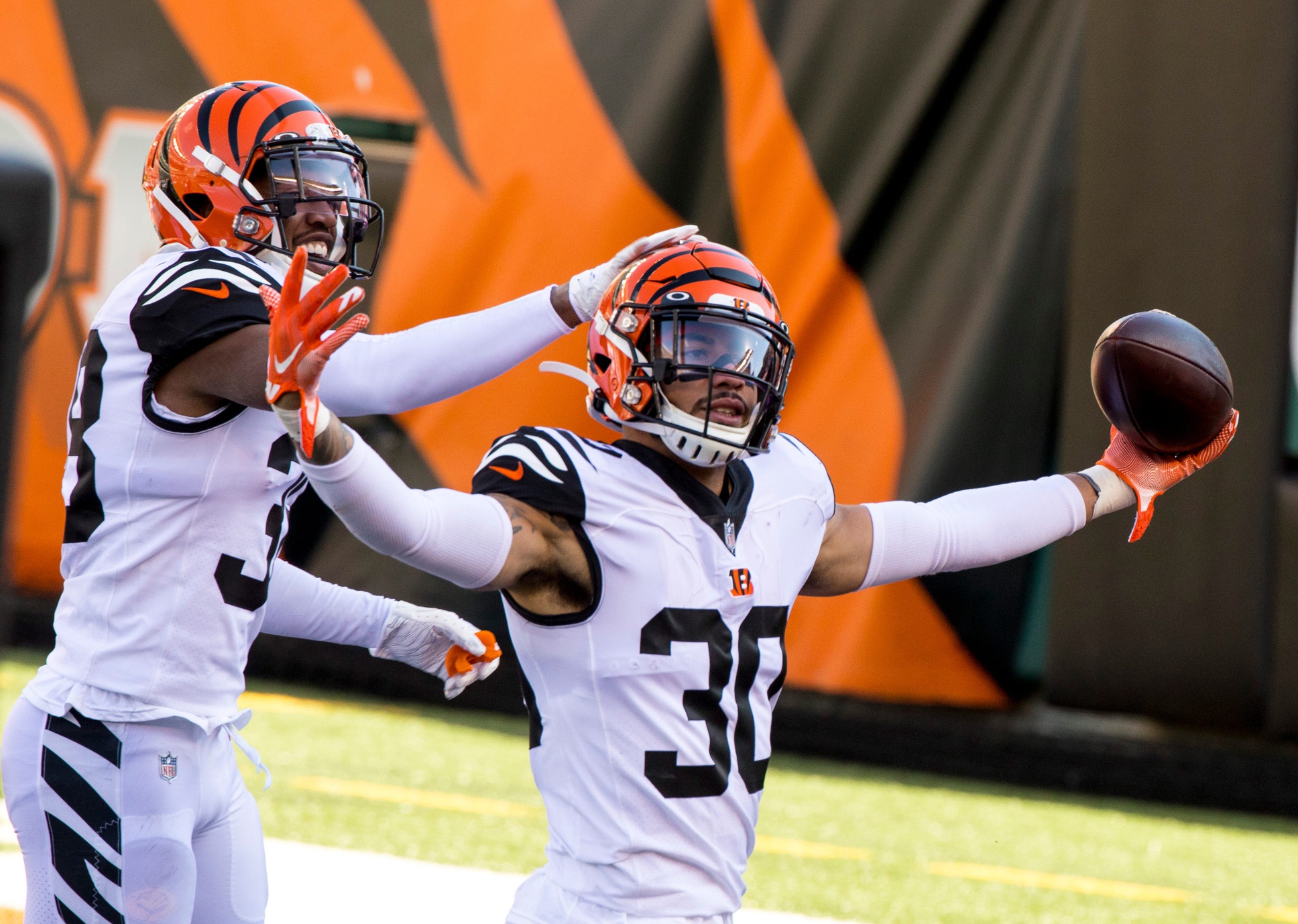 Bates already has a pair of interceptions as well as eight pass breakups, leading all safeties. It doesn't capture the full effect of his coverage (more often helping out other coverages than being in primary coverage himself), but throws targeted at Bates are generating a mere 22.1 passer rating so far this year.
Justin Simmons is backing up an All-Pro season in 2019 with another one this year, even if his grades have taken a slight step back from last season's incredible level.
Simmons has been excellent in the run game, even grading out a little better in that facet (89.7) than last year. And while hasn't quite been able to replicate his absurd playmaking in coverage from last season, he is a sure-fire positive force for the Broncos' defense.
Sanders remains the only kicker in the NFL who hasn't missed either an extra point attempt or a field goal in 2020.
The gap between Fox and the rest of the NFL field has closed over the past month, but he remains the only punter in the league with a PFF grade above 90.0 thanks to the combination of hang time, direction and distance on his punts.
There is no more consistently excellent kick returner than Cordarrelle Patterson, who remains a threat to score any time he brings the ball out. He consistently generates more yardage on his returns than should be had.
The Colts have some of the league's most impressive special teams players this season, with two of them battling it out for the All-Pro spot. Odum has extensive snaps in five different phases of special teams, with six tackles.