The 2022 NFL free agency period is finally slowing down. For two weeks, teams have negotiated and bid for players they believe would help them win a Super Bowl in the near future. They of course do so under the constraints of the league's salary cap and with the impending 2022 NFL Draft. PFF examined and graded each major deal for every team.
Now that the most-impactful players have signed, we can look at which deals are the best from a player and team perspective. Some teams ended up getting great value relative to the player, while some players ended up receiving lucrative deals compared to the rest of their positional markets.
---
Click here for more PFF tools:
Draft Guide & Big Board | Mock Draft Simulator
Dynasty Rankings & Projections | Free Agent Rankings | 2022 QB Annual
Player Grades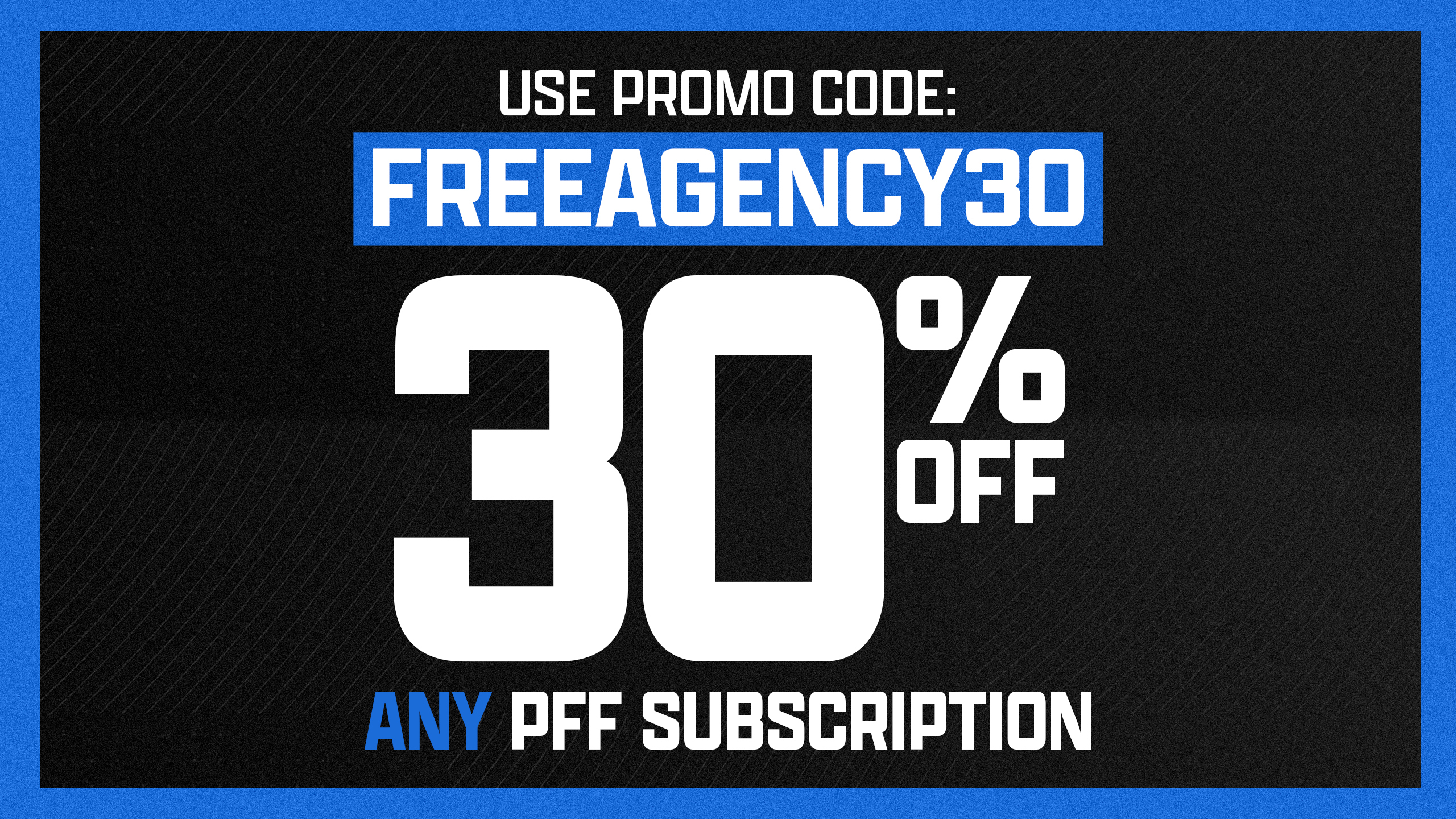 Before diving into the deals, it should be noted that just because a deal is player-friendly, that doesn't make it a bad deal for the team and vice versa. Now, let's examine which players fall into each category.
Player-Friendly Deals
There are definitely some qualities to player-friendly deals you'll see in the four players mentioned below. The first is contract value. Was the agent able to maximize the amount of money the player could potentially earn relative to the market, and how does that player compare to others in his tier? 
It's also important to look at guaranteed money as a fraction of the total value of the deal. While getting a high APY is good, since the player could earn that money, that won't matter if they receive a low signing bonus or have no guarantees in the final years of their deals, as they will most likely be cut.
Finally, one trend we've been seeing recently are shorter deals for young, top-of-the-market players. This is very good for players receiving extensions or set to hit free agency as unrestricted free agents. By signing a shorter, two- or three-year deal, players can still hit the market again when they're 27 to 29 years old and relatively in their prime, thus cashing in for a larger deal as the cap continues to increase. 
Before free agency even started, Williams opened up the proceedings with a resounding bang. He pretty much gave a floor to the WR market for the years to come with this deal. In fact, we've already seen two other players follow this deal almost exactly in Chris Godwin (who shares the same agent as Williams) and D.J. Moore. It really is a wonderful job by Williams' agent team to get this type of deal, especially with how Williams' career has gone.
This past year, he set career highs in catches, receiving yards and first downs, among several other categories. But this was only his second 1,000-yard season, which doesn't scream huge extension for a former first-round pick. His blend of size and athleticism is tough to come by, though, and he might truly be one of the toughest players to replace from a team-building and game-planning standpoint. 
What makes Williams' deal so player-friendly is that 66.67% of his deal is fully guaranteed at signing. This put him higher than every other receiver in the top-10 of WR deals except De'Andre Hopkins and Julio Jones. His three-year deal also makes him very tough to cut, unless the Chargers want to take on $7 million in dead cap in 2024. Thus, he'll likely earn every penny of that $60 million and be able to hit the market again at 30 years old.
LAKEN TOMLINSON, NEW YORK JETS: three years, $40 million ($27 million guaranteed, 67.5%)
Tomlinson was due for a big payday after being an anchor for Kyle Shanahan at left guard, having played every single game since 2018. He was expected to try and remain in a scheme that employed a lot of wide zone concepts, something that made him one of the best-graded run-blockers over the past couple of years. He earned an 88.1 run-blocking grade on outside zone runs since 2019.
Tomlinson is likely to play out all three years of the contract unless the Jets choose to incur a $4.26 million dead cap charge in 2024. When you compare Tomlinson's deal to the other free agent guards, the amount of money he's receiving is pretty staggering. James Daniels will only make $8.8 million annually, and Austin Corbett will only make $8.75 million annually. For Tomlinson to receive $13.33 million per year is a huge step up from the other two big-name guards, and it puts him in the bottom of tier one/top of tier two for guards.
Related content for you:
Most improved, unimproved position groups from 2022 NFL free agency via Anthony Treash
Williams is a bit different than the other players who received player-friendly deals, mainly because he received a contract worth the value he adds on the field. PFF salary cap analyst Brad Spielberger projected him for a three-year, $33 million deal, and Williams came right below that. So, if he got a lower deal than projected, how is it player-friendly? Well, Williams got a ton of money upfront in the form of guarantees, and the APY falls in right around where it was expected, given the slightly depreciated corner market this offseason.
DOMINATE FANTASY FOOTBALL & BETTING WITH AI-POWERED DATA & TOOLS TRUSTED BY ALL 32
Unlimited Fantasy League Sync
Fantasy Start/Sit Line-Up Optimizer & Waiver Wire
WR-CB & OL-DL Matchups, PFF Player Grades, & Premium Stats 2.0 Tools
Nathan Jahnkes Rankings - #1 Most Accurate Last 70 Weeks
PFF Best Bets, Player Props, & Power Ranking Tools
NFL Mock Draft Sim with Trades & Draft Grades
Already have a subscription? Log In