As a part of our partnership with ESPN, this is a part of a story that was originally published on ESPN+ and can be viewed in its entirety here with your ESPN+ subscription — Most overrated, underrated 2021 NFL free agents at every position: Dak Prescott, Shaquill Griffin, more
NFL free agency is the first big opportunity for teams to overhaul their rosters ahead of next season, with the 2021 NFL draft looming in late April. It's also a rare chance to acquire excellent players without needing to give anything up in return outside of the contract the player signs. Just look at how 2020 signing Daryl Williams helped improve the Buffalo Bills' offensive line, and how the Las Vegas Raiders' offense was improved by the bargain signing of wideout Nelson Agholor.
Judging the value of the marketplace is always going to be paramount, and some of the best free-agent business is done not in the first mad scramble for big contracts but in the second wave of deals that ink underrated contributors to more modest contracts. Teams can begin to talk to agents of free agents on March 15, and free agents can sign deals beginning on March 17.
Let's run through every position and highlight an overrated and underrated free agent using the PFF database, which grades every player on every play. You might just see Williams and Agholor, who played on one-year deals last season, appear again:
Jump to a position:
QB | RB | WR | TE | OL | Edge | LB | CB | S
2020 team: Cowboys | Age entering 2021 season: 28
The landscape isn't flush with overrated quarterbacks this offseason, and Prescott might not even hit the open market, as the Cowboys could franchise-tag him. Still, the fact that it's still a question is because the Cowboys have a firm cap on what they believe his value is.
Prescott wants market-leading money, but Dallas has correctly valued him at a step lower than that. As good as he has been, he has never earned an overall PFF grade higher than the 85.2 he managed in 2020 before getting hurt and missing the final 11 games.
The best quarterbacks in the league regularly top a grade of 90.0 and have done so with far less help from their supporting cast. He's a very good player, but he'll be considered overrated if the market values him as one of the best-paid quarterbacks in the game.
Editor's note: The piece was originally published on March 8, before Dak Prescott signed his record-breaking four-year, $160 million contract. For a list of PFF's top-ranked free-agent QBs, check out PFF's free agency rankings page.
2020 team: Dolphins | Age entering 2021 season: 38
"FitzMagic" is at least as much meme or caricature as he is quarterback, but that ignores the fact that he has quietly been playing the best football of his career over the past few seasons. The veteran has actually been a decent starting quarterback over that span.
Since the start of the 2018 season, Fitzpatrick has earned an overall PFF grade of 80.5, 15th among quarterbacks, just behind Prescott. By most measures, he has been a near-perfectly average starter. Yet, he will enter free agency as a potential backup or bridge option for a team with enough desperation at the position. No team will look at the 38-year-old as a long-term answer, but he is probably a significantly better player than his reputation would have you believe.
---
2020 team: Packers | Age entering 2021 season: 26
Jones is an excellent running back, but the recent history shows that giving big-money deals to backs after their rookie contract is rarely a good idea. Derrick Henry is the only one in recent memory who has justified the money thrown his way, and he has rare physical skills.
Jones has earned overall PFF grades of at least 75.0 in every season of his NFL career. He has been even better as a pure ball carrier. Still, he has yet to threaten the elite grades of 90.0-plus, and the Packers have been able to spell him with little to no drop-off in production behind one of the league's best offensive lines. Jones is an outstanding player, but the kind of production he is capable of can be had for far less money, potentially saving a team from the pitfall of a contract it would rather take back in a year or two.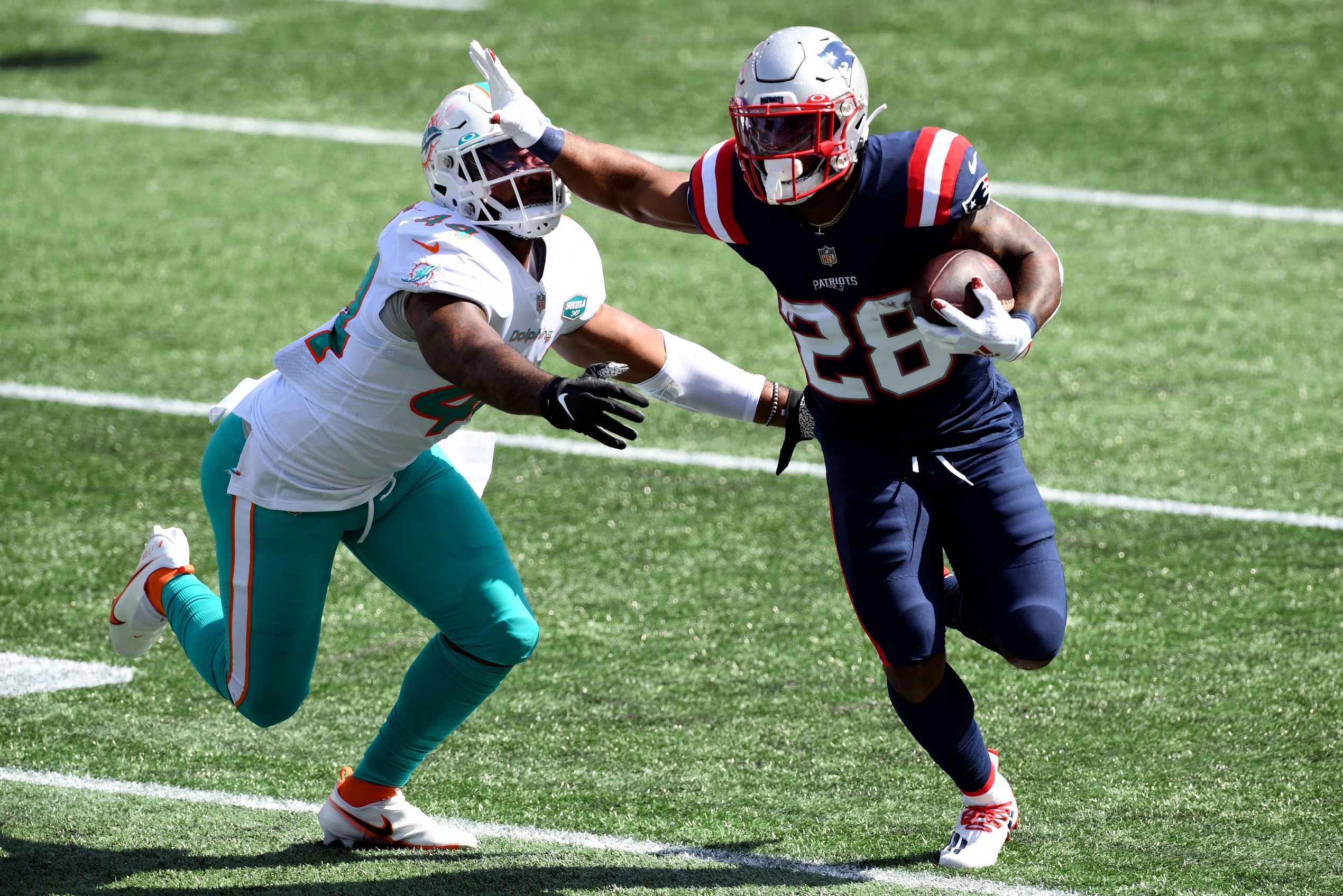 2020 team: Patriots | Age entering 2021 season: 29
White is a perfect running back for the modern NFL. He might not have the kind of skill set to handle an every-down role, but he can be an elite playmaker in a far more limited capacity and form part of an outstanding backfield committee. White has earned three straight receiving grades north of 80.0, and he has broken that barrier in four of the past five seasons.
One of the best receiving backs in the league, he has dropped just two passes in each of the past two seasons despite being targeted 152 total times. White will likely have a bargain price tag in free agency, but he could excel in the right offense with the right opportunity.
---
2020 team: Texans | Age entering 2021 season: 27
Speed kills. And even if a receiver with pace doesn't personally reap the benefit of that threat, the effect he has on the offense around him is obvious. This has been the logic with Fuller during his time in Houston despite five straight seasons of failing to crack either 1,000 receiving yards or double-digit touchdowns.
When DeAndre Hopkins was in town, Fuller was the receiver who seemed to make a notable difference to the offense when he played, but that same impact wasn't there in 2020, even if he had a career year. Fuller produced an overall PFF grade of 86.2, and Deshaun Watson recorded a passer rating of 132.5 when throwing in his direction.
With the franchise tag likely to be used liberally on the top receivers in the class, a team in need of a proven playmaker could throw big money Fuller's way. He is a nice complementary piece but might not move the needle by himself the way that contract will expect him to. Fuller will also miss the first game of the 2021 season because of a previous suspension for violating the NFL's policy on performance-enhancing substances.
2020 team: Raiders | Age entering 2021 season: 28
Agholor has had a strange NFL career but hits free agency at just 27 years old coming off one of the best seasons of his career. He became the deep threat in the Raiders' offense that Henry Ruggs III was supposed to be, with only Tyreek Hill catching more touchdown passes on deep targets (20-plus air yards) than Agholor's six. Derek Carr's passer rating when throwing his way this season was 113.7, and the rediscovery of the deep pass transformed the Raiders' offense into an altogether more formidable threat this season.
Agholor has only two good seasons in five years in the NFL, and they were stylistically very different, but the version of his game we saw this season looked a lot like the version we saw in college that made him a first-round pick in 2015.
---
2020 team: Rams | Age entering 2021 season: 27
Everett's combination of speed and athletic traits will always make him a coveted player, and he hits free agency in his prime at just 26 years old. In a league in which there isn't an overabundance of high-quality tight end play, he will be a free-agency prize, but he has never developed the way we would have expected with the Rams. He has yet to top 500 receiving yards or post more than three receiving touchdowns in a season, even if we include postseason trips.
Of more concern for anybody thinking that simply increasing his workload will see a dominant season is that he hasn't even been particularly efficient over those years. The highest overall PFF grade of his career is just 76.0, and he has never generated a passer rating of over 100.0 when targeted. Everett is talented, but he is also inconsistent, and the talent might result in teams overpaying for him.
2020 team: Titans | Age entering 2021 season: 26
In many ways, Smith's career has been similar to that of Everett, but you can construct a better case that Smith's best football is ahead of him and that he is just an increase in opportunity away from a real breakout season.
Smith scored eight touchdowns in 2020 and has returned a passer rating of over 100.0 in three of his four years in the NFL. His most recent two seasons have been his best years in terms of overall PFF grade, and the 25-year-old has dropped just three passes on 118 targets across those years.
---
2020 team: Patriots | Age entering 2021 season: 28
Thuney is likely to be one of the most coveted linemen available this offseason, given the profusion of lineman-needy teams. But while he is undoubtedly a very good player, it's fair to ask whether he is a great one. Thuney has never broken a PFF grade of 80.0 for a single season, coming closest in 2019.
His run blocking has typically been solid but unspectacular, and while his pass-blocking grades had been approaching elite levels, he dropped back down to 73.1 in 2020, allowing 17 total pressures and two sacks on the season. Thuney has an extremely high floor for any prospective team, but he could earn monster money on the open market, which is hard to justify given his career thus far.
2020 team: Bills | Age entering 2021 season: 29
You can look at Williams' NFL career and say he has just two good seasons in six years and use it as a reason to be down on his prospects, but they're also the only two full seasons he has played at right tackle.
His play was poor when he was moved to guard in 2019, surrendering 35 total pressures and 12 sacks across extensive snaps at three different positions. He earned PFF pass-blocking grades of 78.0 and 80.1 — for two different teams — when he was asked to play right tackle exclusively all season.
Williams is still only 28 and would upgrade several right tackle situations in the league based on what we have seen of his baseline at that position.
---
2020 team: Steelers | Age entering 2021 season: 27
Dupree is the classic buyer-beware candidate at the edge position. An incredibly gifted player capable of making splash plays, he also comes with a first-round pedigree and has 22 sacks over his past 27 games.
The problem is that he has played in an environment that gives him a lot of layups in terms of pass rushing. Last season, 60.5% of Dupree's total pressures were either unblocked, cleanup or pursuit plays, which are more circumstantial than they are evidence of plus play. By contrast, only 26% of T.J. Watt's pressures fell into those categories.
Dupree can take advantage of a beneficial situation as a complementary pass-rusher, but there isn't much evidence that he can manufacture his own elite-level production. Dupree also is coming off a torn ACL suffered in December.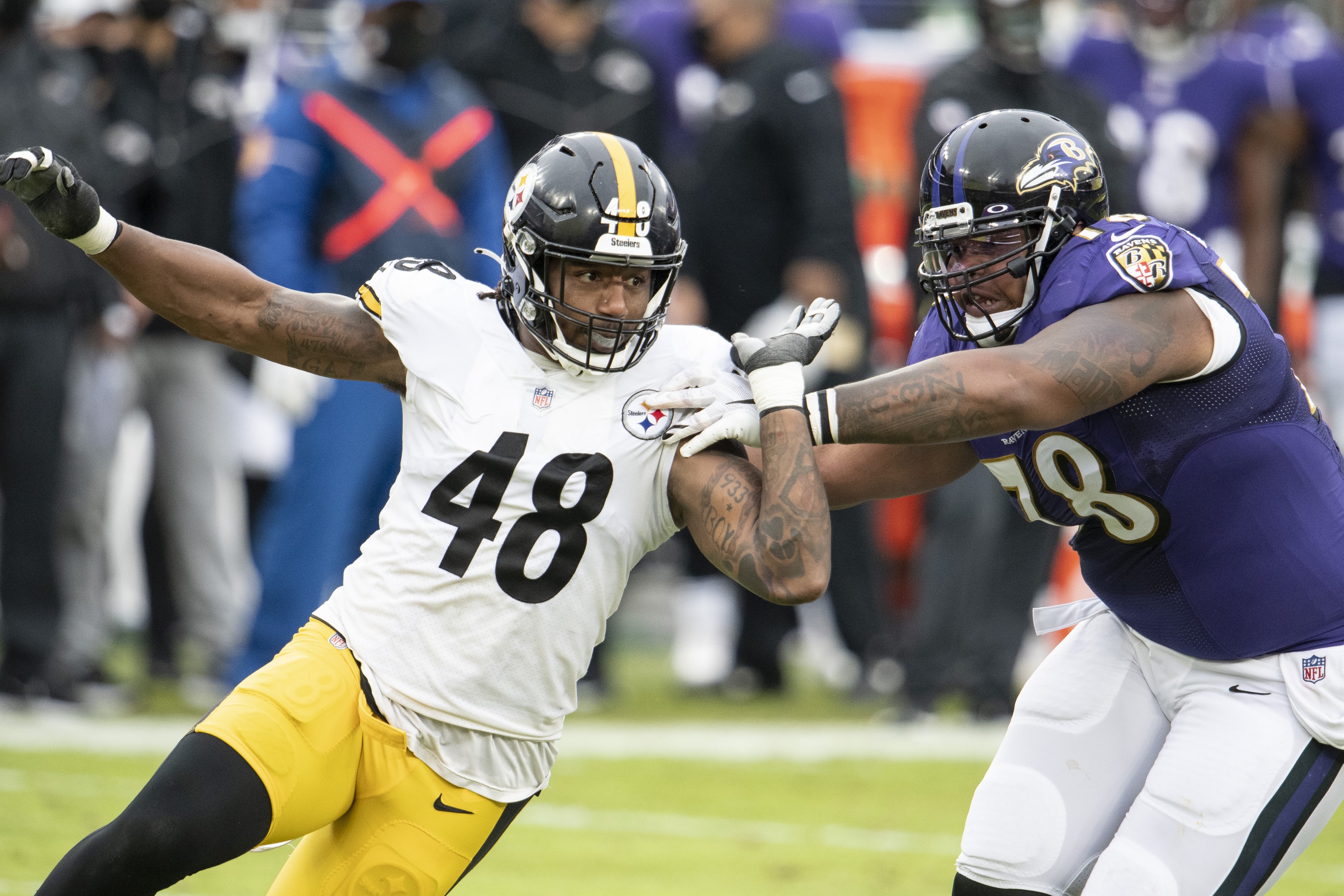 2020 team: Bengals | Age entering 2021 season: 26
Lawson doesn't have huge sack totals — he has just one double-digit sack season in his career, and it came back in 2017 — but he has been a consistently superior pass-rusher to Dupree in virtually every other way.
Last season, Lawson generated 64 total pressures and a PFF pass-rushing grade of 84.9, ninth in the league among edge rushers. He isn't much of a run defender, but he is significantly better as a pass-rushing force than his sack totals would lead you to believe, suggesting that he might be a bargain signing if teams still aren't looking beyond that bottom-line figure.
---
2020 team: Browns | Age entering 2021 season: 27
First impressions can go a long way. The sheer impact Ogunjobi made across 300 snaps back in 2017 left a lasting impression that not only earned him a starting job in Cleveland but has left everybody expecting that play to return. The former third-round draft pick recorded 16 defensive stops and earned a PFF run-defense grade of 83.8 that season, a figure he hasn't got within 15 grading points of since.
There is little doubt that Ogunjobi has the tools to make a huge impact now and then, but the evidence of him being a major upgrade for any defensive line is getting further away in the rearview mirror while his more recent tape has been moving steadily in the wrong direction. He generated just 23 total pressures on over 400 pass-rushing snaps last season, all while earning a PFF run-defense grade of only 53.8, 89th among 134 qualifying interior defensive linemen.
2020 team: Broncos | Age entering 2021 season: 30
Harris seems destined to go underrated for his entire NFL career. He earned a PFF grade of 90.0 in 2017 and finished the 2020 season at 88.3, and while he has struggled to replicate those numbers with an expanded role within the defense, he can be a destructive force in a limited role.
The former seventh-round pick has been a consistently good run defender, but his pass-rushing grades have improved in each of the past three seasons, peaking in 2020 with a mark of 83.5 thanks to 27 total pressures across 294 pass-rushing snaps. Harris might never be an every-down All-Pro, but he can massively upgrade a defensive front as part of a defensive rotation inside. Teams should look to lean into his strengths rather than get dissuaded by his limitations.
---
2020 team: Bills | Age entering 2021 season: 27
Milano has been a visible and vocal leader of a Buffalo defense that has taken major strides over the past few seasons. He has shown the ability to play well in all facets of the game — but rarely at the same time.
He produced impressive coverage grades in back-to-back seasons before being lit up far more in 2020, and his run-defense grade over the past two years has been below 50.0. There is a good player in Milano, but at nearly 26 years old, he will go looking for a monster contract at the position. The track record of high-level play that is needed to justify signing him just isn't there on any consistent basis.
2020 team: Chargers | Age entering 2021 season: 28
Perryman would have been a force on defense a decade ago, but as the league has trended away from the run game toward ever more pass-happy systems, his skill set has been marginalized. Perryman is a run-stuffing specialist and has battled injuries, but he is coming off a career year in which he earned PFF grades of at least 74.1 in every facet of defensive play, including coverage.
Perryman tallied 22 defensive stops across 317 snaps, and he allowed only 5.3 yards per catch, by far the lowest mark of his career. He likely isn't an every-down player or someone who will transform a defense, but these are the bargain signings that steal win-percentage points consistently over a season.
---
2020 team: Seahawks | Age entering 2021 season: 26
The free-agent cornerback market is chaos this year. Nearly every available corner has had an excellent season somewhere in his past, but varying question marks surround each player.
Griffin is a year removed from the best season of his career, a 2019 season that saw him post a PFF coverage grade of 77.0 thanks to 14 pass breakups from 70 targets, but he couldn't back that up in 2020. While he managed to come down with a career-best three interceptions, he also had just five pass breakups and was beaten for a passer rating of 99.2 when targeted, surrendering a catch on 61.8% of his targets.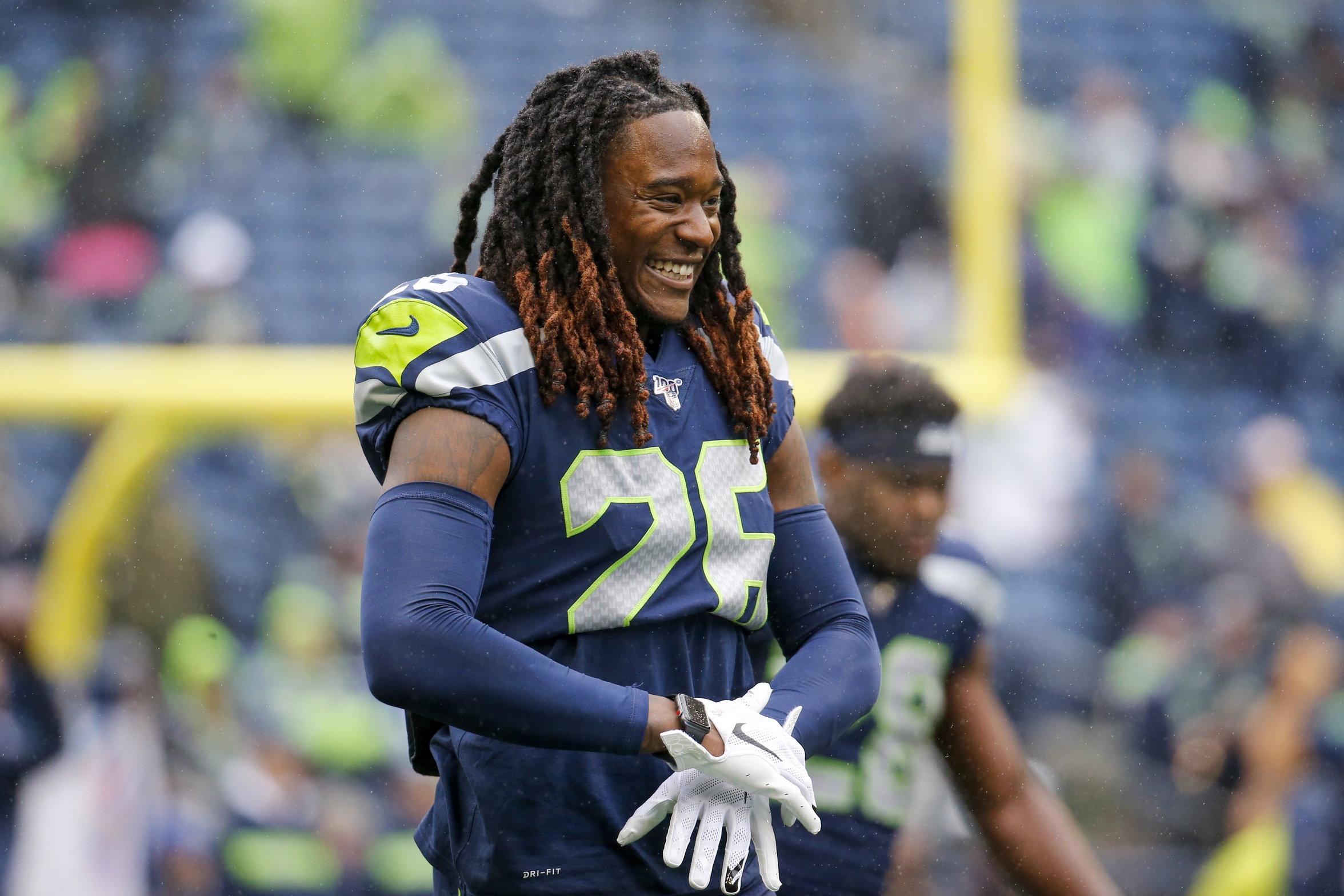 2020 team: 49ers | Age entering 2021 season: 30
Verrett has been one of the most injury-plagued players in football for years, but he finally got a healthy season in 2020 for the 49ers, who had kept rolling the dice with him, hoping for a year like this.
Verrett played 803 snaps last season, having played just 67 in total over the previous three seasons and 1,270 in his entire career heading into the year. He had an excellent season, allowing only 8.9 yards per catch and one touchdown all season, earning a 76.1 PFF coverage grade in the process. Verrett posted a coverage grade of 90.9 the last time he was healthy for a full season.
While he didn't quite get back to those highs last year, he did look impressive given the extent of his injury layoff. That history will likely still scare teams, but he is a high-quality starter if he lasts through the season.
---
2020 team: Falcons | Age entering 2021 season: 26
Neal's best season came in his 2016 rookie year, when the first-round pick set about justifying Atlanta's move to draft him No. 17 overall. He backed that up the following season before injuries started to derail his progress, limiting him to just 203 snaps over the next two seasons combined.
He found himself back in action last season but was not nearly as impactful as he had been before those injuries, and his play in coverage remains a question mark. Neal has an impressive highlight reel and first-round pedigree, but will teams throw too much money his way, assuming that his path back to that rookie year success is an easy one to travel?
2020 team: Panthers | Age entering 2021 season: 29
Another of the game's most underrated players, all Boston does is play well as a free safety and then get released by teams. He has now been dumped by Carolina (twice), Arizona and the Chargers despite giving each of them plus play, particularly in coverage, where he earned an elite 90.6 PFF grade in 2019 after earning an 89.0 in 2017.
Boston is hitting free agency coming off the worst season of his career, which won't help his quest for better recognition, but he had six straight seasons with an overall PFF grade of at least 68.3 before 2020 and is a high-level free safety for a team in need of help at that position.