We were spoiled with some of the NFL action yesterday. You just can't ask for much more than close football games between good teams, and there were several of those in Week 3 of the 2020 NFL season.
That's before we get to the main course, as well — a heavyweight bout between the two best teams in the NFL on Monday Night Football. There's no reason to jump ahead just yet, though. The 14 games on Sunday provided plenty to break down, and these are a few of my quick takes on some of the Week 3 fallout.
Editor's note: ELITE subscribers can view player grades, advanced statistics, positional snap counts and more in Premium Stats 2.0. Subscribe today for access.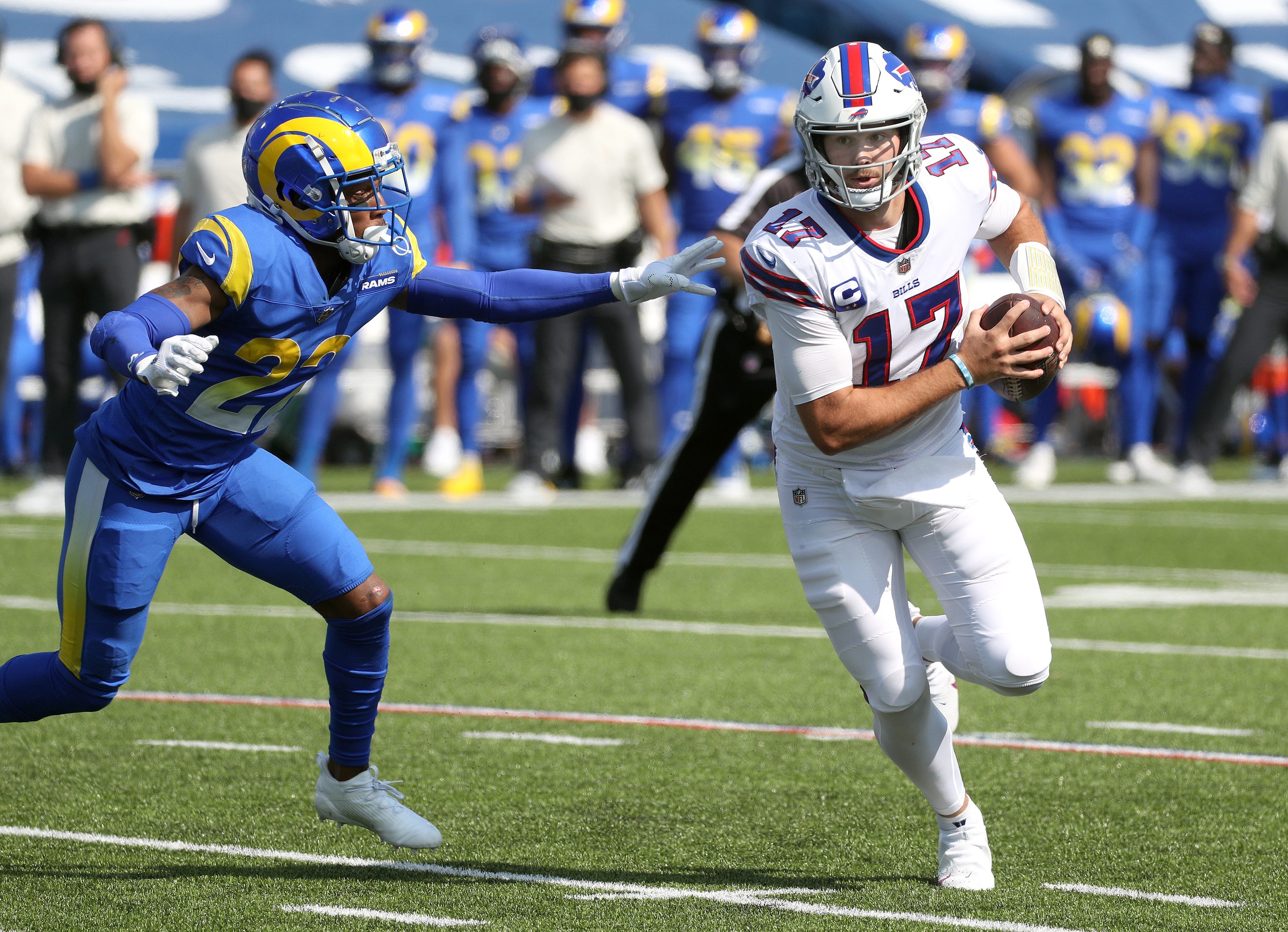 1. The Buffalo Bills' offense is for real, and Josh Allen has made legitimate strides in his third season
Even Allen's harshest critic coming into this season has to admit that the Buffalo signal-caller has shown significant improvement in his third year out of Wyoming. Across his first two seasons in the NFL, Allen ranked 28th out of 32 qualifying quarterbacks in PFF grade; just 52.8% of his passes were charted as accurate, lower than any quarterback in the NFL. Rare physical tools were not translating to even average quarterback play by PFF metrics or traditional NFL passing numbers.
It's safe to say that offensive coordinator Brian Daboll and a well-rounded receiving corps have done a good job of putting Allen in a position to succeed this season. However, it's also safe to say that Allen's individual improvement is a big part of their offensive success. He currently ranks fifth in PFF passing grade through three weeks, at 83.9.
Just 21% of his passes thrown 10-plus yards downfield have been charted as uncatchably inaccurate so far, the third-lowest mark in the NFL and a major improvement over prior seasons. Stefon Diggs, John Brown and Cole Beasley are getting open downfield, and unlike the last two years, Allen is doing a good job of giving his pass-catchers a chance.
An offense that sits at sixth in EPA per play through the first three weeks of the season makes Buffalo a legitimate threat in the AFC. It's still too early to say they're in the top tier with the Kansas City Chiefs and Baltimore Ravens, but they're a strong contender to challenge the AFC front-runners; they are a team that has built an impressive roster and coaching staff over the past several seasons.
Three teams with a winning record through the first three weeks of the 2020 season — the Las Vegas Raiders, Tennessee Titans and Kansas City Chiefs — await in the next three weeks.
2. The Dallas Cowboys are still big favorites in the NFC East, despite their 1-2 start to the season
In a back-and-forth affair, it was Russell Wilson and the Seattle Seahawks who dealt Dallas the final blow in the form of a D.K. Metcalf 29-yard touchdown reception. The Cowboys' ability to cover Metcalf and Tyler Lockett was a concern coming into the game, and it proved to be a valid one, as Wilson picked apart their defense to the tune of 315 passing yards and five passing touchdowns.
Dak Prescott certainly made some impressive plays in his own right — finishing the contest with two big-time throws and a PFF grade of 83.4 on the week — but it just wasn't enough to match Wilson and the Seahawks' offense. The bad news for Dallas is that the loss drops them to 1-2 through their first three games with a banged-up roster. The good news is that they should still be overwhelming favorites in the NFC East despite that start.
You don't need me to tell you this, but I will anyway: The NFC East is really bad, folks. The Washington Football Team dropped a game to the Cleveland Browns and saw Dwayne Haskins continue a brutal start to the season (more on that later). Carson Wentz also took one more step toward putting his starting job in jeopardy with another four turnover-worthy plays in his team's tie against the Cincinnati Bengals.
Most turnover-worthy plays in the NFL through three weeks of the 2020 season
Finally, the New York Giants got their doors blown off by a San Francisco 49ers team that was without Jimmy Garoppolo and other prominent starters such as George Kittle, Deebo Samuel, Nick Bosa and Richard Sherman.
It certainly hasn't been an ideal start for the Cowboys, but the rest of their division is giving them a nice cushion to start the year. As far as 1-2 teams go, it's hard to be in a better position than Dallas is in right now.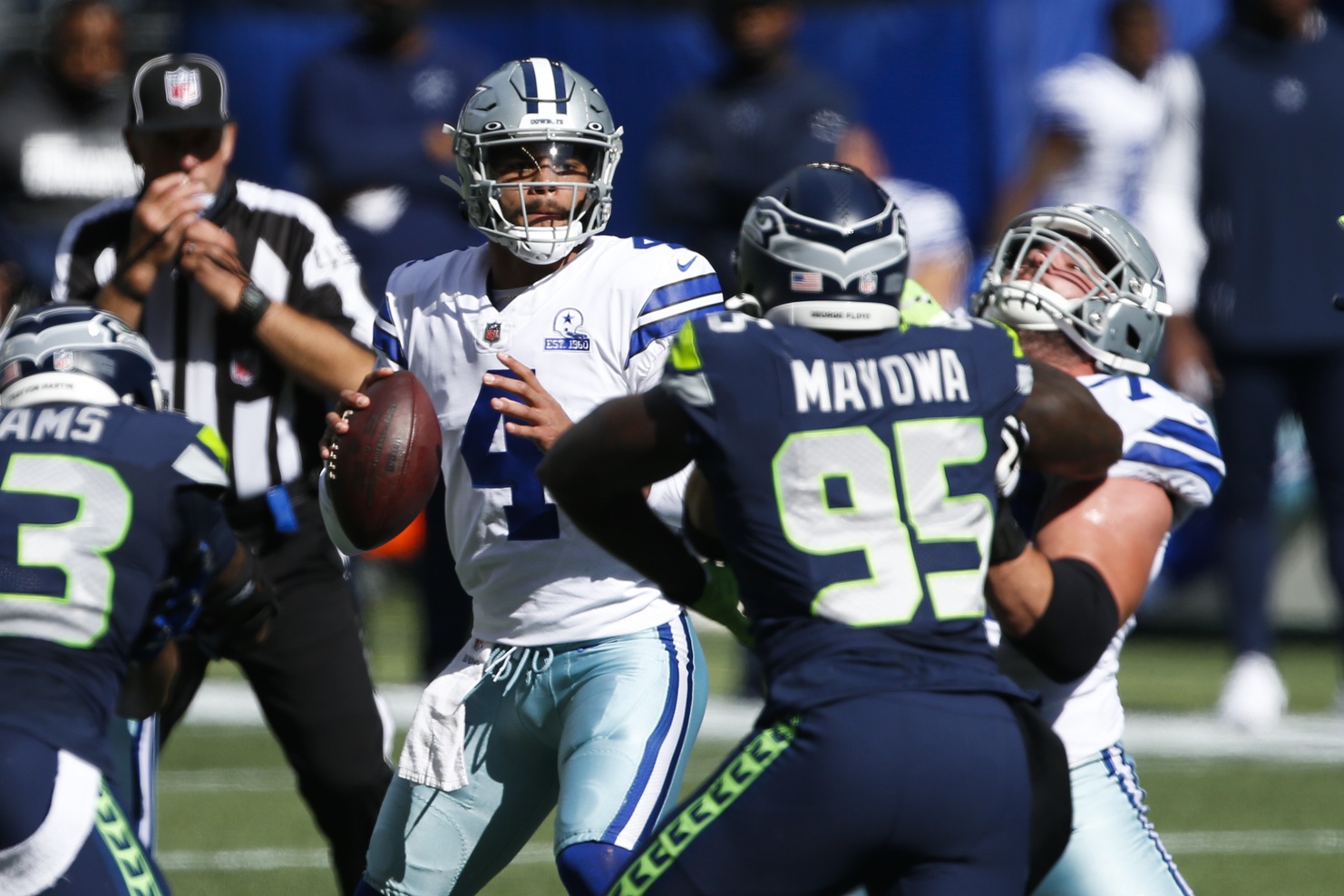 3. The Seattle Seahawks' inability to generate pressure is eventually going to become a problem
On the other side of that game, Seattle's offense continues to look like a problem for the rest of the NFL. No one in the league throws a prettier deep ball than Wilson does, and the Metcalf-Lockett pairing at wide receiver was a match made in heaven on the receiving end of those over-the-shoulder dimes. Despite that, I can't help but maintain some skepticism about the Seahawks being the best team in the NFC, and it comes back to their defense's inability to generate any kind of pass rush.
Seattle blitzed on nearly 40% of their pass-rushing snaps on Sunday (37.1%), and they still only got pressure on 19.4% of their pass-rushing snaps — one of the lowest marks in the league in Week 3. That number becomes even worse when you add additional context.
The Cowboys' offensive line was in bad shape — as bad as you're ever going to catch it. Brandon Knight was starting at left tackle for the injured Tyron Smith, and Terence Steele started the game again at right tackle for La'el Collins. Steele got benched midway through the contest, however, which bumped Zack Martin from right guard to right tackle, moved Joe Looney from center to right guard and introduced the rookie Tyler Biadasz to the game at center.
Even against that makeshift group and with a heavy dose of blitzes, the Seahawks weren't able to make Prescott uncomfortable. Their offense has been able to rise to the pressure thus far, but it's hard to imagine that some of Seattle's defensive woes won't become an issue at some point down the line.
4. Sam Darnold's and Dwayne Haskins' struggles can't be pinned solely on their offensive environments
The Washington Football Team and New York Jets have fielded two of the NFL's worst offenses early in the 2020 NFL season. That's not exactly a surprise. Neither team had much talent to work with on that side of the ball, and both quarterbacks came into the season without ever showing that they can elevate the players around them. Through three weeks, that assessment hasn't changed. In fact, it's only grown stronger. It's worth questioning how long Darnold and Haskins keep their starting jobs if the season continues the way it started.
The two quarterbacks turned in two of the three lowest PFF passing grades of Week 3 so far, and it's hard to imagine either Patrick Mahomes or Lamar Jackson joining those depths tonight. When looking at the season as a whole, only Carson Wentz keeps the duo from locking down the lowest two passing grades among qualifying quarterbacks.
Keeping the ball out of harm's way — typically a strength of Haskins' play — was a real problem for him on Sunday, as he led the league with five turnover-worthy plays. The turnovers Cleveland was able to secure led to 24 points, but there were also plays like this one below that don't show up on the stat sheet.
Darnold also notched several turnover-worthy plays in a game where the Indianapolis Colts defense scored multiple touchdowns. At some point, shaky offensive lines and receiving corps can only take so much of the blame. Neither of these young quarterbacks has played well to start the season, and if these teams aren't considering succession plans already, they should be.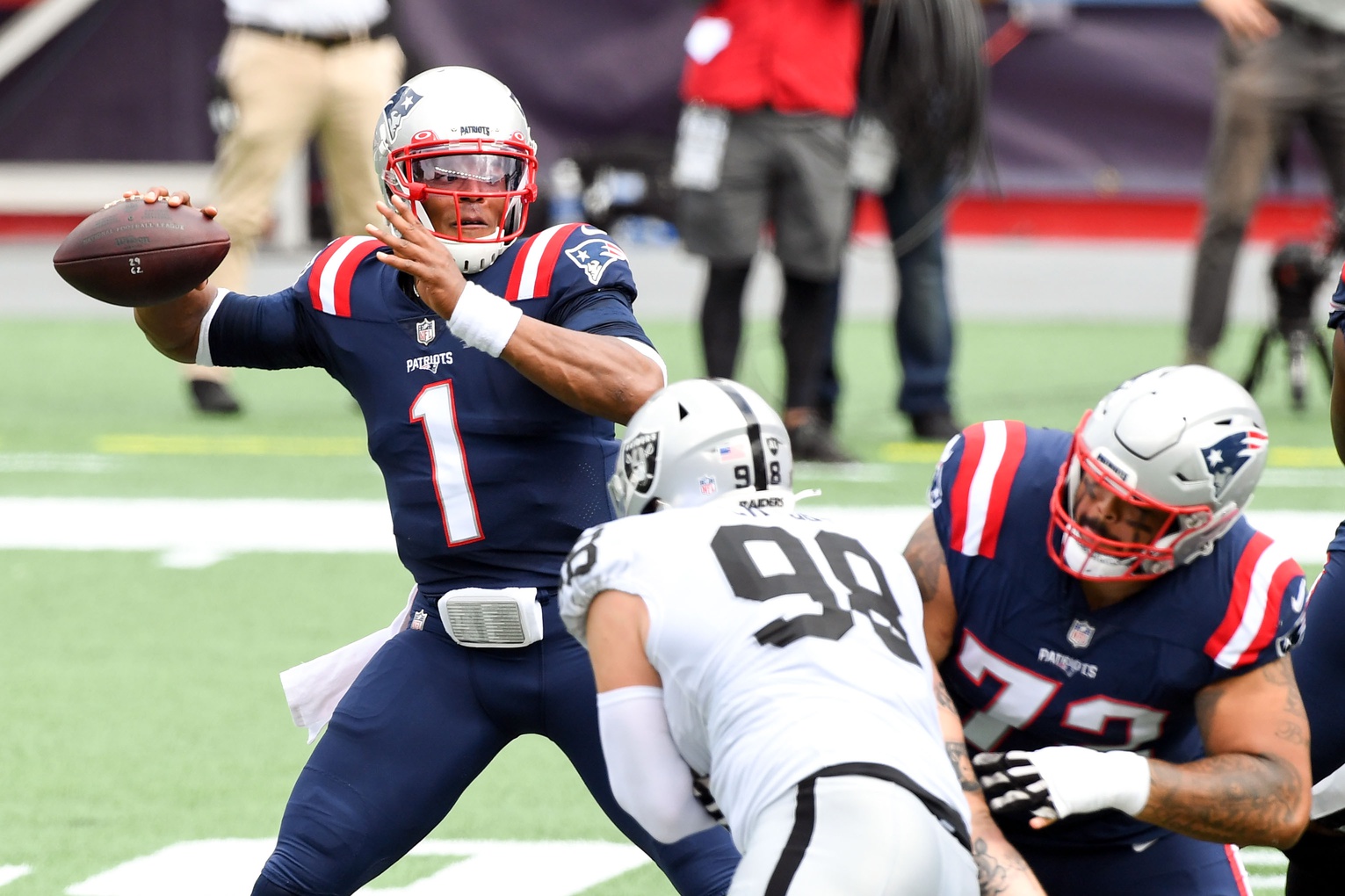 5. The New England Patriots have shown they can win multiple ways on offense
In Week 1, it was Cam Newton and the designed-run game that helped the Patriots find success against the Miami Dolphins. The following week, it was an all-out aerial attack against a questionable Seattle Seahawks' pass defense that moved the ball. On Sunday, the Patriots' running backs combined for over 200 yards on the ground while Newton was limited to under 30 yards rushing, no rushing touchdowns and a shaky passing performance that generated a PFF passing grade of 48.3.
The big takeaway here is that Josh McDaniels and this Patriots offense has shown that they can find success in multiple forms. There were valid concerns about how this offense would look coming into the season. Newton had battled through a lot of injuries in recent years, and the offensive pantry wasn't exactly fully stocked when it came to pass-catching weapons who could be relied on to create separation downfield. A healthy Newton has made this offense fun, though. And it gives McDaniels options on how he chooses to attack a defense in a given week.
That development, along with just how impressive the Buffalo Bills' offense has looked to start the year, makes the top of the AFC East more interesting than I thought it would be just a few weeks ago.
6. As good as he is, the New Orleans Saints can't rely on Alvin Kamara to carry their passing offense
Kamara put on an absolute show on Sunday Night Football, even if it came in a losing effort for the Saints. That's sort of the point. Kamara's touchdown reception, where he made the Green Bay Packers' defense look like the worst tackling team in the NFL, shows just how good he is at creating yardage above expectation. New Orleans shouldn't be relying on Kamara for multiple plays like that in a game, though.
Saints' receiving leaders through three weeks of the 2020 season
Yes, Michael Thomas is out with an injury, but the fact that Kamara — a running back — has over twice the number of targets anyone else on the team has is alarming for this offense. It speaks to how little Drew Brees has even looked down the football field. Brees' average depth of target of 5.1 yards so far this season is by far the lowest mark in the NFL. Getting Thomas back will help matters, but it's hard not to be concerned with the complete lack of a downfield passing attack in New Orleans early in the season.
At some point, dump-offs to Kamara at the line of scrimmage aren't going to cut it. With New Orleans sitting at 1-2 in a competitive NFC, it seems as if that point may already be here.