The first wave of NFL free agency has come and gone, and we have you covered on what every team did during the first week of the new league year. There is still plenty of talent out there to be had, however, and there are still teams with needs and cap space to spend. These are the top 10 remaining free agents according to PFF — plus a landing spot that makes sense for each player, taking into account cap space, team needs and player fit. (Here's a look at the full list of the top 50 remaining free agents available.)
The market for starting quarterbacks appears to have run dry. Newton's former team, the Carolina Panthers, signed Teddy Bridgewater to a three-year deal; the Indianapolis Colts signed Philip Rivers to a one-year contract; the Chicago Bears traded for Nick Foles to compete with Mitchell Trubisky; the Tampa Bay Buccaneers signed Tom Brady to a two-year deal; and teams such as the Jacksonville Jaguars and Los Angeles Chargers seem to be content letting things play out with they guys on their roster (Gardner Minshew and Tyrod Taylor) or a quarterback taken in the draft this year.
Two teams that do still have things somewhat up in the air are the Miami Dolphins and the New England Patriots — and the Patriots make more sense for Newton. The Dolphins already have a quarterback who performed fairly well last season on their roster (Ryan Fitzpatrick) and they are in prime position to draft Tua Tagovailoa in the upcoming draft. The Patriots, meanwhile, have Jarrett Stidham as the best quarterback currently on their roster and don't select until 23rd in this year's draft — and they don't own any second-round selections, either. They could, of course, be entering a full-fledged tank to get their guy in 2021, but this is a team that went 12-4 last season. If they want to attempt to compete next year, Newton is the best guy out there.
For the most part, Newton has been an average to low-end starter, grading between 67.3 and 76.1 every season from 2011 to 2018 aside from his 2015 MVP season (86.5), and he brings plenty of injury concerns with him. But the most recent stretch of healthy football that we saw from Newton was some of the best in his career. Across the first nine weeks of the 2018 season, Newton posted an overall grade of 80.9 (14th at quarterback). Norv Turner and the Panthers' offense were using a heavy dose of play action and designed rushes to get the best out of him, and it led to a 6-2 record for Carolina. A shoulder injury derailed the rest of his season, and we haven't seen him healthy on the field since that point.
If the Patriots wind up with a healthy Newton, there is a chance he could produce at a high level in Josh McDaniels' offense. It was a flash in the pan, but we saw in 2015 that Newton could perform like an elite quarterback over the course of a season. Paired with one of the league's best defenses, the Patriots could still contend. The cap situation would force the Patriots to trade the tagged Joe Thuney and/or make other cap moves, whether that be restructures, releases or trades, for veterans such as Dont'a Hightower. But signing Newton is still a possibility. He's the best option out there if the Patriots want to contend in 2020.
I'm going to get out in front of this one by saying that this is not a perfect fit. There isn't a perfect fit out there for Winston, though. According to ESPN's Jeff Darlington, the market for Winston is currently "ice cold."
With the starting jobs likely dry at this point, Winston will have to settle for a backup job unless he remains on the market and uses an injury situation as leverage for a new deal. When it comes to backup opportunities, the teams that have young, unestablished quarterbacks don't make a whole lot of sense. The Washington Redskins don't seem to want a five-year starter breathing down Dwayne Haskins' neck, and the same can be said for a team like the Denver Broncos with Drew Lock. Which means Winston is likely looking at backup quarterback money to serve as a high-end No. 2 behind an entrenched starter.
For many, the team that has been floated around for that role is the Steelers, and that is a destination I believe makes sense for both sides. As we saw last season, the Steelers cannot feel comfortable with either Mason Rudolph or Devlin Hodges at quarterback. The two combined for the second-worst overall grade at the quarterback position in the NFL, beating out only what the Carolina Panthers put out on the field. By EPA per play, Pittsburgh ran the least efficient offense in the NFL and was carried by a very good and opportunistic defense to an 8-8 record.
Reports are that Ben Roethlisberger is feeling as well as he has in years, but he is still 38 years old and coming off a major elbow injury. Winston would give the Steelers another level of security if Roethlisberger goes down. That's something they could use as a team that is in position to contend in the AFC.
People love to throw out the interception numbers, and it's true that Winston has been outrageously careless with the football. His 149 turnover-worthy plays since 2015 are 22 more than any other quarterback in the NFL. That has been a result of his volatile style of play, pushing the ball downfield at the highest average depth of target in the league over the past five seasons. It's a style that also brings plenty of big plays. Winston ranks among the top-10 quarterbacks in the league in big-time throws over that same five-year stretch. All in all, he is a mid- to low-tier starter, but as a backup he would be one of the league's best — capable of leading an explosive offense.
The deal would have to be cheap, as the Steelers sit with just over $10 million in cap space per Over the Cap, but we saw Marcus Mariota sign with the Las Vegas Raiders at just a $7.5 million cap hit next season. The Steelers don't have a long list of needs heading into next season after retaining Bud Dupree and signing players such as Stefen Wisniewski and Eric Ebron at areas of need on very reasonable deals. Addressing the quarterback situation behind Roethlisberger should be top of the list, and if they can get Winston at a cheap-enough price, it's a fit that I like for both parties. If all goes well, it would give the Steelers a potential successor to Roethlisberger after his deal runs its course.
The Colts have made it clear that they intend to compete for a Super Bowl next season. A team doesn't sign Philip Rivers to a one-year, $25 million deal with Jacoby Brissett already carrying a cap hit over $20 million at the quarterback position to maintain the status quo. Nor do they trade the 13th overall pick in the NFL Draft and give DeForest Buckner a contract that makes him the second-highest paid interior defender in the NFL without having their sights set on the Lombardi. Signing Clowney would give them the top edge defender on the market, pushing them closer to that goal. 
In a press conference last month, Colts general manager Chris Ballard joked, "Y'all obsess about wideouts. I obsess about O-line and D-line." The Colts have placed a heavy emphasis on the trenches, and in that regard Clowney is a logical target for Indianapolis. Justin Houston performed at a high level in his first season with the Colts (87.1 overall grade), but there wasn't much to get excited about along the line besides him. The Colts gave him some help by trading for one of the top young interior defenders in the NFL (Buckner), and the addition of Clowney would give them one of the most talented defensive lines in the league. 
Even in a down 2019 season in which he battled injuries, Clowney finished the year as a top-20 edge defender in both PFF grade and PFF WAR. In 2017 and 2018, he was one of the 10 most valuable edge defenders in the NFL. He is one of the league's best run defenders at the position and has improved in recent seasons as a pass rusher, though he's never truly being as dominant a force in that area as many expected. Clowney could flourish on a talent-rich line in Indianapolis that would have some nice depth as well with players such as Kemoko Turay. 
I wrote earlier this offseason about how the New York Jets failed to take advantage of Anderson's greatest strength — his speed. He is one of just six wide receivers with 100 or more targets 20-plus yards downfield over the last four seasons, but too many of them have looked like this.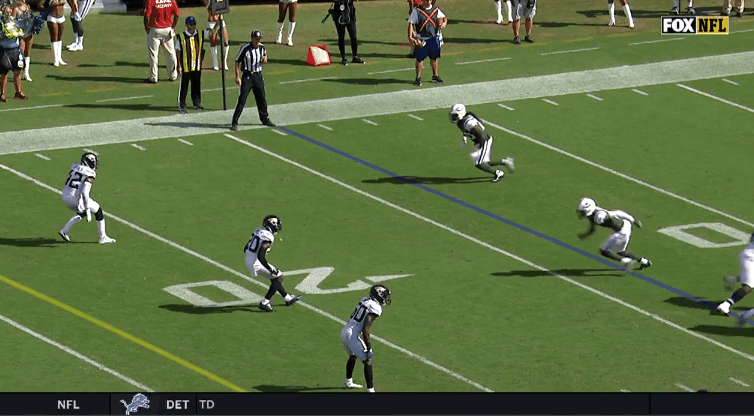 Over that four-year stretch, Jets passers combined for an accuracy rate of 28.3% on those deep, downfield passes based on PFF's ball charting data. That was lower than every team in the NFL other than the Buffalo Bills. It's safe to say that Anderson could use a fresh start. 
Carson Wentz, meanwhile, has ranked 17th out of 32 qualifying quarterbacks since entering the league in 2016 in deep accuracy rate, but if you look at only the last three seasons, he jumps all the way to eighth. He has simply been a much more accurate downfield passer than Sam Darnold. 
The problem for Philadelphia and Wentz is that they had absolutely no one who could stretch the field last season. Desean Jackson was supposed to be that guy, but he managed just 65 offensive snaps due to injury and is now 33 years old. Anderson would add a completely different element to that offense, providing someone who can put stress on secondaries deep. He has also expanded his route tree over the last two seasons to add value in the intermediate range and on horizontal lead passes such as crossers and slants, showing he isn't just a one-trick pony. 
The Eagles have done a good job on the defensive end with the signing of Javon Hargrave and the trade for Darius Slay, but there is still work to be done at the wide receiver position. Adding Anderson would be a good start. 
Please sign a slot cornerback, Seattle. Frankly, looking at just how much base defense they ran last season is alarming.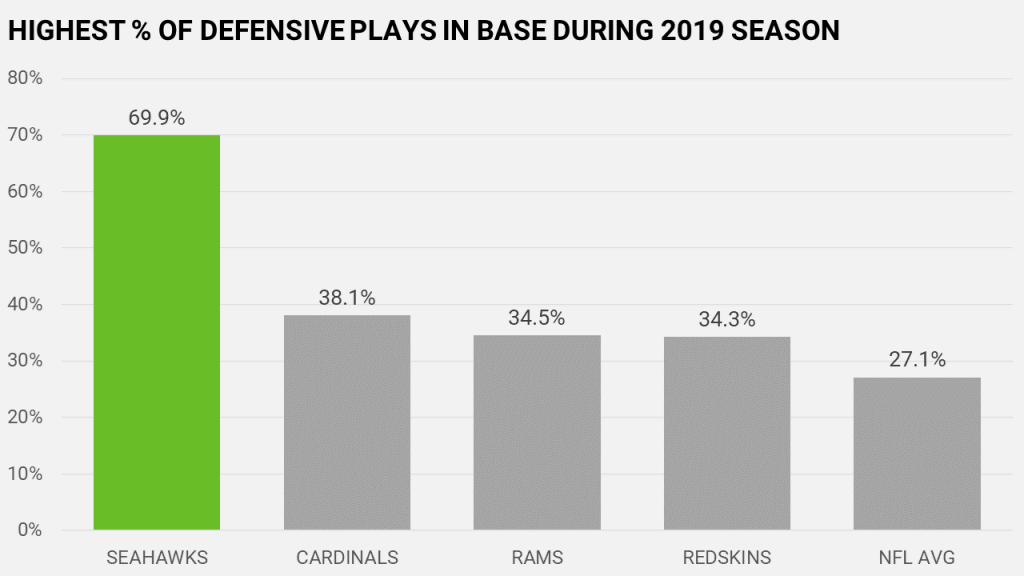 Their leader in slot coverage snaps was Jamar Taylor with just 154, closely followed by K.J. Wright (121) and Mychal Kendricks (120), who are both linebackers. In the modern NFL landscape, teams simply cannot run four or fewer defensive backs out onto the field for 70% of their defensive plays and expect not to get exposed by play callers who are actively trying to get some of the best wide receivers and tight ends in the league on a linebacker in coverage. 
In that regard, Robey-Coleman makes a lot of sense for Seattle. At just 5-foot-8, he isn't in the mold of the long cornerbacks Seattle has generally targeted, but he has been one of the best slot coverage cornerbacks in the NFL over the past several seasons. Since joining the Los Angeles Rams in 2017, he has been the 15th most valuable cornerback in the NFL according to PFF WAR. He also ranks fourth among qualifying cornerbacks in yards allowed per coverage snap. He would add a lot of value to a Seahawks defense that is far removed from the Legion of Boom years.   
The buzz surrounding the Broncos is that they are looking to add to the wide receiver position — and for good reason. Courtland Sutton took massive strides in his second season out of SMU, recording a PFF grade of 83.1 on the season, but there are more question marks than answers behind him on the depth chart. Behind Sutton, Daesean Hamilton led the team's wideouts in receptions with just 28, signaling that there is clearly room for improvement at the position. 
It came on the back of a long and winding journey, but Perriman is one of the top wide receiver options available. Things didn't work out for Perriman with the Baltimore Ravens because of injuries, drop issues and an overall lack of production in his three seasons with the team. Following his release, he rebuilt his image in Cleveland enough to earn a one-year deal with the Tampa Bay Buccaneers in 2019, and Perriman capitalized on that opportunity, especially late in the season with three consecutive 100-yard games. He dropped just one of his 65 targets on the year. 
With a 40-yard dash time reported at 4.25 seconds coming out of Central Florida, it's clear that he has the kind of speed Denver covets. Perriman led the NFL in average depth of target last season (18.8 yards), and he could provide Drew Lock a nice downfield weapon to pair with Sutton. Adding someone like Perriman and then potentially drafting a wide receiver at 15 would give the Broncos a completely new-look passing attack heading into 2020. 
Unless Ryan moves off his demands for at least $10 million per year, this would make things tight for Minnesota without a trade of Anthony Harris/Harrison Smith or a trade or release of Riley Reiff. Per Over the Cap, the Vikings have just over $14 million free right now, but they need help in the secondary in the worst way. As one of the top remaining cornerback options, Ryan would certainly help the Vikings at a position of need.
Ryan has a history of solid play over the course of his career, grading between 62.3 and 75.0 on 500 or more defensive snaps in every season of his seven-year career. Part of his appeal to Minnesota is the fact that he has shown the ability to play both in the slot and out wide. After losing Trae Waynes and Mackensie Alexander to free agency in addition to cutting Xavier Rhodes, it is safe to say that Ryan's ability to play either inside or outside would be advantageous to the Vikings defense if they can make things work financially.  
The Chargers had one of the best first weeks of the offseason for any team in the NFL, securing strong deals for quality veterans like Bryan Bulaga and Chris Harris Jr. while beefing up the defensive line with the addition of Linval Joseph. On paper, their defense already appears to be one of the best groups in the NFL heading into 2020, but they could still use another quality interior defender. Jerry Tillery did not have nearly the impact that he was expected to as a first-round rookie selection in 2019, ending the year with a 34.0 overall grade. Why not go after another veteran with a history of high-level play to continue to improve the defense?
The concern with Daniels is his health after suffering injuries that have limited him over the last two seasons. According to Daniels, those injuries are in the rear-view mirror, recently saying that he is "healthy healthy" on Twitter. In his limited time with the Detroit Lions, Daniels showed that he could still play.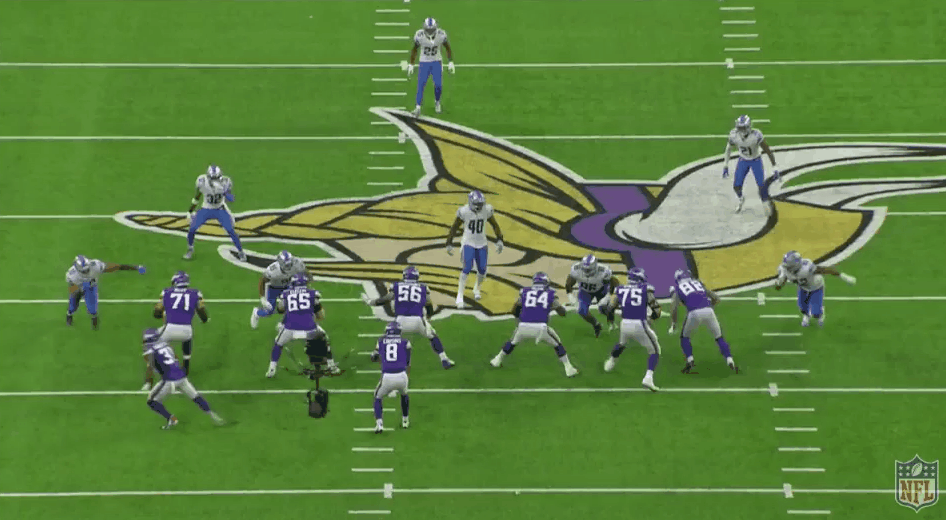 He doesn't get home here with the quick throw from Kirk Cousins, but Daniels is quickly in his face with the inside move. He has finished the last two years with grades of 69.8 and 70.1 in partial seasons, but during the three years before them Daniels earned grades of 90.3, 77.3 and 81.5. It's worth a bet on the part of the Chargers that he still has some of those performances left in the tank as he turns 31. If he does, it only makes a talented defense that much better. 
The Jets have put an emphasis on the offensive line this offseason with the moves they've made, but they still have glaring needs at the wide receiver and cornerback positions. At cornerback, they did return Brian Poole on a one-year deal to man the slot and added Pierre Desir after his release from the Indianapolis Colts, but looking at the roster, that's not enough. 
The Jets' 2019 leaders in outside cornerback snaps were Darryl Roberts (cut), Blessuan Austin (355 snaps of solid play as a sixth-round rookie out of Rutgers), Arthur Maulet (over 100 snaps for the first time in his three-year career) and Trumaine Johnson (cut). When you add in that their addition — Desir — only has one season of above-average play as a starter (2018), it becomes clear that they need someone established at the position. 
Amukamara provides that with PFF coverage grades of 70.0 or higher in each of the past three seasons with the Chicago Bears, peaking with a 77.1 coverage grade in 2018. It's not an overly flashy signing, but it would provide New York with reliability at one of the outside cornerback spots.
With Tom Brady now leading the Buccaneers, expectations changed heading into the 2020 season. The words "Super Bowl" are being thrown around, but in order to reach that goal, the Buccaneers need to be able to protect Brady, particularly if he is hanging in the pocket to push the ball downfield in Bruce Arians' system. While the Buccaneers offensive line was better than many people believe last season, they need to upgrade at the tackle position. Peters appears to be the best fit out there.  
Per Mike Garofolo, Peters has said he is willing to play either tackle spot. Donovan Smith is coming off a career-high 70.8 overall grade in 2019 and figures to have the left tackle spot locked up given his contract, but Peters sliding in at right tackle is intriguing. Peters has some injury concerns, but he is still getting the job done when on the field. With the exception of 2018, he has graded out at 82.0 or higher in every season since 2010, and he was the 15th most valuable tackle in the NFL last season. If the Buccaneers end up drafting a tackle early, Peters could serve as a high-level bridge who Brady can rely on next season to keep him off the ground. 
Note: Newton's release catapulted him to the top of the remaining free agents available list, but Griffen was part of the original top 10 when this was written.
The Chicago Bears made sure that the Cowboys weren't going to bring back their edge duo from last season, signing Robert Quinn to a pricy five-year, $70 million deal in free agency. That leaves Dallas looking for options across from Demarcus Lawrence. They already signed Gerald McCoy to add a veteran presence inside, but their options at the other edge position right now are names like Dorance Armstrong and Joe Jackson. Griffen is 32 years old, but he showed last season that he can still play at a high level.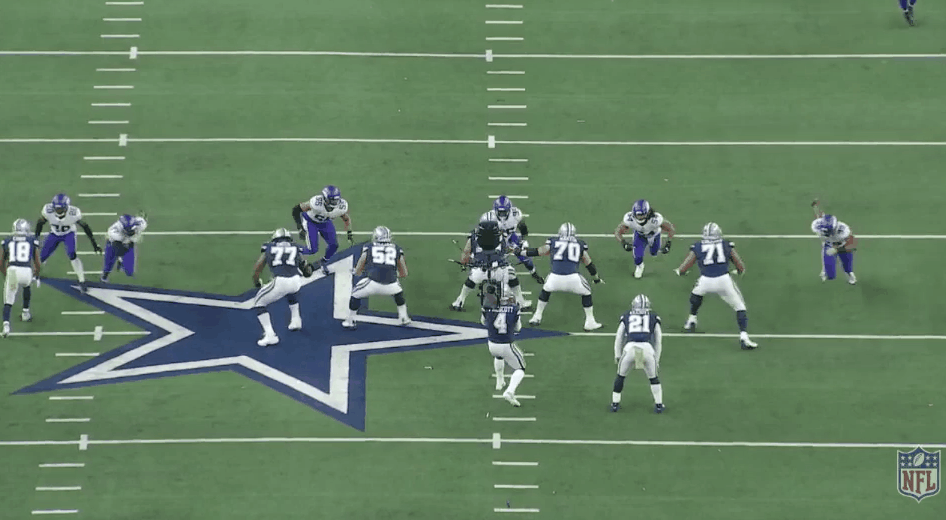 Thanks in large part to rushes like this one where he got Tyron Smith all turned around, Griffen finished the season with a 76.0 overall grade and was one of the 25 most valuable edge defenders in the NFL for the second time in the last three seasons per PFF WAR. His 66 regular season pressures ranked 14th at the position. This guy can still play, and his addition would give Dallas one of the top edge defender duos in the NFL. They need to address cornerback as well, but Griffen makes a lot of sense as a player who they can target with their remaining cap space.