While many expected the Philadelphia Eagles to look hard at the wide receiver and cornerback positions this offseason, the team's first big move came along the defensive line. Philadelphia signed former Pittsburgh Steelers interior defender Javon Hargrave to a three-year, $39 million deal to open free agency, a deal that we categorized as "Very Good" for the Eagles in the 2020 NFL Free Agency LIVE Deal Grader. 
Some may not be familiar with Hargrave's work over his four-year career after being selected in the third round in 2016 out of South Carolina State, but that should change soon. Hargrave is a disruptor, and he is going to shine on an Eagles defensive line that is already chock full of NFL talent. 
The progression of Javon Hargrave as a pass rusher
Hargrave was thrust into a large role early in his career, as Cameron Heyward went down with a torn pectoral muscle during Hargrave's rookie season in 2016. He played 645 defensive snaps that year, earning a 63.8 overall grade that ranked 54th among 127 qualifying interior defenders across the league. That was only the beginning for Hargrave. His role was cut back on a loaded Steelers defensive line, but he continued to improve each year. 
| | | | |
| --- | --- | --- | --- |
| Year | Overall Grade | Run-Defense Grade | Pass-Rushing Grade |
| 2016 | 63.8 | 63.8 | 60.5 |
| 2017 | 74.3 | 68.4 | 67.9 |
| 2018 | 81.3 | 79.5 | 71.6 |
| 2019 | 83.4 | 77.2 | 76.8 |
Hargrave's grades have all been on the rise, culminating in a 2019 season in which he was a top-10 interior defender by PFF grade on a career-high 680 snaps. Even in an increased role after Stephon Tuitt went down with a torn pec, Hargrave continued to take his game to another level. 
If you're an Eagles fan, the best part of his grading profile has to be the steady rise of his pass-rushing grades. There is value to a big body that can stop the run at a high level, something that Hargrave has shown the ability to do over the last two seasons. But the real game-changers inside — the Aaron Donalds of the world —  have the ability to push the pocket and disrupt the passing game as well. 
During the 2019 season, that's what Hargrave did. His pass-rushing grade of 76.8 ranked 13th among all interior defenders, slotting just behind the newly minted, second-highest-paid player at the position, DeForest Buckner. From a raw pressure perspective, Hargrave's results were even better. He generated 49 pressures on 345 pass-rushing snaps over the course of the season. This 14.2% pressure rate ranked third in the NFL for the position behind only Donald and Chris Jones, a recipient of the franchise tag for the Kansas City Chiefs. 
There are some truly impressive reps on his tape showing him making very good NFL guards look overmatched. 
That's Shaq Mason, the third-highest-graded right guard in the NFL since 2016, who Hargrave is launching into right tackle Marcus Cannon. Tom Brady seamlessly navigated the pocket and got rid of the football as he has been doing for years, but that doesn't make the rep from Hargave any less impressive.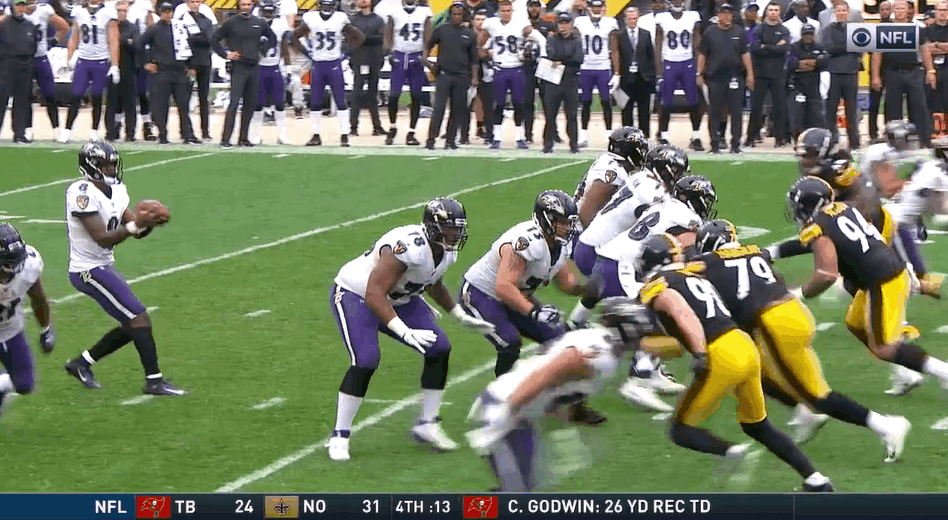 This is Marshal Yanda, a player who has put together a career worthy of Canton and one who finished last year ranked behind only Brandon Brooks and Zack Martin at the right guard position in his age-35 season. Hargrave puts him on skates, pushing him into the pocket before coming off the block to bring down one of the most elusive players in the entire league (Lamar Jackson).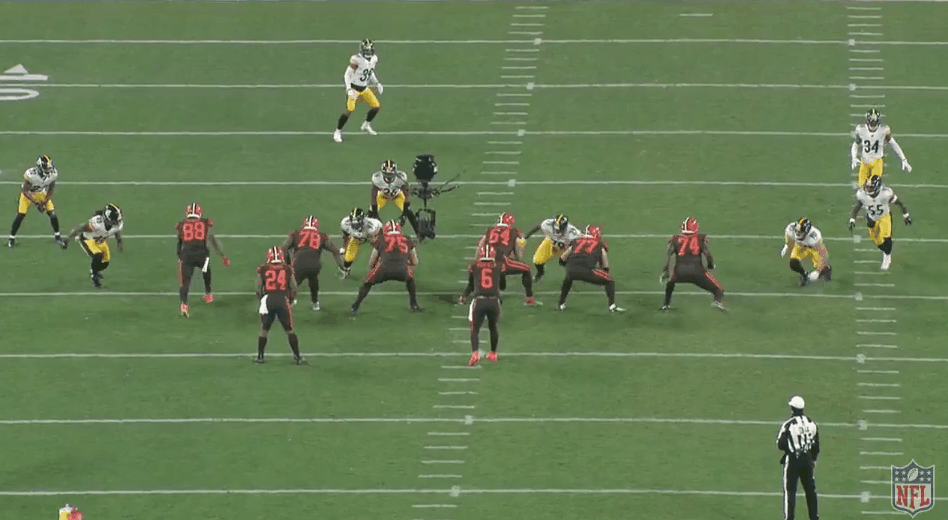 How about against one of the best pass-blocking centers in the NFL? J.C. Tretter has recorded pass-blocking grades above 80.0 in each season since 2015, but Hargrave makes quick work of him on this rush and flushes Baker Mayfield from the pocket. 
Hargrave wasn't only taking advantage of soft matchups. He showed that he could do it against some of the premier interior offensive linemen in the NFL. Similar to what we saw in Pittsburgh last season, the talent the Eagles have on the defensive line will also provide Hargrave with plenty of one-on-one matches that he should feast in. 
Opposing offensive lines are going to be exposed against Philadelphia next season
Being able to put four to five pass rushers on the field who can all get after the quarterback at a high level is a beautiful thing. We saw it from teams this past season like the San Francisco 49ers (Buckner, Nick Bosa, Arik Armstead and Dee Ford) and the Steelers (Heyward, Tuitt, Hargrave, T.J. Watt and an improved Bud Dupree). With Hargrave in the fold and Malik Jackson returning from injury, the Eagles are in position to employ a similarly talented group up front, particularly on the interior. 
| | |
| --- | --- |
| Team | Pressure Rate since 2017 |
| 1. Philadelphia Eagles | 40.6% |
| 2. Pittsburgh Steelers | 39.9% |
| 3. Los Angeles Rams | 39.0% |
| 4. Jacksonville Jaguars | 38.1% |
| 5. Green Bay Packers | 36.8% |
Over the last three seasons, the only team to generate pressure on over 40% of its pass-rushing snaps has been the Eagles, and they've been able to do that while blitzing on just 22% of those snaps (fifth-lowest rate in the league). They've had the luxury of having pass rushers along the defensive line who can get to the quarterback without extra rushers. When you have guys like Fletcher Cox and Brandon Graham, that tends to happen. 
Extending back to the 2015 season, Graham has recorded 337 quarterback pressures while Cox has notched just one fewer (336). They rank sixth and seventh among all defenders in total pressures over that five-year span, and no pair of teammates combined has more pressures than Graham and Cox. They are a two-man wrecking crew, consistently finding themselves in the backfield and affecting the passing game. 
Jackson is also a player who can add some juice as a pass rusher on the inside. He made it just 32 snaps into his first season with Philadelphia before going down with a foot injury, but he had pass-rushing grades of at least 70.0 in every season from 2015 to 2018. 
Across from Graham, Derek Barnett hasn't hit his stride at the NFL level yet, but he is a first-round talent and still just 23 years old with multiple 40-pressure seasons under his belt. 
This was already one of the most talented defensive lines in the NFL, and adding Hargrave to that group makes it all the better. There is nowhere to hide for opposing offensive lines. 
But what about Philadelphia's other needs?
Look, the primary and secondary and tertiary and quaternary and quinary needs on this Eagles' roster were at the wide receiver position and in the secondary. Improving those groups is the fastest way to improve the team, so the news that they weren't willing meet the Texans' demands for DeAndre Hopkins — essentially a second-round pick and salary in the $18-$20 million per season range, per ESPN's Dianna Russini — is concerning. 
That doesn't mean that this Hargrave deal isn't money well spent, though. They are getting one of the league's better interior defenders who can play at a high level both against the run and as a pass rusher — a player who has improved every season of his career from a PFF grading standpoint. Being able to rotate him in with Cox and Jackson and employ packages with all three on the field at times will create headaches for opposing offensive lines.
The Eagles still need help in the secondary and at wide receiver, but getting a player like Hargrave at a reasonable price point is something Philadelphia has to be ecstatic about. One thing is sure — they now have one of the best defensive lines in the NFL, if not the best.