NFL free agency is just around the corner, and with it comes the first significant chance for NFL teams to make major inroads into their roster-building strategy for the 2021 season.
The PFF Free Agent Rankings gives you all the PFF data you need on the top 200 free agents, but here we'll provide a quick overview of the class as a whole as well as grade the strength of each position.
This year there are some incredibly strong positions with several elite players available, while others have very little to get excited about outside of the very top names.
QUARTERBACK: C-
This free agency QB class hinges on Dak Prescott, who will likely remain in Dallas whether the two sides get a long-term contract worked out or not. Without him hitting the open market, you are already sliding down to marginal starters such as Ryan Fitzpatrick, Jameis Winston and Cam Newton. All three players are capable of average or better play over a 16-game season, but none of those three signal-callers would be able to hit those highs consistently. If those are your options on the table for a starter in 2021, you are taking a significant risk.
RUNNING BACK: C+
Aaron Jones is the prize of the position if he makes it to the open market. He has been an excellent runner in Green Bay's offense since entering the league, earning PFF rushing grades of at least 79.6 in all four years. He's an adept pass-catcher, even if his PFF receiving grade suggests a greater inefficiency in that area than we might think, and the Packers have also kept Joes relatively fresh. His workload has never exceeded 756 snaps over a season, and that includes playoff runs.
Outside of Jones, Chris Carson has always been a hard runner and a player who maximizes the opportunity he receives. He has averaged 3.34 yards after contact per carry over his career and has generated consistently good PFF rushing grades.
Outside of that pair, it gets a lot more questionable in a hurry. And though there are players there with a history of either impressive roles within a backfield committee or good play behind a good offensive line, there is little in the way of certainty.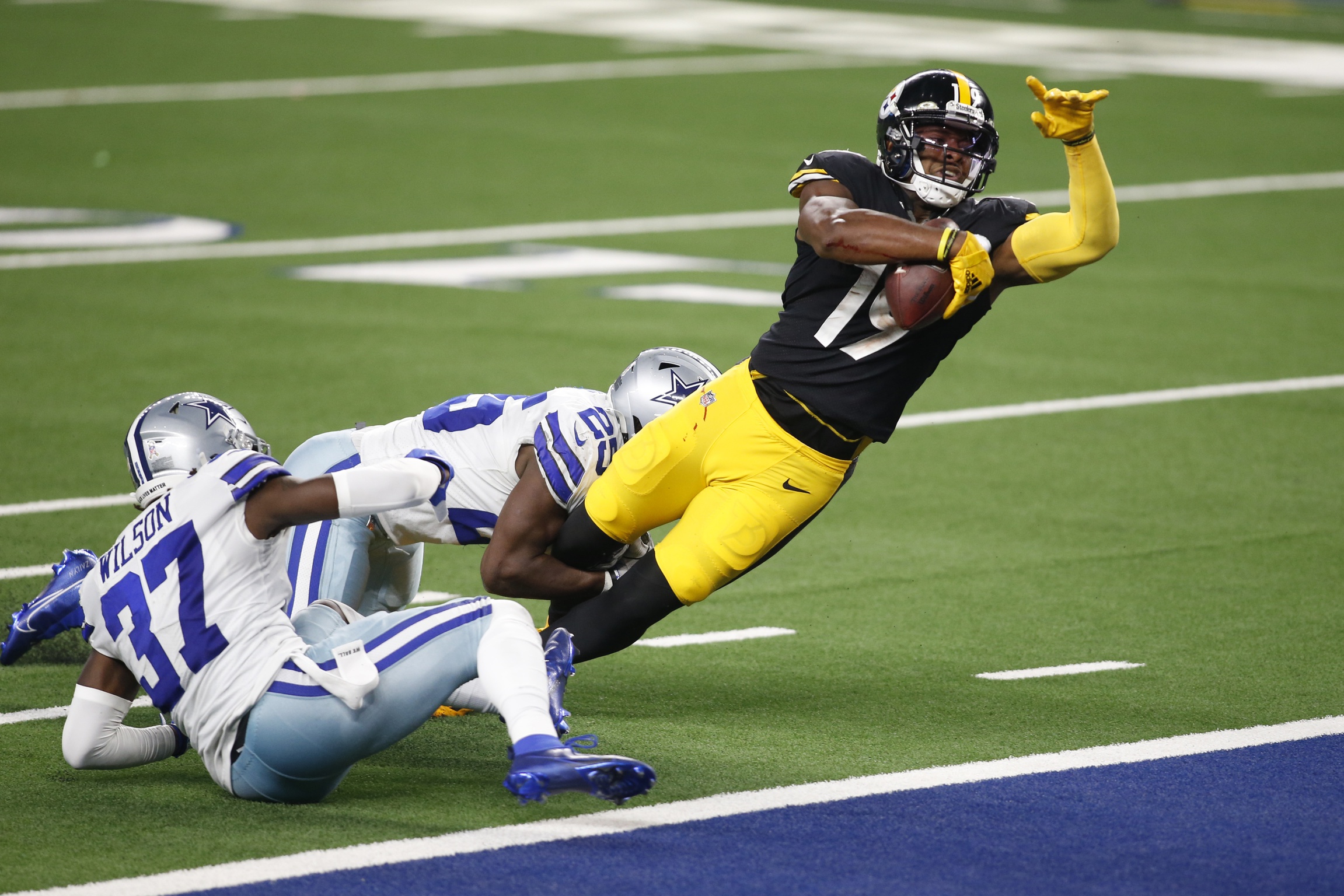 WIDE RECEIVER: A-
This wide receiver group looks great on paper, but there is a better than average chance that the top three players in the class — Chris Godwin, Kenny Golladay and Allen Robinson II — all get the franchise tag, with none of them allowed to hit the open market without some compensation coming back to the team in the form of a trade.
That would then make either Will Fuller V, JuJu Smith-Schuster or Corey Davis the No. 1 in the group, assuming that Antonio Brown is just damaged goods at this point between age and baggage.
Smith-Schuster is still young and talented, but he has proven that he would struggle as a No. 1 option playing in the split-end role. And while Fuller is coming off a career year in the statistical sense, it surprisingly didn't move the needle for Houston, and the strange on/off splits he had with DeAndre Hopkins on the team vanished. His career year also still failed to break 900 receiving yards or clear 55 catches.
Davis had a breakout season for the Titans, but can he repeat that without A.J. Brown on the other side? The receiver group has a lot of talent and depth, but its grade takes a beating if teams opt to use the franchise tag liberally.
TIGHT END: C+
Hunter Henry could still be one of the best tight ends in the game, even if his ceiling looks lower post-injury than it was when he first burst onto the scene with the Chargers. Henry's first two seasons saw him post PFF grades of 83.0 and then 87.2 before injuries began to take hold. And while he has been good since getting healthy, he has failed to hit those heights ever since. Nonetheless, he hits free agency with extensive experience at just 26 years old and would be a Pro Bowl-caliber player in the right offense.
There is more projection at work outside of Henry. Jonnu Smith has been impressive after the catch for the Titans, averaging almost 7 yards after the catch per reception over his career, but the team's run-first offense has limited him to a career-high of 66 targets, even if his PFF grade has gone up the more opportunities he has been given.
A similar projection is needed for Gerald Everett, who has never really produced the way his athleticism suggests he should have with the Rams.
After that trio, we are into more average players or the likes of Rob Gronkowski, who likely isn't playing anywhere other than Tampa Bay, regardless of the offers that come in.
INTERIOR OFFENSIVE LINE: B
High-quality starters are available at both guard and center in free agency, but the cupboard gets pretty bare pretty quickly once you have exhausted those options. And because of that lack of depth, they might not come cheap.
Brandon Scherff and Joe Thuney are the quality of the guard position, with Thuney posting back-to-back PFF pass-blocking grades above 85.0 in 2018 and 2019 before slipping back a little this past season. Scherff has never had a bad — or even average — season, but the 86.3 overall PFF grade he posted in 2020 is the closest he's come to playing up to his draft pedigree as a former fifth overall pick. Scherff allowed just 21 total pressures this season and has surrendered 11 sacks across his six-year career.
Corey Linsley was the best center in the league last year, allowing just four total pressures in the 13 games he started. If anything, his run blocking was even better than his pass protection, and there were few players with as wide a gap between him and the chasing pack, regardless of position.
David Andrews and Austin Reiter both present adequate consolation prizes if a team can't secure Linsley's signature but needs a desperate upgrade to viability in the middle of their line (hey, Minnesota…).
OFFENSIVE TACKLE: B
Another position that could take a beating once teams deploy the franchise tag, tackle doesn't have a huge amount of depth to begin with. Trent Williams was the best left tackle in the league last year and ended the campaign with an overall PFF grade of 91.9, but he will be 33 years old by the time the season rolls around. And even with the likes of Andrew Whitworth and Jason Peters playing well far beyond that level, it will concern teams who need an expensive answer at the position.
Behind Williams, Carolina's Taylor Moton has four straight years of impressive play and is a likely candidate for the franchise tag, and Daryl Williams could still present a very viable option at right tackle. Williams only has two good seasons in six years in the NFL, but they have also been his only two full seasons at right tackle.
EDGE DEFENDER: B
Edge rusher looks like the strength of the free-agent class at first glance, but many of the top players on the list are significantly overrated due to inflated sack numbers that don't tell an accurate story of their true pass-rushing prowess. Because of that, PFF is a little lower on this group than others, but there is still a lot of depth — and a lot of options — to the group.
Bud Dupree has tallied 22 sacks over the last two seasons despite missing a big chunk of 2020 through injury. However, at the point he got hurt, a massive 61% of his total pressure was either unblocked or on pursuit or cleanup plays and not through him actually beating a blocker cleanly.
Similarly, only T.J. Watt had more sacks this season than Trey Hendrickson among edge rushers, but Hendrickson ranked 21st in total pressures and 19th in PFF pass-rushing grade.
Carl Lawson may be the best-value player available after recording pass-rush grades above 75.0 in three of his four years in the league, but there are a lot of options out there.
INTERIOR DEFENSIVE LINE: C
It's not a great offseason to have a desperate need on the interior of the defensive line, as there is very little in the way of proven playmaking ability.
There are some solid players available but arguably no guaranteed stars. Leonard Williams is the big prize, one that may not hit the market at all, but he has never earned a PFF pass-rushing grade higher than 71.4 over a season and topped 70.0 just that one time. Run defense is the specialty of this free-agent group. That's true even for Williams, who has topped 80.0 in PFF run-defense grade three times.
Denver's Shelby Harris may be where the smartest money gets spent among this group. Harris is hitting the market coming off the best pass-rushing season of his career — he notched 27 total pressures and earned a PFF pass-rushing grade of 83.5. Harris may not be an every-down stud, but if his workload is kept to a moderate level, he has proved to be consistently impressive.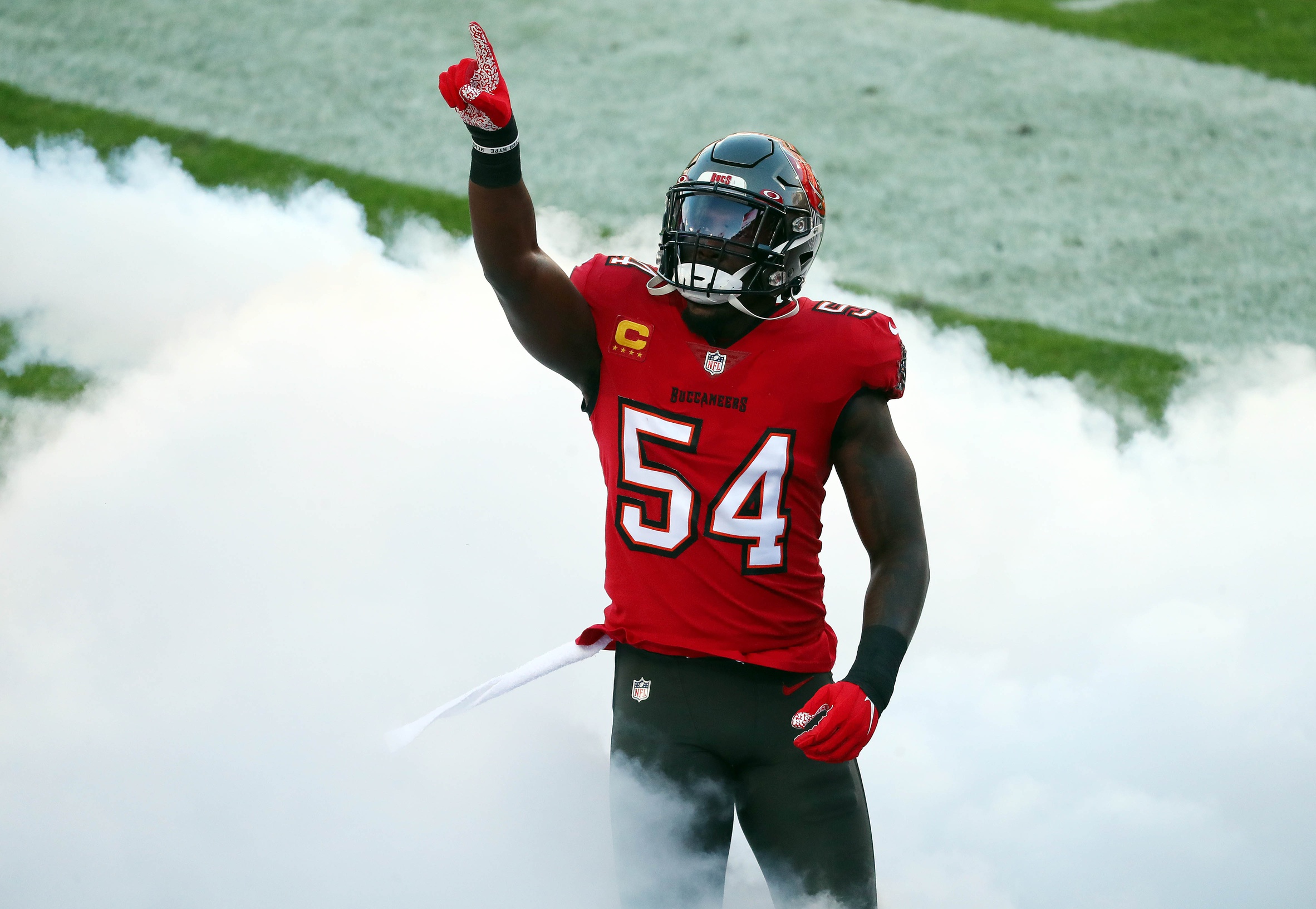 LINEBACKER: C+
The 2020 season was a rough one for linebackers, who seemed to bear the brunt of the offensive explosion throughout the league. Lavonte David showed that he can still be an elite player despite the job getting more difficult and him now being 31 years old. In the Super Bowl, he made several key plays against Travis Kelce, a player who had been nearly unrecoverable all season. David is the one linebacker available you could be confident in ahead of 2021.
Outside of him, most attention would go toward Matt Milano, who doesn't have the same credentials as David but will be just 26 when the new season starts. Milano has earned solid PFF grades in every facet of the game, just never all together in the same season. Like David, his best grades have come in coverage, but he is coming off the worst year of his career in that area, posting a PFF coverage grade of 54.6 and allowing 9.3 yards per catch.
CORNERBACK: B-
There might be no more chaotic position in free agency than cornerback, where there is an incredible depth of players that have quality seasons on their resume, but very few have an extensive history of it or are coming off their best season.
Even Jason Verrett, coming off a mightily impressive season, is a massive injury question mark, given that he played just 327 snaps in the four years before 2020. William Jackson III may be the cleanest prospect for any team needing cornerback help, but he has never approached the scintillating form he showed back in 2017 when he put together one of the best statistical seasons we have ever seen from a corner. That year, Jackson allowed just 34.9% of passes thrown his way to be caught for a passer rating of 36.1, and he held Antonio Brown to zero catches across two games.
There are also a lot of slot cornerback options in this group. But again, none of them are coming off their best season and teams have a lot of work to do to navigate through the uncertainty.
SAFETY: A
Safety is without doubt the best position of the free-agent class this year, to the point that it may suppress the market for all of them, at least in terms of how much money they can bank.
Justin Simmons is going to be taken off the market as Denver slaps him with the franchise tag, but that still leaves Anthony Harris, Marcus Maye, Marcus Williams and John Johnson III just among Pro Bowl-caliber players, and there are several quality starters below them, as well.
Even if we split safety into the several different styles that all get throw into the position bucket that is "safety," there is still plenty of quality. Safety hasn't been a hugely coveted position in the league in recent years, but any team needing one has hit the jackpot this offseason if they are willing to part with some cash.