Amidst a tough week of increased COVID-19 cases, New York Jets star safety Jamal Adams gave us a brief reprieve by reportedly requesting a trade — and he had some preference as to where he would go during his next stint.
While it's a very difficult problem to take the game of football — a game that is the product of many interconnected pieces — and isolate the impact of one player, we've attempted to do that with our PFF WAR metric. Because Adams excels at everything, specifically coverage, he has been one of the most valuable defensive players in the NFL since entering the league in 2017, with only Harrison Smith eclipsing him in terms of win shares.
[Editor's Note: PFF's WAR metric is powered by AWS machine learning capabilities.]
After struggling a bit in coverage as a rookie (allowing six touchdowns), he broke up 10 passes and intercepted two more over the past two years while allowing only 44 completions into his coverage during that time. Receivers catching passes against Adams in 2019 gained just 4.5 yards per target, and Adams' 0.31 yards per coverage snap is in the top fourth of the league at his position.
[Editor's note: Subscribe to PFF ELITE today to gain access to PFF's Premium Stats and new Player Grades experience in addition to the 2020 NFL Draft Guide, 2020 Fantasy Rookie Scouting Report, PFF Greenline, all of PFF's premium article content and more.]
In addition to his prowess as a coverage player, he's been in another stratosphere as a pass-rusher over the last two years, generating 47 pressures and recording a 16.1 pass-rushing productivity that ranked third at the position (and first among safeties who rushed the passer more than 35 times). We know that pressure that comes from off the ball is pretty valuable, and hence Adams being able to add ability as a blitzer to his plus play as a coverage player makes him an asset that is no doubt being coveted right now.
Highest-graded safeties (2018-19, regular season only, min. 500 snaps)
| | | | |
| --- | --- | --- | --- |
| Rank | Name | Defensive snaps | PFF overall grade |
| 1 | Anthony Harris | 1,534 | 91.6 |
| 2 | Jamal Adams | 2,078 | 91.0 |
| 3 | Eddie Jackson | 1,967 | 90.8 |
| 4 | Harrison Smith | 1,996 | 90.0 |
| 4 | Derwin James | 1,326 | 90.0 |
| 6 | Kevin Byard | 2,140 | 88.4 |
OK, so Adams is a very valuable player, but there's still a decent amount of evidence that while high-end players on the back end of a defense certainly matter, they have a hard time overcoming deficiencies generated by weaker players in the defensive backfield.
With the safety position, much like the quarterback position (albeit to a far lesser degree), it's imperative that top-dollar players not only deliver consistent high-end performances themselves but also elevate the play of those around them — players who will either be young and/or cheap as a result of their contract.
There is Evidence Adams Does Elevate Those Around Him
There is some evidence that Adams can provide this as an externality to a defense. After three seasons in Atlanta in which he generated 0.48 WAR across 2605 total snaps, former Falcons nickel corner Brian Poole generated 0.47 WAR across just 750 snaps in Gregg Williams' defense in 2019. Marcus Maye, who was drafted 39th overall during the same draft Adams was drafted sixth, has improved steadily in each of his three seasons next to Adams, earning 0.08 WAR, 0.13 WAR and 0.44 WAR, respectively. 
The Jets' cornerback position has been less of a place for Jets players to shine, though, with high-priced free-agent acquisition Trumaine Johnson failing to hold on to a starting job, earning less than 0 WAR in 2019. That said, the fact that the Jets were able to field a top-10 defense in terms of EPA allowed and yards per play allowed while lacking expected production from their highly paid corners and pedigree from those who commanded fewer resources is a feather in Adams' cap as he vies for the market's top contract at the position.
So, What is He Worth?
Assuming Adams can do what he needs to do from a production standpoint and from the standpoint of elevating others, what should a team trade for him, given that he will either immediately command an extension or represent a Jadeveon Clowney risk of being just an expensive rental player for one or two seasons?
A top-end deal for a safety of Adams' caliber is on the order of $15 million a season (the top APY at this point is Eddie Jackson's $14.6 million, per our friends at OverTheCap), or roughly 7.5% of the projected salary cap for 2020.
While this is significant, it's nowhere near Khalil Mack's $23.5 million APY signed two years ago. And given the value differential between and all-around safety and edge player, as long as the team acquiring Adams doesn't surrender the multiple first-round picks that the Chicago Bears did to take on Mack right before the start of the 2018 season, they will best that trade by a country mile.
Adams has already significantly eclipsed his draft-pick expectation during his three years with the Jets, and if he plays as well in 2020 as he did in 2019, he'll be worth the average first four years of the 19th overall pick in just one year. Given his versatility, positional value and ability to elevate those around him, such compensation following the extension described above would be more than fair.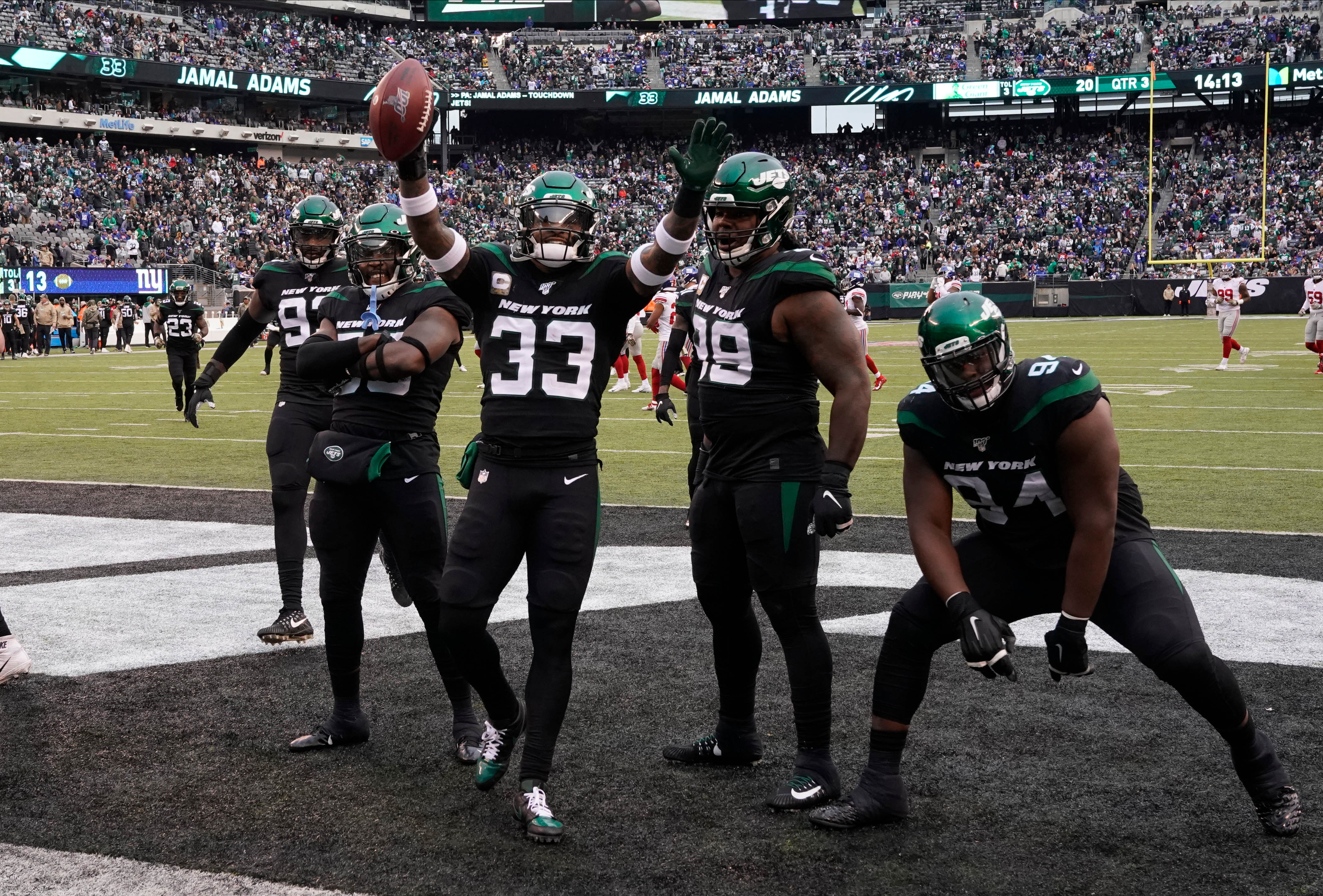 Where Should He Go?
Among the teams that Adams reportedly listed, some are simply non-starters. For one, the Houston Texans don't have a first- or second-round pick in 2021. The Kansas City Chiefs have just $6 million in cap space, still have to sign Patrick Mahomes relatively soon and are still working out what to do with the franchise-tagged Chris Jones.
The Baltimore Ravens just gave Chuck Clark — who led all safeties in pass-rush snaps last year, with 101 — a three-year deal, and are also on the hook for Earl Thomas' contract, which still has $15 million in dead money should he be let go this offseason. They are a smart team, though, and while they just used their first-round pick on a linebacker in Patrick Queen, it's not beyond them to want to use a lot of defensive backs, even on early downs.
The Seattle Seahawks and San Francisco 49ers both have roughly $15 million in cap space and could use more talent in their secondary, while the Philadelphia Eagles have much more cap space and just lost a player in Malcolm Jenkins who, in addition to many other things, rushed the passer almost as much as Adams (72 times) in 2019.
The obvious team that makes sense is the Dallas Cowboys. Firstly, Adams grew up in the area. Secondly, the Cowboys regressed a bit in covering the middle of the field (just 16th in WAR generated by safeties in 2019 and 14th by linebackers and safeties), can be expected to pick after pick No. 19 in the 2020 draft and have over $10 million in cap space after Dak Prescott signed his franchise tag. They are currently +1700 to win Super Bowl 55 (the sixth-best odds in the league), and adding Adams to that defense would do a lot to curb the loss of cornerback Byron Jones to the Miami Dolphins.
Lastly, a team not on Adams' list but worthy of consideration, is the Tennessee Titans. While many like the Colts in the AFC South, we actually consider Tennessee the favorite. And with almost $20 million in cap space and a quarterback who will likely be around long enough to thwart any need to take one in the first round of next year's draft, they are a sneaky candidate to see the most bang for their buck should they pair Adams with All-Pro Kevin Byard.