The Associated Press All-Pro Team dropped Friday, and while the AP did a pretty good job overall, there are several spots where we respectfully disagree.
PFF's All-Pro Team has been out for a little while now, and it is the only team compiled with the benefit of grading every single player in the NFL on every single snap of action. With that in mind, let's compare the two teams and outline some of the biggest snubs.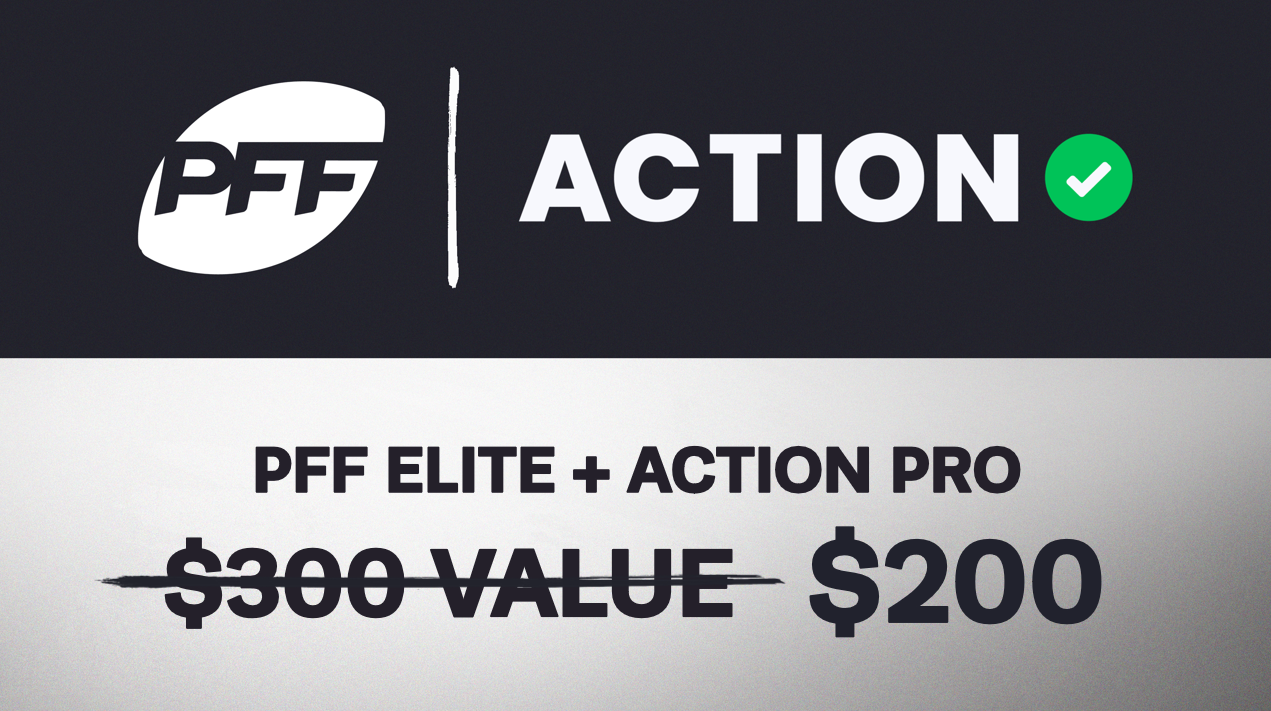 It was a big ask for Trent Williams this season. Not only was he coming back from time on the sideline, but he was also moving to a new team and replacing a franchise legend in Joe Staley. Williams put together one of the best seasons of his career, finishing with a 91.9 overall PFF grade — the best mark in the league among tackles. This is the third time in Williams' career that he has been the best-graded tackle at PFF over a season.
Williams allowed 19 total pressures over the season, but his run-blocking highlight reel should be sent to the Louvre. He regularly stole the very life force of defenders he was tasked with blocking, burying them to the turf and springing 49ers running backs for big gains. David Bakhtiari was a great player in his own right this season, but he played in two fewer games than Williams.
There was no better sales pitch for how good Ali Marpet was this season than what happened to the Bucs' offensive line, quarterback and offense as a whole when he wasn't playing. Marpet featured in 13 games and allowed just 10 total pressures on Tom Brady. He didn't get beaten for a sack all season and had a dominant 87.8 PFF run-blocking grade.
When Marpet went out of the lineup, the offensive line collapsed. His replacement surrendered seven total pressures in the first game he wasn't there. Quenton Nelson is a phenomenal player and a perennial All-Pro talent, but he hasn't been nearly as good this season as he was last year. We shouldn't fall into the trap of just assuming All-Pro talents had an All-Pro season every year.
I understand completely why Khalil Mack didn't make the team, and it perfectly highlights the strengths of PFF's grading system and the data we collect. Casual fans judge pass-rushers by sacks. More sophisticated fans judge them by total pressures, but even that can mislead in the right set of circumstances.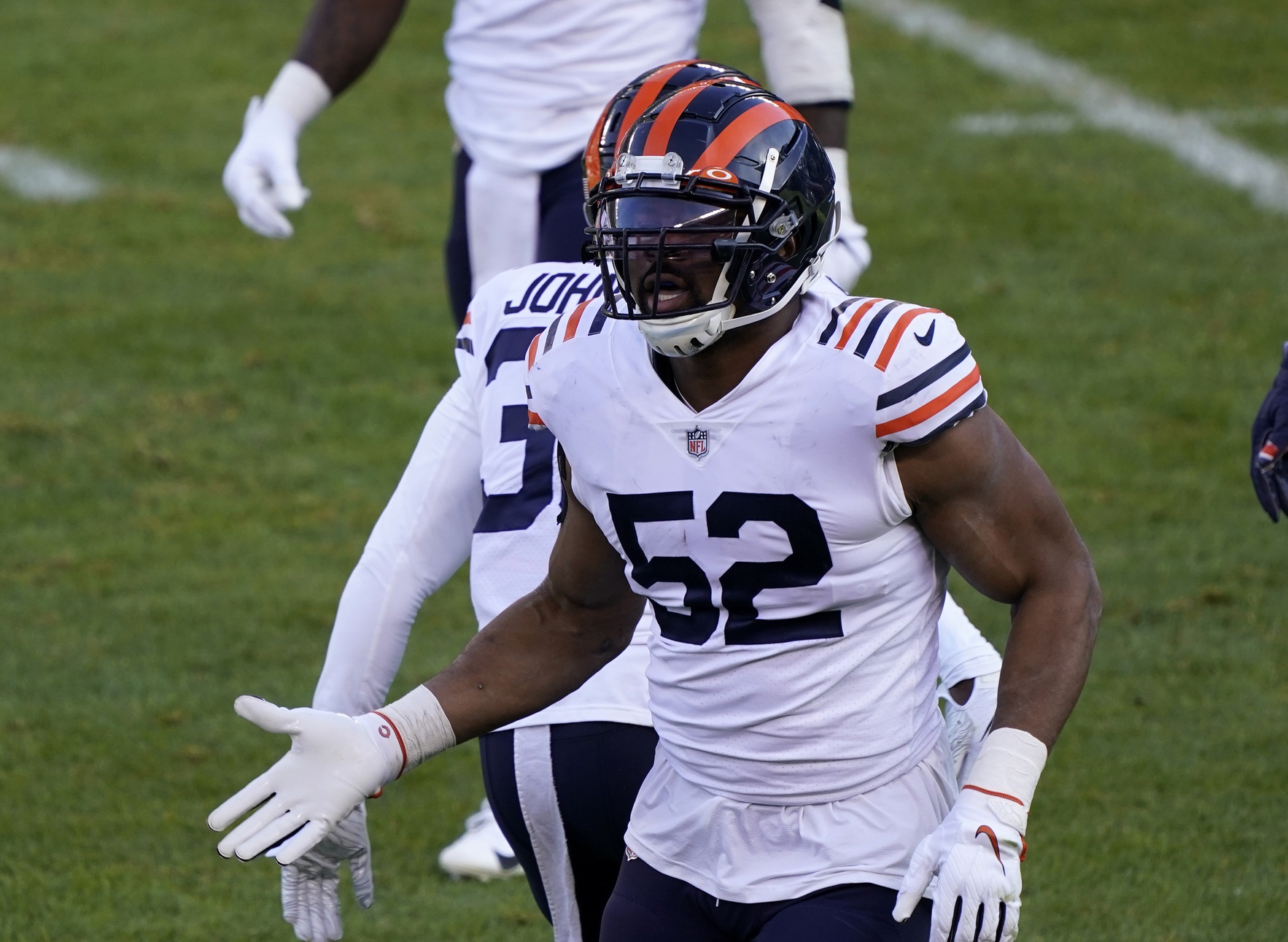 Mack ranks 10th among edge rushers in sacks this season and seventh in total pressures. Those are good but not great numbers, and they wouldn't land a player on an All-Pro team. Yet, he ranks first in PFF pass-rushing grade and first in PFF run-defense grade.
Run defense is its own issue, and there's a debate as to how important we should view that, but Mack's pass rush was so much better than his numbers show because of hidden pass-rush rep wins, of which Mack had an incredible volume.
If a pass-rusher beats their block but the ball comes out before he can pressure the quarterback and the passer never knows it's coming, it's not pressure, but it's is a win for that player and will earn a good PFF grade. Mack had a massive 41 such plays, the second-most in the league.
Yes, he made the second team, but that's not the point here. Jaire Alexander was absolutely deserving of a spot on the first team, and it's a distinction that's worth highlighting. Alexander finished with the best PFF coverage grade among cornerbacks (90.6) in 2020. Obviously, he didn't have the interception numbers of some other players at his position, but he was also beaten significantly less often and surrendered minimal damage when he did lose.
Alexander didn't give up a catch longer than 32 yards all season long and allowed just 9.6 yards per catch, five full yards fewer than Xavien Howard in Miami. Jalen Ramsey had similar yardage numbers, but Alexander had more pass breakups (13 to eight) and allowed a lower passer rating when targeted than the Los Angeles Rams star (68.3 to 73.0).
This feels like the product of playing in Cincinnati for a bad football team. Jessie Bates III has been the best safety in the NFL in 2020, and he's being overlooked for players who weren't even in the same ballpark in terms of overall play.
Bates had three interceptions and 12 pass breakups, more than any other safety this season, and did much of that work playing single-high free safety where plays on the ball are more difficult. He finished the year with a 90.1 overall PFF grade, the best mark of any safety. And he did so with a defense that was disastrous at times around him.
Yes, it's a special teams player, but to quote the great Rich Eisen, "Punters are people, too." And Jack Fox has been the best punter in football this season. For much of the year, it wasn't even close between him and the chasing pack. A weaker December closed the gap, but Fox still finished the season as the highest-graded punter in the league, posting an 82.8 overall mark.
PFF's punting grades are among the best and most accurate we have, in large part because the system was created and tweaked by a former NFL punter who recognized the need to ignore kick averages and focus on a combination of hang time, direction, distance and ball location when grading punts while adjusting according to where the punter was kicking from.
A punt from midfield should look completely different to one from your own 10-yard line, yet punting stats won't account for that at all. Fox had impressive yardage numbers, but his grade is what speaks to that impressive combination of punting skills. He also averaged a monster 4.55 seconds in hang time per punt.