PFF is uniquely equipped to name the most underrated players in football because it grades every player on every play of every game at the collegiate and professional level of football.
And with the 2021 NFL season just around the corner, it's time to do just that. Below is a team of the most underappreciated players in the NFL heading into the new season.

---
Click here for more PFF tools:
Fantasy Draft Kit | PFF Betting Dashboard | PFF Fantasy Rankings
PFF Fantasy Projections | NFL Premium Stats | Win Totals Tracker
From Week 7 through the postseason of last year, Mayfield ranked second among quarterbacks in passing grade (91.8), fifth in big-time throw rate (6.6%) and first in turnover-worthy play rate (1.6%). The Browns quarterback and head coach Kevin Stefanski were clicking on all cylinders in 2020, and Year 2 of the partnership could cement Mayfield's standing as a top-10 quarterback.
Pollard may not be RB1 on his team, but he has performed like one whenever he has received the opportunity. His 87.7 rushing grade since entering the league in 2019 is tied for fifth among all running backs, and he leads or is tied for the top spot at the position when it comes to broken tackles per attempt (0.25), yards after contact per attempt (4.0) and percentage of yards after contact (84.4%).
Thomas will miss at least the first six weeks of the 2021 season after undergoing offseason ankle surgery, but he will return as one of the best in the game. Thomas' 2020 season was the worst year of his career from both a grading (78.9 receiving grade) and production (1.93 yards per route run) standpoint, but even with that down year baked in, Thomas still ranks top-three among NFL wide receivers in both receiving grade and yards per route run since entering the league in 2016.
Robinson managed to generate a top-five PFF grade and PFF WAR total last year despite dealing with one of the worst quarterback situations in the NFL. The veteran pass-catcher tied for the most contested catches (21) and posted a 1% drop rate that ranked third among receivers with 100-plus targets. Since joining the Bears in 2018, Robinson ranks fifth in drop rate (2.2%), first in contested catches (61) and sixth in WAR generated. He has made a killing adjusting to inaccurate balls and in contested scenarios throughout his career.
Slot receiver is one of the most valuable positions on the field, and Boyd has grown into one of the NFL's top players at that position over the past three years. Since 2018, he has run the third-most routes from the slot and is one of the league's 10 highest-graded players on those reps. Boyd's 51 explosive receptions of 15-plus yards from the slot lead the league in that span.
Goedert has been a consistently solid performer in each of his three years in the league. He has earned a PFF grade above 75.0 each season, leading to a collective three-year grade that ranks fifth at the position, behind only George Kittle, Travis Kelce, Mark Andrews and Darren Waller. His grade jumps inside the top three when you look at his work against single coverage.
Whitworth was once widely considered as one of the NFL's best tackles. Now, he is viewed as a 39-year-old at the tail end of decline. However, Whitworth has still performed at an extraordinarily high level relative to his counterparts: He was one of the five highest-graded tackles in the NFL through the first 10 weeks of the 2020 season, allowing just six total hurries and no sacks or hits in nine games.
That year was interrupted by a torn MCL, but he rallied and made the return for the postseason a few months later. Last year ended up being his 12th straight season in which he produced a top-10 pass-blocking grade among tackles.
New Charger Matt Feiler​​ is a versatile player who is more than capable of playing tackle or guard. After playing just 750 snaps through his first five years in the professional ranks, he finally started a full season at right tackle in 2019 and finished with the fifth-best pass-blocking grade at the position. He then kicked inside to left guard for the 2020 season, where he ranked 12th in pass-blocking grade.
Reiter ranks third at his position in pass-blocking grade and first in pressure rate allowed (1.1%) over the last two years. Reiter's run blocking hasn't been nearly as strong, given that he ranks 27th among centers in run-blocking grade since 2019, but that shouldn't outweigh his outstanding work in pass protection.
Teller improved by leaps and bounds last season and was a brute force in the run game. The Browns guard earned a 93.6 grade as a run-blocker, the second-best by a guard in a single season in the last decade. He also led all guards last year in big-time blocks with 14, and he did that despite missing five games. He's one of the reasons the Browns were named PFF's No. 1 offensive line entering the 2021 season.
After an injury-plagued, up-and-down five-year stint with Carolina to begin his NFL career, Williams joined the Bills to be their starting right tackle before the 2020 season. Not only did he play in all 19 games, but he also played at an extremely high level. His 80.0 pass-blocking grade ranked fourth among right tackles.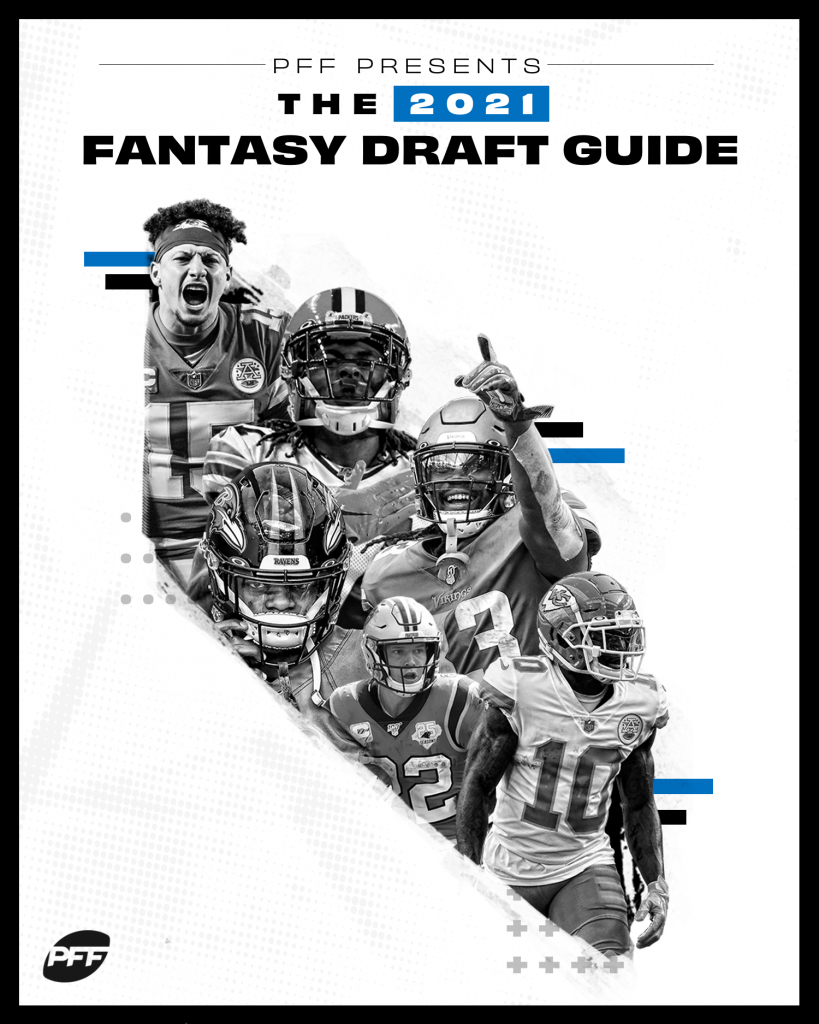 Vea looked like a player on the precipice of the league's elite before suffering an injury that kept him out from Week 6 through the divisional round of the playoffs. He was limited to only 287 snaps but was producing at a career-best level at nose tackle, earning an 89.9 PFF grade on those reps. Kenny Clark of the Green Bay Packers was known as the league's best pure nose tackle when it comes to putting pressure on the quarterback, but there's a reasonable argument to be made that Vea is now that player.
After signing a three-year contract extension in the 2020 offseason, Onyemata became a far more consistent and impactful player overall. His best single-game performance of 2019 would have been his ninth-best in 2020, according to PFF grade. Onyemata proceeded to finish as the sixth-highest-graded interior defensive lineman of the season (88.8). Due to suspension, he'll be out the first six games of 2021, but the Saints will be boasting a top-10 defensive line upon his return.
Lawrence went from ranking among the top three edge defenders in total sacks in 2017 and 2018 to tying for 38th in 2019 and 2020. But that doesn't mean he hasn't been the same disruptive player — he is coming off his fourth-straight season with an 86.0-plus PFF grade.
Lawrence's 2020 campaign was actually the second-best season of his career and one of the five best seasons we saw by an edge defender. Moral of the story: Never trust the sack total.
While the NFL world was raving about rookie edge defender Chase Young — and rightfully so — Sweat pieced together a Year 2 breakout. His work in run defense was nothing short of spectacular, as he ranked top-three among NFL edge defenders in run-defense grade, positively graded run play rate and tackles for loss or no gain. His pass-rushing production wasn't quite on that elite tier, but he was still a top-15-graded player at the position in that facet.
David has been one of the league's best off-ball linebackers since he was taken in the second round of the 2012 NFL Draft and has shown no signs of slowing down these last couple of seasons in Todd Bowles' defense. His top-notch coverage ability has still been there, as he ranks No. 1 at the position in coverage grade and passing stops (57, 14 more than second) since 2019.
While Johnson did see a pretty sharp decline in performance from 2019 to 2020, he's still an underrated piece of Denver's loaded defense. Johnson spent a few years away from football before entering the league in 2018 and didn't play a down of football in his first year in the NFL. He ended up closing out 2019 as one of the three highest-graded players at the position, buoyed by the No. 1 run-defense grade.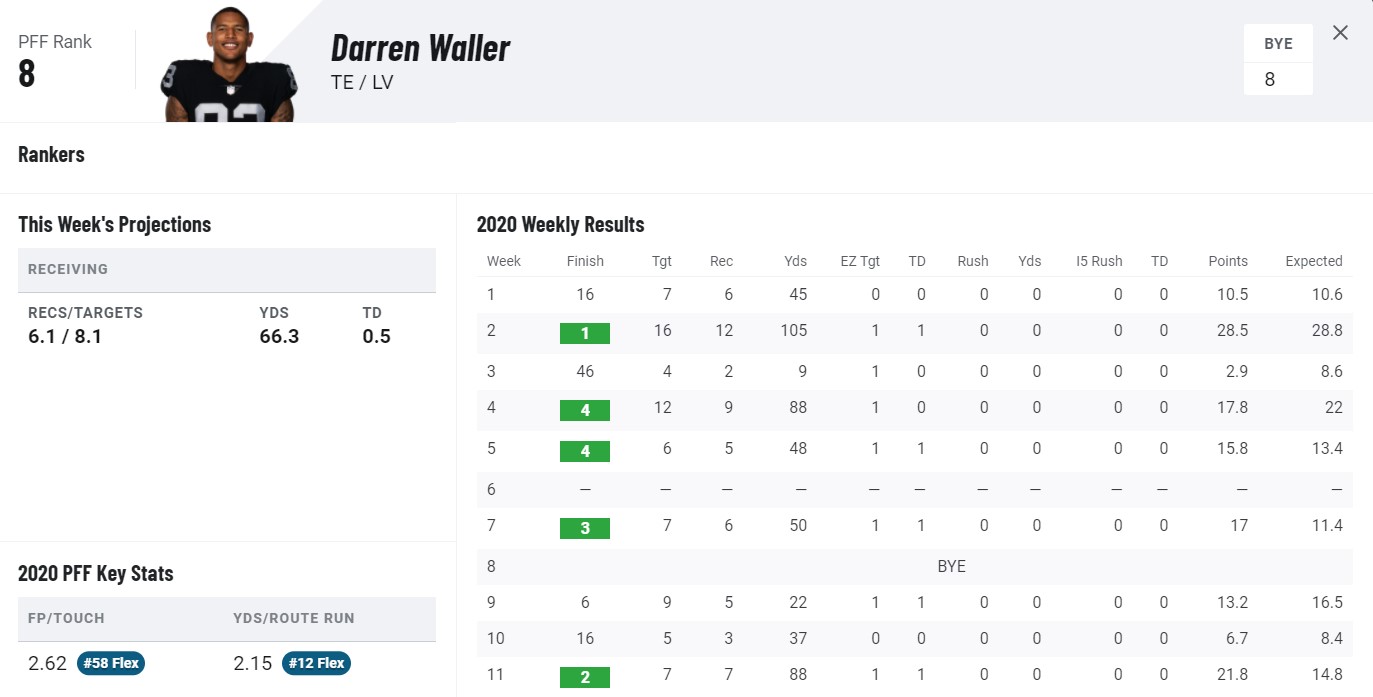 Williams shined on a small sample in 2019 before etching out a starting role in Brandon Staley's defense a year later. He finished 2020 with the fourth-best PFF grade among all cornerbacks, including the postseason, racking up 16 combined interceptions and pass breakups in the process. Williams is a perfect fit for the Staley system, which won't change much under new defensive coordinator Raheem Morris.
Jones converted to full-time outside corner in 2018 and immediately starred as a lockdown defender. He produced one of the five highest coverage grades at outside corner in the 2018 and 2019 seasons combined, allowing the fewest yards per press-coverage snap in that time (0.66). However, his first year in South Beach wasn't up to the standards he set in Dallas, as an early-season injury kept him out a few games and he had a handful of uncharacteristically poor performances.
Johnson is capable of playing any role in any scheme. He called the plays for Brandon Staley's No. 1-ranked Los Angeles Rams defense in 2020 when he was the fifth-most valuable defensive player in the NFL, according to PFF WAR.
That success has been a common theme for him when healthy. Johnson has recorded PFF grades above 80.0 in three of his four seasons, all of which ranked 11th or higher at the position. The season he didn't was in 2019, when he was limited to only six games due to injury.
Amos broke out in his third season in the NFL ranks with the Chicago Bears in 2017 and hasn't turned back. He has gone from exclusively playing deep at the start of his career to a versatile job that has him closer to the line of scrimmage. Amos owns an elite 90.0-plus coverage grade in both roles since 2017.
Slot cornerback is the most undervalued position in football. There were plenty of candidates to choose from in this spot as a result, but Callahan takes the cake. He was one of the five highest-graded slot corners for Chicago in 2018 and 2019, went with Vic Fangio to Denver in 2019, missed that entire season with an injury, then proceeded to earn the third-highest grade among corners in 2020 playing both inside and outside.