Scheme fits are vitally important when looking at free agent fits.
Certain players will provide an immediate and direct upgrade in a certain scheme at a specific position. Mike Hilton going to the Cincinnati Bengals is one example of that. We as fans like to look at players who sign with our favorite team and slot them nicely into a role that we've been able to qualify and quantify while watching.
That is one way to look at scheme fits, but there are also the free agents who will come in and change the way a team plays because of their talent. Washington should become a more man-heavy team after signing William Jackson III instead of trying to force him into their more zone-heavy looks from last season. Scheme fits exist in both worlds. Here are the five most interesting ones so far.
More from PFF's live free-agency coverage: 
2021 NFL Free Agency LIVE Deal Grader | The 100 best available NFL free agents remaining | 2021 NFL Free Agency Tracker | PFF Improvement Index for all 32 teams | Fantasy Football Free Agency Tracker
Three years, $13.5 million per year
Jackson and his man coverage skills head to a Washington team that did not play much straight man-to-man Cover 1 last season. The Football Team ranked 21st in the league in Cover 1 rate, playing it just 21% of the time. Jackson's Bengals ranked eighth in the same category in each of the past two seasons. When Washington chose to play a one-high coverage last season, it was often Cover 3 — a scheme the team used at the seventh-highest rate league-wide. The Bengals ranked 27th, employing a completely opposing defensive philosophy.
One of the reasons for this, and ultimately one would imagine why the Football Team pursued Jackson in free agency, is because they'd like to play more man coverage but didn't have the horses for it last season. Jackson comes in with an 80.8 coverage grade from 2020 when the Bengals played Cover 1 at the fourth-highest rate in the league. He allowed a lowly 57.9 passer rating when targeted in this coverage, seventh-best among cornerbacks.
It's been a while since Washington defensive coordinator Jack Del Rio based out of man coverage, evidenced by his 19th and 25th rankings in Cover 1 rate in his last two years as the Raiders' head coach. However, his unit ranked third in that category in 2015. You would expect the Football Team to hit some sort of middle ground between Del Rio's 2015 man coverage rate and last year's rate to support adding Jackson.
At the end of the day, NFL teams would love to line up and eliminate opposing receivers by playing man coverage. Washington can now feel comfortable doing just that.
Three years, $11.5 million per year
Samuel was used in vastly different ways over his last two years in Carolina. Under the father and son duo of Norv and Scott Turner in 2019, Samuel played mostly outside, lining up as a wide receiver on over two-thirds of his snaps. In 2020, under Joe Brady, he was used primarily as a slot receiver, with only 27% of his snaps coming outside. He saw 70 snaps from the backfield last season.
We can see the difference in his usage clearly in the below heat map. Samuel's slot role in 2020 tasked him with attacking the middle of the field much more: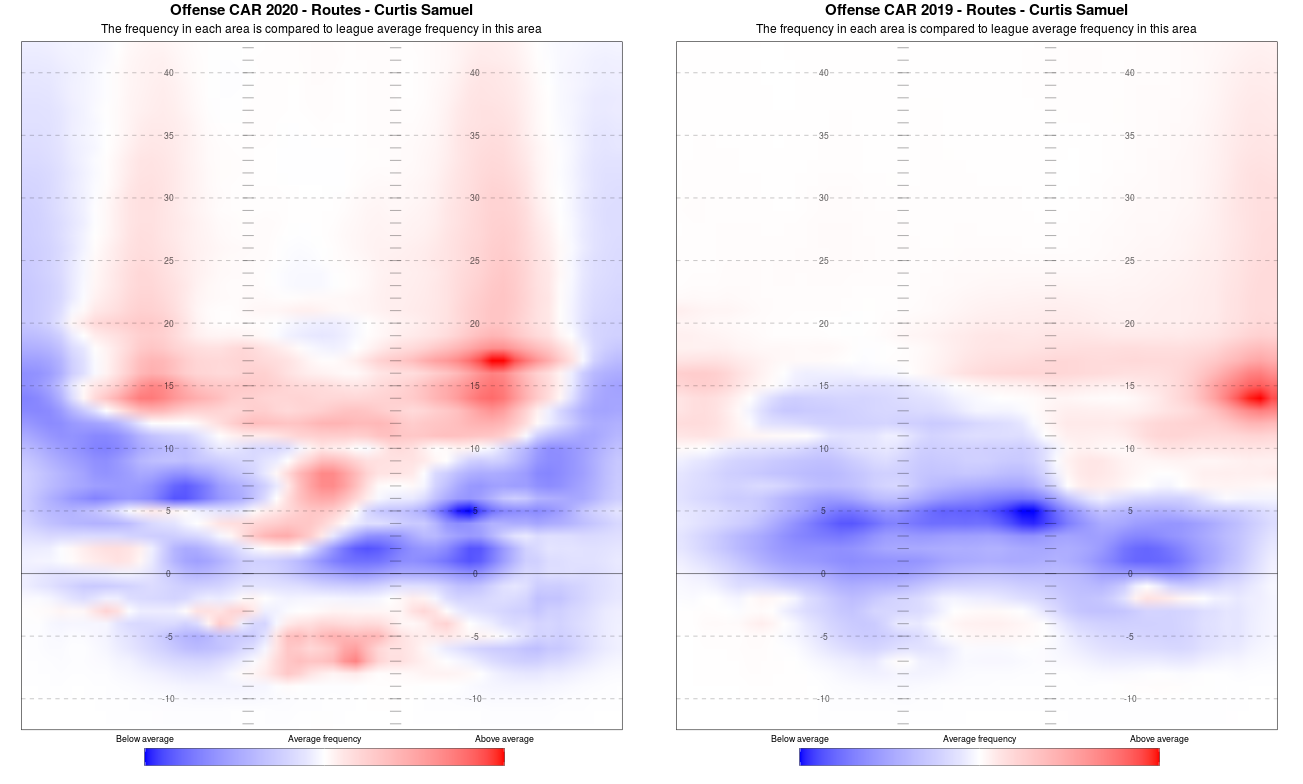 Samuel now lands in Washington, and it just so happens that Scott Turner will be his offensive coordinator again. The Ohio State product had his highest-graded season under Joe Brady last season, at 77.0 — a big improvement from the 62.5 grade he earned under Turner in 2019. Clearly, Samuel trusts Turner to put him in a position to utilize his strengths; he otherwise wouldn't have signed in Washington. But a return to playing outside receiver primarily is not out of the question.
Three years, $11.25 million per year
Johnson has proven to be an elite safety in any of the systems he has played in, but going from Brandon Staley's Rams defense to Joe Woods' Browns defense is a massive change. The question isn't whether Johnson will be good in Cleveland, it's how exotic Woods will get with Johnson after watching his 2020 season. In the Rams' playoff game against Green Bay to end their campaign, Johnson had ascended to being an inside run-fitter.
It's not common for a safety to be deployed in that role, but of course, nothing from Staley's defense last year was all that common. Johnson was asked to do everything, and he excelled. Woods' defense is more classically rational than Staley's, so we have to ask whether Woods will think outside the box in his usage of Johnson. This isn't to say that Staley is the only defensive coordinator to get great play from Johnson. In 2018, under Wade Phillips, Johnson was the seventh-highest-graded safety in the league. Here's to hoping that Woods uses the new signing as a unique defensive weapon and not just a classic safety.
Henry: Three years, $12.5 million per year for Henry; Smith: Four years, $12.5 million per year
These two signings are going to change how the Patriots' offense functions. New England played in heavier personnel packages last season because it wanted to have a fullback on the field. Some 38% of the unit's snaps were in 21 personnel, with only 2% in 12 personnel. We can imagine that those numbers will flip in 2021.
The Patriots didn't sign two tight ends to have only one on the field at a time. Even within these two-tight end sets, the deployment of both will be interesting. The Titans used Smith more as an inline tight end, as he lined up in an actual tight end position over 70% of the time last season, while Henry was used as an inline tight end only 50% of the time last year in Los Angeles.
We will end up seeing more 12 personnel, but whether the Patriots play both of them inline at the same time remains to be seen. A return to the Patriots' two-tight end heydays of the early 2010s could be in the cards.
Four years, $6 million per year
As noted earlier, the Bengals have been a heavy man coverage team over the past two seasons with Lou Anarumo as the defensive coordinator. One of their issues, especially in 2020, is an inability to cover slot receivers. They tried Mackensie Alexander at slot cornerback last season, and it didn't go particularly well.
Alexander finished with a 59.2 overall grade on his 519 snaps at slot corner. Hilton is an upgrade at that position right off the bat. He's played in a man-heavy scheme for almost his whole career in Pittsburgh, and he's a clear upgrade over Alexander at that position. Hilton graded out at 76.1 when manning the slot in 2020.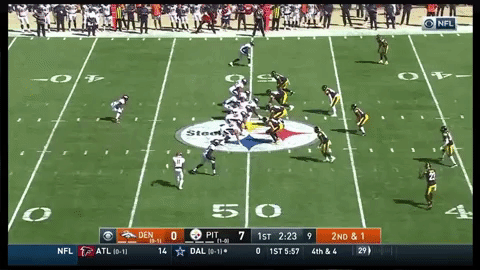 Hilton also loves to get his nose dirty in the run game. His average depth of tackle over the past three seasons is a lowly 2.47 yards, one of best marks in the league for the position. He triggers fast and tries to get to ball carriers before they get a head of steam. Hilton is a perfect fit and an upgrade for the Bengals.