There are always cap casualties before the start of each new league year, but things got far more barbarous this offseason as NFL teams tried to find ways to get under the COVID-19-impacted salary cap.
Some of the newly minted free agents may have underperformed in 2020, leaving their teams with no choice but to cut ties. But on the other side of the spectrum are the proven veterans who were cut solely because their team could no longer afford them and not because they didn't provide value.
Today I'm going to dive into the most notable roster cuts over the last week or so. I'll identify the reason for the release, the value they carry entering free agency and then explain what the player's former team will do to fill the hole in the starting lineup.
Why they were cut and the player's current value: This was a performance-based cut more than anything, as Washington wasn't strapped for cash at the time of the veteran's release.
Smith's inability to push the ball downfield hindered Washington's offense in 2020. He ranked dead last in average depth of target by more than a full yard (5.4) and led the league in percentage of total yards coming after the catch (59%). On top of that, Smith completed more than five 10-plus-yard passes in just one of his eight appearances. To better put that number into context, Philip Rivers, another aging veteran who has since retired, accomplished that in 14 games last season.
Smith was set to absorb over $23 million in cap space for the 2021 season and wasn't even locked into the starting job. With this move, Washington will eat over $8 million in dead money, but it also opens up nearly $15 million in cap space.
After completing one of the greatest comebacks in modern sporting history, Smith should still offer value as a high-end backup, especially for a team with a young quarterback for Smith to mentor.
What's next for the team at the position: At this point, it's difficult to predict the route the Football Team will take at quarterback in 2021. Mac Jones seemed like a possibility early on, but as my colleague Eric Eager outlined, the Alabama quarterback is likely to be off the board by the time Washington is picking at No. 19.
One likely scenario, then, is that a free agent such as Cam Newton comes in to compete with Taylor Heinicke for the starting job. Heinicke impressed in Washington's playoff loss to the eventual Super Bowl champions by earning a 92.0 PFF grade for a performance that included five big-time throws and zero turnover-worthy plays. But banking on him sustaining that in 2021 isn't a wise decision — the former UDFA attempted just 77 passes in his six years before that outing, and he posted a poor 55.6 passing grade on those reps.
Why they were cut and the player's current value: Once one of the most dynamic after-the-catch weapons in the NFL, Tate has been a different player in New York. He has offered very little after the catch, with just seven broken tackles over the last two years, and he is coming off his lowest-graded season since his rookie campaign in 2010. Obviously, usage has something to do with this, but it's pretty clear the soon-to-be 33-year-old isn't who he once was.
However, there was one area where Tate thrived. For the first time since his move from the perimeter to the slot, he impressed on the vertical route tree.
Tate racked up the third-most receiving yards on vertical slot targets over the last two years with 393. He can still challenge the seam and provide some value to a contender in need at the position, with the Green Bay Packers standing out as a landing spot.
What's next for the team at the position: New York desperately needs to supply Daniel Jones with receiving weapons in what will be a pivotal Year 3 for the 2019 No. 6 overall pick. Whether they pursue one of the big-name receivers on the open market, such as Kenny Golladay, or address the need with their 11th overall pick, the Giants' front office knows that they need to make a significant investment.
Speedster Jaylen Waddle, who has converted his targets into a 15-plus-yard gain at a higher rate than any other Power 5 wideout since 2019, is an intriguing option for New York if they opt to direct their attention to the 2021 NFL Draft. He has all the requisite tools to become a perennial deep threat, and Jones posted the third-best deep passing grade in the NFL last year.
Perhaps Waddle's presence would give Jones the confidence to look deep more often, which would be a welcome sight for this offense. 
Why they were cut and the player's current value: A barrage of injuries over the last couple of years kept Jackson from making an impact in Philadelphia. He appeared in a quarter of the Eagles' games over that span and saw only 35 targets.
Given that Jackson will turn 35 during the 2021 season, it'd be a stretch for any team to count on the wide receiver to serve a major role next year. Still, Jackson is an intriguing option for contenders who can afford to throw out a few million dollars to the veteran in the hope that he can stay healthy and return to home-run-hitting form. Jackson has hardly played over the last two years, but he still has over 1,100 more deep receiving yards than anyone else since entering the league in 2008.
What's next for the team at the position: The best option for Philadelphia in the 2021 NFL Draft is securing a passer like Justin Fields. But if they miss out on the quarterbacks, they should address the wide receiver position without hesitation. As a team, the Eagles ranked dead last in receiving grade in 2020.
DeVonta Smith might just be the best option for them at the sixth overall pick. Smith shattered the PFF College record for the highest single-season receiving grade in 2020 at 95.6. Few wide receivers with Smith's frame have gone on to have success at the NFL level, but then again, Smith is as complete a receiver prospect as we have ever seen. Smith would be a wise pick for Philly, assuming quarterback is out of the question.
Why they were cut and the player's current value: While Jeffery was effective early on in Philadelphia, he never quite hit that elite level of production that we saw from him in Chicago. He ranked ninth at the position in receiving grade with the Bears from 2013-2016 to 22nd in his first two years with the Eagles in 2017 and 2018. Then the injuries began to bite.
Jeffery saw only 82 targets over his last two years in Philly, and he stumbled to a 68.5 PFF grade on those targets. He didn't log enough reps to qualify for a rank, but that mark would have been well short of the 25th percentile at the position. Jeffery was never one to generate separation at a high level, but he would use his massive frame to bully defensive backs in tight coverage. That Jeffery now seems to be long gone, and I wouldn't expect him to return.
What's next for the team at the position: See above.
Why they were cut and the player's current value: This move was to help Buffalo's cap situation and possibly because they liked what they saw from fourth-round rookie Gabriel Davis.
Brown wasn't his best in 2020. He recorded a 66.2 receiving grade and averaged just 1.30 yards per route run while also missing half the regular season due to injury. He was still responsible for some big plays, just less so than in 2019. Over the last two seasons, Brown has turned over a quarter of his targets into a 15-plus-yard gain, forming one of the 10 highest rates in the league in that span.
What's next for the team at the position: Even without Brown, Buffalo is still in pretty good shape at wide receiver with Stefon Diggs and Cole Beasley leading the way. They could use some depth, but they have yet another deep WR draft class to take advantage of.
I suppose my biggest concern would be that they think a bit too highly of Davis. Don't get me wrong, he made some incredible off-target snags at times in his rookie campaign and came up big in their wild-card win over Indy with a 90.1 PFF grade, but it was still a so-so year as a whole that generated a 67.1 receiving grade and 1.33 yards per route run.
Why they were cut and the player's current value: Sanders' release was purely about the Saints' nightmarish cap situation. New Orleans probably would've kept him if they could have, as he was one of the 25 most productive wide receivers in the league this past season, generating 1.99 yards per route run.
Despite playing for three different teams in the past three years in his 30s, Sanders has generated 1.21 WAR since 2018, which ranks 22nd at the position. Sanders, who will turn 34 in just a few days, is a prime short-term add for a team in dire need of a wide receiver (e.g., Green Bay).
What's next for the team at the position: Michael Thomas is a top-tier wide receiver and Alvin Kamara is arguably the best receiving back in the league, but outside of those two, New Orleans' receiving arsenal is bleak. The team has no cap space to bring a quality wideout in via free agency, and it has several other needs to address in the 2021 NFL Draft, so taking a wide receiver early is no guarantee. Things aren't trending in the right direction for the Saints.
Why they were cut and the player's current value: Kansas City was well over the salary cap with just a few days to spare until the start of the league new year, so the team axed its two starting tackles to help the problem. Even with them both coming off season-ending injuries (Fisher a torn Achilles and Schwartz a back injury) and being over 30 years of age, this is a bit of a surprise. 
Schwartz is rumored to be considering retirement, which would explain his release. Ever since he entered the league in 2012, Schwartz has been the third-most valuable tackle in the NFL. He put together by far his two best NFL seasons in his final two fully healthy years in 2018 and 2019. In those campaigns, Schwartz produced PFF grades of 84.7 and 89.3 and combined for a two-year grade that tied with Ryan Ramczyk for the best among right tackles.
Fisher, meanwhile, has been the definition of average throughout his NFL career and was set to make over $15 million in 2021. He has hovered around the 50th percentile in PFF grade among left tackles in five of his past seven seasons. Fisher fell short of that mark in 2017 but far surpassed it with a career year just this past season. He posted an 80.1 PFF grade prior to his playoff injury, ranking 11th at the position.
What's next for the team at the position: The only real problem the Chiefs seemingly had entering the offseason was along their interior offensive line. Now, it's the entire offensive line. It's probably best to go ahead and Sharpie in a tackle for them with their first-round selection in the 2021 NFL Draft, but they'll need to do a lot more than just that, especially with center Austin Reiter — the third-highest-graded pass-protector at the position over the last two regular seasons — likely to leave in free agency. 
Why they were cut and the player's current value: Chicago declined Massie's option to salvage over $5 million in cap space, which was a move many saw coming for the cap-strung Bears. Massie spent the past five years as Chicago's starting right tackle and didn't perform all that well relative to his counterparts.
Over that span, he ranked 22nd among 29 right tackles to log over 2,000 snaps at the position. Not to mention, Massie — who will be 32 years old come Week 1 of 2021 — has played only 17 full games over the past two seasons.
What's next for the team at the position: The good news for Chicago is that there is no shortage of tackles available in the 2021 NFL Draft class. Whether it be at Pick Nos. 20 or 52, the Bears can get fairly good value at the tackle position.
One name to keep an eye on in Round 1 for Chicago is Virginia Tech's Christian Darrisaw. He ranks inside the top 15 on PFF's big board and is fresh off one of the best years we have recorded at the position in the PFF College era.
Darrisaw recorded a 95.6 PFF grade in 2020, trailing only Penei Sewell's 2019 mark for the best at the position in the Power Five since 2014. He'd fit in quite well in Matt Nagy's offense, which is heavy on zone runs and won't throw him into the fire with a high rate of true pass sets. If the Bears go the veteran route, Rick Wagner, who is outlined below, is one player to keep an eye on.
Why they were cut and the player's current value: Wagner was cut loose from Detroit last offseason following an uncharacteristically down year, and he endured the same fate this year in Green Bay. This time, it wasn't because of poor play, but rather Green Bay needing the cap space.
Wagner actually performed admirably in 2020, ranking 12th among right tackles in PFF grade. Among all tackles on the year, Wagner sat above the 75th percentile in both true pass set grade and negatively graded run-block rate (two of the most stable metrics for the position). For a team in need of a cheap veteran to plug in at right tackle, Wagner would be a home-run addition.
What's next for the team at the position: Green Bay is likely to address this need in the 2021 NFL Draft. Keep an eye on Texas' Samuel Cosmi. He was a mainstay on the Longhorns' offensive line over the past three years and performed quite well, with pass-blocking grades of 82.8, 86.0 and 80.7. He'd also be a great fit in Matt LaFleur's rushing attack.
Why they were cut and the player's current value: Minnesota was well over the cap at the time of this cut, and the move opened up $11 million in cap space for the team.
Up until this past season, Reiff was nothing more than subpar for Minnesota. He ranked 63rd of 81 qualifying tackles in true pass set grade from 2017 through 2019 but improved that rank to 24th among 67 tackles in the 2020 season.
Reiff overall allowed a career-low 4% pressure rate, over three percentage points better than the rest of his career combined. That said, Reiff is still a risky player to buy into considering we have seen more bad than good from him in his career.
What's next for the team at the position: Reportedly, Minnesota is interested in trading for Ravens tackle Orlando Brown Jr. That, however, is going to be a pretty steep price to pay. The most logical scenario is Minnesota opting to spend what it can in free agency on a quality guard, such as Kevin Zeitler, and perhaps using their No. 14 overall pick in the 2021 NFL Draft on a tackle, such as Virginia Tech's Christian Darrisaw.
Why they were cut and the player's current value: The Giants cut Zeitler to preserve cap space and make room for the hefty franchise tag applied to interior defensive lineman Leonard Williams.
Considering Zeitler was far and away the best pass protector on the Giants' roster in 2020, and that the offensive line finished last in pass-blocking grade, this wasn't necessarily a great move. Zeitler is clearly not nearly as strong of a player as he once was in Cincinnati and Cleveland, but he would be a significant upgrade for the Vikings.
He has generated the 15th-most WAR by a guard over the past two seasons and ranks eighth among right guards in PFF grade over that same span.
What's next for the team at the position: New York is rumored to be in on star wide receiver and PFF's No. 1 free agent Kenny Golladay in free agency, and if that's true, there's very little the team can do to fix its offensive line woes until the 2021 NFL Draft, where I fully expect the Giants to take an interior offensive lineman. Ohio State's Wyatt Davis could be in their Day 2 plans. 
Davis is a high-risk, high-reward type of pick. He has a knee issue that caused him to go down several times in 2020, but he was clearly one of the best pass-protecting interior offensive linemen in college football the year prior. He logged 459 pass-blocking snaps in 2019 and did not allow a single sack or hit on the quarterback. The physical skill set is there. The only question is: Can he stay healthy?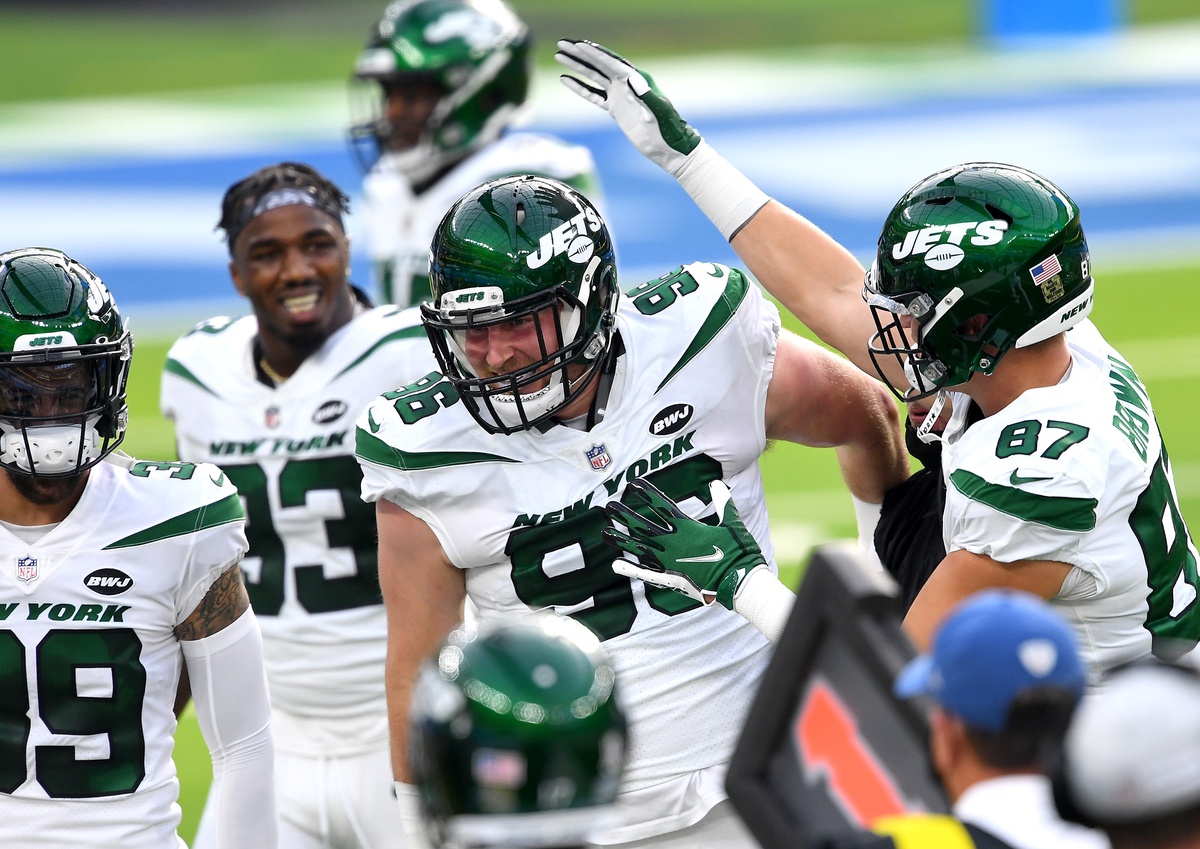 Why they were cut and the player's current value: The Jets were far from hurting as far as their cap situation goes; Anderson just hasn't performed up to par the past couple of years. His PFF grade since 2019 stands at just 62.8, with pass-rushing being his downfall. Anderson managed to generate three or more hurries in just three games over that span.
Whichever team lands him in free agency will be getting a versatile and effective run defender, but they shouldn't count on him making much of an impact on his own as a pass rusher.
What's next for the team at the position: New York is all set with its interior defensive line, but the edge needs a lot of work. And I fully expect the Jets to address that with either their No. 23 or No. 34 overall pick. Miami's Gregory Rousseau is one player to keep an eye on with that second first-rounder.
Rousseau would be a boom-or-bust pick for the Jets. The 6-foot-6, 260-pound defensive lineman checks the size, length, athleticism, bend and versatility boxes, but consistency and production remain question marks.
Yes, he notched 16 sacks in 2019, but that's a noisy number. Over half of those sacks were charted as either unblocked or a cleanup, and Rousseau ranked outside the top 50 in the FBS in pass-rushing grade and win rate.
Why they were cut and the player's current value: This was about Jackson's pay not matching his performance to a certain extent, but it was mostly due to Philadelphia needing to find cap space while being well-equipped on the defensive line.
Jackson missed almost all of his first year in Philadelphia in 2019 due to injury. He then returned for 2020, mostly as a rotational piece along the Eagles' loaded defensive front, and struggled against the run while providing some juice as a pass rusher. Jackson ranked 10th at the position in pressure rate generated (11.3%) and cracked the top 25 in pass-rush grade (72.1)
What's next for the team at the position: Fletcher Cox, Brandon Graham, Josh Sweat and Javon Hargrave all produced 70.0-plus pass-rush grades in 2020 and are under contract for next season. In other words, this isn't going to sting too badly.
Why they were cut and the player's current value: Dunlap was set to receive a hefty salary for the 2021 season. Seattle's decision to cut the veteran edge rusher opened up $14 million in cap space, more than quadrupling the team's previous total.
Dunlap had his moments in Seattle after a lowly start in Cincinnati, specifically in their wild-card loss, when he notched a season-high 86.2 pass-rush grade, but he didn't really perform up to snuff overall.
With the Seahawks, Dunlap recorded a middling 69.4 pass-rush grade. That being said, he can still be an effective edge defender at the NFL level. After all, he was one of the five highest-graded players at the position in 2019. 
What's next for the team at the position: While Dunlap didn't perform up to his contract's standards, he was still far and away the Seahawks' best pass-rushing defensive lineman. And there are very few indications that they will fix that in free agency considering their remaining cap space will likely go toward re-signing cornerback Shaquill Griffin and others, such as off-ball linebacker K.J. Wright.
The Seahawks also don't have their first-round selection in the 2021 NFL Draft. I'd bank on the team using its second-rounder on an offensive lineman to appease Russell Wilson, as he is apparently quite annoyed with the Seahawks for the offensive line they continue to put in front of him.
Why they were cut and the player's current value: New England tweaked Van Noy's role during his 2019 contract year after a couple of middling seasons, and the result was a career year. Bill Belichick flipped Van Noy to exclusively stand-up outside linebacker and had him drop into coverage just a handful of times per game rather than playing as a true hybrid linebacker. He had earned a two-year regular-season PFF grade of 61.9 in that hybrid role but was able to increase his grade to 83.5 in the new role. Miami head coach Brian Flores — a Belichick disciple — moved Van Noy back to the hybrid role in his defense and, to no surprise, he struggled. Van Noy produced a 61.6 PFF grade with Miami in 2020 with a 51.2 coverage grade.
What's next for the team at the position: This was a wise move for Miami — it's a position they can easily fill in the 2021 NFL Draft. Micah Parsons sliding to them at No. 18 would be the best-case scenario, and it's entirely possible given the off-field concerns.
Parsons opted out of the 2020 season and didn't play a down all year, but he was the highest-graded player at the position (91.6) in 2019. He shined in nearly every facet with a 94.8 run-defense grade, 26 pressures on 94 rushes and just six missed tackles on 111 attempts. The only knock is the subpar ball production (four pass breakups in two years), but the combination of power, explosiveness and overall athleticism for a human his size — along with the standout tackling, blitzing prowess and instinctual play — makes him the type of rare prospect that I know Brian Flores would covet.
Why they were cut and the player's current value: Even if New Orleans didn't have a cap issue, this cut would have been justified. Alexander has had injury issues over the last few years and his performance wasn't worth the $13 million he was set to be paid in 2021. Alexander earned just a 60.3 PFF grade with the Saints in 2020 and was an inconsistent performer. That wasn't any different from his time in San Francisco and final year in Tampa Bay. Since the start of 2018, Alexander ranks 56th of 85 qualifying off-ball linebackers in PFF grade.
What's next for the team at the position: Like wide receiver, off-ball linebacker is a big need for the Saints, and they can really only address it in the 2021 NFL Draft. Their best-case scenario is LSU off-ball linebacker Jabril Cox sliding to them in Round 2, but that could be wishful thinking. Cox could slide into Alexander's role and be an impact player in coverage relatively quickly in the NFL. His coverage ability was the backbone of his success at North Dakota State in 2018 and 2019 with coverage grades of 87.4 and 85.2, and the story remained the same at LSU in 2020. This past year, Cox notched an 83.5 coverage grade with seven combined pass breakups and interceptions and zero touchdowns allowed.
Why they were cut and the player's current value: Bouye started from the bottom as an undrafted free agent back in 2014 and made name known as one of the best corners in the game from 2016 through 2018. Unfortunately, things have been going downhill ever since. During the three-year stretch from 2016-18 with Houston and Jacksonville, Bouye was the second-highest-graded outside corner in the game. Over the last two years with the Jalen Ramsey-less Jaguars and Broncos, Bouye has produced coverage grades below 56.0. His performance just didn't match the pay rate. 
Still, his splits between man and zone coverage in seven games as a Bronco were interesting. Bouye looked fairly decent when playing zone coverage relative to his counterparts, ranking 40th of 106 qualifying corners in coverage grade on such plays. On the few occasions when he played man in Vic Fangio's defense, Bouye got beat repeatedly and fell to 98th in coverage grade on those plays. There's some juice left to squeeze out of Bouye's NFL career, just not by a team that uses a heavy dose of man coverage.
What's next for the team at the position: Denver has some incredibly talented pieces in place in their secondary with safeties Justin Simmons and Kareem Jackson, along with Bryce Callahan, who is capable of playing inside or outside at a high level. They'll still have to make a play in the 2021 NFL Draft for a cornerback.
A dream scenario for Denver would be Florida State cornerback Asante Samuel Jr. falling to them in Round 2. Fangio covets instinctive and athletic corners like Samuel to plug into his deceptive zone defense.
Samuel may not be the biggest guy on the field at 5-foot-10, 184 pounds, but you can count on him to make plays. In his three years at Florida State, Samuel produced one of the 10 highest coverage grades among Power 5 outside corners and came in at No. 2 among the group in forced incompletion rate (23.8%).
Why they were cut and the player's current value: Jenkins was actually a really good outside corner for the Saints in 2020. He ranked 12th among 78 qualifiers in outside coverage grade with a 73.9 mark, which was over 10 grading points higher than Marshon Lattimore. Jenkins wasn't nearly as effective in press-man as he was in New York a few years ago, but that just goes to show how great he was playing off-zone. He should have a competitive market in a relatively thin cornerback class.
What's next for the team at the position: Just like wide receiver and linebacker, the Saints now need to find someone to start opposite Lattimore for the 2021 season. They could and should address this issue with their No. 28 overall pick in the draft. Jaycee Horn — the son of former Saints wide receiver Joe Horn — is a good candidate for this pick. Horn may come into the league and rack up some penalties considering how overly physical he can be, but that physicality will show up at the line of scrimmage and make him a nightmare to face. Horn has played the third-most coverage snaps in press per catch allowed (23.0) in the Power 5 over the last two years.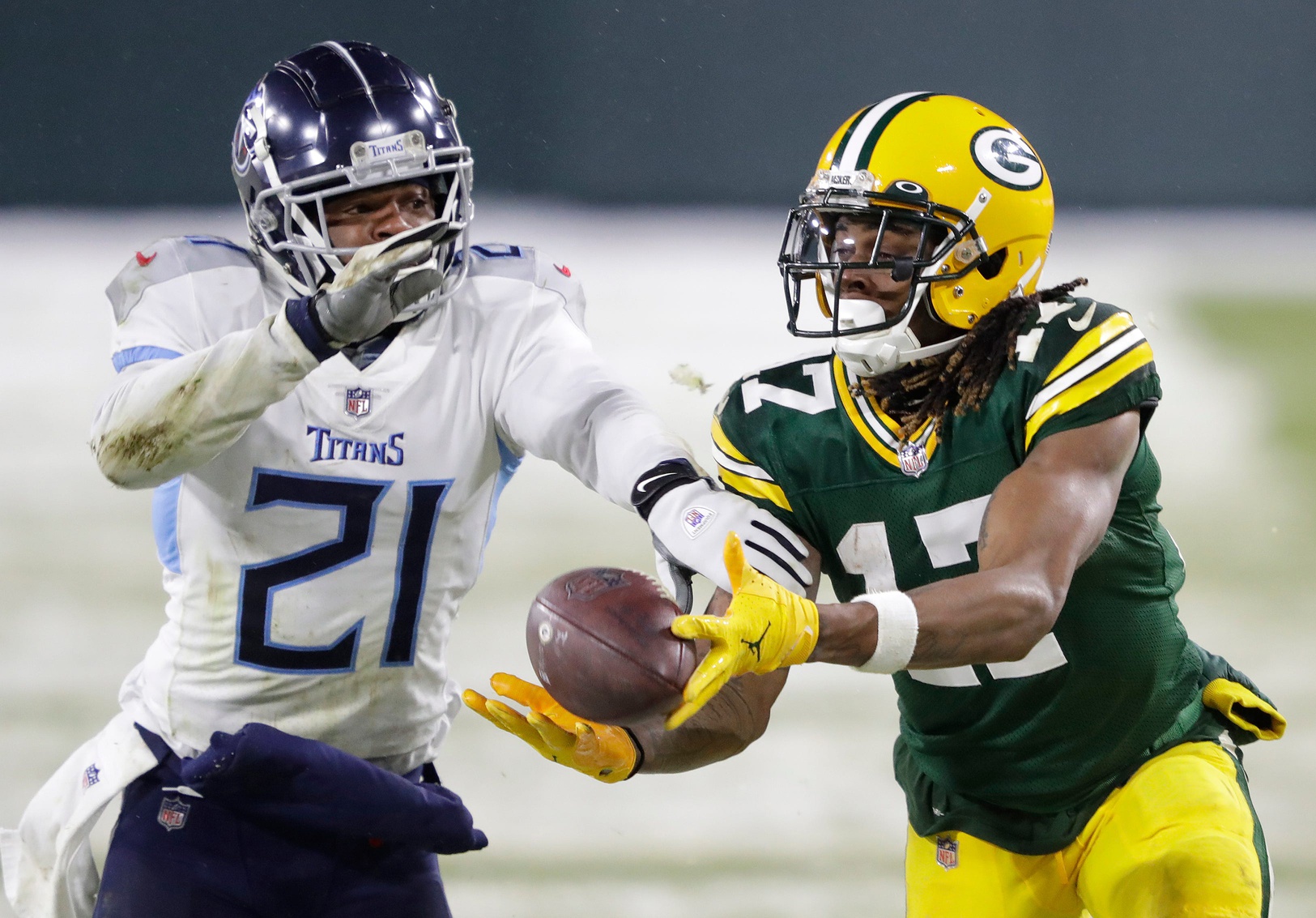 Why they were cut and the player's current value: The Titans coverage unit ranked 28th in EPA per pass play allowed in 2020. Butler was far and away their highest-graded defensive back and generated nearly two times as much WAR as every other player on the defensive side of the ball. Sure, he gave up some big plays here and there, but Butler also produced a lot of high-end plays and still has plenty to offer at the NFL level.
What's next for the team at the position: This cut wasn't based on cap space constraints like Jenkins in New Orleans. It's a pretty big bet that Adoree' Jackson can bounce back to his old form after missing most of 2020 and that Kristian Fulton — who was PFF's CB2 in last year's class — lives up to the prospect hype.
Why they were cut and the player's current value: In Trufant's seven years with the Atlanta Falcons from 2013 through 2019, he ranked among the 15 highest-graded outside corners in coverage four times. Over those seven seasons, Trufant was one of the five highest-graded outside corners. Trufant battled injuries in Detroit this past season that limited him to only six games, and he struggled mightily with a 36.7 coverage grade. But, as we all know, Matt Patricia's defense in Detroit was quite predictable. Even star receiver Davante Adams has said as much. That obviously does the secondary no favors. The only concern with Trufant is the recent injury history, not the poor play in Detroit. If healthy, he could be a massive value signing for a team.
What's next for the team at the position: As for Detroit, they still have a promising young talent starting on the outside in Jeff Okudah. The 2020 No. 3 overall pick obviously had a rough season, but I wouldn't call him a bust this soon. Defensive backs tend to have a steeper learning curve from college to pro compared to other positions, and the situation in Detroit wasn't ideal, as noted above. The Lions look to be trotting out Okudah and 2019 fifth-rounder Amani Oruwariye to man the outside starting spots, which is rather risky. The biggest concern is what their plans are for the slot, as they just cut the man who held that job, too.
Why they were cut and the player's current value: Coleman broke out back in 2017 and 2018 playing for the Seattle Seahawks after a couple of meh years in New England as a UDFA. In Seattle, Coleman ranked third in the NFL in slot coverage grade. Coleman then moved to Detroit and struggled like every other Lions CB over the past two years, dropping to fourth-to-last in slot coverage grade. He did show standout play at the catch point and racked up good ball production, like he did in Seattle, but Coleman was also beaten at a far higher rate. With a change of scenery, Coleman could end up a great value signing, like Trufant.
What's next for the team at the position: The good news for Detroit is that the slot corner position in free agency is going to be deeper than any position on the open market in years. There is plenty of opportunity to get a fresh and talented player at the position, but only time will tell if the Lions recognize the value and take advantage. 
Why they were cut and the player's current value: Joyner has had an interesting — yet frustrating — NFL career. He spent his first three seasons for the Rams primarily as a slot corner starting in 2014. Joyner racked up stops in that role but also gave up a lot of big plays, which led to a subpar coverage grade (62.5). The Rams moved him to deep safety for the 2017 and 2018 seasons, and Joyner became new man in that role. In those two seasons combined, Joyner tied for the fourth-highest PFF grade when playing free safety. He then signed a nice deal with the Raiders prior to the 2019 season, and they proceeded to move him back to the slot. Unsurprisingly, Joyner struggled. He has produced the lowest slot coverage grade in the league since that signing. Whoever signs this man should do it with the intention of playing him at safety.
What's next for the team at the position: Again, there are so many quality slot cornerbacks on the open market and opportunities for Vegas to improve at the position. I would keep an eye on K'Waun Williams and Desmond King II, as they each have familiarity with the defense Gus Bradley is going to run. Williams has been the sixth-highest-graded slot defender in coverage since 2019, while King — who actually played for Bradley in L.A. — has ranked first since entering the league in 2017.