After the 2018 season, the Miami Dolphins clearly entered rebuilding mode. We are just starting to see the fruits of that labor, with Miami adding three first-round picks — including quarterback Tua Tagovailoa in the 2020 NFL Draft — along with the best free-agent cornerback on the market in Byron Jones. While there is still work to do, the Dolphins are improving in key areas on both sides of the ball and are headed in the right direction. Given the uncertainty in the AFC East, it's a wide-open race — and it's not crazy to consider the Dolphins as an outside contender if they get strong quarterback play. However, this season is about taking one more step toward being a perennial contender rather than just a one-year wonder, so the development of the team's young talent is paramount in 2020.
ADDITIONS/SUBTRACTIONS
Additions/players brought back:
G Ereck Flowers (signed for three years, $30 million, $19.95 million guaranteed)
CB Byron Jones (signed for five years, $82 million, $54 million guaranteed)
RB Jordan Howard (signed for two years, $10 million)
EDGE Shaq Lawson (signed for three years, $30 million)
C Ted Karras (signed for one year, $4 million)
EDGE Kyle Van Noy (signed for four years, $51 million, $30 million guaranteed)
EDGE Emmanuel Ogbah (signed for two years, $15 million, $7.5 million guaranteed)
S Adrian Colbert (signed for one year, $1.775 million)
Losses:
QUARTERBACK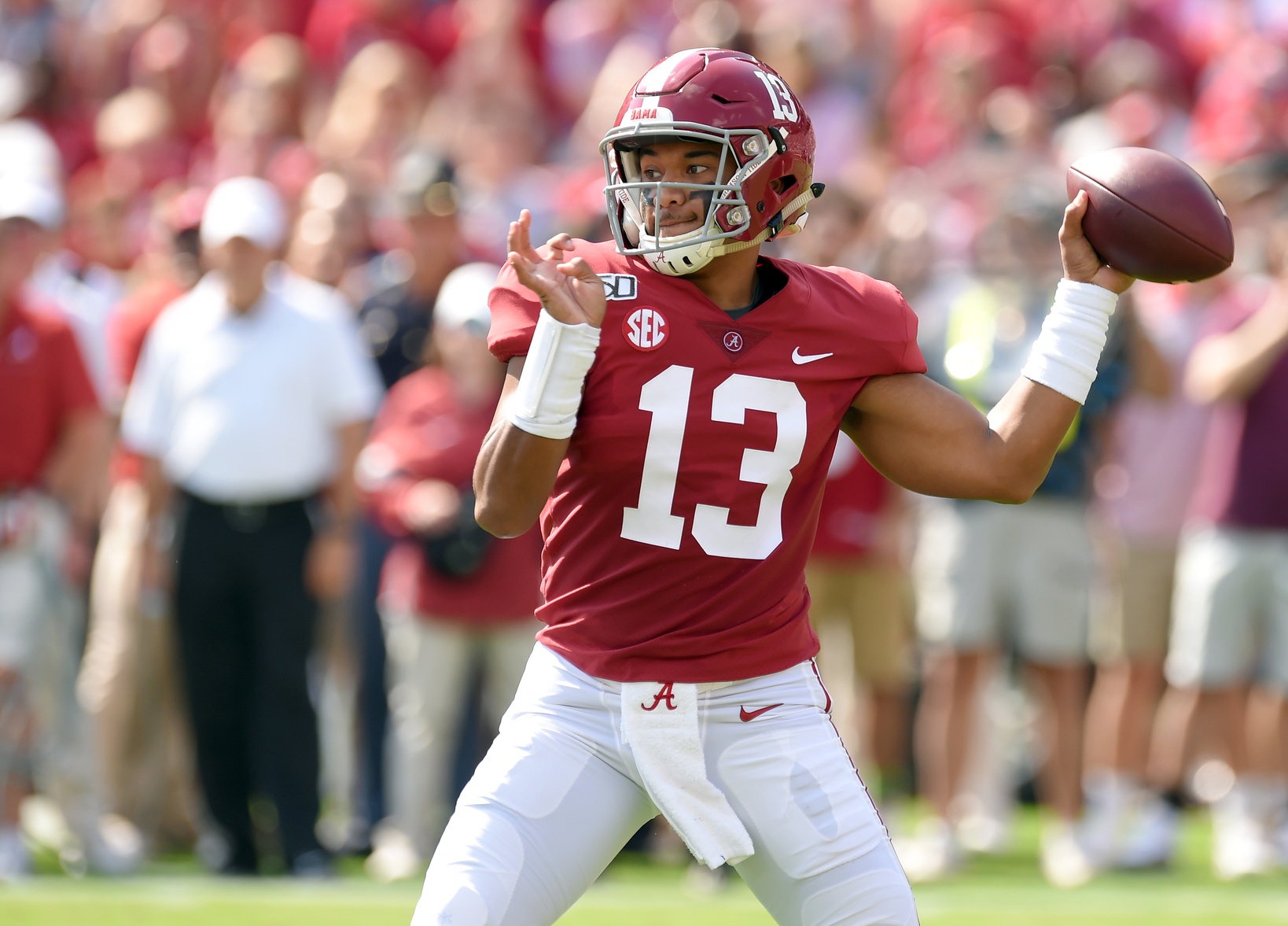 With the Dolphins spending the fifth overall pick on Tua Tagovailoa, expect him to start as soon as possible. However, given the short offseason and solid performance by incumbent starter Ryan Fitzpatrick over the past two years, don't be surprised if he gets the nod on opening day. Here's what I said about Fitzpatrick at the end of the 2019 season:
"Given his supporting cast, Fitzpatrick had one of the most impressive seasons of any quarterback this year. He elevated Miami's offense despite facing the fourth-highest pressure rate, and his downfield aggressiveness led to the Dolphins turning into a pesky, competitive team down the stretch. This is now the best two-year stretch of Fitzpatrick's career, as he finished as a borderline top-10 quarterback for the Buccaneers in 2018 and ranked in the top 15 in 2019. It's also the second straight year that Fitzpatrick ranked among the league's leaders in positively graded throws, showing that he can put his playmakers in position to make plays. He has an intriguing skill set for teams with playoff aspirations but are in 'bridge quarterback' territory."
If the Dolphins are looking to immediately compete in the AFC East, Fitzpatrick's aggressive, volatile style gives them the ceiling to do so. However, the long-term plan is obviously built around Tagovailoa, a polished passer with good accuracy to all levels of the field. Tagovailoa is the only quarterback in the draft class with 90.0-plus grades over the past two years, and his top-end potential is immense.
RUNNING BACK
The Dolphins have had the worst team run-blocking grade in four of the past five years, so it's no surprise to see the lack of rushing production in recent seasons. Last year, Mark Walton led Miami running backs with just 201 yards. The Dolphins got just 829 yards from their running backs, the lowest total in the league, leading to the offseason additions of Jordan Howard and Matt Breida to revamp the run game.
Howard is one of the league's better zone runners, and he's created a solid 2.8 yards after contact per attempt in his career. Howard does not add much as a receiver, but he should be an effective early-down runner. Breida adds a big-play element, as he's averaged 4.9 yards per carry in his three NFL seasons. The one caveat is that Breida averaged 2.4 yards before contact during that time, the second-best mark among 70 qualifiers. Kalen Ballage is also competing for carries, though he's graded in the 50.0s in both of his NFL seasons.
Rookie seventh-rounder Malcolm Perry was one of the best option quarterbacks in college football, and he'll make the transition to running back in the NFL. While Miami is still in the bottom tier of running back units, it has a unique group of skillsets that should help increase rushing production this season.
WIDE RECEIVER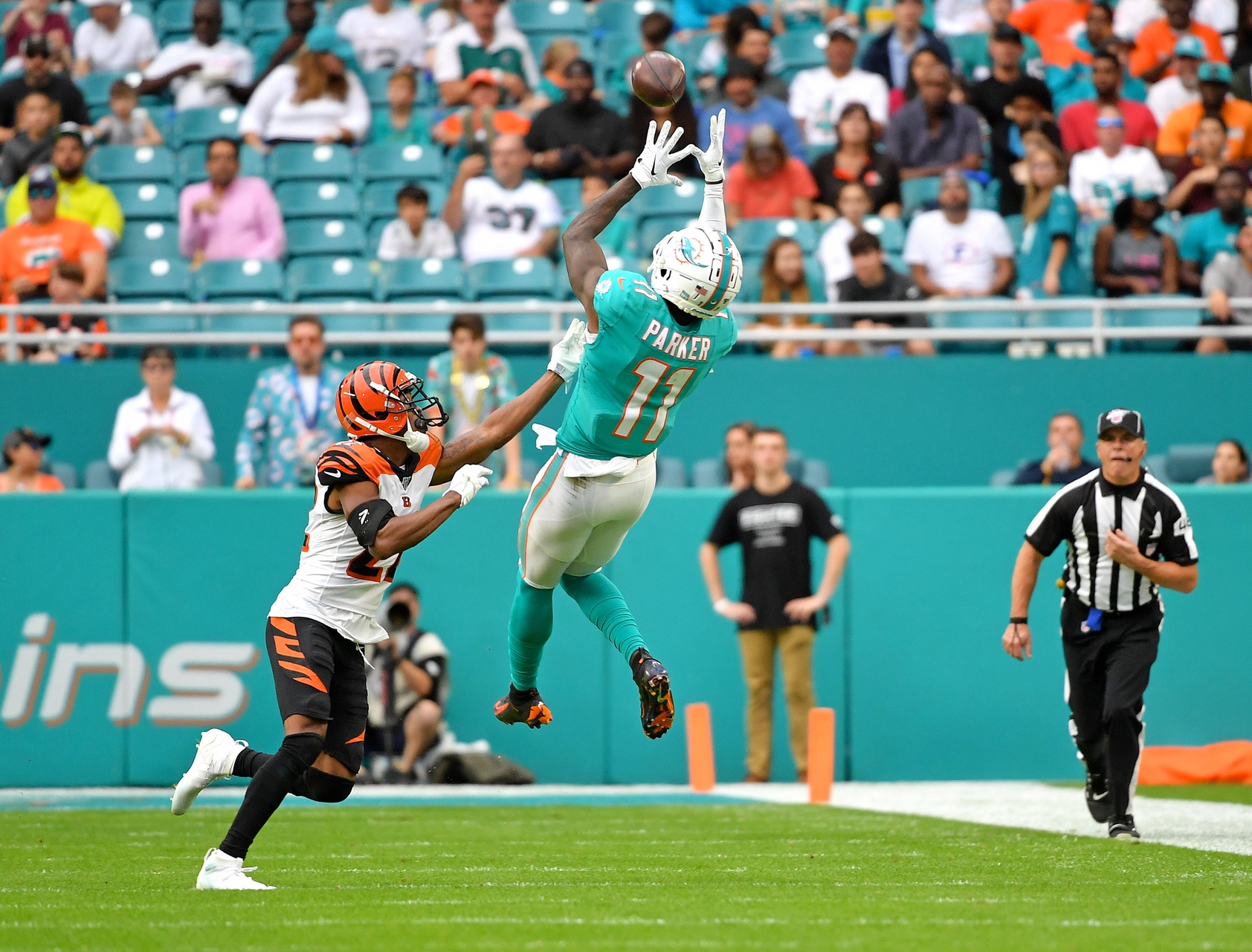 DeVante Parker broke out in 2019 and showed off the skills that made him a 2015 first-rounder. Parker finished with career-highs in nearly every major category, including receiving grade (79.8) — ranking 17th in the NFL. He had the eighth-best receiving grade against single coverage, and Ryan Fitzpatrick's aggressive nature gave him the opportunity to make plays down the field.
Albert Wilson was unable to replicate his excellent first season with the Dolphins in 2018 that saw him average a ridiculous 13.3 yards after the catch per reception, but that's where he's at his best. Preston Williams had a fine rookie season with 32 catches and 428 yards, good for a 69.4 receiving grade that ranked eighth among rookies. He will cycle through spectacular catch and head-scratching drop, but the high-end play makes him an intriguing potential No. 2 option. Allen Hurns is also in the mix, but we're a few years removed from his 2015 season that had him looking like a future No. 2 receiver with his 78.8 overall grade and 1,031 receiving yards. Hurns has been unable to get back to that point, but he's worth having around for another season to add depth.
Beyond that, Mack Hollins is another big receiver who could be a late bloomer. He has a potential role in this offense if he's used along the vertical route tree. Jakeem Grant has shown flashes of being a jet sweep/space option, but he has just 53 catches and nine rushes in his four NFL seasons. This receiving corps ranks near the bottom of the league, and there's some volatility to this group given how much it relied on winning contested catches a year ago.
TIGHT END
After a slow start to his career, Mike Gesicki came on strong in several games during the second half of 2019. There's still room for Gesicki to improve after his 60.5 receiving grade ranked 32nd among tight ends last season, but his long frame, 4.54 speed and ball skills led to the 11th-most yards on 10-plus yard passes. The top backup is Durham Smythe, who has graded in the 50.0s in his two years in the league.
Chandler Cox, Michael Roberts and Chris Myarick round out the depth chart, and only Roberts has an NFL reception to his name. He showed some promise with a 71.2 grade on 222 snaps as a rookie in 2017, though he hasn't matched that level of play. While Gesicki's development could elevate this group, there are questions marks regarding both the No. 2 tight end and the unit's overall depth.
OFFENSIVE LINE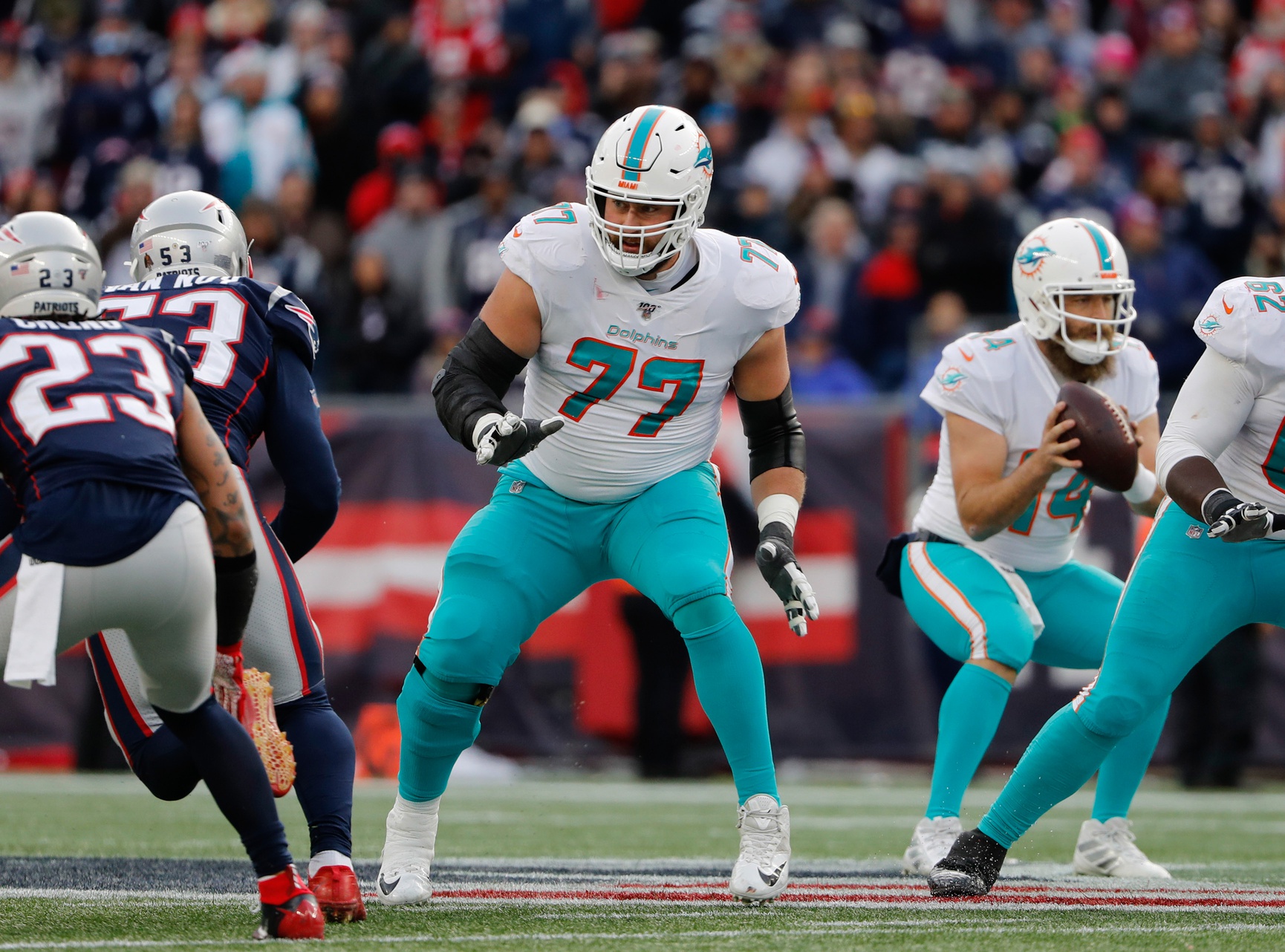 There wasn't much debate about the worst offensive line in the league last year, as Miami ranked last in both team pass- and run-blocking grade and only one of the seven linemen with at least 330 snaps graded above 60.0. We could see as many as four new starters this season, but question marks still abound. At left tackle, Julie'n Davenport was the starter last season after coming over from the Houston Texans, and his struggles continued. His 53.7 overall grade over the past three years ranks 76th out of 81 tackles.
The Dolphins used one of their three first-round picks on USC's Austin Jackson, who has work to do to become a viable starter. Jackson has the footwork of a starting left tackle, but his hands need work in pass protection and he's below average in the run game. Right tackle Jesse Davis could be the lone returning starter, but he has yet to grade higher than last year's 58.9 overall mark that ranked 67th among tackles. On the interior, Ted Karras was signed in free agency to start at center after posting a solid 66.5 grade in his first year as a starter.
Ereck Flowers comes over from Washington, where he turned in a solid performance as a first-year guard in 2019, grading at 64.2 (33rd). Michael Deiter spent his rookie season at left guard last year and finished with the fifth-worst grade in the league (42.5). Dieter will be in the mix at right guard, but second-round pick Robert Hunt may be first in line for the job. Hunt is a powerful run blocker who will kick inside to guard after playing right tackle at Louisiana. His 87.1 overall grade ranked ninth in the draft class among tackles last season.
Fourth-round guard Solomon Kindley looks like a project, but he adds depth on the interior. A lot must go right for the Dolphins to rank above the bottom 10 lines in the league, but they've invested with veterans and youth — and the hope is that they're at least moving in the right direction in 2020.
DEFENSIVE LINE
Last season, the Dolphins had the lowest pass-rush grade among their edge rushers and interior defensive linemen (57.6). This offseason, they added Kyle Van Noy to the mix, a player who rejuvenated his career as a classic Patriots hybrid defensive end/outside linebacker. Van Noy set career-highs in pass-rush snaps (464), pressures (60) and pass-rush grade (72.1) last season while also dwarfing his career-best with an 83.7 grade against the run — the fourth-best mark among edge defenders. The Dolphins will insert him into a similar role, and they need him to replicate that production.
Miami also added Shaq Lawson, who set a career-high with a 68.7 pass-rush grade to go with 40 pressures last season. Lawson is more of a base defensive end who has done his best work in the run game throughout his career. Emmanuel Ogbah adds depth on the edge after he posted the best grade of his career, a 70.1 overall mark last season with the Kansas City Chiefs. Other hybrid pass rush/outside linebackers on the roster include Vince Biegel, who led the team with 34 pressures a year ago and Curtis Weaver, a fifth-round pick with first-round tape out of Boise State.
Inside, the Dolphins used their first-round pick on Christian Wilkins, who ranked seventh among rookie interior defensive linemen with a 64.4 overall grade. He carried over his college profile of being better against the run than he is rushing the passer, and he must improve his 58.6 pass-rush grade to justify the No. 13 overall selection. Davon Godchaux is also slated to start inside after three up-and-down seasons, and second-round pick Raekwon Davis should add yet another strong run defender into the mix as a rookie. The Dolphins have plenty of question marks remaining regarding their pass rush, though they've accumulated a strong group of run stoppers up front.
LINEBACKER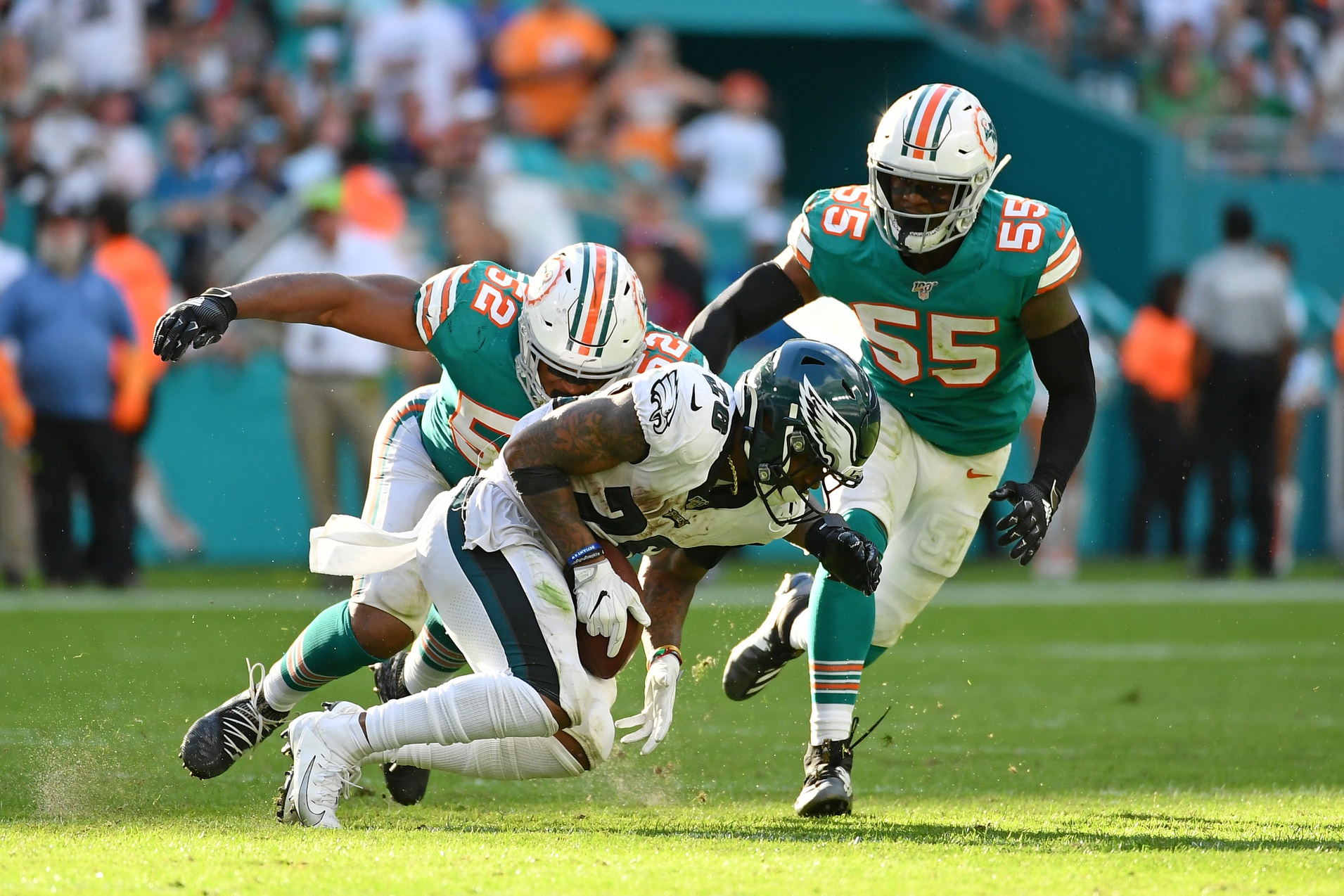 If there was a bright spot on Miami's defense last season, it was second-year linebacker Raekwon McMillan's performance against the run — where he produced an 11th-best 77.0 mark. McMillan is living up to his college projection as a strong run defender who had work to do in coverage, and that's still prevalent; his 43.4 coverage grade ranked just 86th at the position. Jerome Baker posted the fifth-worst run defense grade (39.1) in 2019, a huge step back from his 77.3 mark as a rookie in 2018. Baker also has room to provide in coverage, where he graded at 58.9. Miami desperately needs him to progress in that area, as he's supposed to be the chase-and-run athlete of the linebacking corps.
The Dolphins brought in former Patriot Elandon Roberts, who established himself as more of a run-stopping thumper in his four years in New England. Kamu Grugier-Hill adds depth, though he's played more special teams snaps (1,092) than defensive snaps (737) in his four-year career. The Dolphins' linebacking corps looks like a bottom-tier unit, but a strong year of progression from McMillan and Baker could change that in a hurry.
SECONDARY
Miami has invested heavily at cornerback, and the unit looks like one of the most well-rounded groups in the league. The Dolphins signed Byron Jones — the top free agent option — this offseason, and he has the size, movement skills and production to play the No. 1 role in their man-heavy scheme. He produced an 83.3 coverage grade over the past two years, the ninth-best mark in the league, and he's broken up 19.3% of his targets — good for sixth-best.
He'll pair with Xavien Howard, whose play tends to fluctuate between All-Pro level and low-end starter; he has a 69.9 coverage grade since 2017, good for 59th among corners. Howard has Richard Sherman-like games in which his size and ball skills look elite, but he also has posted coverage grades under 60.0 in 14 of his past 33 games. Miami used its third first-round pick on Noah Igbinoghene, an athletic corner with man coverage skills that fit in the slot. Igbinoghene has work to do to polish his game, as his 70.2 coverage grade last season doesn't scream "first-rounder," but he can mirror shifty receivers and fits well with what Miami wants to do defensively.
Cordrea Tankersley and Nik Needham round out the depth chart on the outside, though neither player has graded above 62.0 in a season in their respective short careers. The Dolphins have three starters who fit their scheme and respective roles, and the team's ceiling is high, as all three players have shown off the necessary skills to produce in the coming years.
At safety, the Dolphins have two former corners slotted to start in Bobby McCain and Eric Rowe, giving them plenty of flexibility when matching up against opposing offenses. McCain has one year of grading above 62.0 in his five years in Miami and played 446 snaps at free safety last year, where his 67.7 coverage grade ranked in the bottom third of the league.
Rowe played all over the field in 2019, including 445 snaps in the box, 226 in the slot and 254 on the outside. He finished with a 58.9 overall grade and eight penalties. Rowe did his best work when playing in the box, and that could be his best fit moving forward. Third-round pick Brandon Jones is also a player to watch. He works well around the line of scrimmage and has the size and physicality to match up with tight ends.
The Patriots' coaching tree loves to play matchups, and head coach Brian Flores is no different. Jones could be charged with a simple, yet difficult, task of covering opposing tight ends in man coverage as he acclimates to the NFL. The Dolphins don't have a great safety group on paper, but they've built a versatile unit that should increase its defensive flexibility.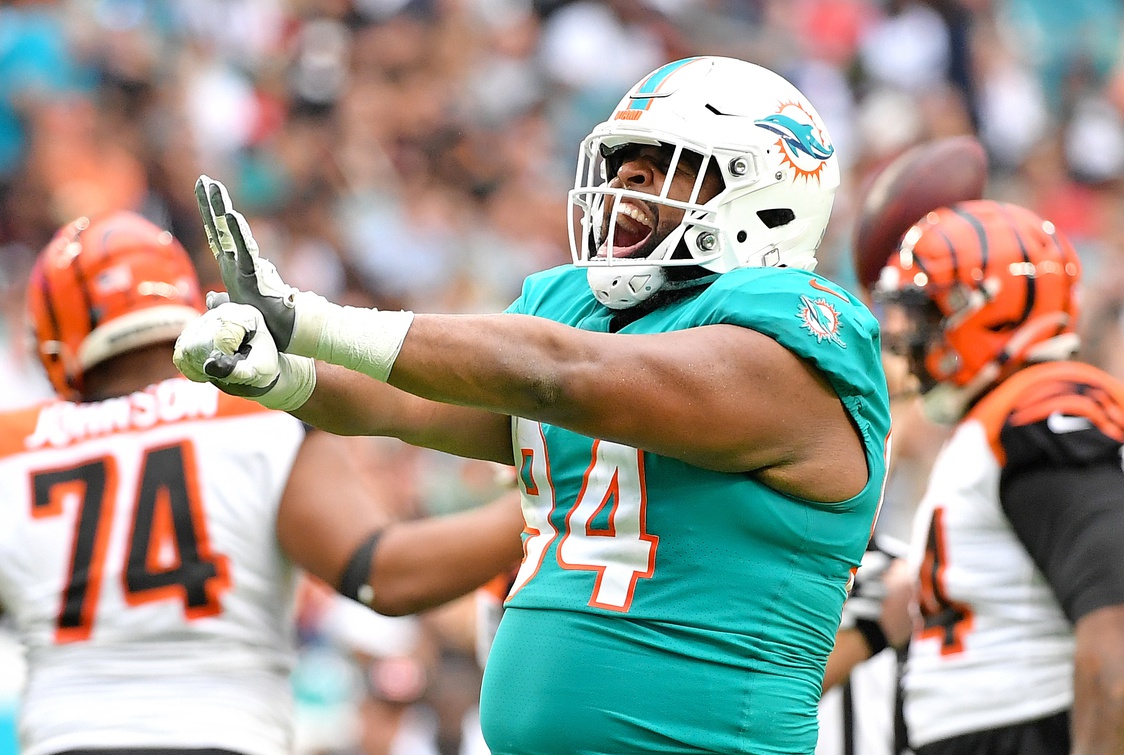 The Dolphins defensive line must do a better job of getting after the quarterback this season, and Wilkins' development is crucial given the lack of proven pass-rushers on the interior. Wilkins was a versatile run defender in college, as he lined up all over the defensive front, but he had only one strong year rushing the passer. He needs to take a leap forward this season to quell those concerns.
DRAFT CLASS REVIEW
The best thing the Dolphins did was sitting at No. 5 overall to take Tagovailoa, keeping their high-volume draft class intact. They filled needs in the draft, from offensive line to slot corner to interior run stopper, but some of those picks could have been used in other areas. Still, this class comes down to whether Tagovailoa is the future in Miami, and there's enough depth in the rest of the group tho make this a game-changer for the Dolphins.
BEST BET
One of the biggest questions associated with AFC East teams is what the Dolphins are going to do at the quarterback position. The expectation is that we see Tua Tagovailoa at some point in 2020, but when and to what extent Ryan Fitzpatrick relinquishes the starting quarterback role remains to be seen. Despite Tua being priced at better-than-expected odds to win offensive rookie of the year, it is no guarantee that he sees the field enough to cash this bet.
The talent exists throughout this team to make noise in what should be an underwhelming division. Current betting markets have an implied probability of 10.7% that the Dolphins come away with the AFC East. Their playoff chances are doubled by the betting market expectation, but our simulation still finds value on both bets. Our simulation sees the Dolphins squeezing into the playoffs on 36.7% of simulations, which is a worthwhile opportunity to take a shot at their current +410 odds.
Yes on the Dolphins to squeeze into the playoffs is a worthwhile bet at the current price given the makeup and potential of this team. It helps that they also play in what should be widely regarded as the worst division in the NFL.