Since losing in the 2016 Super Bowl, the Falcons have slowly declined, though there is still plenty of talent on the roster to compete in the NFC. They have had a knack for playing better than their record would indicate, but issues among the offensive line and secondary last season thwarted any attempt of getting back to the playoffs. The roster was strong for a few years, but the Falcons have recently been trying to stop the leaks in those key areas, and it's been difficult to keep up in a competitive NFC. However, the pieces are in place to make a playoff run. The offense can put points on the board — now, the back-seven must improve from its 24th-best coverage grade a year ago.
Subscribe to PFF's EDGE or ELITE subscriptions to get access to the following tools, charts, etc. 
– All Premium Article Content
– Fantasy Football Rankings & Projections
– Fantasy Football Draft Guide, Cheat Sheets & Advanced Stats
– Fantasy Football Mock Draft Tool (DraftMaster)
– Fantasy Football Strength of Schedule Matrix
– NFL Player Grades
– NFL Premium Stats
ADDITIONS/SUBTRACTIONS
Additions/players brought back:
EDGE Dante Fowler Jr. (signed for three years, $48 million)
TE Hayden Hurst (via trade)
DI Tyeler Davison (signed for three years, $12 million, $4.5 million guaranteed)
RB Todd Gurley (signed for one year)
EDGE Charles Harris (via trade)
Losses:
CB Desmond Trufant (cut)
RB Devonta Freeman (cut)
EDGE Vic Beasley Jr.
EDGE Adrian Clayborn
QUARTERBACK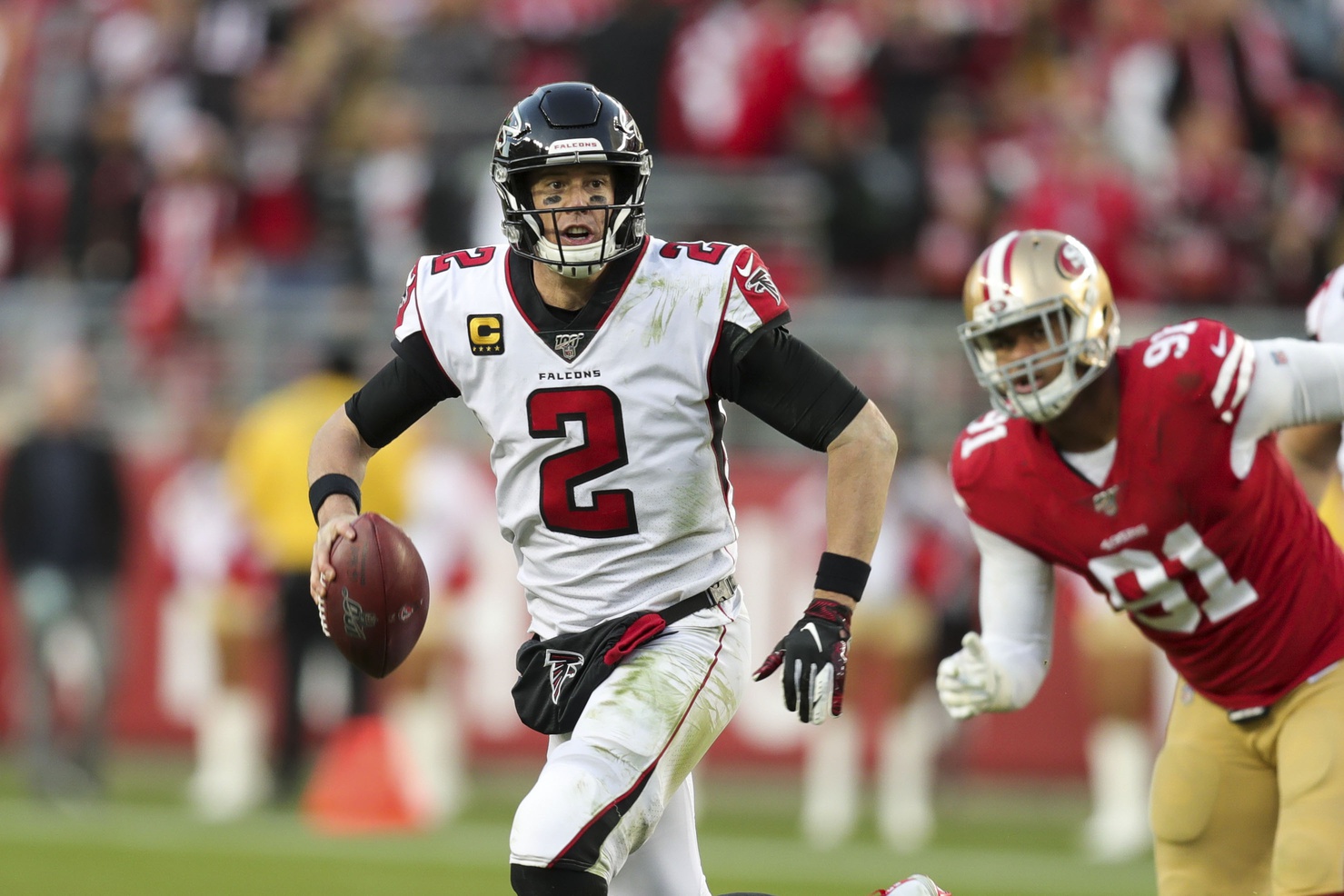 Here's what I said about Matt Ryan at the end of last season:
Ryan appeared primed for a big year with a favorable schedule and strong group of playmakers, but his offensive line struggled in pass protection, and he faced his highest pressure rate since 2013 — and that was also the last year that Ryan finished outside of the top 10 in PFF's quarterback rankings. Ryan finished with his lowest overall grade since 2009, as his season was marred by uncharacteristic poor decisions and a high number of avoidable sacks, even with the increased pressure rate. Despite all of that, Ryan was still one of the best passers from a clean pocket, and he hit open throws at a high rate — both good indicators that even the slightest improvement up front should bode well for next season.
It's always easy to overlook just how good Ryan has been throughout his career, but as last season showed, disastrous pass-blocking from an offensive line is difficult to overcome. Ryan faced plenty of pressure, but he was also a tick slow from a decision-making standpoint. He needs to get back on track to trusting his protection and his receivers. When he's on his game, Ryan is one of the league's best intermediate (10-19 yard) passers and generally takes good care of the ball. Ryan, who was still a capable passer from a clean pocket in 2019, could benefit massively from even a slight improvement in his offensive line's blocking in 2020.
RUNNING BACK
Devonta Freeman is moving on, and Todd Gurley II is moving in. The Falcons' coaching staff will be looking to reclaim the old Gurley, one of the league's best zone runners and a legitimate passing-game threat at his peak with the Rams. The former first-rounder has earned a 90.4 rushing grade on zone runs over the past three years, eighth-best among 145 qualifying running backs over that period. 
Freeman saw his production drop off in accordance with the Falcons' offensive line regression last season, and that's a familiar scene for Gurley, whose rushing production was directly tied to the quality of his run blocking during his time with the Rams. 
After Gurley, Brian Hill is next in line for carries, and he does a fine job of running through contact. He's averaged 3.0 yards after contact per rush in his three seasons in the NFL. Ito Smith is also in the mix after showing some elusiveness with 24 missed tackles forced on only 112 attempts, 17th-best in the league over the past two years.
WIDE RECEIVER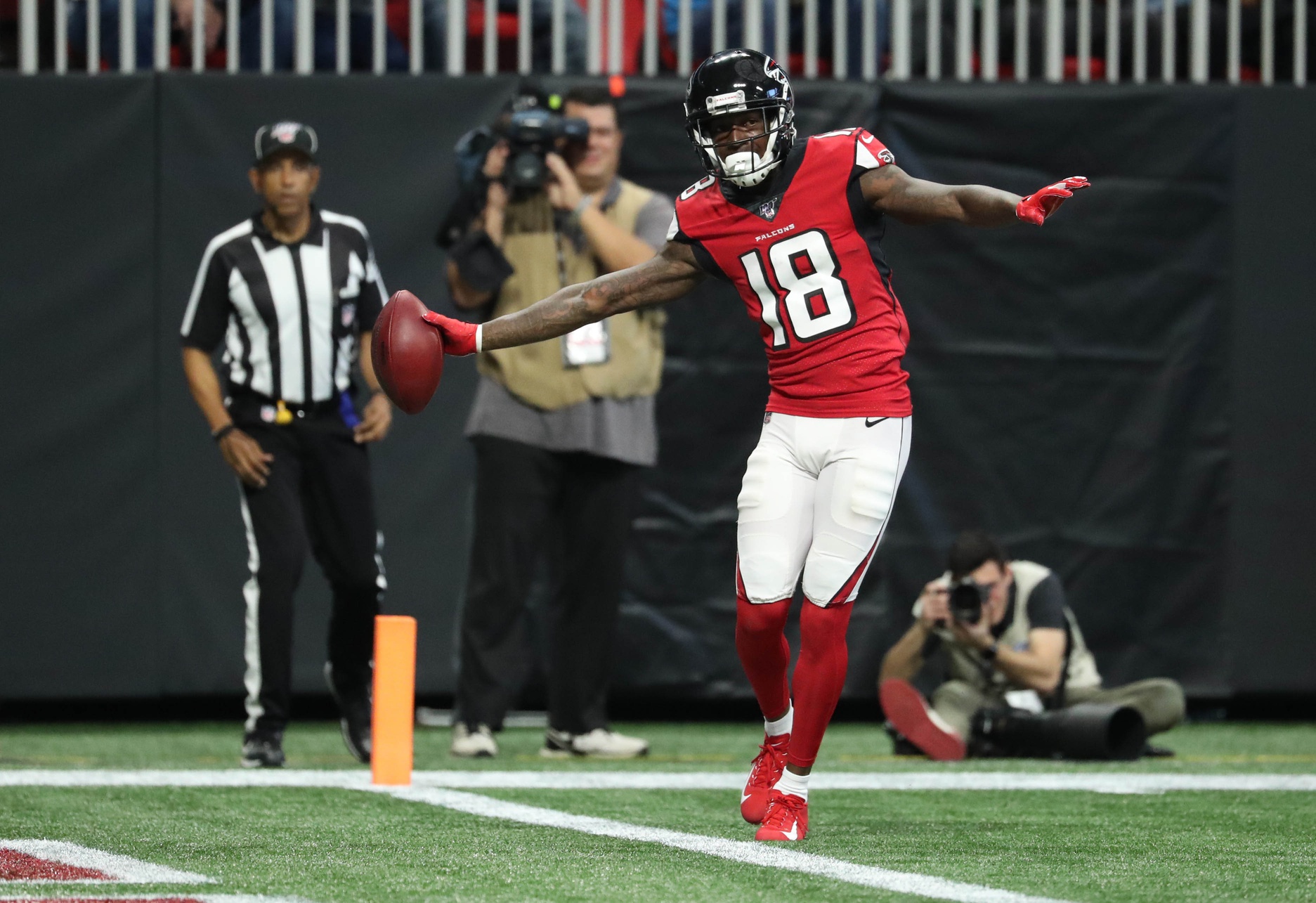 The Falcons are strong at receiver, starting with Julio Jones — the best all-around receiver in the league. He can win at all levels of the field, and his on-field production has been unmatched over the past decade. Jones has averaged 2.71 yards per route since entering the league in 2011, tops in the NFL in one of PFF's best measures of receiving production. Calvin Ridley is an excellent complement for Jones, as he manipulates opposing cornerbacks like a veteran, leading to a 120.8 passer rating when targeted in his first two years in the league.
Atlanta signed Laquon Treadwell to compete for the No. 3 role after he had a disappointing run in Minnesota. The former first-rounder does not separate well, and his 0.86 yards per route ranks 140th out of 144 qualifiers since he entered the league in 2016. He'll compete with third-year receiver Russell Gage, who caught 49 passes for 446 yards last season, good for a 66.4 receiving grade. Thanks to Jones and Ridley, this is one of the best groups of receivers in the league. However, the unit needs a No. 3 option to emerge if the Falcons are to match their output from previous seasons when players like Mohamed Sanu and Taylor Gabriel presented dependable options.
TIGHT END
Atlanta lost Austin Hooper to free agency, so there is some production to replace after he ranked third on the team with 787 receiving yards last season. Since 2016, Hooper gained over 75% of his yards on targets defined as holes in zones or underneath the defense (think drag routes, flat routes) — by far the highest percentage in the league. So, just the presence of the Falcons' outside threats should lead to good production in the middle once again.
Enter former first-rounder Hayden Hurst, who ranked right behind Hooper with a 79.3 receiving grade last season (though it came on 55 fewer targets). Hurst is a feisty after-the-catch runner who has dropped just one of the 48 catchable targets he's seen in his two NFL seasons.
There's not much depth behind Hurst, as Khari Lee, Jaeden Graham and Carson Meier have combined for just 15 career targets.
OFFENSIVE LINE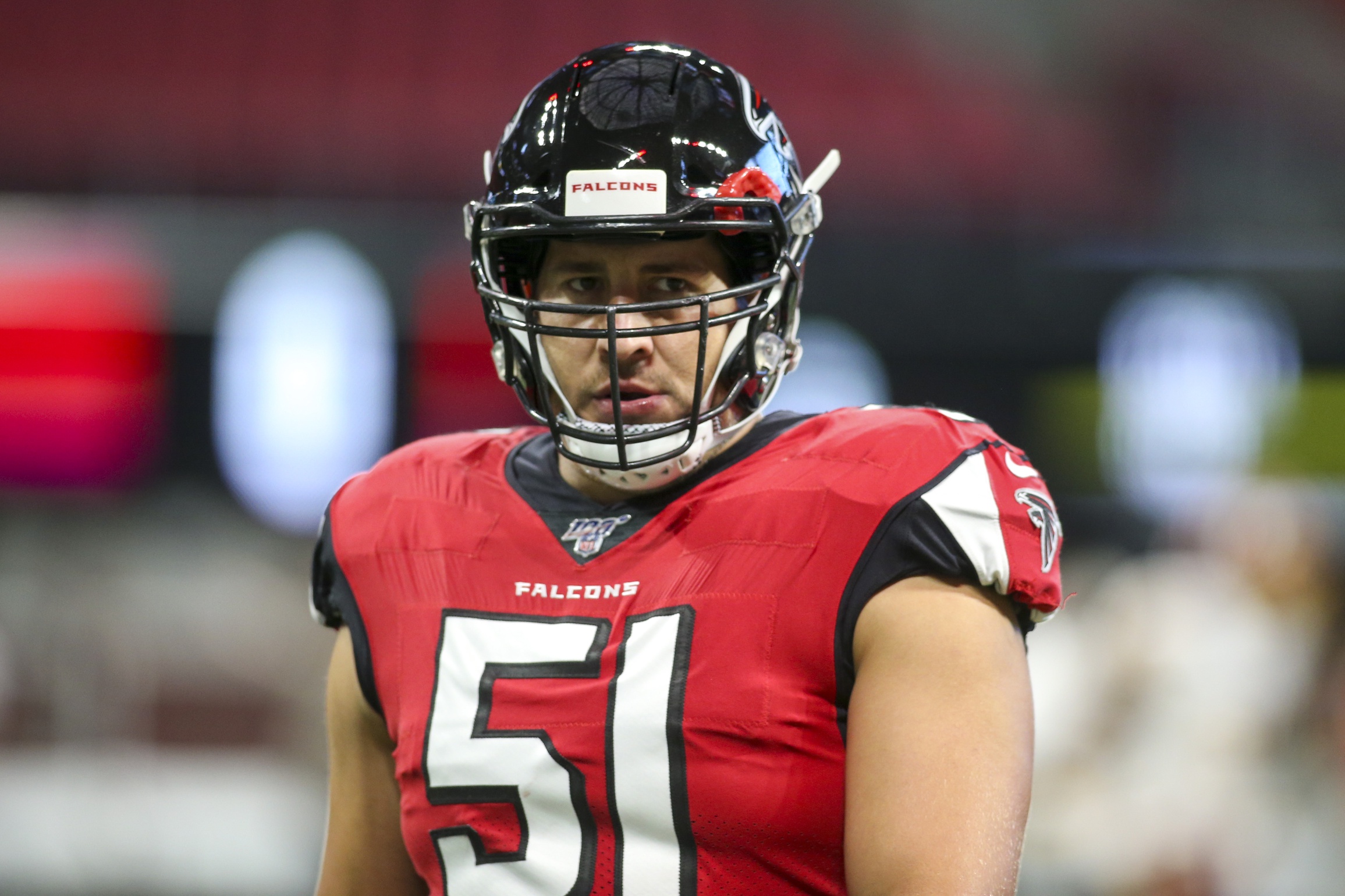 The story of the 2020 Falcons will start with the offensive line after they posted the worst pass-blocking (67.2) and run-blocking (58.2) grades of the Matt Ryan era.
After years as one of the most stable units in the league, Atlanta's offensive line has regressed, and they finished 24th in our final 2019 rankings. The good news is that Atlanta still has strong pillars up front in left tackle Jake Matthews and center Alex Mack, who are still two of the league's best at their respective positions. Matthews is one of the best zone blockers in the league (89th percentile over the last two years), while Mack has ranked second, fourth and ninth among centers over the last three seasons.
Questions abound beyond that, but there is hope. The Falcons invested two first-round picks in right guard Chris Lindstrom and right tackle Kaleb McGary in 2019, but Lindstrom saw the field for only 309 snaps and graded at 66.6 overall, while McGary struggled to a 53.0 overall grade that ranked 79th out of 89 qualifying tackles.
Offensive linemen often take time to develop, but the Falcons must start seeing the rewards from their steep investment. That leaves the left guard position, where James Carpenter is slated to start after a posting a 45.3 grade that was worse than all but seven guards last season. Keep an eye on third-round rookie center Matt Hennessy, who could compete for snaps after three strong years of grading at Temple.
Falcons Declining Offensive Line
| | | |
| --- | --- | --- |
| Year | Pass-Block Grade | Run-Block Grade |
| 2015 | 82.9 | 76.3 |
| 2016 | 82.2 | 87.7 |
| 2017 | 74.7 | 79.9 |
| 2018 | 78.4 | 70.6 |
| 2019 | 67.2 | 58.2 |
DEFENSIVE LINE
The Falcons have one of the best defensive linemen in the game in Grady Jarrett, but the issue is that they don't have much around him.
Jarrett earned an overall PFF grade above 90.0 last season, and he racked up 40 defensive stops as well as 46 total pressures, but the next closest PFF grade among Falcons linemen who played more than 100 snaps was 71.7. The player who earned that grade, Adrian Clayborn, is no longer on the roster.
Former first-round picks Vic Beasley Jr. and Takkarist McKinley have been disappointments, with Beasley now departed and McKinley likely on his last chance. However, the Falcons have added multiple former first-round picks to see if they can do any better.
Charles Harris comes over after three underwhelming seasons in Miami, while Dante Fowler Jr. was able to parlay a career year with the Rams into a chance in Atlanta. Fowler recorded 67 total pressures and 15 sacks playing alongside Aaron Donald, but his PFF pass-rushing grade was just 73.3 thanks largely to how much of a factor Donald was in those pressures; 33 of Fowler's pressures (49.3%) were either unblocked, clean-up or pursuit plays and not true "wins." And while Jarrett is an elite player in his own right, he is not Aaron Donald and likely won't give the same boost to Fowler's numbers.
The Falcons also selected Auburn's Marlon Davidson in the second round of the draft, a player who ranked 44th on PFF's Big Board. Davidson could provide a second pass-rushing threat inside, but he will be transitioning to that role and may take some time to develop.
Preseason Hall of Famer Steven Means won't have an opportunity ahead of the regular season this year to state his case for playing time, but he has an absurd 41 total pressures over his last three preseasons. With the competition for playing time fairly open, maybe he could finally earn some playing time in 2020.
LINEBACKER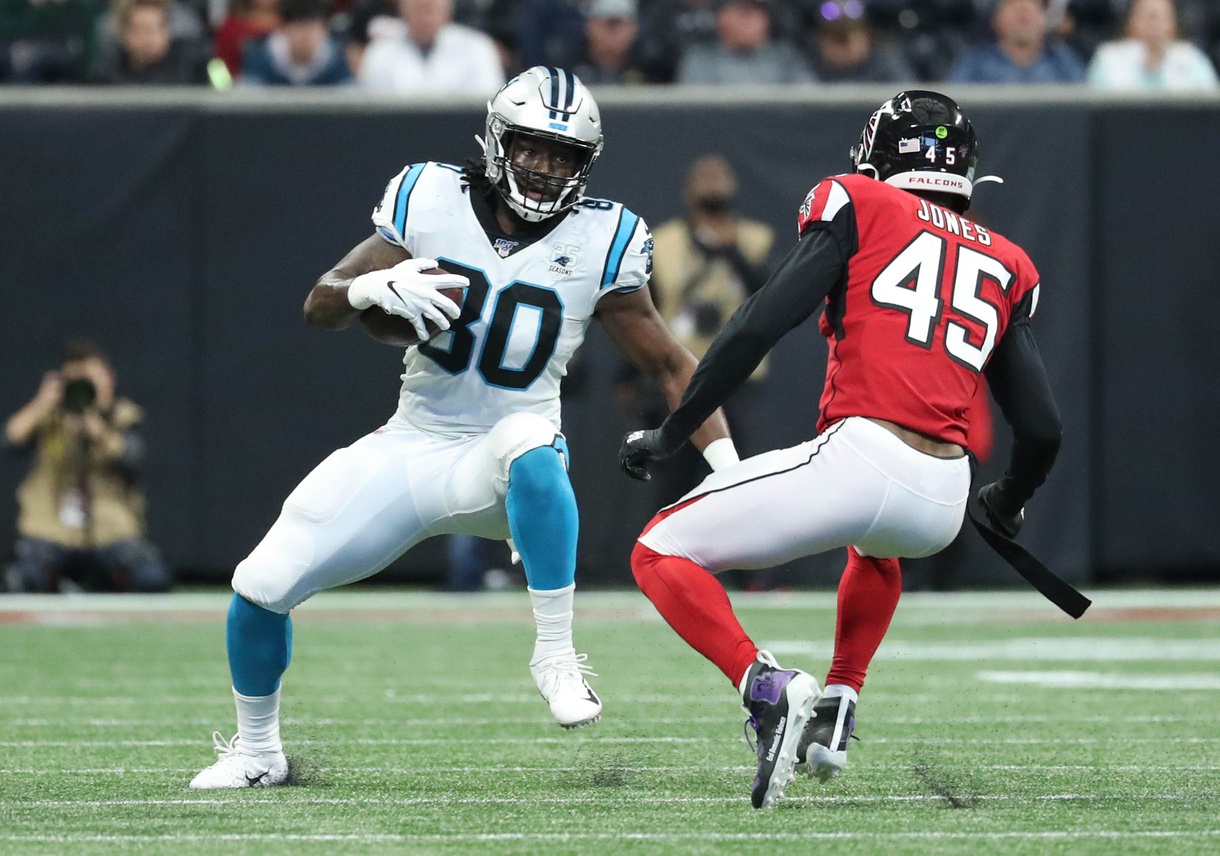 Over the past three years, Deion Jones is tied for the lead among linebackers with a 92.2 coverage grade, and we've seen how important he is to Atlanta's defense when he's missed time due to injury. Jones was incredible in 2017, finishing with a 91.7 coverage grade while consistently making plays on the ball in crunch time. In his four-year career, Jones has 24 pass breakups and 10 interceptions, though he has graded in the 60.0s in the run game in his three full seasons. Jones' ability to patrol the middle of the field is one of the catalysts for the Falcons' defense.
Next to him is 2018 sixth-rounder Foyesade Oluokun, who has graded in the 60.0s in each of his two NFL seasons. Oluokun is another undersized, athletic linebacker who ran a 4.48-second 40-yard dash and wipes out underneath routes in zone coverage. Deone Bucannon is also in the mix, though he has graded above 70.0 just once in his six-year career — and that was back in 2015. The former safety is on to his fourth team, and while he should add coverage versatility, it hasn't shown up in the form of production since 2016.
The Falcons also drafted Mykal Walker out of Fresno State in the fourth round of the 2020 NFL Draft. Walker was more of an edge/linebacker tweener with the Bulldogs. If Oluokun holds up for the entire season, his pairing with Jones should help move the Falcons forward as a defense after a rough 2019.
SECONDARY
Longtime starter Desmond Trufant left for Detroit, but the Falcons replaced him with first-round rookie A.J. Terrell out of Clemson. Terrell was the No. 5 corner on PFF's Big Board, but he has the ability to play at a very high level in the NFL. He had a tough time in the 2020 National Championship against LSU, but he was in close coverage for a lot of that. He was also exceptional in the 2019 National Championship Game.
Terrell likely starts from Day 1, which is always a tough ask, but the pressure is also on Isaiah Oliver on the other side. Oliver was solid as a rookie, but Year 2 saw him take a major step backward; his overall PFF grade slipped from 70.0 to 56.8, and his coverage grade fell from 69.6 to 54.5. All told, he has allowed 65.5% of the passes thrown into his coverage to be caught since he entered the league.
Keanu Neal played just 166 snaps last season, and his return should make a huge difference to the defense, leaving Damontae Kazee and Ricardo Allen to battle it out for the other starting spot. Both players were average last season, but Kazee tended to have the splash plays on tape, even if Allen actually had six pass breakups to Kazee's zero.
Kendall Sheffield was the team's slot corner last season and likely remains there in 2020, but he struggled in that role as a rookie, allowing a passer rating of over 100 and earning a PFF grade in the 40.0s.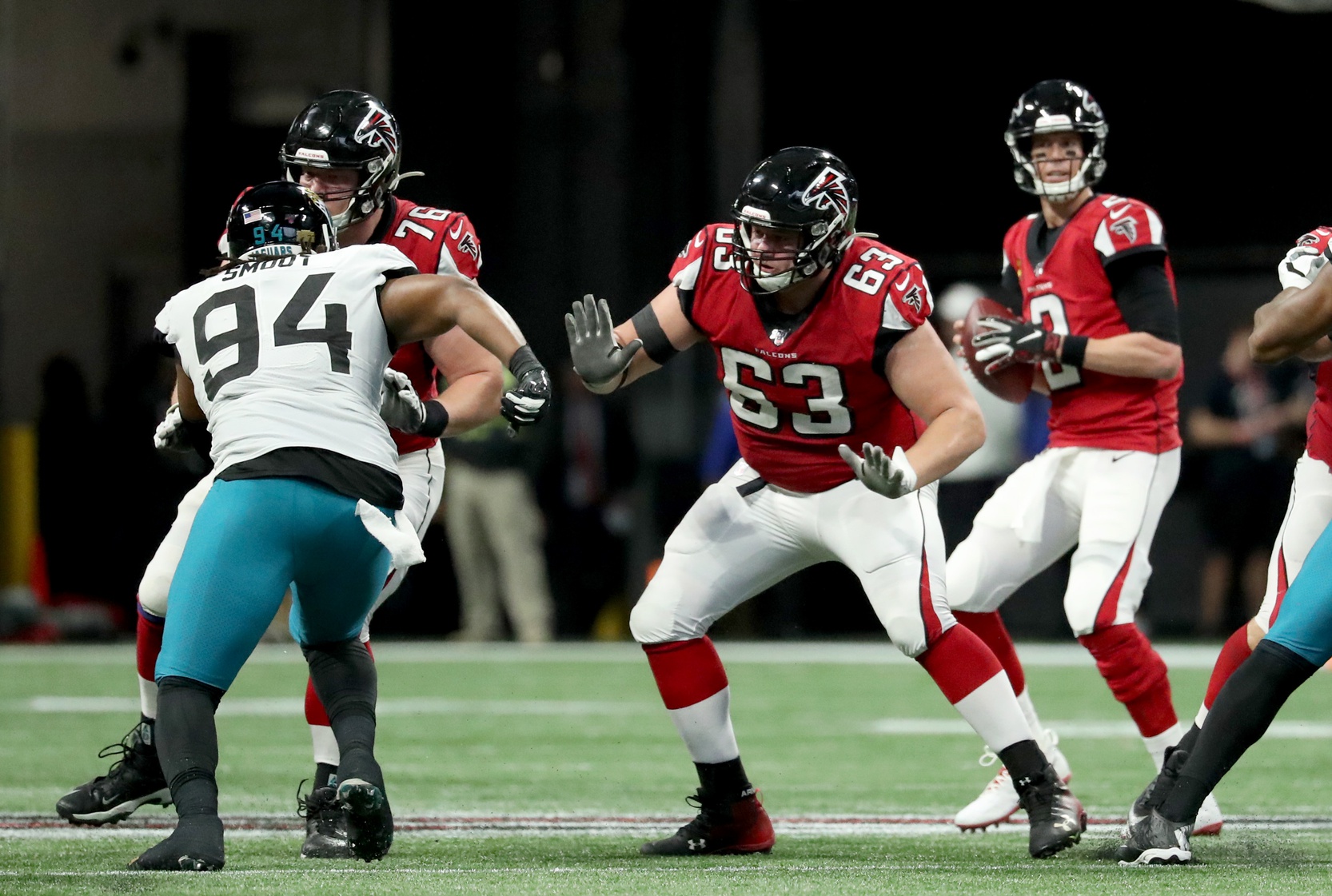 The Falcons must get a better performance out of their offensive line this season, and that starts with McGary taking a step forward in Year 2. Only two tackles gave up more than the 49 pressures McGary surrendered last season, including a league-high 13 sacks. He wasn't much better in the run game, producing a 53.9 grade in that department. McGary looked like a mid-round developmental prospect coming out of Washington, where he graded in the high-70.0s in each of his last two years. He improved throughout his college career, and Atlanta needs similar growth in order to get their line back on track.
DRAFT CLASS REVIEW
With only six picks, the Falcons kicked off the 2020 NFL Draft by addressing their most glaring need with cornerback A.J. Terrell, who has had his ups and downs but has all the skills to be a solid starter. Second-rounder Marlon Davidson is an interior pass-rusher who played on the edge in college, and he may just need some time to develop on the inside. Third-round center Matt Hennessey is a good depth play with starting potential down the road. This draft could have been better, as there were arguably superior players on the board than the ones picked, but it looks like a solid haul for the Falcons. 
BEST BET
The Falcons have seen their win total continue to drop throughout the offseason and now sit between the Bears and Cardinals at the 11th-most likely odds to win the NFC. Matt Ryan is receiving little respect, as the Falcons' implied probability to make the playoffs is 30.8%. Our simulation sees some value in that line, increasing the Falcons' chances by almost seven percentage points. The problem comes in their strength of schedule, which is by far the most difficult in the NFL. It may take an MVP-level season from Matt Ryan to overcome the obstacles stacked before the Falcons in 2020. Given the current price, it appears to be a bet worth making.