After reaching the Super Bowl in 2018, the Rams disappointed in 2019 as their explosive offense came back down to earth. The offensive line was a revolving door of disaster, and they enter 2020 with a roster that's missing some of the 2018 splash names on both sides of the ball. Maintaining roster health is difficult with so few first-round picks, and the Rams haven't had one since 2016. That said, the Rams still have a difficult group of playmakers to cover, a solid quarterback in Jared Goff, and a secondary that ranks among the league's best.
Don't sleep on the Rams bouncing back this season — however, they must play better up front along the offensive line.
Subscribe to PFF's EDGE or ELITE subscriptions to get access to the following tools, charts, etc. 
– All Premium Article Content
– Fantasy Football Rankings & Projections
– Fantasy Football Draft Guide, Cheat Sheets & Advanced Stats
– Fantasy Football Mock Draft Tool (DraftMaster)
– Fantasy Football Strength of Schedule Matrix
– NFL Player Grades
– NFL Premium Stats
ADDITIONS/SUBTRACTIONS
Additions/players brought back:
C Austin Blythe (re-signed)
T Andrew Whitworth (re-signed for three years, $30 million, $12.5 million guaranteed)
DI A'Shawn Robinson (signed for two years, $17 million)
EDGE Leonard Floyd (signed for one year, $10 million guaranteed)
Losses:
EDGE Dante Fowler Jr.
RB Todd Gurley (cut)
QUARTERBACK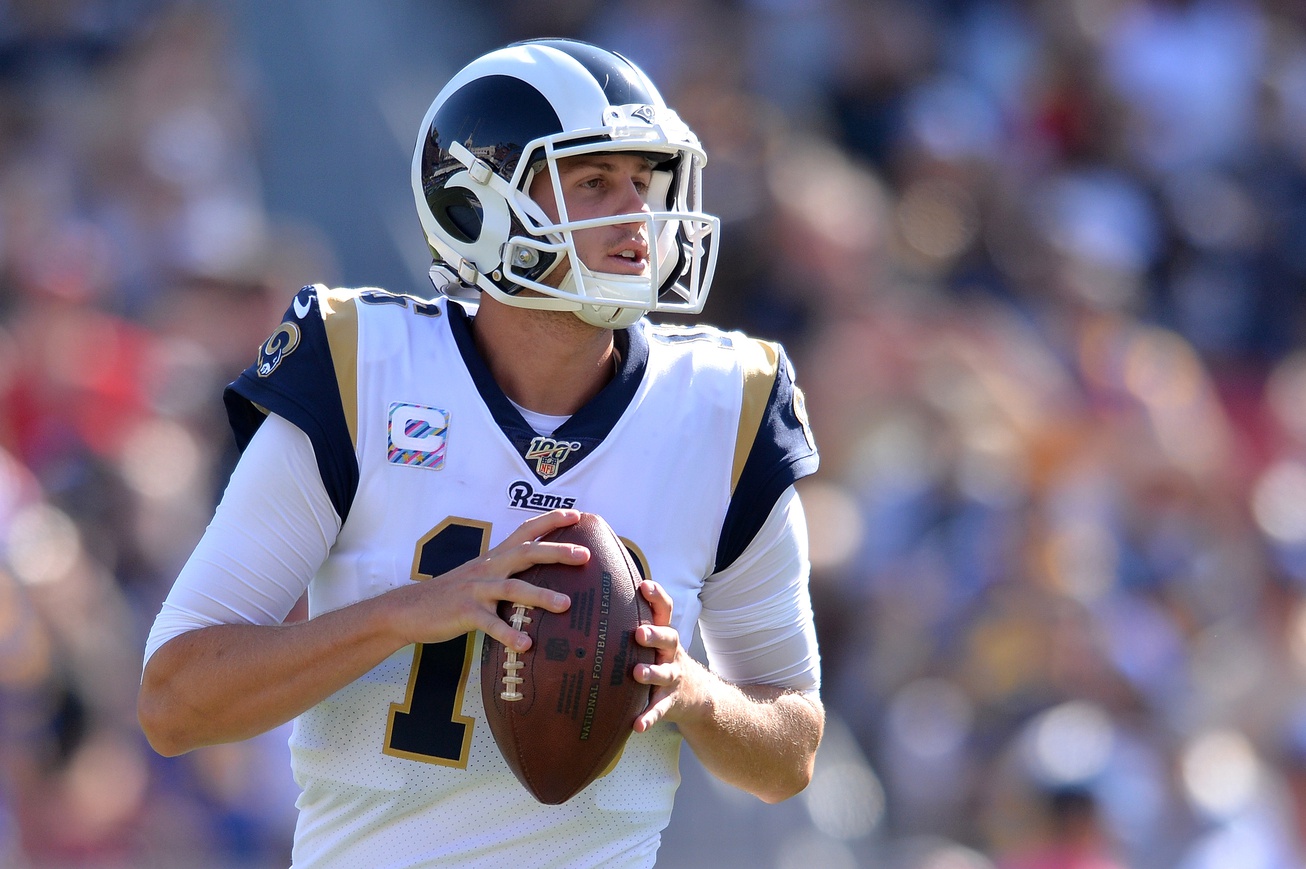 Here's what I said about Jared Goff after the 2019 season:
After three straight years of continued development, Goff took a step back in 2019 to rank among the middle tier of quarterbacks, which coincided with his offensive line's regression in pass protection. He left too many throws on the table, missing a higher percentage than he did in 2018 while ranking in the bottom half at avoiding turnover-worthy plays. The scheme plays also took a hit, as Goff saw the third-largest decrease in positively graded throws, all leading to his uneven season that only really got going in spurts and featured six games with PFF grades of 60.0 or below. As he heads into Year 5, it's fair to place Goff among the middle class of the league's signal-callers, a group that is capable of high-end seasons with good play-calling and a strong supporting cast, but also capable of nondescript seasons like Goff had in 2019.
Goff critics will point to last season as his regression back down to earth, but the reality is that he has played like a mid-tier quarterback whose production has been dependent on his ecosystem. The Rams' scheme was fantastic in 2017 and 2018, as was the receiving talent, and Goff's numbers reflected those truths. Last year, the scheme hit a lull and the offensive line was a disaster, leaving Goff with his worst performance since his rookie season in 2016. We've seen Goff make a high percentage of big-time throws while efficiently attacking the intermediate level, and he's primed to bounce back as long as the offensive line returns to form and a third wide receiver emerges as a vertical threat.
RUNNING BACK
With Todd Gurley II out of the mix, the big question is who will take on the bulk of the work in the Rams' backfield.
The team drafted Cam Akers in the second round after he had a productive career at Florida State despite poor run blocking. Akers gained just 1.16 yards before contact per rush in his college career, the lowest number of any NFL-caliber runner since 2014. He also forced a solid 0.25 missed tackles per attempt, so he could produce right away if the offensive line gets straightened out. Akers will compete with Malcolm Brown, who graded at 64.4 overall last season while forcing 13 missed tackles on 69 carries. He's been a viable backup option during his five years with the Rams.
The wild card is 2019 third-rounder Darrell Henderson, who carried the ball only 39 times at 3.8 yards per carry last season, but he looked like an explosive threat and a good scheme fit coming out of Memphis. If he can take a step forward, it forms a solid one-two punch with Akers. Until then, the Rams enter the season with as many question marks as any running back unit in the league, though there's plenty of potential to create new stars if the offensive system gets back on track.
WIDE RECEIVER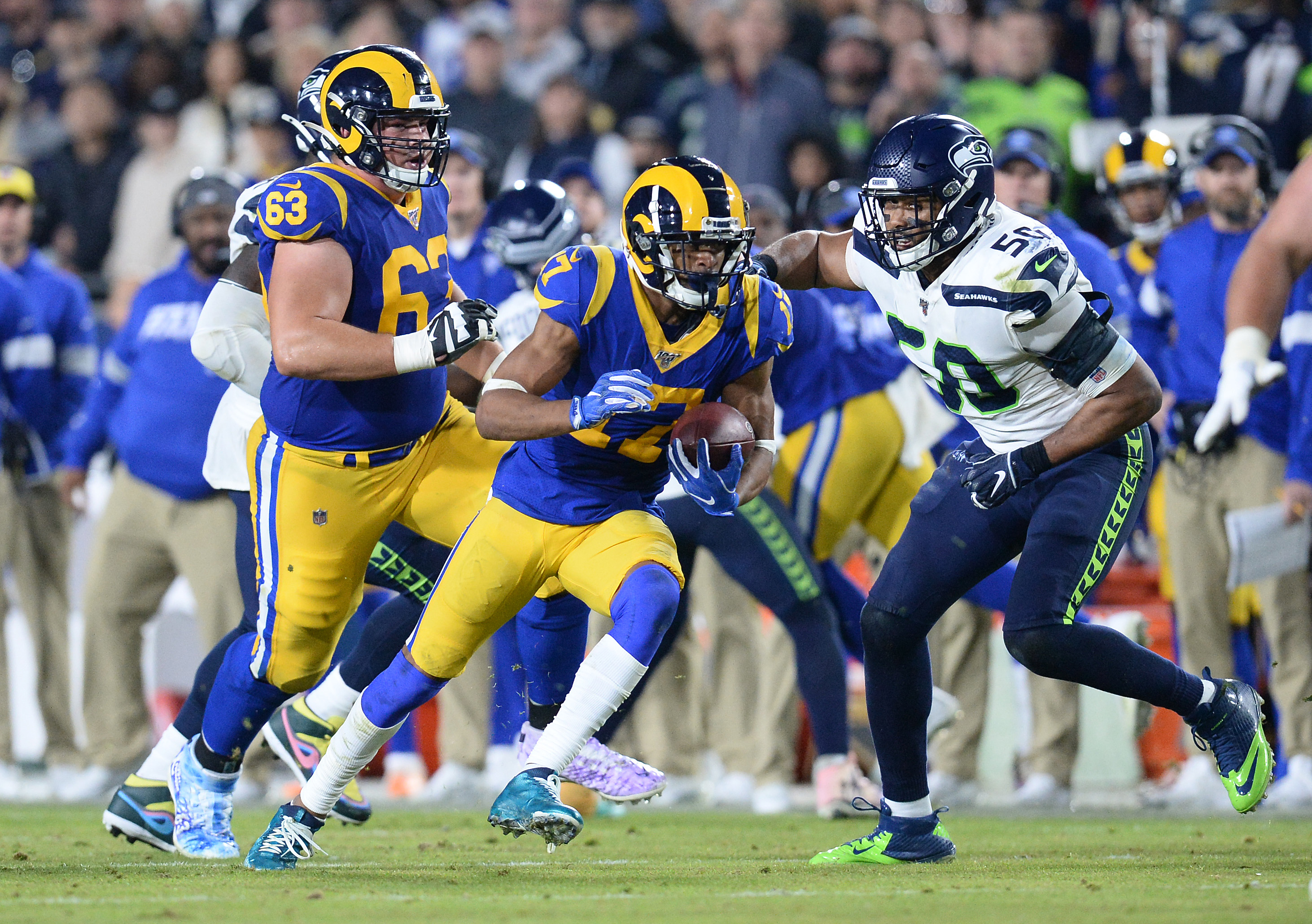 The Rams have had one of the most efficient receiving groups in the league over the past few years, and they tied for the sixth-best receiving grade (78.9) last season.
Robert Woods has progressed to become one of the best receivers in the league since joining the Rams in 2017 — his 80.4 receiving grade ranked 14th last season. Woods has been "open" on 67.0% of his single-coverage targets since 2017, fifth-best in the NFL during that time. Right behind him in that department is Cooper Kupp, who has been open on 65.2% of his targets (sixth-best in the NFL), and he has posted a receiving grade of at least 76.0 in all three seasons.
Having two of the league's best route-runners has elevated the Rams' offense during the Sean McVay era, though downfield speed is a question mark with Brandin Cooks being traded to the Texans. Second-rounder Van Jefferson will compete for that role, and he has the speed to get down the field, though he must improve his ability to deal with contact. Josh Reynolds is also in the mix — he's been a solid No. 4 option over the past two years, posting receiving grades of 65.6 and 66.5. While Woods and Kupp are strong at the top of the depth chart, replacing Cooks will be difficult, as he contributed over 1,200 yards during the 2018 Super Bowl year. This offense works best when it can threaten defenses down the field.
TIGHT END
The tight ends became a huge part of the Rams' passing attack last season, finishing with 1,168 receiving yards, fifth-most of any tight end group in the league.
Tyler Higbee broke out to produce the third-best receiving grade among tight ends (90.1) while catching over 80% of his targets and averaging 5.8 yards after the catch per reception. Gerald Everett finished with the ninth-best receiving grade (78.9), making the duo the only teammates to rank within the top 10. Everett is also one of the most elusive tight ends in the league, as he forced 13 missed tackles on just 37 receptions last season.
Johnny Mundt played 170 snaps for the Rams, as well, doing his best work in the run game where his 72.4 grade ranked seventh among tight ends. The Rams also added Brycen Hopkins to the mix this offseason, and the fourth-rounder adds even more speed to the unit — he was the best vertical tight end threat in the 2020 NFL Draft, and he ran a 4.66 at the scouting combine.
Hopkins is more of a big slot receiver with "move" tight end potential, but he adds a nice depth and is more of a long-term play. The Rams have one of the best pass-catching tight end units in the league, and they may be called upon even more given the team's uncertainty at the outside wide receiver position.
OFFENSIVE LINE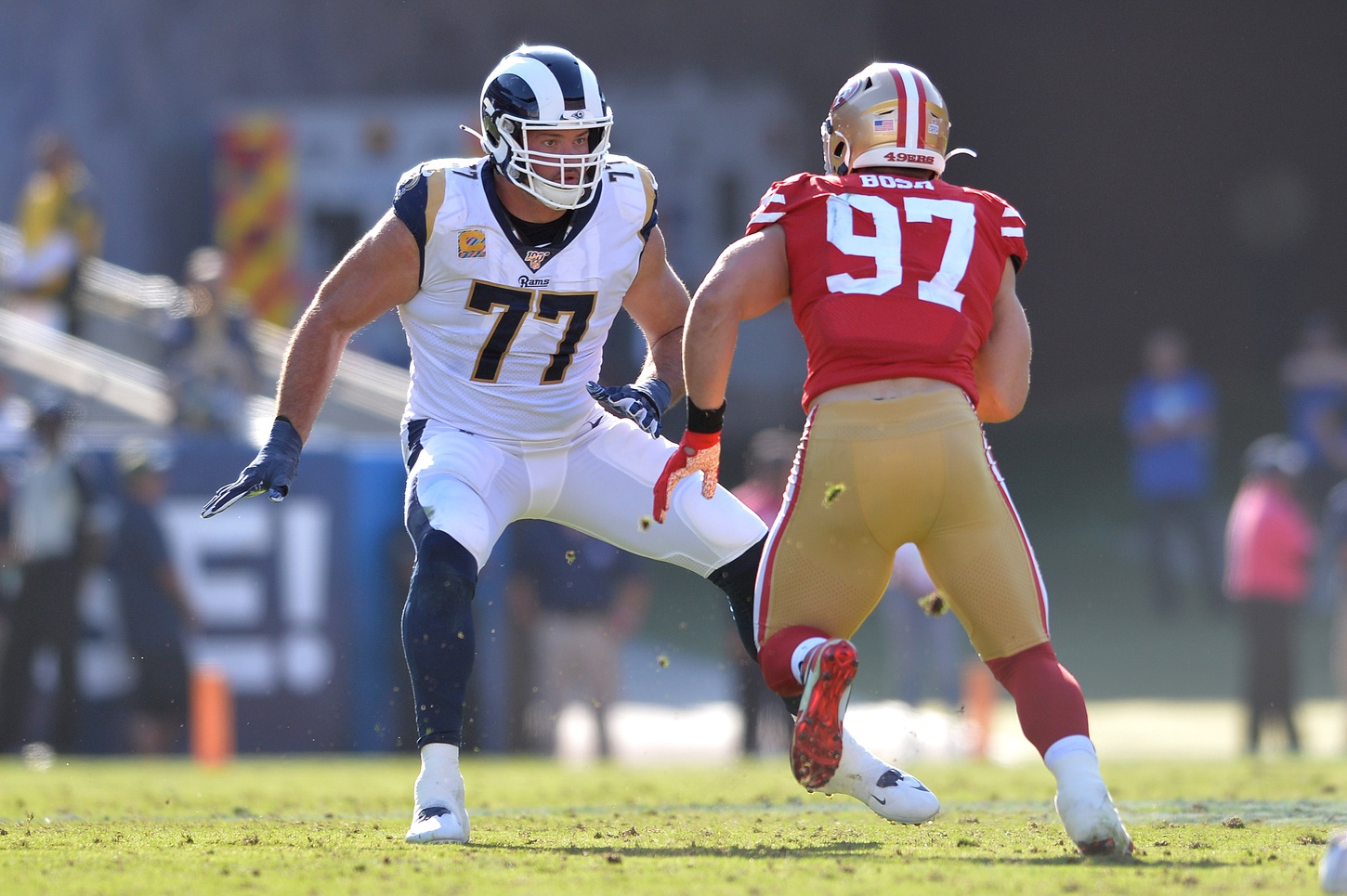 No offensive line took as big of a step back as the Rams, a team that dropped from one of the league's best to 31st during the 2019 regular season. They had eight linemen pass protect at least 250 times and only left tackle Andrew Whitworth put up a pass-blocking grade better than 61.6. Whitworth took a step back overall, grading at 72.8, his lowest since 2008. He remains as one of the better tackles in the league, and he's been fantastic since joining the Rams, but he'll turn 39 years old during the season.
At right tackle, Rob Havenstein's regression remains a mystery. He had four solid seasons under his belt, including an 83.6 overall grade that ranked seventh among tackles in 2018. Last season, however, he posted a 50.9 grade that ranked 81st out of 89 qualifiers. If the Rams are going to get back on track, it must start with Havenstein.
The interior of the line saw huge turnover last season as left guard Rodger Saffold and center John Sullivan needed to be replaced, but the youth movement has gotten off to a slow start. At left guard, Austin Corbett and Joseph Noteboom both saw significant snaps, with Corbett posting the better grade at 51.8, good for 71st among guards. Right guard Austin Blythe saw his grade drop from 73.4 (12th) to 50.3 (76th) last season, so much like Havenstein, a return to form is crucial for the Rams.
Center Brian Allen finished 26th among centers with a 58.6 grade, and his biggest issue was pass protection, where his 45.4 grade ranked 33rd out of 35 qualifiers. David Edwards should also be in the mix for playing time after posting a 61.0 grade on 689 snaps as a rookie while fellow 2019 draft pick Bobby Evans remains a developmental option after a 49.4 grade on 479 snaps at right tackle last season.
Development is the key word for the Rams, as they're running it back with last year's 31st-ranked unit, but with five players all within their first three years in the league, Los Angeles is expecting improvement from at least a few of them.
DEFENSIVE LINE
The Rams don't just have the best defensive lineman in the NFL in Aaron Donald, but they have arguably the best player in the NFL, period. By any measure, Donald is by far the best pass-rusher in football, owning the best pressure rate, pass-rush win rate and PFF grade of any player at any position over more or less any period of time since he entered the league. He had 80 total pressures in 2019 after posting a league-leading 106 in 2018. The team's problem has been assembling a supporting cast capable of helping Donald maximize his impact.
Last season, Dante Fowler Jr. was at least capable of cleaning up the havoc Donald caused inside, but with Fowler now in Atlanta, somebody else needs to step up. Samson Ebukam has been a solid run defender and an average pass-rusher, and he could be pushed for playing time by Ogbonnia Okoronkwo, who is entering Year 3 after barely playing but flashing rush ability when he has.
Inside, the Rams retained Michael Brockers after it looked like he was headed elsewhere in free agency — but only after they signed A'Shawn Robinson from the Lions, which feels a little redundant. Both players are run-focused nose tackles without the pass-rushing versatility to play alongside each other.
Greg Gaines adds to the run-stuffing expertise along the Rams' line, while Sebastian Joseph-Day saw almost 500 snaps last season and graded solidly across the board. Third-round rookie Terrell Lewis should have a good chance to start on the edge, but his PFF grade never matched the enticing physical tools he flashed in his lone season starting at Alabama.
LINEBACKER
With Cory Littleton moving on in free agency, the Rams have a big hole to fill in the back seven. Littleton has earned the fifth-best coverage grade over the last three years, and there's no immediate replacement on the roster to fill that role.
While he played on the edge in his time in Chicago, Leonard Floyd could take some snaps at linebacker. Floyd hasn't topped a 61.4 pass-rush grade over the last three years, but he's been solid against the run and in coverage over his four-year career. So, look for some creativity when it comes to Floyd's role with the team.
The rest of the unit is wide open, starting with a pair of 2018 draft picks in Micah Kiser and Travin Howard. Kiser has just one snap to his name, while Howard saw the field for 102 snaps last year, grading at 60.7 overall.
Kenny Young has graded in the 50s across 480 snaps with the Ravens. Troy Reeder returns after a rough 28.6 grade as a rookie on his 298 snaps. The Rams also add former seventh-rounder Clay Johnston, who was off to a great start with an 83.1 grade and five pass breakups through six games before a knee injury ended his season.
If Floyd really gets grouped with the edge rushers, there is not a more inexperienced linebacking corps in the NFL.
SECONDARY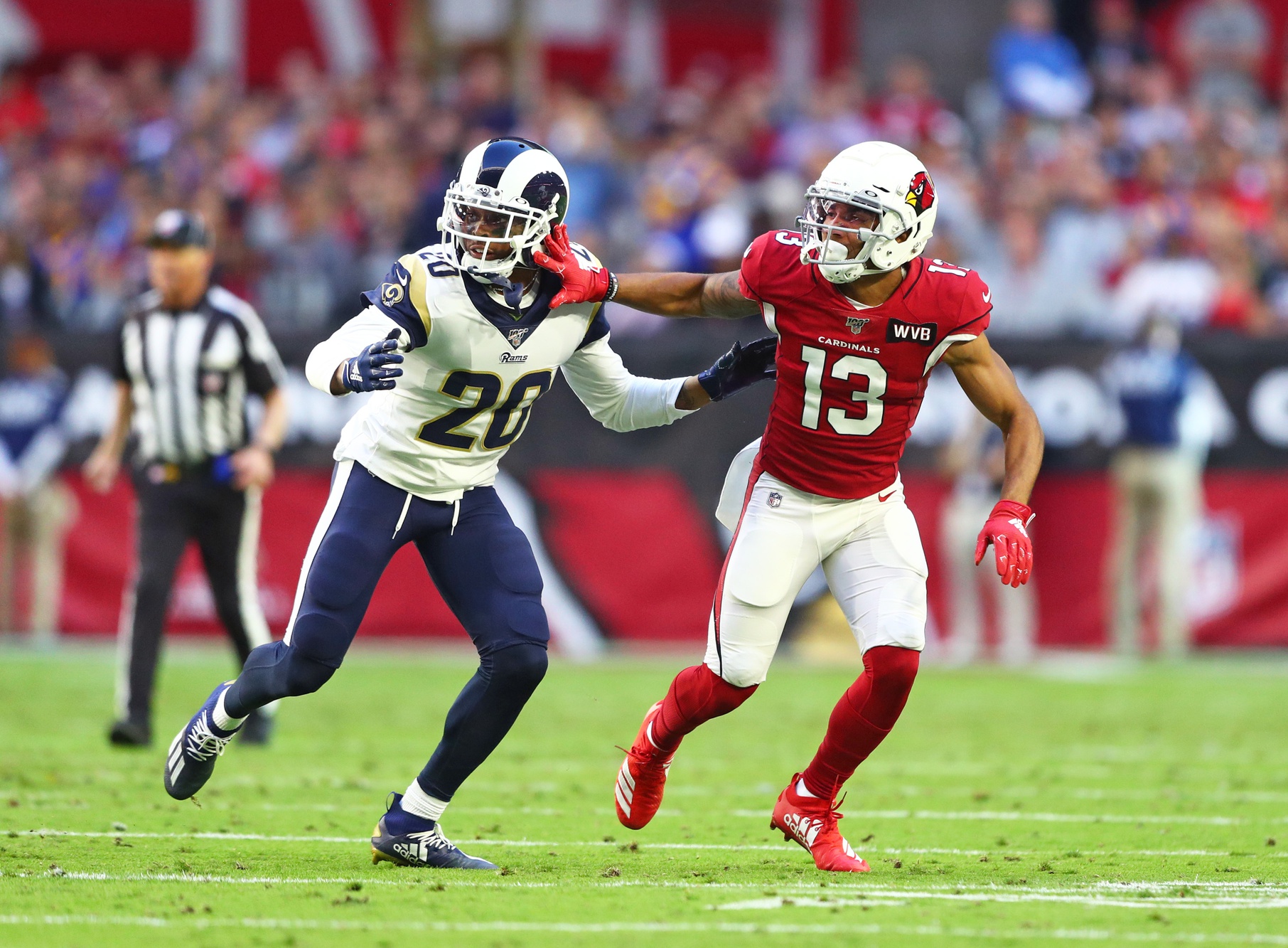 The Rams return the same starting duo at cornerback from last season, with Jalen Ramsey the clear star of the group and Troy Hill proving to be a capable foil as a No. 2 corner who is mostly tasked with covering the opponent's No. 2 wideout.
Hill earned a 76.4 overall PFF grade last season and allowed just 45.1% of the passes into his coverage to be caught by the intended receiver. Ramsey, on the other hand, hasn't hit the heights of 2017 since that season, but his time with the Rams saw him hit his stride late in the year, as he surrendered more than 12 yards just once after Week 11.
Eric Weddle's retirement opens the door for Taylor Rapp to retain his starting spot in Year 2, with John Johnson III also returning to the lineup. After two really impressive seasons, Johnson was not enjoying a good start to last year before a shoulder injury ended his season. Third-round pick Terrell Burgess lurks behind that pair on the depth chart, waiting to push for playing time, so the team's only major question mark will be hovering over who covers the slot after Nickell Robey-Coleman left the team this offseason.
Darious Williams played very well across just 221 snaps last year, snagging a pair of interceptions and two pass breakups on just 16 targets, and he has the kind of size that typically occupies the slot (5-foot-9, 187 pounds). Dont'e Deayon has similar credentials, though, and could also be an option. David Long Jr. was another of the team's young corners pressed into action last season. But while Long performed well across a small sample size, he is a bigger corner who would seem a less ideal fit inside.
The Rams' season may hinge on the offensive line bouncing back to form, and Corbett must improve both in the run game and in pass protection. He has the skill set to produce in the Rams' system, but play strength looked like an issue last season, and that's part of the reason offensive linemen tend to develop later than other positions. Corbett was solid in pass protection while playing tackle at Nevada, and it's another area we should see him improve in, especially given his transition inside to guard. Corbett is one of a few offensive linemen the Rams are counting on to develop up front.
DRAFT CLASS REVIEW
With the Rams' first pick being sent to the Jaguars in the Jalen Ramsey deal, all eyes were on their two second-round picks. Kicking it off with a running back is never encouraged, although Cam Akers has an opportunity to produce right away for the Rams. Wideout Van Jefferson adds a vertical component, but we had him lower on the PFF draft board, as he's 24 with average production. Third-round safety Terrell Burgess is one of our favorite picks, as he has slot corner potential and is rarely out of position on the field. Tight end Brycen Hopkins is another vertical threat who could contribute down the line. Overall, the Rams found contributors, but there are question marks at the top.
Best Bet
The Rams have seen some of the biggest line movements throughout this offseason, with bettors seemingly losing confidence in their ability to win the NFC West. Their win total sits at 8.5 but is shaded heavily to the downside, as they have short odds to finish both third and fourth in their division. This is another situation where the line has been bet into submission with our simulation after being overpriced to start the offseason. Any value that once existed in Rams futures is now gone. Betting against the Rams in Week 1 is the only worthwhile play based on our projections for their home matchup with Dallas.