Hello, and welcome to the 2019 fantasy football season's first installment of XFP – the Expected Fantasy Points Report. If you're unfamiliar with expected fantasy points, I offered up an in-depth explanation this offseason.
Every week we'll be using a 12-season sample of play-by-play data to calculate expected fantasy points from a player's seasonal or weekly usage. We look at each target (by distance from the end zone and depth of target) and each carry (by distance from the end zone and down and distance) and add this up to determine how valuable a player's role was for fantasy. We can contrast this with fantasy production to measure efficiency.
In layman's terms, expected fantasy points measures the exact worth of a player's volume – "how many points a player should have scored" given his workload, based on what the average player would have scored.
After one week of action, here are the top-25 players in expected fantasy points per game: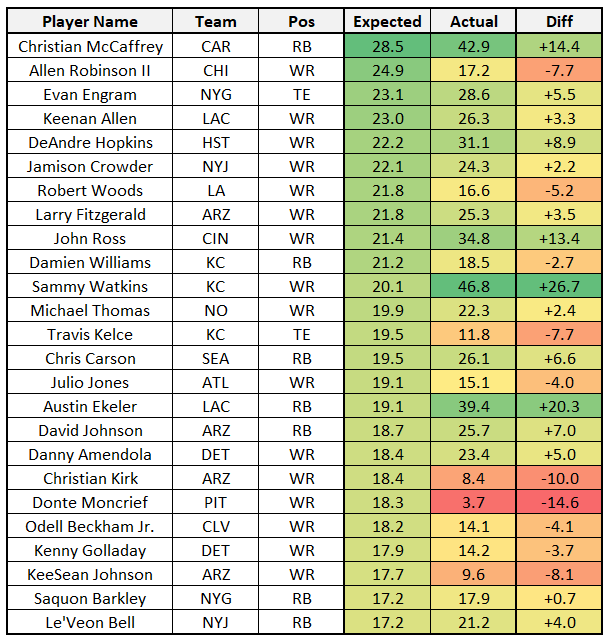 (Expected: 28.5, Actual: 42.9, Differential: +14.4)
In Week 1, McCaffrey led all players in both expected (28.5) and actual fantasy points (42.9). He played on 100% of the team's snaps, drawing 16 carries and 11 targets. Excluding a meaningless Week 17 game where he played on just 10 snaps (instead of his typical 63.7), he averages 24.2 expected and 31.9 actual fantasy points per game over his last nine games. Both numbers lead the league by a wide margin, and only three running backs have ever averaged more than 27.5 fantasy points per game in a single season (Marshall Faulk, LaDanian Tomlinson, and Priest Holmes). No hyperbole, that's within his range of outcomes this year. If drafting over again, he'd be my first pick in every single league.
(Expected: 24.9, Actual: 17.2, Differential: -7.7)
Robinson ranked first among all receivers in expected fantasy points (24.9) but struggled with efficiency, scoring only 17.2 actual fantasy points per game. Although Robinson was a top value all year, I think this might be the best volume he sees all year, and (due to quarterback play) I'd expect underwhelming efficiency all year.
Subscribe to PFF Edge to continue reading
Already have a subscription? Sign In