Repeatability is a valuable skill in fantasy football. Monster seasons from Brandon Lloyd in 2010 or Josh Gordon in 2013 were great for the fantasy owners who snagged them off the waiver wire, but for players in dynasty or keeper leagues, they ended up causing at least as many headaches in the following years as they did triumph in their winning year, and for people who bought in on their breakouts, they quickly became disappointments.
So no matter what kind of league you're in, you want to know how likely it is a player will repeat as a position's top performer, whether it's to hold on to a specific name from one year to the next or to draft a big name a year after he breaks out.
We're running through a look at how repeatable top-flight fantasy performances are at each position and what trends have developed over recent history. We looked at repeatability among the top quarterbacks and top running backs last week. Today: Wide receivers.
Fantasy point totals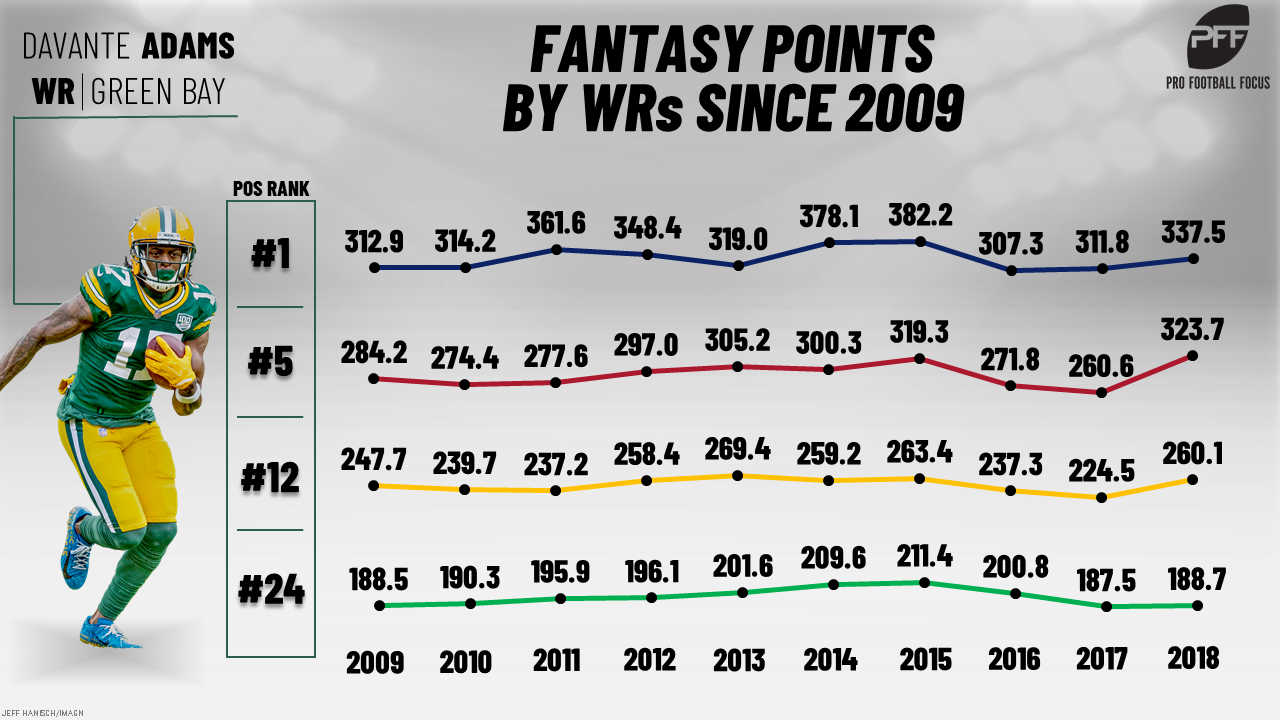 Elite wide receiver scoring hasn't really changed that much over the last decade. The No. 1 receiver averaged 331.2 PPR points in 2009-2013, 343.4 in 2014-2018. No. 24? It's been very steady — 188.5 10 years ago, 188.7 last year. Other than a spike from the No. 5 spot in 2018 (Antonio Brown had the best No. 5 receiver season ever in 2018; he would have been WR1 in 2009, 2010, 2013, 2016, and 2017), the best seasons have been more-or-less steady over the last 10 years.
[Editor's Note: All of Pro Football Focus' EDGE & ELITE subscribers have access to our DraftMaster tool, which allows subscribers to run mock drafts and practice roster building BEFORE their season-long and Best Ball drafts. New subscribers can subscribe to EDGE for as low as $9.99 today!]
The overall WR1
Unlike running back, where we haven't had a back-to-back repeater at No. 1 in almost 20 years, there's only one No. 1 receiver since 2011 who hasn't had at least one repeat season atop the ranks. After Andre Johnson and Roddy White led the way in 2009 and 2010, we had Calvin Johnson in 2011-2012; Demaryius Thomas in 2013; Antonio Brown in 2014-2016; and DeAndre Hopkins the last two years.
Interestingly, go down one spot in the ranks and things get much more flexible; we haven't had a single player repeat a WR2 season all decade, and Julio Jones (2015 and 2018) is the only player to have two such seasons at any point.
As was the case when I did this for running backs, the next point is mostly for fun, but if you assume DeAndre Hopkins is the favorite to be the No. 1 receiver just because he was last year, and the No. 2 is a receiver who hasn't finished in the top-two before, then the top candidates to be 2019's No. 2 receiver are Davante Adams, Michael Thomas, and JuJu Smith-Schuster.
Repeatability by year
We had somewhere between four and six repeaters in the top-12 receivers every year 2009-2015, like clockwork. Then from 2016 to 2017, we had only three repeaters, the lowest in a decade. And lest we think that was the start of greater turnover atop the WR ranks, we then had seven top-12 repeaters in 2017-2018, a decade high.
Is there a grand takeaway there? Ultimately, probably not, but if there is one, here's my best shot: We had a changing of the guard at the receiver position. Each in their turn, guys like Calvin Johnson, Larry Fitzgerald, Dez Bryant, Brandon Marshall, Demaryius Thomas, Jordy Nelson, and others have aged out of contention for the top slots after extended runs as elite receivers. It was as dominant a glut of receivers as we've seen at once. Fitzgerald's fifth-place finish in 2017 was the last of those big names, opening it up for the next wave, with a load of guys in the right side of 30 taking their place.
If that hypothesis is accurate, then we're in for a lot of holdovers among the top-12 receivers in 2019 again.
Extend that to the top-24, and the story is basically the same — there were 9-13 holdovers every year for the last decade, with the 13 names in 2017-2018 tying for the highest number in our stretch.
Repeatability by finishing slot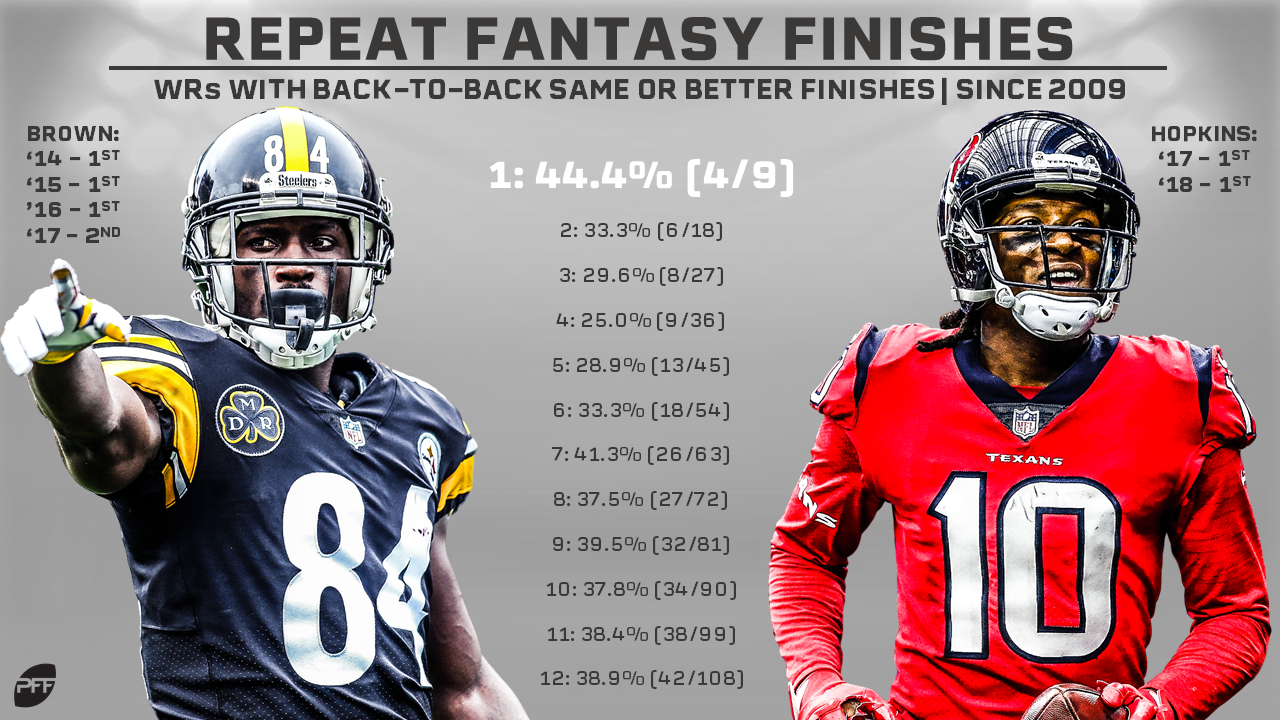 It's interesting how generally steady these numbers are from position to position once you get past the top couple of positions. As mentioned above, wide receiver has had plenty of holdover at the top spot, but it levels off with running backs quickly — 38.9% of top-12 wide receivers in the last decade have finished there again in the next year, compared to … 39.8% of running backs. That is, for all intents and purposes, equal. Interesting, wide receiver levels off in a big way once you get past 12 — from the top-17 to the top-24, the percentage of repeaters never falls below 46% and never rises above 48.
As noted in the running back pieces, though, while the top-24 at wide receiver have an analogue to the top-12 at quarterback, the bottom ends of that list just aren't that exciting. It's not riveting to try to predict if Adam Humphries can repeat his top-24 season. So, we'll focus on the top-12 — remember, just under two-fifths repeat from one year to the next.
Who will the 2019 repeaters be?
The top-12 PPR receivers in 2018 were, in order, DeAndre Hopkins, Julio Jones, Tyreek Hill, Davante Adams, Antonio Brown, Michael Thomas, Adam Thielen, JuJu Smith-Schuster, Mike Evans, Robert Woods, Stefon Diggs, and Keenan Allen. If you assume health, the only player on that list you can even somewhat comfortably knock down the ranks for 2019 is Hill, and that is obviously for off-field reasons.
Even if you're generous and assume seven repeaters like we had in 2017-2018, parsing the list down is tough. Hopkins, Adams, Thomas, Jones, and Smith-Schuster feel like locks, with Brown not far from that. That's six right there, which means we're betting on only one repeater out of Thielen, Evans, Woods, Diggs, and Allen. Those are tough eliminations to make, even if you think names like Odell Beckham Jr. or A.J. Green force their way back into the top tier.
In short? If you have to bet on the correct seven names to repeat in the top-12 in 2019 … good luck. The top tier at wide receiver seems as safe as it's ever been.